HILOBROW 2020
By: HILOBROW
December 31, 2020
Phew! I am so very grateful to HILOBROW's contributors for continuing, throughout the insanity of this year, to continue to do what they do so well. Happy New Year, readers. — JOSH
BEST OF HILOBROW: 2010 | 2011 | 2012 | 2013 | 2014 | 2015 | 2016 | 2017 | 2018 | 2019 | 2020 | 2021 | 1Q2022 | 2Q2022 | 3Q2022 | 4Q2022 SNEAK PEEK.
Also see: HYPOCRITE IDLER 2020.
---
ONE-OFF SERIES
---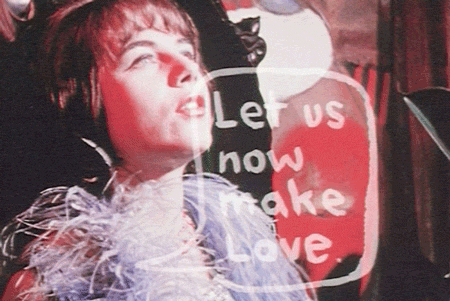 The weekly series, here at HILOBROW in 2020, was KLAATU YOU. We invited ~50 friends and regular contributors to wax enthusiastic about their favorite pre-Star Wars sci-fi movies! Here's the series lineup:
INTRODUCTION by Josh Glenn.
Matthew De Abaitua on ZARDOZ | Miranda Mellis on METROPOLIS | Rob Wringham on THE INVISIBLE MAN | Michael Grasso on THE ANDROMEDA STRAIN | Gordon Dahlquist on 2001: A SPACE ODYSSEY | Erik Davis on DARK STAR | Carlo Rotella on THE OMEGA MAN | Madeline Ashby on KISS ME DEADLY | Adam McGovern on SILENT RUNNING | Michael Lewy on THIS ISLAND EARTH | Josh Glenn on WILD IN THE STREETS | Mimi Lipson on BARBARELLA vs. SINS OF THE FLESHAPOIDS | Vanessa Berry on THE FLY | Lynn Peril on ATTACK OF THE 50 FOOT WOMAN | Peggy Nelson on SOLARIS | Adrienne Crew on LOGAN'S RUN | Ramona Lyons on THE MAN WHO FELL TO EARTH | Kio Stark on THE STEPFORD WIVES | Dan Fox on FANTASTIC PLANET | Chris Lanier on IKARIE XB-1 | Devin McKinney on IDAHO TRANSFER | Mark Kingwell on THUNDERBIRDS ARE GO | Luc Sante on THE TENTH VICTIM | William Nericcio on DEATH RACE 2000 | Rob Walker on CAPRICORN ONE | Gary Panter on ANGRY RED PLANET | David Levine on THE STEPFORD WIVES | Karinne Keithley Syers on ALPHAVILLE | Carolyn Kellogg on IT CAME FROM OUTER SPACE | Sara Ryan on ESCAPE TO WITCH MOUNTAIN | Lisa Jane Persky on PLAN 9 FROM OUTER SPACE | Adam Harrison Levy on BENEATH THE PLANET OF THE APES | Gerald Peary on CREATURE FROM THE BLACK LAGOON | Susannah Breslin on A CLOCKWORK ORANGE | Seth on WAR OF THE WORLDS | James Hannaham on GOJIRA/GODZILLA | Lydia Millet on VILLAGE OF THE DAMNED | Matthew Daniel on FANTASTIC VOYAGE | Shawn Wolfe on ROLLERBALL | Erin M. Routson on WESTWORLD | Marc Weidenbaum on COLOSSUS: THE FORBIN PROJECT | Neil LaBute on 20,000 LEAGUES UNDER THE SEA | Vicente Lozano on DAY OF THE DOLPHIN | Tom Roston on SLAUGHTERHOUSE-FIVE | Katya Apekina on A BOY AND HIS DOG | Chelsey Johnson on THE BLOB | Heather Kapplow on SPACE IS THE PLACE | Brian Berger on THE BEAST FROM 20,000 FATHOMS | Anthony Miller on THE DAY THE EARTH STOOD STILL.
Josh Glenn edited KLAATU YOU. He is very grateful to the series' contributors, many of whom donated their fees to the ACLU.
*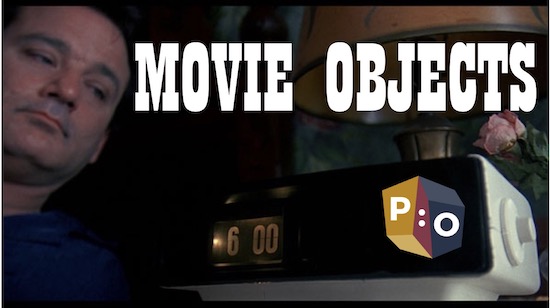 During 2Q2020, PROJECT:OBJECT published its ninth volume of nonfiction narratives devoted to significant objects, here at HILOBROW. This time around, the volume's theme was: MOVIE OBJECTS.
PROJECT:OBJECT editors Josh Glenn and Rob Walker invited 25 talented writers to discuss MOVIE OBJECTS — whether, e.g., props used in stage business to establish character, synecdochical or metonymic keys unlocking the movie's theme, or MacGuffins. Here's the series lineup:
INTRODUCTION by Josh Glenn and Rob Walker.
Ramona Lyons on EYE OF THE SERPENT (CONAN THE BARBARIAN) | Faythe Levine on BEDKNOB (BEDKNOBS AND BROOMSTICKS) | Gerald Peary on CUP OF COFFEE (THE BIG HEAT) | Christopher Orr on TOM'S HAT (MILLER'S CROSSING) | Lynn Peril on TRANSISTOR RADIO (DR. STRANGELOVE) | Whitney Bowers on DUCT TAPE (NOW AND THEN) | Kio Stark on CANDLE (DEBBIE DOES DALLAS) | Tom Roston on CALCULATOR WATCH (BREAKFAST CLUB) | Miranda Mellis on LIMOUSINE (MELANCHOLIA) | Carolina A. Miranda on HAUNTED ACCORDION (THE WIND JOURNEYS) | Vanessa Berry on FIBREGLASS MARLIN (LOVE SERENADE) | June Thomas on CERAMIC DUCKS (A TASTE OF HONEY) | Madeline Ashby on LETTERS OF TRANSIT (CASABLANCA) | Dave Walker on ETTINAUER 226-XL (REAL LIFE) | Jonathan Lethem on SINGLE-JACK HAMMER (EARTH ABIDES) | Guy Trebay on STAMPS (CHARADE) | Annie Nocenti on PASSPORT (THE PASSENGER) | Tony Arcabascio on SHEEPSKIN COAT (BEAT STREET) | Alix Lambert on TYPEWRITER (MARY AND MAX) | John Sellers on WHITEBOARD (A QUIET PLACE) | Carlo Rotella on POWDERING CONE (REIGN OF TERROR) | Laura Miller on SEVERED EAR (BLUE VELVET) | Josh Glenn on CASSETTE TAPE (BREATHLESS) | Vicente Lozano on NOTEBOOK (WHERE IS THE FRIEND'S HOME?) | Jeff Malmberg on SPAGHETTI SAUCE (THE GODFATHER).
Josh and Rob are very grateful to the series contributors, many of whom donated their fees to the ACLU.
*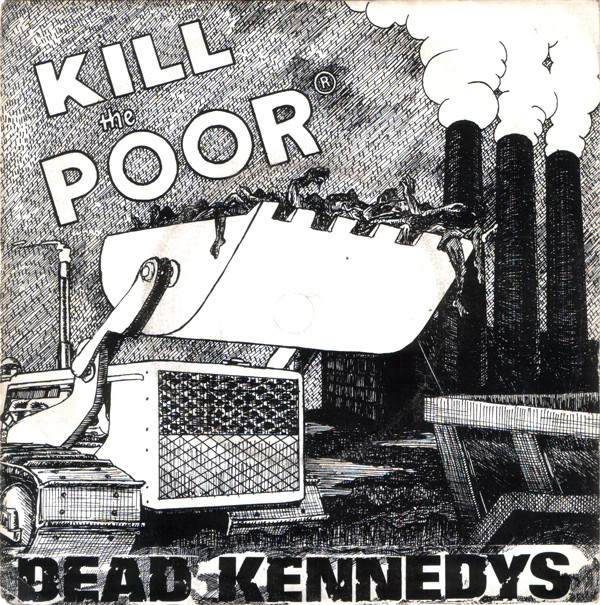 This summer's ENTHUSIASM series, CARBONA YOUR ENTHUSIASM, here at HILOBROW, was dedicated to punk songs of the Seventies (1974–1983, according to our eccentric periodization schema). We invited 25 HILOBROW friends and regulars to decide for themselves what "punk" means. Here's the series lineup:
INTRODUCTION by Josh Glenn.
Mimi Lipson on Flipper's "Sex Bomb" | James Parker on The Jam's "Going Underground" | Dan Fox on The Cramps' "Human Fly" | Adrienne Crew on Bad Brains' "I and I Survive" | Devin McKinney on Romeo Void's "Never Say Never" | Deb Chachra on The Buzzcocks' "Ever Fallen in Love" | Mark Kingwell on The Demics' "New York City" | Jessamyn West on Dead Kennedys' "Kill the Poor" | Douglas Wolk on The Homosexuals' "Soft South Africans" | Josh Glenn on The Freeze's "This is Boston, Not L.A." | Stephanie Burt on Sorry's "Imaginary Friend" | Luc Sante on Public Image Ltd.'s "Public Image" | Miranda Mellis on X-Ray Spex's "Oh Bondage! Up Yours!" | Adam McGovern on The Clash's "Washington Bullets" | Mandy Keifetz on Germs' "Forming" | Gordon Dahlquist on The Sex Pistols' "Problems" | Anthony Miller on The Soft Boys' "I Wanna Destroy You" | Deborah Wassertzug on The Mekons' "Where Were You?" | Tor Aarestad on Gang of Four's "Return the Gift" | Marc Weidenbaum on The Pop Rivets' "Dream of '63" | David Smay on The Rezillos' "(My Baby Does) Good Sculptures" | Vanessa Berry on The Cure's "So What" | Chelsey Johnson on The Slits' "Typical Girls" | Lynn Peril on Crass's "Smother Love" | Mike Watt on The Dils' "You're Not Blank".
Josh Glenn edited CARBONA YOUR ENTHUSIASM. He is very grateful to the series' contributors, many of whom donated their fees to the ACLU.
*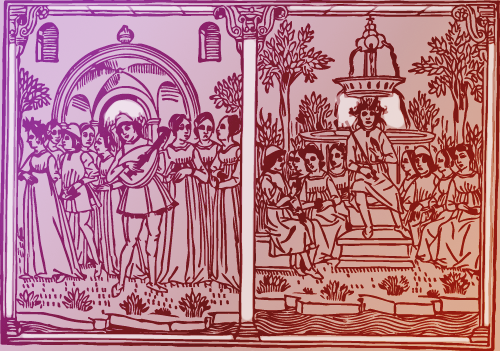 In April, Peggy Nelson brought us TEN DAYS, "a new Decameron for the COVID-19 era." Here's the series lineup:
INTRODUCTION by Peggy Nelson.
DAY ONE (Seattle): Vince Keenan: You do have to go home and you can't stay here: a paean to cocktail culture when all the "third places" have closed for the duration | DAY TWO (Seattle): Scotto Moore: TEETH: a fantastical autopsy of the body politic | DAY THREE (Toronto): Puzzlepurse: Scenes and sightings: a photo series investigating Toronto and beyond | DAY FOUR (New York): Vijay Balakrishnan, Esthetique du Banal: a prescient poetry cycle about New York City | DAY FIVE (Newcastle): Jimmy Kipple Sound, if not gold well still then something: a sonic suite featuring field recordings of spaces both inside and out | DAY SIX (London and Berlin): Russell Bennetts and Colin Raff, This you? (choose which 1 u r bc u r u): lockdown avatars | DAY SEVEN (Boston): Joshua Glenn, Validation Session: an excerpt from a "semiopunk" work-in-progress | DAY EIGHT (Lausanne): Andrew Sempere, D2020: Notes Towards An American Decameron: film stills from a lost cult classic | DAY NINE (Boston): Tom Nealon, The mythology of minestrone: a community stirs up some siege stew; plus! a recipe | DAY TEN (San Francisco): Marc Weidenbaum, Zeffirelli Wand Shop: the opening section from a novel-in-progress | DAY ELEVEN (The Internet): Peggy Nelson (ed.), Coda and conclusion.
Peggy is very grateful to the TEN DAYS series' contributors.
*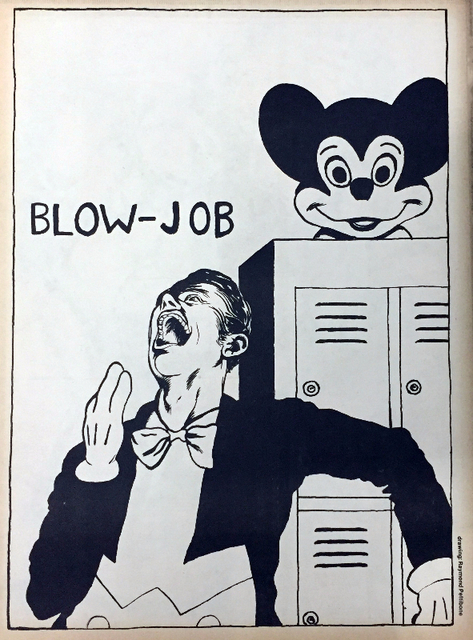 During 1Q2020, we published Josh Glenn's TAKING THE MICKEY, a series of 15 posts surfacing and dimensionalizing the unspoken norms and forms encoded in Walt Disney's Mickey Mouse character. Here's the lineup:
MINSTREL MICKEY | TRICKSTER MICKEY | A GOOD AMERICAN | HIGH-LOWBROW MICKEY | ICONIC MICKEY | NEOTONIC MICKEY | DONALD STEALS THE SHOW | MICKEY'S DORK AGE | FORTIES BACKLASH | DISNEY CO. MASCOT | FIFTIES BACKLASH | SIXTIES BACKLASH | "I'M THE MOUSE" | NOBROW MICKEY | TAKING THE MICKEY.
*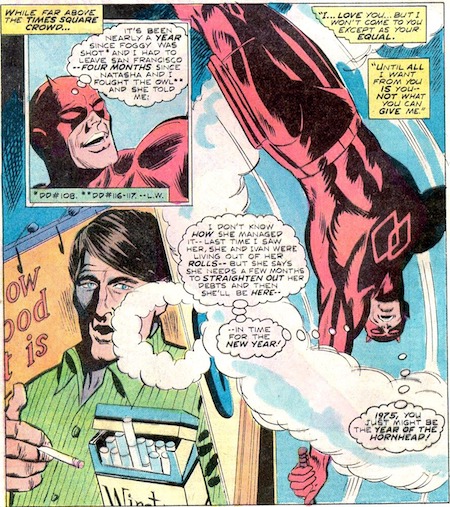 Click on image for closer view.
HILOBROW friend Douglas Wolk's latest series, CENTER OF THE UNIVERSE, explores how Marvel Comics has documented Times Square, its architecture and advertisements as they've changed during the past half-century or so.
*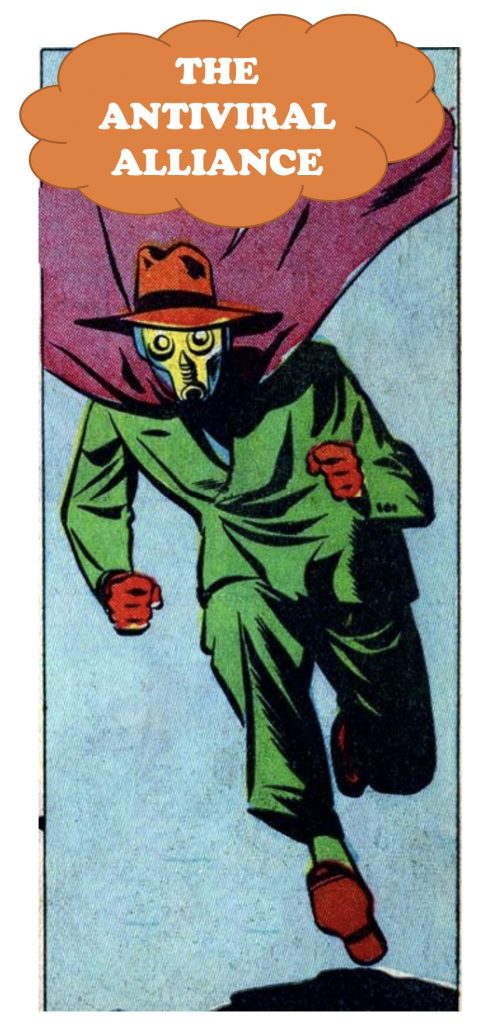 HILOBROW's 4Q2020 series VIRUS VIGILANTE unearthed the secret history of the Antiviral Alliance, a forgotten squad of comic-book vigilantes who during the years just before and after the US entered WWII modeled proper mask usage in order to prevent another Spanish Flu-like pandemic. Here's the series lineup:
PRE-COMICS: THE MOON MAN (1933). ORIGINAL TRIO (joined forces in 1939): THE CLOCK | SANDMAN | FANTOM OF THE FAIR. AND THEN THERE WERE SEVEN (joined 1940): THE SHADOW | LADY LUCK | THE LAUGHING MASK | KINKS MASON. SECOND-WAVE SIX (joined 1941): BLAZING SKULL | THE CHALLENGER | THE THUNDERER | DOCTOR NEMESIS | HUMAN BOMB | THE VIGILANTE. LATE TO THE PARTY (joined post-1941): MICRO-FACE | THE DESERT EAGLE.
As a guest post for BOING BOING, Josh wrote an introduction to the series.
*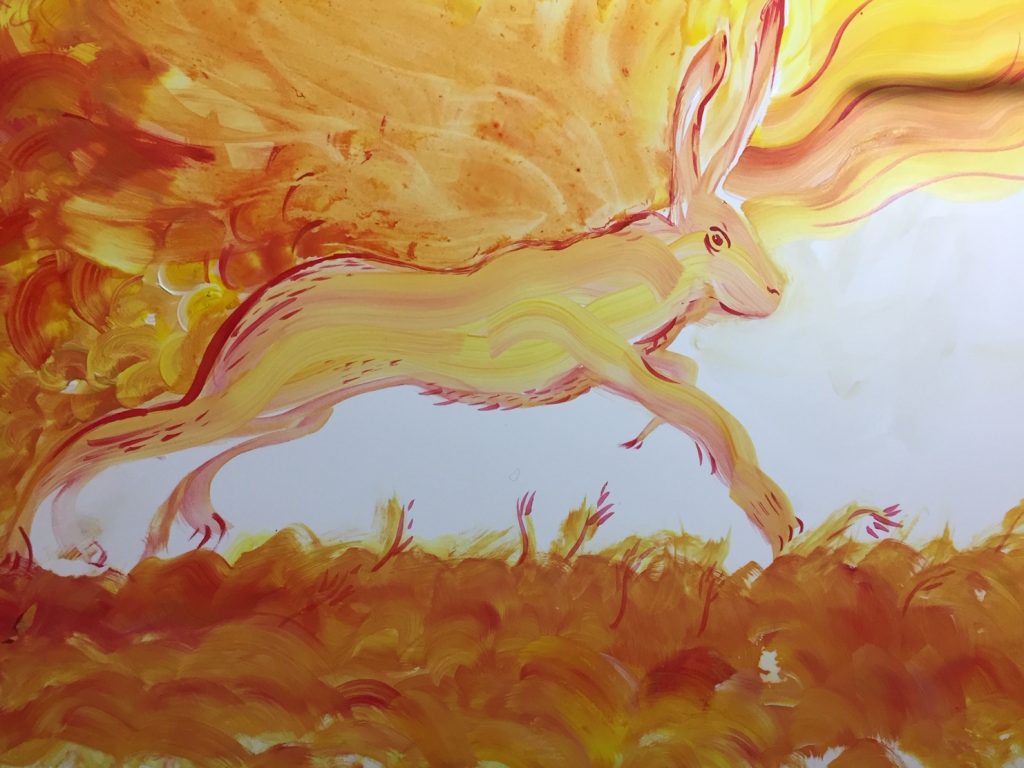 Artwork by Kristin Parker.
James Parker, whose Cocky the Fox stories and poems we serialized from 2010–2011, and whose Kalevala bastardizations we published from 2016–2018, returned in November with a poem: SONG FOR THE HARES.
ALSO: On the evening of Saturday, April 25, a few of us gathered for what James described as a KALEVALA ZOOM ORGY — a dramatic reading, featuring a dozen amateur performers, of several of his Kalevala bastardizations. Click here to view a recording of the (glitchy, inspired) event. PS: At one point, HILOBROW's editor can be spotted wearing a fake beard.
---
REGULAR SERIES
---
Adam McGovern, Peggy Nelson, and Tom Nealon were unstoppable throughout 2020. HILOBROW is very grateful to our stalwarts!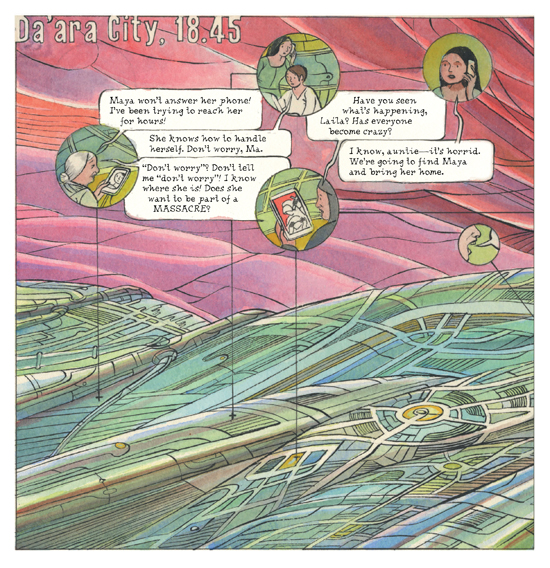 Adam McGovern's series OFF-TOPIC continued to deliver over-the-transom, on-tangent essays, dialogues and subjective scholarship. Here's the 2020 lineup:
JUST THE MADMAN: The oddity and the ecstasy — talking and picturing Bowie with MICHAEL ALLRED | TO SERVE IN HELL: Locked in here with everyone: Surviving STAND AT ATTICA | TERMINAL ROMANTIC: Closing the book on love: a Valentine's special on Kirby's TRUE-LIFE DIVORCE | HOLLOWCAUST: He has to leave the planet… and take the wilderness with him | UNIVERSE AND CHORUS: Leafing through the psychic library with Bishakh Som | PRIVATE SCREENING: The theatre that COVID made | MUSCLE HISTORY — Kickin' it to the Kirby with graphic biographer TOM SCIOLI | INBREAK — Looking back at the present, in PANDEMIX | THE MEMOIR HAS TWO FACES — Making positive identifications with Spellbound's BISHAKH SOM | MAPS OF NOWHERE — Mind wanderings during exile-in-place | DREAMING MEDIA: Swapping idle prophecy with CLUB DED's Nikhil Singh | CATCH A FIRE: Waiting out the shutdown with pop virologist HEATHER QUINLAN | EVERYWHERE IS FROM SOMEBODY ELSE: Dumpster-divining on the scrapheap of history with LUC SANTE.
ALSO: In December, Adam McGovern reviewed The Seeds, a new Dark Horse/Karen Berger graphic novel by HILOBROW friend Annie Nocenti and David Aja.
*

Peggy Nelson continued to investigate art and the virtual life through her regular series EYE CANDY and SIMULACRA. Here's the 2020 lineup:
FIXED IT FOR YOU | PLAYING IT BY EAR | O SUPERMAN | GLASS MICROBES | WPA-STYLE COVID-19 POSTERS | BLANCO REGO'S LOCKDOWN VIDEO DIARY | CORIOLAVIRUS | THE BLADERUNNER | BEADED DISEASES | MANNEQUINS | SOVIET SOLDIERS DANCING | SIMON SUBLIME | ART REENACTMENT | MERLE HAZARD | THE SHOW MUST GO ON | BAYEUX GENERATOR | SHELTER IN PLACE GALLERY | DREAM DELIVERY SERVICE | THIS IS ONLY A TEST | ART AT THE BUS STOP | CHAIRMAN OF THE MOTHERBOARD | HAPPY BIRTHDAY, HELL | STAR TREK IN CINERAMA | ESPACIOS OCCULTOS.
PLUS: As noted earlier, Peggy edited the TEN DAYS series here at HILOBROW.
*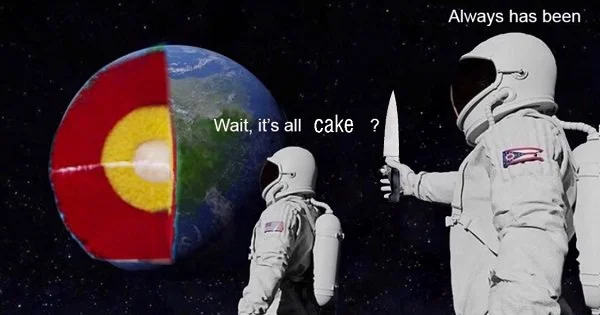 In November, Tom Nealon wrapped up his long-running series STUFFED, which interrogated suspect food history, and embellished his findings with outlandish, yet compelling theories of his own. Here's the 2020 lineup:
SQUEEZED OUT | SOUP v. SANDWICH | UNNATURAL SELECTION | HI YO, COLLOIDAL SILVER | PROTEIN IN MOTION | GOOD RIDDANCE TO RESTAURANTS | THE CAKE IS THE THING | BANQUETE DE CAVALLEROS.
And please make sure to check out STUFF & NONSENSE, the last-ever STUFFED post. It's a retrospective!
We hope that Tom will return, with a new series, in 2021.
PS: As noted above, in our discussion of the TEN DAYS series, this year Tom also wrote a standalone HILOBROW post on The mythology of minestrone. Comes with a recipe!
---
CURATED SERIES
---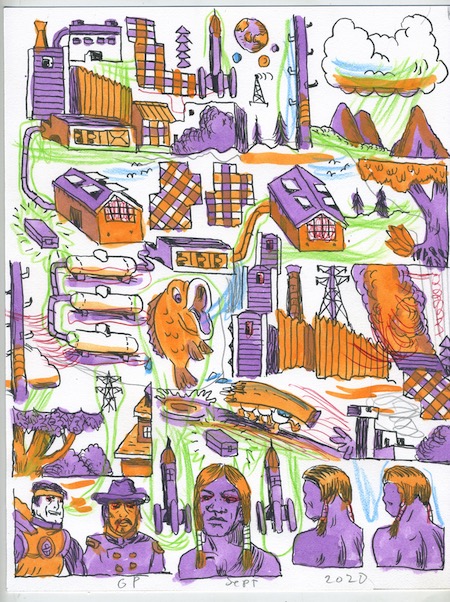 We posted a selection of HILOBROW friend Gary Panter's recent series of drawings. We've titled the HILOBROW series BUNNY CITY, after one of the drawings. Here's the lineup:
INTRODUCTION by Gary Panter.
PHONE CALL | HEDORAH | WOODY'S NIECE | TELEVISION | HIDDEN VALLEY | RED DOME | FISH HOUSE | WITCH MOUSE | BIRD GIRL | DUCK BUNNY | BUZZARD BOMB | BUNNY SAUCER | 3 COWBOYS 3 INDIANS | COWBOY PLACE | BUNNY CITY.
*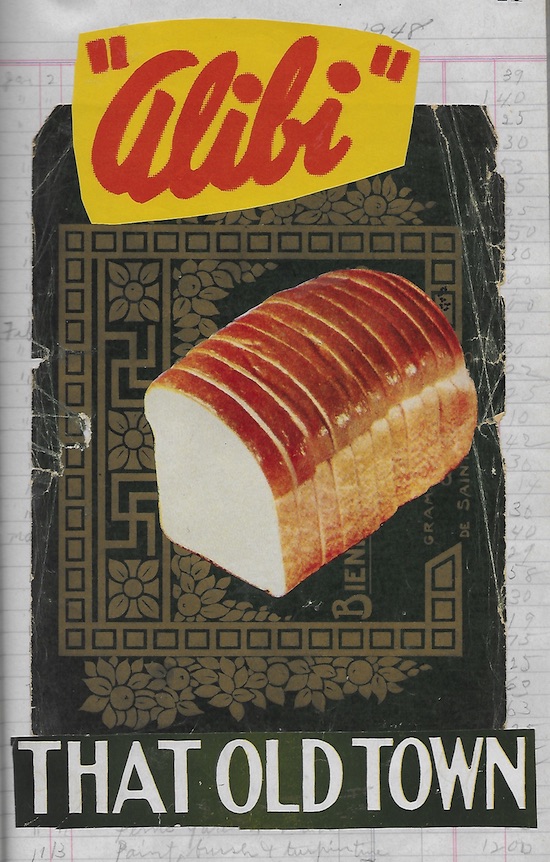 The 10-part series HOP UP showcased a selection of HILOBROW friend Luc Sante's extraordinary collages, along with the artist's commentary. Also, check out the James Fuentes gallery's website, which throughout August featured the terrific exhibit Some Recent Collages by Luc Sante.
*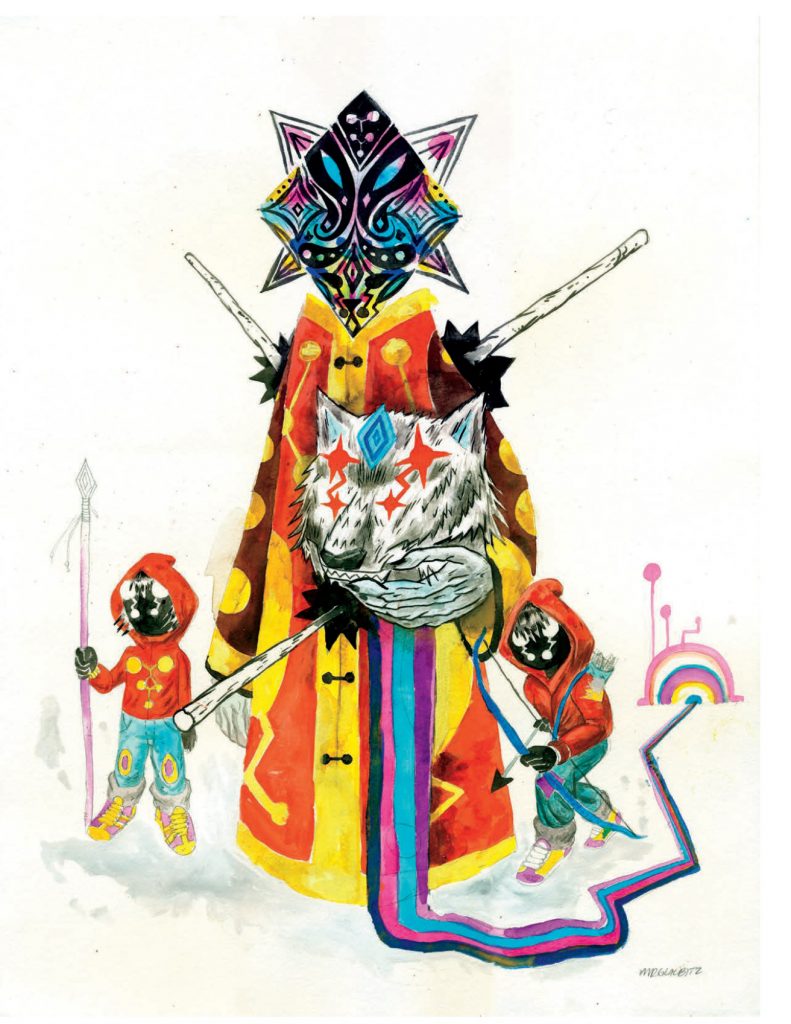 Click on image for closer view.
We were also delighted to present NOOSFERA, a curated selection of Mexican artist Charles Glaubitz's depictions (watercolor on paper, and acrylic on canvas) of the Beautiful Dreamers — who inhabit the "noosphere."
*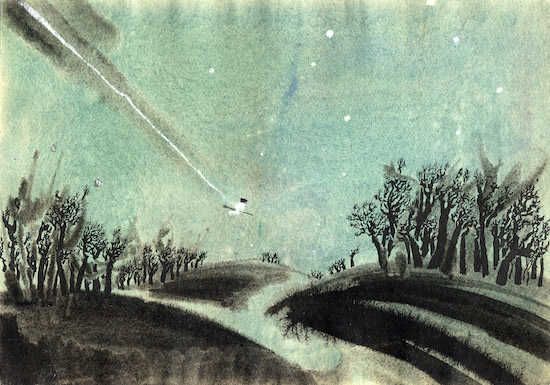 Click on image for closer view.
We presented the series A SILENT HALLUCINATION, a series of watercolor and ink-on-paper illustrations, by HILOBROW friend Alex Gerasev, inspired by Mikhail Bulgakov's The Master and Margarita (w. 1928–1940, p. 1967).
*
Peggy Nelson's series CROSS-POST continued to introduce HILOBROW readers to the output of some of her favorite bloggers.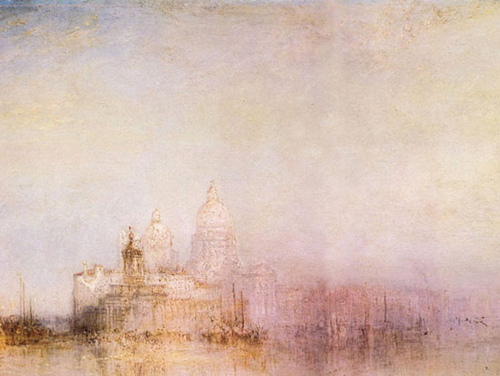 During 4Q2020, Peggy introduced HILOBROW readers to Toby Ferris and the Anatomy of Norbiton: The Ideal City of the Failed Life.
*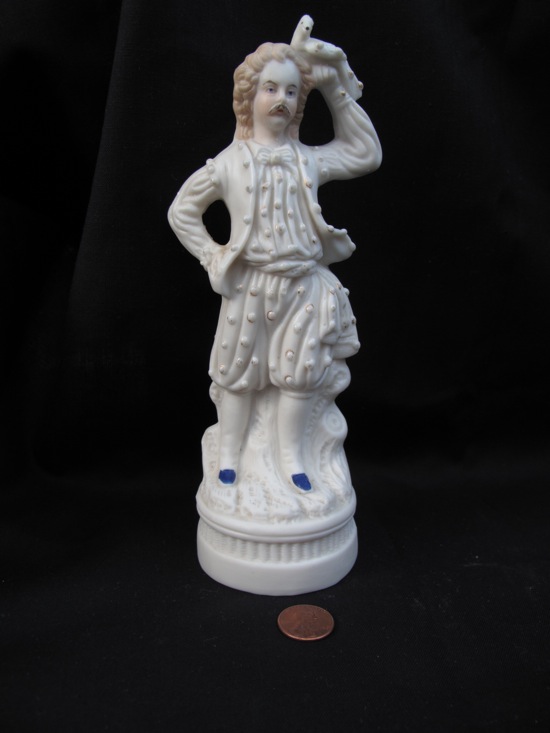 In January, we wrapped up the Winter 2019–2020 installment of our annual 12 DAYS OF SIGNIFICANCE series — reprinting object-oriented stories originally contributed to SIGNIFICANT OBJECTS — with the following installments: Rob Baedeker on FOPPISH FIGURINE | Scarlett Thomas on BIRTHDAY CANDLES | Wayne Koestenbaum on DUCK NUTCRACKER | Jeff Turrentine on "WOMEN & INFANTS" GLASS | Joe Lyons on LETTERS AND NUMBERS PLATE.
At Christmastime, we published the first installments in the Winter 2020–2021 12 DAYS OF SIGNIFICANCE series: Adam Davies on TROLL NUTCRACKER | Myla Goldberg on HAND-HELD BUBBLE BLOWER | Dan Chaon on COOKING FORK | Jenny Hayes on DOLPHIN BOX | Kevin Brockmeier on ROPE/WOOD MONKEY | Miranda Mellis on BRASS APPLE | Todd Pruzan on GOLF BALL BANK.
---
BEST ADVENTURES
---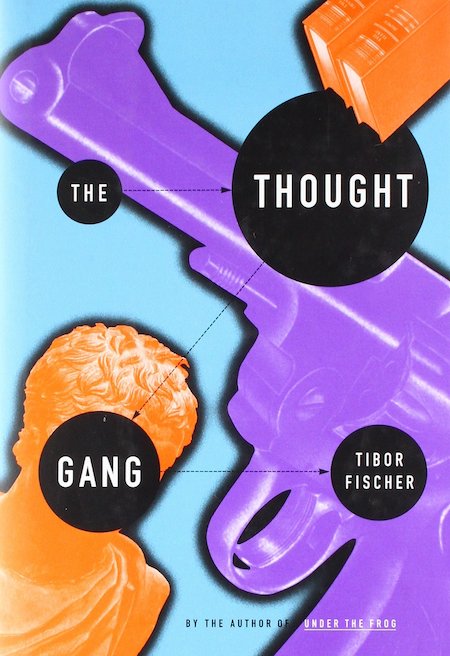 We published 18 new installments in Josh Glenn's BEST ADVENTURES PROJECT, which chronicles his attempt to identify the 10 best adventures he's read from each year of the 20th century. Here's the 2020 lineup:
BEST 1984 ADVENTURES, from Neuromancer and Briarpatch to The Saga of the Swamp Thing | BEST 1985 ADVENTURES, from The Handmaid's Tale and Blood Meridian to Crisis on Infinite Earths | BEST 1986 ADVENTURES, from The Reverse of the Medal and The Dark Knight Returns to Howl's Moving Castle | BEST 1987 ADVENTURES, from Consider Phlebas and Wise Child to The Black Dahlia | BEST 1988 ADVENTURES, from Mona Lisa Overdrive and The Player of Games to Foucault's Pendulum | BEST 1989 ADVENTURES, from Geek Love and Imago to From Hell | BEST 1990 ADVENTURES, from Vineland and Possession to Use of Weapons | BEST 1991 ADVENTURES, from A German Requiem and Orbital Resonance to Sarah Canary | BEST 1992 ADVENTURES, from Snow Crash and Under the Frog to All the Pretty Horses | BEST 1993 ADVENTURES, from Parable of the Sower and The Night Manager to Trainspotting | BEST 1994 ADVENTURES, from Kolymsky Heights and Trinities to Hellboy | BEST 1995 ADVENTURES, from The Diamond Age and Our Game to Black Hole | BEST 1996 ADVENTURES, from Alias Grace and Fight Club to Excession | BEST 1997 ADVENTURES, from A History of Violence and Mason & Dixon to Harry Potter and the Philosopher's Stone | BEST 1998 ADVENTURES, from Inversions and Gone, Baby, Gone to the Dungeon series of graphic novels. | BEST 1999 ADVENTURES, from League of Extraordinary Gentlemen and Holes to Motherless Brooklyn. | BEST 2000 ADVENTURES, from True History of the Kelly Gang and The Miraculous Journey of Edward Tulane to Perdido Street Station. | BEST 2001 ADVENTURES, from Life of Pi and American Gods to The Constant Gardener.
PS: RIP John le Carré (1931–2020), greatest of the greats.
Josh also created these pages, during 2020: 100 BEST EIGHTIES ADVENTURES (1984–1993) | 100 BEST NINETIES ADVENTURES (1994–2003). Plus: An updated list of the 250 Best Adventures of the 20th Century.
*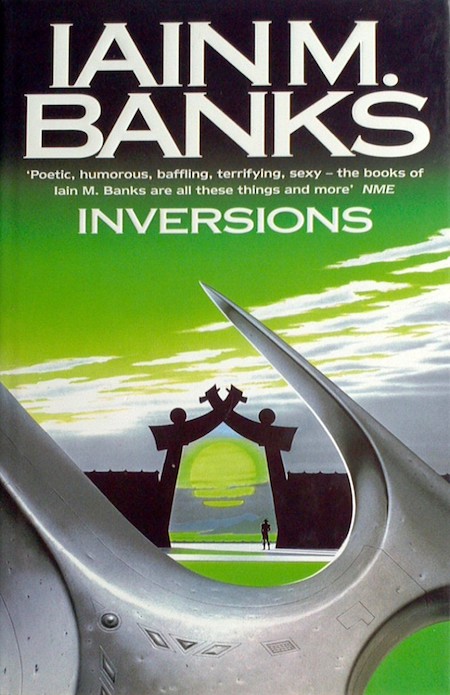 During 2020, we wrapped up Josh's DIAMOND AGE SCI-FI 75, a lit-list series aiming to identify his favorite science-fiction adventures published during the Eighties (1984–1993) and Nineties (1994–2003). Here's the 2020 lineup:
Ken MacLeod's THE STONE CANAL | Iain M. Banks's EXCESSION | William Gibson's IDORU | Molly Gloss's THE DAZZLE OF THE DAY | Warren Ellis's TRANSMETROPOLITAN | Jonathan Lethem's AS SHE CLIMBED ACROSS THE TABLE | Connie Willis's TO SAY NOTHING OF THE DOG | Jonathan Lethem's GIRL IN LANDSCAPE | Octavia E. Butler's PARABLE OF THE TALENTS | Iain M. Banks's INVERSIONS | Ken MacLeod's THE CASSINI DIVISION | Susan Price's THE STERKARM HANDSHAKE | Warren Ellis's PLANETARY | William Gibson's ALL TOMORROW'S PARTIES | Alan Moore's THE LEAGUE OF EXTRAORDINARY GENTLEMEN | Bruce Sterling's ISLANDS IN THE NET | Ken MacLeod's THE SKY ROAD | China Miéville's PERDIDO STREET STATION | Iain M. Banks's LOOK TO WINDWARD | Ken MacLeod's COSMONAUT KEEP | Nalo Hopkinson's MIDNIGHT ROBBER | Lewis Trondheim and Manu Larcenet's ASTRONAUTS OF THE FUTURE | Ken MacLeod's DARK LIGHT | Carol Emshwiller's THE MOUNT | Octavia E. Butler's CLAY'S ARK | China Miéville's THE SCAR | Elizabeth Moon's SPEED OF DARK | Ken MacLeod's ENGINE CITY | Maureen F. McHugh's MISSION CHILD | Charles Stross's SINGULARITY SKY | Margaret Atwood's ORYX AND CRAKE | William Gibson's PATTERN RECOGNITION.
*
Sick of Josh's BEST ADVENTURES series? Then you'll be pleased to learn that (as of December 31st) he has written up a whopping 980 of his 1,000 favorite 20th-century adventures. In early '21, this ambitious project — which began in 2013 — will end.
***
Onward…