Diamond Age 75 (47)
By: Joshua Glenn
February 2, 2020
One in a series of posts about the 75 best science fiction novels published during the genre's Diamond Age era (from 1984–2003, according to HILOBROW's periodization schema). For Josh Glenn's complete Diamond Age Sci-Fi 75 list, click here.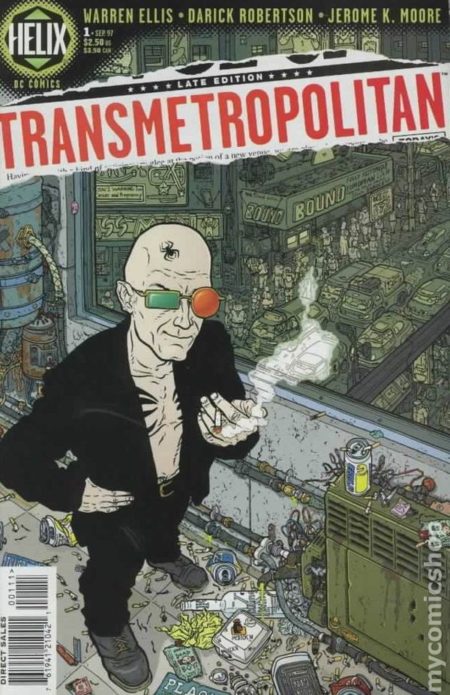 Warren Ellis and Darick Robertson's cyberpunk comic Transmetropolitan (1997–2002).
At some point in the 23rd century, Spider Jerusalem — a Hunter S. Thompson-esque gonzo journalist — returns from his mountaintop refuge to The City, in search of stories to report. Accompanied by sidekicks Yelena Rossini and Channon Yarrow, Spider gets the scoop. For example: The Transients, who've modified their genes with alien DNA, and who as a result have been forced to live in a squalid shanty town, are getting ready to secede; their leader, however, turns out to be a police-paid agent provocateur! In the series' second year, Ellis proves truly prescient when he introduces us to Gary "The Smiler" Callahan, a politican whose base is a far-right hate group… and whom the people vote into office, despite the fact that he's not merely corrupt but evil. Callahan uses the power of his office to suppress Spider's journalism — and even goes so far as to arrange for the City to be left defenseless when a Katrina-like "ruinstorm" threatens to kill thousands, in order to destroy Spider's evidence and as an excuse to declare martial law. When Spider contracts an Alzheimer's-like disease, will he be able to expose Callahan's perfidy before he's completely debilitated?
Fun facts: Originally published under DC Comics's sci-fi Helix imprint, then switched to the Vertigo imprint (under the stewardship of Karen Berger), where it remained one of DC's most successful nonsuperhero comics.
***
DIAMOND AGE SCI-FI at HILOBROW: William Gibson | Bruce Sterling | Margaret Atwood | Ann Nocenti | Frank Miller | Alan Moore | Octavia E. Butler | Iain M. Banks | Grant Morrison | Neal Stephenson | Jonathan Lethem | Charles Burns | China Miéville.
JOSH GLENN'S *BEST ADVENTURES* LISTS: BEST 250 ADVENTURES OF THE 20TH CENTURY | 100 BEST OUGHTS ADVENTURES | 100 BEST RADIUM AGE (PROTO-)SCI-FI ADVENTURES | 100 BEST TEENS ADVENTURES | 100 BEST TWENTIES ADVENTURES | 100 BEST THIRTIES ADVENTURES | 75 BEST GOLDEN AGE SCI-FI ADVENTURES | 100 BEST FORTIES ADVENTURES | 100 BEST FIFTIES ADVENTURES | 100 BEST SIXTIES ADVENTURES | 75 BEST NEW WAVE SCI FI ADVENTURES | 100 BEST SEVENTIES ADVENTURES | 100 BEST EIGHTIES ADVENTURES | 75 BEST DIAMOND AGE SCI-FI ADVENTURES | 100 BEST NINETIES ADVENTURES (in progress) | 1994 | 1995 | 1996 | 1997 | 1998 | 1999 | 2000 | 2001 | 2002 | 2003 | NOTES ON 21st-CENTURY ADVENTURES.