Diamond Age 75 (75)
By: Joshua Glenn
August 16, 2020
One in a series of posts about the 75 best science fiction novels published during the genre's Diamond Age era (from 1984–2003, according to HILOBROW's periodization schema). For Josh Glenn's complete Diamond Age Sci-Fi 75 list, click here.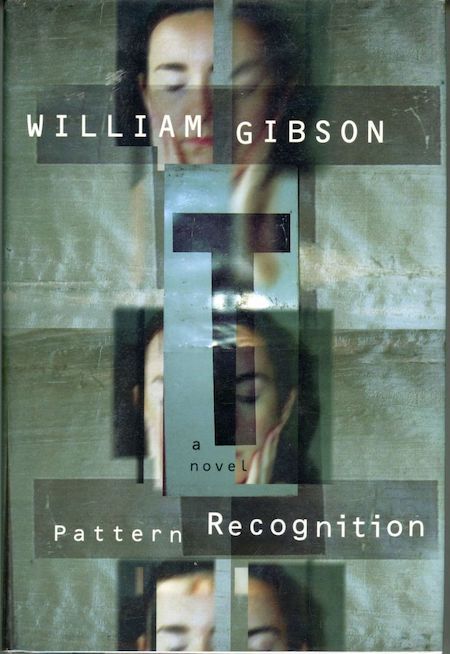 William Gibson's Blue Ant adventure Pattern Recognition (2003).
Our Diamond Age sci-fi series begins with Neuromancer (1984); so it's appropriate that we conclude with a book that has been called Gibson's best since Neuromancer, and which marks an important new phase in his writing. The first of Gibson's sci-fi novels to be set in the present. Pattern Recognition takes as its subject the near impossibility of making sense — and finding meaning — in our contemporary age. Cayce Pollard, a Bobby Newmark-like consultant whose acute psychological sensitivity to logos and advertising has transformed her into a kind of magical semiotician, is working with the edgy viral advertising/coolhunting firm Blue Ant on a shoe company's logo when Blue Ant honcho Hubertus Bigend hires her to do a little aesthetic detective work. Who has been posting a series of artistic film clips to [YouTube]? Shuttling from New York to London, Tokyo, and Moscow, Cayce ponders what it might portend that the clips — outsider art, essentially — have attracted a cult following, a hive-mind buzzing with wrong-headed ideas. Bigend, our antihero, is a bullshit artist seeking to exploit the clips' anonymous creator. Like Chia in Idoru (1996), Cayce runs afoul of the Russian Mafia — and must rely on talented Internet friends to rescue her.
Fun facts: The first in a series followed by Spook Country (2007), in which Bigend hires another young woman, Hollis Henry, to track down another artwork, and Zero History (2010). Sonic Youth's 2004 song "Pattern Recognition" pays tribute to this novel, a bestseller.
***
DIAMOND AGE SCI-FI at HILOBROW: William Gibson | Bruce Sterling | Margaret Atwood | Ann Nocenti | Frank Miller | Alan Moore | Octavia E. Butler | Iain M. Banks | Grant Morrison | Neal Stephenson | Jonathan Lethem | Charles Burns | China Miéville.
JOSH GLENN'S *BEST ADVENTURES* LISTS: BEST 250 ADVENTURES OF THE 20TH CENTURY | 100 BEST OUGHTS ADVENTURES | 100 BEST RADIUM AGE (PROTO-)SCI-FI ADVENTURES | 100 BEST TEENS ADVENTURES | 100 BEST TWENTIES ADVENTURES | 100 BEST THIRTIES ADVENTURES | 75 BEST GOLDEN AGE SCI-FI ADVENTURES | 100 BEST FORTIES ADVENTURES | 100 BEST FIFTIES ADVENTURES | 100 BEST SIXTIES ADVENTURES | 75 BEST NEW WAVE SCI FI ADVENTURES | 100 BEST SEVENTIES ADVENTURES | 100 BEST EIGHTIES ADVENTURES | 75 BEST DIAMOND AGE SCI-FI ADVENTURES | 100 BEST NINETIES ADVENTURES | 75 BEST HADRON AGE SCI-FI ADVENTURES.