CARBONA YOUR ENTHUSIASM (16)
By: Gordon Dahlquist
August 16, 2020
One in a series of 25 enthusiastic posts, contributed by 25 HILOBROW friends and regulars, on the topic of our favorite punk songs, c. 1974–1983.
*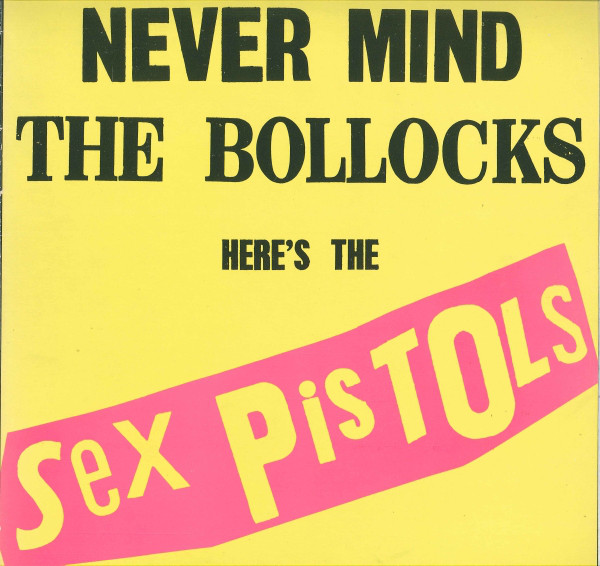 "PROBLEMS" | SEX PISTOLS | 1977
My first sight of Never Mind the Bollocks, Here's the Sex Pistols was in 1977 at a mall in suburban Seattle – when "malls" still had "record stores" – the acrid pink cover throbbing with menace next to the other hot albums of the day: Rumours, Aja, Foreigner… even Bowie's Heroes projected cool artiness, not open toxicity. Based on controversies the customers of that mall had never heard of, the store had dedicated an absurd amount of real estate to the Sex Pistols record. No one went near it, or if they did, it was with a furtive shuffle more suited to the porn end of the magazine rack. When I finally heard the record, it was with friends who mostly dismissed it as "headbanger stuff" – which, given that headbanger stuff was and would remain the core demographic of northwest music, was a withering dismissal, all the more from kids in junior high. We preferred My Aim Is True for our rebellion, thanks. We were not wrong and also total idiots.
The riff that starts "Problems" is righteously headbanging, and entirely authoritative. The playing is simple and stripped down, but also massive, barreling out of the gate like a noise tank. By the time Rotten opens his mouth, the music's raised him to the equivalent of a papal balcony, and he delivers the sneering sermon. The lyrics crackle with arrant contempt – untempered by self-reflection or nuance (again, hello Elvis) – just Carthage-saltingly dismissive. The rhymes are less bombastic and less glib than Rotten/Lydon's lyrics often are, and they're funny. "Are you lonely all needs catered/you got your brains dehydrated" manages to be a clever lyric that mocks the idea of clever lyrics. "Eat your heart on a plastic tray/you don't do what you want and you'll fade away" could have come from a late-'60s Godard film, except never this tossed off, the critique just another thing no longer worth the time.
It's not perfect. Jones's guitar solo is 25 seconds of pointless flab, the whole thing is too long, and it's clear that they're in some way a broken band, plowing ahead while the momentum lasts (you can't help imagine the record with the extra cylinder of Glen Matlock, instead of Jones double-tracking all the bass parts). "Problems"' accusations of moral bankruptcy lack the high-hat provocations of "Anarchy in the UK," but also skip the sacred-cow-stabs of misogyny and homophobia of "Bodies" or "New York." Where those songs creak with aspirational transgression, "Problems" just thunders on — venomous and true, a fuck you for the ages.
***
CARBONA YOUR ENTHUSIASM (2020): Series introduction by Josh Glenn | Mimi Lipson on Flipper's "Sex Bomb" | James Parker on The Jam's "Going Underground" | Dan Fox on The Cramps' "Human Fly" | Adrienne Crew on Bad Brains' "I and I Survive" | Devin McKinney on Romeo Void's "Never Say Never" | Deb Chachra on The Buzzcocks' "Ever Fallen in Love" | Mark Kingwell on The Demics' "New York City" | Jessamyn West on Dead Kennedys' "Kill the Poor" | Douglas Wolk on The Homosexuals' "Soft South Africans" | Josh Glenn on The Freeze's "This is Boston, Not L.A." | Stephanie Burt on Sorry's "Imaginary Friend" | Luc Sante on Public Image Ltd.'s "Public Image" | Miranda Mellis on X-Ray Spex's "Oh Bondage! Up Yours!" | Adam McGovern on The Clash's "Washington Bullets" | Mandy Keifetz on Germs' "Forming" | Gordon Dahlquist on The Sex Pistols' "Problems" | Anthony Miller on The Soft Boys' "I Wanna Destroy You" | Deborah Wassertzug on The Mekons' "Where Were You?" | Tor Aarestad on Gang of Four's "Return the Gift" | Marc Weidenbaum on The Pop Rivets' "Dream of '63" | David Smay on The Rezillos' "(My Baby Does) Good Sculptures" | Vanessa Berry on The Cure's "So What" | Chelsey Johnson on The Slits' "Typical Girls" | Lynn Peril on Crass's "Smother Love" | Mike Watt on The Dils' "You're Not Blank".
MORE ENTHUSIASM at HILOBROW
NERD YOUR ENTHUSIASM (4Q2021): NERDING | ARDUIN | KLINGON CONFIDENTIAL | MAP INSERTS | TIME | & 20 other nerdy passions. SWERVE YOUR ENTHUSIASM (3Q2021): WARHOL'S WALT WHITMAN | 70, GIRLS, 70 | TYRAEL'S MIGHT | SHIRATO SANPEI | THE LEON SUITES | & 20 other never-realized cultural productions. FIVE-O YOUR ENTHUSIASM (2Q2021): DARK SHADOWS | MANNIX | GET SMART | THE ADDAMS FAMILY | I DREAM OF JEANNIE | & 20 other Sixties (1964–1973) TV shows. FERB YOUR ENTHUSIASM (1Q2021): STEVEN UNIVERSE | TOP CAT | REN & STIMPY | SHE-RA AND THE PRINCESSES OF POWER | DRAGON BALL Z | & 20 other animated series. CARBONA YOUR ENTHUSIASM (2020): "Sex Bomb" | "Going Underground" | "Soft South Africans" | "Typical Girls" | "Human Fly" | & 20 other Seventies (1974–1983) punk singles. KLAATU YOU (2020 weekly): ZARDOZ | METROPOLIS | DARK STAR | SINS OF THE FLESHAPOIDS | SOLARIS | & dozens of other pre-STAR WARS sci-fi movies. CONVOY YOUR ENTHUSIASM (2019): THE TAKING OF PELHAM ONE TWO THREE | ROLLERBALL | BLACK SUNDAY | SORCERER | STRAIGHT TIME | & 20 other Seventies (1974–1983) action movies. SERIOCOMIC (2019 weekly): LITTLE LULU | VIZ | MARSUPILAMI | ERNIE POOK'S COMEEK | HELLBOY | & dozens of other comics. TUBE YOUR ENTHUSIASM (2018): LOONEY TUNES | THREE STOOGES | THE AVENGERS | ROCKY & BULLWINKLE | THE TWILIGHT ZONE | & 20 other Fifties (1954–1963) TV shows. WOWEE ZOWEE (2018 weekly): UNISEX | UNDER THE PINK | DUMMY | AMOR PROHIBIDO | HIPS AND MAKERS | & dozens of other Nineties (1994–2003) albums. KLUTE YOUR ENTHUSIASM (2017): THE KILLERS | BANDE À PART (BAND OF OUTSIDERS) | ALPHAVILLE | HARPER | BLOW-UP | & 20 other Sixties (1964–1973) neo-noir movies. #SQUADGOALS (2017 weekly): THE WILD BUNCH | BOWIE'S BAND | THE BLOOMSBURY GROUP | THE HONG KONG CAVALIERS | VI ÄR BÄST! & dozens of other squads. GROK MY ENTHUSIASM (2016 weekly): THE THEORY AND PRACTICE OF LUNCH | WEEKEND | MILLION YEAR PICNIC | LA BARONNE EMILE D'ERLANGER | THE SURVIVAL SAMPLER | & dozens more one-off enthusiasms. QUIRK YOUR ENTHUSIASM (2016): "Tainted Love" | "Metal" | "Frankie Teardrop" | "Savoir Faire" | "Broken English" | & 20 other Seventies (1974–1983) new wave singles. CROM YOUR ENTHUSIASM (2015): DARKER THAN YOU THINK | THE SWORD IN THE STONE | OUT OF THE SILENT PLANET | THIEVES' HOUSE | QUEEN OF THE BLACK COAST | & 20 other Thirties (1934–1943) fantasy novels. KERN YOUR ENTHUSIASM (2014): ALDINE ITALIC | DATA 70 | TORONTO SUBWAY | JOHNSTON'S "HAMLET" | TODD KLONE | & 20 other typefaces. HERC YOUR ENTHUSIASM (2013): "Spoonin' Rap" | "Rapper's Delight" | "Rappin' Blow" | "The Incredible Fulk" | "The Adventures of Super Rhyme" | & 20 other Seventies (1974–1983) hip-hop songs. KIRK YOUR ENTHUSIASM (2012): Justice or vengeance? | Kirk teaches his drill thrall to kiss | "KHAAAAAN!" | "No kill I" | Kirk browbeats NOMAD | & 20 other Captain Kirk scenes. KIRB YOUR ENTHUSIASM (2011): THE ETERNALS | BLACK MAGIC | DEMON | OMAC | CAPTAIN AMERICA | & 20 other Jack Kirby panels.