This page lists my 100 favorite YA and YYA adventures published during the cultural era known as the Sixties (1964–1973, according to HILOBROW's periodization schema). This list remains a work in progress, and is subject to change. I hope that the information and opinions below are helpful to your own reading; please let me know what I've overlooked.
— JOSH GLENN (2019)
*
JOSH GLENN'S *BEST ADVENTURES* LISTS: BEST 250 ADVENTURES OF THE 20TH CENTURY | 100 BEST OUGHTS ADVENTURES | 100 BEST RADIUM AGE (PROTO-)SCI-FI ADVENTURES | 100 BEST TEENS ADVENTURES | 100 BEST TWENTIES ADVENTURES | 100 BEST THIRTIES ADVENTURES | 75 BEST GOLDEN AGE SCI-FI ADVENTURES | 100 BEST FORTIES ADVENTURES | 100 BEST FIFTIES ADVENTURES | 100 BEST SIXTIES ADVENTURES | 75 BEST NEW WAVE SCI FI ADVENTURES | 100 BEST SEVENTIES ADVENTURES | 100 BEST EIGHTIES ADVENTURES | 75 BEST DIAMOND AGE SCI-FI ADVENTURES | 100 BEST NINETIES ADVENTURES (in progress) | 1994 | 1995 | 1996 | 1997 | 1998 | 1999 | 2000 | 2001 | 2002 | 2003 | NOTES ON 21st-CENTURY ADVENTURES.
---
SIXTIES YA & YYA ADVENTURE
---
The 1964–1973 era was an apex for older kids' literature.
Louise Fitzhugh's Harriet the Spy, the first installments in Susan Cooper's Dark is Rising series, Hugo Pratt's Corto Maltese comics, Richard Adams's Watership Down, Ursula K. Le Guin's Earthsea series, Roald Dahl's Charlie and the Chocolate Factory, most of Joan Aiken's Wolves Chronicles series, Madeleine L'Engle's A Wind in the Door, Jean Merrill's The Pushcart War, John Christopher's Tripods trilogy and Sword of the Spirits trilogy, S.E. Hinton's The Outsiders, E.L. Konigsburg's From the Mixed-Up Files of Mrs. Basil E. Frankweiler, Peter Dickinson's Changes trilogy, Robert C. O'Brien's Mrs. Frisby and the Rats of NIMH, Ian Fleming's Chitty-Chitty-Bang-Bang, Lloyd Alexander's Chronicles of Prydain series, Alan Garner's Elidor and The Owl Service, not to mention Jack Kirby's various "Fourth World" DC comics series and Kamandi: The Last Boy on Earth… these all appeared in the Sixties.
I was born in 1967! Which might lead you to conclude that I'm biased in favor of Sixties YA & YYA lit. However, I'd like to point out that if I were biased, you'd think it would be in favor of the YYA and YA adventures published during my own adolescence — that is, in the Seventies (1974–1983). True, I enjoy everything by Daniel Pinkwater and Ellen Raskin, and I gorged myself on dystopian YA sci-fi from the Seventies — Robert O'Brien's Z for Zachariah, O.T. Nelson's The Girl Who Owned a City, Ben Bova's City of Darkness, Ian Macmillan's Blakely's Ark. But just as I find much Fifties YA and YYA lit too cheerful and shallow, I find much Seventies YA and YYA lit too dark, too troubling. YA and YYA lit of the Sixties strikes the perfect balance, I think. Hence: Golden Age.
PS: I didn't discover some Sixties YA and YYA adventures — Hugo Pratt's Corto Maltese comics, for example, or Roald Dahl's Charlie and the Chocolate Factory, Ian Fleming's Chitty-Chitty-Bang-Bang, Alan Garner's Elidor and The Owl Service, J.P. Martin's Uncle series, R. Macherot's Sibylline and Chaminou comics, to name just a few — until I was an adult. Which is exactly why I've started writing this series of "Best YYA Lit" posts within HILOBROW's larger Best Adventures series. I'm using it as an excuse to keep researching, reading and re-reading these amazing stories.
---
1963 (CUSP YEAR)
---
The year 1963 is the last year of the cultural era known as the Fifties. What I enjoy so much about older kids' lit from this era is how they anticipate certain progressive Sixties themes, while still retaining a Fifties-ish sweetness and innocence. The year 1963, in particular, is a transitional moment between — in a socio-cultural, rather than a strictly calendrical sense — the Fifties (1954–1963) and the Sixties (1964–1973).
Madeleine L'Engle's YA sci-fi adventure A Wrinkle in Time. Thirteen-year-old Meg Murry's scientist father has vanished, while researching tesseracts — i.e., fifth-dimensional phenomena in which the fabric of space and time "folds" in upon itself. One night, Meg, her genius 5-year-old brother Charles, and a dreamy high-school junior, Calvin, visit the family's eccentric new neighbor, Mrs. Whatsit, who seems to know something about tesseracts. Mrs. Whatsit, and her companions Mrs. Who and Mrs. Which, turn out to be extraterrestrial/angelic/unicornic beings — who "tesser" the children to their home world, where they explain that the universe is under attack from an evil being known only as The Black Thing. (The Earth is under attack, too — protected only by great religious figures, philosophers, and artists. Which reminds me of Susan Cooper's 1965–1977 Dark is Rising sequence.) Meg's father is being held captive on the dark planet of Camazotz, whose inhabitants operate under the control of a single mind — "IT," an evil disembodied brain with telepathic abilities. Can Meg, the unlikeliest hero ever, triumph over IT, rescue her father and brother… and the Earth, too? Fun fact: Written in 1959–1960 and turned down by 26 publishers, A Wrinkle in Time won the 1963 Newbery Medal. Also in the trilogy: A Wind in the Door (1973) and A Swiftly Tilting Planet (1978). Adapted, in 2012, as a graphic novel by Hope Larson; and adapted, by Ava DuVernay, as a 2018 movie.

Clive King's STIG OF THE DUMP. Long before the cheesy Brendan Fraser/Pauly Shore movie Encino Man, there was this fun collection of stories about Barney and his secret friend, Stig the caveman. Stig has an amazing den (in the US, we'd call it a fort) in a chalk pit where people throw away unwanted junk — much of which Stig finds clever uses for. Fun facts: The book is illustrated by one of the greatest children's book illustrators of all time, Edward Ardizzone. Note that Robert Arthur's Alfred Hitchcock and the Three Investigators series, which was launched the following year, is also set in a sweet junkyard fort. In those days, it was a meme.

Hergé's THE CASTAFIORE EMERALD. A famous opera singer's prized emerald goes missing — are the gypsies camped nearby to blame? The lesson that peripatetic Eastern Europeans who camp in the countryside are unfairly maligned was a 1963 meme. It pops up in Enid Blyton's FIVE ARE TOGETHER AGAIN, the final installment in a long (21 volumes) series of adventures about siblings Julian, Dick, and Anne, their tomboy cousin George, and George's dog Timmy. A scientist's secret papers go missing — are the circus folks camped nearby to blame? Fun fact: The story was first serialized in the francophone Tintin Magazine in 1961–62; it was published in English, in book form, in 1963. PPS:

Keith Robertson's HENRY REED'S JOURNEY. The second in a series of books narrated by Henry Reed, who spends each summer having adventures with Midge, his tomboy business partner (another meme!) in the firm HENRY REED, INC. ("pure and applied research"). In this funny installment, he and Midge drive across the United States with Midge's parents. Fun facts: Illustrated by another of my favorite children's book illustrators and authors, Robert McCloskey. PPS: Cross-country camping trips are another 1963 meme; in Madeleine L'Engle's THE MOON BY NIGHT, the second installment in L'Engle's Austin Family series of Christian-themed YA novels, Vicky Austin and her family go on a cross-country camping trip (another meme!).

Shel Silverstein's LAFCADIO: THE LION WHO SHOT BACK. Grmmff is an African lion whose curiosity about big-game hunters leads him to eat one of them; he also learns how to fire the hunter' gun. Like Babar the elephant and Curious George before him, Grmmff is then tempted to leave the jungle and live in the city — where he earns his keep as a marksman in a circus. Unlike Babar and Curious George, however, Grmmff never forgets that he is a wild animal. When he goes on a hunting trip — to shoot lions! — he suffers an identity crisis. Fun fact: A much better-known, but in my opinion less enjoyable 1963 novel featuring a feline is Emily Cheney Neville's IT'S LIKE THIS, CAT.

Sid Fleischman's BY THE GREAT HORN SPOON! During the California Gold Rush of 1848–55, 12-year-old Jack runs away to seek his fortune, because his once-wealthy family has fallen on hard times; his butler, Praiseworthy, tags along. Together, the partners stow away aboard a steam packet, foil the plots of con artists and highwaymen, prove their worthiness to the grizzled miners of California, and prospect for gold.

Clifford B. Hicks's ALVIN'S SECRET CODE. Hicks's Alvin Fernald series (1960–2009) recount the adventures of a talented middle-school inventor. This one is my favorite; I read it literally to pieces. A former spy teaches Alvin the history and basics of writing and cracking coded messages. Soon, Alvin must crack a 100-year-old code that leads to treasure. Fun fact: Clifford B. Hicks was an editor of Popular Mechanics; he wrote the magazine's Do-It-Yourself Materials Guide and also edited the Do-It-Yourself Encyclopedia.

Robert Heinlein's PODKAYNE OF MARS. Podkayne, a teenager who grew up on Mars, and her brilliant little brother, Clark, are traveling to Earth when they're kidnapped by terrorists. When a nuclear bomb is set to go off, Podkayne must rescue a "fairy" (alien) baby from Venus. Fun facts: Though his best-known sci-fi books are for grownups, Heinlein also published classic sci-fi novels for kids and teens. You might enjoy the can-do spirit that animates these older Heinlein novels: Rocket Ship Galileo (1947), Space Cadet (1948), Red Planet (1949), The Rolling Stones (1952), Starman Jones (1953), and Have Space Suit — Will Travel (1958).

Alan Garner's THE MOON OF GOMRATH. This is the sequel to the fantasy novel The Weirdstone of Brisingamen, in which siblings Colin and Susan are hunted by the minions of the dark spirit Nastrond who, centuries before, had been defeated by a powerful king; the novel is set in the real landscape of Cheshire (England). In The Moon of Gomrath, we learn more about the source and nature of the ancient magic about which the author writes with uncanny authority. Garner, who has been justly compared to J.R.R. Tolkien, wrote several other excellent novels in which ordinary British landscapes are imbued with eldritch significance, including 1967's The Owl Service.

René Goscinny and Albert Uderzo's ASTERIX AND CLEOPATRA. When the beautiful queen of Egypt makes a bet with Roman emperor Julius Caesar that she can build a new palace in six months, her bumbling architect enlists the help of Asterix, Obelix, and Getafix… who get locked into a pyramid, only to be rescued by Dogmatix. One of the best Asterix books! Fun fact: Other fun Franco-Belgian comics published in 1963: ASTERIX AND THE GOTHS, plus two of Morris and Goscinny's Lucky Luke stories: THE BLACK HILLS and THE DALTONS IN THE BLIZZARD.
---
1964
---
Louise Fitzhugh's HARRIET THE SPY. One of my favorite books; I've listed it as one of the best adventure novels of the Sixties, and one of the best espionage novels of all time. Harriet is an amazing character: intrepid, self-motivated, eccentric, shockingly unsupervised; a talented crafter of gnomic aperçus; a loyal friend and a terrifying enemy. And yet, she's in the wrong; the reader knows it, and so does everybody else in the book. It's an emotional roller-coaster ride — Harriet's adventure is as interior as it is exterior, which is why Hollywood has failed thus far to produce a faithful adaptation. Illustrated by the author.

Lloyd Alexander's THE BOOK OF THREE. In the first installment of the author's beloved Chronicles of Prydain series, which borrows elements from the same Welsh legends that Tolkien mined, an Assistant Pig-Keeper sets out on a hazardous mission. Along the way, he meets the finest companions any adventurer could want: the feral creature Gurgi, the tomboy witch-princess Eilonwy, the dishonest but valiant bard Fflewddur Fflam, the grouchy dwarf Doli, and the hard-bitten prince-in-waiting Gwydion. The adventure begins!

J.P. Martin's UNCLE. A millionaire elephant (Uncle) lives in a fantastical castle populated by his helpers, including the Old Monkey, Cloutman, Gubbins and the One-Armed Badger. His sinister neighbors — Beaver Hateman, Sigismund Hateman, Nailrod Hateman, Filljug Hateman, Jellytussle, Hootman and the skewer-throwing Hitmouse — will stop at nothing to infiltrate the castle and spoil Uncle's idyll. A children's story so surreal and delightfully illiberal that I suspect its true author might be J.P. Donleavy. Illustrated by Quentin Blake.

Roald Dahl's CHARLIE AND THE CHOCOLATE FACTORY. Another surreal and delightfully illiberal adventure, about a millionaire chocolatier (Wonka) who lives in a fantastical factory populated by his helpers, the Oompa-Loompas. Greedy competitors and misbehaving brats will stop at nothing to infiltrate the factory and spoil Wonka's idyll. Greedy Augustus is sucked up by a pipe; incorrigible Violet blows up into a blueberry, spoiled Veruca is thrown down a garbage chute, and TV-addicted Mike is shrunken to a few inches tall. Only the impoverished but honest Charlie succeeds in passing Wonka's test of character. Illustrated by Faith Jaques (UK), and Joseph Schindelman (US).

Jean Merrill's THE PUSHCART WAR. A populist, near-future science fiction story in which warfare breaks out between New York's bullying trucking companies and its plucky pushcart owners — who use pea shooters to disrupt the trucking business. The story's sentimental hero is Frank the Flower, a peddler who wears flowers on his hat, and who (in order to protect his revolutionary comrades) takes credit for all 18,991 flattened truck tires. When the author died in 2012, she was eulogized as a forerunner of the Occupy Wall Street movement. Illustrated by Ronni Solbert.

Joan Aiken's BLACK HEARTS IN BATTERSEA. This Dickensian adventure has the disadvantage of appearing between the two best books (The Wolves of Willoughby Chase and Nightbirds on Nantucket) in Aiken's terrific Wolves Chronicles; also, Simon, the book's male protagonist, isn't quite as interesting as the female protagonists of the other books. (Luckily, Simon encounters a quick-thinking girl his age who contrives to rescue the Duke and Duchess of Battersea several times.) Still, it's a ripping yarn in which true identities are revealed, a plot to overthrow the king of England is foiled, and everybody speaks in colorful slang and cant. Illustrated by Robin Jacques.

Suzanne Martel's THE CITY UNDER GROUND. Before Jeanne DuPrau's City of Ember there was Surréal 3000, a 1963 YA science fiction novel by a Québécoise journalist — Quebec's first sci-fi novel. Translated in 1964 by Norah Smaridge, Martel's book describes Surréal, a technologically advanced, utopian city-state… which begins to lose power. Two teams of adolescent brothers explore the city's forbidden outskirts to figure out why… and discover that Surréal is literally underneath the real world! Illustrated by Don Sibley.

Goscinny & Uderzo's ASTERIX THE GLADIATOR. The year is 50 BC. Gaul is entirely occupied by the Romans. Well, not entirely… In this adventure, the 4th of 26 Asterix books by Goscinny & Uderzo, Cacofonix the bard is captured and sent to Rome as a gift for Caesar. Asterix and Obelix trail him there, only to discover that Cacofonix will be thrown to the wolves during the next circus… so they enlist as gladiators. Hilarity ensues — particularly when they persuade the gladiators to play parlor games instead of fighting to the death.

Ian Fleming's CHITTY-CHITTY-BANG-BANG. The inventor Caractacus Pott renovates a car whose starter motor and backfire earn it the moniker Chitty-Chitty-Bang-Bang. The car turns out to be a transformer — it can become an airplane and a hovercraft — possessed of intelligence, which comes in handy when gangsters kidnap the inventor's eight-year-old twins Jeremy and Jemima. The author, who famously wrote the James Bond series of spy novels, based the novel's plot on bedtime stories he told to his own son. Illustrated by John Burningham.

Nina Bawden's ON THE RUN. Americans aren't familiar with the YA novels — including The Witch's Daughter, The Birds on the Trees, and Carrie's War — of this British author. Too bad! Bawden, who grew up with Margaret Thatcher, was as progressive as the future Prime Minister was conservative, and her convictions add spice to her adventures. In On the Run (in the US: Three on the Run), the son of an exiled African chief is spirited away from kidnappers by two English children his age. They establish a kind of fort in a seaside town — the best grownup-free hideout until 1967's From the Mixed-Up Files of Mrs. Basil E. Frankweiler.
---
1965
---
Note that Wes Anderson's excellent 2012 movie Moonrise Kingdom, which is in large part an homage to the older kids' lit of the mid-1960s, is set in the year 1965.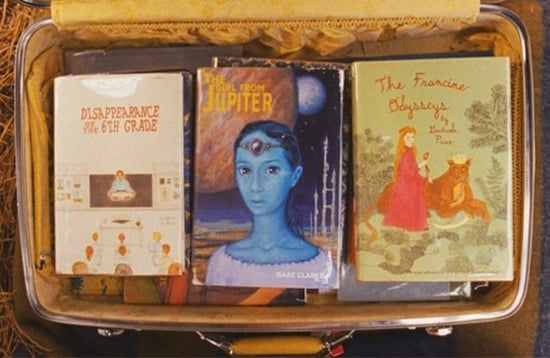 Stan Lee and Jack Kirby's THE INHUMANS. Prior to the Sixties (1964–1973), Lee and Kirby created superhero teams who'd develop into beloved, enduring franchises: The Fantastic Four in '61, The X-Men in '63, The Avengers in '63. But the Inhumans, who first appeared in the November 1965 – March 1966 issues of Fantastic Four, were a different kettle of fish: misfits and outsiders even among mutant superheroes, a superior race living in the shadows. Black Bolt, Crystal, Karnak, Medusa, Gorgon aren't lovable; in fact, they're slightly villainous. But that just makes them an all the more romantic version of the Argonaut Folly mytheme.

*

Susan Cooper's OVER SEA, UNDER STONE. This is the first installment in The Dark is Rising: the best YA fantasy series ever, not to mention one of the best "Matter of Britain" (i.e., medieval Arthurian legend) adventure series. This particular installment is not particularly fantastical: It's a treasure-hunt thriller featuring three siblings on holiday in Cornwall. However, although the story begins in this Famous Five/Swallows and Amazons vein, soon enough we discover that the treasure the children (and some creepy adults) are seeking is in fact an artifact of the Light: a faction, that is to say, in an ancient, ongoing, worldwide struggle of free will and order vs. subservience and chaos! PS: Apparently, this is one of Wes Anderson's favorite books.

*

Lloyd Alexander's THE BLACK CAULDRON. The second in a series of Alexander's Chronicles of Prydain books, which use Welsh mythology (Prydain is the medieval Welsh term for the Brittonic parts of the island of Britain), particularly the Mabinogion, for inspiration, The Black Cauldron is my favorite. (But they're all good; see The Book of Three, on my Best YYA Lit 1964 list.) The antiheroic Prince Ellidyr, who loves only his horse, sickly Gwystyl of the Fair Folk, the sorceresses Orddu, Orwen, and Orgoch, and the doomed minstrel Adaon are tremendous characters. It's like Michael Moorcock's Elric series without the sex, drugs, and despair.

*

Alan Garner's ELIDOR. The author of the uncanny 1960 fantasy adventure The Weirdstone of Brisingamen, and its sequel The Moon of Gomrath (included on my Best YYA Lit 1963 list), returned in '65 with this retelling of Britain's "Childe Roland" fairy tale. Four English children enter a fantasy world, and set off on a quest to retrieve four treasures — a spear, a sword, a stone, and a cauldron. Most fantasy stories would have ended with the successful resolution of this quest; however, when the children return to Manchester — which is portrayed as an uninhabitable wasteland — evil follows them. The book is written in two different styles: When the children are in Elidor, we're reading High Fantasy; when they're back in England, we're reading The Famous Five. It's uneven, but in a good way.

*

Tove Jansson's MOOMINPAPPA AT SEA. The character of Moominpappa was an uncanny one, to me, when I first read these books. He alternates between writing his memoirs and sudden whims; his emotions are volatile. Here, he decides he wants to be a more traditional paterfamilias, because he realizes that his family doesn't look to him for guidance or support… so he herds his wife and children onto a boat, and sets off for Moominpappa's Island. (The plot is in some ways quite similar to Paul Theroux's The Mosquito Coast, also a sardonic inversion of the Robinsonade adventure genre.) Moominpappa's family suffers through one problem after another… why? Because they love him.

*

Sid Fleischman's THE GHOST IN THE NOONDAY SUN. He's not read much any more, I suspect, but Fleischman was one of my very favorite authors when I was between, say, 9 and 13. This book falls between Fleischman's two best: By the Great Horn Spoon! (included on my Best YYA Lit 1963 list) and Chancy and the Grand Rascal (1966). Like these yarns, the protagonist — 12-year-old Oliver Finch, who is kidnapped by pirates because they believe he can see ghosts, and they want to thwart the ghosts guarding treasure they've buried — is looking for a father figure, and finds one in an unlikely place. It's a version of Treasure Island… but easier for today's older kid to actually read.

*

René Goscinny and Albert Uderzo's ASTERIX and CLEOPATRA. The sixth book in the Asterix comic book series; it was originally published in serial form in 1963. My favorite Asterix book has got to be Asterix the Gladiator… but this adventure is right up there. Enraged at Julius Caesar's cultural imperialism, Cleopatra orders the Egyptian architect Edifis to build a new palace in Alexandria within three months. Edifis recruits Asterix, Obelix, and Getafix to help out… which they do by dosing the Egyptian workers with their magic potion. Edifis's arch-rival attempts to sabotage the palace's progress, leading to a fun escape-from-a-pyramid sequence, in which Dogmatix saves the day. (Note that Asterix and the Banquet also first appeared in album form in 1965.)

PS: When this post was republished by Boing Boing, it sparked a discussion about ethnic/racial stereotypes in Asterix books. (I thought the comment by user turkeybrain was very thoughtful: "Heads up, though, about Asterix. That stuff is racially troublesome. You go, ok, this one is all white people, which isn't great but it's better than the alternative but then BAM surprise caricature idiot black pirate. Granted, it does give you the opportunity to talk with your kids about how some people draw other people as less than human, but it's a mixed message when you present it as part of an entertaining whole.") In my 2012 book UNBORED, as part of my introduction to a list of the Best Ever Graphic Novels, I offered the following comment: "It's important to note that although Tintin, Lucky Luke, Asterix, and other titles published before the late 1960s often feature ethnic and national stereotypes, their heroes aren't prejudiced. In most cases, those stereotypes were being mocked by the author."

*

Bertrand R. Brinley's THE MAD SCIENTISTS' CLUB. Jeff, Henry, Dinky, and other members of the do-it-yourself Mad Scientists' Club tinker in a makeshift electronics lab above their town's hardware store, and use whatever materials they can find to pull off various pranks and stunts. For example: a remote-controlled lake monster! Fun fact: The author of the Mad Scientists series — story collections published in 1965 and 1968; and the novels The Big Kerplop! (1974) and The Big Chunk of Ice (2005) — directed an Army program for assistance and safety instruction for amateur rocketeers. He also wrote Rocket Manual for Amateurs (1960). so he actually knew what he was talking about. These stories first appeared in the Boy Scouts magazine Boys' Life.

*

Louise Fitzhugh's THE LONG SECRET. This book might blow your mind… if you are, like I was when I first read it, a devoted fan of Fitzhugh's Harriet the Spy (included on my Best YYA Lit 1964 list). In this sequel, Harriet has another mystery to crack. She's summering on Montauk — not with her excellent outsider weirdo friends Sport and Janie, but with the milquetoasty Beth Ellen — when nasty notes begin to appear around town. Like the vicious aperçus from Harriet's own notebooks, they're right on target. Who's leaving them? And what's happening to Beth Ellen's body? Also: Harriet is a jerk, kinda! Lizzie Skurnick's take on this book ("CSI: Puberty") is really spot-on: check it out.

*

Beverly Cleary's THE MOUSE AND THE MOTORCYCLE. By the author of the wildly successful kids' books (1950–99) about Henry Huggins, Ribsy, Beezus, and Ramona Quimby. I liked those books OK, when I was a kid… but I really liked this one. Set in a run-down resort hotel in California, it concerns the fateful meeting of Ralph, a mouse who longs for danger and speed, and Keith, a boy with a toy motorcycle. It turns out that Ralph can make the motorcycle run by making an engine noise with his lips… and off he goes, zooming up and down the creepy hotel's corridors, dodging vacuum cleaners and cats. (Is this where Kubrick got the idea for those scary Big Wheel scenes in The Shining?) When Keith falls sick, Ralph must brave the greatest danger of all in order to bring him medicine.
---
1966
---
René Goscinny and Albert Uderzo's bande dessinée Asterix adventure Asterix the Legionary. The tenth Asterix story is a particular favorite of mine — because it is a sardonic inversion of one of my favorite sub-genres of adventure: the all-for-one, one-for-all argonautica. In order to rescue a Gaul who has been conscripted into the Roman army and shipped to North Africa, where Julius Caesar was battling Metellus Scipio, Asterix and Obelix enlist in the army themselves. Along with a rag-tag group of conscripts from every corner of the empire — Hemispheric the Goth, Selectivemploymentax the Briton, Gastronomix the Belgian, Neveratalos the Greek, and Ptenisnet the Egyptian (who speaks in hieroglyphics) — our heroes must, for once, help Caesar win a battle.

*

Lloyd Alexander's fantasy adventure The Castle of Llyr. The third of five volumes in The Chronicles of Prydain is the series' most gothic installment: ruined castle, secret identities, lost memories! When heroic princess Eilonwy is forced to continue her education on the Isle of Mona, her companion Taran — assistant pig-keeper and would-be hero — comes along. Joined by the bard Fflewddur Fflam, Prince Gwydion (disguised as a shoemaker), and an incompetent princeling named Rhun, Taran seeks to rescue Eilonwy after she is kidnapped by the sorceress Achren. Along the way, they encounter Glew, a pathetic but dangerous giant, and an enormous mountain cat too. When Taran locates Eilonwy, in a castle that's sinking into the sea, she doesn't know him! Fun fact: "Isle of Mona" is a version of Ynys Môn, the Welsh name for the Isle of Anglesey.

*

Hergé's bande dessinée Tintin adventure Flight 714. In their 22nd adventure, Tintin, Snowy, Haddock, and Professor Calculus are inadvertently embroiled in the villainous Rastapopoulos's scheme to kidnap and rob the eccentric aircraft industrialist Laszlo Carreidas. Whisked away to an uncharted Southeastern Asian island, Tintin and his friends must escape from Rastapopoulos and his henchman, Alan, and rescue Carreidas; after which, guided by a telepathic voice (!), they discover a temple hidden inside the island's volcano. Why do the temple's ancient statues resemble astronauts? When Rastapopoulos triggers a volcanic eruption, how will any of them survive? Fun fact: Hergé's story was influenced by the ancient-astronaut theories of French sci-fi comic strip author Robert Charroux. Note that I didn't let my own children read this Tintin adventure until they were older, because: hypodermics, machine guns, Alan's shattered teeth.

*

Joan Aiken's parallel-history adventure Nightbirds on Nantucket. Having gone down with the ship at the end of the previous installment in Aiken's terrific Wolves Chronicles, Cockney ne'er-do-well Dido Twite wakes up in the middle of the Arctic sea, aboard a whaler out of Nantucket. While an Ahab-like Captain Casket pursues a magnificent pink whale, his motherless young daughter, Dutiful Penitence, refuses to venture out of her cabin. Dido befriends Penny, then accompanies her to her Aunt Tribulation's home on Nantucket. The girls soon uncover a Hanoverian plot involving a giant cannon — designed by a Wernher von Braun-type German scientist — that will be fired from Nantucket, and which will destroy England's Buckingham Palace. Meanwhile, Aunt Tribulation may not be what she seems. As ever, Dido's use of dialect — "havey-cavey," "tipple-topped," "in the nitch" — is awesome. Fun fact: Some Dido Twite fans suggest reading Nightbirds on Nantucket first, then (as prequels) The Whispering Mountain (1968), The Wolves of Willoughby Chase (1962), and Black Hearts in Battersea (1964), before reading the rest of the series in the order of their publication. That's not how I did it, but I do like the idea.

*

K.M. Peyton's sailing adventure Thunder in the Sky. Before K.M. Peyton became famous for innumerable books about girls and ponies, not to mention her romantic Flambards series, she wrote several YA adventures which — like this one — revolve around sailing. So if, like me, you're a fan of sailing adventures like The Riddle of the Sands, the Swallows and Amazons series, or the Horatio Hornblower books, then check out Peyton's Windfall (1962), The Maplin Bird (1964), and The Plan for Birdsmarsh (1965). In Thunder in the Sky, which is set during WWI, 16-year-old Sam works on his family's sailing barge. He is disappointed that his older brother, Gil, doesn't see it as his patriotic duty to enlist in the fighting; in fact, he begins to suspect that Gil might be an enemy spy. Will a supply run to France — carrying flammable cargo past bomb-dropping dirigibles — end in disaster? Some readers may complain about the exacting detail into which Peyton goes about how barges are sailed. But not this reader! Fun fact: Recommended by the British Library Association as one of the outstanding books for young readers published that year.

*

Henry Treece's historical adventures The Bronze Sword, The Queen's Brooch, and Red Queen, White Queen. Treece, a British poet and author, is best remembered today for his YA historical novels set at the end of the Viking period and during the Roman conquest of Britain. These three novels are set during Queen Boudicca's uprising against the Romans. The Bronze Sword is the most famous, I suppose, but I'm fond of The Queen's Brooch, in which Marcus, the son of a Roman Tribune, familiar with Celtic customs and friendly with the Celts, becomes a warrior… only to encounter horrific behavior on the part of tribal chieftains and their Roman conquerors alike. In the end, he becomes a proto-modern figure: adrift in a heartless world. Fun fact: As a poet, Treece was a founder of the New Apocalypse movement, a reaction against the politically oriented, machine-age literature and realist poetry of the 1930s. I also recommend Treece's Viking Trilogy, which includes Viking's Dawn (1955), The Road to Miklagard (1957), and Viking's Sunset (1960); and his 1956 prehistoric yarn, The Golden Strangers, one of my all-time favorite adventures, which depicts the encounter between primitive Britons and Indo-European invaders.

*

Leon Garfield's historical adventure Devil-in-the-Fog. If Garfield's first YA novel, Jack Holborn (1964), was an homage to Robert Louis Stevenson, then his second, Devil-In-The-Fog, pays obeisance to Charles Dickens. George is a member of the traveling Treet family, impoverished but happy thespians; twice a year, a mysterious stranger emerges from foggy London streets and delivers a sum of money to Mr. Treet. When George turns 14, he learns that he is actually the son of a nobleman, Sir John Dexter, with whom he must now live. But his father has been wounded in a duel with his brother, Richard. When Richard escapes from prison, someone tries to kill George. What devil lurks in the fog? To quote a recent Guardian write-up of Garfield's third novel, Smith (1967): "Not an easy read if you are under eleven, but an enormously satisfying one. The vividness of Garfield's writing puts the blandness of many modern writers' prose in the shade." Fun fact: Devil-in-the-Fog won the inaugural, 1967 Guardian Children's Fiction Prize.

*

Scott O'Dell's historical, treasure-seeking adventure The King's Fifth. Think of The Treasure of Sierra Madre, but set in 1540 and written for older kids. During Vasquez de Coronado's expedition from Mexico through parts of the present-day southwestern United States, a rogue conquistador strikes out on his own in search of the mythical Seven Cities of Gold. He is accompanied by the story's narrator, Esteban, a teenage Spanish cartographer who becomes one of the first Europeans to catch sight of the Grand Canyon and the Colorado River. The conquistadors' lust for gold drives their cruel treatment of the native Indians, and their mutual mistrust. We learn that Esteban is later imprisoned for having found a treasure without submitting the "King's Fifth," a tax levied by the King of Spain on precious metals. What has happened to the mule-train of gold? Fun fact: Written by the author of the much-admired YA adventure Island of the Blue Dolphins (1960). In 1982, The King's Fifth was adapted into the Japanese-French anime TV series The Mysterious Cities of Gold. Oh, and the few good ideas from the Disney movie The Road to El Dorado (2000) appear to have been lifted from O'Dell's book, too.

Sid Fleischman's historical/tall-tale adventure Chancy and the Grand Rascal. Separated from his family during the Civil War, an Ohio farm boy sets out to locate his orphaned brother and sisters. He soon falls in with a wily, charming, peripatetic con-man and BS artist… who turns out to be his long-lost uncle, Will Buckthorn. Together, Chancy and the Grand Rascal see the world along the Ohio River and the Great Plains frontier, seeking their family and getting into and out of scrapes. After many adventures, they discover that Chancy's siblings have been taken in by a pretty schoolmarm in Sun Dance, Kansas. What's a Grand Rascal to do? As a "coming-and-going" kind of man, can he be persuaded to settle down at last? Fun fact: Chancy and the Grand Rascal is the final installment in an extraordinary run of titles that Fleischman cranked out in the early 1960s, including: Mr. Mysterious & Company (1962, his first children's book), By the Great Horn Spoon! (1963), and The Ghost in the Noonday Sun (1965). I'm also a fan of Jingo Django (1971), which was recently adapted as a Quentin Tarantino movie. Just joshin'.

*

R. Macherot's talking-animal bande dessinée adventure Sibyl-Anne Vs. Ratticus. When Ratticus, an aristocratic rat, is kicked out of his ancestral castle, he preys on the mice and other animals in the surrounding forest. It's up to hot-tempered Sibyl-Anne, her easy-going fiancé Boomer, the cowardly but entrepreneurial crow Floozemaker, the porcupine police sergeant Verboten, and others to stop him. Long before Brian Jacques' similar Redwall series, here we find a peaceful mouse forced to band together with an unlikely assortment of animals and defend her homeland against the land, sea, and air invasion of an invading rat horde. Fun fact: Serialized, as "Sibylline en Danger," in the Franco-Belgian comics journal Spirou in 1966 and 1967. I've waited for years for this strip to appear in English; in 2011, Fantagraphics's Kim Thompson translated and published it. Sibyl-Anne Vs. Ratticus comprises the fourth and fifth Sibylline stories.
---
1967
---
Lloyd Alexander's Chronicles of Prydain adventure Taran Wanderer. Some fans of Alexander's Chronicles of Prydain enjoy this installment the least: Taran's quest — to discover whether he is of noble or common blood — has little urgency; there aren't any battles with the forces of Arawn Death-Lord; and Eilonwy, the hot-tempered witch-princess who shared in all of Taran's previous adventures, scarcely makes an appearance. Still, Taran meets interesting people, learns new skills and crafts, and gets into some tough scrapes; for comic relief, he's accompanied by the shaggy hominid Gurgi, the would-be bard Fflewddur Fflam, and the cranky dwarf Doli. This is a Bildungsroman, and Alexander makes Taran's education — he studies with a blacksmith, a weaver, a shepherd, a potter, and a truly inspiring and marvelous tinkerer named Llonio, each of whom teaches him something about his own character — fascinating to readers. Oh, and Taran battles a wizard! Fun fact: Alexander originally intended to write four books in the Chronicles of Prydain series; but after publishing The Castle of Llyr, his editor persuaded him to write a book before The High King — one which would persuade readers that Taran had developed into someone deeper and wiser than a courageous Assistant Pig-Keeper.

*

S.E. Hinton's The Outsiders. In Tulsa, Oklahoma, at some point in the mid-1960s, two rival teen gangs, the working-class Greasers and the middle-class Socs ("Socials"), clash by night — again and again. It's all fun and games, sorta, until the Socs attempt to drown Ponyboy, the story's innocent Greaser narrator, in a park fountain; Ponyboy's friend Johnny kills one of the Socs — and the two go on the lam. Before this happens, however, we get to know the Greasers — Ponyboy's brothers Darry and Sodapop, who are raising Ponyboy; Two-Bit Matthews; the vicious Dallas "Dally" Winston — as well as the beautiful Cherry Valance, ex-girlfriend of the Soc who is killed. (Ponyboy's harmless friendship with Cherry is what almost gets him drowned.) Still to come: a fire, a death, a rumble to end all rumbles, and a suicide-by-cop. Awesome. Fun fact: Hinton wrote The Outsiders when she was in 10th and 11th grade; she was 18 when the book was published. Adapted in 1983, by Francis Ford Coppola, as a popular movie starring C. Thomas Howell, Rob Lowe, Emilio Estevez, Matt Dillon, Tom Cruise, Patrick Swayze, Ralph Macchio, and Diane Lane.

*

Hugo Pratt's Corto Maltese graphic novel Una ballata del mare salato (Ballad of The Salt Sea). In 1914, just prior to the outbreak of World War I, a sinister rogue named Rasputin is up to no good, circumnavigating the islands north of Australia in a catamaran crewed by Melanesian natives, when he picks up a sailor who's been marooned by his own crew: Corto Maltese. (This is an anti-heroic entrance worthy of John Wayne's in Stagecoach.) In subsequent adventures, we'll learn that Maltese, the son of a British sailor and an Andalusian–Romani witch and prostitute, was born in Malta, participated in the Russo-Japanese War, and sympathizes with underdogs… but in this, the first Corto Maltese adventure, he is a pirate. Ballad of The Salt Sea is a tangled yarn — pirates, a German lieutenant, cannibals, wealthy Australian heirs held for ransom, a young Maori navigator, and an evil criminal genius in a hooded cloak all play important roles. Everyone betrays everyone else; Corto Maltese himself, though likable, can't be trusted. Fun fact: Pratt's artwork is gorgeous — the missing link between Milt Caniff and Frank Miller — and exegetes claim that he did extensive research, on everything from native tattooings to warships. Along with the first Tintin and Asterix books, Ballad of The Salt Sea was voted by the French public as one of Le Monde's "100 Books of the Century".

*

Edgar P. Jacobs's Blake & Mortimer adventure The Necklace Affair. Philip Mortimer, a leading British scientist, and his friend Captain Francis Blake of Britain's MI5, are in Paris when they learn that their enemy, Colonel Olrik (from the previous six Blake & Mortimer adventures), has escaped from prison. Invited to a reception at which Marie-Antoinette's legendary necklace will be revealed for the first time in over a century, they are unable to prevent Olrik from stealing the necklace. Olrik and his men then attempt to kidnap Paris's top jeweler… who, it turns out, might have been in cahoots with Olrik. There is a chase through the Catacombs, and a bewildering series of double-crosses. Fun fact: this is the only Blake & Mortimer adventure that doesn't include any science-fiction element. The strip was originally published in Tintin magazine in 1965 before coming out in book form in 1967.

*

E.L. Konigsburg's From the Mixed-Up Files of Mrs. Basil E. Frankweiler. Twelve-year-old Claudia Kincaid, and her younger brother Jamie, run away from home — and move into New York's Metropolitan Museum of Art. They hide in the bathroom at closing time, each evening; during the day they blend in with school groups on tour; and at night, they bathe in the museum's fountain — and gather coins from it. When the Met acquires a marble statue that may or may not have been sculpted by Michelangelo, the children investigate its provenance… which leads them to Mrs. Basil E. Frankweiler's home in Connecticut, and to her titular files. Fun fact: Mixed-Up Files won the Newbery Medal for excellence in American children's literature in 1968; and Konigsburg's Jennifer, Hecate, Macbeth, William McKinley, and Me, Elizabeth was a runner-up in the same year.

*

Geoffrey Household's historical adventure The Prisoner of the Indies. In 1567, 13-year-old Miles Philips sets sail from Plymouth (England), in the service of John Hawkins, renowned privateer, adventurer, transporter of African slaves, and general of the fleet of six vessels. However, when they reach Nueva España — a colonial territory of the Spanish Empire, in the New World, later known as Mexico — Hawkins's ship is ambushed. Miles finds himself stranded… and at the mercy of Aztecs and Spain's Holy Inquisition alike. Over the next 15 years, he sees men roasted and eaten, faces the rack, and endures innumerable hardships in this fast-paced adventure by the author of three of my favorite thrillers: Rogue Male (1939), A Rough Shoot (1951), and Watcher in the Shadows (1960). Fun fact: Miles Philips was a real person; his story was first recorded in a 1589 account of English trading voyages and adventures.

*

Alan Garner's YA fantasy adventure The Owl Service. Set in modern Wales, The Owl Service — the title refers not to some kind of elite strigine task force, but to a set of dinner plates with an owl pattern — is a contemporary "expression" of the Fourth Branch of the Mabinogion, the earliest prose literature of Britain. Blodeuwedd, in Welsh mythology, is a woman created from flowers, by the magicians Math and Gwydion — for Lleu, a man cursed to take no human wife. Blodeuwedd betrays Lleu in favour of another man, Gronw, who kills Lleu; as punishment, Blodeuwedd is turned into an owl. In Garner's story, a 15-year-old girl and her new stepbrother are vacationing in rural Wales, where they befriend a local teenage boy. They discover an owl-patterned dinner service… which apparently is cursed, because the next thing you know, the three possessed teens are helplessly, inexorably re-enacting the Blodeuwedd story. Fun fact: Winner of both the Carnegie Medal and Guardian Award for children's literature. The Owl Service was adapted as a well-regarded BBC miniseries in 1969–1970. Garner's other YA fantasy novels — The Weirdstone of Brisingamen (1960), The Moon of Gomrath (1963), Elidor (1965) — are excellent; so is Red Shift (1973).

*

John D. Fitzgerald's The Great Brain. In a series of stories based loosely on the author's own childhood growing up in Utah in the Teens and Twenties, young J.D. Fitzgerald recounts the escapades of his older brother, T.D., a 10-year-old conman who refers to himself as "The Great Brain." Theirs is an unstructured childhood — which makes it all the easier for T.D. to swindle his peers out of their valuables. There are some adventures — children get lost in a cave, for example — but mostly the book is about problems that arise among the town's children: an immigrant kid is ostracized; a kid who loses a leg is suicidal; the Mormon and non-Mormon kids feud. How will the conniving T.D. solve each problem — while making a few bucks in the process? Fun fact: Illustrated by Mercer Meyer. Subsequent installments in the Great Brain series include: More Adventures of the Great Brain (1969), Me and My Little Brain (1971), The Great Brain At The Academy (1972), and The Great Brain Reforms (1973).

*

"The Death of Ferro Lad," written by Jim Shooter, with art by Curt Swan and George Klein (Adventure Comics #352–353). In the 30th century, a massive cloud-like object called the "Sun-Eater" is approaching Earth! Caught short-handed, five members of the Legion of Super-Heroes — Superboy, Cosmic Boy, Princess Projectra, Sun Boy, and recent recruit Ferro Lad — round up five super-villains to help them save the solar system. While the villains conspire among themselves to rule the galaxy, the assembled super-group tries and fails to defeat the Sun-Eater. So super-villain Tharok constructs an Absorbatron bomb, which can destroy the Sun-Eater if it is detonated at the cloud's core. Though Superboy has the best chance of surviving, he's been weakened; so Ferro Lad nobly sacrifices himself. Fun fact: This story arc is notable not only for introducing the Fatal Five — one of the best super-villain teams ever — but for featuring the first permanent death of a member of the Legion of Super-Heroes.

*

John Christopher's The White Mountains. In the not-too-distant future, 13-year-old Will decides to leave his home town (somewhere in England) rather than go through with the Capping ceremony — a coming-of-age process whereby adolescents' heads are fitted with a docility-ensuring metallic mesh, by three-legged metal creatures known as Tripods. (This is, essentially, H.G. Wells fanfic.) His cousin Henry, with whom he doesn't get along, joins him… and on their way across Europe to the titular White Mountains, they meet a French boy, Jean-Paul, a sharp-witted student of the abandoned technologies they discover on their trip. Slowly, we discover that the Tripods are alien invaders who've decimated and enslaved humankind, compelling them to return to a pre-industrial way of life. Adults are of no use, when it comes to resisting the Tripods, because they've all been capped… except for a few rebels in the Alps. Fun fact: The White Mountains was followed by The City of Gold and Lead (1967) and The Pool of Fire (1968). The 1988 prequel, When the Tripods Came, predicts the British children's TV programs Teletubbies (1997–2001) and Boohbah (2003–2006).
---
1968
---
Ursula K. Le Guin's fantasy adventure A Wizard of Earthsea. In the world of Earthsea, magic is an inborn talent — and those born with the most powerful gifts are sent to school on the island of Roke, where they are trained to become responsible, staff-carrying wizards. (Hello, Harry Potter.) Ged, a reddish-skinned shepherd boy, is trained by the humble mage Ogion to use his impressive powers in harmony with nature; however, Ged is impatient and reckless. (Hello, Ben Kenobi and Luke Skywalker.) At Roke, Ged shows off to his fellow students by releasing a shadow creature that attacks him. Injured and afraid, he leaves school and seeks wizard work (including protecting a village from dragons!) while also evading the shadow creature, which continues to haunt him… until his old teacher, Ogion, advises Ged to confront his fears. Fun facts: This is Le Guin's first book for a young adult audience; Margaret Atwood has called it one of the "wellsprings" of fantasy literature. The next two installments in the Earthsea Trilogy are The Tombs of Atuan (1970/1971) and The Farthest Shore (1972). Later books in the Earthsea cycle: Tehanu, Tales from Earthsea, and The Other Wind. In 2005, Le Guin expressed her disappointment when the Sci Fi Channel's loose adaptation of the Earthsea trilogy cast a white actor as Ged.

*

Michael O'Donoghue's and Philip Wende's satirical picture-book The Incredible, Thrilling Adventures of the Rock. Not since the 1892 Sherlock Holmes story "The Adventure of the Cardboard Box" has an adventure yarn been saddled with so unprepossessing a title; anti-prepossessing would be a more apt term, here, since we're dealing with a Michael O'Donoghue joint. One of the most fiercely negative members of his double-negative generational cohort, O'Donoghue conjured up this children's book near the apex of his satirical career, i.e., just after the serialization in Evergreen Review of his brilliant graphic novel The Adventures of Phoebe Zeit-Geist (ill. Frank Springer), and just before he joined the National Lampoon. Never has there been an adventure story like this one; and never has a children's story ended in such a soul-searing fashion… except, perhaps, for O'Donoghue's own "The Little Engine That Died." I read The Incredible, Thrilling Adventures of the Rock as a child, and it changed me forever; for better or worse, you can decide. Fun fact: O'Donoghue and Wende sold this book to Random House's Christopher Cerf, who'd worked on the Harvard Lampoon with George W.S. Trow… which led directly to O'Donoghue helping start up National Lampoon.

*

Peter Dickinson's YA sci-fi/fantasy adventure The Weathermonger. A teenage boy, Geoffrey, snaps out of a fugue state — in which he's been for years — and discovers that he's been working as a "weathermonger" for an English village on the Channel… but now they think he's a witch, and they want to kill him. He and his younger sister, Sally, escape across the water to France. What's going on? Several years earlier, a mysterious force has converted most of England's population to anti-technology zealots, and the country has reverted a quasi-medieval way of life. Unaffected people have fled for the continent. France and other European countries have been unable to figure out the cause of the "changes," and adults who've parachuted in to investigate haven't returned. So Geoffrey and Sally return to England, and drive a 1909 Rolls Royce Silver Ghost — whose workings are described in loving detail — towards an atmospheric disturbance emanating from the Welsh coast. Fun facts: Hopefully it isn't giving too much away to reveal that this book — not so much the other two in the trilogy — concerns what's known as The Matter of Britain. Chronologically, this is the final installment in Dickinson's excellent Changes trilogy; however, it was published first. I think it's fine to read it first.

*

Lloyd Alexander's Chronicles of Prydain YA fantasy adventure The High King. The final installment in Alexander's terrific Prydain cycle begins shortly after the events of Taran Wanderer. Dyrnwyn, the magical black sword of Gwydion, Prince of Don, has been stolen by the necromancer Arawn. Tara, Gwydion, Eilonwy, Fflewddur Fflam, Gurgi, the hapless Rhun, and even the peaceful pig-keeper Coll head out to retrieve it. Their quest turns into an all-out assault on Arawn's kingdom — the Fair Folk, the northern realms, and the Free Commots, the smiths and weavers whom Taran befriended while seeking his own identity, the creatures of air and land all flock to the banner of the White Pig. It's very dark, for a YA book: Characters we've come to know and love don't survive; magic fades. What will become of Prydain — and Taran, Assistant Pig-Keeper? Fun facts: The High King was awarded the 1969 Newbery Medal for excellence in American children's literature.

*

Ted Hughes's children's science-fantasy novel The Iron Man (ill. George Adamson; US: The Iron Giant). When a farmer's son named Hogarth discovers that a mysterious man of iron has appeared in his rural English village, and is destroying crops, he alerts the townspeople — then helps them trap and bury the monster alive. Later, repenting of the role that he'd played in this action, Hogarth leads the iron man to a junkyard, where he can leave peacefully. Then, when an immense "space-bat-angel-dragon" arrives, demanding to be fed living creatures, Hogarth turns to the iron man for help. Will he save the planet that had rejected him? The author, considered one of the twentieth century's greatest poets, wrote the book after his children's mother, Sylvia Plath, committed suicide; he wanted to tell them a story in which a child can master the horrors of the adult world. Fun fact: Adapted in 1999 as a now-classic animated movie, directed by Brad Bird. PS: Was Black Sabbath's 1970 song "Iron Man" inspired by Hughes's book? Writing for The Boston Globe in 2008, I persuasively argued that the answer is: maybe.

*

John Christopher's YA science fiction adventure The Pool of Fire. In the thrilling conclusion to Christopher's Tripods trilogy, young Will helps organize resistance against the alien invaders who've subjugated the human race… and then the uprising begins. Will, the series' flawed protagonist, has spent months inside one of the Tripods' domed cities (as detailed in the previous book, The City of Gold and Lead); now, he and Fritz travel across Europe and the Middle East setting up anti-Tripod terrorist cells. Once the Resistance discovers that alcohol has a strongly soporific effect on the aliens, they plan a simultaneous commando raid against all of the Tripod cities on Earth. The Panama city holds out… so Will, Fritz, and Henry lead an attack launched from hot air balloons. One of the friends sacrifices himself to destroy the final redoubt. Now that their common enemy has been vanquished, will humankind remain united — or will they revert to national rivalry and war? Fun facts: The Tripods trilogy was serialized in comic strip form in the Boy Scouts' magazine Boys' Life, from 1981–1986. John Christopher (real name: Sam Youd) is also the author of the terrific Sword of the Spirits trilogy (1970–1972).

*

Joan Aiken's YA historical/fantasy adventure The Whispering Mountain. When old Mr. Hughes, museum-keeper in the small Welsh village of Pennygaff, discovers the legendary golden Harp of Tiertu, the local Marquess of Malyn sends two cant-speaking thugs to snatch it; they also kidnap Hughes's much-bullied grandson, Owen, who is blamed for the theft. Other characters interested in the harp include the mysterious Seljuk of Rum, and an order of monks which has mostly moved to China. Accompanied by his friend Arabis, daughter of an itinerant poet and tinker, and a few of the bullies who've tormented him, Owen must recover the harp and solve the prophecy of the Whispering Mountain. The language and dialect, as always with Aiken, is fun; and Owen's little book, Arithmetic, Grammar, Botany & these Pleasing Sciences made Familiar to the Capacities of Youth, is a terrific fictional Propaedeutic Enchiridion. Fun fact: A prequel of sorts to Aiken's 12-part, mostly excellent Wolves Chronicles, a series set in an alternative 19th century — in which the Hanoverians plot to regain the English throne from the Stuarts.

*

Alexander Key's sci-fi adventure Escape to Witch Mountain. Tony and Tia are siblings who've grown up in foster care; their parents were killed in a crash about which they possess only hazy memories. Tia can't speak normally, but she can unlock any door by touch and communicate with animals; Tony can communicate telepathically with his sister, and — when he plays his harmonica — he can access an impressive telekinetic ability. The children conceal their powers, particularly when they end up in a juvenile detention home. With the assistance of a kindly Catholic priest, Father O'Day, Tomy and Tia flee to the Blue Ridge Mountains, where they have reason to believe they'll find their own people (who may not be from Earth, originally). They're pursued by a devilish adversary who schemes to exploit their abilities for his own gain. Fun facts: Adapted as a 1975 Walt Disney movie; and again in 2009. Key also wrote The Forgotten Door, about an extraterrestrial humanoid who relies on the kindness of strangers when he arrives on Earth; and The Incredible Tide, the inspiration for Miyazaki's Future Boy Conan.

*

René Goscinny and Albert Uderzo's bande dessinée adventure Asterix at the Olympic Games. While training for the upcoming Olympic Games in Greece, Roman legionnaire and athlete Gluteus Maximus discovers that he is unable to best Asterix and Obelix at running, javelin, or wrestling. His centurion and coach informs Chief Vitalstatistix about the Games, at which point Asterix points out that (despite their resistance to Roman rule) the Gauls are technically Roman citizens and therefore, they should participate in the fun. Accompanied by every man from the village, Asterix and Obelix head to Olympia and register as athletes; reduced to despair, the Roman athletes devote themselves to elaborate feasts… which demoralizes the other athletes. So the Games' judges inform the Gauls that artificial stimulants are forbidden, which disqualifies Obelix and disables Asterix. How will the indomitable duo get themselves out of this jam? Fun facts: The 12th Asterix comic was serialized in Pilote in 1968 to coincide with the Mexico City Olympics; and it was translated into English in 1972 to coincide with the Munich Olympics. The subject of performance-enhancing drug usage in sports is more relevant now than ever!

*

Robert C. O'Brien's sci-fi adventure The Silver Crown. On her tenth birthday, Ellen Carroll — who likes to imagine that she is a queen — discovers a silver crown in her bedroom. A series of unfortunate events follows; slowly, Ellen discovers a parallel world in which she is an important figure. But someone is out to get her: Soon enough, Ellen finds herself hitchhiking to her Aunt Sara's house in Kentucky. En route, she meets Otto, a self-sufficient 8-year-old, who helps her flee through the mountains from sinister pursuers — and teaches her valuable survival skills. In a sinister castle in the forest, she and Otto discover the Hieronymus Machine, an ancient and self-aware device that allows the silver crown-wearer to control minds. Ellen struggles with ethical concerns around freedom and responsibility, not to mention technology's role in human life. Will she ever make it to Aunt Sara's? Fun fact: Yes, it's a bit uneven — but this is the debut novel by O'Brien, who would go on to explore similar themes in such terrific books as Mrs. Frisby and the Rats of NIMH (1971) and Z for Zachariah (1974).
---
1969
---
Peter Dickinson's YA fantasy adventure Heartsease. When a mysterious enchantment settles over England, many of its white, working-class inhabitants rapidly revert to an ignorant, xenophobic way of looking at the world; and, once nearly all of those who are unaffected — in particular, all immigrants — have fled England for the continent, the country makes (to coin a phrase) a hard Brexit… from the 20th century. What's more, anyone who displays any knowledge of how modern technology or machinery functions is persecuted as a witch. One such "witch," who is rescued by three children in a Cotswold village, turns out to be an American intelligence agent who has bravely parachuted in to investigate England's mysterious "Changes." Horse-loving Margaret somewhat reluctantly helps her cousin, Jonathan, and the family's servant, Lucy, smuggle the American to a derelict tugboat moored in a nearby canal, which Jonathan struggles to get working again. Can they figure out how to operate the canal's locks, and spirit the witch to safety — while contending with feral dogs, a violent bull, and superstitious villagers? And will Margaret join the group's flight to France? Fun facts: I've long been a fan of the Changes trilogy, which includes The Weathermonger (1968) and The Devil's Children (1970). Dickinson's theme seems particularly relevant right now; someone should adapt the series for TV, don't you think?

*

Kin Platt's supernatural/crime adventure Mystery Of The Witch Who Wouldn't. This is a sequel to the entertaining, Edgar-award winning YA treasure-hunt adventure Sinbad and Me (1967), in which teenage friends Steve and Minerva unravel an 18th-century mystery in Hampton, Long Island — where Minerva's tough-guy father is sheriff. (Sinbad is Steve's English bulldog.) This time, Minerva begins to act strangely — as though she's been hypnotized; and so does her family's maid. Meanwhile, a time bomb nearly kills both Steve and the sheriff. With the help of his brainy friend Herk, Steve investigates the witch who wouldn't — that is to say, a local sorceress who refuses to help criminals steal a local scientist's secrets. The author has done his homework: We learn a lot about spellcraft and occult practices, not to mention a thing or two about Aleister Crowley. Demons are summoned! In the end, it's up to Steve to rescue Minerva from a storm-ravagd harbor island… before it's too late. An important part of this book's charm, for me, is the lack of parental supervision: Steve, Minerva, and Herk do more or less whatever they please. Fun facts: Platt, who in the '30s wrote radio comedy for George Burns and Jack Benny, and in the '40s and '50s wrote and drew now-forgotten comic books, also wrote a couple dozen mysteries under various pen names. He is perhaps best-known today, however, as author of one of my all-time favorite children's picture books, Big Max (1965).

*

Mary Q. Steele's sci-fi adventure Journey Outside. Following in the tradition of sci-fi versions of Plato's allegory of the cave — which begins, I think, with Gabriel De Tarde's Underground Man (1884), and which was first introduced to younger readers, I think, by Suzanne Martel's Quatre Montréalais en l'an 3000 (1963) — children's author and naturalist Mary Q. Steele's strange novella begins underground. Dilar is an adolescent boy whose tribe, the Raft People, float endlessly along a dark, enclosed river in search of a legendary world where fantasies like "green" and "day" are real. Suspecting, correctly, that they've just been traveling in circles, perhaps for generations, Dilar jumps ship — and discovers the outside world! He experiences unknown phenomena like sunlight, grass, and peaches for the first time… and is adopted by a community who, although living above-ground, also (it turns out) live lives that are meaningless. Dilar embarks on a journey to find his people and liberate them — but, again and again, he finds himself instead entangled in misguided ways of living. I suspect that Steele's various communities — the People Against the Tigers, the cactus-sucking Not people, the man who spends his days cooking pancakes for animals — are intended as critiques of Sixties-era communes. It's tough to tell — an odd tale! Fun facts: Nominated for the Newbery Medal in 1970, which was awarded to William H. Armstrong's Sounder.

*

John Christopher's YA sci-fi adventure The Lotus Caves. One hundred years in the future, two teenage boys (Marty and Steve) hot-wire a lunar vehicle and explore the Moon's surface — beyond the proscribed boundaries of "The Bubble," their colony's protected habitat. Following the trail of Andrew Thurgood, an early lunar settler who'd vanished 70 years earlier, Marty and Steve stumble upon a series of underground caverns populated by fluorescent plants — all of which turn out to be controlled by (and aspects of) an alien life form. So far, we're in the realm of an old Robert Heinlein "juvenile," like Red Planet, say — but things quickly get psychedelic. The alien being possesses the power to enthrall its captives, and maintain them in a blissed-out, timeless state for — well, forever. Can Marty and Steve escape the Lotus Caves — the book's title refers to the land of the Lotus-eaters, which we read about in The Odyssey — and even if they can, why would they want to return to their boring, restricted lives inside the Bubble? Fun facts: Published between Christopher's (Sam Youd) two great YA sci-fi series, the Tripods trilogy (1967–1968), and the Sword of the Spirits trilogy (1971–1972). Adapted as a freaky, campy Syfy TV pilot — High Moon — in 2014, by Bryan Fuller.

*

René Goscinny and Albert Uderzo's Asterix comic Astérix en Hispanie (Asterix in Spain; in English, 1971). In an effort to coerce Chief Huevos Y Bacon, heroic leader of a village of Iberian resistance fighters, Julius Caesar's men kidnap the chief's son Pepe and send him to Gaul as a hostage. There, however, Pepe — a disobedient and mischievous character in the tradition of O. Henry's "Red Chief," not to mention Herge's Abdullah — is rescued by Asterix and Obelix, who are then assigned to return the boy to Spain. They are trailed by Spurius Brontosaurus, leader of Pepe's Roman escort, who at first plots to recapture Pepe… but later, after he and Asterix accidentally invent the sport of bullfighting in Hispalis (Seville), decides to make his living as a toreador instead. As with Asterix and the Goths (1963), Asterix in Britain (1966), and Asterix in Switzerland (1970), among other Asterix travelogues, there are many jokes made at the expense of the national culture in question… in this case, Spanish pride, Spanish hot tempers, and the terrible condition of Spanish roads. The sub-plot in which the otherwise exasperating Pepe bonds with Obelix' dog Dogmatix, to Obelix's increasing dismay, is also a memorable one, to this fan. Fun facts: Serialized in Pilote magazine, in 1969. This is the fourteenth volume of the Asterix comic book series, and the first to feature Unhygienix the fishmonger; it's also the first of many to feature a brawl between the Gaulish villagers.

*

Gary Paulsen's Francis Tucket frontier adventure Mr. Tucket. Before Gary Paulsen was known as the Newbery Honor Award-winning author of YA survivalist novels like Dogsong (1985) and Hatchet (1987), he wrote this exciting, amusing, and also tragic Sid Fleischman-esque yarn about Francis Tucket, a 14-year-old who — while heading west on the Oregon Trail with his family — is abducted by Pawnees. Rescued by Jason Grimes, a one-armed fur trader who refers to his new sidekick as "Mr. Tucket," Francis takes a crash-course in frontier survival skills. He learns to hunt rabbits and antelope, build a shelter against the elements, and — perhaps most importantly — eschew confrontation with potentially lethal enemies. Discretion, after all, is the better part of valor. Grimes is a no-nonsense mentor, whom Francis increasingly emulates… until a family is massacred, when we see a much darker side of the Jeremiah Johnson-esque mountain man. I wouldn't call this a revisionist western, exactly; however, Grimes does make it clear to Francis that the Pawnee never attacked white settlers until their land began to be stolen; in fact, he encourages Francis to forgive and forget his own trials. Fun facts: In the sequel, Call Me Francis Tucket (published a quarter-century later in 1995), Francis attempts to reunite with his family… alone, this time. Other titles in the series include Tucket's Ride and Tucket's Gold.

*

Morris and Goscinny's Lucky Luke western comic Dalton City (serialized, 1969; in English, 1972). In their eighth appearance in the series, the Daltons — outlaw brothers Joe, William, Jack, and Averell — escape from prison. Their plan is to restore Fenton Town, a hotbed of depravity which Lucky Luke had previously shut down, to its former glory. Thanks to the hapless hound Rin Tin Can (Morris and Goscinny's homage to Ron Tin Tin, canine star of a couple dozen 1920s movies), the Daltons capture Luke — and force him to play the role of a prospective guest in Dalton Town, prior to its grand re-opening. Once the Daltons hire singer Lulu Breechloader and her troupe of dancing girls, Luke persuades Joe Dalton that she intends to marry him. Thrilled, Joe plans a wedding and invites every desperado in the territory to attend. (The various outlaws dressed in their wedding finery were endlessly amusing to me, as a child.) Once Joe discovers that Lulu is already married, Luke must fight for his life. Fun facts: Serialized in Pilote magazine, this is the 34th Lucky Luke story. Morris and Goscinny were doing some of their best work around this time; I'm particularly fond of The Stagecoach (1968), The Tenderfoot (1968), Jesse James (1969), and Apache Canyon (1971).

*

Arnold Drake and Gene Colan's sci-fi comic Guardians of the Galaxy (first appearance, 1969). Conceived of by Arnold Drake, who'd previously created the Doom Patrol for DC, and Stan Lee, the Guardians of the Galaxy are an all-for-one, one-for-all squad — originally composed of a Jovian super-soldier (Charlie-27), a crystalline Pluvian (Martinex), a primitive Centaurian (Yondu), and a psychokinetic mutant (Vance Astro, later known as Major Victory) — who've united against the threat, to their fellow humanoids on a far-future Earth, of the reptilian Brotherhood of Badoon. The Dirty Dozen-like team would appear and disappear from Marvel's pages, in following years, landing their own series briefly in 1976, then making time-traveling cameo appearances in Thor, The Avengers, Defenders, and other titles through 1980 — written by Steve Gerber and drawn by Don Heck and Sal Buscema. Starhawk, who joins the team (in more ways than one), is an amazing character, too. Despite how grim and gritty Marvel became in the '90s, the Guardians have remained a light-hearted, action-packed franchise. Fun facts: James Gunn's 2014 superhero film Guardians of the Galaxy, and its 2017 sequel, were pretty fun — though not based on the early stories, which in 2009 were collected by Marvel into a single volume, Guardians of the Galaxy: Earth Shall Overcome.

*

John D. Fitzgerald's frontier adventure More Adventures of the Great Brain (ill. Mercer Mayer). In the first of several sequels to 1967's The Great Brain, John D. Fitzgerald brings us back to Aden, a fictional Utah pioneer town in 1896 — and recounts Tom Sawyer-ish stories loosely inspired by his own experiences as an adolescent growing up in Price, Utah, in the nineteen-teens. Like J.D., the young narrator of these stories, Fitzgerald was the son of an Irish Catholic father and a Scandinavian Mormon mother; and he had a conniving but not entirely wicked brother, Tom. At the end of the first book, Tom (the self-proclaimed "Great Brain") had seemingly reformed — i.e., by refusing to accept payment for helping the suicidal Andy Anderson adjust to his wooden leg, and by returning J.D.'s genuine Indian beaded belt. Tom is back at his old tricks again, however, in such yarns as "The Night the Monster Walked" (in which monster tracks, which appear to lead from Skeleton Cave to the river and back, lead to a panic), "The Taming of Britches Dotty" (about the transformation of a neglected girl; Tom teaches her to read, which is admirable — but his mother's efforts to make Dotty conform to female gender rules is less so), and "The Death of Old Butch" (about Aden's mourning of the death of a mongrel dog). Mercer Mayer's illustrations are terrific. Fun facts: Subsequent installments in the series include Me and My Little Brain (1971), The Great Brain at the Academy (1972), The Great Brain Reforms (1973), The Return of the Great Brain (1974), and The Great Brain Does It Again (1976). A (lame) 1978 Great Brain movie starred Osmonds brother Jimmy.

*

John Rowe Townsend's YA thriller The Intruder. In my favorite John Rowe Townsend novel, the near-future YA thriller Noah's Castle (1975), when a teenage boy finds his home transformed into a fortress, he must struggle — against centripetal and centrifugal forces — to decide for himself what the right course of action may be, even if that means defying paternal authority. This earlier novel, which is also a tense atmospheric thriller, finds our protagonist, 16-year-old Arnold Haithwaite, an adoptee driven out of his home by a creepy, manipulative stranger who claims to be the real Arnold Haithwaite, struggling with a similar predicament. The novel's setting is very English — a nearly abandoned port town in England, inhabited by a few old-timers. Arnold makes a living guiding tourists across the silted-in harbor's treacherous sands; as you can imagine, the sands (an a ruined church) become the scene of a dramatic chase and near-death experience, for Arnold and Jane, a love interest of sorts. Will Arnold learn the secret of his own identity — and stop the stranger from taking over his home? Fun facts: John Rowe Townsend (1922–2014) was not only a talented writer of many "juvenile" mysteries, but author of the definitive Written for Children: An Outline of English-language Children's Literature (a 1965 survey, revised most recently in 1990). The Intruder, which won Edgar and Horn Book awards, was adapted as a fondly remembered 1972 British TV series.
---
1970
---
*

Peter Dickinson's YA fantasy adventure The Devil's Children. When a mysterious enchantment settles over England, many of its white, working-class inhabitants revert to an ignorant, xenophobic way of looking at the world. They become technophobes, persecute anyone who isn't perturbed by machinery as witches, and return to farming and an old-fashioned life. Nicky, a 12-year-old girl living in London, loses her parents when they — and nearly every other adult in the city — smash their TVs and refrigerators, cars and buses, and every other sort of machine. Nicky, too, is affected by the Changes, to some extent — machinery makes her uneasy, though not violent. When a group of Sikhs — who, in post-Changes England, are considered "devil's children" — travels through the city en route to finding a safe, permanent home in the countryside, Nicky joins their caravan. (Note that Dickinson's use of Sikhs as central characters is, one assumes a commentary on the cultural moment: In 1967, a Sikh bus driver, Tarsem Singh Sandhu from Wolverhampton, was sacked from his job after he refused to remove his turban and shave his beard. Six thousand Sikhs marched in protest. Wolverhampton MP Enoch Powell made a now infamous 1968 speech defending discrimination on the grounds of race in certain areas of British life.) Nicky learns to love and respect her adopted family, who prove to be courageous, smart, and adaptable. After some adventures, the group establishes themselves in a new home near a farming community — the leader of which is a fat, hate-mongering populist reminiscent of Donald Trump. When a group of raiders attacks the community, Nicky and her brave friends rush to their rescue. There's a climactic neo-medieval battle scene…. Fun facts: Although it was published third in the Changes series, The Devil's Children is chronologically the earliest. I have suggested elsewhere that this book and the others in the series — really should be adapted as a movie or TV show.

*

John Christopher's sci-fi adventure The Guardians. A century in the future, England is divided into the modern, overpopulated, high-tech Conurbs and the leisurely, aristocratic County. Thirteen-year-old Rob grew up in the Conurbs, but his mother was from the County; so when his father dies suspiciously, he flees the state boarding school and sneaks under the barrier separating the two areas. There, he's befriended by Mike Gifford, a boy his own age, and eventually taken in by the Gifford family. They're kind to him, though Mr. Gifford is strangely obsessed with bonsai — and little else. Chastened by what he learns about the outside world from Rob, Mike falls under the influence of seditious types — who question England's authoritarian regime and social injustice. Rob, meanwhile, doesn't want to rock the boat. When Oxford and Bristol are taken by armed rebels, Mike and Rob find themselves on opposing sides of the conflict. Now it's Mike's turn to flee across the border — into the Conurbs, as a refugee from justice. Rob, meanwhile, is recruited by the Guardians — a secret group of overseers (a sinister version of H.G. Wells's "Samurai") who will do whatever is necessary to maintain the status quo. If Mike is caught, Rob learns, he'll be subjected to a surgical procedure to render him docile… like Mr. Gifford. Where do his true loyalties lie? PS: Interesting to note the parallels between this story and Ira Levin's This Perfect Day, published the same year. Fun facts: Written at the height of the author's powers, between the Tripods trilogy (1967–1968) and the the Sword of the Spirits trilogy (1979–1972), The Guardians won the Guardian Children's Fiction Prize.

*

Glendon Swarthout's YA adventure Bless the Beasts and Children. At a boys' camp in Prescott, Arizona, six emotionally troubled adolescents find themselves bunking together… because the well-adjusted assholes have rejected them. Their ragtag group — John Cotton, Sammy Shecker, Lawrence Teft III, Gerald Goodenow, and quarrelsome brothers Lally 1 and Lally 2 — is dubbed the Bedwetters. They're treated cruelly not only by their peers, but by the camp's counselors; via flashbacks, we discover how lazy and inattentive their wealthy parents are. Having discovered their cabin counselor's stash of pornography and booze, they blackmail him into taking them for a jaunt offsite, to a nearby ranch… where, alas, things get even darker. There, they witness a grim scene of surplus bison being "hunted" for sport; it's a slaughter. Determined to rescue the remaining animals, Cotton and his crew of empathetic misfits steal horses, then a pickup truck, and make their way back to the ranch that night. It's a harrowing journey, and at its end they discover that the nearly tame bison can't be moved — even when the exit gate is opened. The ending is truly tragic; children should not watch this movie. Fun facts: Several of Swarthout's novels were adapted as movies, including Where the Boys Are (1960) and The Shootist. The tragic 1971 adaptation of Bless the Beasts and Children, the authors bestselling book, was directed by Stanley Kramer and starred Billy Mumy (Will Robinson from Lost in Space). In response to the book's popularity, the Arizona legislature mandated changing the regulation of their annual buffalo hunt to more humane practices.

*

René Goscinny and Albert Uderzo's La Zizanie (English title: Asterix and the Roman Agent). As the 15th Asterix adventure begins, Julius Caesar releases Tortuous Convolvulus, a seditious troublemaker, from prison — and sends him to Gaul. Wherever this fellow goes, it seems, jealousy and discord (the book's original title was Strife) follow. (Earlier, he'd been sentenced to the lions in the circus, but somehow he persuaded the lions to eat one another instead.) En route to Gaul, Convolvulus causes dissension among Romans, galley slaves, and the pirates. Once he arrives at Asterix's village, Convolvulus gives a valuable vase to Asterix, whom he describes as the "most important man in the village," which naturally causes dissension. He also starts a rumor that Asterix has been feted by the Romans because he's given them the secret of Getafix's magic potion. Meanwhile, the soldiers in the nearby Roman camp of Aquarium begin to turn on one another. When Asterix and Obelix declare their intention of leaving forever, the Romans prepare to wipe out the village once and for all. Fun facts: The story was serialized in Pilote magazine in 1970; it was translated into English in 1972.

*

Hugo Pratt's Corto Maltese stories (serialized 1970–on). Pratt's now-iconic adventurer character debuted in the graphic novel "Una ballata del mare salato" (serialized 1967). In 1970, Pratt began publishing 20-pp. Corto Maltese stories in the French magazine Pif Gadget; set on the eve of World Wr I, they are cinematic, allusive, hallucinogenic, elegant, thrilling. In "Tristan Bantam" ("The Secret of Tristan Bantam"), Corto first meets the scholar Steiner, in Paramaribo; Steiner diagnoses our hero as a "frustrated Boy Scout," before joining him and the titular English orphan, Tristan, on a treasure hunt — which involves a cryptic map and the myth of Mu, a lost continent. In "Rendez–vous à Bahia" ("Rendez-Vous in Bahia"), the trio encounter Tristan's half-sister, the voodoo practitioner Morgana. They confront the villanous Milner, who plots to steal the orphans' inheritance; and Tristan retrieves Tezcatlipoca's skull from another dimension. In "Samba avec Tir Fixe" ("Sureshot Samba"), we arrive in Brazil, where Gold Mouth, and apparently ancient voodoo practitioner, sends Corto upriver to deliver guns and money to anti-colonialist rebels; they fall in with Sure Shot, teenage leader of a group of cangaceiros — peasant bandits — whom Corto inspires to bring down an exploitative colonial administrator. In "L'aigle du Brésil" ("The Brazilian Eagle"), Corto and crew stumble upon a German gunboat disguised as a banana cargo boat — and learn that Gold Mouth and Morgana are not what they seem. In "…et nous reparlerons des gentilshommes de fortune…" ("So Much for Gentlemen of Fortune"), "A cause d'une mouette" ("The Seagull's Fault"), and "Têtes et champignons" ("Mushroom Heads"), the hunt for long-lost treasure continues — and Corto's nemesis, Rasputin, returns! Fun facts: "When I want to relax, I read an essay by Engels," Umberto Eco once wrote. "When I want something more serious to read, I read Corto Maltese." The publisher NBM collected the 1970 Pif Gadget stories in two albums: The Brazilian Eagle (1979) and Banana Conga (1979; the title story is from 1971.) In 2015, the publisher IDW began reissuing all the Corto Maltese stories.

*

John Christopher's Sword of the Spirits sci-fi adventure The Prince in Waiting. The first installment in one of my favorite YA sci-fi trilogies. Thirteen-year-old Luke is the son of an army captain in Winchester, a walled and fortified city-state whose prince regularly leads an attack on neighboring city-states for honor and glory. Although at first we may think the story is set in medieval England, we soon figure out that this is a post-apocalyptic future. There has been some sort of autochthonic catastrophe, which decimated the 20th-century population and released radiation — which has created "polymufs" (mutants), and even a monster or two. Dwarfs are second-class citizens, in the neo-medieval world of Winchester and its neighboring cities; so are Christians, for that matter, who are widely regarded as weak and worthless. (As in Cicely Hamilton's 1922 sci-fi novel Theodore Savage, science and technology is regarded with superstitious horror, the cause of humankind's downfall.) Machinations by the prince's captains, as well as by the Seers — the dominant religious order, who condemn science and technology while communing with spirits — results in Luke's father becoming Winchester's new prince. The adolescent Luke — not his illegitimate older brother, Peter — becomes the titular prince in waiting. The King Arthur mythos is somewhere in the background, here: Will Luke's father, or Luke himself, unite England's fractious city-states into one kingdom? Like all of Christopher's protagonists, Luke is a complex character — not entirely sympathetic. We root for him to succeed, and also to overcome his own demons. Fun facts: A sequel, Beyond the Burning Lands, was published in 1971. The trilogy's third installment, The Sword of the Spirits, was published in 1972.

*

Roald Dahl's children's adventure Fantastic Mr Fox. The wily Mr. Fox, who lives in a hillside den, supports his wife and children by making nocturnal raids on the farms and storehouses of Boggis, Bunce and Bean — wicked, cruel, stupid farmers. When the farmers unite to kill our hero, they manage to shoot off his tail — then dig up his burrow, with spades and eventually heavy excavation machinery. Mr. Fox and his family retreat further underground, where they're trapped; as long as the siege lasts, not only they but their neighbors will slowly starve to death. Finally, Mr. Fox and his children tunnel underground to Boggis's, Bunce's and Bean's farms — and they invite their fellow animals along for the fun. They steal ducks, geese, hams, bacon, carrots (for their rabbit neighbors), even hard cider. Mr. Fox and his neighbors establish an idyllic underground commune, where no one will ever go hungry. Dahl strongly suggests that the animals have a right to prey on the humans because whereas the animals create delicious meals, the farmers are disgusting: one eats endless chickens, another drinks only alcoholic cider, and a third subsists on doughnuts stuffed with goose liver paste. Wit triumphs over shit; Zivilisation over Kultur. Fun facts: Wes Anderson's 2009 film adaptation takes liberties with the original story, but it's an excellent evocation of Dahl's sensibility: Beastly people must be punished.

*

Ira Levin's YA sci-fi adventure This Perfect Day. In the far future, the things that divide humankind — race, class, nationality — no longer do. Thanks to the visionary leadership of Wei Li Chun and Bob Wood, all nations have unified into one world state; all races and ethnicities have merged into one "family"; and everyone has a job, a place to live, and enough to eat. Although there are downsides to this utopian state of affairs — there is very little freedom to choose what you'll do, where you'll live, or who you'll marry; instead of surnames, everyone is issued a "namenumber"; people eat "totalcakes" and drink "cokes" for each meal; and so forth — nobody complains, thanks to mandatory monthly administrations of mood-altering drugs. We've seen this sort of dystopia before, and for a while Levin's book follows a familiar plot. Chip, a youthful rebel, stops taking his meds, and discovers that "UniComp," the computer that regulates the activities of everyone on the planet, is administered by a caste of Programmers who live in a luxurious underground kingdom. (Even more shocking is the revelation that Wei Li Chun is still alive, thanks to his practice of having his head transplanted every so often onto a young body!) Our hero escapes to a commune-like settlement, only to discover that it, too, is under the control of the world-state. When he joins with other rebels in an effort to overthrow the Programmers, he learns the most shocking secret of all. A decent potboiler, though seriously marred by sexism and homophobia. Fun facts: Ira Levin is best known as author of the novels A Kiss Before Dying (1953), Rosemary's Baby (1967), The Stepford Wives (1972), and The Boys from Brazil (1976), all of which were adapted into successful movies. This underappreciated novel hasn't been adapted.

*

Roger Leloup's sci-fi comic strip Yoko Tsuno (serialized 1970–2012). The protagonist of this long-running Franco-Belgian strip Yoko Tsuno is a brilliant young Japanese engineer who can do everything from programming a computer to flying a plane; she also speaks several languages, and is proficient in several martial arts. Along with her Belgian friends Vic Video and Pol Pitron, Yoko travels around Europe and Asia solving mysteries and getting into and out of futuristic scrapes. Some of the adventures of the "curious trio" are Scooby Doo-ish — a supposedly haunted castle, say, the "ghosts" of which are created by holographic projectors. But right from the beginning, there's also a sci-fi aspect to the series: In the first story, Le Trio de l'étrange (The Curious Trio), while making a documentary about a river, the three friends are captured by a humanoid alien race, the Vineans… who are themselves at the mercy of their rogue central computer and security chief. Subsequent tales involve a destructive infrasonic instrument named the Devil's Organ, a strange magnetic ore harvested by the Vineans, a corrupted artificial intelligence on the planet Vinea, a giant insectoid race, artificial tornadoes, and a giant lizard bred for a movie project. The Yoko Tsuno stories first appeared in Spirou magazine, and were originally drawn in the "Marcelline" style — think Franquin and Morris. Later, they were drawn in the Hergé-esque, schematic ligne claire style. Fun facts: Leloup worked in Hergé's studio, creating detailed backgrounds and vehicles for The Calculus Affair, Flight 714 to Sydney, and other Tintin adventures. Later, while collaborating with the cartoonist Peyo on the series Jacky and Célestin, Leloup created a female Japanese female character who'd become the inspiration for Yoko Tsuno.

*

Maurice Sendak's children's dream adventure In the Night Kitchen. A young boy named Mickey wakes up in the night, hearing a thumping sound coming from below his room. "Quiet down there!" he shouts — before falling out of his clothes and into the Night Kitchen, where enormous bakers (who look exactly like the silent-film comedian Oliver Hardy, though some commentators insist that they resemble Hitler) accidentally stir him into the batter for a cake and pop him into an oven. The artwork is miraculous: vintage-looking, with fond references to Winsor McCay's early 20th-century strip Little Nemo In Slumberland, while also evoking Claes Oldenburg's Pop Art "soft sculptures" of saggy hamburgers and baggy slices of cake. This is visual storytelling at its finest; as a child, I wanted to sink into the book's oversized pages the way that Mickey sinks through the bedroom floor. Unlike Little Nemo, Mickey is an action hero — he isn't at the mercy of his own subconscious. He pops out of the cake batter, shapes it into an airplane, and flies to the top of a skyscraper-like milk bottle towering over the Night Kitchen's cityscape. Diving boldly into the milk, which dissolves his batter-jumpsuit, he delivers to the bakers the crucial ingredient they'd lacked for their cake. Then it's back to bed. An empowering lucid dream, and a fine escapade. Fun facts: Sendak would later explain that Mickey's escape from the oven is a reference to the Holocaust. Because of Mickey's (innocent, exuberant) nudity, the book remains one of the most frequently challenged books in American libraries. Winner of the 1971 Caldecott Honor.
---
1971
---
Sid Fleischman's historical adventure Jingo Django. Seven years ago, Jingo Hawkes was deposited at a Boston orphanage by his one-legged rapscallion father — whom he can barely remember. Now 12 years old, he is hired out by the orphanage's villainous overseer to the sly General Scurlock, who puts Jingo in the way of discovering a treasure map inscribed on a whale's tooth. Meanwhile, a Mr. Peacock shows up, claiming to be Jingo's father — but he has two legs! The mystery man hires Jingo — whose real name seems to be Django; Romany customs and lifestyle are explored, here — as an apprentice, and carries him off on a fast-paced, far-roving treasure hunt. As with most Fleischman novels, the plot includes bandits, swindles, fast thinking, and a charismatic but unreliable father figure. Over the course of the story, Jingo/Django comes to admire the mystery man posing as his father; they develop an us-against-the-world camaraderie, one which requires them to forgive each other's various failings. Similar tropes recur in each of Fleischman's best novels —  Mr. Mysterious & Company (1962), By the Great Horn Spoon! (1963), The Ghost in the Noonday Sun (1965), Chancy and the Grand Rascal (1966) — of which this one, although he'd find success with many other titles over the course of a long career, is the last. Fun facts: Django is a Romany term meaning "I awake". It is best known as the nickname of Belgian jazz guitarist Jean Baptiste "Django" Reinhardt.

*

Ursula K. Le Guin's Earthsea fantasy adventure The Tombs of Atuan. The second book of the author's Earthsea Cycle is told from the perspective of a girl who, we learn, was dedicated — at age 6 — as the high priestess in the service of the Nameless Ones on the island of Atuan. By the time that Ged (Sparrowhawk), protagonist of the first Earthsea book, arrives on Atuan, 15-year-old Arha has come to feel at home in the stygian labyrinth — the tombs — beneath the temple. Her role is a gruesome one. When the God-Emperor sends prisoners to the tombs, it is she who orders them to be killed slowly by starvation. Into this claustrophobic setting comes Ged, in search of the long-lost half of a magical talisman; he already possesses the other half, and he wishes to use the talisman to bring lasting peace to Earthsea. When Arha discovers him wandering in the labyrinth, she traps him there to die; however, she is fascinated by the wizard, and at last decides to help him — at the risk of losing her own life. Fun fact: The three linked YA novels known as The Earthsea Trilogy are A Wizard of Earthsea, The Tombs of Atuan, and The Farthest Shore. The other books in the Earthsea cycle are Tehanu, Tales from Earthsea, and The Other Wind.

*

Robert C. O'Brien's children's science-fiction adventure Mrs. Frisby and the Rats of NIMH. Inspired by real experiments, conducted from the '40s through the '60s at the National Institute of Mental Health, Mrs. Frisby and the Rats of NIMH imagines what might have happened if a group of super-intelligent rats (and one mouse) had escaped the laboratory and founded a high-tech commune underneath a farmer's rosebush. That alone would have made a good story… but by making the rats of NIMH's tale secondary to the desperate struggle of a courageous mouse, Mrs. Frisby, to save her family from the farmer's plow, O'Brien wrote one of the best kids' books ever. In addition to the rats' fascinating society, we encounter a charismatic crow, a sinister cat, and an even more sinister group of scientists posing as rat exterminators. There's also a philosophical discussion about the commune's lack of self-sufficiency! Fun facts: Winner of the 1972 Newbery Medal. O'Brien's other fantasy and sci-fi books — The Silver Crown (1968), A Report from Group 17 (1972), and Z for Zachariah (1974) are also excellent.

*

Jack Kirby's Fourth World comics (1971–1974). When Jack Kirby left Marvel Comics for DC in 1970, he launched a science-fictional epic revolving around aliens with superhuman abilities arriving on Earth. Hailing from the planets Apokolips and New Genesis, the ontogeny of the so-called New Gods — their fantastic powers, even their names — recapitulated Kirby's imaginative billion-year phylogeny, during which three previous eras ("worlds") had seen the rise and fall of the Old Gods, legends of whom live on in humankind's mythologies. So sweeping was Kirby's weltanschauung that it couldn't be contained in the New Gods comic (#1–11 written and illustrated by Kirby, 1971–72). So he also wrote and illustrated Forever People (#1–11, 1971–72) and Mister Miracle (#1–18, 1971–74), not to mention a reimagined Superman's Pal Jimmy Olsen. These proto-postmodernist comics are a volatile admixture of religion (the character Izaya evokes the biblical Isaiah), ancient-astronaut theories, sci-fi technology (the Boom Tube, the Mobius Chair, the Mother Box), and 1960s culture (the Forever People are cosmic hippies). Kirby's 1940s-era teen characters, the Newsboy Legion, were resurrected; and Don Rickles made a cameo appearance. Truly awesome. Fun fact: The Fourth World storyline was intended to be a finite series, which would end with the deaths of the characters Darkseid and Orion.

*

Joan Aiken's YA historical adventure The Cuckoo Tree. At the catastrophic finale of Black Hearts in Battersea (1964), Dido Twite, a bratty but plucky Cockney tomboy, apparently drowns. After receiving letters from outraged fans, Aiken would arrange to have a comatose Dido picked up — rather like Captain America, plucked from the sea in 1964's The Avengers #4, now that I think of it — by a whaling ship, in the light-hearted Nightbirds on Nantucket (1966). But The Cuckoo Tree is an altogether darker, more sinister adventure. Dido has returned to England with Captain Hughes — about whom we've heard in 1968's Wolves Chronicles prequel The Whispering Mountain, and who is carrying dispatches vital to the Admiralty — when their carriage overturns, injuring Hughes and stranding them at Tegleaze Manor House… which turns out to be a hotbed of Hanoverian conspirators against King James III. As usual, Aiken is having fun with Victorian melodramatic tropes: in addition to another assassination plot, we meet a sinister and racing-obsessed lady, the Joobie nut-dispensing Tante Sannie, the local witch Mrs. Lubbage, twins separated at birth, a creepy puppeteer, and a plot to extort money from a noble family. Dido's father, the Hanoverian conspirator Mr. Twite, resurfaces. And there are other characters, as well — perhaps too many. Throughout, we continue to root for Dido to find a true home. Fun facts: In order of publication, this is the fifth installment in the Wolves Chronicles series. One suspects it was intended to be the final one, as Aiken wouldn't publish another until 1981's The Stolen Lake — which takes place between Nightbirds on Nantucket and The Cuckoo Tree, during Dido's voyage back to England with Captain Hughes.

*

John Christopher's Sword of the Spirits sci-fi adventure Beyond the Burning Lands. By the end of The Prince in Waiting (1970), the first installment in the Sword of the Spirits series, our teenage protagonist Luke has seen his father, Prince of Winchester, murdered. When Luke's half-brother, Peter, engineers his own succession as the new Prince, Luke flees to the Sanctuary of the High Seers, near Stonehenge — where he learns [SPOILER] that their true purpose is restoring science and knowledge to the world, which has reverted to a post-apocalyptic, neo-medieval social order. When a peddler arrives in Winchester, claiming to have crossed the volcanic wasteland to the north — i.e., where Bath and Bristol used to be — Peter sends Luke on an exploratory mission to the long-inaccessible "land of the Wilsh" — which is to say, Wales. Culture has evolved somewhat differently, in the city-state of Klan Gothlen (Llangollen); it's less uptight, more progressive. But Luke's old-school virtues serve him well, there; when he kills the Bayemot (that is, Behemoth), a kind of giant amoeba wreaking havoc on land, he is betrothed to Blodwen, the beautiful daughter of King Cymru. At this point, perspicacious readers will recognize that Christopher is rebooting the Arthurian mythos; Llangollen, after all, is the legendary home of Arthur's Queen Guenevere! Returning home, Luke discovers that the Seers intend him to be Prince, after all. Fun facts: Christopher (the pen name of Samuel Youd) also wrote about the enduring consequences of natural catastrophes in such non-YA sci-fi books as The Year of the Comet (1955), The Death of Grass (1956), The World in Winter (1962), and A Wrinkle in the Skin (1965). The final installment in this trilogy is The Sword of the Spirits (1972).

*

Adrien Stoutenburg's YA science fiction adventure Out There. In the not-too-distant year of 2010, the eccentric Zebrine ("Aunt Zeb") Vandebrook dwells in a climate‐controlled, domed city surrounded by a barren wasteland. She and her Nature Squad — five children whom she's taught to love the natural world, despite their sterile surroundings — venture outside, one day, on a mission to search for any surviving flora and fauna. Although they get lost, and must struggle to survive in a hostile environment, the mission is successful; they encounter squirrels, deer, fish, birds, a horse and a dog…. What's heartbreaking is that the children haven't ever seen any of these fabulous creatures — which to contemporary readers are mundane, unexciting ones. The story is reminiscent of Glendon Swarthout's Bless the Beasts & Children (1970), in a way; the children, for example, are insecure, awkward, troubled. And like the misfit protagonists of Swarthout's novel, they bond as a unit and even thrive in adverse conditions. Although this is a dark story about an all-too-possible future in which the environment as we know it no longer exists, we come away from it with a sense of optimism — Nature is resilient, after all, and so is each new generation. Fun facts: Stoutenburg was an accomplished poet; her 1969 collection, Short History of the Fur Trade, was short-listed for the Pulitzer Prize. In addition to writing YA novels, she wrote several dozen works of fiction and nonfiction for children.

*

Virginia Hamilton's YA adventure The Planet of Junior Brown. What a strange, sad, amazing story! Buddy Clark, a New York City orphan known as "Tomorrow Billy," takes his fellow eighth-grader, Junior Brown, under his wing. The two boys, both African American, find sanctuary in a secret room in the school's basement, where the janitor is working on a mechanical model of the solar system. Junior is an overprotected 300-pound musical prodigy with mental health issues; it's all that Buddy, himself a former math prodigy, can do to prevent him from withdrawing into a fantasy world. Although Junior is the novel's titular subject, Buddy is the more interesting character. Brave and resourceful, he spends much of his time seeing to the wellbeing of other homeless kids, a few of whom we meet. There is, we discover, an underground network of "planets" — refuges — for such children, each of which is overseen by a "Tomorrow Billy" like Buddy. Although this sounds like an Oliver Twist set-up, these older veterans not only coordinate the complex logistics necessary to care for their charges, but they work to keep them from falling into a life of crime. (It's almost a science fiction story — about utopian planets where the galaxy's misfits can thrive; at one point the janitor claims that "the human race is yet to come" and that Buddy and Junior are "forerunners.") The reader may hope that a kind, competent adult will show up to save the day, but this is (mostly) not the case. Junior's mother is a sickly neurotic, his music teacher suffers from delusions of grandeur, and the school's over-zealous vice principal is hot on the boys' trail…. Fun facts: Winner of a 1972 Newbery Honor, the book was adapted in 1997 by Clement Virgo as a movie starring Martin Villafana as Junior, Rainbow Francks as Buddy, and Margot Kidder as the piano teacher. Hamilton, an African American children's books author, is perhaps best remembered today for M.C. Higgins, the Great (1974).

*

S.E. Hinton's That Was Then, This Is Now. Hinton's second novel, published when the Oklahoman author was 23, is set in Tulsa. Bryon and Mark are friends who've been raised under the same roof; they're more like brothers. For kicks, they hustle pool, get into fights, pick up girls, and occasionally rip someone off. Things change when Charlie, their friend who runs the bar where they hustle pool, is shot and killed while coming to their rescue. Bryon begins to drift away from the thug life, questioning what life's purpose is, why things are they way they are, and who he wants to be; Mark, a charismatic sociopath, does not follow suit. The breakup of this bromance is set against the backdrop of the Sixties: psychedelic painted Volkswagen buses, crash pads, acid casualties. When Bryon discovers that Charlie has started selling drugs — including the pills that sent the gentle, fragile younger brother of their friend Cathy, to the hospital — matters come to a head. Will Bryon do the right thing, even if it means betraying Mark? Fun facts: Ponyboy Curtis, protagonist of Hinton's first book, The Outsiders, plays a small role in this story. That Was Then, This Is Now won the ALA Best Books for Young Adults award; it was adapted, in 1985, as a movie starring Emilio Estevez and Craig Sheffer.

*

Ellen Raskin's The Mysterious Disappearance of Leon (I Mean Noel). Raskin was a talented book designer before she became an author, and this book is a visual delight; like the narrative, the book's design is silly, smart, and engaging, all at once. Years ago, Caroline Carillon was a child bride; she and her husband Leon, who'd change his name to Noel, were married as part of their respective parents' merged soup business. Having met for the first time as adults, Leone falls off a sailboat and shouts a partially obscured message to Caroline, before vanishing: "Noel (glub) see (blub) all… I (glub) new…". Doubled and reversed names, a message that was half-heard (misheard, at that)… what's not to like? Years later, still wondering what became of Leon/Noel, Caroline enlists her adopted twins, Tony and Tina, and childhood friend, Augie, to crack the mystery of his disappearance. Unusual footnotes and typography, and a crossword puzzle expert who wears a football helmet at all times, add to the book's apophenic atmosphere; what's really going on? It's a timeless children's adventure, though also very much of its time: There's a riot at Bloomingdale's and New York's Women's Detention Center is picketed by East Village artists! Fun facts: Raskin illustrated over 1,000 book covers — including the first edition of Madeleine L'Engle's A Wrinkle in Time. Asked about her influences in 1972, she listed: "Blake, Conrad, Hawthorne, James, Nabokov, Piero della Francesca, Claude Lorrain, Gaugin, Matisse, Fantasia, Oriental art, baseball, hockey, zoos, medicine, and Spain."
---
1972
---
Richard Adams's talking-animal survival adventure Watership Down. An Aeneid-like epic in which a ragtag band of rabbits escape the destruction of their warren and journey across south-central England in search of a new home. Their unlikely leader is Hazel, whose main concern was to protect his oddball (visionary) brother Fiver; the charismatic star of the story is the gruff, tough rabbit Bigwig. These unlikely misfits encounter predators, snares, and automobiles; and they must elude the Owsla — the security force of their own warren, sent to fetch them back. Though the ever-growing group is tempted to join a couple of un-free rabbit societies, Hazel, Fiver, and Bigwig are fiercely determined to start their own warren… which they finally do, at Watership Down, a hill in the north of Hampshire. However, they need does — which leads them into more perilous adventures. And in the end, they must survive an attack led by Woundwort, the monstrous leader of a rival warren. Throughout, we hear inspirational excerpts from the lapine mythology of El-ahrairah the trickster. James Parker has described the book as "an unprecedented mash-up of eco-anxiety, homely bottom-of-the-garden anthropomorphism, real violence, and febrile mythmaking." Fun facts: Watership Down was Richard Adams's debut novel; it won the Carnegie Medal and Guardian Prize. It was adapted as a 1978 animated film; a 2018 miniseries adaptation, featuring the voices of Nicholas Hoult, James McAvoy, John Boyega, and Rosamund Pike as the Black Rabbit of Inlé. In 1996, Adams published a collection, Tales from Watership Down, featuring "Notes on Pronunciation" and a "Lapine Glossary."

*

Peter Dickinson's YA historical adventure The Dancing Bear. When barbarous Huns attack Byzantium, they carry off Ariadne, a wealthy young woman. Sylvester, a young slave in Ariadne's household who'd survived the raid by hiding out with Bubba, a dancing she-bear, bravely journeys into Hun territory on a quixotic rescue mission. (He is also fleeing powerful Byzantine traitors who know that he witnessed their treachery, and wnt to silence him.) Our hero is accompanied by Holy John — a dirty, epileptic, narcissistic household saint, who wants to convert the Huns — and by Bubba. Holy John's interpretations of God's wishes often save the day; and, when at a point when all seems hopeless, he is able to persuade the Hun's leader that Bubba is an incarnation of the Holy Spirit. Bubba, by the way, is a wonderful, loving, loyal character — perhaps the best bear in literature. There is a meta-textual aspect to the story; readers young and old will appreciate Dickinson's self-deprecating humor regarding the effort of conjuring up a historical era in all its social, cultural, political complexity. Fun fact: Dickinson would recall, of this book, that he started telling his sons this story because, when he was at Eton, a teacher had enthralled him with stories about "riots in Byzantium between two religious factions which resulted in a bear-keeper changing sides, so that his daughter, the future Empress Theodosia, became a prostitute in an Aryan brothel and not an Orthodox one." Dickinson invented the Hun raid on Byzantium to make his sons happy, only to discover that there had been such a raid at exactly the time he'd dreamed one up.

*

Rosemary Sutcliff's historical adventure(s) Heather, Oak, and Olive: Three Stories. Sutcliff's historical novels often take as their theme the conflicting claims of different cultures on individuals who belong entirely to neither one nor the other. This is the case with the three stories collected here; making a sacrifice in the name of friendship is another important theme. In "The Chief's Daughter" (originally published in 1966), Nessa, strong-willed daughter of the chief of a clan in pre-Roman Wales, interferes when her people attempt to sacrifice the young captured son of Irish raiders to the Black Mother. In "A Circlet of Oak Leaves" (1965), set in Roman Britain, the retired soldier Aracos never joins his fellow cavalrymen in recounting the events of the defining military adventure of his life — because he did a favor for a friend that he can never reveal. And in "A Crown of Wild Olive" (1971), which is set during a truce in the Peloponnesian War (between Athens and Sparta, the leading city-states in ancient Greece), Amyntas and Leon, rival athletes in the Olympic games, become close friends — despite having been born on opposite sides of the conflict. Fun facts: Illustrated by Victor Ambrus. Due to a chronic illness, as a teenager Sutcliff spent most of her time with her mother — from whom she learned the Celtic and Saxon legends that first inspired her interest in historical stories.

*

Jack Kirby's sci-fi comic series Kamandi: The Last Boy on Earth (1972–1976 or so). Kamandi is the last survivor of "Command D" (get it?), an underground shelter where a group of New Yorkers took refuge, at some point in the not-too-distant past, from a radiation-related disaster that made living on the surface untenable. He is an almost feral yet educated teenager, having known nothing of the outside world but what he's seen on video screens — think of him as a precursor to today's so-called Generation Z. Emerging at last, like one of the blinkered characters from Plato's allegory of the cave, into a post-apocalyptic America, Kamandi discovers that the few humans who have survived have in most cases degenerated to a Stone Age level of existence. Many animal species, meanwhile — I won't go into the back story, it's a mashup of Planet of the Apes and Mrs. Frisby and the Rats of NIMH — have become bipedal, humanoid, and sentient, and possess the power of speech. Equipped with weapons and technology salvaged from the ruins of human civilization, these lions, tigers, and bears have divided up the North American continent into warring kingdoms. Kamandi crosses this landscape, using his wits to survive a series of adventures; he befriends Dr. Canus, the canine scientist of Great Caesar (leader of the Tiger Empire), Caesar's teenage son Tuftan, the mutated human Ben Boxer, not to mention various savage humans and even an alien. One of the great yarns from Kirby, then working at the peak of his powers; and the map of North America at the end of issue #1 is endlessly evocative. Fun facts: Having failed to acquire the license to publish Planet of the Apes comics, DC editor Carmine Infantino asked Jack Kirby to develop a similar concept. Kirby combined the idea with a comic strip he'd dreamed up in 1956, Kamandi of the Caves. He stopped writing the comic in 1976, after 37 issues, though he drew a few more issues after that.

*

Ursula K. Le Guin's Earthsea fantasy adventure The Farthest Shore. In the final installment of the original Earthsea trilogy, the planet faces an existential crisis: the magic is leaking out of it, into a kind of black hole — and along with the magic is going all courage and conviction, not to mention songs, craftsmanship, and joy! The archmage Ged, whose life and career as a wizard we've being following in this series, is now on the elderly side; he and Arren, his young princely sidekick, head out in the Lookfar to investigate. (Arren is not a skilled warrior or gifted wizard; but he is courageous, and one day he'll be a powerful ruler — so Ged, the Aristotle to his Alexander — wants to impart his own hard-earned wisdom.) They discover that a powerful dark mage, who has made his home among the dragons on Earthsea's westernmost island, is promising life after death… even if that means destroying the world. A slow-moving adventure, with philosophical musings — not as thrilling as the first two installments. But Le Guin is a wonderful philosopher, so the book is a beautifully written page-turner. Fun fact: Winner of the 1973 National Book Award for Young People's Literature. Originally the series was a trilogy; Le Guin then added Tehanu (1990), The Other Wind (2001), and the story collection Tales from Earthsea (2001). Rather confusingly, the 2006 animated film Tales from Earthsea, directed by Hayao Miyazaki's son Gorō, was based primarily on The Farthest Shore.

*

John Christopher's YA science fiction adventure The Sword of the Spirits. Before Mike W. Barr and Brian Bolland's 1982–1985 comic book series Camelot 3000, there was this, the third installment in John Christopher's Sword of the Spirits trilogy. It takes place shortly after the events of The Prince in Waiting (1970), in which a headstrong young Luke Perry becomes heir to the throne of Winchester, a walled city in the medieval world of post-apocalyptic England, only to flee to the mysterious Sanctuary of the High Seers (a high-tech hideout near Stonehenge) when his half-brother betrays him; and Beyond the Burning Lands (1971), in which Luke becomes a hero in Klan Gothlen (Llangollen, Wales, legendary home of Arthur's Queen Guenevere), then returns to Winchester to find that the Seers have orchestrated his return to power. Assuming the role of military leader, Luke extends his rule to Winchester's neighbors, and appears to be on his way to fulfilling the Seers' mission of unifying England's independent city-states, in the name of progress. Happily ever after? No! When Luke's betrothed, Blodwen from Klan Gothlen, falls in love with his friend and principal military advisor, he finds himself on the run again. Summoning a Welsh military forced armed with Seers-provided Sten guns, our brave but difficult-to-like protagonist returns to Winchester to seek revenge… but when the time comes for him to reclaim his throne, will Luke be able to go through with it? Fun facts: I also recommend Christopher's Tripods trilogy (1967–1968), and stand-alone YA novels of the same period such as The Lotus Caves (1969), The Guardians (1970), Dom and Va (1973), and Wild Jack (1974).

*

Edward Gorey's spooky-kooky illustrated story collection Amphigorey. A spooky-kooky collection of fifteen tales, ostensibly but not entirely intended for children, first published between 1953 and 1965 by one of the most original, self-assured, witty and weird artist-authors ever to sport Converse high-tops and a fur coat to the New York City Ballet. Most of us who grew up in the '70s can recall, almost word for word, "The Gashlycrumb Tinies" ("E is for Ernest who choked on a peach/F is for Fanny sucked dry by a leech"); "The Wuggly Ump" is a "Jabberwocky"-esque example of kiddie doggerel with an unhappy ending; and "The Bug Book," a chillingly upbeat fable about six happy and colorful insects who team up to destroy an unpleasant newcomer, was also of particular interest, to me as child. I enjoyed leafing through the rest of the book, too, but it wasn't until I reached late adolescence that some of its contents — the oft-violent limericks of "The Listing Attic," the Godot-like meaninglessness of "The Doubtful Guest," the nearly-naughty "pornographic" story "The Curious Sofa" — started making sense. Other selections here, like "The Unstrung Harp," a metafictional story about an Edwardian novelist struggling to complete the lurid title narrative, or "The Willowdale Handcar," "The Object-Lesson," and "The Sinking Spell," remain, to this day, capable of teaching me something about the power of leaving things unspoken. Fun facts: The word amphigory, or amphigouri, means "a nonsense verse or composition." Gorey's cross-hatched pen and ink drawings decorate not only an edition of H.G. Wells's War of the Worlds, but the covers of dozens of literary classics, pubished during the paperback revolution of the the mid- to late 1950s when he was working at Doubleday.

*

Jean Craighead George's frontier children's adventure Julie of the Wolves. Miyax, a smart, observant 13-year-old Inuk girl, is not only orphaned — when her father doesn't return from a seal hunt — but coerced into marriage with Daniel, an intellectually disabled young man who assaults her. So she runs off over the tundra, in hopes of eventually reaching San Francisco. Because her father has taught her survival skills, this isn't as dire a situation as it may seem; however, she won't last long unless she can find some help. This comes in the form of a wolf pack, with whom — through patient observation and experimentation — she learns to communicate, in a rudimentary way. As the story unfolds, we learn that Miyax once lived with her aunt in an Alaskan town where she attended school, and changed her name to "Julie." She is adopted by the pack… and when she finds a way to return to her former life, she is torn between the choice of staying with the wolves or going home. Fun facts: Jean Craighead George wrote over 100 books for children and young adults, including My Side of the Mountain (1959). The inspiration for the Newbery Medal-winning Julie of the Wolves derived from a summer she spent studying wolves and tundra at the Arctic Research Laboratory of Barrow, Alaska. Although often taught in school — I remember reading it aloud in the 5th grade — the book is also often challenged because it describes alcoholism, abuse, and sexual assault.

*

Ed Emberley's Ed Emberley's Drawing Book: Make a World. Massachusetts-based illustrator Ed Emberley had already gained recognition for his simple yet sophisticated — psychedelic, even — work on children's books like The Wing on a Flea (1961), Yankee Doodle (1965), and Drummer Hoff (1968, written by his wife, Barbara), to mention a few personal favorites, before he turned his hand to encouraging children to draw. I say "encouraging" rather than "teaching," because Emberley's drawing books provide practical tools for getting over one's anxiety about lack of ability, one's fear of the blank page. (I doubt that anyone, with the exception of Tom Gauld, grew up to draw like Emberley.) Today, many of these guides, from Ed Emberley's Drawing Book of Faces (1975) to Ed Emberley's Drawing Book of Weirdos (2004), are still in print; I've purchased new editions for my own kids. When I was growing up in the 1970s, however, Make A World, which demonstrates "how to draw enough things to make a world of your own," was of particular significance, to me — and to my six younger brothers and sisters, too. The author deconstructs over 400 objects, buildings, animals, and characters — from alligators and bulldozers to volcanos and witches — down into their simplest forms. A drawing of a pirate ship is, we discover, composed of variously colored squares and rectangles, triangles and dots, lines and squiggles; and so is everything and everyone else that one could possibly imagine. The book's final pages are a DIY call to action: make your own comics, posters, books, games! This slim, brilliantly colored book isn't an adventure novel; I include it on this list because it's something equally as thrilling: a bottom-up worldbuilding propaedeutic enchiridion. Fun facts: Although it's impossible to find a cheap used copy of the book, I also highly recommend Emberley's 1975 illustrated adventure The Wizard of Op, about a "slightly inept wizard" whose spells are depicted as two-page spreads of vibrating, slightly hallucinatory black-and-white optical-illusion patterns.

*

René Goscinny and Albert Uderzo's Le Devin (English title: Asterix and the Soothsayer). Beginning with 1970's La Zizanie (Strife; English title: Asterix and the Roman Agent), Goscinny's Asterix stories took on political intrigue, capitalist competition, urban renewal, and other contemporary themes — in each case, showing how these things can threaten the fragile fabric of the Gaul's quarrelsome but close-knit community. Here, the theme is credulity and superstition — among highbrow Romans and lowbrow Gauls alike. A wolf-cloaked soothsayer, Prolix, visits the village in search of a square meal; his predictions — the weather will clear up; the villagers will brawl — are vague, obvious, and compelling. Even Obelix falls for Prolix's claim that a beautiful woman will come his way; only Asterix remains skeptical. The Romans weaponize Prolix, whose prophesy of doom causes the villagers to abandon their homes in a panic. Word is sent to Rome: All of Gaul is now conquered! Caesar sends an envoy to confirm the claim, while the Romans prepare to occupy the village. How can Asterix persuade his gullible comrades that Prolix is a charlatan? Alas, the idea that a rumor-mongering conspiracy theorist could sway public opinion, and empower predatory opportunists, is all too timely, right now. Fun facts: Serialized in Pilote (issues 652–673) in 1972. The extended-panel scene on page 10, where several characters observe the disembowelment of a fish, is a reproduction of Rembrandt's 1632 painting Anatomy Lesson of Dr. Nicolaes Tulp.
---
1973
---
Susan Cooper's YA fantasy adventure The Dark is Rising. On the Venn diagram showing admirers of Susan Cooper's Dark is Rising sequence and fans of J.K. Rowling's Harry Potter series, I suspect there is little overlap — this, despite the fact that both feature a young English hero who discovers his magical abilities, then undertakes perilous quests in search of artifacts that will assist a rag-tag band of good wizards and witches facing the growing menace of supernatural evil. Cooper's prose is superior to Rowling's, but her stories are grimmer. In this installment, we meet Will Stanton, who until the eve of his eleventh birthday believes that he's an ordinary kid. In fact, he's an Old One — an immortal being who task it is to serve the Light, and protect the world from the Dark. In later installments, Will will join forces with the Drew siblings (whom we met in 1965's Over Sea, Under Stone); here, he must travel through time seeking six magical talismans. He is assisted by Merriman, a decidedly un-Dumbledore-like mentor-wizard, and menaced by a sinister Rider and a mad Walker — not to mention a Hunter who represents neither Light nor Dark but wild magic. The mythological sub-strata can be a bit much, at times; and there isn't a lot of swashbuckling action… or wizard battles, even. But it's a marvelous, gorgeous tale — one of my favorite YA fantasy novels of all time. Fun facts: The Dark Is Rising sequence continues with Greenwitch (1974), The Grey King (1975), and Silver on the Tree (1977). The 2007 film adaptation of The Dark Is Rising (US title: The Seeker), directed by David L. Cunningham, is a disappointment.

*

Penelope Lively's YA fantasy novel The Ghost of Thomas Kempe. When young James Harrison's family move into an old Oxfordshire cottage that has recently been renovated, he discovers that the workmen have accidentally unleashed a poltergeist. His family blames the ensuing chaos — slamming doors, odd acts of arson and vandalism in the town — on him, at which point James befriends an exorcist. He discovers that the poltergeist is Thomas Kempe, a 17th-century sorcerer who considers the boy to be his new apprentice. Kempe is a difficult houseguest, one whose distaste for the modern world explains his acts of sabotage and destruction — cf. the sorcerer responsible for The Changes in Peter Dickinson's The Weathermonger (1968). Those of us who've read the book as children know that Kempe's truculence and unpredictability is unsettling; as an adult, I find the poltergeist more amusing. Most importantly, Lively is a beautiful writer whose evocation of the Oxfordshire countryside, and the dislocating eeriness of an encounter with a spirit out of time, is affecting. James, too, is a fun character, well able to look out for himself, and increasingly empathetic as he learns about Kempe's history. Fun facts: Winner of the Carnegie Meda from the Library Association, recognizing the year's best children's book by a British subject. She would go on to win the 1987 Booker Prize for her adult novel Moon Tiger.

*

René Goscinny and Albert Uderzo's Asterix comic Astérix en Corse (Asterix in Corsica; serialized 1973, in English, 1979). When the indomitable Gauls, accompanied by friends from previous adventures — Petitsuix from Helvetia, Huevos Y Bacon from Hispania, Anticlimax from Britain, Drinklikafix of Massalia, Winesanspirix from Gergovia, among others — attack the Roman camp of Totorum, they free the Corsican resistance leader Boneywasawarriorwayayix. Asterix, Obelix, and Dogmatix accompany their new friend home, en route to which they encounter the usual crew of hapless pirates; the Corsican's disgusting cheese (recognizable as casgiu merzu, a fermented sheep milk product containing thousands of live maggots) causes the ship to violently explode. Courtingdisastus, an ambitious Roman soldier, is sent to recapture the resistance leader; the corrupt Praetor Perfidius, meanwhile, plans to flee Corsica with his stolen loot. As per usual, Goscinny and Uderzo poke gentle fun at local stereotypes, including: Corsican laziness, long-simmering vendettas, grim glares, election fraud, old men sitting on benches and commenting on everything, and the maquis shrubland where armed resistance groups were known to hide. Napoleon is referenced frequently, particularly at the end of the adventure, when Boneywasawarriorwayayix (whose name, in the English version, is taken from a sea chanty about the Corsican emperor) strikes a Napoleonic pose. Fun facts: The 20th Asterix album, and the last Asterix adventure to be serialized in Pilote magazine, is the best-selling title in the history of the series. Subsequent adventures — Asterix and Caesar's Gift (1974), Asterix and the Great Crossing (1975), etc. — would be published in album form only.

*

Katherine Paterson's YA historical adventure The Sign of the Chrysanthemum. In 12th-century Japan, battles between two powerful clans divide Kyoto, the country's crowded, colorful capital city. After his mother's death, Muna, an adolescent whose shameful name means "no name," stows away on a ship to Kyoto in search of the father he's never met. The only thing he knows about him is that he's supposedly a great samurai… and he bears on his shoulder a chrysanthemum tattoo. Takanobu, a roguish but likeable ronin (masterless samurai), takes Muna under his wing. Muna gets a first-hand look at social injustice, and he is badly injured when he attempts to rescue Takanobu from a fire at their inn; worse, the girl he likes is sold to a house of ill repute. His fortune takes a turn for the better when he is taken in by Fukuji, a humble, but skilled swordsmith. When Takanobu reemerges, and asks Muna to steal a sword from the swordsmith, will Muna betray his master — even though Takanobu may be his father? I'm reminded of two of my favorite Sid Fleischman novels, Chancy and the Grand Rascal (1966) and Jingo Django (1971), although it's less optimistic than these earlier efforts. Fun facts: Paterson is best known for her award-winning novels The Master Puppeteer (1975), Bridge to Terabithia (1977), The Great Gilly Hopkins (1978), and Jacob Have I Loved (1980). The Sign of the Chrysanthemum was her first novel.

*

John Bellairs's children's gothic horror adventure The House with a Clock in Its Walls. In the first of his many adventures, the recently orphaned Lewis Barnavelt moves in with his uncle, Jonathan, in a small Michigan town. Jonathan, a well-intentioned but not particularly powerful warlock, lives in a house formerly inhabited by Isaac and Selenna Izard, evil sorcerors who'd plotted to bring about the end of time. Before they died, Isaac had constructed a magical clock — hidden in the house's walls — that ticks away as it attempts to pull the world as we know it towards its doom. In an effort to impress a new friend by demonstrating how to raise the dead, Lewis accidentally releases Selenna from her tomb; he must then enlist his uncle's help — and that of their neighbor, Florence Zimmermann, a far more powerful good witch — in order to prevent Selenna from completing her husband's dastardly work! Fun facts: The book, which was illustrated by Edward Gorey, was adapted into the 2018 Eli Roth film — starring Jack Black and Cate Blanchett — of the same name. Bellairs wrote subsequent Lewis Barnavelt adventures, including: The Figure in the Shadows (1975) and The Letter, The Witch, and The Ring (1976); other adventures in the same series were completed or written after his death.

*

Thea Beckman's YA sci-fi/historical adventure Kruistocht in spijkerbroek (Crusade in Jeans). When Dolf, an Amsterdam teenager, volunteers for an experiment with a time machine, he expects to be transported to a medieval tournament of knights. Instead, he finds himself stranded in the 13th century, where he saves the life of a young Italian named Leonardo — whom the reader soon realizes is the brilliant mathematician later known as Fibonacci, who popularized the Hindu–Arabic numeral system in the West. Dolf and Leonardo join the Children's Crusade — a real-life movement in which thousands of German and French youth attempted to reach the Holy Land, but instead met with great hardships, in the year 1212. Thanks to his 20th-century knowledge and perspective, not to mention a few "magical" devices such as a box of strike-anywhere matches, Dolf becomes a leader and organizer of the Children's Crusade… and he's able to save many innocents from bandits, epidemics, starvation, and slavers, as they trek across the Karwendel range of the Alps, toward Genoa and the sea. As a result of his actions, however, he is accused of witchcraft! The book takes a close look at the importance attached to social class and position, and the omnipresence of faith, in medieval times. Fun facts: Thea Beckman was a Dutch author of children's books, best known for Crusade in Jeans and her post-apocalyptic Children of Mother Earth trilogy, in which soldiers invade a Greenlandic society led by women. Dutch fans of Beckman's work have been known to complain that there hasn't yet been an adequate English translation of Crusade in Jeans.

*

Patricia Wrightson's children's fantasy adventure The Nargun and the Stars. Simon Brent, an adolescent orphan, is sent from the city to live with relatives on a 5000-acre sheep ranch in the remote Hunter Region of New South Wales, Australia — think of the first act of the 2016 New Zealand film Hunt for the Wilderpeople. While getting to know his new family, and exploring his new surroundings, which Wrightson, one of Australia's most distinguished children's authors, describes poetically, Simon meets a potkoorock. The mischievous swamp creature warns him that the Nargun — a fierce half-human, half-stone creature — has been awoken after a millennial sleep ("while eagles learnt to fly and gum-trees to blossom; while stars exploded and planets wheeled and the earth settled") by humankind's digging machines, and has slowly made its way into the Hunter Region. There is no European mythology, here: The Nargun is a creature from the mythology of the Gunaikurnai, an Indigenous Australian nation whose territory occupies most of present-day Gippsland and much of the southern slopes of the Victorian Alps. Can Simon and his family preserve the land, protect the whispery cave Nyols and the rustling tree Turongs, and stop the predatory Nargun's advance on their farm? Fun facts: The Nargun and the Stars was among the first books for children to draw on Australian Aboriginal mythology. Wrightson's story was made into a mini-series for television by the Australian Broadcasting Corporation; it was screened in 1981.

*

Joe Simon and Jerry Grandenetti's political adventure PREZ (1973–1974). In a fine example of the first-time-as-comedy-second-time-as-tragedy trope, the short-lived comic Prez should be read as an un-cynical, though still bizarre version of Wild in the Streets, the 1968 youthsploitation movie in which a teenage pop star and his multiracial band mates move into the White House… and chaos ensues. Recruited by a shady political boss to run for the Senate, Prez Rickard campaigns on his own terms and is elected president. He selects Eagle Free, a young Native American, to be director of the FBI, his sister to be his chief of staff… and his mother to be vice president. The series was canceled after four glorious issues in which Prez battles a right-wing militia, demands strict gun control, brings peace to the Middle East, survives an assassination attempt, and encounters (why not?) evil chess players and a werewolf. I'd vote for him! Fun facts: In 2015, DC launched a miniseries under the title Prez about a teenage girl named Beth Ross who is elected president via Twitter in the year 2036. Over the years since 1974, the original Prez character has surfaced in Neil Gaiman's Sandman series, in Supergirl, and elsewhere.

*

Lois Duncan's YA suspense thriller I Know What You Did Last Summer. Julie James, a red-headed cheerleader who has just graduated high school in Silver Spring, Maryland, receives two letters in the mail that will change her life. One is her acceptance letter to Smith College, which delights her mother — who's worried about how serious her daughter has become since the previous summer. The other letter reads: I KNOW WHAT YOU DID LAST SUMMER. Julie meets up with Barry Cox, a college freshman and jock, and his glamorous girlfriend Helen, who has dropped out of school to work in television; they discuss a pact they'd made, the previous summer. Then Ray, Julie's ex-boyfriend, who'd moved out of town, returns — and we discover that the four teens are haunted by a tragic accident in which a child was killed. Soon, Barry is shot — and possibly crippled — and he claims that he was lured into an ambush by Helen. What's going on? Can anyone be trusted? Who will be attacked next? We can see the beginning of darker, more troubling Seventies-style YA lit beginning right here. Fun facts: Duncan was a pioneering figure in the development of young adult fiction, particularly in the genres of horror, thriller, and suspense. The 1997 slasher film adaptation of I Know What You Did Last Summer, starring Jennifer Love Hewitt, Sarah Michelle Gellar, Ryan Phillippe, and Freddie Prinze Jr., wasn't very good — but it has become a cult classic.

*

Gerry Conway, Roy Thomas, and John Romita Sr.'s "The Night Gwen Stacy Died" story arc in The Amazing Spider-Man #121–122 (June–July 1973). If the cultural era known as the Fifties ended in '63 with the assassination of John F. Kennedy, then the Sixties ended in '73 with the death of Gwen Stacy. Harry Osborn, Peter Parker's best friend, is addicted to drugs; parental grief causes Harry's father, Norman, to snap out of his fugue state and remember not only that he is the Green Goblin, but that Peter Parker is Spider-Man. The Green Goblin kidnaps Peter's girlfriend, Gwen Stacy, and lures Spider-Man to a New York bridge — then hurls Gwen off of it. Does Spider-Man's attempt to save Gwen kill her? He certainly believes so. Readers were shocked: Important characters were not killed off; and superheroes did not fail in such a disastrous and tragic way. This story arc was a watershed event not only for Peter Parker. It marked the end of the Silver Age of Comic Books, which had kicked off in 1954 with the introduction of the Comics Code Authority; and it paved the way for the Bronze Age, which began in 1974 with the first appearances of Marvel's dark, gritty characters Wolverine and The Punisher. Fun facts: During the Bronze and Modern Ages of Comics, the wives and girlfriends of superheroes began to drop like flies. In 2001, The Comics Buyer's Guide revealed that within comics fandom this disturbing trend was known as "The Gwen Stacy Syndrome."
***
JOSH GLENN'S *BEST ADVENTURES* LISTS: BEST 250 ADVENTURES OF THE 20TH CENTURY | 100 BEST OUGHTS ADVENTURES | 100 BEST RADIUM AGE (PROTO-)SCI-FI ADVENTURES | 100 BEST TEENS ADVENTURES | 100 BEST TWENTIES ADVENTURES | 100 BEST THIRTIES ADVENTURES | 75 BEST GOLDEN AGE SCI-FI ADVENTURES | 100 BEST FORTIES ADVENTURES | 100 BEST FIFTIES ADVENTURES | 100 BEST SIXTIES ADVENTURES | 75 BEST NEW WAVE SCI FI ADVENTURES | 100 BEST SEVENTIES ADVENTURES | 100 BEST EIGHTIES ADVENTURES | 75 BEST DIAMOND AGE SCI-FI ADVENTURES | 100 BEST NINETIES ADVENTURES (in progress) | 1994 | 1995 | 1996 | 1997 | 1998 | 1999 | 2000 | 2001 | 2002 | 2003 | NOTES ON 21st-CENTURY ADVENTURES.