VIRUS VIGILANTE (2)
By: HILOBROW
November 3, 2020
One in a series of posts about the Antiviral Alliance, a now-forgotten squad of comic-book vigilantes who during the years leading up to (and through) WWII worked tirelessly to prevent another Spanish Flu-like pandemic. Fun fact: The original intercompany crossover, this "event" would inspire National Comics and All-American Publications to form the Justice Society of America in 1940–1941.
THE ANTIVIRAL ALLIANCE: THE VIGILANTE | SANDMAN | THE SHADOW | THE MOON MAN | THE CLOCK | FANTOM OF THE FAIR | LADY LUCK | THE LAUGHING MASK | KINKS MASON | THE DESERT EAGLE | THE CHALLENGER | THE THUNDERER | BLAZING SKULL.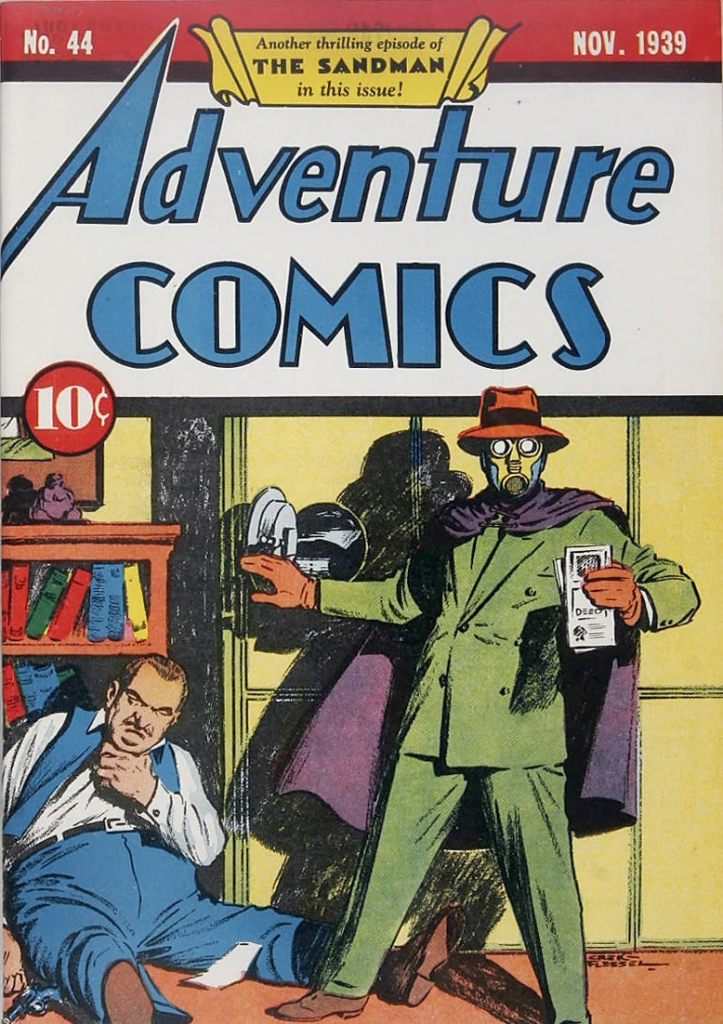 Wesley Dodds, aka Sandman, didn't join the Alliance until 1939 — shortly before the outbreak of WWII. Unlike some of the group's original members, the crimefighter in the natty green suit and fedora possessed a keen understanding of how the spread of viruses can be prevented. So he adopted a gas mask — the most extreme measures taken by any of his comrades. PS: The Sandman would soon leave the Alliance for the Justice Society.
Publisher: DC Comics
First appearance: New York World's Fair Comics #1 (April, 1939)
Created by: Gardner Fox, Bert Christman
SIMILAR HILOBROW SERIES: MEET THE L.I.S. | 4CP FRIDAY — themed comic-book detail galleries | CHESS MATCH — a gallery | COMICALLY VINTAGE | DC — THE NEW 52 | FILE X — a gallery | KIRB YOUR ENTHUSIASM — 25 writers on 25 Jack Kirby panels | SECRET PANEL —Silver Age comics' double entendres | SKRULLICISM