12 DAYS OF SIGNIFICANCE (61)
By: Adam Davies
December 25, 2020
One in an ongoing, seasonal series of posts in which we reprint stories originally written — by HILOBROW contributors and friends — for Josh Glenn and Rob Walker's 2009–2010 anthropological-literary experiment SIGNIFICANT OBJECTS. This 2020–2021 installment of 12 stories will bring the series total to 72. See below for links to more info about both SIGNIFICANT OBJECTS and PROJECT:OBJECT.
*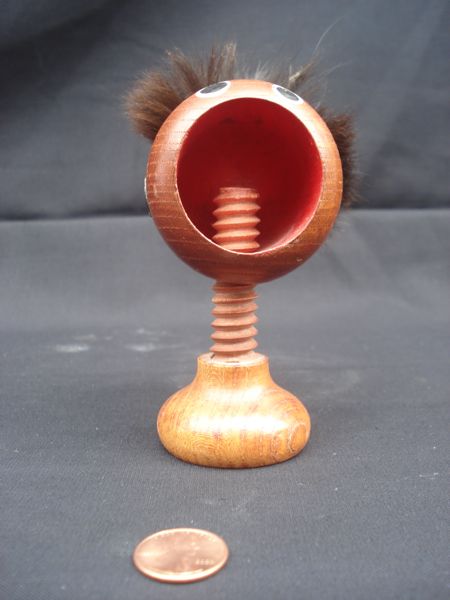 NUTCRACKER WITH TROLL HAIR (OR SOMETHING)
Authentic

MR. YODELS

Love Totem

The "Sylvia St. Etienne" edition

This is the only witness to — or, some say, the cause of — the tragic death of legendary chanteuse and muse to famous Ecuadorian footballer

Francisco Chavarria

NOT AN IMITATION!
Condition
The artifact is in good condition. Some slight damage, consistent with the violence of the wreckage, on the Tres Marias rabbit headpiece and on the hand-painted ovoid eyes. Otherwise the piece is exquisitely preserved, including (as required by the folk magic tradition) Mr. Chavarria's "plasma donation."
The Mr. Yodels Tradition:
Jacob Tauxe, the notorious "Swiss Voodoo Houngan" from Bern, designed the original line of ceramic Mr. Yodels figurines employed by frustrated suitors as love totems. By a feat of acoustic engineering yet to be explained satisfactorily, all custom-made Mr. Yodels figurines produce a distinctive upper-and-lower register song — the "love yodel" — when placed at an open window by which the loved one walks, provoking powerful spontaneous feelings of pair-bonding, veneration, and leghumpery.
Dangerous and unsanctioned Do-It-Yourself models — those made without knowledge of the proper techniques or precautions — are rumored to be responsible for the unions of Julia Roberts and Lyle Lovett, Woody Allen and relatives, Elizabeth Taylor et al., Chrysler and Daimler, and others.
The "Sylvia St. Etienne" Mr. Yodels:
Caracas, 1956. The fiery Ecuadorian striker Francisco Chavarria meets the legendary Hollywood songstress Sylvia St. Etienne, best known for her sultry interpretations of "Ashes in my D-Cup," "Cabana in Urbana," and "That Was It?"
For seven glorious, champagne-drenched, strawberry-inserting, mogul-free weeks the couple was inseparable — until Ms. St. Etienne met the mogul Sven "Big Krona" Uggla. Then they separated.
Heartbroken, and publicly humiliated, Mr. Chavarria vowed to get her back, but Ms. St. Etienne was — as they say in Monte Carlo — "avec mogul." With no other recourse to intercourse, the jilted footballer traveled to Switzerland and implored Mr. Tauxe to fashion for him the most powerful of all Mr. Yodelses. But the Swiss Voodoo priest, bitter over Mr. Chavarria's last-second game-winning header over the Swiss, refused.
Desperate, Mr. Chavarria fashioned his own Mr. Yodels, ignorant of the necessary protocols, and tied it underneath the passenger seat of Big Krona's BMW 507 roadster, thinking, you know: The windows will be down. Gotta work.
Only ten hours later, after Sylvia St. Etienne gave the last performance of her life, singing the hits from "Hurry Up, These Sheets Itch and I'm Sweating," "Waiter! There's a Jackass in my Demitasse!" and "Side-Saddle Won't Work," she drove off into the night with Big Krona and plunged to her death in a mountain gorge.
All that remains of the great singer are her treasured recordings—and, now, available for the first time to the public, from the estate of Mr. Abernathy Hastings of Newport, this gloriously preserved Mr. Yodels.
Look at the eyes: you can almost see what Francisco Chavarria saw.
Witness the ears: you can almost hear what Francisco Chavarria heard.
Observe the mouth: you can fit a Bud Kinger in that thing.
Reserve set low by request of the estate, this auction represents a rare opportunity to own the last remaining vestige of one of the 20th century's most tragic love stories.
It may also possibly crack walnuts.
***
REPRINTED FROM SIGNIFICANTOBJECTS.COM: Matthew Battles on CANDYLAND | Patrick Cates on MEAT TENDERIZER | Matthew De Abaitua on PIGGY BANK | Mark Frauenfelder on JUG | Jason Grote on DOME DOLL | Mimi Lipson on HALSTON MUG | Annie Nocenti on JFK BUST | Gary Panter on DIVE MASK | James Parker on KITTY SAUCER | Greg Rowland on MUSHROOM SHAKER | Luc Sante on FLANNEL BALL | Douglas Wolk on PORTABLE HAIR DRYER | Annalee Newitz on COCONUT CUP | Cintra Wilson on TROPHY | Jen Collins on UNCOLA GLASS | Joanne McNeil on GRAIN THING | Jonathan Lethem on MISSOURI SHOTGLASS | Sarah Weinman on UNICORN FIGURINE | Shelley Jackson on CRUMB SWEEPER | Barbara Bogaev on JUST MARRIED CUP | Dan Reines on FRIDAY MUG | Jenny Offill on MINIATURE TURKEY DINNER | Katie Hennessey on WOODEN FIGURINE | James Hannaham on NAPKIN RING | Bruce Sterling on METAL BOOT | Colson Whitehead on WOODEN MALLET | Jenny Davidson on TOY HOT DOG | Kate Bernheimer on PINK HORSE | Lydia Millet on CHILI CAT | Matthew Sharpe on MULE FIGURINE | Meg Cabot on WOODEN ANIMAL | Sara Ryan on POPSICLE STICK CONSTRUCTION | Ed Park on COW VASE | Jessica Helfand on ELVIS CHOCOLATE TIN | Sheila Heti on CAPE COD SHOE | William Gibson on "HAWK" ASHTRAY | Ben Greenman on SMILING MUG | Dean Haspiel on KENTUCKY DISH | Doug Dorst on RUSSIAN FIGURE | Kurt Andersen on SANTA NUTCRACKER | Matt Brown on CRUMPTER | Chris Adrian on KANGAMOUSE | Nicholson Baker on MEAT THERMOMETER| Rachel Axler on FORTUNE TELLING DEVICE | Sean Howe on PABST BOTTLE OPENER | Susannah Breslin on NECKING TEAM BUTTON | Tim Carvell on ROUND BOX | Susanna Daniel on SHARK AND SEAL PENS | Curtis Sittenfeld on SPOTTED DOGS FIGURINE | Matthew Klam on DUCK VASE | Merrill Markoe on FLIP-FLOP FRAME | Blake Butler on UTAH SNOW GLOBE | Neil LaBute on RABBIT CANDLE | Rob Agredo on LIGHTER SHAPED LIKE SMALL POOL BALL | Rosecrans Baldwin on PRAYING HANDS | Rob Baedeker on FOPPISH FIGURINE | Scarlett Thomas on BIRTHDAY CANDLES | Wayne Koestenbaum on DUCK NUTCRACKER | Jeff Turrentine on "WOMEN & INFANTS" GLASS | Joe Lyons on LETTERS AND NUMBERS PLATE | Adam Davies on TROLL NUTCRACKER | Myla Goldberg on HAND-HELD BUBBLE BLOWER | Dan Chaon on COOKING FORK | Jenny Hayes on DOLPHIN BOX | Kevin Brockmeier on ROPE/WOOD MONKEY | Miranda Mellis on BRASS APPLE | Todd Pruzan on GOLF BALL BANK | Toni Schlesinger on 4-TILE | Stacey Levine on BAR MITZVAH BOOKENDS | Margot Livesey on CIGARETTE CASE | Joe Wenderoth on BALANCING BIRD THING | Charles Baxter on CERAMIC SHELL | Thomas Bartlett on DEVICE | Claire Zulkey on FLINTSTONE PEZ | Betsey Swardlick on DILBERT | Sung J. Woo on BIRD FIGURINE | Tom McNeely on CAT MUG | J. Robert Lennon on CHOIRBOY FIGURINE | Matthew J. Wells on BBQ SAUCE JAR | Maud Newton on CRACKER BARREL ORNAMENT | Stewart O'Nan on DUCK TRAY | Megan O'Rourke on FELT MOUSE | Lauren Mechling on BLUE VASE | Mark Sarvas on AMACO YOYO.
SIGNIFICANT OBJECTS at HILOBROW: PROJECT:OBJECT homepage | PROJECT:OBJECT newsletter | PROJECT:OBJECT objects (Threadless shop — all profits donated to the ACLU) | POLITICAL OBJECTS series (1Q2017) | TALISMANIC OBJECTS series (2Q2017) | ILLICIT OBJECTS series (3Q2017) | LOST OBJECTS vol. 1 series (4Q2017) | FLAIR series (2Q2018) | FOSSIL series (4Q2018). 12 DAYS OF SIGNIFICANCE | 12 MORE DAYS OF SIGNIFICANCE | 12 DAYS OF SIGNIFICANCE (AGAIN) | ANOTHER 12 DAYS OF SIGNIFICANCE . ALSO SEE: SIGNIFICANT OBJECTS website | SIGNIFICANT OBJECTS collection, ed. Rob Walker and Josh Glenn (Fantagraphics, 2012) | TAKING THINGS SERIOUSLY, ed. Josh Glenn (Princeton Architectural Press, 2007) | TAKING THINGS SERIOUSLY excerpts.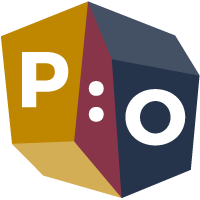 CURATED SERIES at HILOBROW: RETRO VIRUS by Douglas Wolk | UNBORED CANON by Josh Glenn | CARPE PHALLUM by Patrick Cates | MS. K by Heather Kasunick | HERE BE MONSTERS by Mister Reusch | DOWNTOWNE by Bradley Peterson | #FX by Michael Lewy | PINNED PANELS by Zack Smith | TANK UP by Tony Leone | OUTBOUND TO MONTEVIDEO by Mimi Lipson | TAKING LIBERTIES by Douglas Wolk | STERANKOISMS by Douglas Wolk | MARVEL vs. MUSEUM by Douglas Wolk | NEVER BEGIN TO SING by Damon Krukowski | WTC WTF by Douglas Wolk | COOLING OFF THE COMMOTION by Chenjerai Kumanyika | THAT'S GREAT MARVEL by Douglas Wolk | LAWS OF THE UNIVERSE by Chris Spurgeon | IMAGINARY FRIENDS by Alexandra Molotkow | UNFLOWN by Jacob Covey | ADEQUATED by Franklin Bruno | QUALITY JOE by Joe Alterio | CHICKEN LIT by Lisa Jane Persky | PINAKOTHEK by Luc Sante | ALL MY STARS by Joanne McNeil | BIGFOOT ISLAND by Michael Lewy | NOT OF THIS EARTH by Michael Lewy | ANIMAL MAGNETISM by Colin Dickey | KEEPERS by Steph Burt | AMERICA OBSCURA by Andrew Hultkrans | HEATHCLIFF, FOR WHY? by Brandi Brown | DAILY DRUMPF by Rick Pinchera | BEDROOM AIRPORT by "Parson Edwards" | INTO THE VOID by Charlie Jane Anders | WE REABSORB & ENLIVEN by Matthew Battles | BRAINIAC by Joshua Glenn | COMICALLY VINTAGE by Comically Vintage | BLDGBLOG by Geoff Manaugh | WINDS OF MAGIC by James Parker | MUSEUM OF FEMORIBILIA by Lynn Peril | ROBOTS + MONSTERS by Joe Alterio | MONSTOBER by Rick Pinchera | POP WITH A SHOTGUN by Devin McKinney | FEEDBACK by Joshua Glenn | 4CP FTW by John Hilgart | ANNOTATED GIF by Kerry Callen | FANCHILD by Adam McGovern | BOOKFUTURISM by James Bridle | NOMADBROW by Erik Davis | SCREEN TIME by Jacob Mikanowski | FALSE MACHINE by Patrick Stuart | 12 DAYS OF SIGNIFICANCE | 12 MORE DAYS OF SIGNIFICANCE | 12 DAYS OF SIGNIFICANCE (AGAIN) | ANOTHER 12 DAYS OF SIGNIFICANCE | UNBORED MANIFESTO by Joshua Glenn and Elizabeth Foy Larsen | H IS FOR HOBO by Joshua Glenn | 4CP FRIDAY by guest curators