Diamond Age 75 (50)
By: Joshua Glenn
February 23, 2020
One in a series of posts about the 75 best science fiction novels published during the genre's Diamond Age era (from 1984–2003, according to HILOBROW's periodization schema). For Josh Glenn's complete Diamond Age Sci-Fi 75 list, click here.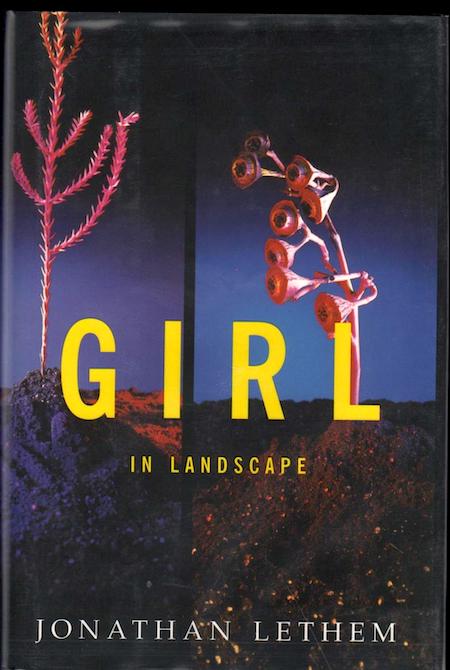 Jonathan Lethem's Girl in Landscape (1998).
A coming-of-age story set on a distant planet, Girl in Landscape is as surreal, clever, and referential as Lethem's previous novels — but emotionally more intimate and mature. For this reason, it's some readers' least favorite of his sci-fi novels; but it's my favorite. The reference, this time, is to John Ford's magnificent oater The Searchers — in which John Wayne scours Monument Valley in pursuit of his abducted niece. Pella Marsh, age 13, is among the first human settlers of the oceanless Planet of the Archbuilders, which has been mostly abandoned by its original inhabitants. Her ineffectual father, Clement, wants to build a community that includes both settlers and the remaining Archbuilders; other homesteaders are more xenophobic. Pella, who misses her recently deceased mother, not to mention her native Brooklyn, discovers that she and several other settler children have a rapport with the Archbuilders… which allows them to inhabit the bodies of the Archibuilders' mutated pets. Lethem's descriptions of the De Chirico-esque landscape are marvelous; one is reminded, for some reason, of the Dell cover for The Boomerang Clue. Pella's new friendships and budding romantic inclinations are related in a sensitive, engaging way. Recommended for fans of Red Planet who wish that Heinlein weren't a troglodyte.
Fun fact: Lethem has said that Girl in Landscape was "for me unmistakably a very, very definite step into something more emotionally direct. … I wanted to write a teenage girl's coming-of-age story and make it as emotionally stark and dangerous as the best books I saw in that genre [such as Carson McCullers's] The Member of the Wedding and in a way also Charles Portis's True Grit."
***
DIAMOND AGE SCI-FI at HILOBROW: William Gibson | Bruce Sterling | Margaret Atwood | Ann Nocenti | Frank Miller | Alan Moore | Octavia E. Butler | Iain M. Banks | Grant Morrison | Neal Stephenson | Jonathan Lethem | Charles Burns | China Miéville.
JOSH GLENN'S *BEST ADVENTURES* LISTS: BEST 250 ADVENTURES OF THE 20TH CENTURY | 100 BEST OUGHTS ADVENTURES | 100 BEST RADIUM AGE (PROTO-)SCI-FI ADVENTURES | 100 BEST TEENS ADVENTURES | 100 BEST TWENTIES ADVENTURES | 100 BEST THIRTIES ADVENTURES | 75 BEST GOLDEN AGE SCI-FI ADVENTURES | 100 BEST FORTIES ADVENTURES | 100 BEST FIFTIES ADVENTURES | 100 BEST SIXTIES ADVENTURES | 75 BEST NEW WAVE SCI FI ADVENTURES | 100 BEST SEVENTIES ADVENTURES | 100 BEST EIGHTIES ADVENTURES | 75 BEST DIAMOND AGE SCI-FI ADVENTURES | 100 BEST NINETIES ADVENTURES (in progress) | 1994 | 1995 | 1996 | 1997 | 1998 | 1999 | 2000 | 2001 | 2002 | 2003 | NOTES ON 21st-CENTURY ADVENTURES.