VIRUS VIGILANTE (9)
By: HILOBROW
November 29, 2020
One in a series of posts about the Antiviral Alliance, a now-forgotten squad of comic-book vigilantes who during the years leading up to (and through) WWII worked tirelessly to prevent another Spanish Flu-like pandemic. Fun fact: The original intercompany crossover, this "event" would inspire National Comics and All-American Publications to form the Justice Society of America in 1940–1941.

Poor Kinks Mason! The butt of jokes already because of his suggestive nickname — a divers' in-joke referring to the dangers of a kinked air hose, as far as I can tell, but nobody could be expected to believe that — Kinks did his best to aid the Antiviral Alliance. He certainly had one of the safest masks, viral transmission-wise. However, his skill set was an underwater one — and his sidekick was Battler, a trained seal — so there wasn't all that much he could really do. He joined the team in 1940, as part of the 1940 wave that included Lady Luck, The Shadow, and the Laughing Mask.
Publisher: Fiction House
First Appearance: Fight Comics #1 (1940)
Created by: Steve Broder
Tip o' the mask to Jess Nevins.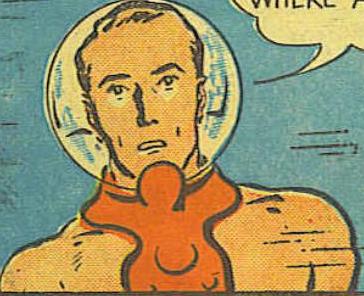 INTRODUCING… THE ANTIVIRAL ALLIANCE. PRE-COMICS: THE MOON MAN (1933). ORIGINAL TRIO (joined forces in 1939): THE CLOCK | SANDMAN | FANTOM OF THE FAIR. AND THEN THERE WERE SEVEN (joined 1940): THE SHADOW | LADY LUCK | THE LAUGHING MASK | KINKS MASON. SECOND-WAVE SIX (joined 1941): BLAZING SKULL | THE CHALLENGER | THE THUNDERER | DOCTOR NEMESIS | HUMAN BOMB | THE VIGILANTE. LATE TO THE PARTY (joined post-1941): MICRO-FACE | THE DESERT EAGLE.
*
SIMILAR HILOBROW SERIES: MEET THE L.I.S. | 4CP FRIDAY — themed comic-book detail galleries | CHESS MATCH — a gallery | COMICALLY VINTAGE | DC — THE NEW 52 | FILE X — a gallery | KIRB YOUR ENTHUSIASM — 25 writers on 25 Jack Kirby panels | SECRET PANEL —Silver Age comics' double entendres | SKRULLICISM