Diamond Age 75 (54)
By: Joshua Glenn
March 22, 2020
One in a series of posts about the 75 best science fiction novels published during the genre's Diamond Age era (from 1984–2003, according to HILOBROW's periodization schema). For Josh Glenn's complete Diamond Age Sci-Fi 75 list, click here.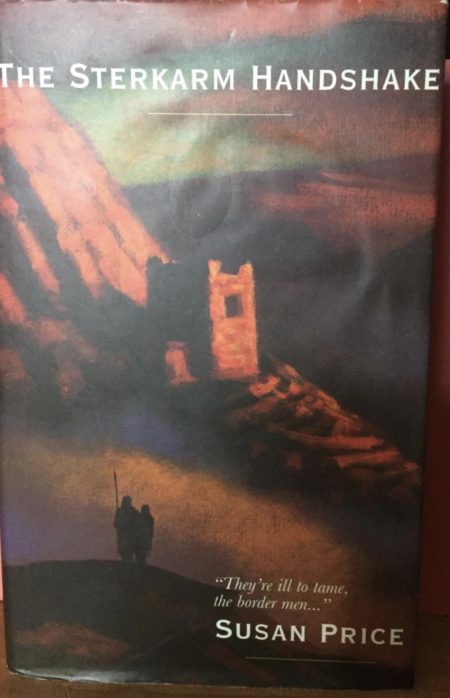 Susan Price's YA Sterkarm sci-fi/historical romance The Sterkarm Handshake (1998).
When a British corporation develops a "time tube" which makes it possible to transport material to and from the 16th century, not to mention across dimensions to a world recognizably similar to our own (thus avoiding time-travel paradoxes), anthropologist Andrea Mitchell is employed to live among a 16th-century Scottish clan — the Sterkarms — as a translator and liaison. Her employers, who seek to exploit the clan's mineral resources, represent themselves as magical elves, so Andrea is regarded with a certain amount of awe. In addition to being bold warriors, however, the Sterkarms are a canny lot — certainly much savvier than their would-be exploiters realize. They take what they can get from their uncanny visitors, then refuse to cooperate. The indecisive and conscience-stricken Andrea, our guide to domestic life among the Sterkarms, finds her loyalties divided when she grows to admire the clan's warmth and loyalty… and falls in love with Per, their handsome prince. Bryce, the amoral executive who employs Andrea, kidnaps Per in order to force the Sterkarms to do his bidding… which turns out to be a terrible mistake.
Fun facts: The Sterkarm Handshake was awarded the once-in-a-lifetime Guardian Children's Fiction Prize… though it is not suitable for young children. A sequel, A Sterkarm Kiss (2003), takes place among the Sterkarms in yet another dimension; and Price recently published A Sterkarm Tryst (2017), as well.
***
DIAMOND AGE SCI-FI at HILOBROW: William Gibson | Bruce Sterling | Margaret Atwood | Ann Nocenti | Frank Miller | Alan Moore | Octavia E. Butler | Iain M. Banks | Grant Morrison | Neal Stephenson | Jonathan Lethem | Charles Burns | China Miéville.
JOSH GLENN'S *BEST ADVENTURES* LISTS: BEST 250 ADVENTURES OF THE 20TH CENTURY | 100 BEST OUGHTS ADVENTURES | 100 BEST RADIUM AGE (PROTO-)SCI-FI ADVENTURES | 100 BEST TEENS ADVENTURES | 100 BEST TWENTIES ADVENTURES | 100 BEST THIRTIES ADVENTURES | 75 BEST GOLDEN AGE SCI-FI ADVENTURES | 100 BEST FORTIES ADVENTURES | 100 BEST FIFTIES ADVENTURES | 100 BEST SIXTIES ADVENTURES | 75 BEST NEW WAVE SCI FI ADVENTURES | 100 BEST SEVENTIES ADVENTURES | 100 BEST EIGHTIES ADVENTURES | 75 BEST DIAMOND AGE SCI-FI ADVENTURES | 100 BEST NINETIES ADVENTURES (in progress) | 1994 | 1995 | 1996 | 1997 | 1998 | 1999 | 2000 | 2001 | 2002 | 2003 | NOTES ON 21st-CENTURY ADVENTURES.