STUFFED (49)
By: Tom Nealon
September 29, 2020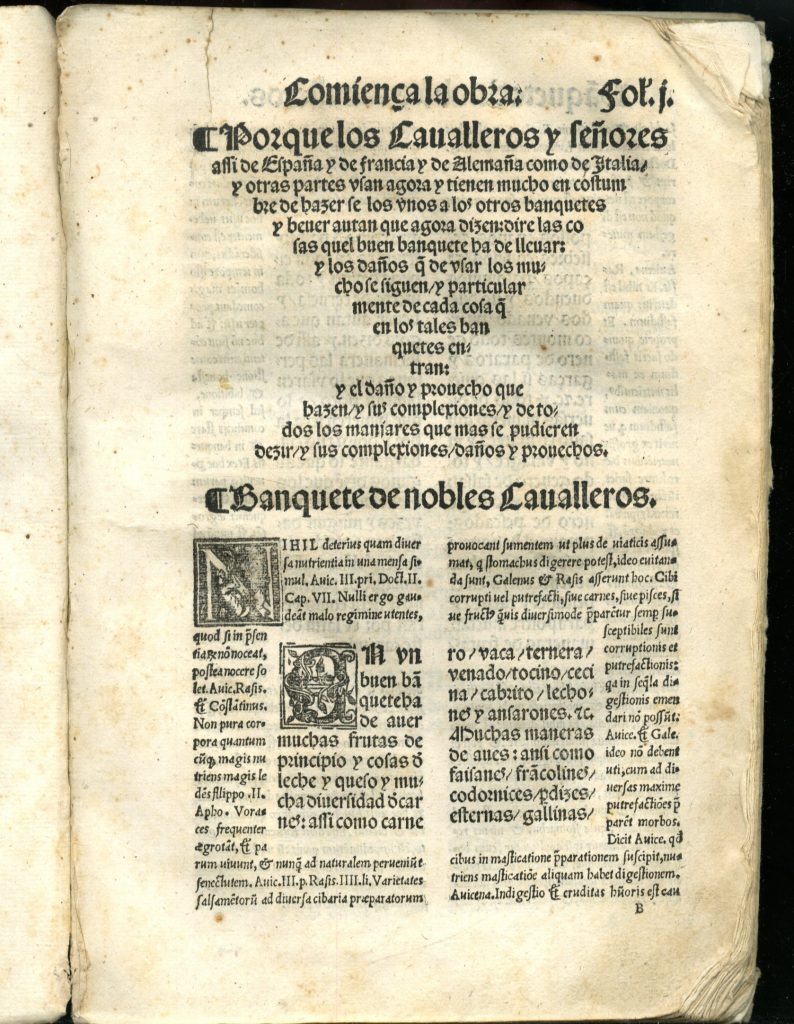 One in a popular series of posts by Tom Nealon, author of Food Fights and Culture Wars: A Secret History of Taste. STUFFED is inspired by Nealon's collection of rare cookbooks, which he sells — among other things — via Pazzo Books.
BANQUETE DE CAVALLEROS
The other night I dreamt that all of the 19th- and 20th- and 21st-century diets, rather than being ridiculous were actually fragments of a lost knowledge scattered in antiquity. If anyone could assemble all of the gluten and grapefruits, the carbs and meats, overcooked, uncooked, bone broth and cabbage, ostrich eggs, nutrients absorbed through the eyelids, paleo-fruitarian hydrotherapy neo-Galenic kale chips, and wrap it in just a touch of cannibalism with a pescatarian emetic, we would all look like Grace Jones. You know, like we presumably did in antiquity before God became jealous of mankind and shattered our diet knowledge, babel-like, into shards of absurdity, self-hate and masochism.
So it was with these thoughts in hand that I recently cataloged a relatively little known late Medieval treatise called Banquete de Cavalleros published in 1530 and reprinted in 1542 by Luis Lobera de Avila, court physician to Charles V, king of Spain and Holy Roman Emperor. In it, he describes how to assemble a diet based on Galenic humour-based medicine as filtered through Arab scholars like Avicenna. In Europe around this time, Galen and Hippocrates were still all the rage, but since the Aldine Greek editions of Galen in 1525 and Hippocrates in 1526, they were no longer filtered through Arab scholars — so ideas about the texts had shifted significantly as a result. Even stranger, especially since Charles V had himself ratified the conquests of the Incan and Aztec empires not long before, there are no New World foods of any sort in the book.
It's a curious book, in many ways; the author offers great suggestions for priests who get hard-ons, for example: sticking their members in ice water or encasing them in lead sheaths with pee holes. But this starts to wander beyond the scope of this post. Sn anachronism even in its typography, as the main text is written in Spanish in a gothic typeface, while a more scholarly version of the same general text is written in Latin and set in an italic face (a new Renaissance typeface first used by Aldine in 1500) surrounding it. Typically, when you see this format — it was not uncommon in religious texts in the 15th century — the main text is surrounded by commentary, but in this case it's just an alternate version of the same thing set in the new humanist fashion, but still conveying old information. The great food scholar Ken Alba argues that while the author would have been well aware of current dietary philosophy (as well as lots of other people — this sort of dietary book hadn't been published in at least 40 years, a pretty long time in the fast-moving Renaissance), he uses the older, less restrictive prescriptions to appeal to his wealthy audience.
It's an interesting idea, and rings true — the rich have always had their own laws, rules, why not, indeed, their own science? But it also reminded me that even though we think of science and progress as a steady march forward, it is actually chock full of the persistence of old ideas well into eras where new ideas supposedly took hold. These wrong medieval ideas (Greek humoral medicine as explained by Arab thinkers), of course, were actually being replaced by wrong Renaissance ideas (Greek humoral medicine as explained by European thinkers), but they didn't know that. It reminds me that civilization may move forward but people are running in great disjointed crowds ahead and behind, pulling us this way and that. Humoral medicine lasted for over 2000 years; it wasn't really fully replaced until 1858, when Rudolf Virchow introduced the beginnings of cellular pathology. Compared to how long it lasted, humoral medicine has only been gone for a second. In fact, I'm sure if I googled enough I would find plenty of current adherents of humoral medicine. It's actually just the sort of intuitive yet counter-intuitive idea that is flourishing right now. Wrong but appealing ideas don't ever die, they just lie around to be picked up, again and again and again.
I can often be heard lamenting that The Enlightenment was a sham, that we acted like because we had an enlightenment, we were thusly enlightened, but we have, for 200+ years put the lie to that — partly because we think that "right" ideas replace "wrong" ideas and then we're done. But what if the wrong ideas let us drink more wine, eat more steak, oppress more people?
*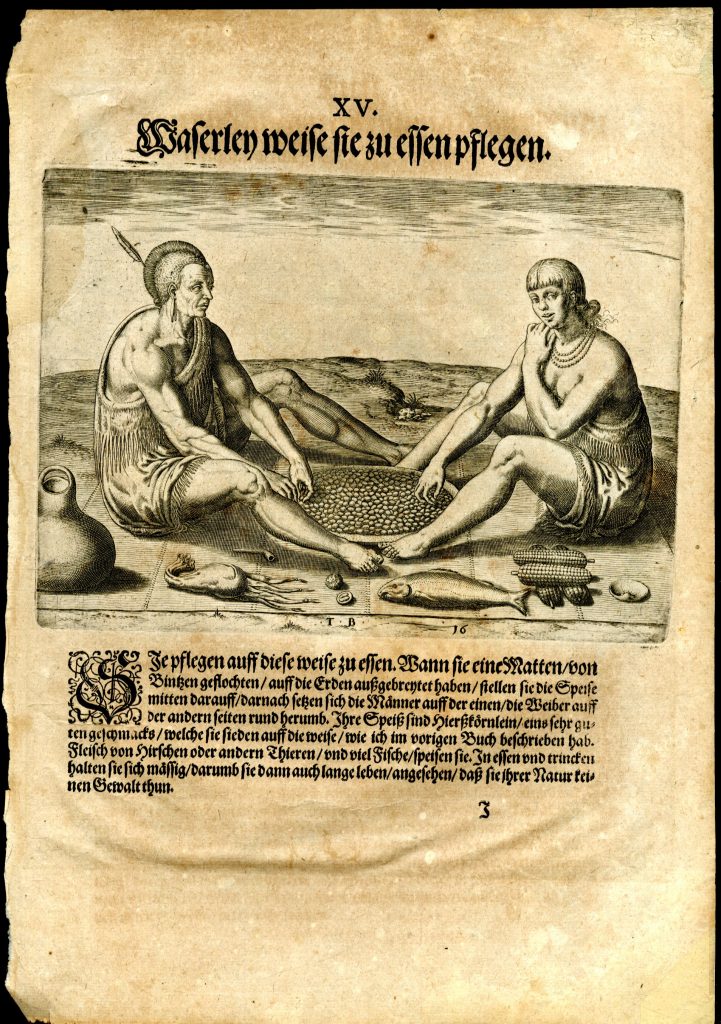 Another item I was just cataloging that my brain stopped on was an engraving from a late 16th-century edition of Hans Staden's Voyages. It's full of engravings by Theodor De Bry, mostly after Virginia colonist John White's watercolors — they were hugely influential in shaping the European view of the New World, and include a host of such highly questionable details as the indigenous people looking like Europeans, cultural practices of completely separate groups being commingled, and suspect depictions of cannibalism in what is now Brazil. But what stopped me on this engraving (beyond the colonizing European features of the woman) was the bowl of corn that they are eating. It's pretty obviously a bowl of hominy — nixtamalized maize soaked in lye — and is the centerpiece of their highly stylized meal of fish, maize, walnuts, deer (maybe, the caption describes venison), tobacco and hominy.
What is remarkable is that White must have scrutinized Native American meals enough to recreate this composition and yet missed, like everyone else, the process that made the hominy and separated it from the maize in front. Nixtamalization has a number of benefits — it makes the maize/corn into better flour, kills dangerous fungi, and allows the niacin to be absorbed when eaten. I've written about this before. Because colonizers didn't pay attention to the indigenous people's deep knowledge of the "New World," millions of Europeans ended up suffering from pellagra, a degenerative and eventually fatal condition brought on by niacin deficiency, most commonly from relying on a diet of un-nixtamalized corn. Poor Europeans, especially in Italy (pellagra is recorded since 1735, but no doubt was around for longer) and in the southern US where over 100,000 died in the first decades of the 20th century alone.
This wanton ignorance of indigenous knowledge doesn't stop with corn, of course — we're living with the consequences of discarding native forest management even now.
***
STUFFED SERIES: THE MAGAZINE OF TASTE | AUGURIES AND PIGNOSTICATIONS | THE CATSUP WAR | CAVEAT CONDIMENTOR | CURRIE CONDIMENTO | POTATO CHIPS AND DEMOCRACY | PIE SHAPES | WHEY AND WHEY NOT | PINK LEMONADE | EUREKA! MICROWAVES | CULINARY ILLUSIONS | AD SALSA PER ASPERA | THE WAR ON MOLE | ALMONDS: NO JOY | GARNISHED | REVUE DES MENUS | REVUE DES MENUS (DEUX) | WORCESTERSHIRE SAUCE | THE THICKENING | TRUMPED | CHILES EN MOVIMIENTO | THE GREAT EATER OF KENT | GETTING MEDIEVAL WITH CHEF WATSON | KETCHUP & DIJON | TRY THE SCROD | MOCK VENISON | THE ROMANCE OF BUTCHERY | I CAN HAZ YOUR TACOS | STUFFED TURKEY | BREAKING GINGERBREAD | WHO ATE WHO? | LAYING IT ON THICK | MAYO MIXTURES | MUSICAL TASTE | ELECTRIFIED BREADCRUMBS | DANCE DANCE REVOLUTION | THE ISLAND OF LOST CONDIMENTS | FLASH THE HASH | BRUNSWICK STEW: B.S. | FLASH THE HASH, pt. 2 | THE ARK OF THE CONDIMENT | SQUEEZED OUT | SOUP v. SANDWICH | UNNATURAL SELECTION | HI YO, COLLOIDAL SILVER | PROTEIN IN MOTION | GOOD RIDDANCE TO RESTAURANTS | THE CAKE IS THE THING | BANQUETE DE CAVALLEROS | STUFF & NONSENSE..
MORE POSTS BY TOM NEALON: Salsa Mahonesa and the Seven Years War, Golden Apples, Crimson Stew, Diagram of Condiments vs. Sauces, etc., and his De Condimentis series (Fish Sauce | Hot Sauce | Vinegar | Drunken Vinegar | Balsamic Vinegar | Food History | Barbecue Sauce | Butter | Mustard | Sour Cream | Maple Syrup | Salad Dressing | Gravy) — are among the most popular we've ever published here at HILOBROW.