VIRUS VIGILANTE (16)
By: HILOBROW
December 30, 2020
One in a series of posts about the Antiviral Alliance, a now-forgotten squad of comic-book vigilantes who during the years leading up to (and through) WWII worked tirelessly to prevent another Spanish Flu-like pandemic. Fun fact: The original intercompany crossover, this "event" would inspire National Comics and All-American Publications to form the Justice Society of America in 1940–1941.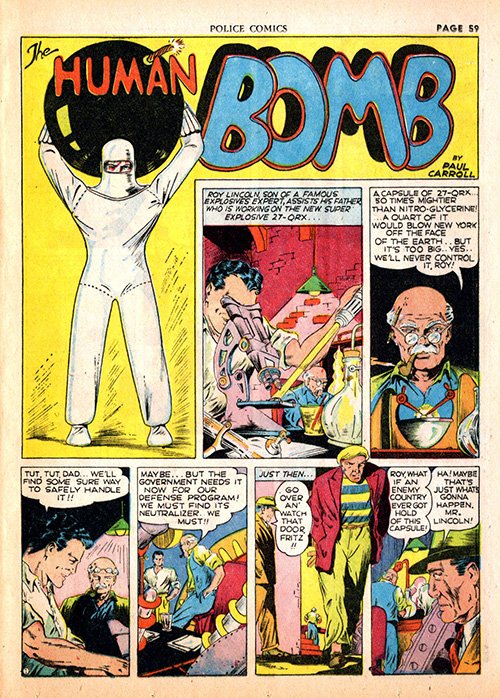 The Human Bomb's origin is Captain America-esque. While helping his chemist father develop a super-explosive, enemy agents attacked the lab… so Roy Lincoln swallowed the formula. Subsequently he discovered that when he punched — or just touched — something, he could cause it to explode. Wearing a protective suit of "fibro-wax," which not only contained his explosive power but protected Roy and others from the spread of airborne viruses, he fought criminals, Nazis, the invisible Mr. Chameleon, and an explosive villain known as Yarboe. Lincoln joined the Alliance in August '41, shortly before the US entered WWII.
Publisher: Quality
First appearance: Police Comics #1 (August 1941)
Tip o' the mask to Jess Nevins.
INTRODUCING… THE ANTIVIRAL ALLIANCE. PRE-COMICS: THE MOON MAN (1933). ORIGINAL TRIO (joined forces in 1939): THE CLOCK | SANDMAN | FANTOM OF THE FAIR. AND THEN THERE WERE SEVEN (joined 1940): THE SHADOW | LADY LUCK | THE LAUGHING MASK | KINKS MASON. SECOND-WAVE SIX (joined 1941): BLAZING SKULL | THE CHALLENGER | THE THUNDERER | DOCTOR NEMESIS | HUMAN BOMB | THE VIGILANTE. LATE TO THE PARTY (joined post-1941): MICRO-FACE | THE DESERT EAGLE.
*
SIMILAR HILOBROW SERIES: MEET THE L.I.S. | 4CP FRIDAY — themed comic-book detail galleries | CHESS MATCH — a gallery | COMICALLY VINTAGE | DC — THE NEW 52 | FILE X — a gallery | KIRB YOUR ENTHUSIASM — 25 writers on 25 Jack Kirby panels | SECRET PANEL —Silver Age comics' double entendres | SKRULLICISM