Diamond Age 75 (44)
By: Joshua Glenn
January 12, 2020
One in a series of posts about the 75 best science fiction novels published during the genre's Diamond Age era (from 1984–2003, according to HILOBROW's periodization schema). For Josh Glenn's complete Diamond Age Sci-Fi 75 list, click here.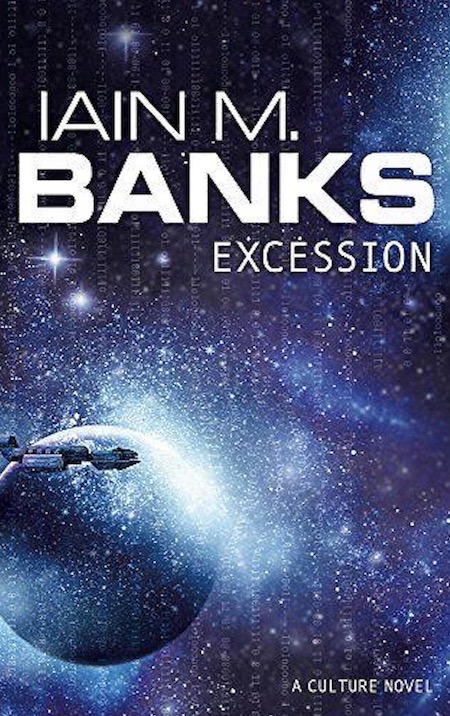 Iain M. Banks's Culture adventure Excession (1996).
The fifth Culture novel concerns the response of the Culture's Minds — benevolent AIs with enormous intellectual and physical capabilities — to the so-called Excession, a black-body sphere which appears mysteriously on the edge of Culture space… and which appears to be older than the Universe itself. The Affront, a rapidly expanding intergalactic empire, whose sadistic brutality is horrifying to the Culture, seeks to claim control of the Excession. The Interesting Times Gang, an informal group of Minds tasked with preparing for and confronting Outside Context Problems (challenges utterly outside the Culture's experience), steps in; their conversation — a rich stew of numbers, text, esoteric syntax, and witty repartee — is a delight. The Sleeper Service, a Mind housed in a GSV (General Systems Vehicle), which 40 years earlier had separated from the Culture proper, is pressed into service; Genar-Hofoen, a human Culture diplomat to the Affront, and his ex-lover, Dajeil, are also dragged into the adventure. The story is slow to develop, but in the end we discover that the Sleeper Service is a very impressive Mind, indeed. And if those of you who've read Banks's The Player of Games (1988) suspect that Special Circumstances was playing a deep game, vis a vis the Affront, you're right. The true role of the Excession, meanwhile, is cosmic and mind-blowing — a conceit worthy of Kirby himself.
Fun fact: In an interview with the magazine SFX, Banks credited Sid Meier's 1991 strategy videogame Civilization — in which players begin at the dawn of humanity, and pursue new technologies while building an empire — with this novel's notion of Outside Context Problems. "You're getting along really well and then this great battleship comes steaming in and you think, well my wooden sailing ships are never going to be able to deal with that."
***
DIAMOND AGE SCI-FI at HILOBROW: William Gibson | Bruce Sterling | Margaret Atwood | Ann Nocenti | Frank Miller | Alan Moore | Octavia E. Butler | Iain M. Banks | Grant Morrison | Neal Stephenson | Jonathan Lethem | Charles Burns | China Miéville.
JOSH GLENN'S *BEST ADVENTURES* LISTS: BEST 250 ADVENTURES OF THE 20TH CENTURY | 100 BEST OUGHTS ADVENTURES | 100 BEST RADIUM AGE (PROTO-)SCI-FI ADVENTURES | 100 BEST TEENS ADVENTURES | 100 BEST TWENTIES ADVENTURES | 100 BEST THIRTIES ADVENTURES | 75 BEST GOLDEN AGE SCI-FI ADVENTURES | 100 BEST FORTIES ADVENTURES | 100 BEST FIFTIES ADVENTURES | 100 BEST SIXTIES ADVENTURES | 75 BEST NEW WAVE SCI FI ADVENTURES | 100 BEST SEVENTIES ADVENTURES | 100 BEST EIGHTIES ADVENTURES | 75 BEST DIAMOND AGE SCI-FI ADVENTURES | 100 BEST NINETIES ADVENTURES (in progress) | 1994 | 1995 | 1996 | 1997 | 1998 | 1999 | 2000 | 2001 | 2002 | 2003 | NOTES ON 21st-CENTURY ADVENTURES.