KLAATU YOU (20)
By: Chris Lanier
May 13, 2020
One in a weekly series of enthusiastic posts, contributed by HILOBROW friends and regulars, on the topic of our favorite pre-Star Wars science fiction movies.
*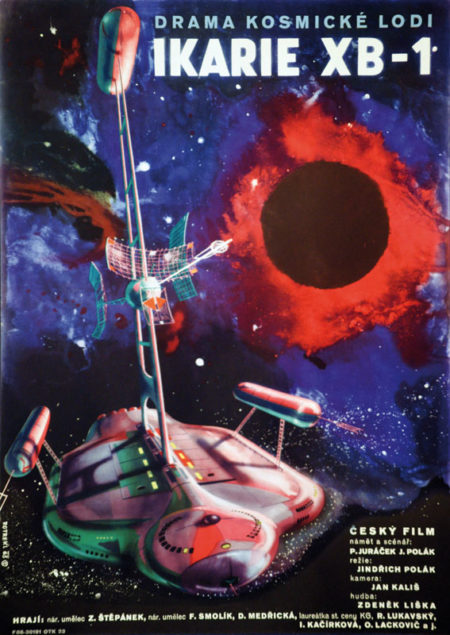 IKARIE XB-1 | d. JINDŘICH POLÁK | 1963
En route to an alien planet they expect to contain life, the explorers in IKARIE XB-1 encounter another spacecraft, disabled and adrift. At first they assume it's extraterrestrial – but when the IKARIE sends two spacewalkers to investigate, they realize it hails from earth, launched in their historical past. As the pair survey the details inside — a flash-frozen diorama that has, with infinite patience, awaited its appalled audience — excellent use is made of the nightmare texture of zero gravity, with its provisional moorings and narcotized pace. The first corpses they encounter are dressed to the nines, dropped dead in the midst of carousing and gambling. We see a hand clutching a wad of money, spilled dice scattered like knocked-out teeth, men in ties and women with pearls slumped at tables — bodies heaped atop one another like piles of coats shed from their hangers.
The IKARIE's astronauts come across a canister labeled "Tigger Fun" (which must perforce appear on any list of Top Ten Fictional Names for Fictional Things). It's a 20th Century poison gas. The astronauts force their way into the spaceship's command room, where two generals lie dead. The astronauts deduce that, when the oxygen was running low, the generals sealed themselves in the room, using the Tigger Fun to wipe out the rest, to conserve the remaining oxygen for themselves. And when that last remainder was dwindling, they turned on each other.
Suddenly the unconvincing wire-strung miniature of this ship becomes a perfect metaphor for Planet Earth Right Now, and the tinny smallness of the contraption acquires an urgent poignancy. For us, it matters less that earth is a planet than that it is a closed system, hermetically sealed. And while we carry on with our entertainments, our forests are turned into torches for the air, and the oligarchs draw up blueprints for their impregnable bunkers, both a bulwark against and an invocation of the riots to come.
The old spaceship-cum-gravesite ends up blown to smithereens, thanks to some rattletrap nukes stowed aboard. I expected the IKARIE's captain to react with sentimental piety — and found myself both surprised and moved that his response, instead, was naked disgust. When one crewmember remarks that the atomized corpses were their ancestors, the captain replies: "Not them… You know who they were? Human trash, that left Auschwitz, Oradour, and Hiroshima behind them."
Those sentences knocked me out of the fictional timeline of the film, right back to the date the actor, Zdenek Stepánek, spoke them: 20 years out from the liberation of the death camps, five years before Brezhnev's tanks rolled into Prague. How bracing it was that someone could imagine, in that year, a humankind for whom concentration camps and mass murder were only occasion for moral horror, and not — out here in the non-fictional 21st century — tactics and methods merely kept at reserve, awaiting the propitious circumstances of their deployment.
***
KLAATU YOU: INTRODUCTION by Josh Glenn | Matthew De Abaitua on ZARDOZ | Miranda Mellis on METROPOLIS | Rob Wringham on THE INVISIBLE MAN | Michael Grasso on THE ANDROMEDA STRAIN | Gordon Dahlquist on 2001: A SPACE ODYSSEY | Erik Davis on DARK STAR | Carlo Rotella on THE OMEGA MAN | Madeline Ashby on KISS ME DEADLY | Adam McGovern on SILENT RUNNING | Michael Lewy on THIS ISLAND EARTH | Josh Glenn on WILD IN THE STREETS | Mimi Lipson on BARBARELLA vs. SINS OF THE FLESHAPOIDS | Vanessa Berry on THE FLY | Lynn Peril on ATTACK OF THE 50 FOOT WOMAN | Peggy Nelson on SOLARIS | Adrienne Crew on LOGAN'S RUN | Ramona Lyons on THE MAN WHO FELL TO EARTH | Kio Stark on THE STEPFORD WIVES | Dan Fox on FANTASTIC PLANET | Chris Lanier on IKARIE XB-1 | Devin McKinney on IDAHO TRANSFER | Mark Kingwell on THUNDERBIRDS ARE GO | Luc Sante on THE TENTH VICTIM | William Nericcio on DEATH RACE 2000 | Rob Walker on CAPRICORN ONE | Gary Panter on ANGRY RED PLANET | David Levine on THE STEPFORD WIVES | Karinne Keithley Syers on ALPHAVILLE | Carolyn Kellogg on IT CAME FROM OUTER SPACE | Sara Ryan on ESCAPE TO WITCH MOUNTAIN | Lisa Jane Persky on PLAN 9 FROM OUTER SPACE | Adam Harrison Levy on BENEATH THE PLANET OF THE APES | Gerald Peary on CREATURE FROM THE BLACK LAGOON | Susannah Breslin on A CLOCKWORK ORANGE | Seth on WAR OF THE WORLDS | James Hannaham on GOJIRA/GODZILLA | Lydia Millet on VILLAGE OF THE DAMNED | Matthew Daniel on FANTASTIC VOYAGE | Shawn Wolfe on ROLLERBALL | Erin M. Routson on WESTWORLD | Marc Weidenbaum on COLOSSUS: THE FORBIN PROJECT | Neil LaBute on 20,000 LEAGUES UNDER THE SEA | Vicente Lozano on DAY OF THE DOLPHIN | Tom Roston on SLAUGHTERHOUSE-FIVE | Katya Apekina on A BOY AND HIS DOG | Chelsey Johnson on THE BLOB | Heather Kapplow on SPACE IS THE PLACE | Brian Berger on THE BEAST FROM 20,000 FATHOMS | Anthony Miller on THE DAY THE EARTH STOOD STILL.
MORE ENTHUSIASM at HILOBROW
NERD YOUR ENTHUSIASM (4Q2021): NERDING | ARDUIN | KLINGON CONFIDENTIAL | MAP INSERTS | TIME | & 20 other nerdy passions. SWERVE YOUR ENTHUSIASM (3Q2021): WARHOL'S WALT WHITMAN | 70, GIRLS, 70 | TYRAEL'S MIGHT | SHIRATO SANPEI | THE LEON SUITES | & 20 other never-realized cultural productions. FIVE-O YOUR ENTHUSIASM (2Q2021): DARK SHADOWS | MANNIX | GET SMART | THE ADDAMS FAMILY | I DREAM OF JEANNIE | & 20 other Sixties (1964–1973) TV shows. FERB YOUR ENTHUSIASM (1Q2021): STEVEN UNIVERSE | TOP CAT | REN & STIMPY | SHE-RA AND THE PRINCESSES OF POWER | DRAGON BALL Z | & 20 other animated series. CARBONA YOUR ENTHUSIASM (2020): "Sex Bomb" | "Going Underground" | "Soft South Africans" | "Typical Girls" | "Human Fly" | & 20 other Seventies (1974–1983) punk singles. KLAATU YOU (2020 weekly): ZARDOZ | METROPOLIS | DARK STAR | SINS OF THE FLESHAPOIDS | SOLARIS | & dozens of other pre-STAR WARS sci-fi movies. CONVOY YOUR ENTHUSIASM (2019): THE TAKING OF PELHAM ONE TWO THREE | ROLLERBALL | BLACK SUNDAY | SORCERER | STRAIGHT TIME | & 20 other Seventies (1974–1983) action movies. SERIOCOMIC (2019 weekly): LITTLE LULU | VIZ | MARSUPILAMI | ERNIE POOK'S COMEEK | HELLBOY | & dozens of other comics. TUBE YOUR ENTHUSIASM (2018): LOONEY TUNES | THREE STOOGES | THE AVENGERS | ROCKY & BULLWINKLE | THE TWILIGHT ZONE | & 20 other Fifties (1954–1963) TV shows. WOWEE ZOWEE (2018 weekly): UNISEX | UNDER THE PINK | DUMMY | AMOR PROHIBIDO | HIPS AND MAKERS | & dozens of other Nineties (1994–2003) albums. KLUTE YOUR ENTHUSIASM (2017): THE KILLERS | BANDE À PART (BAND OF OUTSIDERS) | ALPHAVILLE | HARPER | BLOW-UP | & 20 other Sixties (1964–1973) neo-noir movies. #SQUADGOALS (2017 weekly): THE WILD BUNCH | BOWIE'S BAND | THE BLOOMSBURY GROUP | THE HONG KONG CAVALIERS | VI ÄR BÄST! & dozens of other squads. GROK MY ENTHUSIASM (2016 weekly): THE THEORY AND PRACTICE OF LUNCH | WEEKEND | MILLION YEAR PICNIC | LA BARONNE EMILE D'ERLANGER | THE SURVIVAL SAMPLER | & dozens more one-off enthusiasms. QUIRK YOUR ENTHUSIASM (2016): "Tainted Love" | "Metal" | "Frankie Teardrop" | "Savoir Faire" | "Broken English" | & 20 other Seventies (1974–1983) new wave singles. CROM YOUR ENTHUSIASM (2015): DARKER THAN YOU THINK | THE SWORD IN THE STONE | OUT OF THE SILENT PLANET | THIEVES' HOUSE | QUEEN OF THE BLACK COAST | & 20 other Thirties (1934–1943) fantasy novels. KERN YOUR ENTHUSIASM (2014): ALDINE ITALIC | DATA 70 | TORONTO SUBWAY | JOHNSTON'S "HAMLET" | TODD KLONE | & 20 other typefaces. HERC YOUR ENTHUSIASM (2013): "Spoonin' Rap" | "Rapper's Delight" | "Rappin' Blow" | "The Incredible Fulk" | "The Adventures of Super Rhyme" | & 20 other Seventies (1974–1983) hip-hop songs. KIRK YOUR ENTHUSIASM (2012): Justice or vengeance? | Kirk teaches his drill thrall to kiss | "KHAAAAAN!" | "No kill I" | Kirk browbeats NOMAD | & 20 other Captain Kirk scenes. KIRB YOUR ENTHUSIASM (2011): THE ETERNALS | BLACK MAGIC | DEMON | OMAC | CAPTAIN AMERICA | & 20 other Jack Kirby panels.