Diamond Age 75 (63)
By: Joshua Glenn
May 24, 2020
One in a series of posts about the 75 best science fiction novels published during the genre's Diamond Age era (from 1984–2003, according to HILOBROW's periodization schema). For Josh Glenn's complete Diamond Age Sci-Fi 75 list, click here.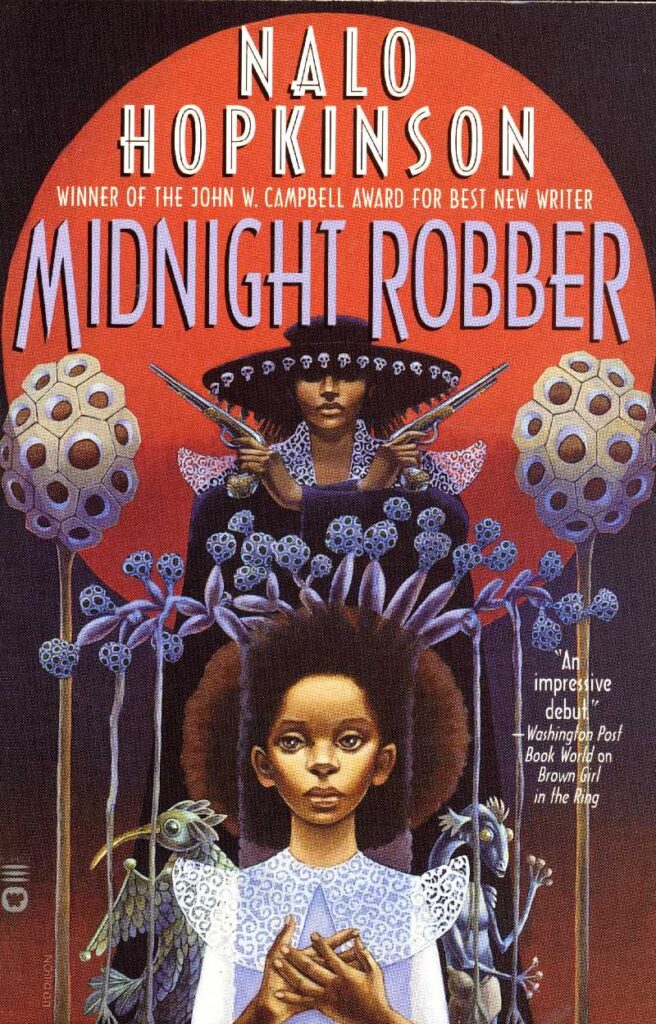 Nalo Hopkinson's Midnight Robber (2000).
Hopkinson's second novel is a brilliant, traumatic bildungsroman set on Toussaint, a world populated by the descendants of Caribbean colonists. It's a comfortable post-scarcity planet, overseen by Granny Nanny, an AI which anticipates all needs, and serviced by nanotech robotic labor. Young Tan-Tan, daughter of Antonio, who is mayor of the Cockpit County, likes to pretend that she is the Midnight Robber — a Trinidadian traditional Carnival character; one of the narrative voices in Midnight Robber relates the stories of such romantic figures, in Anglopatwa, a future-Caribbean dialect. (If you enjoy puzzling over the patois of A Clockwork Orange, Riddley Walker, or Feersum Endjinn, this book is for you.) When Antonio takes her with him into exile in New Half-Way Tree, a primitive, alternate-dimension Toussaint, Tan-Tan must quickly learn to survive. With the help of the douen, New Half-Way Tree's indigenous inhabitants, and friends she meets on the run, she develops into the titular bad-ass. Which makes this sound like a Heinlein juvenile… but it's more beautifully written than that, and much darker. Tan-Tan's real life is anything but romantic; however, as she becomes a vigilante justice-dealer, she herself becomes the subject of legends.
Fun facts: Hopkinson, who was born in Jamaica and grew up partly in Trinidad, incorporates characters and stories from Caribbean and Yoruba culture into her books, of which is the second. The planet New Half-Way Tree's name, for example, refers to a neighborhood of Kingston, Jamaica.
***
DIAMOND AGE SCI-FI at HILOBROW: William Gibson | Bruce Sterling | Margaret Atwood | Ann Nocenti | Frank Miller | Alan Moore | Octavia E. Butler | Iain M. Banks | Grant Morrison | Neal Stephenson | Jonathan Lethem | Charles Burns | China Miéville.
JOSH GLENN'S *BEST ADVENTURES* LISTS: BEST 250 ADVENTURES OF THE 20TH CENTURY | 100 BEST OUGHTS ADVENTURES | 100 BEST RADIUM AGE (PROTO-)SCI-FI ADVENTURES | 100 BEST TEENS ADVENTURES | 100 BEST TWENTIES ADVENTURES | 100 BEST THIRTIES ADVENTURES | 75 BEST GOLDEN AGE SCI-FI ADVENTURES | 100 BEST FORTIES ADVENTURES | 100 BEST FIFTIES ADVENTURES | 100 BEST SIXTIES ADVENTURES | 75 BEST NEW WAVE SCI FI ADVENTURES | 100 BEST SEVENTIES ADVENTURES | 100 BEST EIGHTIES ADVENTURES | 75 BEST DIAMOND AGE SCI-FI ADVENTURES | 100 BEST NINETIES ADVENTURES (in progress) | 1994 | 1995 | 1996 | 1997 | 1998 | 1999 | 2000 | 2001 | 2002 | 2003 | NOTES ON 21st-CENTURY ADVENTURES.