VIRUS VIGILANTE (3)
By: HILOBROW
November 6, 2020
One in a series of posts about the Antiviral Alliance, a now-forgotten squad of comic-book vigilantes who during the years leading up to (and through) WWII worked tirelessly to prevent another Spanish Flu-like pandemic. Fun fact: The original intercompany crossover, this "event" would inspire National Comics and All-American Publications to form the Justice Society of America in 1940–1941.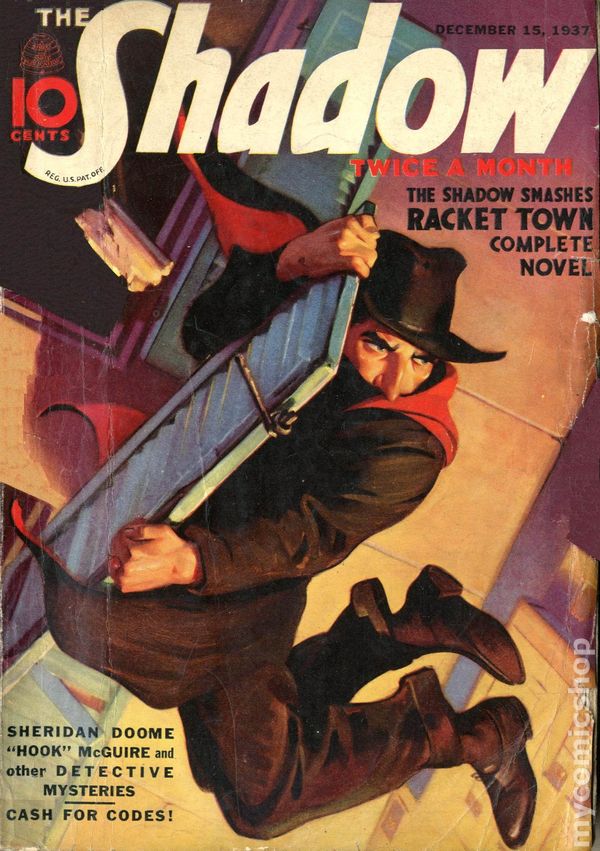 Who knows what viruses lurk in the respiratory droplets of men? The Shadow knows. A former aviator who fought for the French during World War I, Kent Allard experienced the great influenza pandemic of 1918-19 firsthand, watching helplessly as far more soldiers died from the Spanish Flu than from combat casualties. Armed with Colt .45 pistols and magician tricks, beginning in the early 1930s, the Shadow worked tirelessly to flatten the curve in New York. He joined the Antiviral Alliance in 1940, around the time that Sandman left for the Justice Society, and quickly became the group's new leader.
PS: Wonder why so many people mistakenly think it's OK to wear their mask underneath their nose? Unfortunately, the Shadow helped popularize this foolish behavior.
First comics appearance: June 17, 1940
Publisher: A syndicated daily newspaper comic strip
The strip's story continuity was written by Walter B. Gibson, with plot lines adapted from the Shadow pulps, and the strip was illustrated by Vernon Greene. The Shadow debuted on July 31, 1930, as the mysterious narrator of the radio program Detective Story Hour.
INTRODUCING… THE ANTIVIRAL ALLIANCE. PRE-COMICS: THE MOON MAN (1933). ORIGINAL TRIO (joined forces in 1939): THE CLOCK | SANDMAN | FANTOM OF THE FAIR. AND THEN THERE WERE SEVEN (joined 1940): THE SHADOW | LADY LUCK | THE LAUGHING MASK | KINKS MASON. SECOND-WAVE SIX (joined 1941): BLAZING SKULL | THE CHALLENGER | THE THUNDERER | DOCTOR NEMESIS | HUMAN BOMB | THE VIGILANTE. LATE TO THE PARTY (joined post-1941): MICRO-FACE | THE DESERT EAGLE.
*
SIMILAR HILOBROW SERIES: MEET THE L.I.S. | 4CP FRIDAY — themed comic-book detail galleries | CHESS MATCH — a gallery | COMICALLY VINTAGE | DC — THE NEW 52 | FILE X — a gallery | KIRB YOUR ENTHUSIASM — 25 writers on 25 Jack Kirby panels | SECRET PANEL —Silver Age comics' double entendres | SKRULLICISM