Diamond Age 75 (71)
By: Joshua Glenn
July 19, 2020
One in a series of posts about the 75 best science fiction novels published during the genre's Diamond Age era (from 1984–2003, according to HILOBROW's periodization schema). For Josh Glenn's complete Diamond Age Sci-Fi 75 list, click here.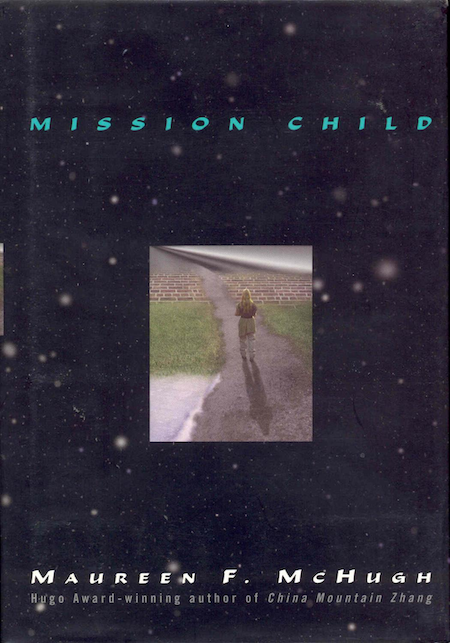 Maureen F. McHugh's Mission Child (1998).
Fourteen-year-old Janna is the descendant of colonists from Earth; when offworlders return to her icy planet, some centuries later, their superior technology disrupts the development of Janna's semi-primitive civilization… which has forgotten its own history. An episodic coming-of-age tale strongly reminiscent of Ursula K. Le Guin's The Left Hand of Darkness, Mission Child follows Janna for a couple of decades — as she travels from one culture to another, seeking a place to call home, but for the most part merely seeking to survice. Our protagonist, who is gender-fluid, sometimes living as a man and sometimes as a woman, becomes a refugee when raiders destroy her home village; their decision to "pass" as a man is a question of expedience, at first, but when they are offered the opportunity to develop male characteristics without undergoing surgery, they eagerly accept. Another wrinkle develops when we discover that Janna/Jan's civilization is an experiment certain technologies have been made taboo, by the powers that be — in sustainability. Even an enlightened galactic civilization's planet-settling program, it seems, has unintended consequences; the dialectic of enlightenment is at work.
Fun facts: An expansion of McHugh's "The Cost to Be Wise," a novella from the 1996 anthology Starlight 1, edited by Patrick Nielsen Hayden.
***
DIAMOND AGE SCI-FI at HILOBROW: William Gibson | Bruce Sterling | Margaret Atwood | Ann Nocenti | Frank Miller | Alan Moore | Octavia E. Butler | Iain M. Banks | Grant Morrison | Neal Stephenson | Jonathan Lethem | Charles Burns | China Miéville.
JOSH GLENN'S *BEST ADVENTURES* LISTS: BEST 250 ADVENTURES OF THE 20TH CENTURY | 100 BEST OUGHTS ADVENTURES | 100 BEST RADIUM AGE (PROTO-)SCI-FI ADVENTURES | 100 BEST TEENS ADVENTURES | 100 BEST TWENTIES ADVENTURES | 100 BEST THIRTIES ADVENTURES | 75 BEST GOLDEN AGE SCI-FI ADVENTURES | 100 BEST FORTIES ADVENTURES | 100 BEST FIFTIES ADVENTURES | 100 BEST SIXTIES ADVENTURES | 75 BEST NEW WAVE SCI FI ADVENTURES | 100 BEST SEVENTIES ADVENTURES | 100 BEST EIGHTIES ADVENTURES | 75 BEST DIAMOND AGE SCI-FI ADVENTURES | 100 BEST NINETIES ADVENTURES (in progress) | 1994 | 1995 | 1996 | 1997 | 1998 | 1999 | 2000 | 2001 | 2002 | 2003 | NOTES ON 21st-CENTURY ADVENTURES.