Diamond Age 75 (51)
By: Joshua Glenn
March 1, 2020
One in a series of posts about the 75 best science fiction novels published during the genre's Diamond Age era (from 1984–2003, according to HILOBROW's periodization schema). For Josh Glenn's complete Diamond Age Sci-Fi 75 list, click here.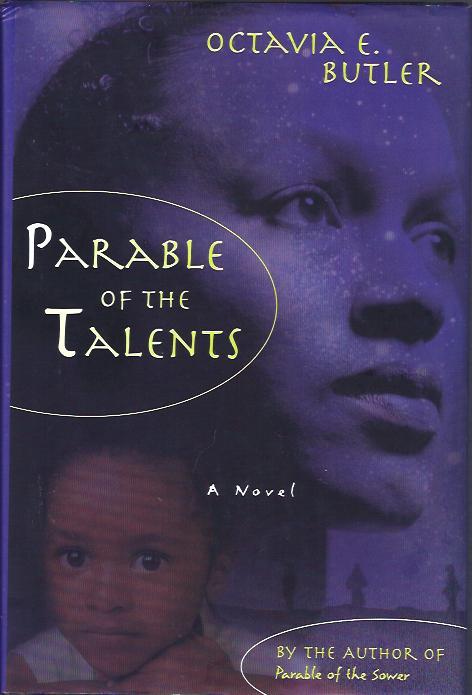 Octavia E. Butler's Earthseed adventure Parable of the Talents (1998).
In the not-too-distant future — the 2030s, in the midst of America's social, economic, and environmental breakdown — Lauren Oya Olamina, protagonist of Butler's Parable of the Sower (1993), gathers a band of survivors somewhere in California and works on developing Acorn, a sustainable community. Her secret sauce? She's developed a new, anti-dogmatic religion, based on communitarian values of sharing and mutual support. As if this weren't difficult enough, Lauren and her followers must contend with marauding evangelical Christians, led by a populist, jingoistic preacher turned politician who is elected president. Non-Christian faiths are targeted for extirpation; slavery and witch-burning makes a comeback. (Parallels with our present situation are easy to draw.) "All that you touch You change. All that you Change Changes you. The only lasting truth is Change. God is Change," Lauren announces; "Earthseed," her Process-like theology, attempts to avoid the pernicious social and political consequences of monotheism. The second half of the book is narrated by several different characters, each of whom reacts differently to Lauren's religion – and to her personality, which can veer from seductive to bullying. Larkin Olamina/Asha Vere, Lauren's abducted daughter, is also an important voice. It's important not to conflate the author with the protagonist; although Lauren's scripture is hailed by professors and intellectuals, Butler herself isn't necessarily sold on it. In the end, the Earthseeders plan to leave Earth and settle Alpha Centauri.
Fun facts: Winner of the Nebula Award. Butler planned, but then abandoned, a third Parable novel, titled Parable of the Trickster, which would have focused on the Earthseed community's struggle to survive on a new planet.
***
DIAMOND AGE SCI-FI at HILOBROW: William Gibson | Bruce Sterling | Margaret Atwood | Ann Nocenti | Frank Miller | Alan Moore | Octavia E. Butler | Iain M. Banks | Grant Morrison | Neal Stephenson | Jonathan Lethem | Charles Burns | China Miéville.
JOSH GLENN'S *BEST ADVENTURES* LISTS: BEST 250 ADVENTURES OF THE 20TH CENTURY | 100 BEST OUGHTS ADVENTURES | 100 BEST RADIUM AGE (PROTO-)SCI-FI ADVENTURES | 100 BEST TEENS ADVENTURES | 100 BEST TWENTIES ADVENTURES | 100 BEST THIRTIES ADVENTURES | 75 BEST GOLDEN AGE SCI-FI ADVENTURES | 100 BEST FORTIES ADVENTURES | 100 BEST FIFTIES ADVENTURES | 100 BEST SIXTIES ADVENTURES | 75 BEST NEW WAVE SCI FI ADVENTURES | 100 BEST SEVENTIES ADVENTURES | 100 BEST EIGHTIES ADVENTURES | 75 BEST DIAMOND AGE SCI-FI ADVENTURES | 100 BEST NINETIES ADVENTURES (in progress) | 1994 | 1995 | 1996 | 1997 | 1998 | 1999 | 2000 | 2001 | 2002 | 2003 | NOTES ON 21st-CENTURY ADVENTURES.