Diamond Age 75 (69)
By: Joshua Glenn
July 6, 2020
One in a series of posts about the 75 best science fiction novels published during the genre's Diamond Age era (from 1984–2003, according to HILOBROW's periodization schema). For Josh Glenn's complete Diamond Age Sci-Fi 75 list, click here.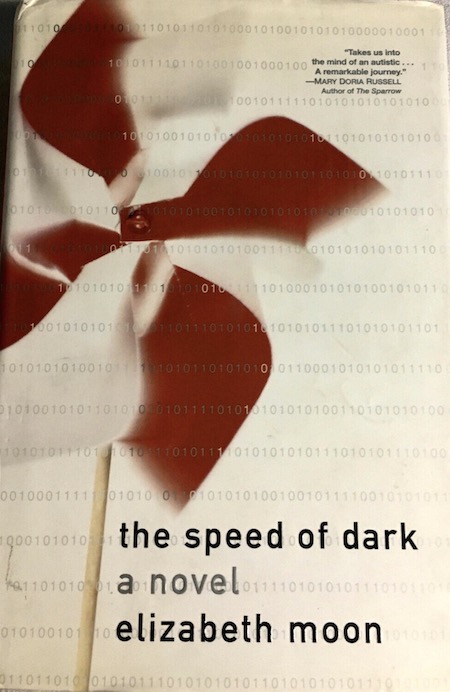 Elizabeth Moon's Speed of Dark (2003).
In the near future, autism has been eradicated. High-functioning autistics like Lou Arrendale, born before this medical breakthrough, face prejudice and unkindness. Fortunately for Lou, he's employed by a department of pharmaceutical company that values people with autism for their ability to recognize patterns in what to "normal" people appear to be chaotic bioinformatics data. The parts of the book narrated in the first person offer us a glimpse into the workings of our narrator's mind; this is the point of the novel, whose author is the mother of a son with autism. The plot itself is thin: A bigoted, ambitious pharma exec wants to cut costs by doing away with the privileges Lou and his colleagues require in order to do their work; a jealous member of Lou's fencing club starts to harass and persecute him; the pharma company begins testing a treatment that might cure autism… and Lou is pressured into taking part in it, even though he's not so sure that he wants to become "normal." Forget the plot: This book is an empathetic, absorbing installment in science fiction's tradition of books about intelligence/perception, from J.D. Beresford's The Hampdenshire Wonder (1911) to Daniel Keyes' Flowers for Algernon (1959). Along with Heinlein's Friday, Lou is a bridge between Humpty and Charly and William Gibson's pattern-recognizing Cayce Pollard. Of all of these characters, Lou may be the most sympathetic and lovable. Most readers dislike the ending, which feels rushed and overly convenient.
Fun facts: Speed of Dark is a departure for the author, a computer specialist for the US Marines best known for her Heris Serrano "hard" sci-fi trilogy (1993–1995) and the Heinlein-esque Vatta's War series (2003–2008). It won the Nebula Award for Best Novel, and has been described as an exemplar of "Mundane Science Fiction" (MSF).
***
DIAMOND AGE SCI-FI at HILOBROW: William Gibson | Bruce Sterling | Margaret Atwood | Ann Nocenti | Frank Miller | Alan Moore | Octavia E. Butler | Iain M. Banks | Grant Morrison | Neal Stephenson | Jonathan Lethem | Charles Burns | China Miéville.
JOSH GLENN'S *BEST ADVENTURES* LISTS: BEST 250 ADVENTURES OF THE 20TH CENTURY | 100 BEST OUGHTS ADVENTURES | 100 BEST RADIUM AGE (PROTO-)SCI-FI ADVENTURES | 100 BEST TEENS ADVENTURES | 100 BEST TWENTIES ADVENTURES | 100 BEST THIRTIES ADVENTURES | 75 BEST GOLDEN AGE SCI-FI ADVENTURES | 100 BEST FORTIES ADVENTURES | 100 BEST FIFTIES ADVENTURES | 100 BEST SIXTIES ADVENTURES | 75 BEST NEW WAVE SCI FI ADVENTURES | 100 BEST SEVENTIES ADVENTURES | 100 BEST EIGHTIES ADVENTURES | 75 BEST DIAMOND AGE SCI-FI ADVENTURES | 100 BEST NINETIES ADVENTURES (in progress) | 1994 | 1995 | 1996 | 1997 | 1998 | 1999 | 2000 | 2001 | 2002 | 2003 | NOTES ON 21st-CENTURY ADVENTURES.