VIRUS VIGILANTE (1)
By: HILOBROW
November 2, 2020
One in a series of posts about the Antiviral Alliance, a now-forgotten squad of comic-book vigilantes who during the years leading up to (and through) WWII worked tirelessly to prevent another Spanish Flu-like pandemic. Fun fact: The original intercompany crossover, this "event" would inspire National Comics and All-American Publications to form the Justice Society of America in 1940–1941.
THE ANTIVIRAL ALLIANCE: THE VIGILANTE | SANDMAN | THE SHADOW | THE MOON MAN | THE CLOCK | FANTOM OF THE FAIR | LADY LUCK | THE LAUGHING MASK | KINKS MASON | THE DESERT EAGLE | THE CHALLENGER | THE THUNDERER | BLAZING SKULL.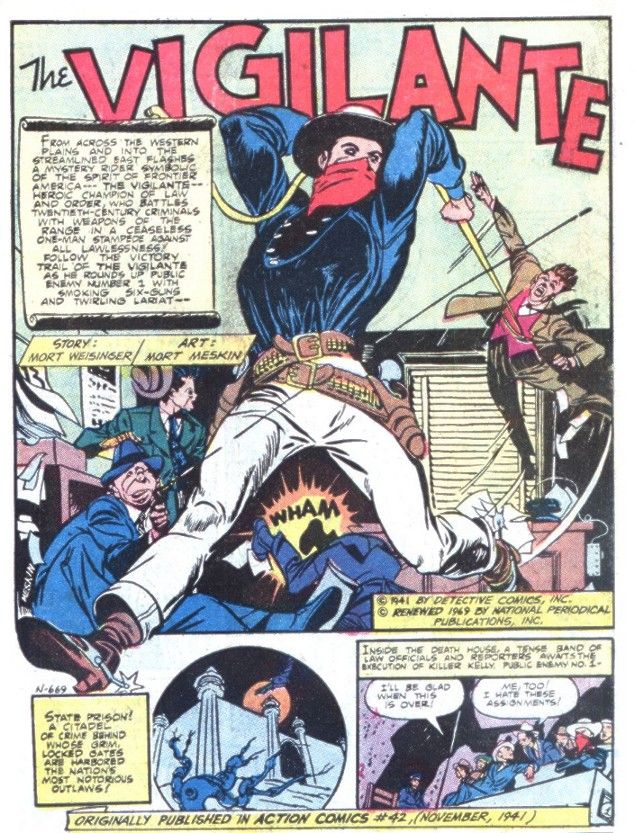 Although he wasn't one of the original members of the Antiviral Alliance, and in fact didn't join until 1941, by which point America had already entered the war, the Vigilante quickly assumed a leadership role. Greg Saunders employed "weapons of the range" in his never-ending quest to fight the spread of infectious disease caused by influenza viruses. Sure, Greg's mask wasn't the safest one possible… but he meant well! PS: Also a member of the Seven Soldiers of Victory, none of whom wore proper masks.
Publisher: DC Comics
First appearance: Action Comics #42 (November 1941)
Created by: Mort Weisinger, Mort Meskin
SIMILAR HILOBROW SERIES: MEET THE L.I.S. | 4CP FRIDAY — themed comic-book detail galleries | CHESS MATCH — a gallery | COMICALLY VINTAGE | DC — THE NEW 52 | FILE X — a gallery | KIRB YOUR ENTHUSIASM — 25 writers on 25 Jack Kirby panels | SECRET PANEL —Silver Age comics' double entendres | SKRULLICISM