Diamond Age 75 (73)
By: Joshua Glenn
August 2, 2020
One in a series of posts about the 75 best science fiction novels published during the genre's Diamond Age era (from 1984–2003, according to HILOBROW's periodization schema). For Josh Glenn's complete Diamond Age Sci-Fi 75 list, click here.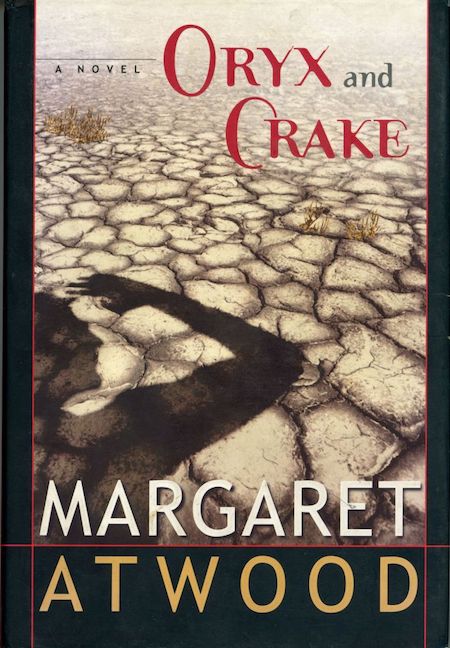 Margaret Atwood's MaddAddam adventure Oryx and Crake (2003).
Snowman is this grim postapocalyptic tale's omega man — one of the few remaining human beings alive on Earth, with only genetically modified humanoid "Crakers" to keep him company. Snowman grew up in an early 21st-century world dominated by multinational corporations (with George Saunders-like names, e.g., RejoovenEsense); his father was a genetic engineer who helped develop pigoons, rakunks, snats, and other mutations. While growing up in a biotech corporate compound, our protagonist's closest friend was "Crake," a mildly autistic boy with whom he shared an obsession with smoking weed, playing online videogames, and watching live executions, graphic surgery, frog squashing, and child pornography… you know, YouTube. Crake grows up to be a brilliant geneticist and proto-Incel, who devises a plan to replace humans with peaceful, gentle, herbivorous humanoids who aren't sexually jealous — you guessed it, the Crakers. (He also develops a Viagra-like pill which secretly causes sterilization; the more I think about it, the more Crake reminds me of De Soto, in Seeds of Life.) The titular Oryx, meanwhile, is a waif-like woman who becomes entangled in their lives — and in Crake's sinister plans. Snowman and his Craker neighbors embark on a journey in search of answers….
Fun facts: A finalist for the Booker Prize, Oryx and Crake is the first in a trilogy that includes The Year of the Flood (2009) and MaddAddam (2013). An adaptation of the MaddAddam trilogy is in development at Paramount Television.
***
DIAMOND AGE SCI-FI at HILOBROW: William Gibson | Bruce Sterling | Margaret Atwood | Ann Nocenti | Frank Miller | Alan Moore | Octavia E. Butler | Iain M. Banks | Grant Morrison | Neal Stephenson | Jonathan Lethem | Charles Burns | China Miéville.
JOSH GLENN'S *BEST ADVENTURES* LISTS: BEST 250 ADVENTURES OF THE 20TH CENTURY | 100 BEST OUGHTS ADVENTURES | 100 BEST RADIUM AGE (PROTO-)SCI-FI ADVENTURES | 100 BEST TEENS ADVENTURES | 100 BEST TWENTIES ADVENTURES | 100 BEST THIRTIES ADVENTURES | 75 BEST GOLDEN AGE SCI-FI ADVENTURES | 100 BEST FORTIES ADVENTURES | 100 BEST FIFTIES ADVENTURES | 100 BEST SIXTIES ADVENTURES | 75 BEST NEW WAVE SCI FI ADVENTURES | 100 BEST SEVENTIES ADVENTURES | 100 BEST EIGHTIES ADVENTURES | 75 BEST DIAMOND AGE SCI-FI ADVENTURES | 100 BEST NINETIES ADVENTURES | 75 BEST HADRON AGE SCI-FI ADVENTURES | NOTES ON 21st-CENTURY ADVENTURES.