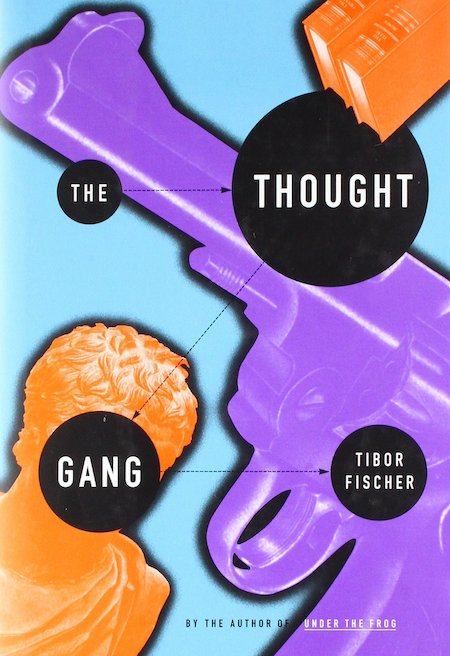 This page will eventually list my 100 favorite adventures published during the cultural era known as the Nineties (1994–2003, according to HILOBROW's periodization schema). This BEST ADVENTURES OF THE NINETIES list is a work in progress, and is subject to change. I hope that the information and opinions below are helpful to your own reading; please let me know what I've overlooked.
*
JOSH GLENN'S *BEST ADVENTURES* LISTS: BEST 250 ADVENTURES OF THE 20TH CENTURY | 100 BEST OUGHTS ADVENTURES | 100 BEST RADIUM AGE (PROTO-)SCI-FI ADVENTURES | 100 BEST TEENS ADVENTURES | 100 BEST TWENTIES ADVENTURES | 100 BEST THIRTIES ADVENTURES | 75 BEST GOLDEN AGE SCI-FI ADVENTURES | 100 BEST FORTIES ADVENTURES | 100 BEST FIFTIES ADVENTURES | 100 BEST SIXTIES ADVENTURES | 75 BEST NEW WAVE SCI FI ADVENTURES | 100 BEST SEVENTIES ADVENTURES | 100 BEST EIGHTIES ADVENTURES | 75 BEST DIAMOND AGE SCI-FI ADVENTURES | 100 BEST NINETIES ADVENTURES | 75 BEST HADRON AGE SCI-FI ADVENTURES | NOTES ON 21st-CENTURY ADVENTURES.
---
NINETIES ADVENTURE
---
Once I've completed my research and reading for the Nineties, I'll add an introductory note about what I enjoy and admire about this era's adventure lit. For the moment, I'll paste in something I've written elsewhere about what I don't like about Eighties (and Nineties) adventure….
If the Eighties began in a good way with Neuromancer, they began in a shitty way with The Hunt for Red October — which, alas, was a vastly more popular and influential novel.

I haven't enjoyed the post-1983 adventures I've tried to read by Tom Clancy. Not to mention those by: Robert Ludlum, Robert Jordan, or Robert Crais; James Patterson, James Redfield, James Rollins, or James Dashner; R.A. Salvatore, L.J. Smith, J.D. Robb, V.C. Andrews, J.R. Ward, P.C. Cast, or R.L. Stine; Scott Turow, Scott Westerfeld, Scott Bakker, or Orson Scott Card. Also: Jeffrey Archer, Dan Brown, Thomas Harris, Sue Grafton, John Grisham, Sidney Sheldon, Dean Koontz, Daniel Silva, Vince Flynn, Stieg Larsson, Gillian Flynn, Michael Connelly, Clive Barker, Greg Iles, Robin Hobb, Ted Dekker, Margaret Weis, Tess Gerritsen, Mark Z. Danielewski, Patricia C. Wrede, Christopher Paolini, Richelle Mead, Alexander McCall Smith, Stephenie Meyer, Matthew Pearl, Holly Black, Terry Brooks, Pittacus Lore, Jim Butcher, Angie Sage, Anthony Horowitz, Megan Whalen Turner, Gregory Maguire, Bernard Cornwell, David Baldacci, Mary Higgins Clark, Cornelia Funke, Tami Hoag, Lemony Snicket (except when illustrated by Seth), Alyson Noel, Brandon Mull, Tana French, Laurell K. Hamilton, Erin Hunter, Terry Goodkind, Rick Riordan, Kate Mosse, Jeff Lindsay, Christine Feehan, Neal Shusterman, Patricia Briggs, Veronica Roth, Joe Hill, Lee Child, Clive Cussler, Julie Kagawa, Harlan Coben, Lisa Gardner, Michael Scott, Ilona Andrews, William Paul Young, Cassandra Clare, and David Eddings.

Although I like (or sorta like) the pre-1984 writings of Frederick Forsyth, Stephen King/Richard Bachman, Robert Heinlein, Robert B. Parker, Robin Cook, Larry Niven and Jerry Pournelle, Stephen R Donaldson, Ken Follett, Lawrence Block, Mario Puzo, Anne Rice, Dick Francis, Michael Crichton, Frank Herbert, Isaac Asimov, Douglas Adams, Piers Anthony, Marion Zimmer Bradley, Jean M. Auel, Roger Zelazny, and Anne McCaffrey, their post-1983 adventures don't do it for me.
I find it more difficult to identify 10 great adventure novels (or comics) from each year of the Nineties than it was to do so for earlier periods. But it's not impossible! I've developed a preliminary list, and my research and reading continues apace. During 2020, I'm confident that I'll be able to complete this page.
— JOSH GLENN (2020)
---
1994
---
Mike Mignola's Hellboy comics (1994–present). The Dark Horse Comics story "Seed of Destruction" (serialized March–June 1994), written and drawn by Mignola with script by John Byrne, introduces us to one of the great comic-book characters of the era: the half-demon Hellboy. (Yes, there were one or two previous appearances, but here is where the Hellboy epic begins.) Summoned from Hell by Nazi occultists, then raised by Professor Trevor Bruttenholm, who after WWII would form the Bureau for Paranormal Research and Defense (B.P.R.D.), Hellboy is a gruff, emotionally immature, but kind-hearted creature… whose grafted-on right hand is an apocalyptic demon-relic. He's also the World's Greatest Paranormal Investigator. Accompanied by a troubleshooting team of law enforcement officials, soldiers, mutants, and "scholars of the weird" (e.g., folkorist Kate Corrigan, the amphibian Abe Sapien, and the pyrokinetic Liz Sherman), Hellboy battles grotesque foes in a series of tall tales inspired by folklore, pulp magazines, Lovecraftian horror, and horror fiction. Mignola's drawing style — thin lines, unwieldy shapes, a heavy use of black forms — has become iconic. Fun facts: Ron Perlman was an inspired casting choice for the 2004 and 2008 live-action Hellboy movies, directed by Guillermo del Toro. David Harbour's performance in the 2019 reboot was also fun, but the movie wasn't as good as the original two. The Hellboy character has also starred in animated films and three video games.

*

Lionel Davidson's espionage thriller Kolymsky Heights. After a 16-year hiatus from writing adventures for adults, Davidson returned with his final novel — a beautifully written, action-picked yarn to rival his best works, including The Rose of Tibet (1962), A Long Way to Shiloh (1966), and Making Good Again (1968). Dr. Johnny Porter, a Canadian professor of anthropology who has mastered the languages and dialects of the various tribes of Northern Canada, Alaska and Siberia, as well as Korean, Russian, and Japanese, is himself descended from Inuits — who remain physically, ethnically and culturally similar to their Siberian counterparts. He is, therefore, the only westerner who can hope to break into — and back out of — a Soviet scientific research base (ostensibly a weather station) in Siberia, one so secret that no one who enters is ever allowed to leave again. After receiving some training by the CIA, a reluctant Porter heads from Japan to Siberia disguised as a Korean sailor; this is only phase one of a multi-stage plan which will see our hero adopt multiple disguises, and survive by his wits. It's a hunted-man story and man-agaist-nature story to rival anything by Buchan, Ambler, or Hammond Innes. Fun facts: Writing for The New York Times Book Review, James Carroll enthused that Kolymsky Heights — Davidson's final novel — is "written with the panache of a master and with the wide-eyed exhilaration of an adventurer in the grip of discovery. Mr. Davidson has not only rescued one of the most familiar narrative forms of the era, the spy thriller; he has also renewed it."

*

Cormac McCarthy's Border Trilogy western adventure The Crossing. In the years just before and during WWII, teenage Billy Parham ventures across the New Mexico border into Mexico on three adventures — much like Walter Scott's characters, impatient with over-civilized England, headed into the Scottish highlands. The first section, which has frequently been compared with Faulkner's "The Bear" finds Billy communing with a wolf he's trapped… and returning it to Mexico rather than killing it. When the wolf is taken from him and sold to a circus, where it's going to be killed in a bloody spectacle, Billy makes one last — sacrificial — effort to protect its dignity. Returning home, Billy discovers that tragedy has befallen his family; springing his younger brother, Boyd, from a foster home, the two head back to Mexico to recapture their family's horses. They rescue a Mexican girl with whom Boyd falls in love; they also end up in a bloody confrontation with a ranch chief who is unwilling to let them take their horses back. It's a saga-like story, with no happy ending or uplifting moral; like Mark Renton in Irvine Welsh's (also saga-like) Trainspotting, Billy learns only that most people live blunted, unfulfilling lives. The language and vocabulary, as always with McCarthy, is extraordinary. Fun facts: Billy's story, as well as that of John Grady Cole, from All the Pretty Horses, continues in the final volume of the trilogy, Cities of the Plain (1998).

*

Tibor Fischer's crime adventure The Thought Gang. Eddie Coffin, an unemployed, alcoholic, sybaritic Cambridge philosophy professor, flees scandal in Britain for France; there, he meets Hubert, a one-armed (and one-legged) robber who's recently been release from prison. Applying the metaphysical and existential insights of the great philosophers to the problems of bank robbery, the hapless duo embarks on a shambolic, mostly successful crime spree across the country. Eddie, one may be intrigued to hear, handles the robberies, while Hubert does the philosophizing. Fischer is not only a very funny writer, but a very erudite one; you'll actually learn quite a bit about philosophy from this yarn… and you'll marvel at his verbal pyrotechnics, not least his drive to incorporate words beginning with "z" into the narrative. (This is a plot device, not just a gimmick.) It's all a bit too much, perhaps — but Fischer's second novel is an utterly unique, highly entertaining story to which I've returned several times since it was published. Forget Steve Coogan and Rob Brydon's sorta-funny foodie tours of the Continent; why hasn't The Thought Gang been adapted as a TV series? Fun facts: Reviewers at the time tended to suggest that Fischer had lost control of his themes, while at the same time praising The Thought Gang in the highest possible terms — suggesting it was one of the funniest, most imaginative novels of the era. It deserves to be rediscovered by today's readers.

*

Jonathan Lethem's sci-fi/neo-noir adventure Gun, with Occasional Music (1994). The author's first novel is a pastiche of hardboiled crime fiction and cyberpunk; it's affectionate towards the former, tongue-in-cheek towards the latter. In a not-too-distant future Los Angeles and Oakland, smart-mouthed private "inquisitor" Conrad Metcalf looks into the murder of Dr. Maynard Stanhunt, a prominent urologist who turns out to have been in cahoots with the gangster Danny Phoneblum. The victim's ex-wife and the murder suspect's sister are raising a "babyhead" — one of a cohort of infants whose development has been sped up, resulting in a Gen X-like subculture of cynical, unmotivated, whiny assholes. A thuggish evolved kangaroo (think Wilmer, the jumped-up "gunsel" from The Maltese Falcon) is tailing Metcalf, who's got the hots for a sexy inquisitor with the unimprovable name Catherine Teleprompter. All these shenanigans take place in a dystopian America in which it's all but forbidden to use words to describe news events; there's a cultural taboo against asking questions; and everyone is on [the] Make, a legal drug that keeps users forgetful and contented. The inquisitors, who've settled upon a fall guy for the murder rap, subtract so many of Metcalf's state-issued karma points that he may wind up doing time in the big freeze. But when Metcalf uncovers a scheme in which zero-karma convicts are implanted with "slaveboxes" and used as prostitutes (hello, Dollhouse), he plays it "existential. and maybe a bit stupid." It's the only way he knows how to play it. Fun fact: "I really, genuinely wanted to be published in shabby pocket-sized editions and be neglected — and then discovered and vindicated when I was fifty," Lethem has said, about his early novels. "To honor, by doing so, Charles Willeford and Philip K. Dick and Patricia Highsmith and Thomas Disch, these exiles within their own culture. I felt that was the only honorable path."

*

Haruki Marukami's apophenic adventure The Wind-Up Bird Chronicle (1994–1995; in English, 1997). Toru Okada, a Bartleby-like slacker who lives in a Japanese suburb, has recently quit his tedious job and abandoned his dream of earning a law degree. His wife, Kumiko, is more ambitious and driven… but she has secret depths. Her brother, Noboru, a mediagenic academic who becomes a politician — and who is obsessed with Kumiko — is our shape-shifting antagonist. When Kumiko disappears, Toru embarks on a trippy, internal and external quest of discovery and self-discovery. If the way I've described this masterpiece of magical realism makes it sound like the Scott Pilgrim graphic novels, yes, it is sort of like that… except that it's not about hipsters in the Toronto rock scene, and it's not silly or shallow. I'd also compare The Wind-Up Bird Chronicle to Joyce's Ulysses — the long digressions, the deep insights into the author's national culture, and particularly the brilliant moments when a teenage girl's POV takes over the story. Why did Kumiko leave? Did she ever love Toru? Who keeps calling Toru with mysterious leads and clues that make him more, rather than less confused? There are many interesting (mostly female) characters; a gripping war story related by an old soldier about his experiences in Mongolia during the Sino-Japanese War; and a bird whose mechanical-sounding cry punctuates the drama like a Greek chorus. Fun facts: Murakami, the most widely-read Japanese novelist of his generation, rejects the idea that he's influenced by Kafka: "Kafka's fictional world is already so complete that trying to follow in his steps is not just pointless, but quite risky, too," he's said. "What I see myself doing, rather, is writing novels where, in my own way, I dismantle the fictional world of Kafka that itself dismantled the existing novelistic system."

*

Iain M. Banks's sci-fi adventure Feersum Endjinn. Too many fans of Banks's Culture series pooh-pooh this, his second non-Culture story — complaining in particular about the Riddley Walker-esque patois in which the character Bascule the Teller speaks. True, it's not as fun as the Culture books… but like them it's a staggering work of imagination, and a lot of fun. This one takes place in a vast, Gormenghastian castle-like structure known as the Fastness, around which the novel's protagonists clamber like ants (one thinks of Aldiss's Non-Stop), and also in the Cryptosphere, a vast dataspace that can be explored virtually, via avatar, and to which millions of personalities have been uploaded — but which is succumbing to entropy and chaos. Sessine, an assassinated military commander, wakes up in the Cryptosphere… only to be assassinated there, too; in this post-singularity future, we discover, a person can die several times, not only in the real world but virtually. We also encounter a top-ranked scientist, Hortis Gadfium, who is conspiring against the King; she is privy to new intel about an approaching catastrophe known as the Encroachment. Asura, a Leeloo-like figure, is tasked with activating the titular "fearsome engine" that will save the solar system… but she has amnesia; captured, she is subjected to a series of virtual-environment storytelling efforts to learn her secret. Meanwhile, Bascule, a Teller (whose job it is to project himself into the Cryptosphere in search of lost information), gets caught up in the political machinations and seeks refuge among chimeric animals. The final chase scene — involving a vacuum balloon ascending a space elevator — is terrific. And honestly, Bascule isn't that hard to understand! Fun facts: "I used to have these model soldiers, and I wondered what it would be like to be one of those tiny soldiers in a giant house," Banks would later explain in an interview. "I used to have these epic journeys for them. I thought if you had a giant structure, basing it on furniture would be easy."

*

Grant Morrison's comic The Invisibles (serialized 1994–2000). Scottish comic book writer Grant Morrison is one of the triumvirate of British creatives — along with Alan Moore and Neil Gaiman — whose trippy, subversive, meta-textual sensibilities helped mutate and transform American comics. A self-proclaimed chaos magician, Morrison gave us a world in which objective truth is unknowable, illusion and reality are interchangeable, "bad guys" are good and "good guys" bad. The Invisibles are group of transgressive, libertine, punk freedom fighters led by the Jerry Cornelius-like King Mob; they're part of a larger organization, The Invisible College, which uses time travel, magic, and violence to battle the Archons of the Outer Church, interdimensional alien gods who've persuaded most of us to internalize their oppression. Other characters include: Lord Fanny, a transgender Brazilian shaman; Tom O'Bedlam, a homeless man; Boy, a former New York cop; and Ragged Robin, a telepath. In the first run of stories, the group recruits Jack Frost, a hooligan… who learns that he may be the reincarnation of the Buddha. The references — political, pop-cultural, sub-cultural — come thick and fast. A slow-moving adventure, richly rewarding. Fun facts: The Vertigo imprint of DC Comics published 59 issues of The Invisibles, in all. Morrison scripted the stories, and various artists illustrated them.

*

Nick Tosches's crime adventure Trinities. Before Tony Soprano, there was Johnny DiPietro — a Brooklyn-based Mafia hit man struggling with relationship problems, family loyalty, rival mafiosi out to betray or kill him, and morality. Through DiPietro's eyes, we watch his uncle Joe — a grump, retired Mob boss who regrets having allowed the Chinese Triads to take over the heroin trade — cannily and ruthlessly get the gang back together. Joe's Chinese counterpart, the aging Chinatown junkie and gang boss Chen Fang, is the second POV in Tosches' unholy trinity; the third is that of D.E.A. agent Bob Marshall. We're also introduced to several well-realized minor characters… most of whom die violently once war between the Mafia and the Chinese Triad gangs breaks out. Meanwhile, Johnny and his Uncle Joe are butting heads with the new Mafia leadership: young men with MBAs and an aversion to violence. Tosches is a fine story teller, one who takes the time to get into granular detail about everything from the most effective method of assassinating someone (and getting away with it) to cooking squid, laundering money, and using brand-name chemical products to cook up commercial quantities of China White. Fun facts: Tosches, who died in 2019, is best known as the tremendously talented author of such biographies as Hellfire: The Jerry Lee Lewis Story (1982), Dino: Living High in the Dirty Business of Dreams (1992), and a journalist who covered music, the opium trade, and organized crime.

*

Melissa Scott's cyberpunk sci-fi adventure Trouble and Her Friends. At some point during the early 21st century, computer hacking — "cracking" — becomes as vigorously policed as burglary or bank robbery. So India Carless (a.k.a. Trouble), who's one of the best crackers in the business, takes it on the lam. She leaves her partner, Cerise (a.k.a. Alice-B-Good), and their close-knit queer cracker group, for a legitimate career. (There's a closing-of-the-frontier western vibe to this story.) Three years later, however, a cracker using her online identity, even her style of hacking, appears on the scene; pursued by her own employer, Trouble goes in search of answers. The interface that Scott describes — crackers use "dollie ports" and "brain worms" in order to feel physical sensations while navigating virtual reality — is intriguing; and I like how the narrative — as usual in cyberpunk — toggles between reality and VR. In what was an unusual move, at the time, Scott makes most of her characters queer women; they aren't merely objects of desire for a male protagonist. On the other hand, Trouble and her friends — we learn from flashbacks — are the targets of proto-Gamergate sexism and misogyny. Despite her vanishing act, will Trouble's community rally to help her out? Fun facts: Winner of the 1995 Lambda Literary Award for Gay & Lesbian Science Fiction and Fantasy. Scott would win this award again in 1996, for Shadow Man.
---
1995
---
Neal Stephenson's sci-fi adventure The Diamond Age: Or, A Young Lady's Illustrated Primer. When the designer of the Young Lady's Illustrated Primer: a Propædeutic Enchiridion — an interactive story-telling device intended to inculcate in the granddaughter of "Equity Lord" Alexander Chung-Sik Finkle-McGraw the knowledge and skills to subvert the dominant paradigm — bootlegs a copy for his own daughter, it instead falls into the hands of young Nell, a bright 4-year-old slum-dweller. Under the tutelage of the Primer, Nell not only survives but thrives. Lord Finkle-McGraw, meanwhile, attempts to exploit Hackworth to advance the goals of his tribe; so does Dr. X, the Chinese engineer (and powerful Confucian leader) who'd helped Hackworth create the illicit Primer. Meanwhile, the actress Miranda, who provides the voice of the Primer and becomes a kind of surrogate mother to Nell, seeks the child out. All of this takes place against the backdrop of a Neo-Victorian British colonial society in which nanotechnology has made it possible for anyone to 3-D print food and objects, and government has become obsolete. The relationship between Nell and her Primer is an affecting one; in a sense, this is a book is a bildungsroman about homo superior — like Stapledon's Last Men in London or Odd John, say, or Beresford's The Hampdenshire Wonder. However, in the book's second half, the plot goes off the rails — with the introduction of tribes such as the Drummers, who create a subconscious hive mind through sexual orgies (is this a reference to Alan Moore's Halo Jones comic?); the powerful CryptNet organization; and the Chinese Fists of Righteous Harmony. Stephenson's goal is to explore the unintended consequences of a post-scarcity world… but the story ends abruptly and inconclusively. Fun facts: An enchiridion is a handbook; a propædeutic is a preliminary teaching, for beginners. Other fun fictional propædeutic enchiridions include Owen Hughes's Arithmetic, Grammar, Botany & these Pleasing Sciences made Familiar to the Capacities of Youth, in Joan Aiken's The Whispering Mountain (1968); and Huey, Dewey and Louie's Junior Woodchucks' Guidebook, from Carl Barks's Donald Duck comics; the Junior Woodchucks first appear in 1951. PS: When my friends Elizabeth Foy Larsen and Tony Leone and I pitched the family activity book UNBORED to Bloomsbury, in 2010, we explicitly compared it to Stephenson's Young Lady's Illustrated Primer.

*

Charles Burns's horror/sci-fi graphic novel Black Hole (serialized 1995–2005; in book form, 2005). I became aware of Charles Burns in the mid-1980s, thanks to his retro-sci-fi/horror "El Borbah" and "Big Baby" stories, which at the level of form may have paid tribute to the stylings of Will Elder, Hergé, and Chester Gould — but which were more sophisticated, in a surrealist, absurdist way. I was 28 when Kitchen Sink (Fantagraphics took over, later) began publishing the twelve installments that would make up Black Hole; I was 38 by the time the complete version was published. I mention this because my take on the story changed, during those years. A sexually transmitted disease mutates teenagers — over the course of a summer, in a suburb of Seattle, in the mid-1970s — into B-movie-esque monsters! The lucky ones are those who merely grow a little tail, or sprout chest-tendrils, or who shed their skin! Within this milieu, a lover's triangle develops among Chris, Rob, and Keith; Keith, meanwhile, falls under the erotic spell of Eliza, a free-spirited artist living with dope dealers! Chris runs away, to live in the woods near her fellow freaks; but someone is killing them! When early issues of Black Hole appeared, I reveled in what I understood to be Burns's nihilistic, body-horror take on, say, Dazed and Confused. However, by the time the last installment appeared, I looked forward not to finding out what happened next (for better or worse, it's essentially a midcentury-style romance comic) so much as reimmersing myself in Burns's fully realized world — gorgeous chiaroscuro, discontinuous chronology, teenage angst, sexual frustration and liberation… plus David Bowie's Diamond Dogs. Wow! Fun facts: "There are certain truths that exist in genre fiction, even though it's full of stereotypes and two-dimensional characters," Burns said in an interview, once. "There's a certain amount of unconsciousness that goes into genre fiction or genre movies. And out of that unconsciousness, I always see a certain kind of truth."

*

John le Carré's espionage adventure Our Game. Tim Cranmer, an independently wealthy ex-Treasury boffin, has retired to his Somerset manor house and vineyard with his beautiful young lover, Emma. One evening, he is visited by police officers investigating the disappearance of Larry Pettifer, a professor at Bath University. Pettifer, we discover, had once been a British intelligence operative… and Cranmer was his handler and friend (frenemy, really) for twenty years. Pettifer and Emma had grown close, it seems, and Emma has also taken a powder. What's more, Pettifer — a bohemian who's never cared about money — has absconded with a large sum of money skimmed from British intelligence ops. Did the missing couple run away together? Or might Cramner have murdered his former protégé and romantic rival? Once Cramner uses his Cold War-honed skills to figure out what's really happened, and bodies start turning up, the chase is on! Like Call for the Dead (1961), le Carré's first novel, this one is both an espionage thriller and a murder mystery. In fact, I picture Cranmer as being much like James Mason's character in The Deadly Affair, Sidney Lumet's 1967 adaptation of Call for the Dead.…. Fun facts: The novel's title refers to Winchester College football (known as Winkies, WinCoFo, or "Our Game"); Cranmer and Pettifer were Winchester schoolmates.

*

Nicola Griffith's sci-fi adventure Slow River. When we first meet Lore, the protagonist and sometime narrator of Slow River, she's naked, injured, dumped to die by a kidnapper — whose true motivation we'll only learn at the end. She's taken in by Spanner, a charismatic female hacker and con artist; the two become lovers and co-conspirators, though eventually Spanner turns out to be not only untrustworthy but manipulative and amoral. Through flashbacks, we learn that Lore is the youngest child of the wealthy and powerful van Oest family — whose engineered bacteria provide clean drinking water in an age where untreated water is no longer potable. (We also learn that there's a twisted secret at the heart of Lore's family, one she only slowly figures out.) There are a few sci-fi gadgets — everyone has a personal ID chip inserted into their hand; everyone accesses the Internet via a "tablet" — but the technology of greatest import here is biotech, specifically related to drinking water. Like Maureen F. McHugh's China Mountain Zhang, this story is a day in the life — many days in the life — of a talented but lowly worker, in a future industry. Although there are a few tense action scenes, it's primarily a Robinsonade: We're watching a smart, talented person solve problems. It's also about overcoming privilege, and recovering from trauama. For some readers, this is boring stuff — "almost like a manual on water purification at times," "her super power is being prodigiously good at sewage treatment management" — but I remained riveted. Fun facts: Winner of the Nebula Award for Best Novel, as well as the Lambda Literary Award — which is awarded annually to books which explore LGBT themes. Griffith also won a Lambda for her first novel, Ammonite (1993); since Slow River, four more of her books have also won a Lambda Award.

*

José Saramago's sardonic Robinsonade Ensaio sobre a cegueira (published in English as: Blindness). In this powerfully written anti-Cozy Catastrophe, when an unnamed city is plagued with an epidemic of "white blindness," the afflicted are confined within an abandoned mental hospital to prevent them infecting others. One woman, known as "the doctor's wife," is spared from the blindness; we follow her efforts to protect her husband and their makeshift family — a boy with no mother, a girl with dark glasses, a dog — from the ruthless (though blind) mob which quickly assumes control over the hospital's inmates. In doing so, our protagonist mustn't let anyone realize that she can see. When the hospital's micro-society — perhaps a Jack London-like metaphor for society's underclass — erupts, and destroys the institution, its freed inmates discover that the outside world is devastated. The doctor's wife and her group must now fend for themselves like castaways; their eyes are opened, if you will, to the perversities and injustice of life in a merciless capitalist social order. The book's harrowing moral, if there is one, comes from our tough, compassionate, almost saintly heroine: "I don't think we did go blind, I think we are blind, Blind but seeing, Blind people who can see, but do not see." Fun facts: When Saramago was awarded the 1998 Nobel Prize for Literature, Blindness was one of his works praised by the committee. A 2004 sequel, which I haven't read, is titled Ensaio sobre a lucidez. A 2007 adaptation by director Fernando Meirelles, starring Julianne Moore and Mark Ruffalo, isn't great — but it has its moments.

*

Octavia E. Butler's Patternist adventure Clay's Ark (1984). In the year 2021, a doctor named Blake and his teenage daughters are captured by Eli Doyle, the only survivor of Clay's Ark, a spaceship that — upon its return from the first manned mission to Proxima Centauri — has crash-landed in southeastern California's Mojave Desert. Infected with an alien microorganism that gives him heightened sensory and physical powers, but which compels him to transmit the infection to others via sexual contact, Eli has isolated himself on an isolated ranch… where he and others whom he's captured (all of whom have been altered, by the microorganism, in ways that allow them to survive and thrive) are raising their sphinx-like offspring — intelligent quadruped mutants who perceive uninfected humans as food, and who can spread the microorganism through their bite. Society, meanwhile, has devolved into armed enclaves, marauding "car families," and other post-apocalyptic phenomena. Blake and his daughters must decide whether to resign themselves to living within Eli's enclave… or escape, and risk not only being captured by even worse predators, but aso creating an uncontrollable epidemic that could forever transform humankind. Though written last, Clay's Ark is chronologically the third in the Patternist series. Fun facts: With the exception of Kindred in 1979, all of Butler's earlier books are set in the Patternist universe. The first Patternist installment, Patternmaster, was published in 1976.

*

Philip Pullman's His Dark Materials fantasy adventure Northern Lights (also published as The Golden Compass). In a universe parallel to our own, the world is dominated by the Magisterium, a Catholic Church-like global religious institution intolerant of heresy. Charmingly, in this world human souls exist outside of their bodies in the form of "dæmons," protective spirits who take the form of animals. The dæmons may have something to do with mysterious elementary particles, or "Dust," scientific investigations into the nature of which the Magisterium dissuades. When Lord Asriel, a swashbuckling scientist planning a journey to the Arctic in order to study the (possible extra-dimensional) origin of Dust, is nearly incapacitated or murdered by an agent of the Magisterium, his 12-year-old niece Lyra — a bright but semi-feral child raised by the scholars of Oxford — is determined to assist him in his quest. Child abductors known as the "Gobblers" abduct Lyra's friend Roger, and Lyra is taken under the wing of a Mrs. Coulter — a Magisterium agent and, we learn, head of the Gobblers. Soon, a fugitive Lyra is headed north in the company of nomadic 'Gyptians; on her journey, she will encounter witches, a talking polar bear, and an aeronaut. It's a fun thrill-ride, one guided by Lyra's reading of an "alethiometer"…. Fun facts: The novel's alternate title is not a reference to the alethiometer, but to the drafting compass that God used to establish the boundary of all creation in Milton's Paradise Lost. Northern Lights, which was awarded a Carnegie Medal, was adapted as a 2007 movie featuring Nicole Kidman, Dakota Blue Richards, Daniel Craig, and Sam Elliott; the BBC's 2019 TV adaptation looks superior. PS: I don't love the other installments in the His Dark Materials series, I'm sorry to report.

*

Ken MacLeod's Fall Revolution sci-fi adventure The Star Fraction. In a balkanized Britain just a few hundred years from now, Moh Kohn, a smartgun-brandishing Trotskyist mercenary, finds himself embroiled in a revolution against the US/UN — a meta-dictatorship which made itself the neutral arbiter of international security in the wake of World War Three. The US/UN does not rule directly, but instead enforces a set of (sometimes secret) laws over a vast number of global microstates; for example, certain avenues of research, such as intelligence augmentation or artificial intelligence, are prohibited. The revolution, it seems, was set into motion by the Watchmaker, a financial software that may have evolved into an AI — thanks to the illicit work of Janis Taine, a scientist working on memory-enhancing drugs. Along with Janis and Jordan, a teenage atheist and hacker from a fundamentalist Christian microstate, Moh must evade the US/UN's spy satellites — while navigating the violent squabbles of communists, socialists, libertarians, and anarchists. The book, which is replete with Marxist puns and in-jokes, is a throwback to cyberpunk: interfacing technology, biological enhancements, mind-altering drugs, a vibrant underworld. If the plot is too frenetic, and the characters underdeveloped, that's OK — it's the author's first outing. I don't understand it, but I enjoy it. Fun fact: MacLeod, a Scottish author, continued the Fall Revolution series with The Stone Canal (1996) and The Cassini Division (1998). The Sky Road (1999), meanwhile, represents an alternate sequel to The Stone Canal.

*

Jonathan Lethem's sci-fi adventure Amnesia Moon. A post-apocalyptic picaresque, set in a fragmented future America in which the world as we know it has ended… subjectively speaking. Chaos, whose name may also be Everett Moon, or something else altogether, lives in an abandoned megaplex in Wyoming. Because his dreams are colonized by the more powerful dreams of Kellogg, an irreverent local guru and not-so-strong strongman, Chase hits the road — accompanied by Melinda, a fur-covered young girl. They visit an area covered in a thick green fog, save for an exclusive private school; and a Californian town that has converted to a luck-based social system. There are overt and covert meta-textual references to works by Philip K. Dick, Cornell Woolrich, Jack Kerouac, and Wim Wenders; at one point we hear of a West Marin inhabitant named "Hoppington," a shout-out to the mutant telepath villain of Dick's Dr. Bloodmoney, or How We Got Along After the Bomb. Televangelists in San Francisco have become robots, soap operas star government figures, Los Angeles is overrun by aliens! Along the way, Chaos learns more about his own past, and his own abilities. The narrative thread holding these excursions together is the notion that, in this post-whatever-happened world, reality is shaped — locally, even parochially — by those few individuals able to influence those around them to subscribe to their own subjective worldview. Fun fact: In interviews, Lethem later explained that Amnesia Moon is "a fix-up of unpublished short stories. I was trying to write out an obsession with dystopias, with collapsed or oppressed realities. At some point, I took a step back and said, 'What am I trying to do here? Why are all the stories similar?' The genesis of Amnesia Moon is my conclusion that what they had in common was this kind of need on the part of the characters, and apparently the author, to have the world destroyed."

*

Frank Miller and Geof Darrow's comic The Big Guy and Rusty the Boy Robot (serialized July-August 1995). Perhaps my favorite example of Geof Darrow's work, The Big Guy and Rusty the Boy Robot is a large-format pastiche of midcentury kaiju movies and Osamu Tezuka's Astro Boy manga. As for Frank Miller's story and script, it's thrilling… but problematic, too, insofar as we can't quite tell whether we're supposed to laugh at the retro American triumphalism or applaud it. The Big Guy is an aircraft carrier-housed American WMD; Rusty the Boy Robot is his Japanese — more efficient, cuter — replacement. (Think WALL·E and EVE in WALL·E, or perhaps Burt Reynolds and Jan-Michael Vincent in Hooper.) When a Japanese experiment with primordial ooze goes wrong, and a giant reptilian creature begins to destroy Tokyo — and transform its citizens into monsters — Rusty springs into action, but fails to defeat the menace. Enter the Big Guy, who kicks ass while spouting American can-do homilies; squeamish readers might suspect that Miller is trolling us with this scenario, in which a Hiroshima-like event is Japan's fault, and America plays the role of global peacekeeper. At the level of form, however, The Big Guy and Rusty the Boy Robot is dazzling — epic in scale, yet incredibly detailed down to individual bullet shells and chunks of concrete. It's a fucked-up masterpiece. Fun facts: The Big Guy first appeared in scattered pin-up and poster pages, before making a couple of appearances in Dark Horse's Madman comics. The two-part comic reviewed here was adapted as a 1999–2001 animated series featuring Pamela Adlon as the voice of Rusty, and Jonathan David Cook as the voice of the Big Guy.
---
1996
---
Chuck Palahniuk's atavistic/apophenic adventure Fight Club. Liberated by insomniac perceptivity, our unnamed protagonist, who works as a product recall specialist for a car company, begins to see his life for what it really is: a joyless, meaningless, consumerist nightmare. Into this void steps a charismatic, self-radicalized figure — Tyler Durden — who cheers on our narrator's efforts to blow up his own life. The two men start an underground, bare-knuckle "fight club" whose brutal rules and cultish secrecy attract a coterie of desperate wage slaves. Around the same time that the mythopoetic men's movement was encouraging men uncertain of their masculine identity to form drum circles, etc., the characters in Fight Club pursued a far more radical program of heteronormative, masculinist therapy. (Reading the book in 1996, I appreciated it as a sardonic critique of all efforts to recover a pre-industrial conception of masculinity through camaraderie; today, I'm disturbed by the notion that some readers may have taken it seriously. Note that the pejorative term "snowflake," meaning someone who naively believes that they deserve undue success and recognition, comes from this novel.) Things get weirder. The novel's one female character, Marla, is never in the same place at the same time as Tyler… are they somehow, one and the same person? The fight club turns into Project Mayhem, an organization dedicated to sabotaging and ultimately destroying, you know, the system. It's a punishing read, really — but what a surprise ending. Fun facts: Adapted in 1999, by David Fincher, as a movie starring Edward Norton as the protagonist and Brad Pitt as Tyler Durden. Although the movie was a box-office flop, it found commercial success with its DVD release and is now considered one of the era's defining cult classics. Palahniuk wrote two (meta-)sequels, both in comic-book form.

*

Mary Doria Russell's The Sparrow sci-fi adventure The Sparrow. In 2019, a SETI listening post in Puerto Rico picks up radio broadcasts of exquisite singing — coming from another planet. At last! Evidence of intelligent extraterrestrial life. While the United Nations debates the politics of a first-contact mission, the Jesuits, long known for their missionary, linguistic and scientific activities, organize a secretive first expedition to Rakhat — as the planet comes to be known. Only one member of the crew, Jesuit priest and talented linguist Emilio Sandoz, survives the return trip (in 20160). Its story — told in chapters that alternate between an account of the mission itself, and Sandoz's experiences upon his return — about a world so beyond comprehension that it begs the question of what it means to be "human." The characters — including Sandoz, who grew up in a poor Puerto Rican neighborhood, and who questions his faith; Sofia Mendes, a Turkish Jewish artificial intelligence specialist; and other Jesuit priests — encounter two species, upon their arrival at Rakhat. As missionaries and anthropologists will do, they get involved in the local culture in ways which they don't understand… the result is lethal, and for Sandoz extremely traumatic. Fun facts: Russell earned a Ph.D. in Paleoanthropology, and has studied cultural and social anthropology. The Sparrow, which was the author's first novel, and its 1998 sequel Children of God, explore the problem of evil, and how to reconcile a benevolent deity with human suffering. (The title refers to Matthew 10:29–31, "Yet not one [sparrow] will fall to the ground outside your Father's care.") The Sparrow won the Arthur C. Clarke and James Tiptree, Jr. Awards.

*

George R.R. Martin's A Song of Ice and Fire fantasy adventure A Game of Thrones. In the first installment of Martin's epic fantasy series (1996–ongoing), we are introduced to a War of the Roses-esque dynastic struggle among the great Houses of Westeros, the central characters being the usurper Robert Baratheon, his childhood friend Ned Stark, Robert's scheming wife, Cersei Lannister, and Cersei's cunning, witty, self-indulgent brother Tyrion; Ned's wife and children are also viewpoint characters. Ned's illegitimate son, Jon Snow, meanwhile, joins the Night's Watch — an order of warriors who guard the far northern borders, not only from the wildlings who live beyond The Wall, but from a fabled and hostile inhuman race, the Others. As if this weren't already complex enough, a third plot-line concerns Daenerys, heiress to the Targaryen throne which King Robert had seized. In this first book, there are assassinations, executions, and political machinations aplenty in Westeros; mysterious doings north of the Wall which suggest that "winter is coming"; and poor Daenerys is married off (by her ruthless brother) to Khal Drogo, warlord of the nomadic Dothraki, in exchange for the use of Drogo's army to reclaim the throne of Westeros. Oh, and dragons — long thought to be mythical or extinct — make a comeback. Fun facts: Blood of the Dragon, comprising the Daenerys chapters from A Game of Thrones, won a Hugo for Best Novella. The violent, raunchy 2011–2019 HBO adaptation of the series, starring Sean Bean as Ned Stark, Lena Headey as Cersei Lannister, Emilia Clarke as Daenerys Targaryen, Jason Momoa as Khal Drogo, and Peter Dinklage as Tyrion Lannister, did not disappoint fans… except for its ending.

*

Iain M. Banks's Culture sci-fi adventure Excession. The fifth Culture novel concerns the response of the Culture's Minds — benevolent AIs with enormous intellectual and physical capabilities — to the so-called Excession, a black-body sphere which appears mysteriously on the edge of Culture space… and which appears to be older than the Universe itself. The Affront, a rapidly expanding intergalactic empire, whose sadistic brutality is horrifying to the Culture, seeks to claim control of the Excession. The Interesting Times Gang, an informal group of Minds tasked with preparing for and confronting Outside Context Problems (challenges utterly outside the Culture's experience), steps in; their conversation — a rich stew of numbers, text, esoteric syntax, and witty repartee — is a delight. The Sleeper Service, a Mind housed in a GSV (General Systems Vehicle), which 40 years earlier had separated from the Culture proper, is pressed into service; Genar-Hofoen, a human Culture diplomat to the Affront, and his ex-lover, Dajeil, are also dragged into the adventure. The story is slow to develop, but in the end we discover that the Sleeper Service is a very impressive Mind, indeed. And if those of you who've read Banks's The Player of Games (1988) suspect that Special Circumstances was playing a deep game, vis a vis the Affront, you're right. The true role of the Excession, meanwhile, is cosmic and mind-blowing — a conceit worthy of Kirby himself. Fun fact: In an interview with the magazine SFX, Banks credited Sid Meier's 1991 strategy videogame Civilization — in which players begin at the dawn of humanity, and pursue new technologies while building an empire — with this novel's notion of Outside Context Problems. "You're getting along really well and then this great battleship comes steaming in and you think, well my wooden sailing ships are never going to be able to deal with that."

*

John le Carré's espionage adventure The Tailor of Panama. In this unusually light-hearted le Carré novel, Andy Osnard, an unscrupulous Thatcherite MI6 agent sent to Panama City to gather intelligence, seems to draw inspiration from Graham Greene's darkly comedic 1958 spy novel Our Man in Havana, in which a vacuum-cleaner salesman sells made-up military intelligence to MI6. Discovering that Harry Pendel, a successful tailor and British expat, has something to hide, Osnard coerces him into a scheme involving a fictitious network of revolutionaries known as the silent opposition. (This detail could be read a nod to another Greene novel, The Quiet American.) Harry's invented stories wind up getting his friends into hot water; his wife, meanwhile, discovers what's been going on. In the end, the UK and US governments must decide whether to use Harry's fantasies as an excuse to invade Panama and topple the government…. This one is not every le Carré fan's cup of tea, but I find it comical and poignant. Fun facts: John Boorman directed the 2001 adaptation, making the excellent decision to cast Geoffrey Rush as Pendel, and Pierce Brosnan — in a gleefully wicked performance subverting the work he was doing simultaneously in the James Bond franchise — as Osnard.

*

Ken MacLeod's Fall Revolution sci-fi adventure The Stone Canal. If the politics and economics — there's a near-future crisis of global capitalism, which gives rise to a variety of competing social orders — of the first Fall Revolution installment, The Star Fraction (1995), confused you, then The Stone Canal may clear things up. Set in the same post-Singularity Solar System, MacLeod's second novel takes place in 20th-century Scotland, but also in 21st-century ShipCity, the capital of New Mars — a colony world and technopolis at the other end of a wormhole created by the "fast folk," uploaded human intelligences. The story's interwoven strands each concern Jon Wilde and Dave Reid, politically radical frenemies whose lives take them in different directions. Reid becomes the right-libertarian leader of New Mars; Wilde remains a left-libertarian political activist. Wilde gets the girl — Annette, but Reid constructs a female sex-slave android version of her… who becomes self-aware and flees. Wilde, meanwhile, finds his mind downloaded into a clone; he's been revived by Jay-Dub, a version of himself stored within a "human equivalent" robot! Reid, it seems, is the villain whose machinations led to WWIII… but Wilde may not have been entirely blameless. A luta continua. There are thrilling action sequences, and amost-as-thrilling political discussions, galore. Fun facts: The Stone Canal won a Prometheus Award. In an interview, MacLeod later explained that he was reacting to what he saw, at the time, as "the loss of any sense of common interest and common cause, and a descent into nationalism and identity politics all of which were supervised and policed from above – sometimes literally — by state and supra-state power."

*

Margaret Atwood's historical psychological thriller Alias Grace. Written in what's been described as the Southern Ontario Gothic style (think Alice Munro, Robertson Davies), Alias Gracerecounts the true-crime story of Grace Marks — an uncommonly pretty housemaid who in 1843 was convicted for her involvement in the vicious murder of her employer, Thomas Kinnear, and his mistress/housekeeper, Nancy Montgomery. Several years later, Grace — who claims to remember nothing about the incident — is hired as a domestic servant in the home of the penitentiary governor. Dr. Simon Jordan, a young psychiatrist, is called in to interview the notorious woman, in an effort to determine whether she was a murderess or merely an unwilling accomplice. Grace recounts her life story — as a struggling, abused Irish immigrant to Canada — to Jordan, who doesn't see her story as relevant. Jordan, meanwhile, is an eligible bachelor uninterested in the vapid society women into whose company he's forced; he's attracted, instead, to his married landlady… and perhaps to Grace, as well. Atwood's story includes newspaper blurbs, extracts from Grace's written confession, poems, and more. Poverty, servitude, violence, insanity — this is a dark, mesmerizing tale. Fun facts: Adapted as a 2017 Canadian TV miniseries directed by the great Mary Harron, Alias Grace stars Sarah Gadon as Grace Marks.

*

Peter Doyle's Billy Glasheen crime adventure Get Rich Quick. A highly entertaining caper novel set in Australia's rock'n'roll underworld of 1957. Billy Glasheen, a small-time hustler and sometime musician, is the mastermind of elaborate capers… which somehow always fall afoul of Sydney's bent cops, organized criminals, and scheming politicians. Little Richard, Gene Vincent, and Eddie Cochran are touring the country, promoted by Lee Gordon — the real-life entrepreneur whose tours had a major impact on the Australian music scene at the time. Glasheen wangles himself a job working as Gordon's chauffeur, gofer, and provider of illicit substances; Australian rock'n'roller Johnny O'Keefe also plays a role. But when Billy is framed for murder, he takes it on the lam. In order to prove his innocence, he'll have to find the real killer. The period Aussie slang — bodgies, widgies, etc. — is a treat. Doyle would go on to write two sequels, Amaze Your Friends (1998) and The Big Whatever (2015), and a prequel, The Devil's Jump (2001), which collectively form an epic, neo-noir tale of Australian crime, political scandals, and musical subcultures. Fun facts: Winner of Australia's prestigious Ned Kelly Award for Best First Crime Novel. Doyle, a HILOBROW friend, is perhaps best known as a musical and true-crime historian. His books City of Shadows: Sydney Police Photographs, 1912-1948 (2005), Echo and Reverb (2005), and Crooks Like Us (2009) are extraordinary.

*

David B.'s graphic novel L'Ascension du haut mal (in English: Epileptic, serialized 1996–2003). An autobiographical account of the influence that his brother Jean-Christophe's epileptic seizures had on the author's developing imagination. Dragged from guru to guru by his parents, who during the 1960s–1970s explored psychology, macrobiotic communes, acupuncture, magnetism, and more in an effort to cure Jean-Christophe's malady, Pierre-François (who'd change his name to David) escapes into violent, redemptive fantasies involving epic battles between samurai, knights, and demons. David B.'s black-and-white artwork is epic in scope, like psychedelic Greek urn paintings; the autobiography isn't an adventure, but Pierre-François's dream life certainly is. War, conspiracies, the irruption of fantasy into reality, golems, monsters… it's an extraordinary achievement. There's a little bit of everything, here — family history, the French Resistance, Algeria, May'68. We empathize with the author, even if we can't wholly sympathize with him; he portrays himself as a self-centered, even cruel sibling. Readers seeking an uplifting account of life with an epileptic family member will be disappointed, perhaps even horrified. It's not uplifting, though it is mesmerizing. David B.'s perspective is that of a recording angel: horrified, sardonic, forgiving. Fun facts: Haut mal is an archaic term for epilepsy meaning "great illness," or literally, "high evil." Serialzed in six bande dessinée albums between 1996 and 2003, then compiled in 2005 into one 360-page graphic novel. David B., who was instrumental in encouraging Marjane Satrapi to create Persepolis, won the 2005 Ignatz Award for Outstanding Artist for his work on the series.

*

William Gibson's Bridge sci-fi adventure Idoru. The sequel to 1993's Virtual Light removes us from San Francisco. Fourteen-year-old Chia (as in Chia Pet) McKenzie, a superfan of the rock duo Lo/Rez, is selected by her fanclub to travel to Tokyo. There, she meets with the club's Tokyo chapter, in hopes of learning what's going on with the rock star Rez… who claims that he plans to marry Rei Toei, an artificial intelligence which presents itself as a female pop-star hologram. Chia never truly groks Rez's bizarre, impossible marriage scheme, and neither do we; however, Rei — the titular idoru (Japanglish for idol) is one of Gibson's more entertaining and fascinating characters. En route, Chia gets mixed up with scary members of the Russian Mafia, who are attempting to get their hands on a highly illegal nanotech assembler; she is assisted in her escape efforts by Masahiko, a young otaku (computer geek) who is a member of the "Walled City," a virtual community of hackers with impressive skills. We also encounter "netrunner" Colin Laney, a more typical Gibson protagonist; he is a Friday-esque mutant able to intuitively recognize patterns of probability when surfing massive amounts of data via virtual-reality goggles. Shinya Yamazaki, an existential sociologist, and Keith Blackwell, head of Rez's security team, are also entertaining characters. All parties eventually converge at a Tokyo love hotel, where otaku hackers and Lo/Rez fangirls team up — online and off — in order to save Rei Toei, and the day. Fun facts: In a 1999 interview, Gibson remarked: "Laney's node-spotter function is some sort of metaphor for whatever it is that I actually do. There are bits of the literal future right here, right now, if you know how to look for them. Although I can't tell you how; it's a non-rational process."
---
1997
---
Thomas Pynchon's historical frontier adventure Mason & Dixon. In 1761, in an ill-fated effort to help determine the distance from the Earth to the Sun, Charles Mason, an English astronomer — and Enlightenment avatar, obsessed with categorical imperatives in science and philosophy — set out on a voyage to Sumatra. He is joined in this endeavor by English surveyor Jeremiah Dixon, a free-thinker and boisterous optimist delighted by cultural heterogeneity and outraged by inequities of power and social injustice. Two years later, accompanied by a large party of assistants, the two men embark upon an effort to accurately establish the south boundary line of Pennsylvania (separating it from Maryland and Virginia), as well as the American province's lower three counties' boundaries. Pynchon's recounting of this true story, via an unreliable narrator speaking in an eighteenth-century idiom, is an epic accomplishment. Mason & Dixon are a Zelig-like comedy duo, stumbling upon the secret history of the 19th and 20th centuries, from the Civil War, UFOS, and New Age mysticism to, you know, the history of slavery and cultural domination. America's vision of liberty and equality is torpedoed, from the beginning, by its Enlightenment-enabled theories of racial and cultural superiority; Mason and Dixon, as they explore and discuss their discoveries on the eve of the Revolutionary War, are emblematic of the fledgling nation's permanently divided consciousness. Across nearly 80 episodes, they encounter Jesuit cabalists, Native Americans, George Washington and Ben Franklin, a French chef fleeing the amorous attentions of a mechanical duck, a Chinese fêng shui master, a Learned English Dog, and — in one of several examples of meta-textual japery — an ancestor of Pig Bodine, from Pynchon's 1963 apophenic adventure V.. Depending on who's listening at any particular moment, the story mutates from heroic tall tale to paranoid quackery to objective description… which is to say, it's an example of self-aware historicizing. Fun facts: Twenty years in the writing, Mason & Dixon was hailed by readers as the author's most brilliant and entertaining novel since Gravity's Rainbow (1973); some critics, including Harold Bloom, have described it as Pynchon's masterpiece.

*

J.K. Rowling's Harry Potter fantasy adventure Harry Potter and the Philosopher's Stone (US title, 1998: Harry Potter and the Sorcerer's Stone. If asked to recommend a great novel about an adolescent wizard-in-training, I'd suggest the works of Susan Cooper, Ursula K. Le Guin, Diane Duane, and Monica Furlong, not to mention the fantasy novels of E. Nesbit, P.L. Travers, T.H. White, Edward Eager, C.S. Lewis, and Diana Wynne Jones. I don't find Rowling's writing as compelling as these earlier authors'… but that said, the first installment in her wildly popular series is enjoyable. On his 11th birthday Harry Potter, an orphan mistreated by his Spiker- and Sponge-like aunt and uncle, receives a letter of acceptance into Hogwarts School of Witchcraft and Wizardry. (His parents, he learns, were killed by a magus so evil and powerful that — even though he is supposedly gone — most wizards and witches fear to speak his name aloud.) Hogwarts is an old-fashioned English boarding school, whose houses — Gryffindor, Slytherin, Hufflepuff and Ravenclaw — compete throughout the year for glory. Harry is befriended by the hapless Ronald Weasley and the brilliant but aggravating Hermione Granger; and he makes an enemy of the snobbish Draco Malfoy. Harry takes classes from colorful instructors, including the sardonic Snape, who seems to hate the new boy at first sight; he joins the Quidditch team; and he is mentored by Dumbledore, the headmaster, and the half-giant Hagrid. But there's a dark mystery afoot: What is huge three-headed dog guarding in the forbidden corridor? And are rumors about the return of the dark magus true? Fun facts: Rowling's first novel remained at the top of the New York Times list of best-selling fiction — for children and adults, combined — for much of 1999 and 2000. It was followed by six much-anticipated sequels. The Warner Brothers series of movie adaptations — starring Daniel Radcliffe, Rupert Grint, and Emma Watson — is the third-highest grossing series ever, after Star Wars and the Marvel movies.

*

Gail Carson Levine's fantasy adventure Ella Enchanted. In this girl-power retelling of the Cinderella folk tale, the titular Ella is enchanted at birth with the inability to disobey a direct order. As she grows up, the saucy Ella struggles to achieve autonomy; after losing her mother, and being bullied by her loathsome stepmother and stepsisters, she hits the road in search of the fairy whose curse she can no longer bear. The fantasy kingdom of Frell is well-realized, particularly when it comes to language; Levine uses complex words, and Ella herself becomes something of a master linguist when it comes to Elvish, Gnomish, and Ogre languages. The romantic element is also a welcome change; Prince Char is Ella's friend, first and foremost, and she has no interest in turning to him for rescuing. There's a ball, a pumpkin coach, and a glass slipper; also a gnome-crafted necklace and a magic book something which functions more or less like the propaedeutic enchiridion in Neal Stephenson's The Diamond Age. At the end of this fractured fairy tale, in a nod to Little Women, Ella must choose between marrying her sweetheart and breaking the enchantment herself — through an exercise of sheer willpower. Fun facts: Winner of the Newbery Honor. The 2004 movie version starring Anne Hathaway and Hugh Dancy was successful, though fans of the book consider it one of the worst adaptations of all time.

*

Molly Gloss's sci-fi adventure The Dazzle of the Day. A slow-moving generation-ship adventure, about an international community of Quakers — Costa Rican, Japanese, and Scandinavian — which abandons the dying Earth and heads towards two possible planets. The story is bracketed by the reminiscences of two older women, the first of whom recalls how the Quakers came to inhabit the ship (only an intentional community can make it work), the second of whom looks back on the initial period of colonizing the group's new home. In between, we read about the struggles of the voyagers to keep their ship's machinery and agriculture going, their initial exploration of a not-very-hospitable planet, and their anxieties about whether or not they should actually leave the ship once they arrive. After all, several generations have lived and died within the ship's embrace; they're terrified by the prospect of phenomena like weather, wild animals, and a horizon. It's a Le Guin-like yarn — concerned with thoughtful discussion, the warp and weft of human relations, and the mindful tending of one's natural environment rather than with explosions, battles, bug-eyed monsters, or high-tech gadgets. It gave me hope for humankind's future. Fun facts: The title comes from one of Walt Whitman's poems in Leaves of Grass, a Quaker-ish quatrain about how it is silence that perfects the symphony. "This miraculous fusion of meticulous 'hard' science fiction with unsparing realism and keen psychology," writes Le Guin in her blurb for the book, "created a vast, bleak, beautiful vision of the human figure — a triumph of the imagination."

*

Warren Ellis and Darick Robertson's cyberpunk comic Transmetropolitan (1997–2002). At some point in the 23rd century, Spider Jerusalem — a Hunter S. Thompson-esque gonzo journalist — returns from his mountaintop refuge to The City, in search of stories to report. Accompanied by sidekicks Yelena Rossini and Channon Yarrow, Spider gets the scoop. For example: The Transients, who've modified their genes with alien DNA, and who as a result have been forced to live in a squalid shanty town, are getting ready to secede; their leader, however, turns out to be a police-paid agent provocateur! In the series' second year, Ellis proves truly prescient when he introduces us to Gary "The Smiler" Callahan, a politician whose base is a far-right hate group… and whom the people vote into office, despite the fact that he's not merely corrupt but evil. Callahan uses the power of his office to suppress Spider's journalism — and even goes so far as to arrange for the City to be left defenseless when a Katrina-like "ruinstorm" threatens to kill thousands, in order to destroy Spider's evidence and as an excuse to declare martial law. When Spider contracts an Alzheimer's-like disease, will he be able to expose Callahan's perfidy before he's completely debilitated? Fun facts: Originally published under DC Comics's sci-fi Helix imprint, then switched to the Vertigo imprint (under the stewardship of Karen Berger), where it remained one of DC's most successful nonsuperhero comics.

*

Natsuo Kirino's crime adventure アウト (pub. in English, in 2004, as Out). When Kenji, a suburban office worker, falls in love with a nightclub hostess and squanders his family's savings on her, his abused and fed-up wife Yayoi strangles him. Seeking to cover up the murder, Yayoi reaches out to Masako, a fellow worker on the night shift at a Tokyo bento-box factory; Masako recruits their shift leader, Yoshie, an older woman who agrees to help out for a price. When the unreliable Kuniko, another night-shift worker, deals herself into the scheme, Masako's careful plan begins to fall apart. The women aren't friends, exactly, but what they have in common are unloving husbands, difficult children, and unsatisfying lives and careers in a male-dominated society. Although the amateur criminals dismember and dispose of Kenji's corpse, police detectives begin to sniff around; so do yakuza. Soon, the four women are drawn into Tokyo's underworld… and they turn on one another, too. Masako, the best-educated and shrewdest of the group, emerges as a heroine determined to leverage any opportunity to escape her dead-end life. Writing for HILOBROW, Gordon Dahlquist described Out as a "taut and unforgiving thriller that unfolds as darkly as anything from Jim Thompson, if Jim Thompson was a cold-eyed feminist." Fun facts: Winner of the Mystery Writers of Japan Award for Best Novel. A 2002 Japanese film adaptation, directed by Hirayama Hideyuki, was a flop. However, Nakata Hideo (Ring, Ring 2) is reportedly developing an American adaptation.

*

Lee Child's Jack Reacher crime adventure The Killing Floor. When Jack Reacher steps off a bus in the town of Margrave, Georgia — he's spent his entire adult life in the military, where he's gained expertise in commando tactics and routine law enforcement procedures; now, he's an aimless drifter, just seeing the sights — he's arrested for murder. Think In the Heat of the Night, if Virgil Tibbs was an Eighties action hero-esque white man. One also catches a strong whiff of Peter Cheyney's Lemmy Caution — a bad-ass avenger who shows up, miraculously, when the authorities are too corrupt or incompetent to serve justice upon the wicked. (Like Cheyney, Child is a British writer expertly faking an American pulp idiom.) The town's sherriff, Morrison, claims he saw Reacher leave the scene of the crime; but Roscoe, a female detective, believes him to be innocent. The action is fast and furious: Reacher battles an Aryan Brotherhood murder attempt; he ambushes members of a counterfeiting ring; he battles a corrupt FBI agent; he hooks up with Roscoe. There are explosions. Neither well-written nor original, but nevertheless thrilling, Child's first Reacher story would serve as a template for a best-selling franchise. Fun facts: There are 24 Jack Reacher novels, thus far; three of them — The Enemy (2004), Night School (2016), and The Affair (2011) — are prequels to The Killing Floor. The 2012 Christopher McQuarrie adaptation of Child's One Shot (2005), starring Tom Cruise, is a guilty pleasure for me.

*

John Wagner and Vince Locke's graphic-novel thriller A History of Violence. When two thugs attempt to rob his cafe — in a small Michigan town — Tom McKenna stops them with surprising facility. The story goes national, and soon three New York mafiosi show up. One of them, John Torrino, an aging hitman, insists that McKenna is a former mobster names Joey — who'd taken it on the lam 20 years earlier. Tom's wife, Edie, and the local sheriff attempt to drive the men off — but when they take Buzz, Tom and Edie's son, hostage, the truth is revealed. Mild-mannered Tom has a history of violence! In fact, in order to acquire the money that his grandmother needed for heart surgery, he and a friend had killed a New York crime boss, along with several associates, and stolen a large sum of money. He's lived under an assumed identity ever since. Even once Tom and Edie rescue Buzz, the story isn't over. It seems that Tom's old friend has been a prisoner of the dead mobster's sadistic son, for all these years. Can he rescue him? And if he returns to a life of violence, will he lose his family? Vince Locke, whose ultra-violent watercolors have been used as album covers by a death metal band, provides cinematic, gruesome, yet sketchy and cross-hatched — storyboard-like — artwork. Fun facts: Originally published in 1997 by Paradox Press and later by Vertigo Comics, both imprints of DC Comics. Wagner, though born in the US, grew up in England. In 1977, with artist Carlos Ezquerra, he developed the character Judge Dredd for 2000 AD. (Warren Ellis, Alan Moore, and others were inspired by Wagner's work.) David Cronenberg's excellent adaptation of A History of Violence, starring Viggo Mortensen, Maria Bello, Ed Harris, and William Hurt, appeared in 2005.

*

Jonathan Lethem's sci-fi adventure As She Climbed Across the Table. Philip, an anthropologist at a northern California university, finds himself growing jealous of a wormhole created in a particle collider. His girlfriend, particle physicist Alice Coombs, seems to have developed a personal, emotional relationship with Lack — which is what she and her colleagues have named the enigmatic portal leading to a new, uninhabited universe. Why has the wormhole remained open, and why will it only accept particular objects — Alice's keys, or a pomegranate, or the campus cat, say, but not a paperclip — offered to it? If his earlier novels were mashups of sci-fi with westerns and film noir, Lethem — like Alice, an experimentalist — here tries his hand at the campus novel, not to mention the rom-com. It's guaranteed to entertain fans of postmodern campus novels like Barth's The End of the Road and DeLillo's White Noise. A visiting Italian physicist, Braxia, proposes a shocking hypothesis… which Philip, our narrator, whose own study of "departmental politics and territorial squabbles, the places where disciplines overlapped, fed back and interfered" makes him an ideal observer, decides to test. Offering himself up as a kind of human sacrifice to Lack, Philip wakes up in an alternate version of his (our) own universe. What has he proven, exactly? And how will he return? Fun facts: Is it possible to create a universe in the laboratory by quantum tunneling? In the early 1990s, physicists Edward Farhi and Alan Guth explored the possibility that quantum effects might permit a new universe — created by producing "a small bubble of false vacuum" — to tunnel into a larger bubble, of the same mass, which would then evolve to become a new universe.

*

Connie Willis's Time Travel sci-fi adventure To Say Nothing of the Dog. Willis's first Oxford Time Travel adventure, the Hugo- and Nebula-awarded Doomsday Book (1992), was a kind of voyage into the Domesday Book of 1086. The sequel takes temporal historian Ned Henry, employee of Oxford's Temporal Physics department (c. 2057), to 1888 — into the world of Three Men in a Boat (To Say Nothing of the Dog), Jerome K. Jerome's 1889 whimsical, semi-autobiographical account of a two-week boating holiday along the Thames from Kingston upon Thames to Oxford and back again. Ned will take his own ill-fated voyage on the Thames, in the company of two companions and a dog; along the way, they will encounter the Three Men in a Boat characters. This charming mise en scène is the setting for a mystery: What time traveler has violated "the laws of the continuum" by bringing an object back from 1888 to 2057? (Such violations can cause time itself to unravel.) And what does this have to do with Ned's primary assignment: to ascertain what became of "the bishop's bird stump" when Coventry Cathedral was bombed by the Germans during World War II? Our protagonist's unfamiliarity with the 19th century, as well as the "time lag" from which he suffers, make things even more complicated than they otherwise might have been. Ned's colleague, Verity Kindle, attempts to help him fix the time travel incongruity…. Too late? Fun facts: To Say Nothing of the Dog was followed by the two-part Time Travel series installment Blackout/All Clear (2010). All four of her Time Travel books were awarded a Hugo; Blackout/All Clear was also awarded a Nebula. In fact, Willis has won more major science fiction awards than any other writer.
---
1998
---
Daniel Clowes's apophenic graphic novel David Boring (serialized 1998–2000). As some sort of international conflict involving germ warfare looms menacingly, David Boring roams an unnamed city in search of the perfect woman. He falls in love with Wanda, whom he (mistakenly) believes is the very one he's been seeking; however, she breaks up with him — and then a mysterious stranger shows up and shoots David in the head. He survives, with a small dent in his forehead, and ends up retreating with his mother, his roommate and friend Dot, and various others to a Boring family compound on the island Hulligan's Wharf; terrorist gas attacks have contaminated the mainland, they are informed. Romantic hijinks ensue, with the result that Dot ends up running away with David's cousin Iris, and his mother runs away with Iris's husband — who may or may not have killed Iris's mother. Back in the city, David encounters the man who shot him, as well as Wanda's sister, Judy, a married woman whom he now believes to be the woman he truly needs. A federal agent shows up, who — obsessed with Iris — determines to frame Dot and David for murder. After other misadventures, the friends make their way back to Hulligan's Wharf, where they hope to survive what may or may not be the end of civilization as we know it. One of my favorite aspects of the story is how David broods over specific panels in Golden Age comics written and drawn by his missing father; I find this extremely evocative. Fun facts: Asked to describe David Boring in a one-sentence sales pitch, Daniel Clowes said, "It's like Fassbinder meets half-baked Nabokov on Gilligan's Island." The graphic novel was serialized in issues #19–21 of Clowes's comic book Eightball, and appeared in collected form in 2000.

*

Iain M. Banks's Culture sci-fi adventure Inversions. Banks's Culture — an interstellar, highly advanced and enlightened civilization whose Contact group observes less-civilized societies without intervening, but whose Special Circumstances agents sometimes scheme to speed up their social evolution — is here portrayed from the perspective of members of two such societies. Inversions can be read as a medieval-ish fantasy; those familiar with Banks's other sci-fi books may suspect that two of its characters hail from the Culture. One of our two storylines concerns DeWar, bodyguard to General UrLeyn — who is leader of Tassasen, a Calormen-like realm on the other side of the planet. When DeWar isn't protecting UrLeyn and his family from assassination attempts, he's playing board games with Perrund, trusted advisor to UrLeyn (and former concubine) whose troubled past we slowly discover. DeWar's stories of a magical land where "every man was a king, every woman a queen," and where people enjoy a carefree and easy life in pursuit of knowledge and enlightenment, sound quite a bit like… the Culture. Our other storyline is narrated by the assistant to Vosill, a mysteriously capable, highly unconventional female doctor. Resentment towards Vosill, who supposedly hails from a country far from Haspidus, the Narnia-like kingdom where the story is set, builds as she nudges Quience towards permitting commoners to own farmland without the oversight of a noble, among other reforms. The "Doctor" storyline is something of a murder mystery, as various members of the court are offed mysteriously. Whodunnit? Fun facts: The initial hardback printing of the book contained a "Note on the Text" suggesting that Vosill hailed "from a different Culture." The book's epilogue notes that Vosill disappeared from a ship on which she was traveling, after declining an invitation to dine with its captain — citing "an indisposition due to special circumstances."

*

Joann Sfar and Lewis Trondheim, et al.'s Donjon comic-book series (Dungeon, 1998–ongoing). Herbert the Duck, Marvin the Dragon, Hyacinthe de Cavallere (the Dungeon Master), and the rabbit Marvin the Red are the central characters of the ambitious Donjon series, which now runs to some 30 volumes. The funny yet sometimes grim Dungeons & Dragons-esque saga, which spans various epochs (Early Years, Zenith, Twilight) and and spinoff series (Parade, Monstres, Antipodes), is set in and around a lethal Escape-the-Room-esque dungeon set up as a business… i.e., in order to attract adventurers who'd be killed, allowing the Dungeon Master to profit from their possessions. The humanoid duck Herbert possesses a magical sword — a parody of Elric of Melniboné's Stormbringer, perhaps — that's almost as troublesome to its possessor as it is to his foes. The Dungeon Master's henchman, Marvin the Dragon, is a fierce warrior-monk and Herbert's reluctant protector on many a quest and misdventure. French comics artists Joann Sfar and Lewis Trondheim dreamed up this scheme, and produced many of the Twilight and Zenith installments they've invited other talented friends — including Christophe Blain, Boulet, and Manu Larcenet — to participate, too. Endlessly inventive and surprising, an amazing accomplishment. Fun facts: "Dungeon comics — that's a big inspiration for me and the crew who write on [Adventure Time]," Pendleton Ward has said. "Dungeon's a great comic, and I look to it for the sort of casual conversation they have with the big fantasy world that they all live in." Here's a helpful guide to the series by Jeff VanderMeer.

*

Dennis Lehane's Kenzie and Gennaro crime adventure Gone, Baby, Gone. In their fourth outing, a fan favorite, Boston private eyes Patrick Kenzie and Angie Gennaro are hired to investigate the disappearance of a 4-year-old girl, Amanda — whose mother, they discover, is a barfly, TV addict, and negligent parent. Teaming up with Crimes Against Children (CAC) officers Remy Broussard and Nick Poole, Kenzie and Gennaro plunge into Boston's underworld — following a trail that leads to their old classmate, Cheese, a drug dealer from whom Amanda, they learn, has stolen a large amount of money. The duo is aided, as in other stories, by a fellow Dorchester hoodrat, sociopathic gunrunner Bubba Rogowski. This is something of a morality play: Our heroes are forced to argue, with each other and within their own hearts, about what's best for a child — to be raised in a stable environment, or by their own blood. A ransom demand leads the four investigators to the Quincy Quarries, where under cover of darkness a confused gun battle breaks out, leaving two gangsters dead, the ransom money missing, and a clue that suggests that Amanda may be dead. There's a plot twist in which we discover that the good guys aren't all good, nor the bad guys all bad. Things end inconclusively…. Fun facts: Preceded by A Drink Before the War (1994), Darkness, Take My Hand (1996), and Sacred (1997); followed by Prayers for Rain (1999) and Moonlight Mile (2010). The 2017 adaptation directed by Ben Affleck stars Casey Affleck and Michelle Monaghan.

*

Jonathan Lethem's sci-fi adventure Girl in Landscape. A coming-of-age story set on a distant planet, Girl in Landscape is as surreal, clever, and referential as Lethem's previous novels — but emotionally more intimate and mature. For this reason, it's some readers' least favorite of his sci-fi novels; but it's my favorite. The reference, this time, is to John Ford's magnificent oater The Searchers — in which John Wayne scours Monument Valley in pursuit of his abducted niece. Pella Marsh, age 13, is among the first human settlers of the oceanless Planet of the Archbuilders, which has been mostly abandoned by its original inhabitants. Her ineffectual father, Clement, wants to build a community that includes both settlers and the remaining Archbuilders; other homesteaders are more xenophobic. Pella, who misses her recently deceased mother, not to mention her native Brooklyn, discovers that she and several other settler children have a rapport with the Archbuilders… which allows them to inhabit the bodies of the Archibuilders' mutated pets. Lethem's descriptions of the De Chirico-esque landscape are marvelous; one is reminded, for some reason, of the Dell cover for The Boomerang Clue. Pella's new friendships and budding romantic inclinations are related in a sensitive, engaging way. Recommended for fans of Red Planet who wish that Heinlein weren't a troglodyte. Fun fact: Lethem has said that Girl in Landscape was "for me unmistakably a very, very definite step into something more emotionally direct. … I wanted to write a teenage girl's coming-of-age story and make it as emotionally stark and dangerous as the best books I saw in that genre [such as Carson McCullers's] The Member of the Wedding and in a way also Charles Portis's True Grit."

*

Ken MacLeod's Fall Revolution sci-fi adventure The Cassini Division. The third installment in MacLeod's Fall Revolution series follows a starship crew aligned with a military force, the Cassini Division, which has been tasked with guarding Earth and humankind's offworld colonies against mysterious entities — AIs known as the Outwarders or "post-humans." In fact, the Division is planning a preemptive strike against their godlike foe, whose goals and worldview they cannot understand. As was the case with the characters in The Star Fraction (1995) and The Stone Canal (1996), Ellen May Ngwethu and her Solar Union comrades are socialists; we're given to understand that the Soviet and Chinese socialist powers triumphed over the capitalist West centuries earlier. There's perhaps a bit too much political philosophizing; but just a bit. In addition to the story's visionary political context, there's also some fun tech: Because the AIs (who built a wormhole near Jupiter, then apparently lapsed into a kind of slumber) can intercept and send viruses via radio waves, all computing is done via chemical and mechanical devices. We also find nanomachine manufacturing, which means that we're in a post-scarcity society. MacLeod's central philosophical question, however, has to do with mind and identity: Can consciousness exist independently of a biological, human brain? Is an uploaded consciousness a (speeded-up, superhuman) person, or just a sentient virus? What is a human? And what attitude might post-humans take towards humans? Fun facts: The Cassini Division's punning moniker was borrowed from the largest gap in the rings of Saturn, discovered in 1675 by the astronomer Giovanni Domenico Cassini.

*

Nalo Hopkinson's sci-fi adventure Brown Girl in the Ring. In the not-too distant future, some years after the city of Toronto has attempted to disenfranchise indigenous people, which led to international sanctions, which led resulted in the city's economic collapse, gangsters are in charge of the few inhabitants — mostly poor, marginalized folks who had nowhere else to go; the main characters are ethnically Afro-Caribbean. Toronto has become isolated, by roadblocks, from the surrounding areas. One of these gangsters, the criminal overlord Rudy Sheldon, desires to procure a human heart (for Canada's ailing Prime Minister), so he orders his henchman Tony, a young addict with some medical training, to get one. Our heroine, Ti-Jeanne, is the mother of Tony's infant son; her grandmother, Gros-Jeanne, is an herbalist and healer who practices Obeah — a form of magic that involves communicating with spirits. As in her 2000 book Midnight Robber, Hopkinson doesn't spare us the gruesome realities of life for a young female character who finds herself in such dire straits. When Tony shows up on Gros-Jeanne's doorstep, Ti-Jeanne is forced to open herself to Obeah, thus becoming involved in a fantastical struggle between good and evil. A heart is indeed stolen… but in the end, it may prove the salvation of Toronto. Fun facts: Winner of the Locus Award for Best First Novel. "The genius of that novel," Charlie Jane Anders would write, of Brown Girl in the Ring, "is how effortlessly these two very different things go hand in hand: the dystopian future and the magical realism." (Anders would go on to write 2016's Nebula-winning All the Birds in the Sky, which also effectively blends science fiction with magic.) Sharon Lewis's 2017 movie, Brown Girl Begins, is a prequel to this story.

*

Octavia E. Butler's Earthseed sci-fi adventure Parable of the Talents. In the not-too-distant future — the 2030s, in the midst of America's social, economic, and environmental breakdown — Lauren Oya Olamina, protagonist of Butler's Parable of the Sower (1993), gathers a band of survivors somewhere in California and works on developing Acorn, a sustainable community. Her secret sauce? She's developed a new, anti-dogmatic religion, based on communitarian values of sharing and mutual support. As if this weren't difficult enough, Lauren and her followers must contend with marauding evangelical Christians, led by a populist, jingoistic preacher turned politician who is elected president. Non-Christian faiths are targeted for extirpation; slavery and witch-burning makes a comeback. (Parallels with our present situation are easy to draw.) "All that you touch You change. All that you Change Changes you. The only lasting truth is Change. God is Change," Lauren announces; "Earthseed," her Process-like theology, attempts to avoid the pernicious social and political consequences of monotheism. The second half of the book is narrated by several different characters, each of whom reacts differently to Lauren's religion – and to her personality, which can veer from seductive to bullying. Larkin Olamina/Asha Vere, Lauren's abducted daughter, is also an important voice. It's important not to conflate the author with the protagonist; although Lauren's scripture is hailed by professors and intellectuals, Butler herself isn't necessarily sold on it. In the end, the Earthseeders plan to leave Earth and settle Alpha Centauri. Fun facts: Winner of the Nebula Award. Butler planned, but then abandoned, a third Parable novel, titled Parable of the Trickster, which would have focused on the Earthseed community's struggle to survive on a new planet.

*

Susan Price's YA Sterkarm sci-fi/historical romance The Sterkarm Handshake. When a British corporation develops a "time tube" which makes it possible to transport material to and from the 16th century, not to mention across dimensions to a world recognizably similar to our own (thus avoiding time-travel paradoxes), anthropologist Andrea Mitchell is employed to live among a 16th-century Scottish clan — the Sterkarms — as a translator and liaison. Her employers, who seek to exploit the clan's mineral resources, represent themselves as magical elves, so Andrea is regarded with a certain amount of awe. In addition to being bold warriors, however, the Sterkarms are a canny lot — certainly much savvier than their would-be exploiters realize. They take what they can get from their uncanny visitors, then refuse to cooperate. The indecisive and conscience-stricken Andrea, our guide to domestic life among the Sterkarms, finds her loyalties divided when she grows to admire the clan's warmth and loyalty… and falls in love with Per, their handsome prince. Bryce, the amoral executive who employs Andrea, kidnaps Per in order to force the Sterkarms to do his bidding… which turns out to be a terrible mistake. Fun facts: The Sterkarm Handshake was awarded the once-in-a-lifetime Guardian Children's Fiction Prize… though it is not suitable for young children. A sequel, A Sterkarm Kiss (2003), takes place among the Sterkarms in yet another dimension; and Price recently published A Sterkarm Tryst (2017), as well.

*

Warren Ellis and John Cassaday's sci-fi comic Planetary (1998/1999–2009). Scant months before DC's America's Best Comics imprint began publishing Alan Moore and Kevin O'Neill's The League of Extraordinary Gentlemen series, a metatexual romp through 19th- and 20th-century British sci-fi and fantasy literature, DC's Wildstorm imprint launched Planetary, a metatexual romp through… the history of DC and Marvel comics. The Planetary field team — super-strong Jakita Wagner, ice-powered Elijah Snow, and the machine-controlling Drummer — are a far less wholesome version of DC's Challengers of the Unknown; their archaeological mission, funded by a mysterious backer, is to uncover the hidden history of the world. In issue #1, they explore a man-made cavern created by "Doc Brass," an adventurer from the 1930s—40s. Turns out that Brass and his companions, who resemble, e.g., Tarzan and The Shadow, had opened a dimensional portal, admitting a Justice League-like group of superhuman invaders. Add that's just the beginning of this saga, which sends the team around the globe (and into other dimensions), while slowly revealing details about their mysterious pasts. Eventually, the group begins to clash with the Four — a Fantastic Four-like group seeking to use the world's strangeness to fuel their own ends. Cassaday's art is cinematic, breathtaking in scope and detail. Fun facts: Initially intended to run for two years, after an initial preview issue (#0) in September 1998, the series ran for 27 issues from April 1999 to October 2009. Ten years is a long time to wait, but in the end it was well worth it.
---
1999
---
Jonathan Lethem's crime adventure Motherless Brooklyn. When Frank Minna, a small-time Brooklyn mobster who runs an uncredentialed detective agency masquerading as a limo service, is murdered in an alley, the four "motherless" hood rats whom he'd long ago taken under his wing — they call themselves the Minna Men — react in different ways. Lionel Essrog, our narrator, is a powerfully built, lonely fellow who seeks to discover the truth about what's happened to his mentor and idol; although he suffers from Tourette's and OCD, Lionel's neurologically driven obsessiveness and repetitiveness, not to mention his nonstop penchant for wordplay, prove crucially helpful as he seeks answers. Tony, who's mixed up in a scheme that Frank has concocted, one that involves not only the (rather geriatric) Brooklyn Mob and the shadowy Fujisaki Corporation, sees Frank's death as an opportunity for his own advancement. Danny goes to ground; and Gilbert is arrested on suspicion of the murder of a Fujisaki bookkeeper. It's a fast-paced, often funny but also soulful thriller. A trail of clues leads Lionel to a giant Polish hitman, a femme fatale (Frank's ex-wife), and to a Zen Buddhist instructor with a lot of secrets. As with all of Lethem's novels thus far, Motherless Brooklyn is an affectionate and erudite send-up of a pulp genre; and more than that. Lionel is a sensitive, romantic, self-aware character whose musings on his own verbal tics, and the mysteries of consciousness in general, leaves the reader laughing with him — never at him. Fun facts: Motherless Brooklyn was awarded the National Book Critics Circle Award for fiction, as well as the Gold Dagger award for crime fiction. The 2019 movie adaptation by Edward Norton takes many liberties with the original, e.g., setting it in 1957. The movie's cast includes Norton, Bruce Willis, Gugu Mbatha-Raw, and Willem Dafoe.

*

William Gibson's Bridge science fiction adventure All Tomorrow's Parties. In the Bridge trilogy's final installment, we return at last to the San Francisco/Oakland Bay Bridge, the near-future shanty-town/autonomous zone where much of 1993's Virtual Light took place. Colin Laney, a mutant able to recognize patterns of probability (when "net-running" massive amounts of data), whom we met in 1996's Idoru, reappears; now homeless and dying, he intuits an approaching "nodal point" and hires rent-a-cop Berry Rydell — from Virtual Light — to investigate. Chevette, also from Virtual Light returns, as does the holographic AI diva Rei Toei (from Idoru) and "existential sociologist" Shinya Yamazaki (from both books). If Laney and Yamazaki seem like thinly veiled self-portraits of Gibson himself, wait until you meet Konrad, the unstoppable assassin whose description — gaunt visage, "wolfishly professorial" — and obsession with wristwatches strike this reader as an inside joke. Will PR mastermind Cody Harwood succeed in turning the incipient nodal point to his own advantage? Can our ragtag band of fucked-up heroes stop him? Weirdly, the final book in the series feels like the one closest to our own point in time. Fun facts: The British writer Steven Poole, whose obsession with political and corporate rhetorical strategems is also very timely, described All Tomorrow's Parties — in The Guardian — as the culmination of Gibson's development "from science-fiction hotshot to wry sociologist of the near future."

*

Alan Moore and Kevin O'Neill's sci-fi comic The League of Extraordinary Gentlemen, Vol. 1 (1999–2000). When Mina Harker, whom readers of Dracula will recognize as Bram Stoker's brave, perspicacious, thrice-bitten heroine, is recruited by British Intelligence agent Campion Bond (James Bond's grandfather), she is tasked with recruiting other Victorian-era superheroic individuals — (Jules Verne's) Captain Nemo, (H. Rider Haggard's) Allan Quatermain, (Robert Louis Stevenson's) Dr. Jekyll/Mr. Hyde, (H.G. Wells's) Invisible Man — to protect the peace and safety of the British Empire, c. 1898. Which are threatened by (Sax Rohmer's) Fu Manchu, who has stolen antigravity material from (Wells's) Professor Cavor, with which he plans to build an airship that will pummel London into submission. M., to whom the League reports, turns out to be one of of the greatest Victorian-era villains, with nefarious plans of his own. It's a fun, fast-paced metatextual adventure perfectly illustrated by Kevin O'Neill, who balances the whimsical with the sordid and violent. Moore, as ever, requires us to reconsider what it means to be a hero — with this agonistic crew of troubled, sociopathic misfits. This is rich stuff — so many literary references, often obscure. This reader is grateful to Jess Nevins, author of the Encyclopedia of Fantastic Victoriana, who has provided copious annotations. Fun facts: The first volume of stories has been followed, thus far, by Volume II (2002–2003), Black Dossier (2007), Volume III: Century (2009–2012), Nemo Trilogy (2013–2015), and Volume IV: Tempest (2018–2019). Elements of Volume I were used in a loosely adapted 2003 feature film — about which the less said, the better.

*

Neal Stephenson's treasure-hunt adventure Cryptonomicon. During WWII, mathematical genius and codebreaker Lawrence Waterhouse is assigned to an ultra-secret unit whose mission it is to disguise the fact that Allied intelligence has solved Germany's Enigma code… by staging events that provide alternative explanations for the Allied intelligence successes. US Marine sergeant Bobby Shaftoe is part of Waterhouse's tactical-deception team. Meanwhile, Japanese mining engineer Goto Dengo, with whom Shaftoe has become friendly, is assigned to conceal a fortune in stolen gold in a bunker constructed on a remote island in the Philippines. Circa 1997, in the book's other storyline, Lawrence's grandson Randy is an entrepreneur helping to create a data haven in a sultanate near the Philippines, with the long-term goal of instructing genocide-target populations on the art of defensive warfare. Doug Shaftoe, son of Bobby, and his daughter Amy, do the undersea surveying for the haven's engineering work… which is overseen by Goto Furudenendu, heir-apparent to Goto Dengo's empire. Cutting across this three-family historical saga is Enoch Root, chaplain to Bobby Shaftoe's unit in the 1940s, a Catholic lay worker "trying to bring Internet stuff to China" in the 1990s, and a member of (or advisor to) some kind of ancient secret society that may nudge the advancement of science and Enlightenment from one era to another. The WWII action is thrilling, the present-day treasure hunt somewhat less so but certainly intriguing. An impressive effort. Fun facts: Winner of the Locus SF Award. Root and his secret society, along with various Waterhouses and Shaftoes, also appear in Stephenson's Baroque Cycle (published in three volumes in 2003–2004), and in his 2019 novel Fall; or, Dodge in Hell.

*

Charles Burns's graphic story collection Big Baby. These black-and-white comics, published between 1983–1992 and inspired by Burns's own formative experiences of growing up in the suburbs fascinated by grotesque comic books and cheesy sci-fi movies, are must-reads for fans of the author's brilliant 1995–2005 graphic novel Black Hole. Those of us who were impressionable youths when the stories first appeared (for example, in RAW) remember them vividly. The titular Big Baby is the mutant-looking Tony Delmonte, an impressionable adolescent who sneaks out of his room one night… only to find himself entangled in a plot — involving summer-camp murders and backyard burials — right out of a late-night B horror movie. I'm reminded of Gahan Wilson's 1970s comic strip Nuts, about a Gahan Wilson-esque kid who finds humorous weirdness in everyday life; the main difference is Burns's eerie artwork, which leaves the reader feeling trapped in a Twilight Zone-like dimension. "Teen Plague," the story most similar to Black Hole, has haunted me for years; but my favorite is "Curse of the Molemen," an underground adventure prefiguring Burns's more recent, Tintin-like, excellent series X'ed Out (2010), The Hive (2012), and Sugar Skull (2014). Fun facts: "I was always interested in [the] façade of the American way of life, and what was hidden behind the façade," Burns said in in an interview. "And that's what the first [Big Baby] story deals with: monsters on TV — the fake things on TV — and then the real monster that's living next door who's beating his wife."

*

Ken MacLeod's Fall Revolution sci-fi adventure The Sky Road. This alternate sequel to The Stone Canal (1996), the second installment in MacLeod's Fall Revolution series, is set partly in a distant, idyllic future. Centuries after the civilization-destroying Deliverance, Merrial, a beautiful "tinker" (that is, computer hacker), falls in love with Clovis, a young scholar researching a biography of Myra Godwin-Davidov ("The Deliverer") and working as a welder on the first spaceship in centuries. She seduces him into extrapolating the ship's future from Myra's story, which takes place c. 2050, during an inflection point. Humankind's future depends on a decision that Myra — who momentarily appeared near the conclusion of The Stone Canal — must now make. How she arrived at this point requires us to travel back even further, to her idealistic days as a Trotskyist in 1970s Glasgow — and the many compromises she's made en route to her position as the woman in charge of the world's last remaining nuclear weapons. When the Sheenisov (a Russian-Chinese superpower) threaten global conquest, can she avoid nuclear holocaust? Although published last, I'd suggest reading The Sky Road before the others. Fun facts: Asked by an interviewer, "Of all the characters you've conjured, which one did you most relate to and why?", MacLeod replied, "I think it was Myra in The Sky Road. She has a lot of baggage, a very long life's load of knowledge and guilt, but she still goes forward and acts decisively."

*

Neil Gaiman's fantasy adventure Stardust (lavishly illustrated by Charles Vess). When Tristran Thorn sees a star fall on the other side of the border between his English village, Wall, and the mystical realm of Faerie, the teenager rashly sets out to bring it back — as a token of his infatuation for the village belle. Set in the 1850s, the story is narrated in a style that I'd describe as somewhere between Lord Dunsany and William Goldman. Tristran isn't the only one seeking the fallen star; Morwanneg, an ancient witch-queen, and her equally wicked sisters desire to consume the star's heart — in order to restore their youth, beauty, and magical ability. As for the fallen star, this turns out to be a beautiful young woman, Yvaine. She was knocked out of the sky, we discover, by the Power of Stormhold, a topaz that marks its bearer as the ruler of Faerie; three ruthless princes seek the jewel. Tristran gets to Yvaine first, thanks in part to a magical candle that allows one to travel many leagues with each step, and in part to his inborn ability to find any location in Faerie. (The reader has learned, in the story's prologue, that Tristran is half-Faerie himself.) Adventures ensue, as Tristran and Yvaine are aided by the Seelie — that is, faeries benevolently inclined towards humans — and hampered by the Unseelie. Eventually, our protagonists return to Wall… but is the Tristran who set out on this quixotic mission the same one who now returns? Fun facts: "I think we're in a period right now where fantasy has somehow come to mean a very unimaginative form of literature indeed," Gaiman said in an interview regarding Stardust, which was awarded the Mythopoeic Fantasy Award for Adult Literature. "Bizarre, paradoxical, ironic and stupid, what should be easily the most imaginative form of literature has become so astonishingly hidebound, predictable and unimaginative." The 2007 adaptation, directed by Matthew Vaughn and starring Claire Danes, Charlie Cox, Sienna Miller, Michelle Pfeiffer, and others, is not very good — yet it's become a cult classic, of sorts.

*

Tamora Pierce's Protector of the Small fantasy adventure First Test. Ten years after the conclusion of the four-part Song of the Lioness series, which follows the trials of Alanna of Trebond, a noble-born girl who disguises herself as a boy in order to train as a knight, females are now permitted to try out for knighthood training. Our protagonist is Keladry of Mindelan, the first girl to do so. Although discouraged by the training master, Lord Wyldon, and hazed and bullied by the more misogynistic of her fellow students, Kel perseveres — building friendships with fellow good-hearted misfits, and proving herself at each stage of training. Although she worships Alanna, the female knight never meets or encourages her… although one suspects that the high-quality dagger and bruise balm she receives from an unknown benefactor may be Alanna's doing. Kel begins protecting other first-year pages from older bullies; she also has a soft spot for the birds that gather outside her window — thus explaining the series title. Her bird friends prove useful when the pages are sent on a mission to wipe out a nest of spider-monsters. But will Lord Wyldon allowing our hero to continue to train to become a knight? Fun facts: Followed by Page (2000), Squire (2001), and Lady Knight (2002). Pierce based Alanna of Trebond on her younger sister, Kim, who became a captain in the military, an ambulance worker, an air rescuer and a nurse.

*

Masashi Kishimoto's Naruto manga adventures (serialized 1999-2014). Twelve years after a fearsome fox spirit killed the Hokage (leader) of Konoha (aka the Village Hidden in the Leaves), 12-year-old Naruto struggles to graduate from Ninja Academy. Seeking the respect of his fellow students, and dreaming of becoming his village's Hokage one day, Naruto can't understand why people mock and mistrust him… until Mizuki, a renegade ninja, reveals that Naruto's father had trapped the fox spirit in the newborn boy's body… at the cost of his own life. Naruto was published for fifteen years in the long-running, best-selling Japanese magazine Weekly Shōnen Jump; the storyline described here covers only the first 238 chapters, i.e., Part One of Naruto's story. Having become a ninja, Naruto joins Team 7, along with his frenemy Sasuke Uchiha, his crush Sakura Haruno, under the tutelage of the elite ninja Kakashi Hatake. The team succeeds at various missions, after which its members are permitted to take a ninja exam and advance to a higher rank. During the exams, the criminal Orochimaru kills Konoha's current Hokage; after this, Team 7 splits up. Sasuke joins Orochimaru, who wishes to train him because of his powerful genetic inheritance; Sakura is apprenticed to Tsunade, a talented "medical ninja" and the town's new Hokage; and Naruto leaves Konoha to receive training from Jiraiya, the "toad sage" who was Naruto's father's teacher. Fun facts: Naruto is the fourth best-selling manga of all time, trailing only Eiichiro Oda's One Piece, Akira Toriyama's Dragon Ball, and Takao Saito's Golgo 13. It was released in tankōbon (book) form in 72 volumes (comprising 700 chapters); and adapted as two long-running anime TV shows: Naruto and Naruto Shippuden. There are also Naruto movies, video games, and other media.

*

Louis Sachar's YA treasure-hunt adventure Holes. A humorous, intricately plotted, touching story that touches on serious topics from racism to homelessness. Falsely accused of stealing a pair of shoes from a famous basketball player, an overweight teenager — with a palindromic name, Stanley Yelnats — is remanded to a juvenile corrections facility situated in the middle of an impassable Texas desert. Overseen by cruel guards, and threatened by rattlesnakes and poisonous lizards, Stanley and Camp Green Lake's other inmates are required to dig five-foot-deep cylindrical holes in the dried-up lake bed. This is supposedly a form of rehabilitative punishment, but Stanley comes to suspect that they're actually searching for something of value. Although kindness and empathy aren't encouraged at Camp Green Lake, Stanley and a boy named Hector ("Zero") become friendly. Zero puts up with Stanley's ranting about a family curse; and Stanley follows Zero when his quiet friend escapes the camp. Will they survive their desert trek — and find the buried treasure? Fun facts: Winner of the U.S. National Book Award for Young People's Literature and the Newbery Medal, Holes was followed by Stanley Yelnats' Survival Guide to Camp Green Lake (2003) and Small Steps (2006). I haven't seen the 2003 Disney movie adaptation.
---
2000
---
China Miéville's New Crobuzon sci-fi/fantasy adventure Perdido Street Station. Miéville has said that he hopes to write a novel — a "weird" novel, that is — in every genre. Perdido Street Station already complicates that statement, inasmuch as the first installment in his New Crobuzon series is a hybrid of science fiction, fantasy, and horror. It's also an impressive example of psychogeography and back-projected world-building. Perdido Street Station gives us New Crobuzon, a city-state on the planet Bas-Lag, a D&D-esque world where both thaumaturgy and steampunk technology exist, and in which many intelligent species coexist. From this starting point, Miéville conjectures a history in which some three millennia earlier, entities from another plane of existence ruled the planet for a few centuries… leaving behind technologies and structures (including, perhaps the titular industrial scrapyard, which has a mind of its own) over which today's New Crobuzonites puzzle and scheme. If this reminds you of M. John Harrison's Pastel City (1971), it should; Miéville is a fan. He's also influenced by the original "weird" writers — William Hope Hodgson, Clark Ashton Smith, H.P. Lovecraft — to whose tentacular, cosmic-horror visions he pays homage here. The plot concerns the efforts of Yagharek, a birdlike creature who has had his wings chopped off (hello, Orlando Bloom's character in Carnival Row), to fly again; along the way, he'll transform from a victim into a hero. Isaac Dan der Grimnebulin, a scientist attempting to help Yagharek, inadvertantly creates a Mothra-like monster whose brood terrorizes New Crobuzon; a drug-dealing mob boss kidnaps Isaac's girlfriend, an insect-like humanoid sculptor; and a spider-like creature that moves through dimensions, obsessed with patterns, gets involved, too! Fun facts: "Perdido Street Station is my attempt to simultaneously say, 'Fuck you' to fantasy, and to say to readers, 'Please read some fantasy,'" Miéville once explained. The 900-page novel won the Arthur C. Clarke Award and the August Derleth Award; the Player's Handbook for the Fifth Edition of Dungeons & Dragons (2014) cited the book as a source of inspiration.

*

Iain M. Banks's Culture sci-fi adventure Look to Windward. The sixth Culture novel is loosely a sequel to the first, Consider Phlebas (1987); and it's a perfectly good place to start reading the series. Like Excession (1996), it focuses on one of the AIs (or "Minds") who create, guide, and protect the Culture's privileged, long-lived, thrill-seeking human population. The Mind in question here is the "hub" of the Culture orbital Masaq'; as we tour the manmade ring-planet, we get a sense of what makes this Mind tick. Like all of Banks's Culture novels, we're also forced to question whether this utopian galactic society is justified in its efforts to influence non-Culture worlds. Our protagonist, Quilan, is a Chelgrian — a race of evolved tigers — whose wife and family were killed in a bloody civil war sparked by the Culture's well-intentioned meddling. He's traveled to Masaq' in order to persuade a celebrated Chelgrian composer and political refugee to return home. He's possessed, however, by the personality of a deceased Chelgrian general; and his true mission is something much more sinister. The ending is thrilling, and extremely saddening too. Fun facts: The title is a nautical phrase meaning "keep an eye out for enemies," who would approach from windward — because the vessel situated in the direction from which the wind is blowing enjoys a tactical advantage. Banks borrows the phrase from a line, about Phlebas the Phoenician, who has died by drowning, in T. S. Eliot's "The Waste Land."

*

Peter Carey's historical adventure True History of the Kelly Gang. Ned Kelly was an Australian bushranger and gang leader, best known for wearing a suit of bulletproof armour during his final shootout. Carey's fictionalized version of this Australian frontier yarn, written as Kelly's own autobiography, is a harrowing life's story. Ned's father, an Irish convict transported to the colony of Victoria, Australia, is persecuted by the colonial police forces; he dies when Ned is 12. Ned's mother, a handsome woman with many children to raise, takes the bushranger Harry Power as a lover; she persuades him to take on a reluctant Ned as an apprentice. The strong-willed boy quarrels with Harry and returns to his family, but not before learning how to rob stagecoaches and evade pursuit. Ned never gets any breaks, and he and his brother Dan are eventually forced to flee the authorities; joined by two friends, who later become known as members of the Kelly Gang, the young men rob banks, give money to the downtrodden… and kill some policemen. Cornered by dozens of policemen, the Kelly Gang constructs suits of armor. Ned's autobiography is written just before the shootout. Fun facts: The novel, which won the Booker Prize and which has been called one of the best novels of the century, was adapted as a movie by Justin Kurzel in 2020. The film's cast includes George MacKay as Kelly and Russell Crowe as Harry Power.

*

Joe R. Lansdale's crime adventure The Bottoms. Harry, an 11-year-old growing up on an East Texas farm during the Depression, is the son of Jacob Collins, the local constable — who is also a barber. When Harry, who as an old man narrates this story, finds a mutilated dead woman in the woods, his father's investigation takes him out of his own jurisdiction. The local doctor, a racist, won't bother examining the woman's body, because she is colored… so Jacob consults a talented black doctor in a nearby community. Harry and his younger sister, "Tom," suspect that the woman was killed by the Goat Man — a legendary local figure who lives in the Big Thicket. (There are a couple of tense moments, during the course of events, when Harry and Tom are tracked through the Big Thicket — by the Goat Man?) When other women are killed in a similar fashion, the white members of the community place the blame on an innocent black man, whom Jacob temporarily rescues; there is a To Kill a Mockingbird vibe to this coming of age story. There is a lynching, which deeply affects both Jacob and Harry. And the killer remains at large. Whom will he kill next — and can Harry and his sister help bring him to justice? Fun facts: Winner of the Edgar Award, presented by the Mystery Writers of America. Before Bill Paxton died in 2017, he was co-producing a movie adaptation. Its fate currently remains uncertain.

*

Ken MacLeod's Engines of Light sci-fi adventure Cosmonaut Keep. On the planet Mingulay, in the far future, a human colony coexists with other races, including the reptilian "saurs"… but they've lost the secrets of interstellar light-speed navigation — which are known only to the krakens, who don't use computers. Assisted by the immortal, weed-smoking saur Salasso, the human scientist Grigor Cairns studies the kraken-like squids who inhabit Mingulay's oceans; he also gets involved in a love triangle involving a fellow marine biologist and the beautiful daughter of a space trader. The book's alternating story line is a cyberpunk political thriller set in Soviet-occupied Europe c. 2040. Matt Cairns, an Edinburgh programmer, and his American spy girlfriend, Jadey Ericson, hack into a secret facility on a remote asteroid… where highly advanced, space-dwelling, godlike associations of bacteria-sized entities have provided EU scientists with blueprints for a space drive. There is a trip to Area 51, and a sexy American test pilot. The stories connect: A starship from Earth arrived at Mingulay, but humans were banned from subsequent space-travel by the krakens. This is a less political MacLeod space opera — though it features plenty of leftist in-jokes, such as the programmers' union called the Information Workers of the World Wide Web, or "Webblies." Grigor's breakthrough discovery left my head spinning. Fun facts: This is the first book in the Engines of Light trilogy, followed by Dark Light (2001) and Engine City (2002).

*

Paul Jenkins and Jae Lee's Sentry superhero comic story arc (2000–2001). Middle-aged, overweight, and alcoholic, Bob Reynolds doesn't have much going for him… until he remembers that he was once the world's first, mightiest superhero. Known as the Sentry, he was the Marvel Universe's version of Superman; thanks to a special serum, he possessed the "power of one million exploding suns." Reed Richards was his closest friend; he was the only friend the Hulk ever had; he taught Angel to fly. But his archenemy, the Void, is also nearly omnipotent; and as Reynolds begins to remember his adventures — Jae Lee ably imitates the comic-book art of each different era, including the Silver Age's corny schtick — he also becomes aware that the Void, whom he had somehow vanquished, is now returning! Reynolds approaches various superheroes, to warn them, but nobody on Earth remembers him… at first. The dark, eerie story was published by the Marvel Knights imprint, which changed the game by focusing on strong stand-alone stories and high production quality rather than long-running story arcs and persnickety continuity. While Lee drew the main story, which holds up, the side flashbacks — some of which are a bit gratuitous and silly — were drawn by a variety of other artists.Fun facts: The Sentry's eponymous Marvel Knights miniseries ran for five issues, then segued into a series of 2001 flashback one-shots such as Sentry/Hulk and Sentry/Spider-Man. The one-shot comic The Sentry vs. the Void (2001) wrapped up the character's original arc. The comic's creators also dreamed up a fictional publication history in the real world, complete with imaginary creators.

*

Nalo Hopkinson's Midnight Robber (2000). Hopkinson's second novel is a brilliant, traumatic bildungsroman set on Toussaint, a world populated by the descendants of Caribbean colonists. It's a comfortable post-scarcity planet, overseen by Granny Nanny, an AI which anticipates all needs, and serviced by nanotech robotic labor. Young Tan-Tan, daughter of Antonio, who is mayor of the Cockpit County, likes to pretend that she is the Midnight Robber — a Trinidadian traditional Carnival character; one of the narrative voices in Midnight Robber relates the stories of such romantic figures, in Anglopatwa, a future-Caribbean dialect. (If you enjoy puzzling over the patois of A Clockwork Orange, Riddley Walker, or Feersum Endjinn, this book is for you.) When Antonio takes her with him into exile in New Half-Way Tree, a primitive, alternate-dimension Toussaint, Tan-Tan must quickly learn to survive. With the help of the douen, New Half-Way Tree's indigenous inhabitants, and friends she meets on the run, she develops into the titular bad-ass. Which makes this sound like a Heinlein juvenile… but it's more beautifully written than that, and much darker. Tan-Tan's real life is anything but romantic; however, as she becomes a vigilante justice-dealer, she herself becomes the subject of legends.Fun facts: Hopkinson, who was born in Jamaica and grew up partly in Trinidad, incorporates characters and stories from Caribbean and Yoruba culture into her books, of which is the second. The planet New Half-Way Tree's name, for example, refers to a neighborhood of Kingston, Jamaica.

*

Emmanuel Guibert and Joann Sfar's Sardine de l'espace sci-fi children's comic Sardine in Outer Space (2000–ongoing). Sardine, who like Pippi Longstocking is a red-haired, feral gal with surprising abilities and an irrepressible spirit, roams the galaxy in her pirate uncle's rattletrap spaceship, the Huckleberry. She dresses like a witch, and totes a black cat familiar around. Captain Yellow Shoulder, a burly corsair with a soft spot for orphans, carries Sardine, her cousin Little Louis, and their pals into one scrape after another — often one involving his nemeses, the child-hating villain Supermuscleman (Chief Executive Dictator of the Universe) and the reptilian criminal genius Doc Krok. Sfar, whose Donjon series (with Lewis Trondheim) I've also touted, illustrated the first eight Sardine stories, which were written by Guibert. He, Guibert, and Mathieu Sapin have alternated as illustrator since then; at least until 2008, after which Sfar dropped out. Like the Donjon stories, Sardine's adventures — which involve cosmic squids, talking clouds, and a violent virtual-reality game called No-Child-Left-Behind-School II — are wildly imaginative. In the tradition of Goscinny and Uderzo, there are gags, puns, and pop-cultural references galore. Fun facts: There's an animated version, which premiered in May 2020; I don't believe it's available in English.

*

Trondheim and Larcenet's apophenic sci-fi comic Les cosmonautes du futur (Astronauts Of The Future, 2000). Lewis Trondheim is best known for his epic series Donjon (Dungeon), which he created with Joann Sfar; his Les formidables aventures de Lapinot (The Spiffy Adventures of McConey) is another great series. He wrote the script for this story, which is illustrated in a cute yet action-packed style by fellow French cartoonist Manu Larcenet. Two precocious, lonely kids, Gil and Martina, independently determine that their feelings of alienation must indicate that everyone else — classmates, parents, the entire population of their town — is not human. Gil believes they're robots; Martina is equally sure they're aliens. Are they Calvin-like tykes with over-active imaginations, or might they be onto something? And if not the former, then for whom is this comic intended… because it quickly ceases to be merely cute. It's a funny story, but also an increasingly complex and fast-paced thriller… One is reminded of Frank Miller and Geof Darrow's Hard Boiled, and of PKD novels beloved in France. But one is also reminded of Harriet the Spy. It's a great combo. I wish the English-language edition included all three of the French albums, but the first two are satisfying on their own. Fun facts: There appears to be a third volume available, here. But only in digital form….

*

Tim Wynne-Jones's YA mystery The Boy in the Burning House. Young Jim Hawkins, who lives on a farm in rural Canada with his mother, is still struggling to come to terms with his father Hub's disappearance, over a year earlier; supposedly, he killed himself — but Jim doesn't believe it. Then the disturbed stepdaughter of Father Fisher, the charismatic pastor of Jim's church, turns up at the farm and tells him that "Father" — who'd been a childhood friend of Hub's — is a killer. Jim begins to snoop around, and learns that Hub and Fisher were somehow involved with the death of a local young man, who thirty years earlier was trapped in the titular burning house. Although we never really doubt that Rose is telling the truth, it's a tense, atmospheric story with a terrifying villain. PS: Although our protagonist shares the name of the hero of Treasure Island, the book's scary ending — set in a maze-like cave — is more reminiscent of the Injun Joe section of The Adventures of Tom Sawyer. Fun facts: Winner of the Edgar Award for Best YA Mystery.
---
2001
---
Neil Gaiman's fantasy adventure American Gods. Released from prison when his wife is killed in a car accident — she'd been having an affair with his best friend — the taciturn "Shadow" Moon finds work as a bodyguard for a Mr. Wednesday. Who is, we will eventually discover, an earthly avatar of a Norse god. Mr. Wednesday is on a cross-country pilgrimage, rallying his fellow deities for a last-ditch battle against America's new gods — the personifications, that is, of phenomena that we now worship, including an adult-sized fat child (the Internet), men in black (conspiracy theories), and the goddess of media, who communicates through characters in TV shows. Shadow himself becomes the focus of this epic struggle, and Mr. Wednesday becomes his guardian — rather than the other way around. During a trip to the land of the dead, Shadow discovers his own true nature… and begins to understand the true stakes of the game in which he has become entangled. Oh, and his ex-wife returns from the dead as an ass-kicking zombie of sorts! Fun facts: Winner of the Hugo and Nebula awards. A comic book adaptation, American Gods: Shadows, was published by Dark Horse Comics starting in March 2017. There have been two seasons, so far, of the Starz television adaptation (2017–2019), with a third season scheduled for 2021.

*

Dennis Lehane's crime adventure Mystic River. Twenty-five years after their friend Dave Boyle was abducted by child molesters from their blue-collar Boston neighborhood, Sean Devine has become a homicide detective for the state police and Jimmy Marcus a criminal mastermind who's trying to go straight. When Jimmy's daughter, Kate, is murdered, Sean is assigned to investigate; Dave, meanwhile, becomes the most likely suspect. The race is on… Can Sean crack the case before Jimmy takes matters into his own hands? It's a depressing, sordid tale about the impossibility of avoiding the violence and abuse that endures from one generation of damaged souls to the next. We spend a lot of time inside each man's head, which is no picnic. A long, highly atmospheric tragedy. Fun facts: Clint Eastwood directed the 2003 movie adaptation of Lehane's novel. Sean Penn won an Oscar for his portrayal of Jimmy, and Tim Robbins won one for his portrayal of Dave. Kevin Bacon, meanwhile, played Sean.

*

Yann Martel's philosophical adventure Life of Pi. Piscine "Pi" Patel, a middle-aged Indian immigrant to Canada, narrates the story of how he and his family left India in 1976, traveling on a freighter along with animals from their zoo. When the ship sinks in a storm, the 16-year-old Pi escapes in a lifeboat — which is also occupied by a spotted hyena, an injured Grant's zebra, and an orangutan named Orange Juice. To Pi's distress, the hyena kills the other two animals… at which point Richard Parker, the family's beloved tiger, emerges from hiding and kills the hyena. During a voyage of over 200 days, Pi — who grow up to become a theologian — asserts his dominance over the tiger, who saves his life more than once. In the book's third section, officials investigating the shipwreck question Pi's account of his ordeal… at which point he offers a different version of the events, leaving us to wonder which one is true. A bit too didactic, at times, perhaps, but a mesmerizing tale. Fun facts: Winner of the Booker Prize, Life of Pi was a bestseller. It was adapted as a 2012 feature film starring Suraj Sharma, Irrfan Khan, Rafe Spall, Tabu, Adil Hussain, and Gérard Depardieu. Ang Lee won the Oscar for Best Director.

*

Glen David Gold's historical mystery thriller Carter Beats The Devil. Carter, a character based on the stage magician Carter the Great (Charles Joseph Carter, 1874–1936), learns his craft and becomes a vaudeville star… only to see the vaudeville era come to an inglorious end. He battles government agents, rapacious businesses, and secret societies as he seeks the truth about President Harding's death; Carter himself is a top suspect, since Harding died shortly after taking part in the magician's show. Carter encounters all sorts of real-life characters, including Harry Houdini, the Marx Brothers (before they become the Marx Brothers), and the inventor Philo Farnsworth. A rival magician, Mysterioso, is a sinister figure in the plot, too. What's it all about? It seems that Carter has come into possession of a secret about a revolutionary new technology; everyone is out to get him. Can the great escape artist conjure himself out of this pickle? A highly enjoyable romp through a fascinating American era. Fun facts: Alan Moore, in an interview, said: "I've been quite impressed with Glen Gold's Carter Beats the Devil, there's a thumping good yarn." Gold, who was kind enough to contribute a story to my Significant Objects project, is the author of one of the best memoirs ever: I Will Be Complete (2018).

*

John le Carré's espionage adventure The Constant Gardener. When his beautiful younger wife, Tessa, is murdered in a remote are of Kenya while in the company of her fellow humanitarian activist, Arnold Bluhm, British diplomat Justin Quayle heads home to England… in order to get to the bottom of what he suspects to be a conspiracy involving KVH, a pharmaceutical company that has been testing a new TB drug in Africa. As with some of my other favorite Le Carré novels, from Call for the Dead (1961) to Our Game (1995), this one is a hybrid of murder mystery and political thriller. Quayle, whose hobby is gardening, proves himself "constant" — that is, both unstoppable in his quest for the truth, and faithful to his love for Tessa — as he navigates British Intelligence, the pharma industry, and the world of do-good NGOs. Were Tessa and Arnold lovers? Had they discovered a truly sinister secret? Who betrayed them? This is a posthumous love story, if you can imagine such a thing, as well as a compelling hunted-man story. We cheer Justin on, as he eludes the good guys and bad guys alike, until the bitter end. PS: "There is only a fleeting reference to gardening," warns a dumb Goodreads review, "so horticulturists need not get their hopes up." Fun facts: Le Carré based his story on a real-life case in Kano, Nigeria. The 2005 film adaptation, directed by Fernando Meirelles, starred Ralph Fiennes as Justin, Rachel Weisz as Tessa, Hubert Koundé as Arnold, and Bill Nighy as Sir Bernard Pellegrin.

*

Ken MacLeod's Engines of Light sci-fi adventure Dark Light. In what is easily the most Jack Kirby-esque of MacLeod's space operas, we discover that ancient astronauts did visit Earth, at which point they hastened the evolution of dinosaurs into… the "Grey aliens" whom we've come to know and love. These advanced Saurs later helped rescue humankind's primitive ancestors from a meteor attack orchestrated by the "gods" — extremophile nanobacteria, linked into a vast cosmic mind, which exist in asteroids and cometary masses throughout the galaxy… and which were already in communication with Earth's squid population. Other gods created the so-called Second Sphere, which is 100,000 light years from Earth, and populated it with a host of kidnapped species. Against the backdrop of this epic cosmogony, Matt Cairns and the immortal cosmonauts of the Bright Star (about whom we read in 2000's Cosmonaut Keep) travel in a refurbished spacecraft from one planet to another within the Second Sphere — from Mingulay to Croatan — and in so doing set off a revolution, indirectly and directly. Although we meet the gods, the book's most memorable character is Stone, brave member of a steampunk tribe on Croatan, who — although male and heterosexual — refuses to become what his culture recognizes as a "man." Fun facts: As a young Trotskyist in the '70s, MacLeod began writing a modern version of Lucretius's On the Nature of Things, a poem offering an impassioned defense and exposition of materialism and of the ethical teachings derived from it. The epigraph to Dark Light — "Don't fear that philosophy's an impious way / Superstition's more likely to lead folk astray" — is one of the few remnants of this project.

*

Malorie Blackman's YA sci-fi adventure Noughts and Crosses (in the US: Black & White). In Albion, a near-future, alternate-reality England, although Africans long ago colonized Europe and enslaved white-skinned people, today slavery has been abolished. However, the so-called "crosses" (Brits of African descent) oppress the "noughts" (native Britons) and maintain their own privileged status through political, economic, and cultural means. Persephone "Sephy" Hadley, daughter of a powerful cross politician, grows up with Callum McGregor, the son of her nanny and one of the few noughts to attend her elite school. Although the two are close friends, they drift apart after Callum is forced to leave school… until Callum, who has since drifted into the orbit of a violent paramilitary group seeking to overthrow institutionalized racism, helps them kidnap Sephy. (Considered one of the most influential recent books in British literature, Noughts and Crosses alternated between Sephy's and Callum's perspectives.) When Sephy learns that she's pregnant, she faces an impossible choice. Fun facts: First installment in a series that also includes An Eye for an Eye (2003), Knife Edge (2004), Checkmate (2005), Double Cross (2008) and Crossfire (2019). The first season of the British TV adaptation, Noughts + Crosses, aired in March 2020.

*

Eoin Colfer's YA fantasy adventure Artemis Fowl. The titular character is a 12-year-old genius who runs his family's criminal empire. He's also a talented literary scientist who studies mythology for clues on how to capture a fairy, force her to grant him a wish (the object of which reveals Artemis's sentimental side), and thwart the magical abilities of the fairies, dwarves, trolls, and other creatures whom he knows will attempt to retaliate. It's a fun idea — the author described it as "Die Hard with fairies" — and the book was an international bestseller, which is why it belongs on this list… even though Colfer's plot and prose leave a great deal to be desired. After acquiring and translating the Book of the People — the holy book of the fairy kingdom — Artemis is able to capture Holly, a fairy police officer, and imprison her in his family's mansion. Holly's commanding officer, Julius Root, attempts to free her but fails; he is replaced by an unscrupulous fairy who will stop at nothing… including deploying a magical weapon of mass destruction! Fun facts: Followed by eight titles (so far), including Artemis Fowl and the Arctic Incident (2002), Artemis Fowl and the Eternity Code (2003), and Artemis Fowl and the Opal Deception (2005). The 2020 movie adaptation was directed by Kenneth Branagh; it was released exclusively on Disney+ and received negative reviews.

*

Judd Winick and Mike McKone's Exiles comics (2001–2008). The Exiles are a team of superheroes — including Morph and Blink, as well as Mimic, Magnus (son of Magneto and Rogue), Thunderbird, Nocturne (daughter of Nightcrawler and Scarlet Witch), Wolvie, etc. — from different dimensions. Summoned by the alien Timebreakers to correct problems in various alternate worlds and divergent timelines in the Marvel Multiverse, the Exiles complete various missions assigned to them. It was a what-if? series in which anything could happen; Professor X might be a homicidal maniac; characters could die, permanently; worlds could be destroyed. Within the team, minor players could end up taking the lead, and leaders could vanish. "In an era of crossovers and big events," Mike Raicht, one of the series' creators, has reminisced, "Exiles had those every month, and to experience the whole Marvel Universe all you had to do was read this one book." Fans of the series are particularly fond of the "World Tour" story line, which begins c. issue 70, and in which the Exiles (and the New Exiles) jump from alternate reality to alternate reality in an attempt to stop the evil, body-snatching Proteus. Fun facts: The first volume of Exiles ran for 100 issues, ending after a crossover with the members of New Excalibur in X-Men: Die by the Sword and the one-shot Exiles: Days of Then and Now. Tony Bedard would write half the series, from #46-89; artists include Jim Calafiore, Kev Walker, Clayton Henry, Mizuki Sakakibara, Casey Jones, Steve Scott, Paul Pelletier, and Tom Mandrake.

*

Umberto Eco's historical, metafictional adventure Baudolino. In the year of 1204, an Italian traveler, Baudolino of Alessandria, saves the life of Niketas Choniates, a (real-life) Greek Byzantine government official and historian of the Eastern Roman Empire. Baudolino is an account of the titular character's tales, told to Choniates, of his exploits in the known and mythical Christian world of the 12th century. Obsessed with the kingdom of Prester John — a Christian nation fabled to be lost amid the pagans and Muslims in the Orient, and full of riches, marvels, and strange creatures — Baudolino claims to have encountered characters both historical (Frederick Barbarossa, the Holy Roman Emperor from 1155 until his death 35 years later; the Old Man of the Mountain, leader of the Syrian branch of the Nizari Isma'ili state, aka the Assassins; Pope Alexander III; the Venerable Bede) and fictional (e.g., a basilisk, a manticore, a chimera, and a unicorn). It's a story about story-telling, with various ingenious aspects, including a locked-room murder mystery involving the death of Barbarossa while hosted at the castle of an Armenian noble. We get a lesson — as per usual, in an Eco adventure — in medieval philosophy and theology, in particular Gnosticism, from a female satyr-like creature with whom Baudolino falls in love. A perplexing, charming, thrilling tall tale that deserves to be better known. Fun facts: In an interview, Eco elaborated on the differences between this novel and his 1980 medieval thriller The Name of the Rose. "The Rose is cultured, this one is working class. The Rose is high style, this one is low style. The language is that of the peasants of the era or the Parisian students that speak like thieves."
---
2002
---
Neil Gaiman's children's fantasy novel Coraline. "Don't go through the door," Mr. Bobo, one of her oddball new neighbors, warns Coraline Jones — after she and her parents move into an old house that has been divided into apartments. He is referring to a small door that links Coraline's apartment to the unoccupied one next door. Nevertheless, Coraline goes through it… and discovers a kind of through-the-looking-glass version of her own life, in which an "Other Mother" and "Other Father," who have black buttons for eyes, pay more attention to her than her own parents. Also: The food tastes better, the toys are more fun, the neighbors are more entertaining, and the local stray cat can talk! Things quickly turn sinister, though, and Coraline must challenge the Other Mother in order to rescue her real parents, herself, and the ghosts of other children her age, from the beautiful lady without pity. The penultimate contest is reminiscent of the hen Billina's versus the Nome King in L. Frank Baum's Ozma of Oz. The final contest is even more terrifying. Fun facts: Winner of the Hugo and Nebula Awards for Best Novella. The 2009 movie adaptation, directed by Henry Selick and voiced by Dakota Fanning, Teri Hatcher, Jennifer Saunders, and Dawn French, is one of the most successful stop-motion films ever.

*

Ted Chiang's sci-fi story collection Stories of Your Life and Others. This collection of the author's first eight stories — which were originally published, from 1990–2001, in Omni, Asimov's, and elsewhere — is very strong. "Tower of Babylon," "Story of Your Life, and "Hell Is the Absence of God" were Nebula Award winners; and the latter also won the Hugo. These are exercises in creative, imaginative ratiocination. "Division by Zero" (1991), for example, begins with the line "Dividing a number by zero doesn't produce an infinitely large number as an answer," before turning into an affecting tale of a mathematician who no longer find her subject intuitively meaningful. "Understand" (1991) is about a super-intelligent man who enters into conflict with… another super-intelligence. And "Story of Your Life" (1998), meanwhile, takes inspiration from the "variational principle" in physics… in telling a story about a linguist tasked by the US Army with figuring out how to communicate with the "heptapod" aliens who have arrived mysteriously on Earth. When writing in their language, she finds, trains of thought are directionless, and premises and conclusions interchangeable! China Miéville's review of the book notes that, for Chiang, "humanism is inextricable from rationalism", and "it is the rationalism of the characters — and the writer — that makes them emotional and human." Fun facts: Arrival, the 2016 film adaptation of "Story of Your Life," was directed by Denis Villeneuve. Starring Amy Adams, Jeremy Renner, and Forest Whitaker, it was nominated for eight Academy Awards.

*

China Miéville's New Crobuzon science fantasy adventure The Scar. After the events recounted in Perdido Street Station (2000), linguist Bellis Coldwine flees New Crobuzon by ship… only to be captured by pirates and relocated to Armada, a vast floating city populated by exiles, criminals, and runaways — including the surgically "Remade." In giving us this cold protagonist — who despises Armada, and who actively works to subvert the city's great endeavor — Miéville suppresses our own instinctive resistance to the allure of an anarchist utopia. Which is exactly what this filthy, leaky, confusing, collection of hundreds of lashed-together ships is. What's more, the The Scar is a mashup of the utopian sci-fi travelogue with Lovecraftian horror. It seems that Armada's leaders wish to summon and capture a leviathan from the bottom of the ocean… as phase one of a plan to harness transdimensional, reality-warping forces located at the planet's "Scar," which will be unleashed against imperialistic New Crobuzon! The plot develops shambolically; there are vampiric mosquito-people, Scabmettlers, the underwater Cray people, and murderous "Grindylows" to contend with, not to mention the story of Tanner Sack, an escaped Remade slave who finds liberation and fulfillment in Armada. Uther Doul, the city's mercenary enforcer, turns out to be one of the more important figures; Bellis Coldwine, in the end, not so much. The prose is purple, the action thrilling, and the politics fascinating… but what keeps you coming back to Miéville is the wildly imaginative, overwhelmingly atmospheric world-building. Fun facts: Winner of the British Fantasy Award and Locus Award.

*

Michael Punke's frontier adventure The Revenant: A Novel of Revenge. "The goal each day is tomorrow morning," according to gritty frontiersman Hugh Glass, who in the summer of 1823 — decades before the West, as they say, was won — is viciously mauled by a grizzly and left for dead by two of his fellow Rocky Mountain Fur Company colleagues… who compound their crime by stealing Glass's rifle and hatchet, too. The man's throat is nearly ripped out, yet he somehow lives. In this throwback to man-versus-nature survival yarns by Jack London through Hammond Innes, we root for Glass to safely traverse (crawling, at first) Missouri Territory, a journey of a couple thousand miles when all is said done… and to get the revenge promised by the book's subtitle. Spoiler alert! He doesn't get revenge, not really; though he does get his stuff back. The book's plot — based on a true story; Hugh Glass was a real person — is secondary to the realistic period details and our protagonist's grueling ordeal. PS: The word "revenant" means someone who has risen from the grave to terrorize the living. Fun facts: Alejandro González Iñárritu directed the 2015 movie adaptation, which stars Leonardo DiCaprio, Tom Hardy, Domhnall Gleeson, and Will Poulter.

*

Nancy Farmer's Matteo Alacran YA sci-fi adventure The House of the Scorpion. Matteo Alacrán is an adolescent living as a kind of honored prisoner on the estate of El Patron, leader of Opium — a narco-state separating Aztlán (formerly Mexico) and the United States. He has a bodyguard and mentor, Tam Lin, and a girlfriend, Maria. He has been given an education and other privileges… and yet, as a young child he was treated as less than human. At last he discovers that he is El Patron's clone, but this raises a further question: Why hasn't he been intellectually crippled and reduced to a meat-sack of organs ready for transplanting, like El Patron's other clones? Could it be that the 100+-year-old drug lord intends for Matteo to take over Opium, one of these days? Meanwhile, Matteo and others in the story wrestle with the question of whether a clone is a human, an individual with rights? Matteo is horrified by El Patron… and yet, at the same time he is El Patron. Eventually, with a little help from friends, Matt flees for Aztlán and finds himself in a cult-like orphanage… where his inherited traits for political plotting, charismatic leadership, and ruthlessness will serve him well. One gets the sense that this should have been two books, not one. But it's fun. Fun facts: Followed by The Lord of Opium (2013). The House of the Scorpion won the U.S. National Book Award for Young People's Literature and was named a Newbery Honor Book.

*

Bill Willingham's comic book series Fables (2002–2015). The Fables series — published by DC's Vertigo imprint, under the direction of visionary editor Karen Berger — follows the adventures of a clandestine community of fairy-tale and folklore characters who, centuries ago, were driven out of their homelands into our world. When the story begins, the Fables' city-within-New York City, Fabletown, is run by Bigby Wolf (the sheriff) and Snow White (deputy mayor), who attempt to solve conflicts both in their town and on their upstate "farm." Other characters include Grimble, the troll from "THree Billy Goats Gruff," Bufkin, a winged monkey from the Oz stories, and Beauty and the Beast — who later will become Fabletown's deputy mayor and mayor. Prince Charming, as one might expect, is a narcissist, womanizer, and rogue — though he occasionally will do the right thing. The story arcs, in the early days of the series, take the form of various adventure narratives… from murder mystery to conspiracy to caper. A breakout hit, the series ran for thirteen years, with various spinoffs. Fun facts: Willingham, who got his start as TSR artist — contributing illustrations to AD&D modules, not to mention the Fiend Folio — served as sole writer for the entirety of the Fables series, with Mark Buckingham penciling more than 110 issues. Jess Nevins's Fables Encyclopedia offers valuable annotations to the comics.

*

Elizabeth Moon's Speed of Dark (2003). In the near future, autism has been eradicated. High-functioning autistics like Lou Arrendale, born before this medical breakthrough, face prejudice and unkindness. Fortunately for Lou, he's employed by a department of pharmaceutical company that values people with autism for their ability to recognize patterns in what to "normal" people appear to be chaotic bioinformatics data. The parts of the book narrated in the first person offer us a glimpse into the workings of our narrator's mind; this is the point of the novel, whose author is the mother of a son with autism. The plot itself is thin: A bigoted, ambitious pharma exec wants to cut costs by doing away with the privileges Lou and his colleagues require in order to do their work; a jealous member of Lou's fencing club starts to harass and persecute him; the pharma company begins testing a treatment that might cure autism… and Lou is pressured into taking part in it, even though he's not so sure that he wants to become "normal." Forget the plot: This book is an empathetic, absorbing installment in science fiction's tradition of books about intelligence/perception, from J.D. Beresford's The Hampdenshire Wonder (1911) to Daniel Keyes' Flowers for Algernon (1959). Along with Heinlein's Friday, Lou is a bridge between Humpty and Charly and William Gibson's pattern-recognizing Cayce Pollard. Of all of these characters, Lou may be the most sympathetic and lovable. Most readers dislike the ending, which feels rushed and overly convenient. Fun facts: Speed of Dark is a departure for the author, a computer specialist for the US Marines best known for her Heris Serrano "hard" sci-fi trilogy (1993–1995) and the Heinlein-esque Vatta's War series (2003–2008). It won the Nebula Award for Best Novel, and has been described as an exemplar of "Mundane Science Fiction" (MSF).

*

Ken MacLeod's Engines of Light sci-fi adventure Engine City. The third installment in MacLeod's epic of humans colonizing distant worlds — and discovering their true place in a vast interstellar community watched over by microcosmic gods — is in certain respects the most satisfying. Set in the city of Nova Babylonia, the greatest city of the Second Sphere (whence humankind, sentient dinosaurs, and evolved krakens, not to mention folkloric "Pithkies" and "gigants" were removed to, millennia ago), Engine City explores what happens when Grigory Andreievich Volkov and his group of renegade cosmonauts arrive in their improvised starship… and attempt to unite the placid utopia's various species against a self-replicating octopod race offering omnipotence and immortality. We've met these cosmonauts, in the previous installments; we've also met their antagonists — a Scottish anarchist computer programmer from the year 2049, the heiress of an interplanetary mercantile dynasty, and a pot-smoking saur. The Multipliers have interfered in the lives of Earth's species since prehistoric times — it was they who elevated the saurs and kraken; the "gods" (hyper-intelligent collectives of extremophile nanobacteria living inside asteroids) have prevented them from achieving their goals. When the alien invasion reaches Nova Babylonia, which side will win out? Fun facts: "Inclusivity is MacLeod's great principle," notes Colin Greenland in his review of the novel. "Few writers acknowledge, implicitly or explicitly, so many influences: not only old masters like Wells and Olaf Stapledon, Arthur C. Clarke and Poul Anderson, but also radical contemporaries like Gwyneth Jones and Bruce Sterling."

*

Carol Emshwiller's sci-fi adventure The Mount (2002). Like all humans, young Charley is used as a riding mount for Hoots — an alien species who centuries earlier arrived on Earth and mastered us. Like the horse narrator of Robert Lawson's Mr. Revere and I (1953), Charley is rather vain, clueless, and overly identified with his master's priorities. When his father, an unusually independent mount who's escaped and now leads a guerrilla movement against the Hoots, kidnaps him — along with the Hoot princeling with whom he has bonded — a reluctant Charley struggles against the conflicting appeal of freedom vs. security, family vs. friendship, and enlightenment vs. the social construction of reality. Which makes this sound like a heavy-handed, didactic treatise — but it's really more of a thought experiment beginning with the question, What would it take for an alien species to completely subjugate humankind? It's a fully realized (though not epic) alternative future; Emswhwiller's prose style is captivating; and our perception of the Hoots is manipulated expertly, evolving as we keep reading. Like all fairy tales, it's ending is too pat; otherwise, a gem. Fun facts: Kim Stanley Robinson said of The Mount, which won the Philip K. Dick Award, "We are all mounts and so should read this book like an instruction manual that could help save our lives." The author was married to Ed Emshwiller, illustrator of many covers for Galaxy, The Magazine of Fantasy & Science Fiction, etc.

*

Michael Frayn's psychological thriller Spies. When he returns to the Close, the London cul-de-sac where he'd grown up during WWII, the scent of a privet hedge reminds the now-elderly Stephen of a curious episode from his youth… when Keith, a lonely child from a better school, bullied him into playing Spies, a game of make-believe. Keith's own mother, a charming but mysterious woman, is their target; where does she vanish to, each day? The incomprehensible world of adults becomes their playground, as the two misfit boys engage in ever-riskier acts of surveillance. Writing this on the day after the Capitol Building was stormed by Trump supporters — who wore semi-frightening, semi-funny costumes, and who didn't seem to quite know what to do with themselves — I realize that this book explores what happens when make-believe games become too absorbing, because they offer compelling certainties attractive to those whose anxieties are strong and sense of self weak. The narrative switches back and forth between Stephen and Keith's adventures and the musings of grown-up Stephen, who wonders how he could have could have failed to see the tragic truth of what was happening. Fun facts: Spies won the 2002 Whitbread Novel of the year for achievement in literary excellence; and it was long-listed for the Man Booker Prize.
---
2003
---
Mark Haddon's epistemological adventure The Curious Incident of the Dog in the Night-Time. When his neighbor's dog, Wellington, is killed — impaled with a pitchfork — fifteen-year-old Christopher, the story's narrator, comes under suspicion. We are given to understand that our protagonist is on the autism spectrum… and his odd behavior and flat affect do not endear him to the police investigators. (He describes himself as "a mathematician with some behavioural difficulties.") Christopher lives with his father Ed, a boiler engineer, in the English town of Swindon; his mother, he has been told, died two years earlier. Although severely constrained by his difficulties in making sense of the overwhelming sensorial input of the world outside of mathematics, our hero courageously begins to investigate the dog's demise. As he tentatively explores his neighborhood before venturing even further afield, Christopher discovers just how little he'd previously known for sure about anything. The "murder mystery" is resolved quickly; the larger mystery is… life itself. Fun facts: The Curious Incident of the Dog in the Night-Time won the Whitbread Book Awards for Best Novel and Book of the Year, and the Guardian Children's Fiction Prize, among other honors. Its title refers to Arthur Conan Doyle's story "The Adventure of Silver Blaze": "'Is there any point to which you would wish to draw my attention?' 'To the curious incident of the dog in the night-time.' 'The dog did nothing in the night-time.' 'That was the curious incident,' remarked Sherlock Holmes."

*

Kate DiCamillo's children's fantasy adventure The Tale of Despereaux: Being the Story of a Mouse, a Princess, Some Soup, and a Spool of Thread. Despereaux, a castle mouse, is the only survivor of his mother's latest litter and an oddball with an undersized body and oversized ears. He learns to read… and (like Don Quixote) becomes obsessed with tales of chivalry. Which leads him to get acquainted with the castle's real-life princess, known as Pea. However, mice are forbidden to speak to humans; the castle's mouse council banishes Despereaux to the pitch-black dungeon… where he becomes friendly with Greogory, the jailer. There are other stories here, too: that of Roscuro, a rat who accidentally causes the death of Pea's mother; and Mig, a castle servant who fantasizes about becoming a princess, and who conspires with Roscuro. When Princess Pea is kidnapped, only Despereaux has the wit and courage to track her down and do what it takes to set her free. Fun facts: The book won the 2004 Newbery Medal award. The 2008 animated film adaptation of The Tale of Despereaux was directed by Sam Fell and Rob Stevenhagen. It is narrated by Sigourney Weaver and stars Matthew Broderick, Robbie Coltrane, Frances Conroy, Tony Hale, Ciarán Hinds, Dustin Hoffman, Richard Jenkins, Kevin Kline, Frank Langella, William H. Macy, Charles Shaughnessy, Stanley Tucci, Tracey Ullman, and Emma Watson.

*

Charles Stross's Eschaton sci-fi adventure Singularity Sky. Rochard's World is a technologically backward colony of the New Republic, a galaxy-spanning civilization that originated on Earth. When the Festival — an alien or posthuman civilization of uploaded minds —arrives, offering to swap molecular assemblers and other advanced tech in exchange for info and entertainment, a post-scarcity economy rapidly develops. The politically repressive New Republic prepares a military response, which is not only doomed to failure but — because it involves time travel — will certainly trigger the New Republic's devastation by the Eschaton. (At some point during the 21st century, back on Earth, a godlike artificial intelligence came into being and scattered the planet's population around the galaxy; the Eschaton's one commandment is "Thou shalt not violate causality" — disobey at your peril.) In the New Republic's capital city, Rachel Mansour, an augmented special ops agent who works for the United Nations — think of Iain M. Banks's Culture — recruits Martin Springfield, an interstellar ships-drive engineer hired by the New Republic's Admiralty, to prevent his employers from violating causality; Martin, however, is now what he seems. The two travel with the New Republic battle fleet as it heads to its certain doom — with Vassily Muller, a secret police agent, hot on their trail. The story's "information wants to be free" moral is tedious, and the writing veers close to parody (perhaps of Alastair Reynolds's 2000 space opera Revelation Space?), but this universe had potential. Alas, after one sequel Stross abandoned it. Fun facts: This was Stross's first novel published in book form; he was already well regarded for his stories. Though best known for his Merchant Princes (2004–ongoing) and Laundry Files (2004–ongoing) series, I prefer his stand-alone novels Accelerando (2005) and Glasshouse (2006), as well as Halting State (2007), the first installment in an incomplete trilogy.

*

Robert Kirkman, Tony Moore, and Charlie Adlard's sci-fi/western comic book The Walking Dead (2003-2019). Rick Grimes is a small-town Kentucky sheriff's deputy who wakes up from a coma to discover the world overrun by "walkers" — which is to say, zombies. He sets off in search of his wife Lori and son Carl, ad eventually tracks them to a camp of survivors. His partner and best friend, Shane, has also survived; but he and Rick have very different ideas about the right way to deal with the zombies. Also, Lori and Shane are now together, which is awkward. The series is about Rick's struggle to lead a group of survivors in search of a safe haven… without compromising his moral code. This quest becomes ever more difficult, once they're forced to deal not only with walkers but other survivor groups. The black-and-white comic from Image was originally illustrated by Tony Moore; Charlie Adlard took over from issue #7 onward. A huge success for Image Comics, the series' 193rd and final issue was released in 2019. Fun facts: The Walking Dead media franchise has grown to include a long-running TV series (2010–2022, starring Andrew Lincoln as Rick Grimes), plus TV spinoffs such as Fear the Walking Dead (2015–ongoing); multiple web series; three forthcoming movies (so far); several novels; several videogames; boardgames, action figures, and more.

*

Margaret Atwood's MaddAddam adventure Oryx and Crake (2003). Snowman is this grim postapocalyptic tale's omega man — one of the few remaining human beings alive on Earth, with only genetically modified humanoid "Crakers" to keep him company. Snowman grew up in an early 21st-century world dominated by multinational corporations (with George Saunders-like names, e.g., RejoovenEsense); his father was a genetic engineer who helped develop pigoons, rakunks, snats, and other mutations. While growing up in a biotech corporate compound, our protagonist's closest friend was "Crake," a mildly autistic boy with whom he shared an obsession with smoking weed, playing online videogames, and watching live executions, graphic surgery, frog squashing, and child pornography… you know, YouTube. Crake grows up to be a brilliant geneticist and proto-Incel, who devises a plan to replace humans with peaceful, gentle, herbivorous humanoids who aren't sexually jealous — you guessed it, the Crakers. (He also develops a Viagra-like pill which secretly causes sterilization; the more I think about it, the more Crake reminds me of De Soto, in Seeds of Life.) The titular Oryx, meanwhile, is a waif-like woman who becomes entangled in their lives — and in Crake's sinister plans. Snowman and his Craker neighbors embark on a journey in search of answers…. Fun facts: A finalist for the Booker Prize, Oryx and Crake is the first in a trilogy that includes The Year of the Flood (2009) and MaddAddam (2013). An adaptation of the MaddAddam trilogy is in development at Paramount Television.

*

CLAMP's manga series xxxHolic (2003–2011). The manga xxxHolic (pronounced simply "holic"), which is illustrated in a style influenced by 18th-century Japanese woodblock prints in the Ukiyo-e style, was created by the all-female manga artist group CLAMP. Our protagonist, Watanuki, is a high-school student tormented by spirits that only he can perceive; as the series begins, he becomes the servant of Yūko, a kindly but mysterious witch who offers to exorcise the spirits in exchange for his service. In Yūko's service, however, Watanuki finds himself experiencing supernatural phenomena — and weird customers — that are just as bad, or worse, than his spirit problem. Kunogi, Watanuki's love interest, and Dōmeki, a classmate whom Watanuki initially hates but whose friendship he comes to value, also join in his various adventures. Fun facts: xxxHolic was serialized in Kodansha's weekly Young Magazine from 2003–2010; it then moved to the magazine Bessatsu Shōnen until ending in February 2011. It has been released as a series of 19 tankōbon volumes. It was adapted as a 2005 animated film, followed by a 2006–2011 anime TV series. The group CLAMP consists of Nanase Ohkawa, who does much of the writing, and the artists Mokona, Tsubaki Nekoi, and Satsuki Igarashi.

*

Cory Doctorow's sci-fi adventure Down and Out in the Magic Kingdom. In the 22nd century, the dominant worldwide culture is the "Bitchun Society" — a post-scarcity culture in which rejuvenation and body-enhancement have made death obsolete, everyone enjoys basic rights, and "whuffie" (online social reputation) has replaced money as a way of apportioning status and luxuries. Our narrator, Jules, is a young man of 100 or so who's been brought back to life ("restored from backup") four times so far; he now lives at Walt Disney World, which is run by rival "ad-hocs," who — having seized the park from a gang of wealthy former shareholders who had been operating it as their private preserve — compete for whuffie by enhancing the theme park's rides with high-tech upgrades. Julius and his girlfriend, Lil, help oversee the Magic Kingdom's Liberty Square. This peaceful anarchist utopia has recently been disrupted by a new group, which provides immersive direct-to-brain interfaces that threaten to make the analog Walt Disney World as we've known it obsolete. Can Julius stop his favorite ride, the Haunted Mansion, from being virtualized? Or will he be murdered — again — by a shadowy rival? Fun facts: For nearly twenty years, Doctorow was a co-editor of the blog Boing Boing. Down and Out in the Magic Kingdom won a Locus Award for Best First Novel. It was the first novel released under one of the Creative Commons licenses. A semi-sequel short story, "Truncat" was also published in 2003.

*

William Gibson's Blue Ant sci-fi adventure Pattern Recognition. The first of Gibson's sci-fi novels to be set in the present. Pattern Recognition takes as its subject the near impossibility of making sense — and finding meaning — in our contemporary age. Cayce Pollard, a Bobby Newmark-like consultant whose acute psychological sensitivity to logos and advertising has transformed her into a kind of magical semiotician, is working with the edgy viral advertising/coolhunting firm Blue Ant on a shoe company's logo when Blue Ant honcho Hubertus Bigend hires her to do a little aesthetic detective work. Who has been posting a series of artistic film clips to [YouTube]? Shuttling from New York to London, Tokyo, and Moscow, Cayce ponders what it might portend that the clips — outsider art, essentially — have attracted a cult following, a hive-mind buzzing with wrong-headed ideas. Bigend, our antihero, is a bullshit artist seeking to exploit the clips' anonymous creator. Like Chia in Idoru (1996), Cayce runs afoul of the Russian Mafia — and must rely on talented Internet friends to rescue her. Fun facts: The first in a series followed by Spook Country (2007), in which Bigend hires another young woman, Hollis Henry, to track down another artwork, and Zero History (2010). Sonic Youth's 2004 song "Pattern Recognition" pays tribute to this novel, a bestseller.

*

Neal Stephenson's Baroque Cycle historical adventure Quicksilver. The 900-page Quicksilver is the first volume in the author's late Baroque historical fiction series; imagine John Jakes' Kent Family Chronicles if Jakes had been obsessed with the history of mathematics and cryptography. One of our many characters here is the natural philosopher Daniel Waterhouse, whose descendant Lawrence Waterhouse plays a key role in Stephenson's 1999 adventure Cryptonomicon; another is Jack Shaftoe, "King of the Vagabonds," whose descendant Bobby Shaftoe is also a protagonist of Cryptonomicon. Another central character here is Eliza, a European slave in a Turkish harem who escapes to France — where she becomes a French countess, investor, and spy for William of Orange. In what amount to three separate novels, which are narrated through letters, theatrical staging, and via other means, we get a crash course in the politics, economics and culture of early Enlightenment-era England, France, and the United Provinces. Leibniz's theory of binary mathematics (without which we wouldn't have developed computers), networks and codes, philosophy, court intrigue, wars, plagues — it's all here, in a richly complex tall tale. Fun facts: Reissued in 2006 as three paperbacks: Quicksilver, The King of the Vagabonds, and Odalisque. Followed by The Confusion and The System of the World (both published in 2004). Quicksilver won the Arthur C. Clarke Award.

*

Chris Ware's ACME Novelty Library comic Quimby the Mouse. Before he gave us Jimmy Corrigan and Rusty Brown, Chris Ware gave us Quimby the Mouse — a nostalgic, hopeless Mickey Mouse homage/parody with which he first experimented while contributing to the University of Texas at Austin's student newspaper in 1990–1991, then introduced to the world via the pages of the high-lowbrow comics journal Raw, as well as via Ware's own Fantagraphics comic book series The ACME Novelty Library. The recurring character is trapped in two relationships: with Sparky, a disembodied cat's head; and with an older mouse's head that in some strips is shown attached to his own body. At the level of form, the strips are wildly inventive and genre-defying; they rarely proceed in any kind of left-to-right, top-to-bottom linear fashion, and even when they do they jump around in time and/or phase in and out of different levels of perception. (Ware has cited Joseph Cornell's surrealist assemblages — found objects arranged into quasi-narrative dioramas or tableaux — as an inspiration.) Despite being nihilistic vehicles of the author's angst and self-recrimination, though, Quimby's adventures are also — like Mickey Mouse's — amusing and even optimistic! The Quimby stories, as well as the other vivid strips, advertisements, letter columns, etc., contained in the gorgeous 2003 collection offer a master class in cartooning and graphic design history; Ware is a cartoonist's cartoonist, who permanently elevated the genre. Fun facts: "I see the black outlines of cartoons as visual approximations of the way we remember general ideas, and I try to use naturalistic color underneath them to simultaneously suggest a perceptual experience, which I think is more or less the way we actually experience the world as adults," Ware has explained in an interview. "We don't really 'see' anymore after a certain age, we spend our time naming and categorizing and identifying and figuring how everything all fits together."
***
JOSH GLENN'S *BEST ADVENTURES* LISTS: BEST 250 ADVENTURES OF THE 20TH CENTURY | 100 BEST OUGHTS ADVENTURES | 100 BEST RADIUM AGE (PROTO-)SCI-FI ADVENTURES | 100 BEST TEENS ADVENTURES | 100 BEST TWENTIES ADVENTURES | 100 BEST THIRTIES ADVENTURES | 75 BEST GOLDEN AGE SCI-FI ADVENTURES | 100 BEST FORTIES ADVENTURES | 100 BEST FIFTIES ADVENTURES | 100 BEST SIXTIES ADVENTURES | 75 BEST NEW WAVE SCI FI ADVENTURES | 100 BEST SEVENTIES ADVENTURES | 100 BEST EIGHTIES ADVENTURES | 75 BEST DIAMOND AGE SCI-FI ADVENTURES | 100 BEST NINETIES ADVENTURES | 75 BEST HADRON AGE SCI-FI ADVENTURES | NOTES ON 21st-CENTURY ADVENTURES.