KLAATU YOU (19)
By: Dan Fox
May 6, 2020
One in a weekly series of enthusiastic posts, contributed by HILOBROW friends and regulars, on the topic of our favorite pre-Star Wars science fiction movies.
*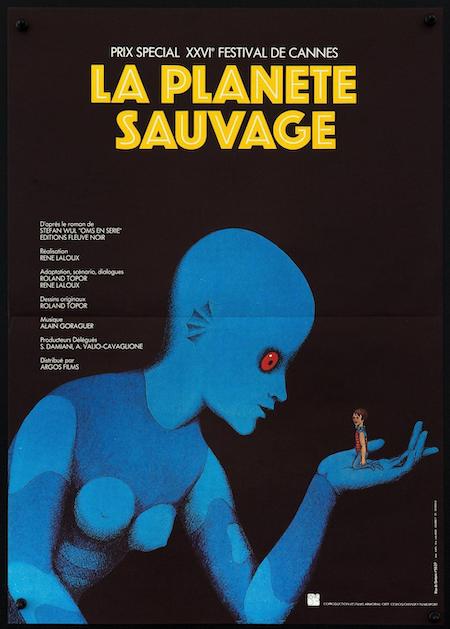 LA PLANÈTE SAUVAGE (FANTASTIC PLANET) | d. RENÉ LALOUX | 1973
As a classic of European science-fiction, focussing on inner space as opposed to the technology driven Anglo-American sci-fi of outer space — software versus hardware, you could say — the meaning of La Planète Sauvage (Fantastic Planet, co-authored by René Laloux and Roland Topor) is dreamily fungible.
Set in an eerily empty landscape straight out of a De Chirico or Ernst painting, this story of the human Oms who are terrorized by giant, blue Draags on the planet Ygam, has been variously interpreted as an allegory of racism, human rights and animal liberation. Perhaps it is also a film about imperialism: it was made in collaboration with the Jiri Trnka studio in Prague, but pre-production was interrupted by the Soviet invasion of Czechoslovakia. It took until 1973 before the film was completed and took the Grand Prix special jury prize at Cannes that year. (The reportedly painstaking process of animating Topor's beautiful, cross-hatched paper cut-outs might also account for the slow production.) Furthermore, maybe it's an elaborate metaphor for oral hygiene: the original story was by Stefan Wul, pen-name of French dentist Pierre Pairault. Whatever you take from it, Fantastic Planet is a wonderful work of imagination.
I like to think of it as a Swiftian satire of the 1960s. Alain Goraguer's trippy, hypnotic score makes no effort to sound futuristic; it constantly sounds as if his famous collaborator Serge Gainsbourg is about to start singing along. The fantastical plants and animals of planet Ygam could imaginably be encountered by The Beatles in Yellow Submarine. (What are the turquoise-skinned Draags if not cousins of the Blue Meanies?) The adult Draags spend their time in endless political meetings, or "meditating" — which involves taking trips a nearby moon where they hold transcendental orgies. While the narcissistic adults indulge themselves, they leave their children to be educated by computers and play cruel games torturing their pet Oms. Meanwhile the Oms, when they're not busy escaping predatory beasts or the Draag's genocidal campaigns against them, are a bunch of tiresome, superstitious long-hairs whose attempts at communal living are abject and dysfunctional, replicating patriarchal power structures which are clearly leading them into a death spiral of ideological infighting.
In this reading, the Draags are Laurel Canyon rock stars living a life of complete self-indulgence, and the Oms are a failing alternative community on a grim farm somewhere in Vermont. With this in mind, I can imagine a sequel in which the Draags and Oms reconcile their differences in order to invade Planet Earth and rule over it using an addictive and socially catastrophic communications technology.
***
KLAATU YOU: INTRODUCTION by Josh Glenn | Matthew De Abaitua on ZARDOZ | Miranda Mellis on METROPOLIS | Rob Wringham on THE INVISIBLE MAN | Michael Grasso on THE ANDROMEDA STRAIN | Gordon Dahlquist on 2001: A SPACE ODYSSEY | Erik Davis on DARK STAR | Carlo Rotella on THE OMEGA MAN | Madeline Ashby on KISS ME DEADLY | Adam McGovern on SILENT RUNNING | Michael Lewy on THIS ISLAND EARTH | Josh Glenn on WILD IN THE STREETS | Mimi Lipson on BARBARELLA vs. SINS OF THE FLESHAPOIDS | Vanessa Berry on THE FLY | Lynn Peril on ATTACK OF THE 50 FOOT WOMAN | Peggy Nelson on SOLARIS | Adrienne Crew on LOGAN'S RUN | Ramona Lyons on THE MAN WHO FELL TO EARTH | Kio Stark on THE STEPFORD WIVES | Dan Fox on FANTASTIC PLANET | Chris Lanier on IKARIE XB-1 | Devin McKinney on IDAHO TRANSFER | Mark Kingwell on THUNDERBIRDS ARE GO | Luc Sante on THE TENTH VICTIM | William Nericcio on DEATH RACE 2000 | Rob Walker on CAPRICORN ONE | Gary Panter on ANGRY RED PLANET | David Levine on THE STEPFORD WIVES | Karinne Keithley Syers on ALPHAVILLE | Carolyn Kellogg on IT CAME FROM OUTER SPACE | Sara Ryan on ESCAPE TO WITCH MOUNTAIN | Lisa Jane Persky on PLAN 9 FROM OUTER SPACE | Adam Harrison Levy on BENEATH THE PLANET OF THE APES | Gerald Peary on CREATURE FROM THE BLACK LAGOON | Susannah Breslin on A CLOCKWORK ORANGE | Seth on WAR OF THE WORLDS | James Hannaham on GOJIRA/GODZILLA | Lydia Millet on VILLAGE OF THE DAMNED | Matthew Daniel on FANTASTIC VOYAGE | Shawn Wolfe on ROLLERBALL | Erin M. Routson on WESTWORLD | Marc Weidenbaum on COLOSSUS: THE FORBIN PROJECT | Neil LaBute on 20,000 LEAGUES UNDER THE SEA | Vicente Lozano on DAY OF THE DOLPHIN | Tom Roston on SLAUGHTERHOUSE-FIVE | Katya Apekina on A BOY AND HIS DOG | Chelsey Johnson on THE BLOB | Heather Kapplow on SPACE IS THE PLACE | Brian Berger on THE BEAST FROM 20,000 FATHOMS | Anthony Miller on THE DAY THE EARTH STOOD STILL.
MORE ENTHUSIASM at HILOBROW
NERD YOUR ENTHUSIASM (4Q2021): NERDING | ARDUIN | KLINGON CONFIDENTIAL | MAP INSERTS | TIME | & 20 other nerdy passions. SWERVE YOUR ENTHUSIASM (3Q2021): WARHOL'S WALT WHITMAN | 70, GIRLS, 70 | TYRAEL'S MIGHT | SHIRATO SANPEI | THE LEON SUITES | & 20 other never-realized cultural productions. FIVE-O YOUR ENTHUSIASM (2Q2021): DARK SHADOWS | MANNIX | GET SMART | THE ADDAMS FAMILY | I DREAM OF JEANNIE | & 20 other Sixties (1964–1973) TV shows. FERB YOUR ENTHUSIASM (1Q2021): STEVEN UNIVERSE | TOP CAT | REN & STIMPY | SHE-RA AND THE PRINCESSES OF POWER | DRAGON BALL Z | & 20 other animated series. CARBONA YOUR ENTHUSIASM (2020): "Sex Bomb" | "Going Underground" | "Soft South Africans" | "Typical Girls" | "Human Fly" | & 20 other Seventies (1974–1983) punk singles. KLAATU YOU (2020 weekly): ZARDOZ | METROPOLIS | DARK STAR | SINS OF THE FLESHAPOIDS | SOLARIS | & dozens of other pre-STAR WARS sci-fi movies. CONVOY YOUR ENTHUSIASM (2019): THE TAKING OF PELHAM ONE TWO THREE | ROLLERBALL | BLACK SUNDAY | SORCERER | STRAIGHT TIME | & 20 other Seventies (1974–1983) action movies. SERIOCOMIC (2019 weekly): LITTLE LULU | VIZ | MARSUPILAMI | ERNIE POOK'S COMEEK | HELLBOY | & dozens of other comics. TUBE YOUR ENTHUSIASM (2018): LOONEY TUNES | THREE STOOGES | THE AVENGERS | ROCKY & BULLWINKLE | THE TWILIGHT ZONE | & 20 other Fifties (1954–1963) TV shows. WOWEE ZOWEE (2018 weekly): UNISEX | UNDER THE PINK | DUMMY | AMOR PROHIBIDO | HIPS AND MAKERS | & dozens of other Nineties (1994–2003) albums. KLUTE YOUR ENTHUSIASM (2017): THE KILLERS | BANDE À PART (BAND OF OUTSIDERS) | ALPHAVILLE | HARPER | BLOW-UP | & 20 other Sixties (1964–1973) neo-noir movies. #SQUADGOALS (2017 weekly): THE WILD BUNCH | BOWIE'S BAND | THE BLOOMSBURY GROUP | THE HONG KONG CAVALIERS | VI ÄR BÄST! & dozens of other squads. GROK MY ENTHUSIASM (2016 weekly): THE THEORY AND PRACTICE OF LUNCH | WEEKEND | MILLION YEAR PICNIC | LA BARONNE EMILE D'ERLANGER | THE SURVIVAL SAMPLER | & dozens more one-off enthusiasms. QUIRK YOUR ENTHUSIASM (2016): "Tainted Love" | "Metal" | "Frankie Teardrop" | "Savoir Faire" | "Broken English" | & 20 other Seventies (1974–1983) new wave singles. CROM YOUR ENTHUSIASM (2015): DARKER THAN YOU THINK | THE SWORD IN THE STONE | OUT OF THE SILENT PLANET | THIEVES' HOUSE | QUEEN OF THE BLACK COAST | & 20 other Thirties (1934–1943) fantasy novels. KERN YOUR ENTHUSIASM (2014): ALDINE ITALIC | DATA 70 | TORONTO SUBWAY | JOHNSTON'S "HAMLET" | TODD KLONE | & 20 other typefaces. HERC YOUR ENTHUSIASM (2013): "Spoonin' Rap" | "Rapper's Delight" | "Rappin' Blow" | "The Incredible Fulk" | "The Adventures of Super Rhyme" | & 20 other Seventies (1974–1983) hip-hop songs. KIRK YOUR ENTHUSIASM (2012): Justice or vengeance? | Kirk teaches his drill thrall to kiss | "KHAAAAAN!" | "No kill I" | Kirk browbeats NOMAD | & 20 other Captain Kirk scenes. KIRB YOUR ENTHUSIASM (2011): THE ETERNALS | BLACK MAGIC | DEMON | OMAC | CAPTAIN AMERICA | & 20 other Jack Kirby panels.