MOVIE OBJECTS (10)
By: Carolina A. Miranda
April 28, 2020
One in a series of 25 nonfiction narratives about significant objects spotted in movies. Presented to HILOBROW's readers by Project:Object.
*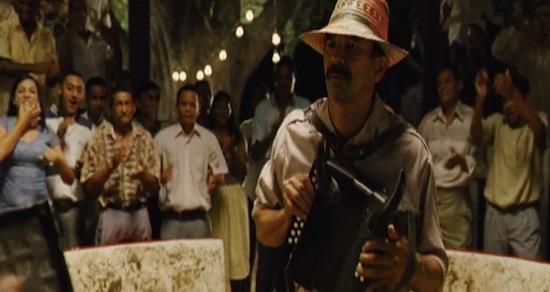 HAUNTED ACCORDION | THE WIND JOURNEYS | d. CIRO GUERRA | 2009
It is the instrument of bounce.
A few notes and the knees bend. A few more, and the head bobs. A dozen bars, and the shoulders loosen and the hips groove. In large swaths of Latin America, the accordion is the musical language of dance parties — of Mexican norteños, Dominican merengues and Colombian cumbias. Since it was introduced to the American continent at various points over the 19th century, it's been the soundtrack of staying up late and having one or two or three too many.
It can be a tool of God. (A popular Colombian legend tells the tale of the troubadour accordionist, Francisco el Hombre, who defeated the devil himself in a duel of musical improvisation.) It can also be the instrument of the devil. That's how it's presented in The Wind Journeys, in which an itinerant musician, a taciturn old man named Ignacio Carrillo, travels more than 500 miles across a majestic Colombian landscape — much of it on a donkey — to return a haunted accordion to the teacher who had once bequeathed it to him.
Accordions can be large, sparkling instruments of supremely good vibes. But in this movie, the button accordion that serves as the principal narrative device of the film is small and dark. Its principal decorative motif consists of a pair of menacing horns that emerge from the instrument's body. The first time the viewer sees it, it hangs glumly on the wall of Ignacio's shack.
In fact, for much of the early part of The Wind Journeys, you see the accordion more than you hear it. Ignacio, mourning his wife's death, adamantly refuses to play it. He also refuses to provide any sort of explanation why it's so urgent that it be returned. But a few days into his journey, desperate for money, he reluctantly enters an accordion duel — a typical piquería — that offers a cash prize. It is there, in the village of Becerril, not far from the land that gave birth to Gabriel García Márquez, that Ignacio straps on the accordion and enters the ring like a veteran prize fighter.
And he doesn't so much play the accordion as let it play him. An object exerting its power, a man as its vessel. A capitulation to the forces, mysterious and sublime, that lie beyond human control.
*
MOVIE OBJECTS: INTRODUCTION | Ramona Lyons on EYE OF THE SERPENT (CONAN THE BARBARIAN) | Faythe Levine on BEDKNOB (BEDKNOBS AND BROOMSTICKS) | Gerald Peary on CUP OF COFFEE (THE BIG HEAT) | Christopher Orr on TOM'S HAT (MILLER'S CROSSING) | Lynn Peril on TRANSISTOR RADIO (DR. STRANGELOVE) | Whitney Bowers on DUCT TAPE (NOW AND THEN) | Kio Stark on CANDLE (DEBBIE DOES DALLAS) | Tom Roston on CALCULATOR WATCH (BREAKFAST CLUB) | Miranda Mellis on LIMOUSINE (MELANCHOLIA) | Carolina A. Miranda on HAUNTED ACCORDION (THE WIND JOURNEYS) | Vanessa Berry on FIBREGLASS MARLIN (LOVE SERENADE) | June Thomas on CERAMIC DUCKS (A TASTE OF HONEY) | Madeline Ashby on LETTERS OF TRANSIT (CASABLANCA) | Dave Walker on ETTINAUER 226-XL (REAL LIFE) | Jonathan Lethem on SINGLE-JACK HAMMER (EARTH ABIDES) | Guy Trebay on STAMPS (CHARADE) | Annie Nocenti on PASSPORT (THE PASSENGER) | Tony Arcabascio on SHEEPSKIN COAT (BEAT STREET) | Alix Lambert on TYPEWRITER (MARY AND MAX) | John Sellers on WHITEBOARD (A QUIET PLACE) | Carlo Rotella on POWDERING CONE (REIGN OF TERROR) | Laura Miller on SEVERED EAR (BLUE VELVET) | Josh Glenn on CASSETTE TAPE (BREATHLESS) | Vicente Lozano on NOTEBOOK (WHERE IS THE FRIEND'S HOME?) | Jeff Malmberg on SPAGHETTI SAUCE (THE GODFATHER).
LOST OBJECTS (vol. 2): INTRODUCTION | Joe Yonan on MACRAMÉ ART (ill. Theo Ellsworth) | Ben Katchor on LUCITE CARRYING CASE | Debbie Millman on GLASS POODLE | Lydia Millet on ROCKY HORROR NOVEL (ill. Berta Valló) | Ben Greenman on WARHOL CAN (ill. Clara Selina Bach) | & 20 MORE.
FETISHES: INTRODUCTION | Josh Foer on DEATH MASK | Beth Lisick on MURDERED-OUT KFC BUCKET | Christina Couch on LEECH ACTION FIGURE | Kenneth Goldsmith on THEWLIS SOCK | Abby Rapoport on MAGNATILES | & 20 MORE.
FOSSILS: INTRODUCTION | Allegra Huston on SKATAWAY JACKET | Kevin Obsatz on HOMEMADE NUNCHUKS | Ian Bogost on DESKTOP TELEPHONE | Jeff Lewonczyk on CHA-CHA JACKET SCRAP | Kelly Horan on VOLVO KEY | & 20 MORE.
FLAIR: INTRODUCTION | Cliff Kuang on ROLEX DATEJUST | Ethan Zuckerman on LAPTOP STICKERS | Ann Shoket on LEATHER JACKET | Kembrew McLeod on KEMBREW MERCH | Paola Antonelli on MERMAID TEARS | & 20 MORE.
LOST OBJECTS (vol. 1): INTRODUCTION | Kate Bernheimer on MULLET WIG (ill. Amy Evans) | Dan Piepenbring on COLOGNE (ill. Josh Neufeld) | Doug Dorst on STRATOCASTER (ill. John Holbo) | Paul Lukas on VANILLA BEAN (ill. Allison Bamcat) | Mimi Lipson on DODGE DART (ill. Mister Reusch) | & 20 MORE.
ILLICIT OBJECTS: INTRODUCTION | Kio Stark on PEEPSHOW TOKEN | Sari Wilson on TOMBSTONE PARTS | Annalee Newitz on CAR-BOMB REMNANT | Tito Bottitta on MOONINITE DEVICE | Eric Bennett on DIRTY MAGAZINE | & 20 MORE.
TALISMANIC OBJECTS: INTRODUCTION | Veda Hille on CROCHET SHEEP | Gary Panter on DINOSAUR BONES | Jami Attenberg on SELENITE CRYSTAL | Annie Nocenti on MINIATURE DICE | Wayne Curtis on CLOCK WINDING KEY | & 20 MORE.
POLITICAL OBJECTS: INTRODUCTION | Luc Sante on CAMPAIGN PAMPHLETS | Lydia Millet on PVC POLAR BEAR | Ben Greenman on MATCHBOX CAR | Rob Baedeker on PRESIDENTS PLACEMAT | L.A. Kauffman on WHEATPASTE POSTER | & 20 MORE.
SIGNIFICANT OBJECTS at HILOBROW: PROJECT:OBJECT homepage | PROJECT:OBJECT newsletter | PROJECT:OBJECT objects (Threadless shop — all profits donated to the ACLU) | POLITICAL OBJECTS series (1Q2017) | TALISMANIC OBJECTS series (2Q2017) | ILLICIT OBJECTS series (3Q2017) | LOST OBJECTS vol. 1 series (4Q2017) | FLAIR series (2Q2018) | FOSSIL series (4Q2018) | FETISHES series (2Q2019) | LOST OBJECTS vol. 2 series (4Q2019) | MOVIE OBJECTS series (2Q2020). ALSO SEE: SIGNIFICANT OBJECTS website | SIGNIFICANT OBJECTS collection, ed. Rob Walker and Josh Glenn (Fantagraphics, 2012) | TAKING THINGS SERIOUSLY, ed. Josh Glenn (Princeton Architectural Press, 2007) | TAKING THINGS SERIOUSLY excerpts.