MOVIE OBJECTS (20)
By: John Sellers
May 28, 2020
One in a series of 25 nonfiction narratives about significant objects spotted in movies. Presented to HILOBROW's readers by Project:Object.
*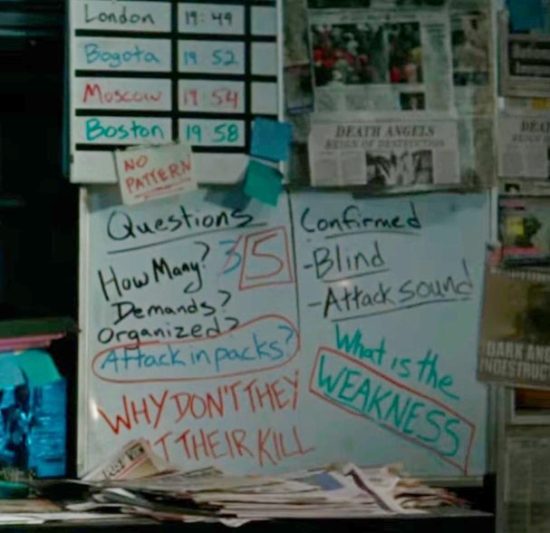 WHITEBOARD | A QUIET PLACE | d. JOHN KRASINSKI | 2018
In a post-apocalyptic scenario involving seemingly indestructible monsters that react murderously to even the slightest sound, a really smart thing to do is write "What is the WEAKNESS" and "WHY DON'T THEY EAT THEIR KILL" on a whiteboard using what was presumably a squeaky green marker. Big fan of whiteboard note-taking here! It's just that, unlike John Krasinski's character in A Quiet Place, I wouldn't risk getting my life brutally ended by perturbed creatures just to spoonfeed plot exposition to the audience via speculative, erroneously punctuated scribblings.
But I would proudly hang this whiteboard prop on my wall, as it is art more valuable than anything Picasso ever mustered. Just look at this efficiently communicative whiteboard and marvel at its many succinct clues! "Questions," a list in one column begins. "How many? Demands? Organized? Attack in packs?" and the infamously question-mark-free "WHY DON'T THEY EAT THEIR KILL." The other column is headed "Confirmed," and reads. "Blind. Attack sound." It's all summed up by "What is the WEAKNESS," which we know is crucial because he's helpfully both written the final word in all caps and drawn a box around it.
Need more clues? Affixed to the whiteboard, press-clipping headlines scream "DEATH ANGELS: NIGHT OF DESTRUCTION" and "DEATH ANGELS INDESTRUCTIBLE?" A tacked-on board lists four cities and the times each were attacked, appended with a Post-it that concludes "NO PATTERN." At other points in the movie, an updated whiteboard can be seen. "Armor" has been added to the list of confirmed facts about the creatures, as is a note that you'll need medical supplies and sound-proofing to survive.
Stare at this masterpiece long enough and, even if you haven't seen the movie, you'll eventually realize, "Oh! This is a movie about a family struggling to survive in a world completely re-shaped by vicious, blind, armored, sound-attacking creatures that not only don't eat their kill but also don't seem to have any demands, motive, or agenda, and that unleash such unholy devastation that the press had no choice but to call them 'death angels.'"
In other words, the whiteboard reveals, with rebus-like maneuvers, that these monsters can only be killed by luring them somewhere within eyeshot of the whiteboard itself, quickly parsing its clues to determine that the creatures' armor is vulnerable to the high-pitched feedback given off by a modified cochlear implant, and capitalizing on the disruption to shoot them dead with a shotgun. Totally believable and very logical.
I both love and hate this whiteboard a lot, which makes sense, considering that the whiteboard is me. It's logical. It likes a list. It is prone to dramatics. And it is prepared. I recently purchased a small magnetized whiteboard with markers for our refrigerator door and my wife and I are now using it to write frantic messages to each other about Coronavirus. "Questions," it reads currently. "Need masks? How many? Deliver Friday?" and "WHY DON'T WE HAVE PURELL." We are ready for the apocalypse.
*
MOVIE OBJECTS: INTRODUCTION | Ramona Lyons on EYE OF THE SERPENT (CONAN THE BARBARIAN) | Faythe Levine on BEDKNOB (BEDKNOBS AND BROOMSTICKS) | Gerald Peary on CUP OF COFFEE (THE BIG HEAT) | Christopher Orr on TOM'S HAT (MILLER'S CROSSING) | Lynn Peril on TRANSISTOR RADIO (DR. STRANGELOVE) | Whitney Bowers on DUCT TAPE (NOW AND THEN) | Kio Stark on CANDLE (DEBBIE DOES DALLAS) | Tom Roston on CALCULATOR WATCH (BREAKFAST CLUB) | Miranda Mellis on LIMOUSINE (MELANCHOLIA) | Carolina A. Miranda on HAUNTED ACCORDION (THE WIND JOURNEYS) | Vanessa Berry on FIBREGLASS MARLIN (LOVE SERENADE) | June Thomas on CERAMIC DUCKS (A TASTE OF HONEY) | Madeline Ashby on LETTERS OF TRANSIT (CASABLANCA) | Dave Walker on ETTINAUER 226-XL (REAL LIFE) | Jonathan Lethem on SINGLE-JACK HAMMER (EARTH ABIDES) | Guy Trebay on STAMPS (CHARADE) | Annie Nocenti on PASSPORT (THE PASSENGER) | Tony Arcabascio on SHEEPSKIN COAT (BEAT STREET) | Alix Lambert on TYPEWRITER (MARY AND MAX) | John Sellers on WHITEBOARD (A QUIET PLACE) | Carlo Rotella on POWDERING CONE (REIGN OF TERROR) | Laura Miller on SEVERED EAR (BLUE VELVET) | Josh Glenn on CASSETTE TAPE (BREATHLESS) | Vicente Lozano on NOTEBOOK (WHERE IS THE FRIEND'S HOME?) | Jeff Malmberg on SPAGHETTI SAUCE (THE GODFATHER).
LOST OBJECTS (vol. 2): INTRODUCTION | Joe Yonan on MACRAMÉ ART (ill. Theo Ellsworth) | Ben Katchor on LUCITE CARRYING CASE | Debbie Millman on GLASS POODLE | Lydia Millet on ROCKY HORROR NOVEL (ill. Berta Valló) | Ben Greenman on WARHOL CAN (ill. Clara Selina Bach) | & 20 MORE.
FETISHES: INTRODUCTION | Josh Foer on DEATH MASK | Beth Lisick on MURDERED-OUT KFC BUCKET | Christina Couch on LEECH ACTION FIGURE | Kenneth Goldsmith on THEWLIS SOCK | Abby Rapoport on MAGNATILES | & 20 MORE.
FOSSILS: INTRODUCTION | Allegra Huston on SKATAWAY JACKET | Kevin Obsatz on HOMEMADE NUNCHUKS | Ian Bogost on DESKTOP TELEPHONE | Jeff Lewonczyk on CHA-CHA JACKET SCRAP | Kelly Horan on VOLVO KEY | & 20 MORE.
FLAIR: INTRODUCTION | Cliff Kuang on ROLEX DATEJUST | Ethan Zuckerman on LAPTOP STICKERS | Ann Shoket on LEATHER JACKET | Kembrew McLeod on KEMBREW MERCH | Paola Antonelli on MERMAID TEARS | & 20 MORE.
LOST OBJECTS (vol. 1): INTRODUCTION | Kate Bernheimer on MULLET WIG (ill. Amy Evans) | Dan Piepenbring on COLOGNE (ill. Josh Neufeld) | Doug Dorst on STRATOCASTER (ill. John Holbo) | Paul Lukas on VANILLA BEAN (ill. Allison Bamcat) | Mimi Lipson on DODGE DART (ill. Mister Reusch) | & 20 MORE.
ILLICIT OBJECTS: INTRODUCTION | Kio Stark on PEEPSHOW TOKEN | Sari Wilson on TOMBSTONE PARTS | Annalee Newitz on CAR-BOMB REMNANT | Tito Bottitta on MOONINITE DEVICE | Eric Bennett on DIRTY MAGAZINE | & 20 MORE.
TALISMANIC OBJECTS: INTRODUCTION | Veda Hille on CROCHET SHEEP | Gary Panter on DINOSAUR BONES | Jami Attenberg on SELENITE CRYSTAL | Annie Nocenti on MINIATURE DICE | Wayne Curtis on CLOCK WINDING KEY | & 20 MORE.
POLITICAL OBJECTS: INTRODUCTION | Luc Sante on CAMPAIGN PAMPHLETS | Lydia Millet on PVC POLAR BEAR | Ben Greenman on MATCHBOX CAR | Rob Baedeker on PRESIDENTS PLACEMAT | L.A. Kauffman on WHEATPASTE POSTER | & 20 MORE.
SIGNIFICANT OBJECTS at HILOBROW: PROJECT:OBJECT homepage | PROJECT:OBJECT newsletter | PROJECT:OBJECT objects (Threadless shop — all profits donated to the ACLU) | POLITICAL OBJECTS series (1Q2017) | TALISMANIC OBJECTS series (2Q2017) | ILLICIT OBJECTS series (3Q2017) | LOST OBJECTS vol. 1 series (4Q2017) | FLAIR series (2Q2018) | FOSSIL series (4Q2018) | FETISHES series (2Q2019) | LOST OBJECTS vol. 2 series (4Q2019) | MOVIE OBJECTS series (2Q2020). ALSO SEE: SIGNIFICANT OBJECTS website | SIGNIFICANT OBJECTS collection, ed. Rob Walker and Josh Glenn (Fantagraphics, 2012) | TAKING THINGS SERIOUSLY, ed. Josh Glenn (Princeton Architectural Press, 2007) | TAKING THINGS SERIOUSLY excerpts.