Diamond Age 75 (58)
By: Joshua Glenn
April 20, 2020
One in a series of posts about the 75 best science fiction novels published during the genre's Diamond Age era (from 1984–2003, according to HILOBROW's periodization schema). For Josh Glenn's complete Diamond Age Sci-Fi 75 list, click here.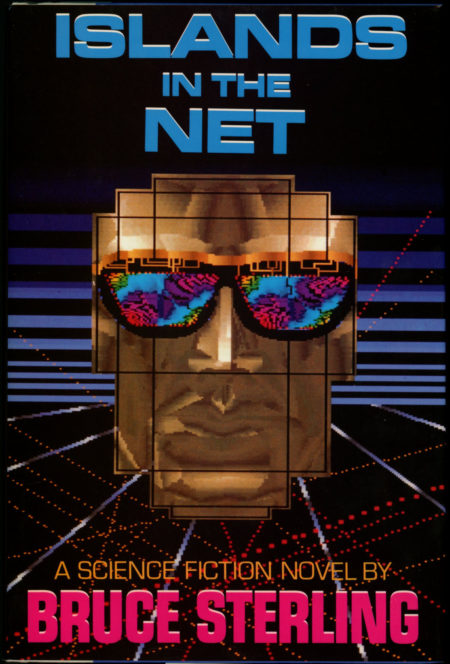 Bruce Sterling's Islands in the Net (1988).
In the near future — the 2020s (!) — economic and political life is dominated by democratized multinational corporations, and everyday life is shaped and misshaped by Net-enabled instantaneous worldwide communications. Yes, this is a cyberpunk novel… but our protagonist, far from being a rebellious young (usually male) hacker, is a married, middle-aged career woman. Laura Webster works for the multinational megaconglomerate Rizome, which stores its data in Granada, Luxemburg, and Singapore; these data havens, however, have been linked to anticapitalist terrorist activity. Laura, her architect husband, and their baby embark on a global tour to restore Rizome's damaged reputation. When one data haven representative is assassinated (via an armed drone), the story turns into a hunted-man adventure; Laura and her family find themselves hiding out among offshore scientists and artists, the Church of Isis, and agents of rival multinationals. Sticky Thompson, a face-changing terrorist with neurotoxin bacteria in his gut, and Jonathan Gresham, a rogue American journalist involved in a low-tech Tuareg nomad rebellion, are compelling characters. Sterling did a good job predicting wearable tech: Net-connected glasses and watches; and his Net is more like the one we experience today than the semi-hallucinatory, cyberspace version conjured up by William Gibson.
Fun facts: "I don't think any SF prognosis can hold up in sharp detail," Sterling said in a 2000 interview. "But I would bet that if you took a broad list of near-future 1980s science fiction novels and looked at them in the 2020s, Islands in the Net would seem far less ludicrous than most." Agreed.
***
DIAMOND AGE SCI-FI at HILOBROW: William Gibson | Bruce Sterling | Margaret Atwood | Ann Nocenti | Frank Miller | Alan Moore | Octavia E. Butler | Iain M. Banks | Grant Morrison | Neal Stephenson | Jonathan Lethem | Charles Burns | China Miéville.
JOSH GLENN'S *BEST ADVENTURES* LISTS: BEST 250 ADVENTURES OF THE 20TH CENTURY | 100 BEST OUGHTS ADVENTURES | 100 BEST RADIUM AGE (PROTO-)SCI-FI ADVENTURES | 100 BEST TEENS ADVENTURES | 100 BEST TWENTIES ADVENTURES | 100 BEST THIRTIES ADVENTURES | 75 BEST GOLDEN AGE SCI-FI ADVENTURES | 100 BEST FORTIES ADVENTURES | 100 BEST FIFTIES ADVENTURES | 100 BEST SIXTIES ADVENTURES | 75 BEST NEW WAVE SCI FI ADVENTURES | 100 BEST SEVENTIES ADVENTURES | 100 BEST EIGHTIES ADVENTURES | 75 BEST DIAMOND AGE SCI-FI ADVENTURES | 100 BEST NINETIES ADVENTURES (in progress) | 1994 | 1995 | 1996 | 1997 | 1998 | 1999 | 2000 | 2001 | 2002 | 2003 | NOTES ON 21st-CENTURY ADVENTURES.