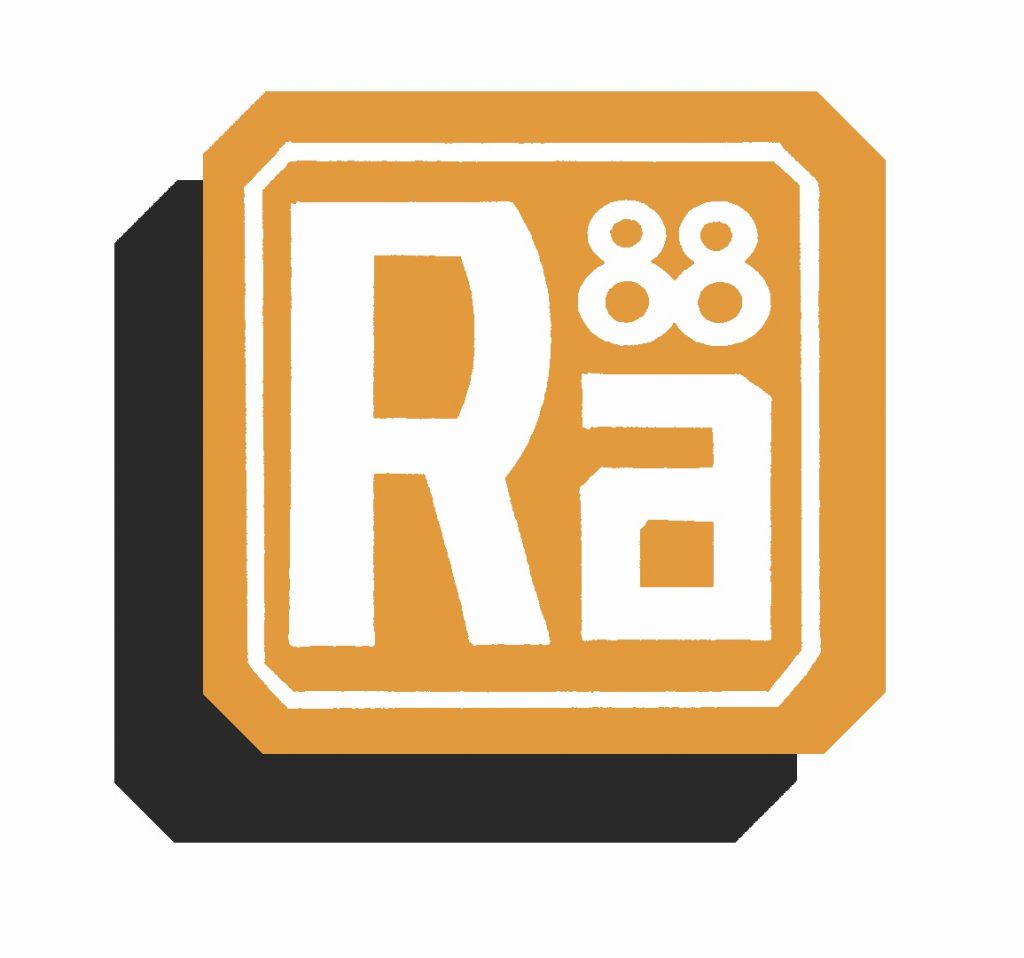 Under the direction of Joshua Glenn, the MIT Press's Radium Age is reissuing notable proto-sf stories from the underappreciated era between 1900–1935. In these forgotten classics, sf readers will discover the origins of enduring tropes like robots (berserk or benevolent), tyrannical supermen, dystopias and apocalypses, sinister telepaths, and eco-catastrophes. With new contributions by historians, science journalists, and sf authors, the Radium Age book series will recontextualize the breakthroughs and biases of these proto-sf pioneers, and chart the emergence of a burgeoning literary genre.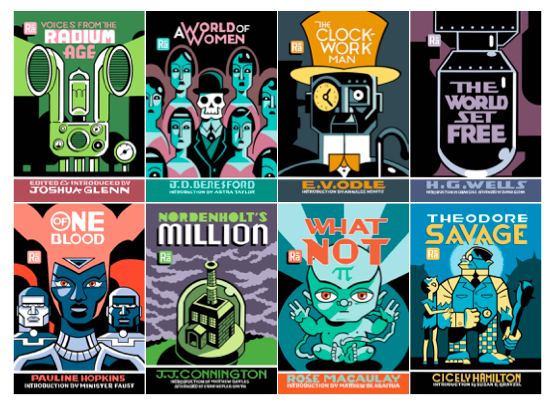 *
Press for the series, so far, includes the following…
Andrew Liptak of Transfer Orbit dedicated the entire March 8 issue of his sf newsletter to the series. "[Glenn has] made a huge effort to help define a new era of science fiction," he writes. Excerpt:


The series is designed to shed light on an under-appreciated era of the literature, one that's largely been ignored or downplayed by genre scholars. Despite that lack of attention, it was an era of radical improvisation and experimentation on the part of the period's writers, and while many of those works contain inherent flaws of their times, they held plenty of influence for the works and authors that would follow.

"Glenn and the MIT Press have made an excellent start at showcasing the strange wonders offered by the Radium Age." — April 25 issue of MAXIMUM SHELF, a weekly feature for booksellers published by Shelf Awareness
On May 3, The Financial Times described the Radium Age series like so: "Neglected classics of early 20th-century sci-fi in spiffily designed paperback editions."
On May 16, Scott Bradfield — author of The History of Luminous Motion — contributed a thoughtful writeup of the Radium Age series to the Los Angeles Times. Excerpt:


Long live the Radium Age, which was (at the very least) a good deal less horrific and disquieting than the one we're in now. Back then, the future possessed an almost mystical glow of strangeness that wasn't simply terrifying; and while it often promised calamities or even a halfway decent apocalypse, these sudden shifts could potentially open up the world to refreshed and invigorating possibilities.
We're grateful for the kind words!
*
NOW AVAILABLE
---
SPRING 2022
---
VOICES FROM THE RADIUM AGE
EDITED BY JOSHUA GLENN
Introduction by JOSHUA GLENN
(March 8, 2022)
---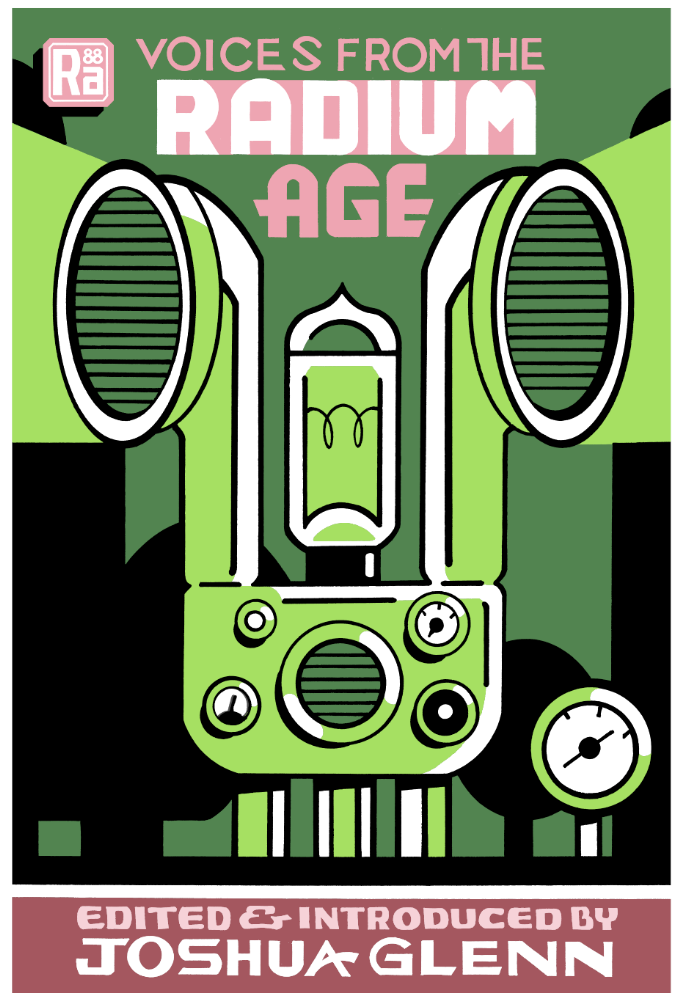 This collection of science fiction stories from the early twentieth century features work by the famous (Arthur Conan Doyle, creator of Sherlock Holmes), the no-longer famous ("weird fiction" pioneer William Hope Hodgson), and the should-be-more famous (Bengali feminist Rokeya Sakhawat Hossain). It offers stories by writers known for concerns other than science fiction (W.E.B. Du Bois, author of The Souls of Black Folk) and by writers known only for pulp science fiction (the prolific Neil R. Jones). These stories represent what volume and series editor Joshua Glenn has dubbed "the Radium Age" — the period when science fiction as we know it emerged as a genre. The collection shows that nascent science fiction from this era was prescient, provocative, and well written.
Press for Voices from the Radium Age includes the following…
In February Publishers Weekly noted, in a review of Voices from the Radium Age, that "the significance of these seven stimulating early 20th-century tales as what editor Glenn terms 'proto-sf' lies in their foreshadowing of the golden age of science fiction, with both famous and obscure authors developing important science fiction tropes still popular today. […] For early SF buffs, this will be a substantial delight."
On May 12, the Toronto Star said of Voices from the Radium Age:


This first volume is a great launch, containing a good mix of stories from some big names (E.M. Forster, Arthur Conan Doyle, Jack London, W.E.B. Du Bois) and a few that should be better known (Rokeya Sakhawat Hossain, William Hope Hodgson and Neil R. Jones). The nature of the Radium Age, and whether these works can or should be read as proto-SF or something else, is a matter fans can debate. But even if you're just looking for old-school adventure mixed with still trenchant social allegory this is a lineup full of winners. The rest of the series promises to be a just as big a treat and, with cover designs by Guelph artist Seth, they're nice to look at too.
JOSHUA GLENN is a consulting semiotician and editor of the websites HiLobrow and Semiovox. The first to describe 1900–1935 as science fiction's "Radium Age," he is editor of the MIT Press's series of reissued proto-sf stories from that period. He is coauthor and co-editor of various books including the family activities guide UNBORED (2012), The Adventurer's Glossary (2021), and Lost Objects (2022). In the 1990s, he published the indie intellectual journal Hermenaut.
ARTHUR CONAN DOYLE (1859–1930) was a Scottish physician and author best known today as creator of the detective Sherlock Holmes, about whom he would write four novels and dozens of short stories. He also penned historical novels, including The White Company (1891), and short stories including a series about Brigadier Gerard. His Professor Challenger proto-sf adventures include The Lost World (1912), The Poison Belt (1913), and The Land of Mist (1926).
W.E.B. DU BOIS (1868–1963) was an American sociologist, historian, civil rights activist, and public intellectual. He cofounded the National Association for the Advancement of Colored People (NAACP) in 1909 and edited The Crisis, its magazine, for twenty years. His 1903 collection of essays, The Souls of Black Folk (1903), is a landmark of African American literature. He wrote several novels and literary works, including "The Comet" (1920).
E.M. FORSTER (1879–1970) was an English author best known for A Room with a View (1908), Howards End (1910), and A Passage to India (1924), the latter two of which explore the irreconcilability of class differences. Although his 1911 collection The Celestial Omnibus contains several fantasy stories, Forster's importance to science fiction lies entirely in his 1909 novella "The Machine Stops" — which was a key influence on the 2008 Pixar movie WALL•E.
WILLIAM HOPE HODGSON (1877–1918) was an English poet, sailor, bodybuilder, and author of horror, fantastic, and proto-sf novels including The Boats of the "Glen Carrig" (1907), The House on the Borderland (1908), The Ghost Pirates (1909), and The Night Land (1912). He also wrote many stories, including the Sargasso Sea series, the Captain Gault series, and a series about Carnacki the Ghost Finder — one of the very first true "occult detectives" in fiction.
ROKEYA SAKHAWAT HOSSAIN (c. 1880–1932), commonly known as Begum Rokeya, was a Bengali feminist thinker, writer, educator and political activist from what today is Bangladesh. A pioneer of women's liberation in South Asia, her major works include the two-volume essay collection Matichur (1904 and 1922), "Sultana's Dream" (1908), Padmarag (1924), and Abarodhbasini (1931). To commemorate her legacy, Bangladesh observes Rokeya Day every December 9th.
NEIL R. JONES (1909–1988) wrote over thirty Professor Jameson stories, beginning in 1931, for pulp sf magazines including Amazing Stories, Astonishing Stories, and Super Science Stories. He was inspired by H.G. Wells's Martian invaders, from The War of the Worlds, to invent the Zoromes — whose fragile brains are encased in fearsome machines. Jones's 1930 story "The Death's Head Meteor" is thought to be the first to use the word "astronaut" in fiction.
JACK LONDON (1876–1916) was an American author, journalist, and social activist passionate about unionization, worker's rights, socialism, and eugenics. He is best known today for his novels The Call of the Wild (1903) and White Fang (1906), both of which are set in the Klondike Gold Rush, as well as for The Sea-Wolf (1904) and Martin Eden (1909). His proto-sf writing includes The Iron Heel (1908), The Scarlet Plague (1912), and The Star Rover (1914).
Stories originally published between 1905 and 1931. Cover designed by Seth. See this book at MIT Press.
---
A WORLD OF WOMEN
J.D. BERESFORD
Introduction by ASTRA TAYLOR
(March 15, 2022)
---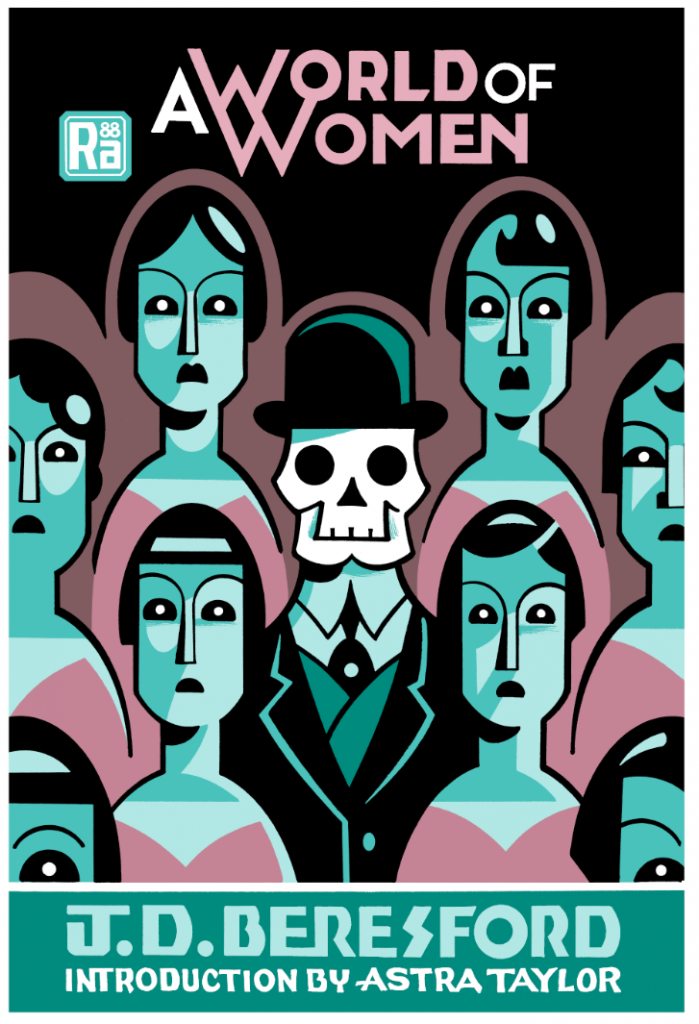 Imagine a plague that brings society to a standstill by killing off most of the men on Earth. The few men who survive descend into lechery and atavism. Meanwhile, a group of women (accompanied by one virtuous male survivor) leave the wreckage of London to start fresh, establishing a communally run agrarian outpost. This is the bleak world imagined in 1913 by English writer J. D. Beresford — one that has particular resonance for the planet's residents in the 2020s. This edition of A World of Women offers twenty-first century readers a new look at a neglected classic.
"A satire on the lives women lead nowadays and the appalling vanity of modern civilization." — The Publisher's Weekly (1913)

"It is a piece of the most vivid imaginative realism, as well as a challenge to our vaunted civilization." — The Living Age (1916)

"A World of Women speaks as urgently to the world today as to that of 100 years ago in its insistence that crisis must also be recognized as opportunity — to change our society, not to restore it." — Sherryl Vint, Professor and Chair, Department of English, University of California, Riverside
Press for MITP's edition of A World of Women includes the following…
Michael Dirda reviewed MITP's new edition of A World of Women and the Radium Age series for the March 24 issue of The Washington Post. Excerpt:


Insightfully introduced by Astra Taylor, A World of Women opens with a complacent civilization in collapse. The cause? A deadly virus, albeit one that attacks only men. […] Beresford envisions a new society, based on communitarian principles, without the trammels of religion, class and female subservience to men. […] Even a century after its first appearance, A World of Women remains highly readable and still sadly pertinent."

On March 23, the sf book-review site Popular Science described A World of Women as "a genuinely interesting SF novel with what was, for the period, particularly original thinking. It's a real asset to the series."
J.D. BERESFORD (1873–1947) was an English dramatist, journalist, and author. His proto-sf novels include The Hampdenshire Wonder (1911), A World of Women (1913), and The Riddle of the Tower (1944, with Esme Wynne-Tyson); he also wrote in the horror and ghost story genres. A great admirer of H.G. Wells, he wrote the first critical study of Wells in 1915. His daughter, Elisabeth Beresford (1926–2010), was creator of the literary and TV franchise The Wombles.
ASTRA TAYLOR is director of the philosophical documentaries Zizek! (2005), Examined Life (2008), and What Is Democracy? (2018). She is author of the American Book Award winner The People's Platform (2014) and Democracy May Not Exist, But We'll Miss It When It's Gone (2019), and a co-author of Can't Pay, Won't Pay: The Case for Economic Disobedience and Debt Abolition (2020). Her latest book is Remake the World: Essays, Reflections, Rebellions (2021).
Originally published in 1913. Cover designed by Seth. See this book at MIT Press.
---
THE CLOCKWORK MAN
E.V. ODLE
Introduction by ANNALEE NEWITZ
(May 3, 2022)
---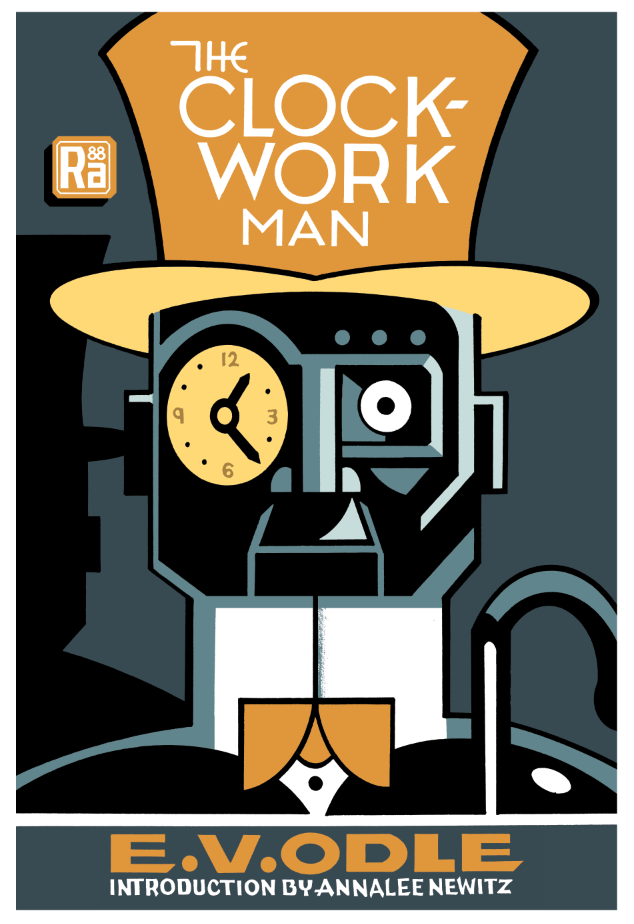 In 1920s England, a strange being crashes a village cricket game. After some glitchy, jerky attempts to communicate, this creature reveals that he is a machine-enhanced human from a multiverse thousands of years in the future. The mechanism implanted in his skull has malfunctioned, sending him tumbling through time onto the green grass of the cricket field. Apparently in the future, at the behest of fed-up women, all men will be controlled by an embedded "clockwork," camouflaged with hats and wigs. Published in 1923, The Clockwork Man — the first cyborg novel —tells the story of this odd time traveler's visit.
"It is a striking and original book, and there is a notable sermon in it for those who can dissociate sermons from long faces." — The Bookman (1923)

"Odle's ominous, droll, and unforgettable The Clockwork Man is a missing link between Lewis Carroll and John Sladek or Philip K. Dick." — Jonathan Lethem, author of The Arrest

"Perhaps the outstanding scientific romance of the 1920s." —Anatomy of Wonder, ed. Neil Barron
Press for MITP's edition of The Clockwork Man includes the following…
The April 25 issue of MAXIMUM SHELF, a weekly feature for booksellers published by Shelf Awareness, was devoted entirely to our edition of E.V. Odle's The Clockwork Man. Hank Stephenson writes:


The Clockwork Man is an excellent example of the promise of the Radium Age series, giving deserved attention to a hilarious and prescient work of science fiction that has almost been forgotten. Those interested in the preoccupations of science fiction will be amazed to see some of its most familiar and compelling tropes introduced in a book well before the advent of modern computers, while others will find a tremendously entertaining novel with a witty, absurdist bent.

There's also a short Q&A with Josh.

Tor.com's list of Can't Miss Indie Press Speculative Fiction for May and June 2022 announced that "The MIT Press's new Radium Age series is in the midst of releasing new editions of a host of under-discussed classics of the genre. This includes E.V. Odle's The Clockwork Man — complete with a new introduction by Annalee Newitz. Odle's novel tells the story of a time traveling cyborg who arrives in the 1920s, deconstructing gender roles along the way."
On May 2, Andrew Liptak of Transfer Orbit had the following to say about our new edition of The Clockwork Man. "This edition features an introduction by io9 co-founder Annalee Newitz, which is worth the price of admission alone."
E.V. ODLE (1890–1942) was a playwright, critic, and short-story writer who lived in Bloomsbury, London during the 1910s. Via his brother Alan's wife, the avant-garde writer Dorothy M. Richardson, Odle was introduced to the proto-sf author J.D. Beresford, who may have helped him publish The Clockwork Man — the only novel Odle published during his lifetime. He would go on to be the founding editor, c. 1926–1935, of the British short story-magazine The Argosy.
ANNALEE NEWITZ is the author of Four Lost Cities (2021), the novels The Future of Another Timeline (2019) and Autonomous (2017), which won the Lambda Award, and the novel The Terraformers (forthcoming). As a science journalist, they are a contributing opinion writer for the New York Times, and have a column in New Scientist. They are also the co-host of the Hugo Award-winning podcast Our Opinions Are Correct. Previously, they were the founder of io9, and served as the editor-in-chief of Gizmodo.
Originally published in 1923. Cover designed by Seth. See this book at MIT Press.
---
THE WORLD SET FREE
H.G. WELLS
Introduction by SARAH COLE
Afterword by JOSHUA GLENN
(May 3, 2022)
---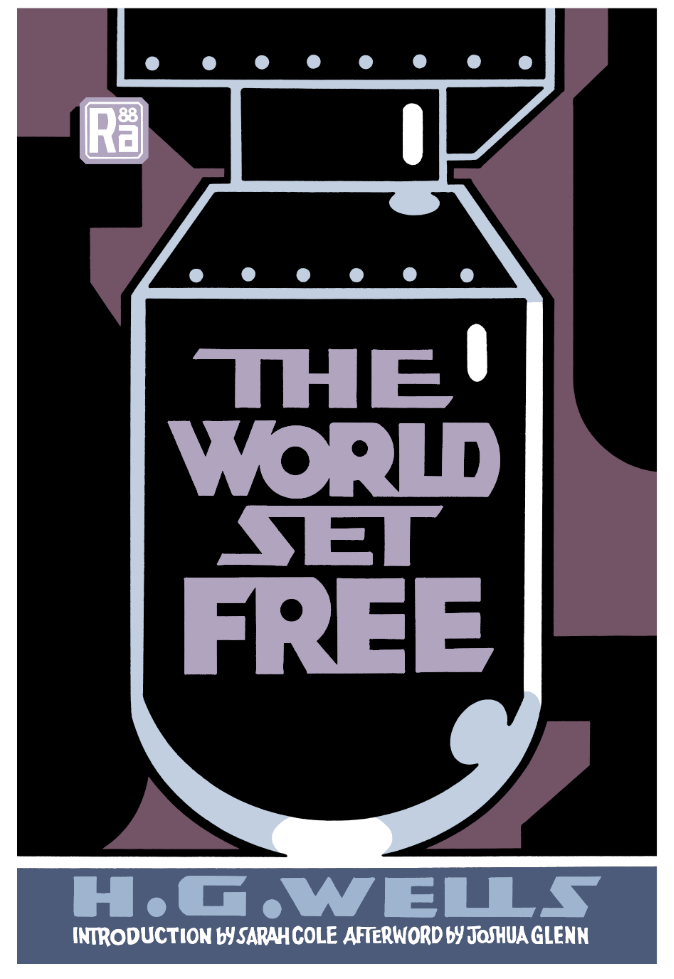 Writing in 1913, on the eve of World War I's mass slaughter and long before World War II's mushroom cloud finale, H. G. Wells imagined a war that begins in atomic apocalypse but ends in a utopia of enlightened world government. Set in the 1950s, Wells's neglected novel The World Set Free describes a conflict so horrific that it actually is the war that ends war.
"A breathless story of great wars of World Powers, of hovering aeroplanes with atomic bombs, and of peace between Kings in a World Council." — Sinclair Lewis, The Detroit Free Press (1914)

"The color, vigor, and picturesqueness of Mr. Wells's description of this last war combine to produce an amazing effect." — The New York Times (1914)

"After writing his pioneering scientific romances, H.G. Wells began a life-long project of writing utopian texts. This sustained and stubborn effort, over forty disastrous years, helped to shape a vision of a better world for those designing the postwar order. The World Set Free is a crucial, stand-out novel in Wells's amazing effort, and it's good to see it in a new edition." — Kim Stanley Robinson, author of The Ministry for the Future
Press for MITP's edition of A World of Women includes the following…
"A ground-breaking book in its description of all-out war." — Brian Clegg, Popular Science
H.G. WELLS (1866–1946) is best known today as author of pioneering scientific romances such as The Time Machine (1895), The Island of Doctor Moreau (1896), The Invisible Man (1897), and The War of the Worlds (1898). An important influence on sf authors from Olaf Stapledon to Arthur C. Clarke, he was also a social critic and futurist who penned dozens of novels, stories, and works of history and social commentary in which he proposed more rational ways to organize society.
SARAH COLE is the author of Inventing Tomorrow: H.G. Wells and The Twentieth Century (2019). The Parr Professor of English and Comparative Literature and Dean of Humanities at Columbia University, she is the cofounder of the NYNJ Modernism Seminar and founder of the Humanities War and Peace Initiative at Columbia. She is also the author of Modernism, Male Friendship, and the First World War (2003) and At the Violet Hour: Modernism and Violence in England and Ireland (2012).
JOSHUA GLENN is a consulting semiotician and editor of the websites HiLobrow and Semiovox. The first to describe 1900–1935 as science fiction's "Radium Age," he is editor of the MIT Press's series of reissued proto-sf stories from that period. He is coauthor and co-editor of various books including the family activities guide UNBORED (2012), The Adventurer's Glossary (2021), and Lost Objects (2022). In the 1990s, he published the indie intellectual journal Hermenaut.
Originally published in 1914. Cover designed by Seth. See this book at MIT Press.
*
COMING UP
---
FALL 2022
---
OF ONE BLOOD
PAULINE HOPKINS
Introduction by MINISTER FAUST
(August 2, 2022)
---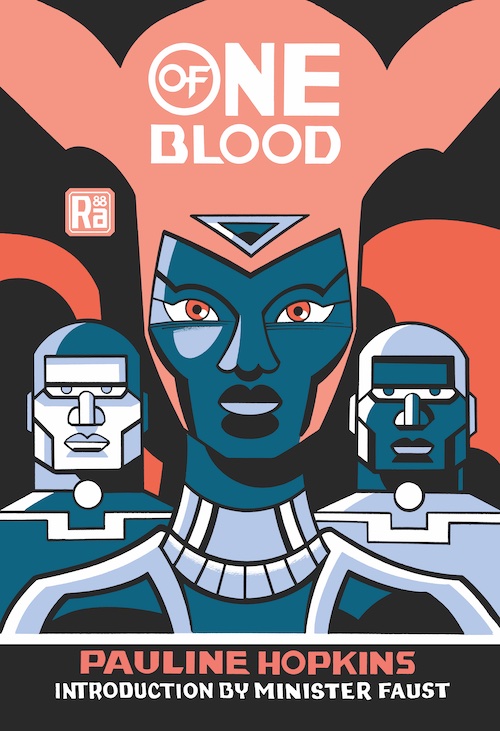 Long before Marvel Comics gave us Black Panther and Wakanda, a high-tech African country that has never been colonized, Reuel Briggs — a white-passing, mixed-race Harvard medical student who stumbles upon Telassar. In this long-hidden Ethiopian city, whose wise and peaceful inhabitants possess both advanced technologies and mystical powers, Reuel discovers the incredible secret of his own birth. Now, he must decide whether to return to the life he's built and the woman he loves back in America, or to play a role in helping Telassar take its rightful place on the world stage. Considered one of the earliest articulations of Black internationalism, Of One Blood takes as its theme the notion that race is a social construct perpetuated by racists.
"Deals in no uncertain terms with both the temporal and spiritual solution of the greatest question of the age — The Negro." — The Colored American Magazine (1902)

"Of One Blood returns in this new edition, celebrating a seminal work of Black speculative fiction. Over a century since its original publication, Hopkins's classic remains as relevant today as ever." —P. Djèlí Clark, author of Ring Shout
Press for MITP's edition of Of One Blood includes the following…
"A fantastic reminder of the long (generally overlooked, ignored, and under-celebrated) legacy of Black speculative fiction!" — Arley Sorg, coeditor-in-chief of Fantasy and Senior Editor of Locus, via Twitter
PAULINE HOPKINS (1859-1930), an African-American journalist and editor of Boston's The Colored American Magazine, was the author of four novels: Contending Forces: A Romance Illustrative of Negro Life North and South (1900), Hagar's Daughter: A Story of Southern Caste Prejudice (1901–1902), Winona: A Tale of Negro Life in the South and Southwest (1902–1903), and Of One Blood (1903). Her work illuminated African history, racist injustice, and women's liberation, earning her a reputation as a key public intellectual of her time.
MINISTER FAUST is best known as author of The Coyote Kings of the Space-Age Bachelor Pad (2004) and 2007's Kindred Award-winning From the Notebooks of Dr. Brain (retitled Shrinking the Heroes, it also received the Philip K. Dick Award Special Citation). An award-winning journalist, community organizer, teacher, and workshop designer, Faust is also a former television host and producer, radio broadcaster, and podcaster. His 2011 TEDx talk, "The Cure For Death by Smalltalk," has been viewed more than 840,000 times.
Originally published in 1902–1903. Cover designed by Seth. See this book at MIT Press.
---
NORDENHOLT'S MILLION
J.J. CONNINGTON
Introduction by MATTHEW BATTLES
Afterword by EVAN HEPLER-SMITH
(August 2, 2022)
---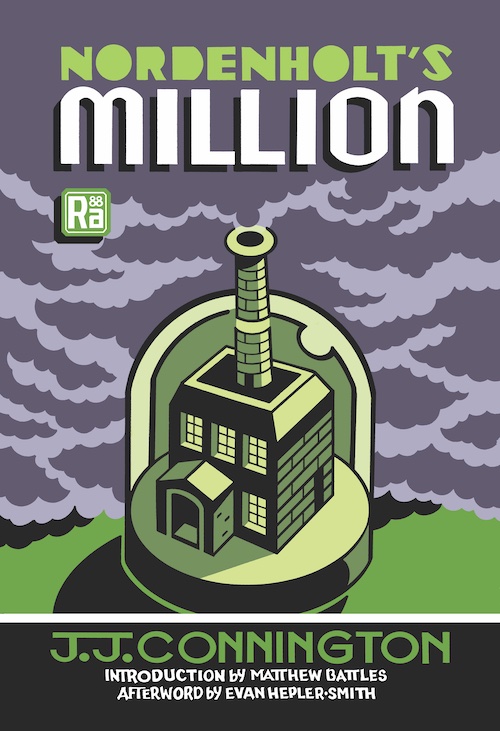 As denitrifying bacteria inimical to plant growth spread around the world, toppling civilizations and threatening to wipe out humankind, the British plutocrat Nordenholt sets himself up as the benignant dictator of a ruthlessly efficient, entirely undemocratic survivalist colony established in Scotland's Clyde Valley. Discovering just how far their employer is willing to go in his effort to spare one million lives, Jack Flint, the colony's director of operations, and Elsa Huntingtower, Nordenholt's personal assistant, are forced to grapple with the question of whether a noble end justifies dastardly means.
"You may like Nordenholt's Million or you may detest it, but there is one thing I defy you to do, and that is to forget it." — Punch (1923)

"I can't think of a more timely moment to reissue Nordenholt's Millions, a chilling prediction of eco-catastrophe and the authoritarian regimes that can and do arise during such periods of chaos." — Douglas Rushkoff, author of Team Human
Press for MITP's edition of Nordenholt's Million includes the following…
Nordenholt's Million was featured as "One to Watch" in the w/o May 23 issue of The Bookseller. "As a bacteria threatens mankind, plutocrat Nordenholt creates a survivalist colony in Scotland's Clyde Valley. This is part of the MIT press Radium Age reissue series, celebrating classic "proto-science fiction stories from the underappreciated era between 1900-35″ and, as with all the series, features striking cover art from Canadian comic artist Seth."
ALFRED WALTER STEWART (1880–1947) was a distinguished British chemist and author of the popular textbooks Recent Advances in Organic Chemistry (1908) and Recent Advances in Physical and Inorganic Chemistry (1909). Via a 1918 theory of the physical chemistry of radioactivity, he contributed the term isobar — as complementary to the term isotope — to science. Under the pseudonym J. J. Connington, Stewart wrote seventeen well-received detective novels; Nordenholt's Million is his only science fiction novel.
MATTHEW BATTLES is the author of Library: an Unquiet History (2003), Palimpsest (2015), and Tree (2017), as well as the story collection The Sovereignties of Invention (2016). His writing on the cultural dimensions of science, technology, and the natural world have appeared in the Atlantic, the Boston Globe, and Orion. For Harvard's metaLAB, he develops research into the dark abundance of collections, cultural and technology, and conditions of experience in the context of deep time.
EVAN HEPLER-SMITH teaches the history of science and technology and environmental history at Duke University. He has a special interest in the history of chemicals and chemistry, information technology, and environmental regulation. His book in progress is entitled Compound Words: Chemical Information and the Molecular World. His writing has been published in The New York Times, The Wall Street Journal, Time.com, and Public Books.
Originally published in 1923. Cover designed by Seth. See this book at MIT Press.
---
WHAT NOT
ROSE MACAULAY
Introduction by MATTHEW DE ABAITUA
(October 4, 2022)
---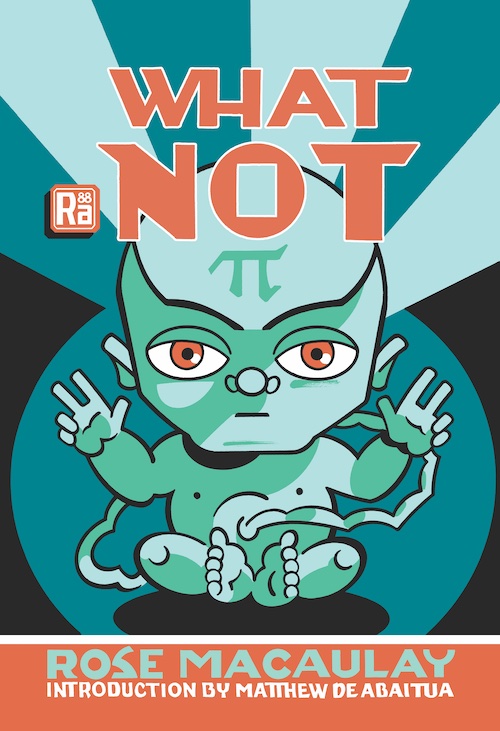 In a near-future England, a new government entity — the Ministry of Brains — attempts to stave off idiocracy through a program of compulsory selective breeding. Kitty Grammont, who shares the author's own ambivalent attitude to life, gets involved in the Ministry's propaganda efforts, which are detailed with an entertaining thoroughness. However, when Kitty falls in love with the Minister for Brains, a man whose genetic shortcomings make a union with her impossible, their illicit affair threatens to topple the government. Because it ridiculed wartime bureaucracy, the planned 1918 publication of What Not, whose alphabetical caste system would directly influence Aldous Huxley's 1932 dystopia Brave New World, was delayed until after the end of World War I.
"Miss Macaulay's 'prophetic comedy' is a joyous rag of Government office routine, flappery, Pelmania, Tribunals, State advertising, the Lower Journalism and 'What Not.' …. A very shrewd piece of observation, whimsicality and tempered malice." — Punch (1919)

"One of the wittiest, most ironical, and altogether funniest books that have appeared these many years." — The Daily Telegraph (1919)

"As a frankly frivolous, always humorous and often witty caricature of modern tendencies, the thing is a brilllant success." — The Observer (1919)

"An entertaining satire upon the current tendecy to put us under Government regulations in everything, even getting married." — Globe (1919)

"Her serious story is impressive and affecting. But the chief delight of the book is in its gay and ridiculous wit." — New Statesman (1919)

"A satire of Britain after World War One, where mental improvement has its own powerful government department. A cross between Brave New World and Orwell's 'Ministry of Truth' — all delivered with a sly wit and arch tongue." — Philippa Levine, William Prescott Webb Chair in History and Ideas, University of Texas at Austin.
ROSE MACAULAY (1881–1958) was an English writer who during the First World War worked in the British Propaganda Department; later, she became a civil servant in the War Office. Several of her satirical novels, including Potterism (1920), Dangerous Ages (1921), and Told by an Idiot (1923) were best-sellers. Macaulay was also a journalist, poet, and essayist, and the author of biographies and travelogues. She is best remembered today for her autobiographical final novel, The Towers of Trebizond (1956).
MATTHEW DE ABAITUA is a senior lecturer in Creative Writing at the University of Essex. His debut science fiction novel The Red Men (2007) was shortlisted for the Arthur C. Clarke Award and adapted into a short film, Dr. Easy. His science fiction novels IF THEN (2015) and The Destructives (2016) complete the loose trilogy. His book Self & I: A Memoir of Literary Ambition (2018) was shortlisted for the New Angle Prize for Literature.
Originally published in 1918. Cover designed by Seth. See this book at MIT Press.
*
---
SPRING 2023
---
THEODORE SAVAGE
CICELY HAMILTON
Introduction by SUSAN R. GRAYZEL
(February 7, 2023)
---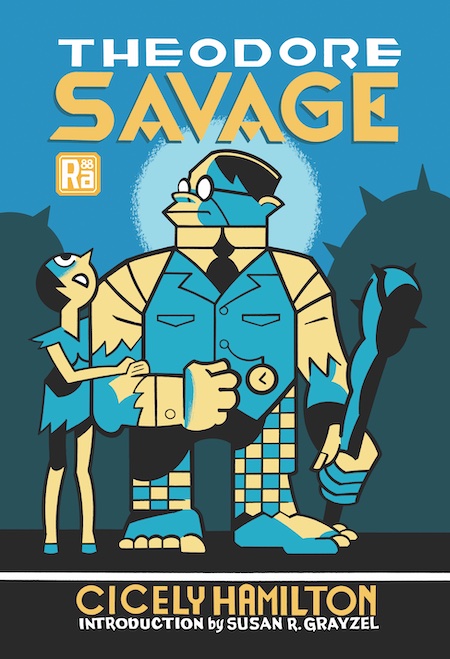 When war breaks out — a world war, whose thoroughly modern tactics include aerial bombardment and purposely displacing civilian populations — British civilization swiftly collapses. Theodore Savage, an educated and idle civil servant, and Ada, a miserable working-class woman who becomes Eve to his Adam, find themselves required to hide, scavenge, and fight for survival… in an all but unrecognizable Albion where science and technology are regarded by their fellow survivors with superstitious awe and terror. This 1922 proto-sf novel was one of the first to see WWI as foretelling the end of civilization.
"Miss Hamilton always writes forcibly, and her present novel deals with the heart-shaking effects of the next war. It might, indeed, be used as a tract to convey an awful warning." — The Spectator (1922)

"Miss Hamilton has spun so finely with the intimate fibres of human emotion and thought that the whole effect is startlingly real." — The Bookman (1922)

"Terror falls from the skies, and within a few months England has become a collection of small tribes living separately and brutishly, tilling the soil and building hutments." — The Fortnightly Review (1924)
CICELY HAMILTON (1872–1952) was an Anglo-Irish actress, author, and feminist campaigner best known for her 1909 treatise Marriage as a Trade. Her prewar plays include Diana of Dobson's (1908) and How the Vote Was Won (1909). After working in the north of France during WWI and witnessing how its violence affected civilians, she was inspired to write Theodore Savage (1922), a proto-sf novel presciently foregrounding modern warfare's destructive power.
SUSAN R. GRAYZEL is Professor of History at Utah State University, where she researches and teaches about modern European history, women's and gender history, the history of the world wars, and war and culture. Her publications in these areas include Women's Identities at War (1999) and At Home and Under Fire (2012). Her latest book is The Age of the Gas Mask: How British Civilians Faced the Terrors of Total War (Cambridge University Press, 2022).
Originally published in 1922. Cover designed by Seth. See this book at MIT Press.
---
THE LOST WORLD and THE POISON BELT
ARTHUR CONAN DOYLE
Introduction by CONOR REID
Afterword by JOSHUA GLENN
(February 21, 2023)
---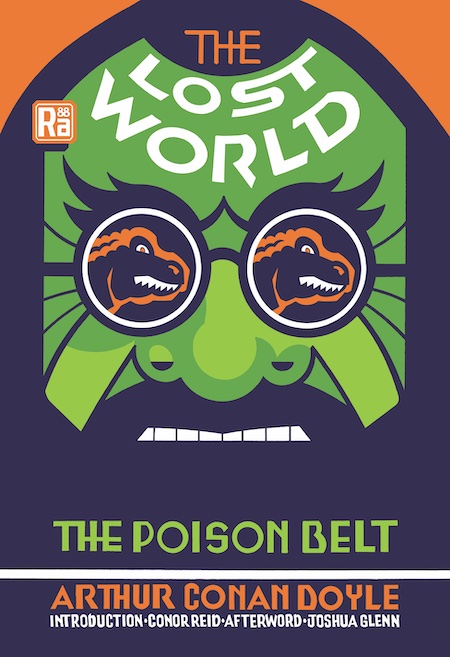 In 1912, the creator of Sherlock Holmes introduced his readers to yet another genius adventurer, Professor Challenger, who in his very first outing would journey to South America in search of… an isolated plateau crawling with iguanodons and ape-men! A smash hit, Doyle's proto-sf thriller would be adapted twice by Hollywood, and it would go on to influence everything from Jurassic Park to the TV show Land of the Lost. Its 1913 sequel, The Poison Belt, finds Challenger and his dino-hunting comrades trapped in an oxygenated chamber… as the entire planet passes through a lethal ether cloud.
"The last word in the sensational. No less interesting than the feats of Sherlock Holmes." — Pittsburgh Gazette-Times (1912)

"Highly interesting adventure of a sort to stir the pulse and arouse the wonder of even the jaded novel reader." — The New York Times (1912)

"The chief criticism of this book is that it is too short!" — Publisher's Weekly (1913)

"Professor Challenger is at home in the poison belt, his beard very big and black, his oddities accentuated rather than softened since his first appearance." — The Saturday Review (1913)

"They who neglect to read it will have missed a highly entertaining flight of the Doyle imagination." — New York Evening Sun (1912)

"At once one of the most realistic and one of the most romantic of [Doyle's] books." — The Living Age (1912)

"It is the original and real thing, a gem of the Jurassic epoch." — Seattle Post Intelligencer (1912)

"It is a book which excites the reader's imagination from the opening page, and Mr. Doyle's consummate descriptive art never found better use than in following the fortunes of his brave band of explorers into a country the like of which was never dreamed." — Boston Globe (1912)
ARTHUR CONAN DOYLE (1859–1930) was a Scottish physician and author who in 1887 introduced Sherlock Holmes, arguably the best-known fictional detective. He also wrote poetry, historical novels, influential gothic short stories, and more. Doyle's proto-sf series of Professor Challenger adventures include The Lost World (1912), The Poison Belt (1913), The Land of Mist (1926), "When the World Screamed" (1928), and "The Disintegration Machine" (1929).
JOSHUA GLENN is a consulting semiotician and editor of the websites HiLobrow and Semiovox. The first to describe 1900–1935 as science fiction's "Radium Age," he is editor of the MIT Press's series of reissued proto-sf stories from that period. He is coauthor and co-editor of various books including the family activities guide UNBORED (2012), The Adventurer's Glossary (2021), and Lost Objects (2022). In the 1990s, he published the indie intellectual journal Hermenaut.
CONOR REID is a podcaster and writer from Ireland. He has published widely on popular fiction and science, including The Science and Fiction of Edgar Rice Burroughs (2018). He is the Head of Podcasts at HeadStuff Media, as well as the host and producer of his own critically acclaimed literature podcast, Words To That Effect. The podcast, which has been performed live in both Ireland and the UK, tells stories of the fiction that shapes popular culture.
Originally published in 1912–1913. Cover designed by Seth. See this book at MIT Press.
*
---
FALL 2023
---
In Fall 2023 we plan to reissue the following titles:
G.K. Chesterton's THE NAPOLEON OF NOTTING HILL (introduction by Madeline Ashby)

MADELINE ASHBY is a consulting futurist and science fiction writer based in Toronto. She is the author of the Machine Dynasty series, Company Town, and contributor to How to Future: Leading and Sense-making in an Age of Hyperchange. She has developed science fiction prototypes for Changeist, the Institute for the Future, the Smithsonian Institution, SciFutures, Nesta, The World Health Organization, the World Bank, the Atlantic Council, and others. Her work has appeared in BoingBoing, Slate, MIT Technology Review, WIRED, and elsewhere.

G.K. CHESTERTON (1874–1936) was an English author, poet, critic, and newspaper columnist known for his brilliant, epigrammatic paradoxes. His best-known character is the priest-detective Father Brown, featured in over 50 stories published between 1910–1936, who solves mysteries and crimes thanks to his understanding of spiritual and philosophic truths; and his best-known novel is The Man Who Was Thursday (1908), a metaphysical thriller. In addition to The Napoleon of Notting Hill, his first novel, he wrote several other near-future satires of England.

William Hope Hodgson's THE NIGHT LAND (abridged edition, intro by Erik Davis)

ERIK DAVIS is an author, teacher, and award-winning journalist based in San Francisco. His publications include High Weirdness: Drugs, Esoterica, and Visionary Experience in the Seventies, Nomad Codes, and the cult classic Techgnosis: Myth, Magic, and Mysticism in the Age of Information. Davis earned his PhD in religious studies from Rice University, and currently teaches at Pacifica Graduate Institute. He writes the Substack publication Burning Shore, and has completed a history of LSD blotter art for MIT Press.

WILLIAM HOPE HODGSON (1877–1918) was an English poet, sailor, bodybuilder, and weird fiction pioneer whose horror, fantastic, and proto-sf novels — in addition to The Night Land — include The Boats of the "Glen Carrig" (1907), The House on the Borderland (1908), and The Ghost Pirates (1909). He also wrote stories in the Sargasso Sea series, the Captain Gault series, and a series about the occult detective Carnacki.

A second VOICES FROM THE RADIUM AGE collection (edited and introduced by Josh Glenn)

*

---

SPRING 2024

---

At the moment, we're planning to reissue two proto-sf novels… as well as the first-ever translation into English of a Bangla proto-sf novel.

*

---

FALL 2024

---

At the moment, we're planning to reissue one or two proto-sf novels, as well as a collection of stories by a single author.

*

---

ABOUT RADIUM AGE PROTO-SF

---

Do we really know science fiction? There were the Scientific Romance years that stretched from the mid-19th century to circa 1900. And there was the so-called Golden Age, from circa 1935 through the early 1960s. But between those periods, and overshadowed by them, was an era that has bequeathed us such memes as the robot (berserk or benevolent), the tyrannical superman, the dystopia, the unfathomable extraterrestrial, the sinister telepath, and the eco-catastrophe. A dozen years ago, writing for the sf blog io9.com at the invitation of Annalee Newitz and Charlie Jane Anders, I became fascinated with the period during which the sf genre as we know it emerged. In honor of Marie Curie, who shared a Nobel Prize for her discovery of radium in 1903, only to die of radiation-induced leukemia in 1934, I dubbed it the "Radium Age."

Curie's development of the theory of radioactivity, which led to the freaky insight that the atom is, at least in part, a state of energy constantly in movement, is an apt metaphor for the 20th century's first three decades. These years were marked by rising sociocultural strife across various fronts: the founding of the women's suffrage movement, the National Association for the Advancement of Colored People, socialist currents within the labor movement, anti-colonial and revolutionary upheaval around the world… as well as the associated strengthening of reactionary movements that supported, e.g., racial segregation, immigration restriction, eugenics, and sexist policies.

Science — as a system of knowledge, a mode of experimenting, and a method of reasoning — accelerated the pace of change, during these years, in ways simultaneously liberating and terrifying. As sf author and historian Brian Stableford points out in his 1989 essay "The Plausibility of the Impossible," the universe we discovered by means of the scientific method in the early 20th century defies common sense: "We are haunted by a sense of the impossibility of ultimately making sense of things." By playing host to certain far-out notions — time travel, faster than light travel, and ESP, for example — which we have every reason to judge impossible, science fiction serves as an "instrument of negotiation," Stableford persuasively suggests, with which we strive to accomplish "the difficult diplomacy of existence in a scientifically knowable but essentially unimaginable world." This is no less true today than during the Radium Age.

The social, cultural, political, and technological upheavals of the 1900–1935 period are reflected in the proto-sf writings of authors such as Olaf Stapledon, William Hope Hodgson, Muriel Jaeger, Karel Čapek, G.K. Chesterton, Cicely Hamilton, W.E.B. DuBois, Yevgeny Zamyatin, E.V. Odle, Arthur Conan Doyle, Mikhail Bulgakov, Pauline Hopkins, Stanisław Ignacy Witkiewicz, Aldous Huxley, Gustave Le Rouge, A. Merritt, Rudyard Kipling, Rose Macaulay, J.D. Beresford, J.J. Connington, S. Fowler Wright, Jack London, Thea von Harbou, and Edgar Rice Burroughs, not to mention the late-period but still incredibly prolific H.G. Wells himself. More cynical than its Victorian precursor yet less hard-boiled than the Golden Age sf that followed, in the writings of these visionaries we find acerbic social commentary, shock tactics, and also a sense of frustrated idealism — and reactionary cynicism, too — regarding humankind's trajectory.

MIT Press's Radium Age series represents a much-needed evolution of my own efforts to champion the best proto-sf novels and stories from 1900–1935 among scholars already engaged in the fields of utopian and speculative fiction studies, as well as general readers interested in science, technology, history, and old-fashioned thrills and chills. By reissuing a wide range of literary productions from a time period that hasn't received sufficient attention for its contribution to the emergence of "science fiction" as a recognizable genre form (one that exists and has meaning in relation to its own traditions and innovations, as well as within a broader ecosystem of literary genres, each of which, as John Rieder notes in Science Fiction and the Mass Cultural Genre System (2017), is itself a product of overlapping "communities of practice"), we hope not only to draw attention to key overlooked works, but perhaps also to influence the way scholars and sf fans alike think about this crucial, misunderstood moment in sf history.

John W. Campbell and other Cold War-era sf editors and propagandists dubbed a select group of writers and story types from the pulp era to be the "golden age" of science fiction. In doing so, they fixed in the popular imagination a too-narrow understanding of what the genre can offer. (In his introduction to the 1974 collection Before the Golden Age, for example, Asimov notes that although it may have possessed a certain exuberance, in general science fiction from before the mid-1930s moment when Campbell assumed editorship of Astounding Stories "seems, to anyone who has experienced the Campbell Revolution, to be clumsy, primitive, naive.") By returning to an international tradition of scientific speculation via fiction from before the Golden Age, the Radium Age series will demonstrate — contra Asimov — the breadth, richness, and diversity of the artistic works that were responding to a vertiginous historical period, and how they helped innovate a nascent genre (which wouldn't be named, until the mid-1920s, by Hugo Gernsback) as a mode of speculative imagining.

MIT Press's Noah J. Springer and I are grateful to the sf writers and scholars who have agreed to serve as this series' advisory board. Aided by their guidance, we'll endeavor to surface a rich variety of texts, along with introductions by a diverse group of sf scholars, sf writers, and others that will situate these forgotten works within their own social, political, and scientific context, while drawing out contemporary parallels.

We hope that reading Radium Age writings, published in times as volatile as our own, will serve to remind us that our own era's seemingly natural, eternal, and inevitable social and cultural forms and norms are — like Madame Curie's atom — always in flux.

— JOSHUA GLENN, SPRING 2021

---

OUR ADVISORY PANEL

---

In order to help surface overlooked Radium Age texts — particularly works by women, people of color, and writers from outside the USA and Europe — we have assembled a top-notch advisory panel. Our panelists:

---

MORE RADIUM AGE

---

Read more about Josh's 2008–2016 Radium Age research, and his previous Radium Age reissue efforts.