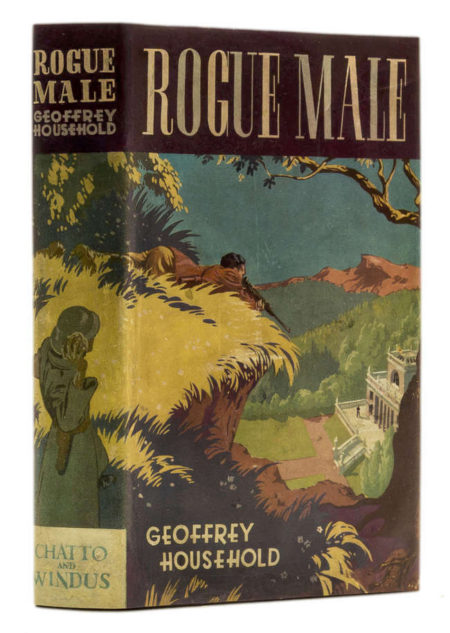 As HILOBROW readers know, since 2014 I've endeavored to identify, read or re-read, and offer a few notes on the best 10 adventure novels, comics, and story collections published during each year of of the 20th century (from 1904–2003, that is, according to HILOBROW's periodization scheme). Mostly English-language, which is one of my list's many shortcomings. This page — created during the early days of the COVID pandemic — selects 1–3 favorites from each of those 100 best-of lists, in order to arrive at a meta-list of what I consider to be the era's 250 best adventures.
This page supersedes my 2013 list of The 200 Greatest Adventures (1804–1983), which received hundreds of thousands of visits… but which no longer accurately reflects my thinking.
PS: Thanks go out to Boing Boing, for the shout-out; and also to the magazine Fortune, for suggesting that this list can help us through the epidemic.
— JOSH GLENN (APRIL 2020/JANUARY 2021)
Questions? Comments? Suggestions? Drop me a line.
ALSO SEE THESE LISTS: 100 BEST OUGHTS ADVENTURES | 100 BEST RADIUM AGE (PROTO-)SCI-FI ADVENTURES | 100 BEST TEENS ADVENTURES | 100 BEST TWENTIES ADVENTURES | 100 BEST THIRTIES ADVENTURES | 75 BEST GOLDEN AGE SCI-FI ADVENTURES | 100 BEST FORTIES ADVENTURES | 100 BEST FIFTIES ADVENTURES | 100 BEST SIXTIES ADVENTURES | 75 BEST NEW WAVE SCI FI ADVENTURES | 100 BEST SEVENTIES ADVENTURES | 100 BEST EIGHTIES ADVENTURES | 75 BEST DIAMOND AGE SCI-FI ADVENTURES | 100 BEST NINETIES ADVENTURES | 75 BEST HADRON AGE SCI-FI ADVENTURES | NOTES ON 21st-CENTURY ADVENTURES.
---
BUT FIRST… 25 NINETEENTH-CENTURY ADVENTURES
---
I haven't done extensive reading and research in the 19th-century (1804–1903) adventure sphere, but I've read enough to list my 25 favorites. Feel free to skip over this section! However, I think it provides helpful context on the culture from which early 20th-century adventure fiction emerged.
In chronological order…
Walter Scott's 18th c. frontier adventure Waverley (1814). Scotland, that savage tribal land just across the border from hyper-civilized England, was the original adventure frontier; and Walter Scott is the ur-Scottish adventure novelist. Waverley sends a young Englishman adventuring in the highlands of Scotland, during the Jacobite uprising. I recently re-read this in the Penguin Classics edition, and nerdily devoured every footnote.
Mary Shelley's Gothic scientific romance Frankenstein, or The Modern Prometheus (1818). From multiple points of view, we read about a brilliant scientist and his creation: a dehumanized creature who longs for love and friendship and, eventually, revenge. PS: There are two editions of the book; the 1831 "popular" edition was heavily revised and tends to be the one most widely read; scholars tend to prefer the 1818.
Walter Scott's 12th c. knightly adventure Ivanhoe (1820). A shift by the author away from (fairly) realistic novels set in Scotland in the recent past. The titular protagonist makes his first appearance at a tourney in disguise, known only as The Disinherited Knight. Also at that tourney is a mysterious archer named Locksley. Who can it be? This popular book was single-handedly responsible for the medievalist craze in early 19th-century England; and it was a key influence on popular perceptions of Richard the Lionheart, King John and Robin Hood.
Charles Dickens's crime adventure Oliver Twist (1837–1839). When Oliver Twist, born in a workhouse, is sold into apprenticeship with a creepy undertaker, the 10-year-old flees to London. There he meets the "Artful Dodger," a member of a gang of juvenile pickpockets led by the grandfatherly criminal Fagin. My favorite movie adaptation is the 1948 David Lean film starring Alec Guinness as Fagin. Oliver!, the 1968 British musical directed by Carol Reed, and based on the stage musical of the same name, is fun — but the ending is so brutal.
Edgar Allan Poe's Gothic sea adventure The Narrative of Arthur Gordon Pym of Nantucket (1838). Poe's only complete novel — about a teenager who stows away on a ship, is kidnapped by mutineers and pirates, encounters cannibals, and explores the Antarctic before discovering the key to all Western mystical traditions — has been described as "at once a mock nonfictional exploration narrative, adventure saga, bildungsroman, hoax, largely plagiarized travelogue, and spiritual allegory."
Alexandre Dumas's 17th c. swashbuckling adventure The Three Musketeers (1844). Introduces us to three unforgettable characters: the distinguished, highly educated Musketeer Athos; the religious and scholarly yet womanizing younger Musketeer Aramis; and the Falstaffian Musketeer Porthos. It is their sanguine companion D'Artagnan who coins the classic phrase "All for one, and one for all!" PS: Check out Lawrence Ellsworth's website; he is editing and translating modern, contemporary English translations of all of Alexandre Dumas's Musketeers novels. The first three volumes — The Three Musketeers, The Red Sphinx, Twenty Years After — are in print from Pegasus Books, with the fourth, Blood Royal, due later this year. When complete up through The Man in the Iron Mask, the entire series will run to eight volumes.
Herman Melville's sea-going adventure Moby-Dick (1851). This is, we all know, much more than it appears to be on the surface. It is an allegory of (maybe) man's gnostic rage against the occluded world in which he lives, separated from real reality. Perhaps more than you want to know about how whaling works, but one of the all-time great yarns.
Lewis Carroll's fantasy adventure Alice's Adventures in Wonderland (1865).
Wilkie Collins's detective adventure The Moonstone (1868). Generally considered the first English-language detective novel.
Jules Verne's science-fiction adventure Twenty Thousand Leagues Under the Sea (1870). Introduces us to Captain Nemo, a scientific genius who roams the depths of the sea in his submarine — in quest of treasure, knowledge, and revenge.
Robert Louis Stevenson's 18th c. treasure-hunt adventure Treasure Island (1883). Which led to the popular perception of pirates as we know them today: e.g., peg-legged, one-eyed. Note that the castaway character Ben Gunn is a parody of Daniel Defoe's character Robinson Crusoe!
Mark Twain's Adventures of Huckleberry Finn (1884–1885). Note that Twain, who scorned Walter Scott-type romances, uses the term "adventure" sardonically. He was poking holes in the prevailing sentimental and Romantic ethos of the literary establishment. Still, Twain's novel is a fun romp through the American South in its grotesquerie, and it offers authentic thrills along the way.
H. Rider Haggard's frontier adventure King Solomon's Mines (1885). Which set a new standard for thrills — thanks to the author's illiberal belief that denizens of England are so coddled that they've forgotten their own savage nature. The first novel written in English that was based on the African continent, and the first "Lost World" adventure. NB: Haggard would write 18 books featuring Allan Quatermain, the hero of King Solomon's Mines.
Robert Louis Stevenson's 18th c. avenger-type adventure Kidnapped (1886). In which young David Balfour is sold into servitude by his wicked uncle. With the help of Alan Breck, a daring Jacobite, David escapes and travels across Scotland by night — hiding from government soldiers by day.
Arthur Conan Doyle's Sherlock Holmes crime adventure A Study in Scarlet (1887 serialized; 1888 in book form). The first Sherlock Holmes novel, and the first appearance of Holmes and Watson.
Rudyard Kipling's Haggard-esque frontier adventure The Man Who Would Be King (1888). Two British adventurers become kings of a remote part of Afghanistan, because — it turns out — the Kafirs there practice a form of Masonic ritual and the adventurers know Masonic secrets.
Anthony Hope's swashbuckling adventure The Prisoner of Zenda (1894). Which takes place in the fictional central European country of Ruritania, and which concerns a political decoy restoring the rightful king to the throne, was so influential that its genre is now called Ruritanian. Perhaps the first political thriller, and a perfect adventure novel.
H.G. Wells's science fiction adventure The Island of Doctor Moreau (1896). Edward Prendick, a shipwrecked man, is left on the island home of Doctor Moreau, who creates human-like beings from animals. After Moreau is killed, the Beast Folk begin to revert to their original animal instincts.
Rudyard Kipling's sea-going adventure Captains Courageous (1896).
Bram Stoker's supernatural horror adventure Dracula (1897). Whose readers know what kind of monster the protagonists seek before they do. Described by Neil Gaiman as a "Victorian high-tech thriller," the book's use of cutting-edge technology — and true-crime story telling, from newspaper clippings to phonograph-recorded notes — creates an eerily realistic vibe.
H.G. Wells's science fiction adventure The War of the Worlds (1898).
Joseph Conrad's Heart of Darkness (1899). The protagonist of which is sent up a river in Africa to seek the European manager of a remote ivory station who has turned into a charismatic monster, is a sardonic inversion of yarns by adventure authors who didn't give much thought to the colonialist and racist context within which their civilization-vs.-savagery narratives played out. "The horror! The horror!"
Arthur Conan Doyle's Sherlock Holmes crime adventure The Hound of the Baskervilles (1901). The third of the four Sherlock Holmes novels, and his first appearance since his apparent death in "The Final Problem" (1893). Holmes and Dr. Watson investigate the legend of a supernatural hound haunting the Dartmoor in southern Devon, England.
Robert Erskine Childers's espionage adventure The Riddle of the Sands (1903). This can be a demanding read for those with no interest in sailing or timetables. But it's a thrilling yarn nevertheless, one which sought to alert British readers to the danger of German invasion. Its protagonists are archetypes of the amateur adventure hero, the likes of whom would later appear so memorably in the novels of John Buchan.
Jack London's Klondike adventure The Call of the Wild (1903). Expresses the author's notion that because the veneer of civilization is fragile, humans revert to a state of primitivism with ease. PS: Note that London's White Fang shows the flipside of this trajectory.
---
OUGHTS ADVENTURES
1904–1913
---
Also see: 100 BEST OUGHTS ADVENTURES and 100 BEST RADIUM AGE (PROTO-)SCI-FI ADVENTURES.
In chronological order…
Joseph Conrad's treasure-hunt adventure Nostromo: A Tale of the Seaboard (1904). Charles Gould owns an important silver-mining concession near the port of Sulaco, in the western province of Costaguana, a fictional South American country that Conrad seems to have modeled on Colombia. Fed up with Costaguana's never-ending cycle of tyranny and revolution, Gould uses his wealth to support the military dictator Ribiera. When this leads to even more chaos, Gould orders his influential and incorruptible head longshoreman, the Italian expat Nostromo, to smuggle a shipload of silver out of the country — in order to keep it out of the hands of the revolutionaries' General Montero. The silver ends up buried on a deserted island, guarded by a young journalist, Martin Decoud; Gould and everyone else, however, believe that the treasure has been lost. Nostromo heads back to Sulaco, where he daringly helps save the town's powerful leaders from the revolutionaries. Afterwards, consumed by resentment — because he is not admitted into Sulaco's elite circles, despite his exploits, Nostromo decides to recover the hidden silver… but what has become of Decoud? Will Nostromo ever attain his heart's true desire? Or will forces beyond his control forever frustrate him? Fun facts: Serialized in 1904, in the London magazine T.P.'s Weekly, Nostromo is now considered one of the best English-language novels of the 20th century. F. Scott Fitzgerald once said, "I'd rather have written Nostromo than any other novel."

J.M. Barrie's fantasy adventure Peter Pan (1904–1911). Peter Pan began as a play, which debuted in London in 1904; the author then developed it into a novel, which was published in 1911. In both versions, the titular character — Peter Pan, the fearless, innocent, conceited, heartless boy who wouldn't grow up — eavesdrops on the bedtime stories told by Mrs. Darling to her children Wendy, John and Michael. Discovered by Wendy, Peter invites her to fly with him to Neverland to be a mother to his gang, the Lost Boys. Wendy and her brothers fly to Neverland — narrowly avoiding disaster — then accompany Peter and the Lost Boys on various escapades… such as rescuing the princess Tiger Lily from the evil Captain Hook and his pirates. Wendy begins to miss her parents, but before she can take her brothers and the Lost Boys back to England, she is kidnapped by Hook. Peter's fairy, Tinker Bell, meanwhile, sacrifices herself by drinking poison intended for Peter. (In the play's most famous moment, Peter turns to the audience and begs those who believe in fairies to clap their hands.) Will Peter rescue Wendy and the others? And if he succeeds, will they stay with him in Neverland? Fun facts: Walt Disney obtained the animation rights to Peter Pan in 1935, but the movie wasn't completed until 1953. There have been several musical productions of the play starring Mary Martin, Sandy Duncan, and Cathy Rigby as Peter Pan. As for the various live-action movie adaptations, the only one I like is Paramount's 1924 silent movie starring Betty Bronson.

L. Frank Baum's Oz fantasy adventure The Marvelous Land of Oz (ill. John R. Neill) (1904). In the first sequel to the bestselling The Wonderful Wizard of Oz (1900), an orphan named Tip cobbles together a wooden scarecrow of sorts, with a pumpkin head — in order to startle his guardian Mombi, a cruel witch. Mombi uses a life-giving powder to animate "Jack Pumpkinhead," thus introducing one of L. Frank Baum's great characters. Tip steals the powder, animates a wooden sawhorse for Jack to ride, and flees for his life before he's transformed into a garden ornament. Baum wrote The Marvelous Land of Oz with a stage production in mind, hence Tip's encounter with General Jinjur and her chorus line-like female army… who are headed to the Emerald City to depose the Scarecrow. During the ensuing chaos, Tip and Jack help the Scarecrow flee; they head to the castle of the Tin Woodman, who now rules the Winkie Kingdom. Jinjur recruits Mombi to help stop the counter-revolution, so Tip and his friends must recruit more unlikely comrades — including Mr. Highly Magnified Woggle-Bug, Thoroughly Educated, and a field-mouse army. In the end, the good witch Glinda informs the counterinsurgents that the rightful ruler of Oz is Ozma… a princess who'd been turned into a boy! But what's become of her? Fun facts: Elements from The Marvelous Land of Oz were incorporated into the 1985 movie Return to Oz — whose stop-motion animation (by Will Vinton) and animatronics are, at times, truly terrifying.

E. Nesbit's children's fantasy adventure The Phoenix and the Carpet (1904). Nesbit's writing is extraordinary, because: she is drily witty, in a way that makes her writing as entertaining to adults as to children; she was politically progressive, so there's not quite as much to cringe at as we find in her contemporaries' writing; and her conception of how magic and the everyday world might interact — the brilliant idea that magic has strict rules which need to be puzzled out, painfully — would prove influential on everyone from P.L. Travers to Edward Eager, C.S. Lewis, Diana Wynne Jones, and J.K. Rowling. Here, siblings Cyril, Anthea, Robert, and Jane, whom we first met in Five Children and It (1902), discover a flying carpet and an ancient Phoenix — a magnificent, vain creature which expects to be worshipped by modern Londoners. Over the course of several adventures, the children wear out the carpet's fabric — which causes it to malfunction, entertainingly. There's a burglar, a buried treasure, and a church jumble sale that goes entertainingly awry. Will the children figure out the best possible use for the carpet before it's too late? Fun facts: The final installment in the Psammead series is The Story of the Amulet (1906). I'm also a fan of Nesbit's Bastable series, her House of Arden series (including 1908's The House of Arden), and her other children's novels — including The Railway Children (1906) and The Enchanted Castle (1907).

G.K. Chesterton's Radium Age sci-fi adventure The Napoleon of Notting Hill (1904). Before Francis Fukuyama's 1989 essay "The End of History?" posited that the universalization of Western liberal democracy may signal the endpoint of humanity's sociocultural evolution, G.K. Chesterton's first novel described a stultifying, Wells-esque utopian world order — in the year 1984 — where religion has been banished, and violence is unknown, but at the cost of particularism, creativity, and progress. So bored are the British that they randomly select Auberon Quin — an eccentric prankster — as their king. Among other proto-Pythonesque provocations, Quin declares that each of London's neighborhoods will henceforth be an independent city-state, and requires their lord mayors to dress in medieval costumes. Most Londoners enjoy this game… but ten years later, when the other cities plan to build a road that passes through Notting Hill, 19-year-old patriot Adam Wayne foments a protest movement. Wayne, the titular Napoleon of Notting Hill, turns out to be a born military tactician, and soon enough an all-out conflict, featuring swords and halberds, has broken out between London's neighborhoods — prefiguring the 1981 Judge Dredd story "Block War." Chesterton doesn't gloss over the tragedy and stupidity of war… but ultimately, his point is that a healthy, vibrant society demands a little tragedy. Fun facts: The Irish revolutionary leader Michael Collins, who was 14 when the book was published, is known to have greatly admired The Napoleon of Notting Hill, which helped inspire his Irish nationalism. Also, it has been speculated that Orwell's Nineteen Eighty-Four, which is also set in a dystopian British utopia, takes place in that year as an homage to Chesterton's novel.

Baroness Orczy's historical (18th c.) adventure The Scarlet Pimpernel (1905). Set during France's post-Revolution Terror. Sir Percy Blakeney, the effete aristocrat who is secretly the daring Scarlet Pimpernel (or vice-versa), would inspire characters such as Zorro and Batman. "Is he in heaven, or is he in hell, that damned elusive Pimpernel?" Orczy would write numerous sequels, prequels, and spinoffs — including I Will Repay (1906), The Elusive Pimpernel (1908), Eldorado (1913), Lord Tony's Wife (1917), and The Triumph of the Scarlet Pimpernel (1922). Fun fact: British actor Leslie Howard starred not only in the 1934 film adaptation of this book but in the 1941 British anti-Nazi thriller "Pimpernel" Smith.

Jack London's Klondike adventure White Fang (1906). In this companion novel to London's Call of the Wild, a hybrid wolf-dog born in the frozen wilds of northwest Canada learns to kill or be killed. Our protagonist is White Fang — so named by Grey Beaver, an Indian who takes the cub in and raises him. Right from the beginning, the action is brutal — nature red in tooth and claw. White Fang's father is killed, his siblings starve, his mother first protects him and then rejects him. Grey Beaver is a harsh, uncaring master, and his other dogs, led by the fierce Lip-Lip, persecute the outsider; so White Fang grows up "the enemy of his kind" — a savage killer. He is purchased by Beauty Smith, a dog-fighter who pits White Fang against increasingly tough opponents… including wolves, a lynx, and a huge bulldog. When a gold hunter, Weedon Scott, purchases him from the dog-fighter, will White Fang at last be tamed? Fun fact: First serialized in Outing magazine, White Fang has been read as an allegory of humanity's (or, at least, the author's) progression from nature to civilization — a de-individualizing process that does violence to the soul, even as it makes contentment possible.

Joseph Conrad's espionage adventure The Secret Agent: A Simple Tale (1907). A sardonic inversion of the espionage genre, set in 1886. Adolf Verloc, ostensibly an anarchist activist, is actually in the employ of an unnamed country (presumably Russia). He is ordered by this country's embassy to instigate a terrorist act against London's Greenwich Observatory. The idea is to force the government to crack down on émigré socialist and anarchist activists; back in the homeland, it seems, London's tolerance of these factions is leading to trouble. Verloc, who lives with his wife, Winnie, his mother-in-law, and Winnie's (apparently autistic) brother, Stevie. The plot is chaotic, and jumps back and forth in time. Who was killed in the bombing? Will the police investigation implicate Verloc? What has become of Stevie? The police are untrustworthy — but Conrad reserves his deepest scorn for the anarchist characters, some of whom are foolish, others narcissists. Fun facts: The victim of the bombing was inspired by the French anarchist, Martial Bourdin, who died in Greenwich Park when the explosives he carried prematurely detonated. Alfred Hitchcock's 1936 film, Sabotage, was loosely based on The Secret Agent; his film Secret Agent wasn't.

Maurice Leblanc's crime adventure collection Arsène Lupin, gentleman-cambrioleur (Arsène Lupin, Gentleman Burglar, 1907). In this collection of eight linked stories, we first meet gentleman thief and master of disguise Arsène Lupin. (Lupin would become a beloved figure in French pulp fiction; he'd eventually be featured in 17 novels and 39 novellas.) In "The Arrest of Arsène Lupin," Bernard d'Andrèzy, a passenger on a ship to America, attempts to unmask Arsène Lupin, who has stolen a woman's jewels; but who is d'Andrèzy? In "Arsène Lupin in Prison," Lupin demands that a baron send him certain valuables, lest Lupin come and steal them; but he does so while he's in prison. And in "The Escape of Arsène Lupin," Lupin attempts to escape from prison via a complex stratagem in which he makes himself look like… a Lupin lookalike. Quel génie! Other stories: "The Mysterious Traveller," "The Queen's Necklace," "The Safe of Madame Imbert," "Sherlock Holmes Arrives Too Late," "The Black Pearl," and "Seven of Hearts." Fun facts: These stories were first published in the French magazine Je sais tout beginning in July 1905.

G.K. Chesterton's metaphysical thriller The Man Who Was Thursday (1908). Subtitled "A Nightmare," Chesterton's best novel follows Gabriel Syme, a Scotland Yard man, as he infiltrates the London chapter of the European Anarchist Council. Lucian Gregory, an avant-garde poet, publicly endorses anarchism… in order to make himself seem harmless, when in fact he is up for election as "Thursday," one of seven members of the Council, each named for a day of the week. Syme gets himself elected in Gregory's place… only to discover that nothing is as it seems. The Council's president, Sunday, is a sinister mastermind who has purposely recruited undercover police detectives and pitted them against one another! As Thursday and his colleagues pursue Sunday, the "nightmare" becomes more and more fantastical and absurdist. I the end, we're left to puzzle over whether Sunday is evil or… Christ-like. Fun facts: Included on Michael Moorcock's list of the 100 Best Fantasy Novels. Orson Welles's 1938 adaptation of The Man Who Was Thursday for The Mercury Theatre on the Air is pretty great.

Kenneth Grahame's children's fantasy adventure The Wind in the Willows (1908). When they aren't enjoying the simple pleasures of life in England's Thames Valley, three anthropomorphized animals — the naive Mole, the friendly Rat, and the fierce Badger — struggle to keep their hapless friend Toad, a wealthy idler with a mania for automobiles, out of trouble. Readers are treated to a jail break and hunted-man adventure, during which Toad — who was imprisoned for stealing a car, and is now disguised as an elderly washerwoman — flees from his pursuers via steam engine and horse-drawn barge, only to steal the same car again. Immediately after this sequence, which is so entertaining that Disney Land designed a ride in its honor, Toad's friends must help him to recapture his stately home — via a secret tunnel sneak attack — from weasels and stoats who've invaded the Wild Wood. The preceding chapters are perhaps less thrilling than these, but still funny, sweet, and utterly charming. Fun facts: The Wind in the Willows has been adapted as a movie several times, most notably by Disney in 1949, Rankin/Bass in 1985/1987, and Terry Jones in 1996. British bands from Pink Floyd to Iron Maiden have referenced the mystical chapter "The Piper at the Gates of Dawn" in their music.

Maurice Renard's Radium Age sci-fi adventure Docteur Lerne, sous-dieu (Doctor Lerne, Undergod, 1908). Returning to the castle where he grew up, after many years away, Nicolas Vermont is surprised to discover that his uncle Frédéric, a retired surgeon, is changed and hostile. Frédéric is engaged in mysterious scientific research, and forbids Nicolas access to his laboratory greenhouses; he also insists that Nicolas not court his protégée, Emma. Nicolas defies both injunctions. When Frédéric realizes that Nicolas has discovered the nature of his research — uncanny plant/animal hybrids! — he temporarily exchanges Nicolas's brain with that of a bull. (Renard plays with mythology, in this story: the lab is a labyrinth; Nicolas's bull-brained body is a Minotaur.) Frédéric then develops a means of projecting his own consciousness into a machine — Nicolas's high-tech automobile. A Symbolist-esque homage to H.G. Wells's The Island of Doctor Moreau. Fun fact: This was Renard's first novel. The poet Apollinaire was a fan: "A little marvel of fantasy: charming, cultivated, and effortlessly learned."

William Hope Hodgson's supernatural adventure The House on the Borderland (1908). Directly over a vast chasm near a remote Irish village, some two hundred years before our narrative begins, someone has built a weird stone house — circular, with "little curved towers and pinnacles, with outlines suggestive of leaping flames." As our narrator — the Recluse, whose journal it is that we're reading — soon discovers, the house is a space/time portal. He's oppressed by a hallucinatory vision, in which he travels to another planet (or dimension) where he finds a version of the house; and he's attacked by humanoid "swine-things," who emerge from the chasm. The house also transports the recluse to "the Sea of Sleep," where he reunites with his lost love — who warns him that the house was "founded on grim arcane laws." The man is afforded a cosmic vision of Earth passing through eons to its destruction… and he's infected by a luminous fungus! Fun facts: Via this book and the Radium Age sci-fi novel The Night Land (1912), among other writings, Hodgson pioneered a strain of cosmic horror that would prove influential on the likes of H.P. Lovecraft and Clark Ashton Smith.

Marjorie Bowen's supernatural fantasy adventure Black Magic (1909). In medieval Flanders, Dirk Renswoude, a lonely craftsman of noble birth, meets Thierry, a young scholar who shares Dirk's fascination with the black arts. Against a background of violent storms, mysterious comets, and a Walpole-esque mood of gothic horror, the two experiment with mystic circles, arcane incantations, and the summoning of demonic visions. Although Thierry is afraid of blasphemy, Dirk is ambitious — and has sworn allegiance to the Devil in return for worldly power. In fact, Dirk aims to become the Antichrist and Satanic Pope! Nevertheless, Dirk is not entirely villainous — he risks everything for Thierry, with whom he has fallen in love… and his backstory reveals a surprise twist that makes us sympathetic to his desire for the agency and independence denied to him by his family. Ysabeau, a cold-blooded schemer and murderess character, also becomes a sympathetic and even heroic figure; and Jacobea, the novel's tormented heroine, is also well-portrayed. Despite a great deal of awkwardly formal speech, this is a tense, atmospheric thriller that gets entertainingly trippy at times. The novel's visual set-pieces remind me of Mervyn Peake's 1946–1959 Gormenghast series. Fun facts: Margaret Gabrielle Vere Long published over 150 historical romances, supernatural horror stories, popular histories and biographies — most frequently under the pseudonym "Marjorie Bowen." Fritz Leiber, author of the witchcraft thriller Conjure Wife, called Black Magic "brilliant."

E.M. Forster's Radium Age sci-fi adventure The Machine Stops (1909). Written as a riposte to H.G. Wells's 1899 technocratic utopia When the Sleeper Wakes, in which Londoners live in a multi-tiered underground society, connected by a vast rail network, Forster's short novella The Machine Stops takes place in a future civilization in which the outdoors is all but uninhabited. A "Machine" supplies each inhabitant of this global civilization with everything he or she might desire — to a degree where, at this point, few people ever leave their well-appointed apartments. Socialization and entertainment are entirely mediated via the Machine: yes, Forster helped predict the Internet. Who programs the Machine? It's unclear. In fact, most people are programmed by the Machine. When one courageous individual, Kuno, briefly visits the outside world, he's shunned by his own mother. Later, when the Machine begins to break down, the inhabitants of this utopian society are utterly helpless. The 2008 Pixar movie WALL·E — in which humanity has grown fat and sessile thanks to automated systems that serve their every need; and in which those systems break down — offers a happy-ending version of the same parable. Fun fact: This novella was first published in The Oxford and Cambridge Review (November 1909). It was written at the height of the author's powers: between A Room with A View and Howards End. It was published in book form in 1928, as part of the collection The Eternal Moment and Other Stories. Serialized here at HILOBROW.

G.K. Chesterton's crime adventure story collection The Innocence of Father Brown (serialized 1910–1911; as a book, 1911). Chesterton's Father Brown character — a plump, unassuming Roman Catholic priest — is, in important ways, the anti-Sherlock Holmes. He is modest, empathetic, un-dashing and un-athletic. Like Holmes, however, he has made a lifelong study of evildoers: "Has it never struck you," he demands, in his first outing, "that a man who does next to nothing but hear men's real sins is not likely to be wholly unaware of human evil?" In this first collection of Father Brown stories, we also meet Aristide Valentin, head of the Paris Police, and Flambeau, the world's most famous criminal; both characters, at times, will be Brown's friends and foes. In "The Blue Cross," the first Father Brown story, Valentin attempts to prevent Flambeau from robbing Father Brown; but Father Brown remains one step ahead of both men the entire time. What is Father Brown's method? H puts himself imaginatively into the minds of criminals. He also relies on casuistry — the resolving of moral problems by the application of theoretical rules to particular instances. That is to say, he is prejudiced! Fun fact: The stories collected here first appeared in the magazines The Story-Teller and The Saturday Evening Post. The best Father Brown movie remains the 1954 film, Father Brown, starring the perfectly cast Alec Guinness.

Alfred Jarry's 'pataphysical adventure Gestes et opinions du docteur Faustroll pataphysicien: Roman néo-scientifique suivi de Spéculations (w. 1898, p. 1911, trans. as Exploits and Opinions of Dr. Faustroll, Pataphysician). The scientist-inventor Dr. Faustroll travels — in a high-tech (capillarity, surface tension, equilateral hyperbolae are involved) amphibious copper skiff — from the Seine from point to point through the neighborhoods and buildings of Paris. He is accompanied by his Wookiee-like baboon butler Bosse-de-Nage, and also by the story's narrator, Panmuphle, a lawyer attempting to convict the good doctor of debt. Opposed to mainstream science's principe de l'induction, Faustroll practices a "science of imaginary solutions" that he calls 'pataphysics. Whereas the inductive reasoner brackets his imagination and blinkers his perspective, the 'pataphysician embraces as many perspectives as possible; no conjecture is regarded as impossible. Spoiler alert: Dr. Faustroll dies! But he manages to send a telepathic letter to Lord Kelvin describing the afterlife and the cosmos. Fun fact: Jarry is best known as the author of the proto-Dada play Ubu Roi. This posthumously published novel is regarded, by exegetes, as the central work to his oeuvre.

Marcel Allain and Pierre Souvestre's crime adventure Fantômas (1911). A bloodthirsty avenger/artful dodger adventure about the ruthless Fantômas — who would become one of French crime fiction's most popular characters. When Marquise de Langrune is murdered, her friend Rambert accuses his son, Charles, of having committed the heinous crime. Inspector Juve of the Paris Sûreté suspects that Fantômas was to blame, but it's too late — Charles's body is pulled from a river, an apparent suicide. Meanwhile, Lord Beltham has disappeared; Juve finds his body stuffed into a trunk belonging to Beltham's friend, Gurn. Then, when a Russian princess is robbed, Juve questions Mademoiselle Jeanne, the hotel's cashier — who knocks him out, before revealing herself to be… Charles, who is not dead! (Charles winds up becoming Juve's assistant.) Juve captures Gurn, who is actually… Fantômas! How will Fantômas escape the guillotine? Fun fact: Allain and Souvestre would crank out over 30 subsequent Fantômas feuilletons together — including nine in 1911 alone! These lowbrow entertainments were devoured by high-lowbrow artists and authors — Raymond Queneau, Blaise Cendrars, René Magritte, Robert Desnos, Guillaume Apollinaire, James Joyce — some of whom were inspired to introduce adventure elements into their own writing.

William Hope Hodgson's The Night Land (1912). In the far future, what remains of the human population dwells deep below the Earth's frozen surface in a pyramidal fortress-city that for centuries has been surrounded by giants, "ab-humans," enormous slugs and spiders, and malevolent Watching Things from an alien dimension. The unnamed narrator, along with apparently every other surviving human, lives trapped in the Last Redoubt, an eight-mile-high metal pyramid-city constructed by their ancestors using now-forgotten technologies. The pyramid is protected from the Slayers, who surround and observe it constantly, by mysterious Powers of Goodness, and also by a massive force-field powered by the "Earth Current" — a Tesla-esque force drawn from the planet itself. When the narrator receives a telepathic distress signal from a young woman whom (in a previous incarnation) he'd once loved, he sallies forth on an ill-advised rescue mission — into the uncharted and unfathomable Night Land. Fun fact: "One of the most potent pieces of macabre imagination ever written." — H.P. Lovecraft, "Supernatural Horror in Literature" (1927). Reissued by HiLoBooks, with a new Introduction by Erik Davis.

Arthur Conan Doyle's The Lost World (1912). Having assembled a crew of adventurers, the brilliant, blustering physiologist and physicist Prof. Challenger journeys to a South American jungle… in search of a lost plateau crawling with iguanodons. It's a ripping yarn — the first popular dinosaurs-still-live tale, prototype for everything from King Kong to Jurassic Park. At the same time, however, it's a philosophical novel, one which animates — in a thrilling, humorous fashion — the author's obsessive drive (also seen in his Sherlock Holmes stories) to reconcile the claims of logical reason and intuition. Challenger's foil, the respected zoologist Professor Summerlee, is an avatar of the inductive method of reasoning; we first meet him when he rises from the audience at a lecture in order to accuse Challenger of making non-testable assertions. Although Summerlee is an admirable figure, in the end his refusal to accept any facts that haven't been revealed by means of instruments and techniques of observation and experiment make him look like a dogmatic nincompoop. Plus: Battles with proto-humanoids! Fun fact: Doyle followed up this bestselling novel with The Poison Belt (1913) and The Land of Mist (1926), as well as two short stories about Challenger. Reissued by Penguin Classics.

Edgar Rice Burroughs's A Princess of Mars (serialized 1912; in book form, 1917). Transported to Mars — via something like astral projection — ex-soldier John Carter finds himself embroiled in a war between the Red and Green Martians. The barbaric, nomadic Green Martians are 15 feet tall, with six limbs; they inhabit the abandoned cities of Barsoom (that is, Mars). The Red Martians, meanwhile, are civilized humanoids, organized into city-states that control Barsoom's water. Carter's unusual coloring, and the extraordinary strength he is afforded by the planet's weak gravity, make him uniquely capable of forming alliances among honorable members of both Barsoomian peoples. He falls in love with Dejah Thoris, beautiful daughter of a Red Martian chieftain, and rescues her from both Green and Red Martians before leading a Green Martian army against the enemy of Thoris's state. Fun facts: Serialized pseudonymously, in the same year that Burroughs's Tarzan of the Apes appeared, this is the first in the author's popular "Barsoom" planetary romance series. It was originally titled Under the Moons of Mars. PS: I might be in the minority, on this subject, but I quite enjoyed the book's 2012 Hollywood adaptation, John Carter.

Edgar Rice Burroughs's atavistic adventure Tarzan of the Apes (serialized 1912; as a book, 1914). When England's Lord and Lady Greystoke are marooned in the western coastal jungle of equatorial Africa, their infant son is adopted by Kala of the Mangani — a species of manlike apes who speak a primal universal language understood by other animals, too. "Tarzan" (Mangani for "white skin") grow up to be a fierce warrior and skilled hunter; he also discovers his parents' abandoned cabin, and teaches himself to read English. Not long after, another party is marooned on the coast: including professor Archimedes Q Porter and his daughter, Jane; French Naval Officer Paul D'Arnot (who befriends Tarzan, and teaches him how to behave among Europeans); and Tarzan's cousin. Will Tarzan assume his rightful role, as Earl of Greystoke in England? Or will he remain in the jungle? Fun facts: Serialized in All-Story Magazine. Burroughs would write over two dozen Tarzan adventures; and the franchise has grown to include movies (starring Johnny Weissmuller, in the 1930s–40s), TV and radio, and comics (drawn by Jesse Marsh, Russ Manning, and Doug Wildey from 1948–1972, and by Joe Kubert from 1972–1976).

Zane Grey's Western adventure Riders of the Purple Sage (1912). If you're only going to read one Western, this is the one. Set in the cañon country of southern Utah in 1871, its relatively complex plot involves polygamists, a notorious gunman searching for his long-lost sister, and a mysterious masked rider! Mormon-born Jane Withersteen has inherited a valuable ranch; when she befriends Venters, a "Gentile" (non-Mormon), the Mormon elders begin to persecute her. Venters heads out in pursuit of gang of rustlers that includes a mysterious Masked Rider; meanwhile Lassiter, a laconic Mormon-killer, arrives at Jane's ranch in search of his sister. Will he and Jane fall in love? How will they escape from the vengeance of the Mormons… and from rustlers, too? Fun fact: One of the most influential western novels. Riders of the Purple Sage has been filmed five times; a comic-book version was published by Dell in 1952.

Marie Belloc Lowndes's psychological thriller The Lodger (1913). The author grew up in London in the late 19th century, during Jack the Ripper's killing spree; in this atmospheric murder-mystery-without-a-sleuth, she takes us back to that era. Ellen and Robert Bunting are an older couple who have retired from a life as servants to open a rooming house… but they've been unsuccessful, and they're about to lose everything. One day, however, a Mr. Sleuth arrives at their door and offers them a generous monthly fee for the use of their rooms. At the same time, a killer — who signs himself "The Avenger" — begins to stalk London's foggy streets. Slowly, Mrs. Bunting begins to suspect that her lodger's odd behavior may indicate that he is the killer. However, fearful of financial ruin, she doesn't share her suspicions with her husband. The pace is slow, the tonality brooding and melodramatic. Brrr! Fun facts: Alfred Hitchcock adapted Lowndes's novel as a silent movie of the same title in 1927. Hitchcock also adapted the story, in 1940, as the first installment in the radio drama series Suspense.

E.C. Bentley's crime adventure Trent's Last Case (1913). The American mogul Sigsbee Manderson is found dead, at his British estate, under mysterious circumstances (e.g., bruises on his wrist); was he killed, or did he commit suicide? Paging Philip Trent, portrait artist and gentleman detective, whose painterly eye has in the past allowed him to draw helpful conclusions about crime scenes. In this early example of a "cozy mystery" — an un-hardboiled Golden Age of Detective Fiction sub-genre in which the crime takes place in a socially intimate community, and in which sex and violence are treated with Wodehouse-esque irreverence — Trent sleuths and reasons his way to a compelling solution fairly quickly. But there are reversals, even double reversals, to come before it's all over. It's an uneven effort, but fun. The newly widowed Mabel Manderson is a particularly compelling femme fatale; and Trent is a proto-Lord Peter Wimsey type, full of high spirits and literary allusions. Fun facts: E.C. Bentley was a journalist who set out to poke fun at the humorless Sherlock Holmes (new Holmes stories were still being published, at the time). In doing so, he kick-started an entire sub-genre. Dorothy Sayers was a fan; the hardboiled Raymond Chandler was not. Sequels: Trent's Own Case (1936) and the short-story collection Trent Intervenes (1938).
---
TEENS ADVENTURES
1914–1923
---
Also see: 100 BEST TEENS ADVENTURES and 100 BEST RADIUM AGE (PROTO-)SCI-FI ADVENTURES.
In chronological order…
André Gide's picaresque Les caves du Vatican (1914; in English: Lafcadio's Adventures, The Vatican Catacombs, other titles). Gide described this antic, Shakespearean comedy-style yarn, set in 1890s Paris and Rome, as a sotie — that is, a satirical play exposing humankind's foolishness. Bourgeois morality and complacent religiosity do take a beating, here. Three of our five protagonists are Anthime, a pedantic freethinker and scientist living in Rome, who experiences a religious conversion; Julius, a smug, middlebrow Parisian novelist hoping to win a Nobel prize by writing a crime novel about an acte gratuit — an action that is unmotivated; and Amédée, a devout, naive Catholic — all of whom are brothers-in-law, and all of whom become entangled to various degrees in a con game, the victims of which are led to believe that the Pope (Leo XIII, at the time) has been kidnapped, replaced with an imposter, and incarcerated underneath the Vatican. Our fourth protagonist is Protos, a con man who poses as a Catholic priest raising money to rescue the true Pope from the Freemasons; and our fifth is Lafcadio, a teenaged would-be ubermensch who reads nothing but adventures like Aladdin and Robinson Crusoe, and whose goal in life is to perform an acte gratuit — whether for good or ill. When Lafcadio, whom we discover is the illegitimate half-brother of Julius and a former schoolmate of Protos, encounters Amédée, who has headed out to singlehandedly rescue the Pope, who will survive the encounter — the hero or the antihero? Fun facts: First serialized January–April 1914 in La Nouvelle Revue Française. Gide was among those few French writers of the early 20th century who took inspiration from pulp fiction, as a rebuke to the earnestness of highbrow European fiction. A few years later, André Breton would write, to fellow absurdist litterateur Tristan Tzara, "You can't imagine how much André Gide is on our side."

Arthur Conan Doyle's Sherlock Holmes adventure The Valley of Fear (1914). The fourth and final Sherlock Holmes adventure is loosely based on the Molly Maguires, an Irish secret society known for their sometimes-violent activism among Irish-American and Irish immigrant coal miners in Pennsylvania, and Pinkerton agent James McParland, who infiltrated the Molly Maguires. Holmes receives a cipher message from a turncoat agent of Professor Moriarty, the Machiavellian criminal mastermind whom nobody but Holmes believes to be evil. After cracking the cipher, Holmes and Watson investigate the murder of John Douglas of Birlstone Manor House, in Sussex. The dead man's forearm is branded with a curious design, a triangle within a circle; and he had been known to speak of "The Valley of Fear," perhaps a place in America from which he'd fled. Watson finds the dead man's widow and his best friend laughing merrily in the garden. Not all is as it seems, with the murder, and once Holmes gets to the bottom of it, he learns that Douglas was once a Pinkerton detective in Chicago, who'd infiltrated a murderous gang in Chicago, and brought them to justice. Although Holmes doesn't appear in this back-story, it's exciting stuff. Fun facts: The story was first published in the Strand Magazine between September 1914 and May 1915; it was published in book form in 1915. While one might expect to sympathize with the Irish gang in their struggle against the mining companies, Douglas's story portrays them as ruthless criminals who exploit both workers and wealthy capitalists alike.

Eugene Manlove Rhodes' Western adventure Bransford in Arcadia (1914). Rhodes' first short novel, Good Men and True (1910), introduced us to the literature-loving cowboy Jeff Bransford, who after witnessing an attempted murder in El Paso is kidnapped by a wealthy politician and businessman. In that book's sequel, set in the Tularosa Basin within the Chihuahuan Desert, east of the Rio Grande in southern New Mexico, Bransford is arrested for a bank robbery that involved a near-fatal shooting… but he can't reveal his alibi, because he was keeping company with Ellinor, a respectable young woman — and their meeting was unchaperoned! Unable to account for his whereabouts at the time of the robbery without compromising the reputation of his lady friend, Bransford instead makes a dramatic escape and flees town with a posse in hot pursuit. Then, like Richard Hannay in John Buchan's The Thirty-Nine Steps, which would be serialized the following year, Bransford disguises himself and brazenly offers to help his pursuers apprehend their quarry. Later, he will also attend a masked ball in disguise — while wearing a football uniform! The "Arcadia" of the title is a hacienda run by a decent, honest, hard-working Mexican family; unlike many adventure novels of this period, Rhodes's is unusually free of racial stereotyping. Will Bransford ever be cleared of this crime? And if so, what will happen with the lovely, virtuous Ellinor? A thrilling, and amusing yarn. Fun facts: Rhodes moved to New Mexico with his family as an adolescent; there, he became an accomplished horseman, stonemason, and road builder. Although he spent two decades in the state of New York, he often wrote about New Mexico; it was he who first dubbed it the "Land of Enchantment."

John Buchan's Richard Hannay adventure The Thirty-Nine Steps (1915). When mining engineer Richard Hannay discovers the existence of a ring of German spies who have stolen British plans for the outbreak of war, he is framed for murder. Fleeing to Scotland, he must elude not only spies but the police. The best hunted-man thriller (or "shocker," to use the author's term) ever, at least until Geoffrey Household's Rogue Male. Like Edgar Rice Burroughs and Jack London, Buchan's prose juxtaposes realistic hunted-man chases, violent weather, and hand-to-hand combat with fantasy and atavistic (alas, usually racist) elements. Adapted into a humorous adventure movie of the same title by Alfred Hitchcock.

Talbot Mundy's espionage/occult adventure King of the Khyber Rifles (1916). At the outset of the First World War, Captain King, a kind of secret agent for the British Raj, is ordered to investigate the possibility that Turkey might try to stir Muslims into a jihad against the British Empire. Traveling (in disguise) from India to the Khyber Pass and Khinjan in Pakistan and Afghanistan, King makes contact with Yasmini, a beautiful woman worshipped by the fierce hill tribesmen on the Raj's northwest frontier. Is Yasmini loyal to the Raj… or is she trying to raise an army of her own? Meanwhile, King seeks out the murderous mullah who dreams of a jihad… and discovers an ancient secret — the Sleepers — concealed in a sacred cave. Fun facts: This is the author's most famous novel; it influenced Robert E. Howard and other prewar fantasy adventure writers, and it was adapted as a movie twice (in 1929 and 1953) — not to mention as a 1953 Classics Illustrated comic. PS: This novel's plot is strongly reminiscent of Rosemary Sutcliffe's 1954 YA adventure, The Eagle of the Ninth. Hmmm…

John Buchan's Richard Hannay adventure Greenmantle (1916). In the second of Buchan's five terrific Richard Hannay "shockers," this sequel to The Thirty-Nine Steps introduces us to: Sandy Arbuthnot, an Orientalist and master of disguise; the doughty Afrikaner hunter and scout Peter Pienaar; and the fat, dyspeptic American anti-fascist John Blenkiron. During the First World War, the Germans plot to organize a jihad to rouse the British Mahometans in India to fight for the Caliph against England. Germany needs to control a mystical Muslim figure, Greenmantle, who can "madden the remotest Moslem peasant with dreams of Paradise"; the beautiful but evil Hilda von Einem sets out to seduce her false prophet… but ends up falling in love with him. Can Hannay and his companions stop the plot in time? Fun fact: The character of Sandy Arbuthnot is loosely based on the extraordinary real-life Orientalist and British diplomat Aubrey Herbert.

Louis Joseph Vance's Lone Wolf espionage adventure The False Faces (1918). Ten years before the debut of Simon "The Saint" Templar, Leslie Charteris's master criminal who during WWII would become a British agent, there was The False Faces, in which French master thief and dashing man about town Michael Lanyard, aka the Lone Wolf, turns spy. In the second of Vance's eight Lone Wolf adventures, we find Lanyard at the front — crossing "No Man's Land" from the German zone back to the British. He has been hunting for Ekstrom, the Prussian spy responsible for the brutal death of his wife and child; however, Ekstrom has fled to America. Lanyard, in disguise, follows him — overcoming one peril after another, from a U-boat attack on his passenger ship ("with the lurid unreality of clap-trap theatrical illusion the U-boat vomited a great, spreading sheet of flame") to a multinational nest of spies in Manhattan. The action is non-stop! Will the Lone Wolf revenge himself? Fun facts: There were some two dozen Lone Wolf movies made. Henry B. Walthall starred as Michael Lanyard in the 1919 American silent film adaptation of The False Faces; and Lon Chaney starred as the movie's villain.

Edgar Rice Burroughs's The Land That Time Forgot (1918). During WWI, a shipwrecked American shipbuilder (Bowen Tyler), beautiful Frenchwoman Lys La Rue, and the crew of a British tugboat capture a German U-boat — and sail it to the Antarctic, dodging Allied ships — until they find themselves drawn to an uncharted magnetic island… inhabited by beast-men in various states of evolution. The British and German sailors agree to work together, under Tyler, to survive (Swiss Family Robinson-style) until they can somehow refuel the U-boat. However, when Lys is captured by proto-humans and the Germans abscond with the sub, Tyler must set off into the interior of the island. Fun facts: Some Burroughs fans consider this the author's best novel. Confusingly, in 1924 it was published — along with two sequels (The People That Time Forgot, Out of Time's Abyss) under the omnibus title The Land That Time Forgot. Reissued by Bison Frontiers of Imagination.

A. Merritt's Radium-Age sci-fi/fantasy adventure The Moon Pool (1918–1919). The scientist Dr. Goodwin, the dashing pilot/adventurer Larry O'Keefe, and others descend into the Earth's core — in pursuit of an entity that sometimes rises to the surface of the planet and captures men and women. In addition to a lost race of powerful, handsome "dwarves" and a lost race of froglike humanoids, the explorers discover that the entity they seek is the Dweller, essentially an AI created by an advanced race, known as the Shining Ones (ancient astronauts?). The Dweller has the capacity for great good and great evil, but over time is has tended to become evil rather than good. Yolara, a beautiful woman who serves the Dweller, falls in love with O'Keefe; so does Lakla, a beautiful woman who serves the Shining Ones. The adventurers must persuade or coerce the Dweller to become good — but how? Fun fact: Merritt was a best-selling author during this period. The Moon Pool, which originally appeared as two short stories in All-Story Weekly, is sometimes cited as an influence on Lovecraft's "The Call of Cthulhu." Reissued by Bison Frontiers of Imagination.

Johnston McCulley's swashbuckling adventure The Curse of Capistrano (1919, also published as The Mark of Zorro). In the pueblo of Los Angeles, capitol of the Spanish colony of California, the powerful and influential Vega family — aristocrats, known as caballeros, who frequently resort to violent swordplay in defense of their honor — are troubled by the effete, nonviolent attitude of young Don Diego Vega. Who is half-heartedly wooing Lolita, beautiful daughter of a caballero who has recently lost most of his land and wealth; Lolita, however, would prefer a much more passionate lover. Meanwhile, a masked, sombrero cordobés-sporting vigilante known only as Zorro (that is to say, the Fox) has risen up against the corrupt governor — whose depredations have recently ruined not only caballeros like Lolita's father, but local Indians and the Franciscan friars who seek to protect them. When Captain Ramon, the governor's villainous henchman, threatens to ruin Lolita's honor, the listless Don Diego does nothing, but Zorro won't stand for it! This is melodramatic pulp fiction — McCulley was a prolific contributor to early pulps like Argosy and Detective Story — but the action is exciting, and the Don Diego/Zorro setup was ahead of its time. Fun facts: Serialized in 1919 in All-Story Weekly. The Douglas Fairbanks-starring 1920 film adaptation of McCulley's novel, The Mark of Zorro, was a huge success; subsequent editions of the The Curse of Capistrano would be titled The Mark of Zorro. The masked vigilante characters Batman and The Lone Ranger would be largely inspired by Zorro.

Max Brand's Dan Barry Western adventure The Untamed (1919). This is the original spaghetti western, featuring a loner protagonist with uncanny violent abilities, sympathetic villains, exaggerated western tropes (the dialogue can be downright corny), dreamlike landscapes, even a haunting soundtrack — Whistlin' Dan Barry's hypnotic whistling. Our protagonist is a mysterious figure who was found wandering in the Western wilderness as a child; he rides a black stallion (Satan), and is trailed by a black wolf-dog hybrid (Black Bart). Although he appears mild-mannered, unassuming, even naive, when pushed too far Barry transforms — like the Incredible Hulk — into an unstoppable killing machine, yellow-eyed and fiercely strong. (Is Whistlin' Dan a werewolf? wonder some of this novel's characters; is he a mutant? is this a science-fiction story? wonders this reader.) When train robber Jim Silent kidnaps Kate, daughter of Barry's adoptive father, Barry takes on not only the outlaw and his gang but the corrupt lawmen who protect them. There are exciting gunfights, fist-fights, horseback chases, a train robbery, a jailbreak, and a strangling. If the ending is unsatisfactory, it's because the author must have realized that he could get more mileage out of Whistlin' Dan if the semi-feral character remained an undomesticated outlaw. Fun facts: Adapted in 1920 as a Tom Mix movie, and in 1931 as the pre-Code Western Fair Warning. Brand wrote two sequels: The Night Horseman (1920) and The Seventh Man (1921).

John Buchan's Richard Hannay espionage adventure Mr. Standfast (1919). In his third outing, Richard Hannay — the unwilling British agent who exposed a German spy ring (in The Thirty-Nine Steps, 1915) and thwarted a German-backed Muslim uprising (in Greenmantle, 1916), is recalled from active service on the Western Front, where he is a Brigadier General, and tasked with raveling around Great Britain in his least likely undercover role yet: a conscientious objector! There's a dangerous German spy at large, an officer of the Imperial Guard who can effortlessly pose as everything from a leading pacifist thinker to a Kansas City journalist; the military-minded Hannay must now infiltrate England's community of bohemian, intellectual pacifists and objectors. The American agent John Blenkiron (from Greenmantle) plays an important role, and the Boer ne'er-do-well and hunter Peter Pienaar becomes an ace pilot — and the book's moral center. Meanwhile, we meet for the first time the brave British agent Mary Lamington — with whom both Hannay and the German spy fall in love; and in Scotland, Hannay runs afoul of Geordie Hamilton, a tough Fusilier who later will become Hannay's personal aide. Another terrific character is the pacifist and mountaineer Launcelot Wake. There are codes to be broken, amazing chase scenes and close shaves, and an eerie chateau near the Western Front! Fun facts: Buchan's subsequent Richard Hannay novels are The Three Hostages (1924) and The Island of Sheep (1936).

James Branch Cabell's comical fantasy adventure Jurgen, A Comedy of Justice (1919). Cabell, a friend and exact contemporary of the arch-ironist H.L. Mencken's, is best remembered today for this bawdy, bonkers picaresque, the sly protagonist of which — Jurgen, poet and pawnbroker — romps through Arthurian mythos and medieval dreamscapes. Along the way, he seduces such alluring characters as Guinevere; Queen Sylvia, who vanishes at dawn; Anaitis, the personification of desire; Sereda, the Goddess of Time; Florimel, who dwells in a quiet cleft by the Sea of Blood; and Phyllis, the wife of Satan himself. Or so we're led to believe: Cabell's sex scenes are wink-wink, nudge-nudge masterpieces of allusion, puns, and misdirection. Jurgen bears comparison to Joyce's Ulysses (first serialized from 1918–1920), not only because the author's use of language is gorgeous, but because both books are dizzying displays of erudition — and both are easier to read, for this reason, in annotated editions. This is a fantasist's fantasy; its most ardent fans — including Aleister Crowley, who called Jurgen one of the "epoch-making masterpieces of philosophy," James Blish, who edited the journal of the Cabell Society, Robert A. Heinlein, who described Stranger in a Strange Land as "a Cabellesque satire," and Neil Gaiman, whose syncretistic Sandman mythos owes a debt to Jurgen's — are themselves among our best fantasy authors. Plus, it's funny! Fun facts: Jurgen was the subject of a celebrated obscenity case, brought by the New York Society for the Suppression of Vice, shortly after its publication. The 1926 edition of the novel includes a new scenario in which the hero is placed on trial by the Philistines, with a dung-beetle as the chief prosecutor. HiLoBooks serialized Jurgen, with footnotes, here at HILOBROW in 2015–2016.

Karel Čapek's Radium Age science fiction play R.U.R.: Rossum's Universal Robots (w. 1920, performed 1921). Čapek, a brilliant Czech litterateur, satirized the capitalist cult of efficiency, and expressed his fear of the unlimited power of corporations, in this play. On a mission from a humanitarian organization devoted to liberating the Robots (who aren't mechanical; they're the product of what we would now call genetic engineering), Helena Glory arrives at the remote island factory of Rossum's Universal Robots. She persuades one of the scientists to modify some Robots, so that their souls might be allowed to develop. One of these modified Robots issues a manifesto: "Robots of the world, you are ordered to exterminate the human race… Work must not cease!" Chaos ensues. Fun fact: R.U.R. gave the world the term "robot," which the author's brother, Joseph, coined as a play on the Czech term for unremunerated labor.

Brian Oswald Donn-Byrne's frontier adventure Messer Marco Polo (1921). An elderly Scotch-Irish bard — in modern times — tells a lively tale, to his young American nephew, about Marco Polo, an Italian Catholic explorer journeying across Asia from Venice to the courts of Cathay in pagan China, during the High Middle Ages. Though sent as a kind of missionary — after an audience with an Irish pope — when Marco Polo visits the court of Kubla Kahn, the Mongol ruler and emperor of China, he falls in love with Golden Bells, daughter of the Khan. Their love story is lyrical and sweet, but the book is very much an adventure, too. The caravan is lost in the Gobi Desert; there is murder and witchery. And the amused politeness with which Marco Polo's preaching is met is wicked! Fun fact: Often categorized as a children's book, but in fact it's Menippean satire. The multi-layered, historical/fantastical, ironic/romantic quality of this yarn brings to mind Donn-Byrne's contemporary, James Branch Cabell, who called this "a very magically beautiful book"; as well as Flann O'Brien's At Swim-Two-Birds or William Goldman's The Princess Bride. Donn-Byrne died tragically young, in 1928, in an automobile accident.

Rafael Sabatini's historical adventure Scaramouche (1921). When a cynical young Breton lawyer, Andre-Louis Moreau, denounces the aristocracy — this is shortly before the outbreak of the French Revolution — in front of a riled-up crowd, he becomes a wanted man. He joins a troupe of travelling Commedia dell'Arte actors, assuming the stock character of Scaramouche — a scheming rogue who clownishly burlesques his aristocratic superiors. However, Moreau's true identity is discovered, and he is forced to go into hiding. He bluffs his way into an apprenticeship with the Master of Arms at a fencing academy — and, over time, he becomes a dangerously skillful swordsman. During the Revolution, Moreau emerges from hiding and goes into politics… he has become an idealist! However, he must fight a duel to the death with an old adversary. Fun fact: Scaramouche was worldwide bestseller for Sabatini, rivaled only by his other adventures, including The Sea Hawk (1915) and Captain Blood (1922). The novel was adapted into a 1923 swashbuckling movie starring Ramón Novarro.

Yevgeny Zamyatin's We (1921). This dystopian novel, set in a totalized social order whose citizens ("ciphers," with numbers for names) eat, sleep, work, and even make love like clockwork, extrapolates from the rhetoric of those communists who advocated extending Taylorism and other capitalist scientific-management techniques beyond the factory into all spheres of life. Their ancestors were right to invent a more equitable social order, the female revolutionist I-330 tells D-503. But afterward, she adds (speaking in a mathematics-inflected register intended to subvert D-503's lifelong conditioning) "they believed that they were the final number — which doesn't exist in the natural world, it just doesn't." Fun fact: We circulated in samizdat for years — in which form it influenced George Orwell's Nineteen Eighty-Four. Reissued by Penguin Classics.

Rafael Sabatini's Captain Blood: His Odyssey (1922). Peter Blood, an Irish physician who'd formerly been a soldier and sailor, and who has now settled peacefully in southwestern England, wants no part in 1685's Monmouth Rebellion against King James II; however, he does tend to rebels wounded at the Battle of Sedgemoor. He is arrested, convicted of treason, and sold into slavery on a sugar plantation in the Caribbean. Blood becomes friendly with Arabella, the daughter of his new owner, the governor of England's colony of Jamaica… who hunts Blood, with the intention of hanging him, when Blood and other convict-slaves escape and become successful Caribbean pirates. When French forces attack Jamaica, will Blood overcome his enmity for England and sail to the colony's rescue? Fun facts: The novel, which first took the form of stories published in 1920–1921, was very popular; Sabatini was inspired, in part, by the real-life adventures of Henry Pitman. Captain Blood has been adapted as a movie several times, most memorably in 1935; this was to be Errol Flynn's breakout role.

E.R. Eddison's fantasy adventure The Worm Ouroboros (1922). On the planet Mercury — essentially, a fantasy version of Earth — the Lords of Demonland (the brothers Juss, Spitfire, and Goldry Bluszco, and their cousin Brandoch Daha) are at war with King Gorice of Witchland, who demands that Demonland recognize him as overlord. Juss and his brothers reply that they and all of Demonland will submit if the king (a famous wrestler) can defeat Goldry Bluszco in a wrestling match; Gorice is killed. Gorice's successor, a wizard, banishes Goldry to an enchanted mountain prison. Lord Spitfire is sent back to raise an army out of Demonland, while Lord Juss and Brandoch Daha, aided by King Gaslark of Goblinland, attempt an assault on Carcë, the capital of the Witches, where they think Goldry is held. Juss and Brandoch Daha are captured — will La Fireez, the prince of Pixyland, come to their aid? Many more adventures lie ahead… but when the exploits and battles are over, everything returns to exactly the way it was. Fun facts: J.R.R. Tolkien and C.S. Lewis were fans of Eddison's novel — the title of which refers to the Norse myth of a dragon swallowing its own tail. Like the worm Ouroboros, Eddison's tale ends where it begins.

Agatha Christie's crime adventure The Secret Adversary (1922). In 1919 London, demobilized soldier Tommy Beresford and war volunteer Prudence "Tuppence" Cowley decide to start their own business as The Young Adventurers Ltd. Hired by an American millionaire in search of his cousin, a woman who survived the 1915 sinking of the RMS Lusitania but who has since vanished, Tommy and Tuppence meet Mr Carter, who'd been a leader in British intelligence; he warns them of the elusive and merciless figure known as Mr. Brown. Tommy tails a suspect to a meeting of Bolshevist conspirators, where he is caught. Tuppence discovers that the missing woman has lost her memory… and that she'd been entrusted with a treaty whose exposure could prove disastrous to England! It's all very Gothic: there are poisonings, double-crosses, and proposals of marriage. Fun facts: Agatha Christie's second published detective novel introduced the characters of Tommy and Tuppence, who would feature in three other Christie novels and one collection of short stories.

E.V. Odle's Radium Age sci-fi adventure The Clockwork Man (1923). Years from now, advanced beings known as the Makers will implant clockwork devices into our heads. At the cost of a certain amount of agency, these marvelous devices will permit us to move unhindered through time and space, and to live perfectly regulated lives. However, if one of these devices should ever go awry, a "clockwork man" from the future might turn up in the 1920s, perhaps at a cricket match in a small English village. Considered the original cyborg novel, and perhaps the original singularity novel too. "Odle's ominous, droll, and unforgettable The Clockwork Man is a missing link between Lewis Carroll and John Sladek or Philip K. Dick," says Jonathan Lethem. "Considered with them, it suggests an alternate lineage for SF, springing as much from G.K. Chesterton's sensibility as from H.G. Wells's." Fun facts: Reissued by HiLoBooks with an Introduction by Annalee Newitz. Rumors that "E.V. Odle" was a pen name for Virginia Woolf are amusing, but unfounded. Edwin Vincent Odle (1890–1942) was a writer who lived in Bloomsbury, London during the 1910s. From 1925–35, he was editor of the British short-story magazine The Argosy.

Jaroslav Hašek's comic adventure The Good Soldier Švejk (1921–1923). So popular was this unfinished, darkly humorous Czech story, considered the first antiwar novel, that in the 1920s–30s its protagonist became an avatar of lowbrow passive resistance. The cunning/bumbling Švejk, a dealer in stolen dogs, is among the first to sign up for military service after the assassination in Sarajevo that precipitates World War I. Wheeled into a Prague recruitment office by his landlady, Švejk is immediately accused of malingering because of his supposed rheumatism; then, posted with his battalion to Southern Bohemia, preparatory to being sent to the front, Švejk misses every train there… and sets off on foot. No one knows quite what to do with him — is he an imbecile, a spy, a deserter, a traitor, a pacifist? Even as he arrives at the Russian front, he's arrested by his own comrades… which perhaps was his plan all along? Along the way, like Scheherazade, Švejk tells stories — which he uses to distract, confuse, and craftily insult. Fun facts: Hašek was a journalist, anarchist, and dealer in stolen dogs who during WWI defected from the Czech legion and joined the Bolsheviks; he died in 1923, before finishing this novel. The term "Schweikist," to use the English spelling of Švejk, was coined to mean, roughly: one who loudly proclaims his loyalty to the prevailing authority while simultaneously defying it in a thousand small ways.

Dorothy L. Sayers's crime adventure Whose Body? (1923) In the very first Lord Peter Wimsey adventure, Scotland yard detective Charles Parker brings his friend Wimsey along as he investigates a naked body which has turned up in the bath of an architect's London flat. The dead man strongly resembles a missing Jewish financier… but Wimsey deduces (presumably, by noticing that the man is uncircumcised!) that this is not so. So who is this fellow, and what's happened to Levy? Wimsey cracks the case — which involves an eminent member of London society who is secretly a lunatic with delusions of grandeur. Wimsey — the character was influenced by the high-spirited, literature-quoting protagonist of E.C. Bentley's 1913 spoof Trent's Last Case — is at his most antic, here. However, we learn that he's suffering from WWI-related post-traumatic stress… which is why his friends and family encourage his sleuthing. Not one of my very favorite Wimsey novels, perhaps, but every one of them is fun. Fun facts: Sayers was one of the first women to get a degree from Oxford University. Wimsey's first words in the novel, famously, are, "Oh, damn!"

J.J. Connington's Radium Age sci-fi adventure Nordenholt's Million (1923). As denitrifying bacteria inimical to plant growth spread around the world, causing agricultural blight, Jack Flint is invited to become director of operations at a huge survivalist colony located in England's Clyde Valley. Flint discovers that his employer, the ruthless plutocrat Nordenholt, has blackmailed the country's politicians in order to establish his stronghold, of which he becomes dictator in all but name. What's more, Nordenholt's henchmen purposely wreck what remains of British civilization, leading to scenes of horrific mass violence and agony; and the colony's workers are treated like serfs. The plant-killing plague ends… but Nordenholt's collectivized serfs refuse to work, blow up the factories on which their fragile community depends, and join weird religious cults! The author, it seems, was as worried about the Soviet Revolution as he was about right-wing politicians and rapacious businessmen eager to use any disaster as an excuse to dispense with democracy, liberty, and justice. Fun fact: Connington was the pseudonym of Alfred Walter Stewart, the British chemist who coined the term isobar as complementary to isotope.

Agatha Christie's crime adventure The Murder on the Links (1923). Hercule Poirot is a combination, or so it seems to me, of Arthur Conan Doyle's three greatest characters: the brilliant detective Sherlock Holmes, the obnoxious and (literally) egg-headed adventurer Professor Challenger, and the gallant Brigadier Gerard — via whom Doyle satirized French and English manners. In this, Poirot's second outing, the obnoxious, egg-headed, gallant Belgian detective is called to France — where a millionaire has been found murdered on a golf course. Why is the dead man wearing his son's overcoat? Who was the love letter in his pocket for? Who was his mysterious visitor? Why did his neighbor suddenly come into a great deal of money? Accompanied by his young friend Captain Hastings, who was invalided out of the war after the Battle of the Somme, Poirot pits his wits (not to mention his capacious knowledge of murder cases) against not only the murderer (who strikes again) but a hostile detective from the Paris Sûreté. Fun facts: Christie purposely wrote the book in an ornate, high-flown "French" style reminiscent of Gaston Leroux; and she included a romantic subplot in which Hastings falls in love.
---
TWENTIES ADVENTURE
1924–1933
---
Also see: 100 BEST TWENTIES ADVENTURES and 100 BEST RADIUM AGE (PROTO-)SCI-FI ADVENTURES.
In chronological order…
P.C. Wren's French Foreign Legion adventure Beau Geste (1924). When a relief column from the French Foreign Legion — the military unit deployed to patrol France's colonial empire during the 19th century, and which had a reputation as a refuge for disgraced and wronged men of all nations — approaches the besieged Fort Zinderneuf, somewhere in the Sahara, they discover that every one of its soldiers is dead. One of the relief infantrymen vanishes, and the fort seems haunted! The back story to this mystery is yet another mystery: Some years earlier, when the famous "Blue Water" sapphire is stolen from the home of their Aunt Patricia, Michael "Beau" Geste disappears, leaving behind a note confessing his guilt. His brothers, Digby and John, loyally follow Beau into disgrace — and they all join the French Foreign Legion. In Africa, the brothers make some good friends — two slang-talking Americans who save their lives more than once — but also some enemies, among greedy Legionnaires who long to steal the Blue Water. If you can overlook the narrator's nationalist, classist, racist, and anti-Semitic jibes, this is a fun, swashbuckling story. There's plenty of desperate action, and the Geste brothers are admirably virtuous characters. The main character's nickname, by the way, is a self-fulfilling prophecy: A beau geste is a heroic, self-sacrificing action. Fun facts: The book's sequels are Beau Sabreur (1926) and Beau Ideal (1928). Ronald Colman starred in the 1926 silent film version; William A. Wellman's 1939 remake, starring Gary Cooper, is the book's best-known adaptation.

A. Merritt's fantasy adventure The Ship of Ishtar (1924). Forsyth, an archaeologist, is investigating ruins of the ancient Akkadian Empire — which would eventually become Assyria and Babylon — when he discovers a sacred stone marked with symbols of Ishtar, goddess of life, and her rival Nergal, god of death. He sends the stone to Kenton, a wealthy dilettante… who discovers within it a model of a golden bireme. Kenton finds himself transported, John Carter-style, from New York to the very ship that the model represents, which sails the seas of an irreal, anachronistic world — created, we'll discover, by Nabu, god of wisdom, as a proving-ground for the eternal rivalry of life and death, love and hate. One side of the ship is controlled by red-headed Sharane and the priestesses of Ishtar, the other by the malevolent Klaneth and the priests of Nergal; but Kenton's arrival destabilizes the ship's six-thousand-year-old stasis. Imprisoned in the galley-pit, Kenton grows powerfully strong and forms an alliance with the Viking Sigurd, the apish drum-beater Gigi, and Zubran, a sardonic Zoroastrian. Kenton is transported away from this perilous adventure, several times; each time that he chooses to return may be his last. Although it is marred by elaborate writing, not to mention sexism, The Ship of Ishtar features plenty of swashbuckling action and is perhaps the best-beloved of Merritt's many novels. Fun facts: Serialized in Argosy All-Story Weekly. Clark Ashton Smith was a fan; no doubt Robert E. Howard, Smith's fellow pioneer of contemporary fantasy fiction, was also. Oh yeah, and maybe Stan Lee, too — who brought us the feeble New Yorker Donald Blake, who every now and then becomes mighty-thewed Thor, whose warrior companions are strikingly Sigurd-, Gigi-, and Zubran-like.

Harold Gray's picaresque comic strip Little Orphan Annie (serialized 1924–1968 by Gray; 1969–2010, by others). Leapin' lizards! Annie, a spunky 11-year-old orphan with a mop of curly red hair, is rescued from a dreary, abusive orphanage — shades of Frances Hodgson Burnett's 1905 tear-jerker A Little Princess — by the wealthy, kindly industrialist "Daddy" Warbucks and his mean-spirited wife. Every time Mr. Warbucks goes out of town on a business trip, Mrs. Warbucks drives Annie out of their palatial New York home; wandering the countryside, Annie makes new friends and helps people out of difficult situations. Early stories — which were recounted in real time, at first; that is, each strip was a single day — dealt with political corruption, criminal gangs, and corrupt institutions; Daddy Warbucks would always return to vanquish the bad guys. Annie's dog and faithful companion, the mutt Sandy, made his debut in 1925. In the late 1920s, Annie would take on killers, gangsters, spies, and saboteurs; during the Depression, Warbucks died from despair at the election of Franklin D. Roosevelt, and Annie's adventures began to involve organized labor thugs and clueless New Deal do-gooders. Punjab, a gigantic, sword-wielding, beturbaned Indian — think of Ram Dass, the Lascar in A Little Princess — became Annie's fellow adventurer in 1935, at which point the strip took a turn into the supernatural, the cosmic, and the fantastic. Following Gray's death in 1968, several other artists drew the strip until it finally ended in 2010. Fun facts: Little Orphan Annie was one of the first comic strips adapted as a radio show; it went national in 1931, and attracted some six million followers. In 1977, the strip was adapted to the Broadway stage as the hit musical Annie.

Talbot Mundy's frontier/occult adventure The Devil's Guard (1926, also known as Ramsden). From 1922–1932, Talbot Mundy serialized several yarns — in the pulp magazine Adventure — about James Grim, an adventurer known as "Jimgrim." Unlike Rider Haggard's and Kipling's imperialist protagonists, as an American, Jimgrim believes in self-rule for colonized countries; he is particularly committed to Arab independence. Having left the British service to form the agency of Grim, Ramsden, and Ross, he devotes himself to doing good in Egypt, then India and the Far East. In The Devil's Guard, Jimgrim & co. go to Tibet searching for the legendary Sham-bha-la. Along the way, he encounters adepts from two mystical orders — a White Lodge devoted to good, and a Black Lodge devoted to evil. An adventure of the soul, the story involves both a grueling journey through the Himalayas and a quest for ancient spiritual wisdom. Fun fact: The Devil's Guard, which directly inspired the Black Lodge/White Lodge mythos of Twin Peaks, is part of a tetralogy that began with Caves of Terror (1922), continued with The Nine Unknown (1923) and would end in 1930 with Jimgrim. There are also a number of Jimgrim short stories. Mundy, a Theosophist, has been called "the philosopher of adventure."

Edgar Rice Burroughs's The Moon Maid (1926). A sprawling saga that gallops from Julian 5th's crash-landing on the moon, where he makes a daring getaway (with a moon maid in tow) from subhuman Kalkars who dwell in the asteroid's hollow interior; to the same Julian's doomed effort to defeat a Kalkar invasion of Earth; to Julian 9th's failed but inspiring rebellion against the mongrel descendants of the Moon Men, communistic tyrants who've presided over the Earthlings' regression to a medieval agrarian lifestyle; to the final triumph of Red Hawk (Julian 20th), the leader of a primitive tribe of freedom-fighters — who, 400 years after the invasion, defeats humankind's overlords in a pitched battle set in the ruins of Los Angeles. Fun fact: The Julian 9th story, one hears, was originally written after the Bolshevik revolution, and was rejiggered later to fit into the Moon Maid saga. Reissued by Bison Frontiers of Imagination.

Dashiell Hammett's Red Harvest (serialized 1927–1928; as a book, 1929). The Continental Op, a short, overweight, cynical private investigator employed by the Continental Detective Agency's San Francisco office, is one of literature's first hard-boiled detectives — the prototype for Raymond Chandler's Philip Marlowe and Hammett's own Sam Spade. (The character made his debut in Black Mask in 1923; Red Harvest is Hammett's first novel.) Called to a corrupt western town — modeled on Butte, Montana — the Op agrees to help Elihu Willsson, a local industrialist, rid the city of the competing gangs who Willsson invited there in the first place. He also investigates the murder of Willsson's son, a local newspaper publisher. The Op starts a gang war — pipe bombs, arson, gun fights, and corrupt cops galore — but he's framed for the murder of a gangster's moll. Even his own agency isn't sure he's innocent! Fun facts: André Gide called the book "a remarkable achievement, the last word in atrocity, cynicism, and horror." Akira Kurosawa's 1961 samurai film, Yojimbo, was probably influenced by Hammett's novel; Kurosawa was a fan.

W. Somerset Maugham's espionage adventure story collection Ashenden: Or, the British Agent (1928). During World War I, "R.", a Colonel with British Intelligence, uses threats and promises to enlist Ashenden, a well-known writer (presumably the same Ashenden who narrated Maugham's 1919 novel The Moon and Sixpence), as a secret agent. Dispatched to Lucerne, Ashenden, who does not use a weapon, must resort to bribery, blackmail, and sometimes luck in order to succeed in various counter-intelligence operations. Long before Le Carré, we get the idea that right is not always on our hero's side. For example, in "The Hairless Mexican," Ashenden is party to the assassination of a Greek traveler whom he and the titular killer assume, mistakenly, to be a German agent. In addition to exposing the ruthlessness and brutality of espionage, Maugham is particularly interested in the senseless, absurd ways in which ordinary people behave during war-time; for example, the titular character in "Mr. Harrington's Washing" insists — fatally — on retrieving his laundry during Russia's 1917 revolution. Fun facts: This is the first spy novel written by someone who actually worked as a secret agent; Ashenden — the narrator of Maugham's later novels Cakes and Ale and The Razor's Edge is very much an autobiographical character. Alfred Hitchcock's excellent 1936 film Secret Agent, starring John Gielgud and Peter Lorre, is a loose adaptation of "The Hairless Mexican" and another story from this collection.

Eric P. Kelly's historical YA adventure The Trumpeter of Krakow (1928). In the mid-15th century, after Cossack-Tartar bandits dispatched by Russia's tsar on a secret mission terrorize his village in Ukraine, young Joseph Charnetski and his family flee to Kraków, the center of Polish academic and cultural life. They find lodgings with Nicholas Kreutz, an alchemist — who is falling under the influence of a German student obsessed with obtaining the fabled Great Tarnov Crystal, a "philosopher's stone" reputedly capable of transmuting other metals into gold. Joseph and Elżbietka, the alchemist's niece, become friends. Jan Kanty, the city's most respected scholar and priest, offers Joseph's father the position of night trumpeter in the Church of Our Lady St. Mary. Four times per hour, by tradition, the trumpeter must begin — but not finish — a song called "the Heynal"; this becomes an important plot point. When the bandits track down the Charnetskis, we discover that they may actually be in possession of the Great Tarnov Crystal. Can Joseph save the day? Fun facts: The book, which offers an explanation for a fire that burned much of Kraków in 1462, won the Newbery Medal in 1929. Apparently, it's only read, now, by people taking the "Newbery Challenge"; that's a shame. I read it as an adolescent, and I've re-read a couple of times since. It holds up well!

Ernest Hemingway's WWI adventure A Farewell to Arms (1929). A hardboiled account — by a disillusioned American, Frederic Henry, serving as a paramedic in the ambulance corps of the Italian Army — of the horrors of WWI. "I was always embarrassed by the words sacred, glorious, and sacrifice and the expression in vain," Henry recounts. "I had seen nothing sacred, and the things that were glorious had no glory and the sacrifices were like the stockyards at Chicago if nothing was done with the meat except to bury it…" Our narrator is introduced to Catherine Barkley, an English nurse, whom he indifferently attempts to seduce; he gets to know Catherine better as he recuperates under her care, after being wounded on the Italian front; he is sent back to the front — leaving a pregnant Catherine behind in Milan. The Austro-Hungarian forces break through the Italian lines in the Battle of Caporetto, and the Italians retreat; this section — in which Frederic kills one of his own men — is sometimes described as one of the great fictional depictions of warfare. Fredric goes AWOL and returns to Catherine, with whom he escapes to Switzerland. Happy ending? Not if you know anything about Hemingway's fiction. Fun facts: Hemingway drew on his own experiences serving in the Italian campaigns during WWI; he was not, however, involved in the battles described. The book — which was adapted as a 1932 film starring Gary Cooper and Helen Hayes; the 1957 remake with Rock Hudson was not well-received — was his first best-seller.

Erich Kästner's children's crime adventure Emil and the Detectives (1929). En route from a small provincial town to visit his grandmother in Berlin, the hapless schoolboy Emil Tischbein is rolled for 140 marks — his hairdresser mother's monthly salary — by Max Grundeis, a smooth operator on the commuter train. Emil dares not alert the authorities, because the local policeman back home had seen him paint the nose of a local monument red, so he feels that he is a kind of outlaw himself. Instead, he shares his predicament with Gustav, a local boy, and with his tomboy cousin, Pony Hütchen. A group of two dozen free-range children — the "detectives" — are quickly assembled. Emil and his new friends trail Grundeis to his hotel; in the morning, they trail him to the bank — and confront him, when he attempts to exchange the stolen money for smaller bills. (One wonders whether Fritz Lang and Thea von Harbou were influenced by the popular Emil and the Detectives when they wrote the 1931 drama-thriller M, about a different sort of criminal pursued and punished by a sort of kangaroo court made up of Berlin's street denizens. This would be a fun example of the first-time-as-comedy-second-time-as-tragedy principle.) Once arrested, Herr Grundeis is found out to be a member of a gang of bank robbers. The book was unusual, among German children's literature at the time, for its realistic, hardboiled style. The moral of the story? "Never send cash — always use postal service." Fun facts: Illustrated by Walter Trier, who would emigrate to England in 1936 and help the Ministry of Information produce anti-Nazi propaganda. The book sold two million copies in Germany alone and has since been translated into some 60 languages; it was one of the first detective stories for children — though the Hardy Boys' first book, The Tower Treasure, was published in 1927. Its sequel, Emil and the Three Twins (1933), takes place along the shore of the Baltic.

Richard Hughes's sardonic sea-going adventure A High Wind in Jamaica (1929). Initially titled The Innocent Voyage, Hughes's novel, published a year before Arthur Ransome's Swallows and Amazons, recounts the adventures of five English siblings — John, Emily, Edward, Rachel, and Laura — who are accidentally abducted by a kindly pirate crew. There's a violent storm and a destructive earthquake; the pirates sail to exotic islands; the children encounter snakes, monkeys, sucker-fish, a tiger, and a miniature crocodile. What fun! Except… Hughes's story isn't innocent so much as it an enquiry into innocence, one that — to quote the English litterateur Michael Holroyd — "patrols the eccentric, sometimes amoral borders between a child's and an adult's natural territory." The children are treated with indifference by the pirates, though Jonsen, the pirate captain, recognizes in himself a pedophiliac attraction to the 13-year-old Emily, and is ashamed of himself. (A 15-year-old Creole girl who'd accompanied the English children, meanwhile, becomes a pirate's lover.) Jonsen tries unsuccessfully to unload the children at their home base of Santa Lucia; later, he delivers the children to a passing British steamer — which leads to his capture and trial. Will Emily tell the truth about what has happened, at Jonsen's trial? Does she even know what the truth is? Fun facts: A High Wind in Jamaica was included in the Modern Library's 100 Best Novels, a list of the best English-language novels of the 20th century; it has been credited for influencing and paving the way for William Golding's Lord of the Flies. Alexander Mackendrick's 1965 movie adaptation stars Anthony Quinn and James Coburn.

Dashiell Hammett's Continental Op crime adventure The Dain Curse (1929). Hammett's short, fat, unnamed detective — an operative of the Continental Detective Agency's San Francisco office — first appeared in a 1923 issue of Black Mask, making him one of the earliest hardboiled private detectives in US pulp fiction. In 1927, Hammett began writing linked stories, which formed the basis for Red Harvest and The Dain Curse, both of which appeared in book form in 1929. This is Hammett's only exploitation novel — an action thriller that draws on themes from pulp horror stories of the time, and whose central female character is an opioid-addicted member of a cult Christian group! A jewel heist in San Francisco leads the Op to the home of the prosperous Leggett family. People connected to the investigation begin to die — sometimes in bizarre ways, including incidents involving a ceremonial dagger and an explosive device. Before he can solve the riddle of the diamond theft, the Op must first solve the mystery of the so-called Dain curse — which seems to have followed Edgar Leggett's wife, a Dain, and their daughter, Gabrielle. What is Edgar's true identity? What does the Temple of the Holy Grail have to do with all of this? Every time the Op seems to have cracked the case, the murders start up again. Fun facts: Serialized in Black Mask magazine in 1928–1929. The novel was adapted into a CBS TV miniseries in 1978, by director E.W. Swackhamer. James Coburn played the Op, who — in the show — was given the name "Hamilton Nash."

Dashiell Hammett's crime/treasure-hunt adventure The Maltese Falcon (1930). San Francisco private eye Sam Spade and his partner are hired, by a beautiful woman, to follow a man; while doing so, Spade's partner is killed. Spade, who once had an affair with his partner's wife, is a suspect. Meanwhile, a shady character names Cairo pulls a gun on Spade, because he suspects that the woman, O'Shaughnessy, has given him a valuable figurine — the titular Maltese Falcon. Spade discovers that Cairo and O'Shaughnessy, along with a third figure, "G," all seek the figurine. Tempted by wealth and love, Spade sticks to his own moral code… and brings his partner's killer to justice. Fun fact: Grittily realistic, morally ambiguous, the book is considered by aficionados to be the standard by which all subsequent American mysteries must be judged. And, of course, the 1941 film adaptation by John Huston is a masterpiece.

Arthur Ransome's YA adventure novel Swallows and Amazons (1930). During holidays in northwestern England, the Walker siblings meet Nancy and Peggy Blackett — two piratical sisters who fly the Jolly Roger from their sailboat. This is the first in a series of twelve books, including Swallowdale (1931), Winter Holiday (1933), We Didn't Mean To Go To Sea (1937), and Missee Lee (1941). Swallows and Amazons establishes our characters and introduces us to their milieu: an English lake, with an island for camping, surrounding farms, and minor adventures everywhere. Fun fact: The Swallows and Amazons' imaginative, largely grownup-free adventures are influenced by the protagonists' mutual love of Treasure Island.

Max Brand's Western adventure Destry Rides Again (1930). Because he glories in proving his superiority to everyone around him, tough-guy Harrison Destry has few friends and many enemies in his hometown of Wham, Texas. So when he's framed for a stagecoach robbery, a rigged jury sends him to prison. Six years later, Destry returns — intent on demonstrating that the men who set him up and falsely convicted him are no good. One by one, he gets his revenge. Along the way, he comes to the realization that his scornful, superior attitude was wrong-headed, and that he must change his own ways. But he has one formidable opponent left to battle: his best friend. Fun fact: Writing as Max Brand, Frederick Schiller Faust cranked out many thoughtful and literary Westerns; this is Brand's best-known title. The 1939 movie of the same title, starring Marlene Dietrich and James Stewart, features an entirely different plot.

Leslie Charteris's Simon Templar adventure novel She Was a Lady (1931). In She Was a Lady, the seventh Saint book, Simon Templar is no longer a criminal; in fact, he's working for Scotland Yard. His first mission is to investigate a crime ring — led by Jill Trelawney, a beautiful young woman who has sworn revenge on Scotland Yard — which helps its members evade police dragnets and ambushes. Templar busts up the ring, but then… he and Trelawney team up, and embark on what appears to be a new crime wave. What's going on? Templar and Trelawney — who doesn't seem to be as ruthless and resourceful as we've heard she is; she requires rescuing a few times — are hunting down the men who framed her father (a Scotland Yard bigwig who was dismissed for corruption), and drove her to her life of crime. There's a meta-fictional aspect to this novel that's very pleasing for the contemporary reader: e.g., the Saint is forever comparing himself (favorably) to a storybook hero. Fun fact: When first published in the United States in 1932, this novel was titled Angels of Doom. But most editions published after 1941 were titled The Saint Meets His Match. Adapted, in 1929, as a film starring George Sanders.

Francis Iles's psychological thriller Malice Aforethought (1931). In the novel's first paragraph, we learn that Dr. Bickleigh, who lives in the exclusive Devonshire hamlet of Wyvern's Cross, intends to murder his domineering, shrewish wife, Julia. This was an innovative twist on the genre, at the time; this sort of thing is known in the trade as an "inverted detective story." In fact, not only does the reader know who dunnit, but the residents of Wyvern's Cross do, too. So it's a psychological thriller, in which the author's goal is to keep us feeling sympathy for a murderer as long as possible. This Iles (Anthony Berkeley Cox) does by playing up Bickleigh's meekness and his wife's awfulness; we're almost rooting for him, by the time the deed is done. (It takes time — Bickleigh influences Julia to take ever larger doses of painkillers.) The narrator's depiction of Wyvern's Cross as a claustrophobic, hypocritical social order is very funny. However, we also begin to see that Bickleigh is a self-centered sociopath, a serial philanderer. When the woman Bickleigh loves announces her engagement to another man, we wonder: What next? Fun fact: The novel's plot is loosely based on a real-life case. Along with Agatha Christie and Freeman Wills Crofts, Anthony Berkeley Cox, who wrote as Francis Iles (among other noms de plume), founded London's legendary Detection Club. He is considered a key figure in the development of crime fiction.

Aldous Huxley's Radium Age sci-fi adventure Brave New World (1932). Six hundred and thirty-two years A.F. (After Ford), a narcissistic culture of youthfulness, consumption, mood-altering drugs, and sexual promiscuity has become dominant throughout the World State. Fetuses are manipulated, and children conditioned, in such a manner as to produce an optimal ratio of labor to management; two of the story's main characters, the "pneumatic" Lenina Crowne and Bernard Marx, work in London's Directorate of Hatcheries and Conditioning. Bernard is troubled by the methods by which society is sustained; Lenina is content. While on vacation at a "Savage" (pre-Fordist) reservation in New Mexico, Bernard and Lenina discover John, a young man whose mother was from the World State; John sees everything in terms of Shakespearean characters, plots, and tropes. John makes attempts to intercede in the smooth functioning of the soulless "brave new world" he discovers; he is thwarted at every turn, though. Will he succeed in winning "the right to be unhappy"? Fun fact: One of the most famous science fiction novels of all time, Brave New World anticipates real-world developments in reproductive technology. The Modern Library ranked it fifth on its list of the 100 best English-language novels of the 20th century.

Edwin Balmer and Philip Gordon Wylie's Radium Age sci-fi adventure When Worlds Collide (1932). Two rogue planets are entering the sun's orbit! The League of the Last Days — an international band of 1,000 brilliant scientists, action heroes, and fertile women (I exaggerate, but not much) — hatch a desperate plan, and set about designing, constructing, and outfitting rocket-arks. We are treated to two terrifying apocalyptic scenes: One, when the rogue planets first pass by the Earth, triggering stupendous cataclysms; and the other, when worlds collide: "The very Earth bulged… It became plastic. It was drawn out egg-shaped. The cracks girdled the globe. A great section of the Earth itself lifted up and peeled away…." But it's the post-apocalyptic scenes that are the most haunting: a deserted Chicago whose skyscrapers are knocked out of plumb; violent, half-naked mobs battling the National Guard in Pittsburgh; an army of hate-filled Midwesterners that nearly succeeds in wrecking the rocket-ship project. Sequel: After Worlds Collide (1934). Fun facts: The book influenced the strip Flash Gordon, while Siegel & Shuster lifted key ideas from both When Worlds Collide and Wylie's earlier SF novel, Gladiator when they created Superman. George Pal's 1951 movie adaptation of Worlds is a sci-fi classic.

Dorothy L. Sayers's crime adventure Have His Carcase (1932). While on a walking holiday in southwestern England, crime novelist Harriet Vane stumbles upon the body of a dead man; however, shortly after she reports the discovery he vanishes. Lord Peter Wimsey, in his eighth outing, helps Harriet investigate. The dead man, they learn, is a Russian professional dancer and gigolo who was engaged to a foolish rich widow. Was it suicide or a complex murder plot? Exactly when was he killed? The police regard Harriet as a suspect; Wimsey wants to marry her. In the end, it's a complex puzzle — the sort of murder mystery that only a mystery writer like Sayers, or Harriet Vane, can solve. Fun fact: This is the second novel in which Harriet Vane appears. The title is taken from William Cowper's translation of Book II of Homer's Iliad: "The vulture's maw / Shall have his carcase, and the dogs his bones."

Graham Greene's political thriller Stamboul Train (1932, also known as Orient Express). Onboard a train from Ostend, Belgium to Istanbul: an accidental collective of lost souls. We've got Dr. Czinner, an exiled revolutionary leader headed back to Belgrade — where the revolution has already failed; Myatt, a Jewish merchant on a business trip (he suspects his firm's agent in Turkey has been cheating them); Coral, an ailing showgirl in search of love (who believes she has found it in Myatt); Mabel, a lesbian journalist, chasing a big story, and her young lover; not to mention a sociopathic cat burglar, a novelist, a priest, an army major, and a luxury-loving police chief. Over the course of the three-day journey, there's sex, murder, robbery, and a trial. Myatt, who faces anti-Semitism both on and off the train, travels back to Subotica to rescue Coral, when she disappears. Fun fact: Of this novel, Greene said: "In Stamboul Train for the first and last time in my life I deliberately set out to write a book to please, one which with luck might be made into a film. The devil looks after his own and I succeeded in both aims." It was adapted as a movie in 1934.

Hergé's Tintin adventure Les Cigares du Pharaon (Cigars of the Pharaoh, serialized 1932–1934; as a color album, 1955). In Tintin's fourth outing, and one of his trippiest, the young Belgian reporter is traveling in Egypt when he and his dog, Snowy, stumble upon an underground tomb… in which he discovers the mummified bodies of missing Egyptologists! They pursue drug traffickers across the Middle East and India. Along the way, Tintin meets the bumbling, spoonerism-spouting policemen Thomson and Thompson ("with a 'p,' as in 'psychology'") for the first time; the criminal mastermind Rastapopoulos makes his first appearance here, too. Tintin hits it off with the Maharaja of Gaipajama, and must rescue the Maharaja's son from a fakir! Fun fact: Hergé was inspired, in part, by the tabloid speculation surrounding an alleged Curse of the Pharaohs following the 1922 discovery of the tomb of Tutankhamun.

James Hilton's fantasy adventure Lost Horizon (1933). When the European and American residents of Baskul are marooned during a Persian revolution, a small group — including Hugh Conway, a veteran member of the British diplomatic service (and an ironist whose worldview is perhaps beginning to turn cynical) — flees in a plane that is hijacked. Crash-landing near a remote Tibetan valley, they're rescued and taken to the nearby lamasery of Shangri-La… which they're not permitted to leave! Mallinson, Conway's young deputy, is eager to depart… but the other travelers find themselves drawn, for various reasons, to Shangri-La's peaceful, contemplative life. Mallinson falls in love with a young Manchu woman, Lo-Tsen, whom he wants to take with him when he escapes; Conway, meanwhile, gets to know the High Lama, from whom he learns the amazing secret of Shangri-La. When Mallinson organizes an escape plan, will Conway go with him? Or will he remain in the valley, and take over as High Lama? Fun facts: The novel was a huge popular success, at the time. When Simon & Schuster produced the first mass-market, pocket-sized paperback books in America in 1939, Lost Horizon was Pocket Books #1. Frank Capra directed the 1937 film adaptation, starring Ronald Colman; it seems likely that the movie influenced Steve Ditko's Dr. Strange.

C.L. Moore's Radium Age sci-fi adventure Northwest Smith (1933-on; collected in book form, 1953). In the far future, humankind has colonized the solar system. The ruthless, cynical spaceship pilot and smuggler Northwest Smith roams from planet to planet, looking to make a quick buck. In "Shambleau" (November 1933), for example, Smith rescues a strange, beautiful girl from a Martian mob; in "Black Thirst" (April 1934), he ventures into a forbidden Venusian fortress. And in "Dust of Gods" (August 1934), Smith and his Venusian comrade, the Wookiee-like Yarol, take a job searching for the physical remnants of a dead god. In many of these yarns, all of which appeared in Weird Tales — during that magazine's H.P. Lovecraft/Robert E. Howard/Clark Ashton Smith era — Smith undergoes outré psychological/spiritual trials, which take place in extra-dimensional or dream-like contexts. Fun facts: Catherine Lucille Moore was among the first women to write pulp science fiction and fantasy. She and her first husband, Henry Kuttner, were prolific co-authors.

Roy Crane's Captain Easy Sunday comic strip (1933–1937). Crane's long-running Wash Tubbs (1924–1988) has been called the first true action/adventure comic strip. However, the diminutive, girl-crazy Tubbs was a comical character, and the strip — like Kahle's Hairbreadth Harry and Wheelan's Minute Movies before it — was influenced by silent-movie melodramas and vaudeville. In 1928, the debut of Foster's Tarzan and Knowlan and Calkins's Buck Rogers launched the era of the more dramatic, authentic adventure strip; in 1929, Crane introduced the tough Southerner Captain Easy as Tubbs's sidekick. Though drawn in a "cartoony" way, the strip was an exciting one… and in 1933 Easy got his own Sunday page, Captain Easy, Soldier of Fortune. Crane exploited the possibilities of a full newspaper page to their fullest: As R.C. Harvey notes, "When Crane drew Easy at the brink of a cliff, he gave depth to the scene by depicting it in a vertical panel that is two- or three-tiers tall. When Easy leads a cavalry charge or paddles a canoe down a lazy river, the panel is as wide as the page, giving panoramic sweep to the scene depicted." Alas, in 1937, Crane's syndicate began requiring Sunday strips to be modular. Crane quit the Sunday strip, and in 1943 quit Captain Easy altogether. Fun facts: Crane has been credited with pioneering the use of onomatopoeic sound effects — BAM, POW, WHAM — in comic strips. Wash Tubbs and Captain Easy were featured in Big Little Books during the 1930s; and in Dell comic books in the '30s and '40s. Superman co-creator Joe Shuster cited Crane as an influence. Caniff's Terry and the Pirates (1934–on): second-time-as-tragedy?
---
THIRTIES ADVENTURES
1934–1943
---
Also see: 100 BEST THIRTIES ADVENTURES | 75 BEST GOLDEN AGE SCI-FI ADVENTURES.
In chronological order…
James M. Cain's crime adventure The Postman Always Rings Twice (1934). When Frank Chambers, a small-time con man looking to go straight, winds up stranded outside of Los Angeles, he accepts a job pumping gas and washing dishes at a roadside filling station and tavern. The proprietor, Nick, is an older Greek immigrant; Nick's wife, Cora, is young and disturbingly sexy. As with Walter and Phyllis in Cain's Double Indemnity (1943), Frank and Cora are a volatile admixture. Alone, neither of them would have contemplated murdering Nick; together, though, they become a murderous duo. Their affair is a torrid one: "Her eye was all black, and her breasts weren't drawn up and pointing up at me, but soft, and spread out in two big pink splotches. She looked like the great grandmother of every whore in the world." Frank wants Cora to run away with him, but she knows she'll just end up working in another greasy spoon. When Nick winds up dead, the local prosecutor suspects that something's fishy, and turns Frank and Cora against one another; however, a clever attorney gets Cora a suspended sentence. Will they live happily ever after? Fun facts: Writing for HILOBROW, Luc Sante opined: "Cain, who wrote about crime without being a crime writer, was instead a kind of sawed-off Zola, a stranger to mystery." The best movie adaptation of Postman is neither Bob Rafelson's 1981 version (Jack Nicholson and Jessica Lange), nor Tay Garnett's well-known 1946 film noir (Lana Turner and John Garfield), but — according to Sante — Luchino Visconti's unauthorized Ossessione (1943). The novel was banned in Boston.

Milton Caniff's picaresque adventure comic strip Terry and the Pirates (1934–1946). Terry Lee, a bright-eyed teenager, and his mentor, the handsome but hot-tempered writer and adventurer Pat Ryan, arrive in China in search of a lost gold mine. Connie, a buck-toothed, pidgin English-spouting comical character, becomes their interpreter and guide as they tangle with pirates, warlords, and other villains such as Papa Pyzon, Captain Judas, Klang, and the cold-hearted but beautiful Dragon Lady. This stereotypical fantasy, whose premise was lifted directly from Caniff's previous strip, Dickie Dare, improved after the first year or so once the artist, who shared a New York studio with Noel Sickles (creator of the Scorchy Smith strip), learned from Sickles the art of chiaroscuro — emphasizing drama and atmosphere through dark and light contrasts. Pacing his plots like the adventure serials which ran in movie theaters, and conducting meticulous research into Chinese current events, Caniff gave us one of the greatest adventure strips of all time. In 1937, when a dispute between Japanese and Chinese troops escalated into the battle that marked the beginning of World War II, Caniff turned the Dragon Lady into a freedom fighter; once the United States joined the war, Ryan joined the Navy. Terry, meanwhile, unlike other comic-strip kids, grew older and more mature until he was the strip's hero. Terry and the Pirates was a massively popular success, thanks in no small part to Caniff's strong, sultry female characters, including the blonde con artist Burma. Fun facts: Terry and the Pirates influenced everyone from Hugo Pratt and Jack Kirby to Mike Mignola and Frank Miller; Caniff has been called "the Rembrandt of the comic strip." A radio serial based on the comic was broadcast three days a week by NBC between 1937 and 1939, and again in 1941–1942 and 1943–1948. Seeking creative control of his own work, Caniff left the strip in 1946, and started Steve Canyon, which was published until the author's death in 1988.

Robert E. Howard's atavistic fantasy adventure Conan the Conqueror (aka The Hour of the Dragon) (1935–1936). The plot — Conan's Aquilonian throne has been usurped, thanks to the sorcery of the resurrected mage Xaltotun; Conan must track down the Heart of Ahriman, a magic gem which alone can defeat Xaltotun, before leading an army of loyal Aquilonians and allies against the usurper — is a picaresque. Conan is paralyzed by an extraterrestrial fiend, and his consciousness is blasted by the advanced technology of Xaltotun. With the help of a beautiful slave girl, he escapes a pitch-black dungeon. Disguised as an executioner, he rescues a countess from an iron tower. Disguised as a slave, he pursues the Heart of Ahriman across Hyboria — from Aquilonia to Stygia. He is shanghaied, only to lead a galley-slave rebellion. He is pursued by relentless Khitanese (Chinese) assassins. He does battle with a Poe-esque murderous ape, a ghoul, a giant snake, and a Haggard-esque vampire queen. "I trod again," Howard has Conan muse, "all the long, weary roads I traveled on my way to the kingship… All the shapes that have been I passed like an endless procession…" We are saying goodbye.

H.P. Lovecraft's science fiction adventure At the Mountains of Madness (1936). A 1930 scientific expedition to Antarctica — from Arkham, Massachusetts's Miskatonic University — discovers the ruins of a vast, ancient city… and the frozen bodies of some strange creatures, part-plant and part-animal. Part of the expedition is massacred — and it appears as though some of the frozen creatures have come back to life! Exploring the ruins, the surviving explorers determine that it was built by Elder Things, who first came to Earth shortly after the Moon took form, and built their cities with the help of shape-shifting, all-purpose "Shoggoths" (like Al Capp's Shmoos, but slightly uncannier). The Elder Things battled both the Star-spawn of Cthulhu and the Mi-go; and as the Shoggoths gained independence, their civilization began to decline. (Hello, Planet of the Apes.) Only one explorer escapes with his sanity intact… and he must warn another expedition to stay away from an even worse, unnamed thing which lurks in Antarctica! Fun fact: Originally serialized in the February, March, and April 1936 issues of Astounding Stories. Andrew Hultkrans analyzed At the Mountains of Madness for HILOBROW's CROM YOUR ENTHUSIASM series.

J.R.R. Tolkien's children's fantasy adventure The Hobbit (1937). In a hole in the ground there lived a hobbit: Bilbo Baggins. Tempted out of his sedate village by Gandalf, an itinerant wizard, Bilbo joins a company of dwarves on a journey across Middle Earth — to a destroyed dwarvish kingdom under the Lonely Mountain, where a hard of dragon-guard treasure awaits. Along the way, they encounter high elves and wood elves, man-eating trolls, giant spiders, and wart-riding goblins. On the shore of an underground lake, Bilbo steals a magical ring from a creature named Gollum; just how magical the ring is, readers wouldn't discover until Tolkien's epic sequel, The Lord of the Rings, published 1954–1955. Once the dragon is defeated, and the treasure recovered, Bilbo and the dwarves find themselves at the center of a major battle between what are essentially the Allies and Axis powers of Middle Earth. How is a hobbit supposed to survive? Fun facts: Tolkien's novel was inspired by George MacDonald's The Princess and the Goblin, Samuel Rutherford Crockett's adventure The Black Douglas, and Jules Verne's Journey to the Center of the Earth. Speaking of the latter, it's my theory that Middle Earth is inside our planet!

Hergé's Tintin adventure L'Île noire (The Black Island, 1937–1938; as a color album, 1943). In a crime thriller influenced by adventure writer John Buchan, Tintin pursues a criminal gang from the Belgian countryside (where he's shot) to southeastern England (where he's framed for robbery). Arriving at the estate of Dr. Müller, who operates a private mental institution, Tintin finally discovers what this gang is up to: they're counterfeiters! The action then moves to a Scottish coastal village — perhaps inspired by Castlebay, in the Outer Hebrides — where Tintin and Snowy infiltrate a half-ruined castle, on an island, guarded by a gorilla! Meanwhile, detectives Thomson and Thompson are in top form. Fun facts: Dr. Müller, who would become a recurring character in the Tintin series, was inspired by Georg Bell, a Scottish forger who had been a vocal supporter of the Nazi regime; and also by the seemingly respectable Professor Jordan, in Hitchcock's 1935 film adaptation of John Buchan's The Thirty-Nine Steps.

Graham Greene's crime adventure Brighton Rock (1938). Considered by many Greene fans to be his best thriller, Brighton Rock concerns the quest of the bourgeois Ida Arnold to prove that the suicide of Fred Hale, a newspaperman who'd written about a gang of racketeers in the seaside town of Brighton, was in fact murder. Ida suspects Pinkie Brown, a teenaged sociopath who has assumed control of the gang; but when she attempts to get a witness — Rose, a naive young waitress — to tell the truth, Pinkie marries Rose. Pinkie's gang is losing faith in him, his rivals are closing in… what will he do? There is a theological subtext to the story: Pinkie is a Catholic, and his beliefs about the nature of sin and the basis of morality are — we are given to understand — superior to Ida's non-religious moral sensibility. It's also an indictment of English mass culture, from popular newspapers to slot machines, soulless day trippers, and pop music on the radio. Fun facts: Adapted as a 1947 movie starring Richard Attenborough as Pinkie; Carol Marsh won the part of Rose after thousands auditioned. A 2010 adaptation starred Sam Riley as Pinkie, and Helen Mirren as Ida Arnold. Morrissey's song "Now My Heart Is Full" references Brighton Rock characters: "Dallow, Spicer, Pinkie, Cubitt."

Daphne du Maurier's psychological thriller Rebecca (1938). While working as wealthy woman's companion in Monte Carlo, a naïve young American is romanced by Maxim de Winter, a wealthy English widower some two decades her senior. Our unnamed narrator accompanies her husband to his beautiful estate, Manderley, on England's rugged southwestern tip… where she encounters Manderley's housekeeper, Mrs. Danvers — a spiteful, vindictive villainess! It seems that Maxim's first wife, Rebecca, was everything that our heroine is not: beautiful, witty, urbane, charming. Soon enough, Mrs. Danvers manipulates her master's new wife into making a fool of herself at Manderley's annual costume ball, then urges her to kill herself. Will the housekeeper succeed in her evil machinations? Is Maxim still in love with his first wife? And what actually happened to Rebecca, anyway? This is the atmospheric thriller to end all atmospheric thrillers. Fun facts: An immediate bestseller, Rebecca has never gone out of print, and it has been adapted for stage and screen several times — most notably Orson Welles's 1938 radio drama adaptation, and Alfred Hitchcock's 1940 film starring Sir Laurence Olivier, Joan Fontaine, and Dame Judith Anderson as Mrs. Danvers.

Eric Ambler's espionage/crime adventure Epitaph for a Spy (1938). Josef Vadassy, a Paris-based teacher originally from a Yugoslavia-controlled Serbian province (to which he cannot return because his left-leaning father and brother were executed by the Yugoslav police), is on vacation at the seaside — celebrating his impending French citizenship — when he's accused of spying on French naval installations. The novel's simple declarative style — "I arrived in St. Gatien from Nice on Tuesday, the 14th of August. I was arrested at 11:45 a.m. on Thursday, the 16th, by an agent de police and an inspector in plain clothes and taken to the Commissariat." — signaled the espionage thriller's break with cloak-and-dagger melodrama. To clear his name, Vadassy is forced to assist with the French agents' counter-espionage operation: Which of his fellow hotel guests is the real spy? As ever, Ambler is sympathetic with the plight of stateless individuals. Fun facts: Adapted in 1944 as the suspenseful, moody Hotel Reserve, starring James Mason. Ambler was an anti-fascist sympathetic to the Soviet Union until the Nazi-Soviet Pact of 1939.

T.H. White's Arthurian fantasy adventure The Sword in the Stone (1938). When the Wart, a young squire-in-training living under the protection of Sir Ector, in early 13th-century Britain, encounters the eccentric, time-traveling (and time-confused) wizard Merlin, little does he suspect what kind of tutoring that he and his foster-brother, Kay, a knight-in-training, will receive. When the Wart becomes an ant, for example, he learns a thing or two about totalitarianism and conforming to expectations; when he becomes a fish in the castle's moat, he experience an unjust world where might makes absolute right; when he becomes a goose, he experiences a mutually supportive, egalitarian social order without materialism, hierarchy, or violence. Along the way, the Wart gets an adolescent's view of medieval life — the hunting, the rituals around knighthood, the jousting. Comic relief is provided by King Pellinore, whose battles with Sir Grummore and endless pursuit of the Questin' Beast are truly wonderful; thrills are provided by Robin Hood, particularly the bad-ass Maid Marian who excels at tracking… and is a fierce warrior for justice. This is a leisurely, episodic yarn with an eye-opening reveal. Fun facts: This is the first installment in a tetralogy, collectively titled The Once and Future King; the next book in the series is The Witch in the Wood (1939). White wrote most of this material while living in Ireland, as a de facto conscientious objector during WWII. The 1960 Broadway musical Camelot and the animated 1963 movie The Sword in the Stone were loosely inspired by White's oeuvre.

Geoffrey Household's hunted-man adventure Rogue Male (1939). One of my favorite thrillers — and, along with The Thirty-Nine Steps (1915) and "The Most Dangerous Game" (1924), one of the top-three most excellent hunted-man stories of all time. Our protagonist, an unnamed British professional hunter, is passing through a Central European country that is in the thrall of a vicious dictator; on a whim, he uses his stalking skills to penetrate undetected into the dictator's private compound — then gets his target lined up. Before he can decide whether or not to pull the trigger, he's captured. Tortured by the dictator's secret service, then left for dead, the hunter flees through enemy territory back to England. This ordeal is already an amazing one, well worth the price of admission. But our protagonist isn't safe, in London; agents of the dictator are after him. After a harrowing pursuit through the London Underground, he sneaks off to rural Dorset and goes underground — literally. This time, he's the one being stalked — by a relentless, sadistic hunter, Major Quive-Smith (George Saunders, in the 1941 film version: perfect casting), who is in the pay of the enemy. When Quive-Smith tracks our man to his "holloway," who will survive? Fun facts: In Fritz Lang's fine 1941 movie adaptation, Man Hunt, starring Walter Pidgeon and Joan Bennett, the dictator is explicitly identified as Hitler. There was also a 1976 BBC TV adaptation starring Peter O'Toole as the British hunter. David Morrell, author of the 1972 hunted-man thriller First Blood, has acknowledged being deeply influenced by Rogue Male. Also see Robert Macfarlane's Holloway, originally published in 2012 by the amusingly titled Quive-Smith Press.

Bob Kane and Bill Finger's Batman comics (serialized in Detective Comics and other titles, 1939–present). In 1939, Detective Comics Inc., the company that had introduced Superman the year before, was looking for another hit. Drawing on inspirations from Sherlock Holmes and Dick Tracy (brilliant detectives) to the Scarlet Pimpernel, Zorro, and the Gray Seal (seemingly idle, foppish rich men who donned masks when meting out vigilante justice on behalf of the downtrodden) to the Lone Ranger (murdered family), the Phantom (whose costume lent him an aura of fearsome mystery), and the Shadow (a dark knight motivated by revenge), 22-year-old artist Bob Kane and his 21-year-old ghostwriter, Bill Finger, conjured up Bruce Wayne and his costumed alter ego, the Batman, "weird menace to all crime." The character first appeared in Detective Comics #27; the plots of his crudely drawn first stories are drawn from pulps and Poe: Batman knocks a murderous businessman into a vat of acid; Batman torches the laboratory of a mad scientist, Doctor Death; a cowled monk with hypnotic powers (who turns out to be a werewolf-vampire) hypnotizes Wayne's girlfriend and lures her to his Hungarian castle… where he's shot by Batman, whose gun is loaded with silver bullets! Batman's origin story appears in issue 33, as prelude to a particularly lurid sci-fi yarn about a death ray-firing Dirigible of Doom. Robin, one of comics' first teen sidekicks, made his debut in 1940 — a wise-cracking, joyous Watson to Batman's Holmes. Sales doubled. Batman received a solo title, stopped carrying a gun… and one of the most popular comic-book characters of all time was launched. Fun facts: Amateur comic-book exegetes have done a masterful job of elucidating Kane and Finger's inspirations/plagiarisms: the Shadow story "Partners Of Peril"; "The Grim Joker," a story by the same author; panels from Alex Raymond's Flash Gordon strip; panels from Henry E. Vallely's 1938 Big Little book Gang Busters In Action; the silent movie The Man Who Laughs; and more. PS: The Batmobile, introduced in 1949, redefined and modernized Batman; and the yellow circle around the bat logo on his costume was introduced in 1964.

Raymond Chandler's Philip Marlowe crime adventure The Big Sleep (1939). In Los Angeles private eye Philip Marlowe's first outing, he is hired by the elderly General Sternwood to stymie an attempt by a bookseller, Arthur Geiger, to blackmail Sternwood's out-of-control younger daughter, Carmen. Marlowe discovers that Geiger is actually in the pornography business; he stakes out Geiger's home, only to discover Geiger dead and Carmen drugged and naked, in front of an empty camera. The next day, he finds out that the Sternwoods' car was found driven off a pier, with their chauffeur dead inside. The police want to know if Marlowe was hired to find Regan, the missing husband of Carmen's big sister, Vivian; Vivian wants to know, too. It's a complex story, with plenty of double-crossing and secrets that aren't revealed into late in the game; and there's some gritty action. But what's so extraordinary about The Big Sleep — what makes it one of the best novels (in any genre) of the 20th century — is Chandler's hardboiled, yet witty prose. Critics often disparage Chandler, when they compare his work with that of the tougher Dashiell Hammett; Chandler himself was a Hammett fan, calling his predecessor "the ace performer." But Chandler's wit is killer: "She lowered her lashes until they almost cuddled her cheeks and slowly raised them again, like a theatre curtain. I was to get to know that trick. That was supposed to make me roll over on my back with all four paws in the air." And his puzzle-like plots are beautifully constructed. Here, even when all the loose ends of the plot have been wrapped up, Marlowe is nagged by Regan's disappearance — when he investigates, that's when his troubles really begin. Fun facts: Howard Hawks's 1946 adaptation of The Big Sleep, starring Humphrey Bogart and Lauren Bacall, is terrific; William Faulkner, Jules Furthman and Leigh Brackett, enhancing Chandler's own writing, turned out one of the most wickedly clever screenplays ever. There is also a 1978 British adaptation, starring Robert Mitchum.

Eric Ambler's espionage/crime adventure The Mask of Dimitrios (1939; US title: A Coffin for Dimitrios). Ambler's fifth thriller is the one for which he is best known. Charles Latimer, a writer of genteel murder mysteries on holiday in Turkey, is introduced to a Colonel Haki, who claims to admire his stories — and who turns out to be head of the Turkish secret police. Haki has just discovered the body of a drowned man whose identity papers reveal that he is Dimitrios Makropoulos, a large-scale drug dealer, pimp, and murderer; he challenges Latimer to find anything romantic about the life of this villain. Our protagonist embarks on journey across Europe, in an attempt to fill in the missing gaps of Dimitrios's official police record; he has become fascinated with this character, not as an individual but as a symbol of the increasingly ruthless times. Each person that Latimer meets — from a left-wing journalist to a master spy — has an idiosyncratic story to relate. But Latimer pokes his nose into the wrong places, and soon he's involved in desperate matters — not a struggle of good vs. evil, but a struggle among amoral entrepreneurs to profit from ethnic cleansing, ideological conflict, and political assassination. Some readers may find the novel too expository, not sufficiently action-packed; but its slow unfolding of secrets and atmospherics, and realistic depiction of exotic locales, makes it a classic of its genre. Fun facts: The Dimitrios character was inspired by the early career of munitions kingpin Sir Basil Zaharoff; and the story's fictional assassination attempt was loosely based on a 1923 attempted assassination of Bulgaria's prime minister. Jean Negulesco directed a 1944 adaptation of the novel, starring Sydney Greenstreet, Zachary Scott, Faye Emerson, and Peter Lorre.

1967 edition; there is no 1939 edition

Flann O'Brien's 'pataphysical picaresque The Third Policeman (w. 1939–1940, p. 1967). Our story's unnamed narrator confesses to murder, right off the bat — so if this is a crime adventure, it's one without any mystery; and yet it's the most mysterious thing you'll ever read. The narrator finds himself in a sort of alternate dimension; although it may resemble the area surrounding his rural Irish home, its operating system appears to run on a different set of metaphysical laws. Writing for The Irish Times as Myles na gCopaleen, the author generated endless satirical theories, hypotheses, and fantastical inventions; The Third Policeman puts these sorts of ideas into action — which is why I describe it as 'pataphysical. The narrator encounters a machine that will make a block of gold; a cigarette that never gets used up; and an army of one-legged men, who tie themselves together in pairs when entering battle. Perhaps most alarmingly, he discovers bicycles that are half-people, and vice versa — as well as fat local policeman who closely monitor the movements of local citizens, out of concern for this bicycle-transmogrification situation. The ancient Greeks assigned fictional but thematically appropriate deaths to their bygone poets, and one begins to get the sense that something of the sort may be going on here — for our narrator, it seems, is an aficionado of the crackpot theories of a philosopher named De Selby, whose (fictional) books The Country Album, A Memoir of Garcia, and Layman's Atlas, among others, theorize that the phenomenon of night is actually an accumulation of "black air" caused by pollution, etc., etc. Most improbably of all, by the end of the novel O'Brien will have tied all of this stuff together beautifully. Fun facts: After The Third Policeman failed to find a publisher, the author — whose real name is Brian O'Nolan — withdrew the manuscript from circulation and claimed it had blown out of a car window. In fact, it sat on the sideboard in his dining room until his death in 1966.

Marvel Comics (1939–ongoing). Marvel Comics started in 1939, though not exactly as such. The popularity of Superman (who debuted in Action Comics, in 1938), Batman (Detective Comics, 1939), and other superheroes led Martin Goodman, a New York-based publisher of pulp magazines such as All Star Adventure Fiction, Complete Western Book, and Mystery Tales, to start a comics division within his company, Timely Publications. Timely Comics' Marvel Comics #1 (Oct. 1939) featured the first appearance of Carl Burgos's android superhero, the Human Torch, and the first generally available appearance of Bill Everett's undersea antihero Namor the Sub-Mariner. This content was provided by comic-book "packager"; but after Marvel Comics #1 sold nearly a million copies (in two editions), Goodman hired comics writer-artist Joe Simon as Timely's first editor. Simon brought along his friend Jack Kirby, a talented young artist with whom he'd worked on Blue Bolt; the Human Torch and Sub-Mariner were soon joined by Simon and Kirby's Captain America. A 16-year-old Stan Lee, a cousin of Goodman's by marriage, also joined Timely in 1939; he was promoted to interim editor a few years later, after Simon and Kirby left for the fledgling DC Comics. In the early '60s, Lee and Kirby's Fantastic Four and other titles would revolutionize the medium; by then, Timely had been renamed: Marvel Comics. Fun facts: The year 1939 also saw the launch of MLJ Comics (which would become Archie Comics), Fawcett Comics (Captain Marvel), Fox Feature Syndicate (Blue Beetle), Lev Gleason Publications (Crime Does Not Pay), Standard/Better/Nedor (The Black Terror), and Quality Comics (Plastic Man).

Raymond Chandler's hardboiled crime adventure Farewell, My Lovely (1940). Private investigator Philip Marlowe returns in what is considered the author's best work. The plot is eventful: Marlowe agrees to help the police (in fictional Bay City, California) bring a killer to justice; he accompanies a man (who is later killed) to a money-for-jewelry exchange after the man's girlfriend's jade necklace is stolen; and he is beaten, drugged, and locked up in a private sanitarium. The novel was adapted for the screen in 1944 (starring Dick Powell) and 1975 (starring Robert Mitchum).

Eric Ambler's espionage adventure Journey into Fear (1940). At the beginning of World War II, a British engineer named Graham, who carries vital classified information about the Turkish fleet, becomes the target of an assassination attempt in Istanbul. Later, traveling aboard a neutral Italian ship — his fellow passengers include a Turkish secret agent, a Spanish prostitute, and a politically incompatible French couple — Graham must match wits with a German spymaster. Journey into Fear is an influential spy thriller — a classic, even. It was adapted for the screen in 1943 by Norman Foster and Orson Welles; the movie starred Joseph Cotten and Dolores del Rio.

Helen MacInnes's espionage adventure Above Suspicion (1941). In 1939, on the eve of a summer hiking jaunt in Germany and Austria, Oxford professor Richard Myles and his wife, Frances, are asked by a friend in British Intelligence to obtain information about a spy network. Although Europe is on the brink of war, the brave anti-fascist couple is eager to do their part. Trailed by Nazis wherever they go, Richard and Frances travel from one clandestine rendezvous to another, witnessing the rise of totalitarianism — and, in the end, fleeing for their lives. The author's first novel, it's considered exemplary because of MacInnes's nuanced understanding of European history, politics, culture, and geography. Fun fact: MacInnes was married to a Classics scholar, who during WWII served as an MI6 British intelligence agent. The couple spoke fluent German and spent their summers travelling in Europe. Loosely adapted, in 1943, as a movie starring Joan Crawford and Fred MacMurray.

Margery Allingham's WWII espionage adventure Traitor's Purse (1941). A man wakes up in a hospital; overhearing a conversation, he learns that he has supposedly killed a policeman. Worse, he has lost his memory… he knows only that he must discover and prevent something terrible from happening. Fleeing the hospital in a stolen car, he encounters a woman who calls him "Campion" — aha! Our amnesiac hero, it seems, is an adventurer and detective we've met in ten previous Allingham novels, the first being The Crime at Black Dudley (1929). Campion is smuggled into a cavern complex overlooking the town he's found himself in; something odd is afoot. In a nearby town, Campion encounters Lugg, a character whom the reader recognizes as Campion's (ex-cat-burglar) assistant, but whom he does not recognize. Knocked out, while attempting to escape the police, he remembers that he is investigating counterfeit currency being given away to crooks. Why? Fun fact: Campion was invented, according to Allingham, as a parody of Dorothy L. Sayers's Lord Peter Wimsey character. She wrote this particular novel in fragments in 1940, between air raids. In The Guardian, recently, A.S. Byatt called this her favorite detective story.

Nevil Shute's hunted-man adventure Pied Piper (1942). One of my favorite Shute adventures! John Howard, a 70-year-old Englishman vacationing in France in 1940, decides to cut his fishing trip short when Hitler's forces invade (German forces occupied Paris in June of that year). Howard agrees to take two English children with him. But as the situation in France grows desperate, trains stop running, roads become clogged with refugees, and other children — French, Dutch, Polish — join in Howard's little band. We learn that Howard is a widower, and that his son, an RAF pilot, was recently killed in action. Despite his own frailty and suffering, Howard remains patient with the quarrelsome, refractory children, and shepherds them to the coast… at which point the Germans catch up with them! Fun fact: Pied Piper was adapted, in 1942, as a movie starring Monty Woolley, Roddy McDowall and Anne Baxter.

James M. Cain's crime adventure Double Indemnity (1943). Walter Huff is an insurance agent who has dedicated his career to foiling insurance scams; in fact, he's beginning to fantasize about using his inside knowledge in order to pull off the perfect scam. When Phyllis, the beautiful wife of one of his clients, asks him suggestively about a policy that she wants to take out on her husband, he proposes that they team up to kill the guy — and split the money. Huff puts together a "double indemnity" policy for Phyllis, one which will pay double the contract's face value in cases of accidental death. They then arrange a railroad accident for their victim. Everything goes well, but Phyllis, it seems, never had any intention of splitting the money with Walter. What's worse, Keyes, one of Walter's colleagues, begins to suspect foul play and opens an investigation. Will the conspirators end up trying to kill one another? Fun facts: A shorter version of the story, based on a 1927 case that Cain covered while working as a journalist in New York, was serialized in Liberty magazine in 1936. The novel served as the basis for the 1944 film noir of the same name, adapted by Raymond Chandler and directed by Billy Wilder. The movie stars Fred MacMurray, Barbara Stanwyck, and Edward G. Robinson. The 1981 neo-noir Body Heat is an homage of sorts to Wilder's movie.

Graham Greene's espionage adventure The Ministry of Fear (1943). At a humble charity fête held in wartime London, Arthur Rowe, a bookish fellow whose guilty conscience has long prevented him from engaging with others, wins a cake… which contains a roll of film that he wasn't intended to receive. As Luftwaffe bombs rain down on the shell-shocked city, creating a nightmarish dreamscape — "in which familiar people appear in terrible and unlikely disguises" — Rowe must elude German agents who are after his cake. Despite, or because of the peril he faces, Rowe finds himself coming back to life. Is this a comic farce? A psychological thriller? It's both. There's an attempt on his life, a murder at a séance, and an air raid that saves his life — but robs him of his memory. For the first time in years, he is a happy man… because he can't remember what he's done. But will he let the spies triumph? Fun facts: Greene credited Michael Innes's The Secret Vanguard — a witty, Buchan-esque yarn about spies and kidnapping set largely in the Scottish Highlands — as his inspiration, in writing what he intended to be a "funny and fantastic thriller." Fritz Lang adapted The Ministry of Fear for the screen in 1944.

Cornell Woolrich's crime adventure The Black Angel (1943). Cornell Woolrich pioneered what has come to be called noir (as opposed to hardboiled) fiction, i.e., in which the protagonist is usually not a detective, but instead a victim, a suspect, or a perpetrator, and in which sex plays a prominent role. The protagonist of The Black Angel, one of his better efforts, is Alberta, a naive young newlywed who — upon discovering that her beloved husband, Kirk, is cheating on her — pays a visit to his mistress, only to find that she's been killed. Kirk is arrested and convicted of the crime… and he faces the electric chair, unless Alberta can prove that he's innocent. Racing against the clock, she descends into New York's underworld, tracking down and destroying one after another of the dead woman's lovers (an ex-husband, a drug-dealing doctor, a rich playboy, a gangster), and doing whatever it takes — no matter how sinful — to succeed in her quest. It's a tense thriller, with a savage kick: Even if Alberta saves Kirk from execution, will she still be the same person? Fun facts: The titles of this and other Woolrich novels — e.g., The Bride Wore Black (1940), The Black Curtain (1941), Black Alibi (1942), The Black Path of Fear (1944) — inspired French critics to call movies based on them "noir." The Black Angel is a "fix up" of two earlier stories: "Murder in Wax" and "Face Work." It was adapted in 1946 by Roy William Neill; the film stars Dan Duryea, June Vincent, and Peter Lorre.

Carl Barks's Donald Duck comics (1943–1978). After quitting his job at Walt Disney Studio, in 1943 Carl Barks began freelancing for Walt Disney's Comics and Stories — which by the mid-1950s would become the best-selling comic book in the United States. He'd write and draw some 500 uncredited Donald Duck stories for this and other magazines, including Four Color and Uncle Scrooge. Today, Barks's best-loved stories are the longer (24–32 pp.) stories via which he introduced generations of children to Twenties- and Thirties-type adventure tropes. Donald and his nephews Huey, Dewey and Louie (whose Junior Woodchucks Guidebook is one of the great fictional propaedeutic enchiridions), not to mention Donald's miserly uncle, Scrooge McDuck, are intrepid, resourceful, ingenious treasure- and artifact-hunters. Some of their most notable outings include: "The Old Castle's Secret" (June 1948), the first of Uncle Scrooge's many mystery/horror treasure hunts; "Sheriff of Bullet Valley" (October 1948), a western adventure/mystery; "Lost in the Andes!" (April 1949); "The Golden Helmet" (July 1952), in which Donald and his nephews hunt for a Viking helmet that gives the possessor legal claim to North America; "Back to the Klondike" (September 1952); "Tralla La" (June 1954), in which Scrooge seeks out a Himalayan utopia inspired by James Hilton's 1933 novel Lost Horizon; and the March 1960 sci-fi adventure "Island in the Sky." Check out Fantagraphics' reissues! Fun facts: Steven Spielberg and George Lucas were fans, particularly of the 1954 Uncle Scrooge adventure "The Seven Cities of Cibola."
---
FORTIES ADVENTURES
1944–1953
---
Also see: 100 BEST FORTIES ADVENTURES | 75 BEST GOLDEN AGE SCI-FI ADVENTURES.
In chronological order…
Christianna Brand's Inspector Cockrill crime adventure Green for Danger (1944, in the US: Danger List). At a military hospital on England's southeastern shore, during the Germans' strategic bombing campaign of England, an elderly man — the local postman and air-raid warden — dies of a reaction to anesthesia. An accident? Apparently not, since the head nurse is killed shortly after. Inspector Cockrill of the Kent County Police, in his second outing, has seven suspects: Gervase Eden, doctor to the hypochondriacal rich and fatally attractive to women; Jane Woods, a dress designer and reformed party girl; Esther Sanson, who sees nursing as an opportunity to escape from her hypochondriac mother; Mr. Moon, an elderly local surgeon; Dr. Barnes, an anesthetist who's already lost one patient; Frederica Linley, who wants to avoid her father's awful wife; and Sister Marion Bates, who just wants to meet a nice officer. It's an intricately plotted detection puzzle; Cockrill must unearth his suspects' hopes and fears, friendships and loyalties, past and present love affairs. After another murder attempt leaves a nurse dangerously ill, Cockrill re-stages the operation in order to unmask the murderer. It's all very British: Despite the murder and bombing, life goes on, not without some humor. Fun facts: Brand's husband worked in a military hospital during WWII, so there's a lot of realistic detail to the setting. The book was adapted as a British movie in 1946, with Alastair Sim as the detective; it is regarded by film historians as one of the greatest screen adaptations of a Golden Age mystery novel. Cockrill, who made his debut in Heads You Lose (1941), would go on to star in five subsequent books.

EC Comics (1944–c. 1955). In 1947, Bill Gaines inherited Educational Comics from his father, who'd more or less invented the comic book format. Soon enough, he jettisoned the company's educational titles, hired the talented writer and artist Al Feldstein, and began publishing horror fiction, crime fiction, satire, military fiction, dark fantasy, and sci-fi titles such as The Crypt of Terror/Tales from the Crypt (1950–1955), The Vault of Horror (1950–1955), Weird Fantasy (1950–1953), Weird Science (1950–1953), Two-Fisted Tales (1950–1955), and Frontline Combat (1951–1954); and short-lived titles such as Impact, Aces High, and Psychoanalysis. Gaines was an unapologetic publisher of pulp fiction, but he and Feldstein encouraged talented artists such as Wallace Wood, Reed Crandall, Johnny Craig, George Evans, Graham Ingels, Jack Davis, Bill Elder, Joe Orlando, Al Williamson, and Frank Frazetta to develop distinctive styles; and the stories, though violent and gory, were often socially conscious and progressive about themes such as racial equality, war, nuclear disarmament, and environmentalism. After the 1954 publication of Seduction of the Innocent and a Congressional hearing on the role of comics in juvenile delinquency, EC's distributor went bankrupt. Gaines dropped all of EC's titles, except one: Mad, which under Al Feldstein's editorship became one of the most popular and influential humor magazines of all time. Fun facts: As Fantagraphics founder Gary Groth puts it: "In the impoverished cultural context of comics publishing at the time, the EC line was an astonishing achievement; Gaines's EC came as close as a mainstream comics publisher could to being the comics equivalent of Barney Rossett's Grove Press. [Many of their stories] were fiercely honest, politically adversarial, visually masterful, and occasionally formally innovative."

C.S. Forester's historical sea-going adventure Commodore Hornblower (1945). Published in the UK as The Commodore. In 1812, Horatio Hornblower — protagonist of a long-running series of novels and stories (1937–67) — is put in command of a squadron and sent to the Baltic; he is tasked with bringing Russia into the war against Napoleon. Using naval mortars, he destroys a French ship, then defends Riga against a besieging French force. Tsar Alexander I and Carl von Clausewitz make appearances. Fun fact: Hornblower's implied sexual encounter with a Russian Countess caused controversy when the story first appeared in the Saturday Evening Post.

Tove Jansson's fantasy adventure The Moomins and the Great Flood (1945). The first installment in the Finnish author's beloved Moomintroll series! Moominmamma and Moomintroll search for Moominpappa; along the way, they adopt a little creature (later named Sniff), encounter a giant swamp serpent and an ant-lion, and join a group of Hattifatteners about to set sail. It's all very Nordic: When Moominmamma falls into despair, at one point, everyone else gets gloomier and gloomier. With the help of a marabou stork, they also find Moominpappa's house, which was carried away by a flood to a small valley — where they settle.

Mervyn Peake's fantasy adventure Titus Groan (1946). Hailed by exegetes as the first "mannerpunk" novel — that is, a fantastical comedy of manners, the protagonists of which are pitted not against monsters or an invading army, but against their neighbors and peers — Titus Groan chronicles the birth and early childhood of the heir to the remote, decaying earldom of Gormenghast. It also chronicles the rise of the treacherous kitchenboy Steerpike, within Castle Groan. Steerpike incites the earl's mad sisters to burn the castle's library, which leads to the earl's suicide. There's also a subplot involving a murderous rivalry between the earl's loyal servant, Flay, and the castle's tyrannical chef, Swelter. Like a David Lynch movie, though, Titus Groan is less about plot than it is about context, character development, and uncanny visuals. PS: Peake provided the book's amazing illustrations. Fun fact: Followed by Gormenghast (1950), and Titus Alone (1959). In Edmund Crispin's 1946 mystery novel The Moving Toyshop, the two sleuths play a game they call "Unreadable Books." ("'Tristram Shandy.' 'Yes. The Golden Bowl.' 'Yes.'") The game is interrupted just as one of the players says, "Titus…."

Edmund Crispin's Gervase Fen crime adventure The Moving Toyshop (1946). The third novel featuring the Oxford don and amateur sleuth is also a sardonic inversion of the genre; Fen is constantly breaking the fourth wall and commenting on the action from the perspective of a literary critic. Poet Richard Cadogan, in Oxford on holiday, finds the body of an elderly woman in a toyshop, late one night. He is hit on the head, and when he awakens… not only has the old woman vanished, but so has the toyshop. Cadogan's frenemy, Gervase Fen (Fen's blurb for Cadogan's first book of poetry: "This is a book everyone can afford to be without") There's a pretty girl, a sinister lawyer, and three excellent chases. There are also a number of witty conversations between Fen and Cadogan, in which they comment on English lit from the past to the present day. Fun fact: The book's title comes from Pope's "The Rape of the Lock": "With varying vanities, from every part,/They shift the moving toyshop of their heart." Hitchcock appears to have lifted the climactic merry-go-round sequence, for his movie Strangers on a Train, from The Moving Toyshop.

Michael Innes's WWII crime/espionage adventure From London Far (1946). In war-torn London, Richard Meredith, a mild-mannered scholar of classic literature, absent-mindedly murmurs a phrase that sounds like a smuggler's password… so he is ushered into an underground warehouse storing an incredible collection of stolen art treasures. Thus begins one of Michael Innes's more fanciful yarns — a sardonic inversion of John Buchan's oeuvre. Instead of going to the police, Meredith pretends to be a member of the smuggling gang, helps a kidnapped young woman escape from them, in an exciting chase along London roof-tops, then follows a lead to an isolated Scottish island, where a castle houses foreign agents. They escape from a sinking submarine… at which point the action leads to a Hearst-like mansion in California, the owner of which is the purchaser of all the stolen art works. Fun fact: Michael Innes was the pseudonym of John Innes Mackintosh (J.I.M.) Stewart. Graham Greene credited Innes's The Secret Vanguard as his inspiration for his own The Ministry of Fear… but I detect a connection with this novel, as well.




Kenneth Fearing's noir crime adventure The Big Clock (1946). George Stroud, a disaffected wage slave who works for a Time-Life-esque magazine publisher in New York, is sleeping with his boss Earl Janoth's girlfriend on the sly. When she is found murdered, Janoth puts Stroud in charge of investigating the murder. Meanwhile, Stroud is the chief suspect. In a dual race against time, Stroud must both clear himself of murder charges and track down evidence to convict the real killer. His predicament reveals to him a deep existential insight: We are all trapped in an invisible prison: the "big clock" of the title is, in part, short-hand for bureaucracy. But it's more than that, too: "This gigantic watch that fixes order and establishes the pattern for chaos itself," Fearing writes: "it has never changed, it will never change, or be changed." Fun fact: Adapted as a movie in 1948 by John Farrow; the film stars Ray Milland, Charles Laughton, Rita Johnson, George Macready, and Maureen O'Sullivan. Also, the book was loosely adapted as the 1987 thriller No Way Out, starring Kevin Costner.

Josephine Tey's Inspector Grant crime adventure The Franchise Affair (1948). Betty Kane, a lower-middle-class girl of 15, has gone missing for weeks; she claims that she was held prisoner and abused by two upper-class women — Marion Sharpe, and her mother — who demanded that she work for them as a maid-servant. The Sharpes' home, called The Franchise, is located behind high walls, and they're semi-recluses, so it's impossible for them to disprove Betty's story. Marion hires Robert Blair, a respectable, if lazy solicitor in the same village, to defend them. (Inspector Grant plays a minor, somewhat reluctant role.) As Blair seeks the truth about Betty, Tey offers us memorable, subtle portraits of each of the novel's characters; she also paints a rather reactionary portrait of an England where the lower classes no longer know their proper place, and in which tabloid newspapers can whip the general public into a frenzy by reporting sensationalized news. Will Blair crack the case before the riled-up villagers do something terrible? Fun facts: Based on the real-life case of Elizabeth Canning in 1753, the novel has been voted one of the 100 best crime novels of all time, and one of the 30 best crime novels by a female author. It was adapted as a 1951 British thriller film of the same title, directed by Lawrence Huntington and starring Michael Denison, Dulcie Gray, and Marjorie Fielding.

George Orwell's Golden Age sci-fi adventure Nineteen Eighty-Four (1949). Winston Smith, a low-ranking functionary at the Ministry of Truth, whose job involves altering old newspaper articles to agree with the officially approved version of history, lives in London, which has become a regional capital of the superstate Oceania. (English Socialism is the state's ruling doctrine, and its nominal leader — whom the average citizen is encouraged to fear and revere — is known as Big Brother. Oceania is perpetually at war with one of the other two superstates.) The Thought Police ferret out "thoughtcrime"; everyone's behavior is monitored constantly, via two-way telescreens. Winston starts an illegal affair with Julia, and befriends O'Brien — both of whom are fellow malcontents. Winston and Julia are apprehended by the Thought Police: Will their love, idealism, and critical thinking survive, or will they crack? One of the most famous works of science fiction, and one of the most esteemed novels of the 20th century, Nineteen Eighty-Four has given us such terms as Big Brother, doublethink, and thoughtcrime; and a real-life or fictional political order characterized by official deception is often described as Orwellian. Fun facts: Orwell (Eric Blair) had been brooding over the themes of dictatorship and the possibilities of mass manipulation through language since the Spanish Civil War. He was influenced not only by Yevgeny Zamyatin's Radium Age sci-fi novel We, but by the Tehran Conference of 1944, at which he saw Stalin, Churchill, and Roosevelt carving up the world in anticipation of the defeat of Germany. He died in 1950, shortly after Nineteen Eighty-Four was published.

Robert Lawson's children's adventure The Fabulous Flight (1949). At age 7, Peter Pepperell suffers an injury that causes him to begin shrinking; soon enough, he's pocket-sized… and he can communicate with small animals, too. As Peter grows older, his father, a Washington D.C. honcho and model-building fanatic, teaches him to rig and sail model sailboats — besides the fantastical premise of both books, this is the only similarity between Lawson's book and E.B. White's Stuart Little (1945) — and ride a rabbit, using a custom-designed saddle. In addition to mustering and drilling a regiment of backyard rodents, Peter befriends a seagull named Gus, who takes him on thrilling aerial tours of Washington. Lawson's illustrations are charming and realistic; this could have been a perfectly good children's fantasy even if it hadn't turned into an adventure novel. But it does: When Mr. Pepperell's friends in the State Department learn that a mad scientist has developed a tiny but deadly weapon of mass destruction, and is holed up in an armed fortress in a tiny European country, Peter and Gus volunteer for the dangerous mission of stealing the thingamajig. Peter's father designs a cabin which straps onto Gus's back, and as a child I pored over Lawson's illustrations of this apparatus; it's great. The duo's fabulous flight involves a European tour of sorts, adventures over the ocean, gangsters, and a massive explosion! Fun facts: Lawson illustrated dozens of children's books by other authors, including such well-known titles as Munro Leaf's The Story of Ferdinand (1936), Richard and Florence Atwater's Mr. Popper's Penguins (1938), and T.H White's The Sword in the Stone. I'm also a big fan of Lawson's Ben and Me (1939) and its companion volumes.

Hammond Innes's survival adventure The White South (1949, also published as The Survivors). Duncan Craig, an English wartime corvette captain en route to Cape Town in search of exciting peacetime employment, meets Colonel Bland, chairman of the South Antarctic Whaling Company, and Bland's daughter-in-law Judie, daughter of Nordahl, the company's Norwegian co-owner; she is unhappily married to Bland's conniving son, Erik. Erik was put in charge of the Southern Star, a vast factory ship surrounded by a flotilla of whale catcher boats and fuel and refrigerator ships; Judie's father has gone overboard. Craig is hired to ferry Colonel Bland and Judie from Cape Town to the Star; and he reluctantly becomes embroiled in the investigation into Nordahl's death. Whales appear, and there's an exciting, modern Moby Dick-like sequence in which they're pursued, caught killed, and gutted; Craig captains a catcher during this operation. However, when Craig's catcher — and a corvette captained by Erik, who is revealed as a villain — are trapped in pack ice, and the Southern Star attempts to rescue them, the crews of the two small boats must struggle to survive. The story now becomes Shackletonian, in a good way; this is in every way a more successful novel than Innes's previous efforts. Fun facts: "I can still hear the roar of the ice as the great bergs close in upon those stranded men of the whaling fleet," Daphne du Maurier said of The White South… which the author researched on location. Mark Robson adapted it as Hell Below Zero (1954), which stars Alan Ladd.

Patricia Highsmith's suspense thriller Strangers on a Train (1950). While on a train to see his unfaithful wife, Miriam, architect Guy Haines tells a stranger, Charles Anthony Bruno, that he wants to divorce her. Bruno proposes an idea to "exchange murders": Bruno will kill Miriam, that is to say, if Guy kills Bruno's father. It will be the perfect crime: Neither of them will have a motive for their murder, and both of them can establish alibis. Guy doesn't take Bruno seriously… until he returns from a trip, and discovers that his wife has been murdered. Bruno demands that Guy fulfill his part in the bargain… will he do it? Fun fact: Adapted as the classic film of the same title, in 1951, by Alfred Hitchcock.

Ray Bradbury's science fiction adventure The Martian Chronicles (1950). What is The Martian Chronicles? Like Winesburg, Ohio, it's somewhere in-between a story collection and an episodic novel. It's a future history recounting successive attempts to explore and colonize Mars, and what happens after that. It's a revisionist western, criticizing the destructive and exploitative way that Earthmen colonize Mars, and wipe out the Martians. It's a work of social philosophy, since the colonizers import Earth's problems — from racism to commercialism and poor taste — to Mars. And it's one of the great works of science fiction's so-called Golden Age. Fun fact: The Martian Chronicles is credited by historians of the genre as a pivotal event — perhaps the pivotal event — in science fiction's growing respectability.

C.S. Lewis's Narnia fantasy adventure The Lion, the Witch, and the Wardrobe (1950). During the Battle of Britain (in 1940), four English children who have been sent to a professor's house in the countryside discover that an old wardrobe is a gateway to Narnia a magical land of fauns, centaurs, nymphs, and talking animals. Narnia is in the grip of the beautiful but evil White Witch, who has held the land of Narnia in eternal winter for a hundred years; can Aslan, the golden lion who is Narnia's true ruler, and a kind of deity, defeat her? He will need the help of the children. Fun fact: It hardly bears mentioning that this is the first in a series of seven popular fantasy novels; the others are Prince Caspian (1951), The Voyage of the Dawn Treader (1952), The Silver Chair (1953), The Horse and His Boy (1954), The Magician's Nephew (1955), and The Last Battle (1956).

Robert Heinlein's science-fiction adventure The Puppet Masters (1951). In 2007, slug-like creatures arrive in flying saucers and begin to take over. It seems they can take control of their victims' nervous systems, and manipulate them like puppets. Government officials don't believe in any of this nonsense, until the Old Man, head of a top-secret government agency, infiltrates the affected area with his top agents: Sam (the Old Man's son), and the beautiful Mary… whom, we eventually discover, was puppetized by these creatures when she was a child colonist on Venus. Even as the Old Man directs government efforts to combat the invasion of these body-snatchers, Sam is puppetized by a slug! The government's counter-attack fails, and it's up to Sam and Mary to work out a desperate last-ditch anti-slug effort. An exciting Cold War-inflected thriller (it's been described as a "not-too-thinly veiled metaphor for the eternal vigilance needed to keep the Communist menace in check") which I discovered, as a teen, via the 1980 Science Fiction Book Club edition. Fun fact: Originally serialized in Galaxy (September, October, November 1951). In 1990, Heinlein's widow gave permission for the publication of an earlier — longer, and more risqué — version of the manuscript.

John Wyndham's post-apocalyptic science fiction adventure The Day of the Triffids (1951). When a bright meteor shower (or did orbiting weapons accidentally detonate?) causes a worldwide epidemic of blindness, one of the handful of sighted survivors in England is Bill Masen, a biologist studying triffids – tall, venomous carnivorous plants capable of locomotion and communication. Navigating a London gone haywire, Masen rescues Josella Playton, a wealthy novelist, from a blind man who has forced her to serve as his guide… and the two of them plan to join a colony of the sighted outside London. Instead, they are kidnapped by a group that chains sighted men and women to groups of the blind, and forces them to scavenge for food and supplies. Masen eventually escapes and helps establish a self-sufficient colony in Sussex… which, unfortunately, is menaced not only by hordes of triffids but by a militarized rival colony! Fun fact: Brian Aldiss singled out The Day of the Triffids as an example of what he called a "cosy catastrophe" — that is, a subgenre of apocalyptic fiction in which a handful of survivors enjoy a relatively comfortable existence.

Nicholas Monsarrat's WWII sea-going adventure The Cruel Sea (1951). In 1939, George Ericson, a Merchant Navy officer, is recalled to the Royal Navy and given command of the Compass Rose, a corvette built to escort convoys. His sub-lieutenants, Lockhart and Ferraby, are inexperienced. Criss-crossing the Atlantic, Ericson's crew endures foul weather and the constant threat of German U-boats; the tension becomes unbearable. Slowly, the crew is knit into an effective team. Along the way, Lockhart falls in love with a Women's Royal Naval Service officer. (We learn about the private lives — sometimes sordid — of other characters, too.) Based on the author's experience of serving in WWII's Battle of the Atlantic, the novel's seven chapters cover seven years of fighting. Fun fact: Adapted as a movie in 1953, with a screenplay by Eric Ambler. I read this as a teenager, and remember being devastated when some of the characters were killed.

Geoffrey Household's espionage adventure A Rough Shoot (1951, aka Shoot First). One evening, salesman and family man Roger Taine is hunting on his "rough shoot" (land he's leased for this purpose), on England's southern coast, when he spies a man sneaking around. Taking him for a poacher, he fires some painful but harmless buckshot at his backside… but the man falls onto a spiked device he was setting up, and is impaled. Taine buries the body, then waits for police inquiries… which never come, because the man, for some reason, is never reported missing. What appears to be a crime novels turns into a political thriller when Sandorski, a freelance secret agent from Poland, arrives on the scene. Turns out that the dead man was a neo-Nazi spy, and the spiked device was a homing beacon which other members of his organization (the People's Union) intend to use when secretly flying into England. The dead man's comrades want revenge — and hunt Taine across the rooftops of London. Fun fact: Written as a serial upon Household's return to writing thrillers after World War II, during which time he worked for British Military Intelligence, this is the first of two short adventures, published one after the other, about the same protagonist. It was adapted (by Eric Ambler) in 1953 as a British film starring Joel McCrea and Evelyn Keyes.

Jim Thompson's crime adventure The Killer Inside Me (1952). In the mid-1980s, when I was in college, Black Lizard Books reprinted several Jim Thompson novels, including this one, and the obscure pulp writer was suddenly hip. (Sean Penn called The Killer Inside Me "the best book I've ever read.") Lou Ford, the psychopathic deputy sheriff and this novel's narrator, is an amazing character. He appears to be a typical small-town police officer, amiable and boring; in fact, he's a depraved sociopath, a sexual sadist, and a murderer. As he cheats on his girlfriend, abuses a prostitute, blackmails a rich man, murders, and frames others for his crimes, do we root for Lou or not? It's a tough one. Fun fact: Adapted as a movie twice, with Stacy Keach and Casey Affleck playing Lou Ford, but neither time very well. Stanley Kubrick called The Killer Inside Me "probably the most chilling and believable first-person story of a criminally warped mind I have ever encountered." High praise!

Alfred Bester's Golden Age sci-fi adventure The Demolished Man (serialized 1952; as a book, 1953). A cartoonish but far-out police procedural — one in which we immediately learn who the murderer is. In the year 2301, telepathic police operatives ("Espers," or "peepers") have made premeditated murder impossible; there hasn't been one in decades… until Ben Reich, a megalomaniac industrialist, decides to murder his business rival, D'Courtney. He enlists the support of a renegade Esper, who not only assists with the plotting and execution of the murder, but teaches Reich a maddening jingle — an earworm — that will prevent anyone from prying into his mind. Enter Lincoln Powell, Esper and police prefect, who uses his network of peepers to help him obtain evidence, while racing to find D'Courtney's daughter, an eyewitness to the murder, before Reich does. There's plenty of action and high-tech gadgetry — including flash grenades that destroy the retinas of on-lookers, and "harmonic" guns. If Reich is caught, he'll be subject to "demolition," in which the offender's personality and memories are extracted…. Fun fact: Winner of the first Hugo Award. In 1959, Thomas Pynchon applied for a Ford Foundation Fellowship, proposing to adapt The Demolished Man as an opera. His application was denied.

Ray Bradbury's sci-fi adventure Fahrenheit 451 (1953). In a peaceful, complacent future America, books — along with all other vectors of critical thought — are forbidden. But Guy Montag, a "fireman" whose job involves burning books whenever a cache is located, is beginning to have doubts. His wife, like everybody else, seems content to spend all of her time watching participative soap operas, yet she attempts suicide — perhaps because her couch potato life is so empty. A gentle teenager, who loves to walk everywhere, in a car-dominated culture, and who asks probing questions, is killed senselessly, by a speeding driver. So Montag begins to read some of the books he was supposed to have burned… and soon enough, joins an underground effort to print and distribute books, and to discredit his fellow firemen. Once his own wife betrays him, Montag goes on the run. A powerful polemic about freedom… but also an exciting hunted-man adventure. Who can ever forget the firemen's robotic dog, trailing Montag with its super-sensitive yet lethal hypodermic snout? Fun fact: Fahrenheit 451 is often described as the first sci-fi novel to cross over from genre writing to the mainstream of American literature. (It's too bad that it's taught in high schools, because that makes people dislike it.) Adapted, in 1966, as an amazing-looking (if a bit stilted) movie by François Truffaut. HBO released a TV film based on the novel in 2018.

Raymond Chandler's crime adventure The Long Goodbye (1953). In private investigator Philip Marlowe's sixth (and penultimate) outing, his drinking buddy Terry Lennox shows up late one night and asks him for a ride — from Los Angeles to an airport across the border in Tijuana, Mexico. He's obviously on the lam. Lennox's wife, Marlowe discovers when he returns home, was found dead in their guest house; and Lennox — according to the authorities in Otatoclán, a small Mexican resort town, a few days later — has committed suicide, leaving behind a full confession. In a seemingly unconnected case, a New York publisher then hires Marlowe to track down Roger Wade, a hard-drinking writer who has gone missing; Marlowe locates him at a makeshift detox facility. Weird stuff begins to happen: Wade's British wife attempts to seduce Marlowe; when Marlowe pokes into the Lennox case, he is warned off by everyone from the police to Wade's wife; Wade apparently commits suicide — but his wife accuses Marlowe of murder! Then Wade's wife commits suicide, too. What's going on? Fun facts: Winner of the 1955 Edgar Award for Best Novel. Robert Altman adapted the novel as a movie in 1973; it's a neo-noir masterpiece, starring Elliott Gould as Marlowe.

Davis Grubb's Southern Gothic thriller The Night of the Hunter (1953). "Preacher Harry" is a religious fanatic and serial killer who — while serving time in prison for car theft — shares a cell with Ben Harper, a condemned man who's killed two people in the course of robbing his hometown bank of $10,000.00. Harper takes the secret of the loot's hiding place to his grave — despite the efforts of his wife, Willa, and cellmate to learn it. Released from jail, Preacher Harry makes tracks to Harper's hometown, where he soon marries Willa. The tension builds slowly; in some ways, The Night of the Hunter is as much an Agee-like documentary of life among impoverished Southerners as it is a psychological thriller. However, 10-year-old John Harper knows where the money is hidden… and he knows that his new stepfather is up to no good. When Willa is killed, John and his young sister, Pearl, escape down the Ohio River in their father's old skiff, trailed by Preacher Harry… who can be heard singing a mournful hymn whenever he grows nearer to them! Fun facts: Grubb based the plot of The Night of the Hunter on the true story of serial killer Harry Powers, who was hanged in Grubb's hometown of Moundsville, West Virginia, in 1932. Charles Laughton directed the terrific 1955 movie adaptation, starring Robert Mitchum, Shelley Winters, and Lillian Gish.

Poul Anderson's sci-fi/fantasy adventure Three Hearts and Three Lions (serialized 1953; as a book, 1961). Often inadequately classified as a work of fantasy (I've classified it this way myself), Three Hearts and Three Lions is that rarest of phenomena: a fun, ingenious blend of science fiction and fantasy alike. When Holger Carlsen, a Danish-born American engineer who during WWII returns to Denmark to join the resistance (in an effort to smuggle out a physicist who alone can end the war), is grazed on the head by a bullet, he is transported to a parallel Earth — a medieval fantasy-land where Charlemagne is king, and trolls and unicorns wander the woods. Stranger still, Holger discovers a knight's equipment (emblazoned with three hearts and three lions) and horse waiting for him; and he knows how to use the weapons and speak an archaic form of French. Soon, he becomes embroiled in an epic showdown: the forces of Faery are poised to overthrow humankind and their allies who support Law over Chaos. Embarking on a quest for an anti-chaos WMD, the legendary sword Cortana, Holger is joined by a gruff dwarf, a swan-may, and a Saracen knight; he is also aided by his understanding of science and engineering — because "magic," it turns out, is indistinguishable from advanced technology. Fun fact: A novella version first appeared in the magazine Fantasy & Science Fiction. Anderson's obsession with Northern European legends, and his admiration for medieval virtues — developed further in The Broken Sword (1954) — directly inspired the game Dungeons & Dragons. His notion of a battle between Law and Chaos, and that of the Eternal Champion, were also directly influential on Michael Moorcock's creation of Elric of Melniboné.
---
FIFTIES ADVENTURES
1954–1963
---
Also see: 100 BEST FIFTIES ADVENTURES | 75 BEST GOLDEN AGE SCI-FI ADVENTURES.
In chronological order…
J.R.R. Tolkien's fantasy adventure The Lord of the Rings (w. 1937–1949, p. 1954–1955). Frodo Baggins, an unassuming hobbit, inherits a magical ring from his uncle, Bilbo; their wizard friend, Gandalf, discovers that it's none other than the One Ring, forged by the Dark Lord Sauron thousands of years ago, and used to corrupt and control the elves, dwarves, and men who wore subsidiary rings of power. Accompanied by his loyal friends Sam, Merry, and Pippin, Frodo carries this terrible artifact to Elrond, one of the most powerful elves remaining in Middle Earth; en route, the hobbits are aided by the immortal Tom Bombadil, and by a mysterious and grim Ranger, Aragorn. Though Frodo is badly wounded by Sauron's Black Riders, who are on the trail of the ring, the hobbits attend the Council of Elrond. It is decided that the ring must be destroyed by casting it into the fire of Mount Doom, in Sauron's far-off and foreboding stronghold, Mordor; Frodo reluctantly but courageously volunteers to carry the ring. Accompanying him are his hobbit friends, Aragorn, Gandalf, Gimli the Dwarf, Legolas the Elf, and the human warrior Boromir. Forced to take a perilous path through the Mines of Moria, they are attacked by a host of orcs and an ancient demon; meanwhile, Boromir begins to desire the ring for himself — so Frodo decides to flee the fellowship. Orcs capture Merry and Pippin, and Aragorn, Gimli and Legolas pursue them. Gandalf rouses the King of Rohan to ride to the ancient fortress of Helm's Deep; tree-people known as Ents lead an attack on the stronghold of a turncoat wizard; Gollum, a twisted hobbit-creature whom we've met before, guides Frodo and Sam via secret paths to Mordor… but leads them into the lair of a giant spider. Epic! I've written about The Return of the King, the rousing final volume of The Lord of the Rings, elsewhere. Fun facts: This three-part book, which began as a sequel to Tolkien's 1937 fantasy novel The Hobbit, was the final movement of a larger epic on which the author had worked since 1917; it is probably the most influential work of fantasy of the 20th century. Half of the book was adapted by Ralph Bakshi as a creepy animated movie in 1978; it is now a cult classic. Peter Jackson's live action adaptations (2001–2003) were a box-office smash.

Rosemary Sutcliff's YA Eagle of the Ninth historical adventure The Eagle of the Ninth (1954). The story is set in Roman Britain in the early 2nd century AD. Some years earlier, the Ninth Legion of the Roman Army had marched into northern Britain, bearing a bronze eagle as their standard; they were never seen again. (Sutcliff was inspired to write the story by the disappearance of the Ninth Legion from the historical record following an expedition north to deal with Caledonian tribes in 117.) The son of the Ninth Legion's commander, Marcus Aquila, who's grown up to be a soldier, is discharged from the military after being wounded in battle. While recuperating, he forms friendships with Esca, a young Briton whom Marcus purchased as a manservant-slave, an orphaned wolf cub, and Cottia, a British girl being raised as a Roman. Marcus dreams of discovering the truth about the disappearance of the Ninth Legion, and restoring his father's honor; finally, accompanied by Esca, he disguises himself as a Greek oculist and travels beyond Hadrian's Wall into Caledonian territory. There, he learns that the titular eagle of the ninth has become a symbol of Roman defeat among the restive tribes along the border. Can he retrieve it? Sutcliff's writing is gorgeous, the action is thrilling, and we come to care deeply about Marcus and his friends. Fun facts: The Eagle of the Ninth is the first in a sequence of novels tracing the history of a family, of the Roman Empire and then of Britain; these include — in series order — The Silver Branch (1957), The Lantern Bearers (1959), and Sword at Sunset (1963). A 2011 movie adaptation starred Channing Tatum as Marcus Aquila and Jamie Bell as Esca.

Poul Anderson's fantasy adventure The Broken Sword (1954). In the 11th century, when the Danes held sway over northern and eastern England, but the "White Christ" as the Vikings called Jesus) was threatening the power of the Norse, English, and Irish gods, Skafloc, son of the half-Christian Viking chieftain Orm the Strong, is kidnapped and raised by elves; in his place, the elves leave a troll-born changeling called Valgard. Alfheim, homeland of the elves, trolls, sprites, sidhe, goblins, etc., is everywhere apparent… but as Christianity spreads, Alfheim is diminishing, vanishing. Meanwhile, a troll army is massing to destroy Alfheim forever. The Norse gods, engaged in a war with the Frost Giants, set the story in motion thanks to their strategic maneuvers. Skafloc, who grows up to be a warrior and wielder of elf magic, is presented with a broken iron sword; a gift of the Norse gods, it can only be repaired by the frost giant Bolverk. Valgard, meanwhile, grows up to be a brutish Viking berserker; when he discovers the truth of his own origins, he joins the trolls. Anderson, whose Hrolf Kraki's Saga (1973) would retell Danish sagas, remains true to Norse stories of heroic achievement: the action is brutal, everybody loses. Fun facts: Reviewers of The Broken Sword often note the similarities between its plot and that of The Lord of the Rings, published the same year. Both Anderson and Tolkien mined "the Northern thing" as they developed their own modern versions of epic fantasy; Anderson's version was less hopeful, and less successful. Michael Moorcock declared The Broken Sword the superior effort, and noted its influence on his Elric saga.

William Golding's sardonic Robinsonade Lord of the Flies (1954). In the midst of a wartime evacuation, a British airplane carrying boys in their middle childhood or preadolescence crashes near an uninhabited island in a remote region of the Pacific. Ralph and an overweight, bespectacled boy nicknamed "Piggy" convene all the survivors; among them are the members of a boys' choir, led by the red-headed Jack. Ralph establishes a policy of having fun, surviving, and maintaining a smoke signal that could alert passing ships to their presence; Jack, whose choirboys become the group's hunters, and a semi-epileptic boy named Simon become Ralph's lieutenants. Poor Piggy, whose glasses are used to start a fire, becomes a laughing-stock. When Jack lures the signal fire crew away for a hunt, a ship passes the island without rescuing them; this leads to a rift between Ralph and Jack. Meanwhile, when Simon encounters a pig's head that the hunters have mounted on a stake, he conducts an imaginary dialogue with the "Lord of the Flies," which warns him that the increasingly savage hunters and their breakaway tribe will kill him. Things rapidly get worse, and soon Ralph is fleeing for his life through the forest, worried that his own head will end up on a stake! Fun facts: Lord of the Flies, Golding's first novel, which is to the 1858 young castaway's novel The Coral Island what The Borribles is to Elisabeth Beresford's Wombles books, became a bestseller — and has been called one of the best English-language novels of all time. It has been adapted more than once for the screen, but never successfully.

Patricia Highsmith's crime adventure The Talented Mr. Ripley (1955). Having accepted a millionaire's request to bring his footloose son, Dickie, back to New York from Italy, Tom Ripley becomes obsessed with Dickie's upper-class mannerisms and lifestyle. One thing leads to another, and [SPOILER] he murders Dickie and assumes his identity. This is the first in a popular series of Ripley novels. It was adapted for the screen in 1960 (with Alain Delon), and again in 1999 (with Matt Damon).

Jim Thompson's crime adventure After Dark, My Sweet (1955). On the lam from a mental institution, William Collins, an ex-boxer with one screw loose, tries to go straight. Alas for him, he meets up with a sexy dame and a smooth-talking con artist who embroil him in a kidnapping scheme. Which goes terribly wrong… because the child he snatches is not only the wrong victim, but a diabetic who may die without insulin. The 16th novel from this prolific, sometimes lyrical, sometimes bonkers pulp crime writer, and — with A Hell of a Woman, published the year before, and his earlier books The Killer Inside Me and Savage Night — one of his best.

Hammond Innes's sea-going adventure The Wreck of the Mary Deare (1956). When salvager John Sands boards an enormous, rusty and leaking freighter — the Mary Deare — which has been set afire, and abandoned by its crew in a dangerous section of the English Channel, he discovers the ship's first officer, Gideon Patch, trying to run the ship on his own. The harsh, exhausted, half-crazed Patch has stayed aboard, or so he claims, in order to prove that the ship was deliberately sabotaged, by its owners, in order to collect insurance on cargo that had secretly been off-loaded at Rangoon. (What was loaded into the holds, and why did the captain first appear covered in coal dust?) Patch needs help running the ship aground on rocks to the south of the Channel Islands. Although doing so will void his salvage claim, and although Sands decides to help. When they return to London, Patch is brought before a board of inquiry to determine what happened. Finally, there's a race to return to the ship, in order to prevent the ship's owners from destroying the evidence of their fraud. Fun fact: The novel was adapted in 1959 as a movie of the same title, starring Charlton Heston as Sands and Gary Cooper as Patch; Michael Anderson directed. Thriller author Eric Ambler wrote the screenplay.

1957. Alistair MacLean's WWII commando adventure The Guns of Navarone (1957). This was one of my favorite adventure novels, when I was a teenager; I've included it on my list of the 200 Greatest Adventure Novels of All Time. New Zealand mountaineer Keith Mallory, American demolitions expert Dusty Miller, Greek resistance fighter Andrea, and two other commandos — a particularly satisfying example of the Argonaut Folly's "crackerjack" sub-genre — are sent on a mission impossible. They must destroy an impregnable German fortress (on the fictitious Greek island of Navarone) that threatens Allied ships racing to the rescue of British soldiers trapped in the Aegean! Cliffs are scaled, storms are weathered, gun fights blaze — and if all this weren't enough, there's a trademark MacLean plot twist or three. Who among the commandos is a double agent? And which double agent is a triple agent? Fun fact: Adapted as a perfectly good 1961 movie starring Gregory Peck, David Niven, and Anthony Quinn; MacLean's 1968 follow-up, Force 10 from Navarone, is a sequel to the movie, not the book. FWIW, the excellent 1965 song "The Guns of Navarone," adapted from the movie's theme by The Skatalites, is the best-selling ska single ever.

Chester Himes's crime adventure For Love of Imabelle (1957, aka A Rage in Harlem). In the first of the author's nine "Harlem Detective" novels featuring black police detectives Coffin Ed Johnson and Gravedigger Jones, a hard-working, church-going undertaker's assistant (Jackson) is conned out of money that he stole from his employer by the beautiful Imabelle — who immediately takes a powder. Unwilling to believe the worst of her, Jackson enlists the help of his twin brother, Goldy, a con artist and heroin addict who masquerades as a nun (!), and seeks Imabelle across the length and breadth of Harlem. There are shootings, stabbings, and acid flinging; and some great chase scenes. Coffin and Gravedigger, who play much more central roles in later installments of this series, play only a minor role in this one. Fun fact: Chester Himes spent eight years in prison for armed robbery, as a young man; in middle age, he moved to Paris and rubbed elbows with Langston Hughes, Richard Wright, Ishmael Reed, and other expats. The author of more literary works such as If He Hollers Let Him Go (1945), he wrote the "Harlem Detective" books in order to make a quick buck.

James Salter's combat adventure The Hunters (1957). Cleve Connell, Air Force fighter pilot, arrives in Korea with the goal of shooting down five MIGs — and thereby becoming an ace. Though he flies many combat missions (which are described thrillingly and gorgeously), he can't rack up any kills… is he a coward? Unlucky? He and his fellow pilots — particularly Pell, a charming but ruthless lieutenant — compete viciously to achieve ace status; some of their kills put their comrades in danger; but Connell won't do that. Whether 40,000 feet above the Yalu River, or in fighter pilot bars and hotels on the ground, he wages a battle for his own soul. Is winning everything… or is it all about how you play the game? Flying becomes an existentialist test of character. Fun fact: Considered one of the best flying novels of all time. Adapted in 1958 as a movie starring Robert Mitchum and Robert Wagner. Mark Kingwell tells us: "Robert Wagner is actually pretty good as a hipster, slang-slinging version of Lt. Pell."

Graham Greene's sardonic espionage adventure Our Man In Havana (1958). This black comedy set in (pre-Missile Crisis) Cuba, which Greene considered an "entertainment" rather than one of his serious novels, mocks the willingness of intelligence services to believe reports from local informants. Hard-pressed to satisfy his teenage daughter's expensive tastes, Wormold, who owns a Havana vacuum-cleaner shop, begins selling invented information about agents and government installations (actually sketches of vacuum cleaner parts) to Britain's MI6. Havana's tawdry side is brought to life vividly, and the Batista regime is a chilling backdrop. When the real-life model for one of his imaginary agents is killed in apparent accident, Wormold must attempt to save the real people who share names with his fictional agents. Soon enough, a Soviet agent is assigned to assassinate Wormold himself… at which point, our man in Havana begins scheming to get his hands on an actual list of all of the spies in Havana — from Batista's chief torturer. Fun facts: The book was adapted by Carol Reed as a 1959 movie of the same title starring Alec Guinness. PS: Greene was recruited by MI6 during World War II, and worked in counter-espionage in the Iberian Peninsula, where he had learned about greedy German agents in Portugal sending the Germans fictitious reports.

Hergé's Tintin adventure Tintin au Tibet (Tintin in Tibet, serialized 1958–1959; as an album, 1960). In his 20th outing, Tintin envisions his friend Chang (a Chinese boy who'd helped him out in The Blue Lotus), injured and calling for help from the wreckage of a crashed plane in the Himalayas — is it just a dream? No matter, Tintin, Captain Haddock, and Snowy immediately fly to Kathmandu, hire a sherpa and porters… and begin a hazardous trek towards the plane's crash site. Mysterious tracks frighten off the porters, who believe that the abominable snowman who figures in the Himalaya people's ancient legends and folklore is actually out there. While scaling a cliff face, Haddock slips and nearly kills Tintin; then, they lose their tent. Tintin sends Snowy to a nearby Buddhist monastery of Khor-Biyong for help… just before an avalanche hits. Is this the end of the Tintin saga? Fun facts: This was one of Hergé's favorite Tintin stories; and the Dalai Lama awarded it the Light of Truth Award — because, he believed, Tintin in Tibet helps promote democracy and human rights for the Tibetan people.

William Haggard's Colonel Charles Russell espionage adventure Slow Burner (1958). In his debut outing, we meet Colonel Charles Russell — chief of the Special Executive, a (fictional) British counterintelligence service; the man who gives orders to field agents, that is to say; he is not himself an agent. Although there is some bang-bang action, here, Russell is primarily concerned with political maneuvering: Personal antagonisms within Britain's intelligence community eventually lead to murder. At the same time, there's a slow-burning plot-line about a British scientist selling top-secret military tech. Here we meet for the first time not only Russell but his assistant, Major Mortimer; Sir Jeremy Bates, Permanent Secretary at the Ministry; and Russell's friend, the eminent scientist Dr. William Nichol, who directs a project developing a secretive nuclear fission process known as Slow Burner. Why are epsilon rays — the signature emission of the Slow Burner process — emanating from a suburban home outside London? Mrs. Tarbat, who lives in the house in question, has three lovers — is one of them a traitor? Charlie Percival-Smith, a disavowable third party, is brought in to investigate…. And there's a frantic attempt, near the end, to prevent a nuclear accident near Oxford! Fun facts: Colonel Russell would go on to feature in a further 24 novels. "Haggard lacked [Ian] Fleming's snooty dilettantism," Christopher Fowler has written, "and was better at creating subtle layers of political intrigue."

Shirley Jackson's psychological/occult thriller The Haunting of Hill House (1959). Dr. Montague, an investigator of the supernatural, rents Hill House — an isolated, supposedly haunted mansion, in an unspecified location — for the summer. He brings along Luke, a handsome and wealthy young man who will one day inherit Hill House, as well as two women who have experienced the paranormal: Theodora, a flamboyant, bohemian artist; and Eleanor, a shy young woman who has been living as a semi-recluse while caring for her mother. Eerie events transpire: there are unseen noises, ghostly apparitions, strange writing on the wall. Eleanor, in particular, experiences phenomena to which the others are oblivious — but is she imagining some, or all of it? Or might Eleanor possess a subconscious telekinetic ability that is causing some or all of these manifestations? Jackson's prose style is extraordinary: objective to an alienating degree, early on, as though to illuminate the inherent oddness of a scientist's viewpoint; later, increasingly fraught. The house itself isn't described, in physical terms; but it's an important character in the book — a lonely, possibly insane presence that almost seems to have been waiting for Eleanor to arrive. A foolish, yet insightful character, Mrs. Montague, shows up at a certain point — for comic relief? Or is she a Shakespearean fool? When it finally becomes clear that Eleanor must leave Hill House, the question is… can she do so? In time? Fun facts: Jackson is probably best known for her short story, "The Lottery" (1948). The Haunting of Hill House is considered one of the greatest haunted house tales ever written; it was an important influence on The Shining. Robert Wise's 1963 film adaptation, The Haunting, stars Julie Harris, Claire Bloom, Richard Johnson, and Russ Tamblyn. There's also a 2018 TV miniseries from Netflix.

Richard Condon's political thriller The Manchurian Candidate (1959). Several years after Bennett Marco, Raymond Shaw, and the rest of their Korean War infantry platoon were captured by a Soviet commando unit and held captive in Manchuria, Marco suffers from a recurring nightmare. In it, sweet little old ladies, who are somehow also Chinese and Soviet officials, command Shaw to murder two of his comrades. But Shaw is a hero; and those two men died in combat… right? Marco — now an Army Intelligence officer — looks up Shaw, whose stepfather is a prominent McCarthy-esque politician, Senator Johnny Iselin — and the two men become friendly. Marco gets involved with a supportive woman, Rose, while Raymond falls for the girl next door. Jocelyn is the daughter of Senator Jordan, a political foe of Iselin's; Raymond's ambitious, domineering mother Eleanor disapproves… but Raymond continues to see Jocelyn. Meanwhile, Marco uncovers an audacious plot — backed by the Communist powers — to install an American president of their choosing, who will become their stooge! Raymond is an unwitting participant in this nefarious scheme. Can Marco get to the bottom of the plot before it's too late for Raymond… and America? Condon's prose style is strong medicine; there are verbal pyrotechnics to complement the mind-bending plot. Fun facts: Several passages of the novel, it has been suggested, were plagiarized from Robert Graves's 1934 novel I, Claudius. The Manchurian Candidate was adapted by John Frankenheimer as an excellent 1962 movie starring Frank Sinatra, Laurence Harvey and Janet Leigh, with Angela Lansbury in a chilling role. There is also a 2004 remake starring Denzel Washington.

Philip K. Dick's Golden Age sci-fi adventure Time Out of Joint (1959). Ragle Gumm lives with his sister and her husband in a quiet suburb; the year is 1959. Gumm earns a living by winning — again and again — a local newspaper contest, "Where Will The Little Green Man Be Next?" When odd things start happening — a soft-drink stand turns into a slip of paper that reads "SOFT-DRINK STAND"; he's sure that the bathroom has a pull-cord light, even though it has always had a wall switch — Gumm thinks he may be having a nervous breakdown. But his brother-in-law begins to notice reality-discrepancies, too. When the two men try to leave town, there's always something that traps them there. Still, Gumm stubbornly investigates. Are most aspects of his life staged, in order to keep him focused on the "Where Will The Little Green Man Be Next?" quiz? (Because, say, his answers to the quiz help Earth's planetary defense forces — in 1998 — predict the movements of rebel lunar colonists?) And if so, is what he's doing critically important to humankind — or is he helping keep a tyrannical social order in place? A minimally sci-fi novel about false reality; an important turning point in the Philip K. Dick's oeuvre. Fun facts: Obviously an influence on The Truman Show, The Matrix, and Ender's Game; and more recently, American Ultra. In a 1981 interview, Dick recounted that the bathroom pull-cord incident "happened to me, and it was what caused me to write the book. It reminded me of the idea that Van Vogt had dealt with, of artificial memory, as occurs in The World of Null-A [1948] where a person has false memories implanted. A lot of what I wrote, which looks like the result of taking acid, is really the result of taking Van Vogt seriously!"

Geoffrey Household's hunted-man adventure Watcher in the Shadows (1960). One of the greatest hunted-man adventures of all time! Mild-mannered, reclusive zoologist Charles Dennim is sent a mail bomb — why? During the war, we discover, Dennim was a double agent working for the Allies as a Gestapo officer in a concentration camp… and now the husband of one of the Gestapo's victims, who doesn't know the Dennim was one of the good guys, wants revenge. Dennim must use his wartime skills to stay one jump ahead of his equally capable foe; he goes to earth in the English countryside — but the hunt picks up again almost immediately. Fun fact: By the author of Rogue Male, one of the other greatest hunted-man adventures of all time. After languishing in obscurity for years, in 2010 Watcher in the Shadows was reissued by the British thriller reprint house Ostara.

Lionel Davidson's atavistic treasure-hunt adventure The Rose of Tibet (1962). In 1950, Charles Houston, a directionless British art teacher, discovers that his half-brother has disappeared on the China-Tibet border while filming a mountaineering expedition — and sets off to confirm his death. Because the People's Liberation Army is threatening to invade Tibet (as we know, this happened in October 1950), Houston and a teenage sherpa make a perilous and illegal journey across the mountains. At a monastery whose abbess is never seen without her mask, Houston is taken for a god — and entrusted with a fortune in emeralds. He then flees with the loot and the priestess, with the Red Chinese in hot pursuit. Real-life characters of the period — the young Dalai Lama, the swashbuckling explorer Heinrich Harrar, even the author Lionel Davidson — make an appearance, but this is throwback Haggard-esque fantasy at its finest. Indiana Jones, eat your heart out. Fun fact: Graham Greene once said, "I hadn't realised how much I had missed the genuine adventure story until I read The Rose of Tibet."

Stan Lee and Steve Ditko's sci-fi adventure The Amazing Spider-Man (1962–on). Lee and Ditko — borrowing ideas from pulp fiction and Jack Kirby — introduced the Spider-Man character in August 1962, in Marvel's anthology comic Amazing Fantasy. Unlike most other superheroes of the time, who disguised their true (superheroic) identities by pretending to be un-extraordinary working stiffs, Peter Parker's true identity is an awkward, nerdy teen who lives with his elderly aunt in Queens. "The Amazing Spider-Man" is a schtick — borrowed from the world of wrestling — allowing the nebbishy Parker to act like a suave, tough hero. It doesn't work: He's considered a menace by the police and the general public. An ingenious conceit! Comic-book readers could relate. A solo series followed, beginning with The Amazing Spider-Man #1 the following year. Fun facts: The Spider-Man character has also appeared in nine animated and live action television series, syndicated newspaper comic strips, a Broadway show, dozens of video games, and in five big-budget films.

Anthony Burgess's A Clockwork Orange (1962). Communicating partially in contemporary English (including Cockney rhyming slang), partially in Shakespearean English, and partially in a Russian-influenced argot called "nadsat," our narrator and protagonist is a sociopathic 15-year-old hoodlum, living in near-future London. "There's only one veshch I require," explains Alex, "having my malenky bit of fun with real droogs." When he's not enjoying Beethoven, Alex and his droogs indulge in "ultra-violence" including sexual assault. Sent to prison, where neither the state nor the church succeeds in reforming him, Alex volunteers to undergo the Ludovico Technique, a punishing form of aversion therapy that conditions him to be good… or, at least, not bad. But at what cost? Has Alex become, in the words of one character, a "clockwork orange" — that is, a mechanized semblance of nature? In the end, amazingly, we actually feel pity for evil Alex. Fun fact: Written in three weeks, A Clockwork Orange has been named by Modern Library one of the 100 best English-language novels of the 20th century. It was adapted as a brilliant 1971 movie by Stanley Kubrick.

Richard Stark's (Donald E. Westlake) crime adventure The Hunter (1962). Like John Wayne showing up without a horse in Stagecoach, we first meet Parker entering New York on foot — crossing the George Washington Bridge without a penny to his name. He's a tough heist man who's been double-crossed, we learn by his partner and wife, Lynne. He was left for dead but not killed — big mistake. Relentlessly Parker hunts his loot… even when it turns out that the Syndicate (or, as its higher-ups prefer, the Organization) has taken possession of it. We can't help but admire Parker's methods. He's careful, methodical, and when the time comes, brutal; he doesn't hurt anyone unless it's necessary, but it's often necessary. The POV shifts back and forth between Parker and his victims — it's a very effective piece of hardboiled prose. Fun facts: Adapted in 1967 as John Boorman's excellent neo-noir movie Point Blank, starring Lee Marvin. Chow Yun-fat, Mel Gibson, and Jason Statham have also starred in adaptations. This is the first Parker novel; Westlake would write over 20 others.

Len Deighton's espionage adventure The IPCRESS File (1962). Readers complain that this is a confusing adventure, which it is — but that's very much on purpose, as Deighton is self-consciously having fun with the conventions of the genre. His protagonist is nameless; and the British intelligence agency for which he works, WOOC(P), might as well be, since we never discover what the acronym stands for. Even the titular file's name is an acronym for an absurd phrase: "Induction of Psycho-neuroses by Conditioned REflex with Stress." Influential Brits are being kidnapped, including a scientist code-named Raven; our spy — let's call him Harry, as someone mistakenly does here — attempts to negotiate for the release of Raven, unsuccessfully. Agents are killed, but not the agents Harry thought. Harry is approached by his old boss from military intelligence, who attempts to sell him information. There's an American neutron bomb test in the Pacific, following which Harry himself is kidnapped and subjected to weeks of interrogation, brainwashing and torture. By whom? Is Harry's own department the enemy? Are his enemies actually Britain's allies? Fun facts: The IPCRESS File is Deighton's first spy novel. It was adapted in 1965 as a popular movie starring Michael Caine. The cover design shown here was widely imitated for many years.

John le Carré's espionage adventure The Spy Who Came in from the Cold (1963). Two years after Le Carré's first spy novel, Call for the Dead, in which East German Secret Service assassin Hans-Dieter Mundt narrowly escapes George Smiley (of the British intelligence service "the Circus"), Mundt has risen to the top of his department… and is wreaking havoc. As The Spy Who Came in from the Cold begins, Alec Leamas, head of the Circus's West Berlin office, sees his last and best double agent shot while defecting from the East: Mundt's work. He's recalled to London, but asked to stay "in the cold" — by faking his own defection to East Germany, then neutralizing Mundt by sowing disinformation about him. Smiley's plan, which (of course) is not entirely what it seems to be, is further complicated by Leamas's brief love affair with the idealistic secretary of her local cell of the Communist Party of Great Britain. This is a suspenseful spy thriller and also a sardonic inversion of the genre; the reader ends up perturbed by the ethics of the so-called good guys, and sympathizing with at least one of the bad guys. Fun facts: In 1965, Martin Ritt directed the movie adaptation of the novel, starring a terrific Richard Burton as Leamas. Publishers Weekly has called The Spy Who Came in from the Cold the "best spy novel of all time."

Madeleine L'Engle's YA sci-fi adventure A Wrinkle in Time (1963). Thirteen-year-old Meg Murry's scientist father has vanished, while researching tesseracts — i.e., fifth-dimensional phenomena in which the fabric of space and time "folds" in upon itself. One night, Meg, her genius 5-year-old brother Charles, and a dreamy high-school junior, Calvin, visit the family's eccentric new neighbor, Mrs. Whatsit, who seems to know something about tesseracts. Mrs. Whatsit, and her companions Mrs. Who and Mrs. Which, turn out to be extraterrestrial/angelic/unicornic beings — who "tesser" the children to their home world, where they explain that the universe is under attack from an evil being known only as The Black Thing. (The Earth is under attack, too — protected only by great religious figures, philosophers, and artists. Which reminds me of Susan Cooper's 1965–1977 Dark is Rising sequence.) Meg's father is being held captive on the dark planet of Camazotz, whose inhabitants operate under the control of a single mind — "IT," an evil disembodied brain with telepathic abilities. Can Meg, the unlikeliest hero ever, triumph over IT, rescue her father and brother… and the Earth, too? Fun fact: Written in 1959–1960 and turned down by 26 publishers, A Wrinkle in Time won the 1963 Newbery Medal. Also in the trilogy: A Wind in the Door (1973) and A Swiftly Tilting Planet (1978). Adapted, in 2012, as a graphic novel by Hope Larson; and adapted, by Ava DuVernay, as a 2018 movie.

Ross Macdonald's Lew Archer crime adventure The Chill (1963). In Archer's 11th outing, a distraught Alex Kincaid wants the suburban LA detective to find his new wife, Dolly, who — during their honeymoon — has taken a powder for no apparent reason. As with every Archer mystery, the myriad ways in which the past influences the present (often having to do with how a family's wealth was acquired) require a great deal of untangling. Dolly turns up quickly, but Archer's sleuthing uncovers two old murders and a new one, in a coastal college town; so although he's no longer being paid, he sticks with the mystery. There are plot twists and red herrings — whodunit is impossible to guess, until the final pages. Some readers might complain about the complexity — there are many characters, each of whom has a skeleton in their closet, some of whom have false identities, and many of whom are connected to one another in some byzantine way. But Macdonald is in rare form, here; his prose is smart and fresh. This may be his best book. Fun facts: Writing for HILOBROW, Gordon Dahlquist says: "If [Raymond] Chandler's novels are about [Philip] Marlowe, then Macdonald's — despite Archer's fuller realization — are about California."
---
SIXTIES ADVENTURES
1964–1973
---
Also see: 100 BEST SIXTIES ADVENTURES | 75 BEST NEW WAVE SCI FI ADVENTURES | & also BEST SIXTIES YA & YYA ADVENTURES.
In chronological order…
Philip K. Dick's science fiction adventure Martian Time-Slip (1964). In which the Mars of hoary sf mythologizing becomes a Waste Land populated by visionary bushmen, a truth-telling ten-year-old schizophrenic (who sees "a hole as large as a world; the earth disappeared and became black, empty, and nothing… Into the hole the men jumped one by one, until none of them were left. He was alone, with the silent world-hole."), and a humble repairman who must put reality back together… even as it dissolves into "gubble."

Frank Herbert's science fiction adventure Dune (1965). A potboiler about one family's declining empire, a mythology-saturated fantasy about the founding of a new social order, and a band-of-brothers yarn (Thufir Hawat, the human computer; Gurney Halleck, the troubadour warrior; Duncan Idaho, master swordsman), Dune is also a criticism of humankind's despoliation of nature in the name of progress. Plus: Alia, a telepathic four-year-old girl, who roams the battlefields of Arrakis slitting the throats of imperial stormtroopers! The Bene Gesserit, who subtly guide humanity's development! The worm-riding Fremen! Dune was adapted into David Lynch's cult 1984 movie of that title.

Philip K. Dick's science fiction adventure The Three Stigmata of Palmer Eldritch (1965). Via an odyssey of nested hallucinations, Dick burns the Gnostic idea that the world is the creation not of God, but of an evil, lesser deity, forever into the reader's mind. The title character is a demiurge who brings to mankind a "negative trinity" of "alienation, blurred reality, and despair." Probably my favorite PKD novel, after A Scanner Darkly.

Michael Moorcock's fantasy adventure Stormbringer (1965). Even though Stormbringer, which takes its title from the name of Elric's cursed sword (which confers upon the user health and fighting prowess, but must be fed souls in return), is a "fix up" combining four novellas from the early 1960s, it was ahead of its time even when reissued as part of DAW's canonical 1970s Elric series. Moorcock's albino, drug-addicted protagonist Elric of Melniboné was influenced by Bertolt Brecht's amoral, antiheroic criminal character Macheath; even when Elric tries to do the right thing, he ends up destroying those about whom he cares most.

Lloyd Alexander's YA fantasy adventure The Black Cauldron (1965). The second in a series of Alexander's Chronicles of Prydain books, which use Welsh mythology (Prydain is the medieval Welsh term for the Brittonic parts of the island of Britain), particularly the Mabinogion, for inspiration, The Black Cauldron is my favorite. The antiheroic Prince Ellidyr, who loves only his horse, sickly Gwystyl of the Fair Folk, the sorceresses Orddu, Orwen, and Orgoch, and the doomed minstrel Adaon are tremendous characters. It's like Moorcock's Elric series without the sex, drugs, and despair.

Thomas Pynchon's postmodernist, apophenic adventure The Crying of Lot 49 (1966). Has discontented California housewife Oedipa Maas uncovered a centuries-old conflict between two mail distribution companies? Or is she perhaps merely detecting signals where there is only noise? "The ordered swirl of houses and streets, from this high angle, sprang at her now with the same unexpected, astonishing clarity as the circuit card had. Though she knew even less about radios than about Southern Californians, there were to both outward patterns a hieroglyphic sense of concealed meaning, of an intent to communicate." Fun fact: Pynchon's fictional aerospace engineering company, Yoyodyne, is referenced in the movie The Adventures of Buckaroo Banzai.

Lionel Davidson's hunted-man/treasure-hunt adventure A Long Way to Shiloh (1966, aka The Menorah Men). When Caspar Laing, an Indiana Jones-like British professor of Semitic Languages, is asked to translate an ancient scroll that may give directions to the hiding place of a menorah rescued when Nero's army in Israel sacked the Temple in 70 AD — that is to say, a sacred relic which is the very symbol of Judaism — he quickly gets tangled up in Middle Eastern politics. The Jordanians, it seems, are also hunting for the menorah… and what's worse, the scroll is purposely misleading. Veers from deadly cat-and-mouse chills to hermeneutic thrills. Also, it's funny! One of my all-time favorite adventures.

John Christopher's The White Mountains (1967). The first installment in John Christopher's Tripods trilogy is among my all-time favorite YA adventures. In the not-too-distant future, 13-year-old Will decides to leave his hometown (somewhere in England) rather than go through with the Capping ceremony — a coming-of-age process whereby adolescents' heads are fitted with a docility-ensuring metallic mesh, by three-legged metal creatures known as Tripods. His cousin Henry, with whom he doesn't get along, joins him… and on their way across Europe to the Alps (the titular White Mountains), they also meet a French boy, Jean-Paul, who is skinny and frail but a sharp-witted student of the abandoned technologies they discover on their trip. Slowly, we discover that the Tripods are alien invaders who've decimated and enslaved humankind, compelling them to return to a pre-industrial way of life. Adults are of no use, when it comes to resisting the Tripods, because they've all been capped… except for a few rebels in the Alps. Christopher is a masterful world-builder; and he specializes in realistic teen protagonists, who tend to be jerks (petty, prideful, competitive) until they get over themselves. Fun fact: The White Mountains was followed by The City of Gold and Lead (1967) and The Pool of Fire (1968). The 1988 prequel, When the Tripods Came, isn't as thrilling — though it uncannily predicts the British children's TV programs Teletubbies (1997–2001) and Boohbah (2003–2006).

Hugo Pratt's Una ballata del mare salato (1967, Ballad of The Salt Sea). In 1914, just prior to the outbreak of World War I, a sinister rogue named Rasputin is up to no good, circumnavigating the islands north of Australia in a catamaran crewed by Melanesian natives, when he picks up a sailor who's been marooned by his own crew: Corto Maltese. (This is an anti-heroic entrance worthy of John Wayne's in Stagecoach.) In subsequent adventures, we'll learn that Maltese, the son of a British sailor and an Andalusian–Romani witch and prostitute, was born in Malta, participated in the Russo-Japanese War, and sympathizes with underdogs… but in this, the first Corto Maltese adventure, he is a pirate. Ballad of The Salt Sea is a tangled yarn — pirates, a German lieutenant, cannibals, wealthy Australian heirs held for ransom, a young Maori navigator, and an evil criminal genius in a hooded cloak all play important roles. Everyone betrays everyone else; Corto Maltese himself, though likable, can't be trusted. Fun fact: Pratt's artwork is gorgeous — the missing link between Milt Caniff and Frank Miller — and exegetes claim that he did extensive research, on everything from native tattooing to warships. Along with the first Tintin and Asterix books, Ballad of The Salt Sea was voted by the French public as one of Le Monde's "100 Books of the Century".

Charles Portis's western adventure True Grit (1968). Mattie Ross, a narrator whose lack of humor makes the absurdities of her story's larger-than-life characters all the more delicious, recounts her efforts — many years earlier, in 1873, at age 14 — to revenge herself upon her father's killer, who has fled from western-central Arkansas into Indian Territory (now Oklahoma). In Fort Smith, Mattie hires an aging, hard-drinking, one-eyed marshal, Reuben J. "Rooster" Cogburn; and insists on accompanying him. Her odyssey has been compared to Huck Finn's, thanks to the gorgeous regionalisms and figures of speech it captures. Rooster and Mattie are joined by LaBoeuf, a self-satisfied Texas Ranger also seeking the killer — at which point the novel veers into crackerjack territory, as the old-timer demonstrates that "true grit" more than makes up for relatively clumsy, brutal craft. The action is bloody and exciting, but Mattie's voice — intelligent, dry, cantankerous — is the real attraction here. Is this a revisionist western? I don't think so. Instead, Portis (who didn't consider this his best book) is demonstrating how western adventures should have been written in the first place. Fun facts: John Wayne would win a Best Actor Oscar for his portrayal of Rooster Cogburn in the 1969 movie adaptation; the 2010 Coen Brothers adaptation is excellent.

Ursula K. Le Guin's fantasy adventure A Wizard of Earthsea (1968). In the world of Earthsea, magic is an inborn talent — and those born with the most powerful gifts are sent to school on the island of Roke, where they are trained to become responsible, staff-carrying wizards. (Hello, Harry Potter.) Ged, a reddish-skinned shepherd boy, is trained by the humble mage Ogion to use his impressive powers in harmony with nature; however, Ged is impatient and reckless. (Hello, Ben Kenobi and Luke Skywalker — not to mention Qui-Gon Jinn and Anakin.) At Roke, Ged shows off to his fellow students by releasing a shadow creature that attacks him. Injured and afraid, he leaves school and seeks wizard work (including protecting a village from dragons!) while also evading the shadow creature, which continues to haunt him… until his old teacher, Ogion, advises Ged to confront his fears. Fun facts: This is Le Guin's first book for a young adult audience; Margaret Atwood has called it one of the "wellsprings" of fantasy literature. The next two installments in the Earthsea Trilogy are The Tombs of Atuan (1970/1971) and The Farthest Shore (1972). Later books in the Earthsea cycle: Tehanu, Tales from Earthsea, and The Other Wind. In 2005, Le Guin expressed her disappointment when the Sci Fi Channel's loose adaptation of the Earthsea trilogy cast a white actor as Ged.

Kurt Vonnegut's New Wave sci-fi adventure Slaughterhouse-Five, or The Children's Crusade: A Duty-Dance with Death (1969). Much like the bumbling protagonist of Jaroslav Hašek's pioneering antiwar novel The Good Soldier Švejk (1921–1923), Billy Pilgrim is an ill-trained, disoriented, cowardly chaplain's assistant. During the Battle of the Bulge in 1944, he is captured and transported to Dresden. In 1945, as British and American bombers dropped several thousand tons of high-explosive bombs and incendiary devices on the city, Pilgrim and his fellow prisoners and their guards take refuge in a cellar beneath Schlachthof-fünf, the titular "slaughterhouse five"; they are among the only survivors of the (still-controversial) attack. We experience all of this in flash-backs or flash-forwards, because Billy has become "unstuck in time," not to mention in space. At one point, years later, on his daughter's wedding night, Billy is captured by aliens and transported to Tralfamadore, the fatalistic residents of which can observe all points in the space-time continuum simultaneously. Like them, Billy becomes a philosophical ironist because — thanks to his time-traveling — the entire human experience strikes him as absurd. Is he crazy, or a visionary? Fun facts: As a prisoner of war in 1945, Vonnegut experienced the Dresden firebombing; the narrator of Slaughterhouse-Five is the author, speaking in his own voice. The 1972 film adaptation, directed by George Roy Hill (in between directing Butch Cassidy and the Sundance Kid and The Sting), won the Prix du Jury at the 1972 Cannes Film Festival.

Ursula K. Le Guin's New Wave sci-fi adventure The Left Hand of Darkness (1969). This is the second of the author's so-called Hainish Cycle, set in a galaxy whose human population evolved on Hain, then spread outwards to many other planets (including Earth) before, at some distant point in the past, losing contact. Efforts have been mounted to re-establish a galactic civilization; some eighty planets have organized themselves into a union called the Ekumen. In this novel, Genly Ai, an agent of The Ekumen, has spent a frustrating couple of years as an envoy to the frozen planet Gethen. Ai's efforts to recruit Gethen into the Ekumen have failed… because his supposedly enlightened worldview is structured by binary oppositions. Gethenians, because they are ambisexual — they only adopt sexual attributes once a month, during a period of sexual receptiveness and high fertility — see the world in an entirely different way. Ai only begins to empathize with the Gethenian worldview once he escapes from prison with Estraven, an exiled Gethenian politician, who not only helps Ai survive a trek across the planet's wintry wilderness, but helps him understand his own deep-seated prejudices and assumptions about gender and gender roles. Fun facts: The Left Hand of Darkness is one of the first feminist sci-fi novels, though some feminists have argued that it does not go far enough in critiquing gender stereotypes. Harold Bloom said, of this book, which won both the Hugo and Nebula Awards: "Le Guin, more than Tolkien, has raised fantasy into high literature, for our time."

Philip K. Dick's New Wave sci-fi adventure Ubik (1969). Joe Chip works for Runciter Associates, which employs "inertials" — telepaths and precogs with the ability to block the powers of other, less scrupulous telepaths and precogs — to protect the privacy of their clients. He's one of Dick's "minor men," unable to manage his own life; in fact, he owes money to his own front door! Joe has a thing for his new colleague, Pat, who can change the past in such a way that people don't realize it. Sent to Luna in search of criminal telepaths, Joe and Pat and the rest of their team is caught in an explosion… after which nothing is ever the same again. Are they moving backwards in time? Are they in some other reality? Are they caught up in a cosmic battle between the forces of light and the forces of darkness — and if so, what is the ultimate source of these forces? Every interpretation that they posit is frustrated; meaning remains elusive. Each chapter is prefaced with an advertisement for Ubik, salvation in a spray can. This is, perhaps, the ultimate example of one of Dick's apophenic sci-fi potboilers. Fun fact: Ubik inspired France's Alfred Jarry-inspired Collège du Pataphysique to elect Dick as an honorary member. John Lennon, at one point, was interested in adapting the film version.

John Bellairs's fantasy adventure The Face in the Frost (1969). When ominous supernatural phenomena come to the attention of Prospero, an accomplished but misfit wizard, he and his adventurer friend Roger Bacon head out to seek their source. There's a slowly building atmosphere of menace, within a beautifully realized fantasy world of ghosts, chimaeras, and other nightmares. The elderly protagonists are a delight: sarcastic, crochety, courageous, given to spell-casting in allusive doggerel verse. The writing is gorgeous and full of sly anachronisms and meta-fictional references not only to Shakespeare and the "Cinderella" fairy tale, but to Lovecraft and Tolkien as well. The novella's episodic plot feels like a Dungeons & Dragons adventure — there's a haunted grove, a murderous innkeeper, weaponized weather, and a magical artifact that everyone's after. In fact, Gary Gygax's Advanced Dungeons and Dragons Dungeon Master's Guide lists The Face in the Frost as recommended reading; Prospero's practice of studying his book of spells the night before he might need them no doubt helped inspired the game's requirement for Magic Users to do so. Although Bellairs's Lewis Barnavelt/Rose Rita Pottinger adventures are terrific, this is his only fantasy novel for adults. Fun facts: This is a fantasy novelist's fantasy novel. Lin Carter praised The Face in the Frost as one of the best fantasy novels to be published since The Lord of the Rings. Ursula K. Le Guin described it as "authentic fantasy by a writer who knows what wizardry is all about."

John Christopher's YA science fiction adventure The Prince in Waiting (1970). In a post-apocalyptic future, in which England has reverted to a medieval way of life, complete with an untouchable caste of mutants, thirteen-year-old Luke's father becomes the Prince of Winchester; Luke is named his successor. All of this is ordained by the Seers, England's priestly caste, who commune with the Spirits. A few years later, however, Luke's mother is murdered, his father is killed, and his elder half-brother becomes Prince. Luke flees Winchester, and is taken in to the Sanctuary of the High Seers… where he discovers the truth about them… and the Spirits. Fun fact: This is the first installment in Christopher (Sam Youd)'s excellent Sword of the Spirits trilogy.

Jack Kirby's Fourth World storyline (1971). When Jack Kirby left Marvel Comics for DC in 1970, he launched a science-fictional epic revolving around aliens with superhuman abilities arriving on Earth. Hailing from the planets Apokolips and New Genesis, the ontogeny of the so-called New Gods — their fantastic powers, even their names — recapitulated Kirby's imaginative billion-year phylogeny, during which three previous eras ("worlds") had seen the rise and fall of the Old Gods, legends of whom live on in humankind's mythologies. So sweeping was Kirby's weltanschauung that it couldn't be contained in the New Gods comic (#1–11 written and illustrated by Kirby, 1971–72). So he also wrote and illustrated Forever People (#1–11, 1971–72) and Mister Miracle (#1–18, 1971–74), not to mention a reimagined Superman's Pal Jimmy Olsen. These proto-postmodernist comics are a volatile admixture of religion (the character Izaya evokes the biblical Isaiah), ancient-astronaut theories, sci-fi technology (the Boom Tube, the Mobius Chair, the Mother Box), and 1960s culture (the Forever People are cosmic hippies). Kirby's 1940s-era teen characters, the Newsboy Legion, were resurrected; and Don Rickles made a cameo appearance. Truly awesome. Fun fact: The Fourth World storyline was intended to be a finite series, which would end with the deaths of the characters Darkseid and Orion.

Victor Cannings's occult/crime adventure The Rainbird Pattern (1972). I'm a big fan of Canning's late thrillers — including Firecrest (1971), The Finger of Saturn (1973) and The Doomsday Carrier (1976) — in which cops are ruthless, and crooks sympathetic. The Rainbird Pattern is usually described as Canning's masterpiece. It's a tightly plotted puzzle in which Bush, an agent of the British government, attempts to foil the efforts of "Trader," a gang which has kidnapped and ransomed influential politicians (and now has its sights set on the Archbishop of Canterbury); and in which Julia Rainbird, an elderly and wealthy spinster thinking about making Edward, her long-lost illegitimate nephew her heir, hires Blanche, a fraudulent medium, to help her track Edward down. Blanche and her unscrupulous but amusing boyfriend, George, start snooping around for the Rainbird heir… which leads them to succeed where Bush failed. The consequences for all concerned are dramatic… and there's a mind-blowing twist at the end. Fun fact: The 1976 comedy thriller Family Plot, Hitchcock's last movie, was adapted from The Rainbird Pattern. The film — set in California — stars Karen Black, Bruce Dern, Barbara Harris, and William Devane.

Richard Adams's talking-animal Argonaut Folly adventure Watership Down (1972). An Aeneid-like epic in which a ragtag band of rabbits escape the destruction of their warren and journey across south-central England in search of a new home. Their unlikely leader is Hazel, whose main concern was to protect his oddball (visionary) brother Fiver; the charismatic star of the story is the gruff, tough rabbit Bigwig. These unlikely misfits encounter predators, snares, and automobiles; and they must elude the Owsla — the security force of their own warren, sent to fetch them back. Though the ever-growing group is tempted to join a couple of un-free rabbit societies, Hazel, Fiver, and Bigwig are fiercely determined to start their own warren… which they finally do, at Watership Down, a hill in the north of Hampshire. However, they need does — which leads them into more perilous adventures. And in the end, they must survive an attack led by Woundwort, the monstrous leader of a rival warren. Throughout, we hear inspirational excerpts from the lapine mythology of El-ahrairah the trickster. Fun facts: Adapted into the 1978 animated film Watership Down. In April 2016 it was announced that the BBC and Netflix would produce a four-part series based on the novel.

Ishmael Reed's apophenic, Afrofuturist adventure Mumbo Jumbo (1972). Before Snow Crash and even Gravity's Rainbow, Mumbo Jumbo conjured up a mythos around "Jes Grew," an ancient, infectious virus/meme which — spread by certain Negro musicians, in Prohibition New York — influences people to listen to ragtime and jazz, dance, worship more than one god, and otherwise cast off the shackles of a repressive social order. White westerners, since ancient times, have sought to suppress this tendency — as part of their successful effort to subjugate and alienate the other peoples of the world. (The book itself — whose format is disrupted by radio dispatches, photographs, typographic excesses, drawings and collages, footnotes, even anti-Vietnam War protests — seems infected by a disruptive virus of sorts.) PaPa LaBas, a Harlem voodoo practitioner, and his companion Black Herman, are drawn into the conflict against… western culture itself. If the plot flounders a bit, that's OK — Reed's ideas and prose style are an adventure. Fun fact: The Afrofuturist visionary musician George Clinton has cited Mumbo Jumbo as a primary source of inspiration for his P-Funk mythology.

Anthony Price's espionage adventure Colonel Butler's Wolf (1972). Historian-turned-spy David Audley is not the protagonist of the third installment in Price's so-called Dr. David Audley series (1970–1989). Another counter-intelligence agent from the Ministry of Defence's Research and Development Section — the gruff, tough Colonel Jack Butler — is at the center of the action, this time, while Audley pulls strings from behind the scenes. In fact, Audley is using Butler as a decoy, to flush out a deep-cover Soviet agent… and a diabolical plot to undermine England's intelligence services. Something is rotten at Oxford University, so Butler must go undercover as a military historian and sniff around; in a way, then, this is a rare hybrid of a spy thriller with a campus novel! The action later moves to Hadrian's Wall, where Butler must contend not only with a KGB agent but Oxford's misguided student demonstrators. A short but very satisfying yarn; I've re-read it several times. Fun fact: Previous titles in this series: The Labyrinth Makers (1970) and The Alamut Ambush (1971).

William Goldman's meta-fantasy adventure The Princess Bride (1973). Buttercup, a beautiful young woman, falls in love with her family's farm hand, Westley — who leaves to seek his fortune so they can marry. When she hears that the Dread Pirate Roberts has killed Westley, a shattered Buttercup reluctantly agrees to marry Prince Humperdinck. En route to her wedding, she is kidnapped by a trio of outlaws (criminal genius Vizzini, fencing master Inigo Montoya, and enormous wrestler Fezzik), who find themselves pursed by a masked man in black. Everyone knows what happens next, of course — but let me just mention a few highlights: the man in black's duel with the surprisingly honorable Montoya, his wrestling match with the surprisingly conscience-stricken Fezzik, his trek through the Fire Swamp with Buttercup, and his rescue — from Humperdinck's torture chamber — by his former foes. The story ends with a series of mishaps and the prince's men closing in, but the author indicates that he believes that the group got away. True love wins! Best of all, The Princess Bride is presented as "the good parts version" of a work by S. Morgenstern; throughout, the author — adopting the persona of a Hollywood screenwriter named Goldman — offers his own amusing running commentary. Fun facts: Goldman, who wrote the 1974 thriller Marathon Man, and who won Academy Awards for his Butch Cassidy and the Sundance Kid (1969) and All the President's Men (1976) screenplays, also wrote the screenplay for Rob Reiner's beloved 1987 movie version of this book.

George MacDonald Fraser's sardonic Flashman Papers historical adventure Flashman at the Charge (1973). In his fourth outing, Harry Flashman — antiheroic soldier, adventurer, and cad — is ordered to protect a young cousin of Queen Victoria's during the Crimean War. Despite his best efforts to remain safely in England, Flashman finds himself at the Battle of Balaklava… where he accidentally assists the 93rd Regiment in routing a Russian cavalry charge — an incident later known as the Thin Red Line. What's worse, he gets caught up in the Charge of the Light Brigade — a suicidal frontal assault on a well-defended artillery battery — and is captured! Imprisoned in Russia, Flashman encounters Harry "Scud" East (another character borrowed by the author from Thomas Hughes's 1857 novel Tom Brown's School Days) and a (real-life) vicious Russian operative, Nicholas Ignatieff. East insists upon escaping, in order to warn Britain of plans for the Russian invasion of British India…. This book used to be passed around as smut, in my high school; it's certainly raunchy. Fun facts: This installment in the Flashman Papers is preceded by Flash for Freedom! (1971), in which our hero travels up the Mississippi with a fugitive slave and meets Abraham Lincoln. It is followed by Flashman in the Great Game (1975). Around this time, Fraser wrote the screenplay for the movie Royal Flash (1975), directed by Richard Lester and starring Malcolm McDowell.

Susan Cooper's YA fantasy adventure The Dark is Rising (1973). On the Venn diagram showing admirers of Susan Cooper's Dark is Rising sequence and fans of J.K. Rowling's Harry Potter series, I suspect there is little overlap — this, despite the fact that both feature a young English hero who discovers his magical abilities, then undertakes perilous quests in search of artifacts that will assist a rag-tag band of good wizards and witches facing the growing menace of supernatural evil. Cooper's prose is superior to Rowling's, but her stories are grimmer. In this installment, we meet Will Stanton, who until the eve of his eleventh birthday believes that he's an ordinary kid. In fact, he's an Old One — an immortal being who task it is to serve the Light, and protect the world from the Dark. In later installments, Will will join forces with the Drew siblings (whom we met in 1965's Over Sea, Under Stone); here, he must travel through time seeking six magical talismans. He is assisted by Merriman, a decidedly un-Dumbledore-like mentor-wizard, and menaced by a sinister Rider and a mad Walker — not to mention a Hunter who represents neither Light nor Dark but wild magic. The mythological sub-strata can be a bit much, at times; and there isn't a lot of swashbuckling action… or wizard battles, even. But it's a marvelous, gorgeous tale — one of my favorite YA fantasy novels of all time. Fun facts: The Dark Is Rising sequence continues with Greenwitch (1974), The Grey King (1975), and Silver on the Tree (1977). The 2007 film adaptation of The Dark Is Rising (US title: The Seeker), directed by David L. Cunningham, is a disappointment.

Thomas Pynchon's sci-fi picaresque Gravity's Rainbow (1973). Set during the waning days of WWII, Pynchon's infamous masterpiece — considered by some to be one of the greatest American novels; considered by others to be unreadable — is an apophenic espionage adventure revolving around the quest to uncover the secret of a mysterious device, or MacGuffin, which is to be installed in a German V-2 rocket. (The book's title refers to the parabolic trajectory of a V-2, as well as to the introduction of randomness into physics via quantum mechanics.) Gravity's Rainbow is also a picaresque adventure, featuring over 400 characters, which follows Tyrone Slothrop, a naive Allied Intelligence operative, as he wanders — under covert surveillance, by his own comrades, who are interested in his sexual activities — around London, then a casino on the recently liberated French Riviera, and then in "The Zone," which is to say, Europe's post-war wasteland. What does Margherita Erdmann, former star of a traveling sado-masochistic sex show, know about the device? Why do the Schwarzkommando, African rocket technicians brought to Europe by German colonials, worship the V-2? Why is Slothrop being tailed by Major Duane Marvy, a sadistic American, and Vaslav Tchitcherine, a drug-addled Soviet intelligence officer? Slothrop discovers that he may have been experimented on, as an infant; does this have something to do with German occult warfare shenanigans? Plus: silly songs, 1940s pop culture references, kazoos. Here's the key: "If there is something comforting — religious, if you want — about paranoia," we read, "there is still also anti-paranoia, where nothing is connected to anything, a condition not many of us can bear for long." Fun facts: Winner of the National Book Award for 1974, and nominated for both a Pulitzer Prize and a Nebula Award. A vast hermeneutical apparatus has developed around Gravity's Rainbow… but you know what? It's fun to read on its own, without any of the secondary literature!
---
SEVENTIES ADVENTURES
1974–1983
---
Also see: 100 BEST SEVENTIES ADVENTURES | 75 BEST NEW WAVE SCI FI ADVENTURES.
In chronological order…
Robert Stone's war/crime adventure Dog Soldiers (1974). An extraordinary genre mashup that brings the Vietnam War home to a curdling California counterculture. When John Converse, a burned-out war correspondent, persuades his ex-Marine Corps buddy, Ray Hicks, to smuggle a backpack full of heroin back to the United States, the two frenemies (and Converse's thrill-seeking wife, Marge) soon discover that they've been manipulated by a violent drug cartel. A hard-bitten tough guy who's spent time in a cult-like desert commune rubbing elbows with freaks and free spirits, Hicks is an extraordinary figure; Stone based the character, in part, on Neal Cassady — whom the author met when he used to hang out with Ken Kesey and the Merry Pranksters. (Converse is a semi-autobiographical character; Stone was a Vietnam War correspondent.) When Hicks discovers that he's being tailed, he goes on the lam — taking Marge as insurance. Along the way, they become lovers; Marge, meanwhile, develops a heroin habit. There are no good guys in this sordid tale: the law enforcement officer on Hicks's trail is also on the take. when the hapless Converse returns to his abandoned Berkeley apartment, he's tortured by sadistic goons and forced to lead his captors to Hicks's hideaway — the remnants of the Kesey-like commune, whose freaky caves, tunnels, and psychedelic light-sound set-up makes for an atmospheric backdrop when the shit finally hits the fan! Fun facts: Dog Soldiers, which has been called one of the best English-language novels of the twentieth century, was awarded the National Book Award for Fiction. It was adapted as a 1978 movie by Karel Reisz, starring Michael Moriarty as Converse and Nick Nolte as Hicks.

The Humanoïdes' magazine of New Wave sci-fi and fantasy comics Métal hurlant. In 1974, Jean Giraud, the French cartoonist who'd brought a gritty realism to cowboy comics with Blueberry, the popular strip he and writer Jean-Michel Charlier contributed, from 1963–1974, to Pilote, and who'd recently attempted to adapt Frank Herbert's Dune with Alejandro Jodorowsky, while simultaneously beginning to write and draw experimental, trippy sci-fi and fantasy comics under the nom de plume Moebius, co-founded the comics art group and publishing house Les Humanoïdes Associés. The comics writer Jean-Pierre Dionnet, comics artist Philippe Druillet, and businessman Bernard Farkas were the other "Humanoïdes"; in December of that year, the four visionaries began publishing the magazine Métal Hurlant (Howling Metal), which would revolutionize Franco-Belgian comics. Here was a comics magazine for adults: cinematic, surreal, erotic, complex. Moebius's "Arzach" stories, about a silent warrior riding a pterodactyl-like creature through a desolate dreamscape, appeared in 1974–1975; his non-linear serial The Airtight Garage appeared from 1976–1979; and his famous L'Incal series, co-created with Jodorowsky, began to appear in 1980. Other contributors included: Druillet, Richard Corben, Enki Bilal, Caza, Serge Clerc, Alain Voss, Bernie Wrightson, Milo Manara, Frank Margerin, Masse, and Chantal Montellier. The magazine, which ceased publication in 1982, exercised a profound influence upon everyone from Ridley Scott and Hayao Miyazaki to William Gibson, Mike Mignola, and Neil Gaiman. Fun facts: The magazine Heavy Metal, which translated Métal hurlant for an English-speaking audience, was published in the United States — beginning in 1977 — under the National Lampoon umbrella.

Ursula K. Le Guin's New Wave sci-fi adventure The Dispossessed (1974). Shevek, a brilliant young physicist, lives on the peaceful anarchistic planet Anarres, whose inhabitants value voluntary cooperation, local control, and mutual tolerance. This is a richly imagined world — with a language, for example, that cannot readily express "propertarian" or "egoist" concepts. The downside of this utopia is an entrenched bureaucracy that stifles innovation, particularly if it seems to challenge the prevailing political and social ethos. Shevek's new temporal theory, and the resulting "Ansible" that he hopes to develop (which will allow instantaneous communication between any two points, no matter how many light-years apart; and which will therefore make possible a galactic network of civilizations), may never see the light of day. So he relocates to Urras, a nearby world (Annares is its moon) where disruptive new theories and technologies are welcomed. Once there, however, Shevek is dismayed and disgusted by Urras's two largest states: the USA-like A-Io, which is capitalist, sexist, wasteful, exploitative, and tumultuous — forever on the verge of revolution or war; and the authoritarian, USSR-like Thu. While the author is clearly sympathetic to the ideals of Annares, The Dispossessed is a pointed critique of typical utopian narratives; the dichotomies that Le Guin describes are not readily surmounted — it's a negative-dialectical romance. Fun facts: Although this was the fifth novel published in Le Guin's Hainish Cycle, chronologically it is the first. The Dispossessed won the Nebula and Hugo Awards for Best Novel. Later editions of the book are subtitled "An Ambiguous Utopia."

John le Carré's Karla Trilogy espionage adventure Tinker Tailor Soldier Spy (1974). David Cornwell, who wrote under the pseudonym John le Carré, worked as a British intelligence officer during the early Cold War; Kim Philby's defection to the USSR, and the consequent compromising of British agents, was a factor in Cornwell's return to private life. So it's only fitting that in his first outing, 1961's Call for the Dead, the un-James Bond-like George Smiley should be an ex-operative who roots out an East German spy ring operating in the UK. In 1963's The Spy Who Came In from the Cold, Smiley returns to the Circus (that is, the secret intelligence service) as top aide to its head, Control. As this novel begins, Control and Smiley have been forced into retirement after "Testify," an operation in Czechoslovakia, ends disastrously. Smiley discovers that there is a Soviet mole operating at the highest level within the Circus — that is to say, it must be someone he's known and trusted for years. But who? With the assistance of an increasingly paranoid Peter Guillam, his former protégé and right-hand man, Smiley investigates four ambitious senior Circus men: Alleline, the new Circus chief; Haydon, commander of London Station (and Smiley's wife's lover); Bland, Haydon's lieutenant; and Esterhase, who is in charge of surveillance and wiretapping for the Circus. He discovers that two major Circus operations — the ill-fated "Testify," and also "Merlin," a highly successful intelligence-gathering operation led by Alleline and the others — are not at all what they seem. Karla, Moscow Centre's spymaster, seems to have been manipulating the Circus — and Smiley — for years. If this is true, how will Smiley flush out the mole? Fun facts: Considered one of Le Carré's best books, Tinker Tailor Soldier Spy was adapted as an excellent movie — starring Gary Oldman as Smiley, along with Colin Firth, Tom Hardy, John Hurt, Toby Jones, Mark Strong, Benedict Cumberbatch, and Ciarán Hinds — in 2011. It was previously adapted into a BBC TV miniseries in 1979, with Alec Guinness in the lead role. The Honourable Schoolboy (1977) and Smiley's People (1979) are the subsequent installments in Le Carré's so-called Karla Trilogy.

J.G. Ballard's atavistic adventure High-Rise (1975). An ultra-modern apartment block in London populated by well-to-do yuppies who rarely leave the premises gradually becomes a self-sustaining vertical city. At which point social relations between different groups of tenants worsen; they stratify into three castes — depending on which floor you live on. A new social order emerges, one in which "all life within the high-rise revolved around three obsessions — security, food and sex." Sardonic inversion of the atavistic sub-genre.

Samuel R. Delany's science fiction adventure Dhalgren (1975). A postmodernist nexus between Joyce's Ulysses and Panter's Dal Tokyo, Dhalgren is set in an isolated city in the American Midwest — where some kind of catastrophe has happened. The Kid, an amnesiac, bisexual, possibly schizophrenic drifter, explores this damaged city, and interacts with its citizens: an Orpheus figure wandering through a surrealist, bewildering underworld of sorts. The Kid's only hope of making sense of his experiences is to become an author… of the book we're reading, or at least a version of it. Fun fact: The plot's form is a Moebius strip. William Gibson has referred to Dhalgren as "A riddle that was never meant to be solved."

Moebius's sci-fi/western/frontier/apophenic graphic novel adventure Le Garage Hermétique (The Airtight Garage, 1976–79). Le Garage Hermétique is one of the two great capricious comic strips of the Seventies (1974–1983); Gary Panter's Dal Tokyo, which first appeared in 1983, is the other. Over a four-year period, Moebius cranked out two to four pages per month; each month, he challenged himself to solve continuity problems that he'd playfully introduced previously, while also creating new problems. The main plot, to the extent that there is one, concerns the efforts of Major Grubert to prevent outside entities from invading the Garage Hermétique — an asteroid housing a pocket universe, which features, e.g., desert and forest biomes, a city, and a world made of machines. One of these invaders is Jerry Cornelius, a trickster figure whom Moebius lifted from Michael Moorcock's sci-fi novels; Grubert and Cornelius join forces, eventually, to face a threat to the Airtight Garage. Each installment of the strip, many of which focus on Grubert and Cornelius's hapless allies, is its own self-contained epic; they don't necessarily add up to anything larger. Fun fact: Le Garage Hermétique first appeared, from 1976–1979, in issues 6 through 41 of the Franco-Belgian comics magazine Métal Hurlant; Americans first read it in the magazine Heavy Metal, starting in 1977.

Philip K. Dick's New Wave sci-fi adventure A Scanner Darkly (1977). Set in a barely futuristic Los Angeles of 1994, Scanner tells the story of "Fred," an undercover narc who gets a kick out of the counter-cultural addicts with whom — as "Bob" — he dwells. Fred's abuse of Substance D (street name: "Death") contributes to a brain psychosis complicated by his latest assignment… spying on Bob! Whose motivations Fred finds opaque. Dick mines humor and pathos out of the druggies' lifestyle: paranoid conversations among low-lifes who actually are being spied on; crack-ups that feel like break-throughs. Also, this is a neo-noir crime novel — one in which we sympathize with the criminals, who are spirited free-thinkers, and despise the manipulative, cold-hearted cops. When Fred is sent to a detox facility, he cracks the secret of Substance D… too late? The book ends with a dramatic dedication to Dick's many friends who'd been killed or permanently damaged by drug abuse; the author's own name is on the list. Fun facts: In 2006, I wrote a Slate essay about the novel and Richard Linklater's movie adaptation. Which I still haven't seen.

Gary Panter's comic Jimbo (serialized 1977–present). Panter's "ratty line" illustrations helped define the style of L.A. punk. But the appeal of Jimbo — an all-American, snub-nosed, freckle-faced punkoid wandering through Dal Tokyo, a planet-wide sprawl of a city founded on Mars by Japanese and Texans — is timeless. Jimbo is a high-lowbrow antihero, equally at home in the pages of the L.A. music zine Slash, where he first appeared, and in the artsy RAW. The early post-apocalyptic/surrealist comics (has Jimbo's girlfriend been kidnapped by giant cockroaches?) have since given way to elaborate graphic novels that employ the character as an Everyman puzzling his way through religious/pop culture allegorical landscapes. But don't try to understand the plot of Panter's stories; the medium is the message. Panter's protean style — which changes from page to page, sometimes exploding into sheer abstraction — demands that the reader participate actively in making sense of Jimbo's… mission? Fun facts: Jimbo comics have been collected in Jimbo (1982), Invasion of the Elvis Zombies (1984), Jimbo: Adventures in Paradise (1988), and Jimbo's Inferno (2006). Panter is now working on a collection of his Jimbo mini-comics.

Patrick O'Brian's Aubrey & Maturin sea-going adventure The Mauritius Command (1977). In the fourth Aubrey & Maturin adventure, there's less kiss-kiss and more bang-bang. Jack Aubrey is temporarily advanced to the rank of admiral and sent to take away from the French the islands of Reunion and Mauritius, off the east African coast. Aubrey's first chance to lead a squadron — against marauding French frigates — is tested by his ham-fisted approach to handling personalities. To coordinate the actions of several ships, he must play to the strengths of each subordinate captain — a dandy, a tartar, and so forth — while compensating for their weaknesses. After an early success, catastrophic failure threatens the mission. What of Aubrey's surgeon/naturalist/secret agent friend Maturin? He is sent ashore on intelligence-gathering forays. Maturin's dry journal entries analyzing the character of Aubrey and the other captains, and rhapsodizing over an aardvark, are a reader's delight. Fun facts: The military actions of the novel are based upon the Mauritius campaign of 1809–1811 carried out by the Royal Navy under Commodore Josias Rowley.

Ruth Rendell's crime adventure A Judgement in Stone (1977). A psychological thriller, considered one of the author's best, that begins with a murder. Eunice Parchman, a housekeeper, kills her employers and their children. (Unknown to the family, she'd also killed her father.) Detective Chief Superintendent Vetch investigates her motive — a working-class woman's rage and shame towards her paternalistic, oblivious social superiors; the TV's breakdown — and also the peculiar circumstances via which two people can influence each other to do something terrible that neither would do on their own. The story's narrator is also a creepy character, of sorts. Fun facts: Claude Chabrol directed a 1995 adaptation of the novel, La Cérémonie, which is considered one of the best crime films ever. Sandrine Bonnaire plays the maid, Jacqueline Bisset her employer, and Isabelle Huppert the jealous and vindictive postmistress.

J.G. Farrell's satirical military-historical adventure The Singapore Grip (1978). The first major battle of WWII's Pacific Theater was the Japanese invasion of British Malaya, and rout of the troops stationed on the island of Singapore, the jewel in the crown of the British Empire's South-East Asian interests. Farrell's novel — the final in the Anglo-Irish author's so-called Empire Trilogy — finds not only pathos but a certain amount of dark (if heavy-handed) humor in what Churchill would describe as "the worst disaster and largest capitulation in British history." The story centers on the Blackett family: Walter Blackett is the racist, imperialist head of a British trading firm that has cornered the market in Malayan rubber — and profited massively, via unscrupulous price-fixing, with the approach of war. His daughter, the most eligible bachelorette in British Singapore, is being wooed by Matthew, the son of Blackett's partner, an idealistic and ineffectual humanitarian. In fact, much of the novel is devoted not to scenes of slaughter but the inner workings of the rubber industry — which is Farrell's way of inducing us to see the word through the lens of imperialists for whom profit trumps political, social, or humanitarian concerns. However, when the invasion does happen, there are plenty of chills and thrills for our protagonists. Fun facts: The first installment in the Empire Trilogy is Troubles (1970); the second is The Siege of Krishnapur (1973). Both won the Booker Prize. Farrell drowned, at age 44, in 1979.

Ross Thomas's Arthur Case Wu crime adventure Chinaman's Chance (1978). Pelican City, California's Artie Wu, the novel's titular "Chinaman," is an overweight con artist with four kids and what he insists is a legitimate claim on the imperial throne of China; his lifelong best friend and fellow grifter Quincy Durant is a reserved loner with mysterious scars on his back. They're on the trail of Silk Armitage, a missing folk singer, but they have various side hustles going, too… plus, they want to atone for past errors. Also involved: the CIA, mobsters, a tycoon, corrupt politicos, LA music biz types, and Wu and Durant's hustler pals Eddie McBride and Otherguy Overby. Silk's sister, Lace, is a movie star married to the tycoon — who hires Wu and Durant. Silk, it seems, was involved with a local Congressman — whose wife may or may not have killed him, and herself; Silk has been missing ever since. There is a buried-treasure subplot, and international intrigue, among other entertaining diversions; no matter, Wu and Durant are up for anything! Fun facts: Thomas didn't begin writing until he was over 40; Chinaman's Chance is often described as his best effort. Wu and Durant also feature in Out on the Rim (1987) and Voodoo, Ltd. (1992).

Douglas Adams's absurdist science fiction adventure The Hitchhiker's Guide to the Galaxy (1979). When a Vogon constructor fleet arrives to destroy Earth (in order to make way for an intergalactic bypass), Arthur Dent, an ordinary Englishman, is rescued just in time by Ford Prefect — a human-like alien writer for the eccentric, electronic travel guide The Hitchhiker's Guide to the Galaxy. Clad only in his pajamas and dressing gown, Arthur stumbles into a grand misadventure. He and Ford wind up traveling in the Heart of Gold, a spacecraft equipped with the experimental Infinite Improbability Drive, along with Ford's cousin, the two-headed President of the Galaxy Zaphod Beeblebrox; Marvin, the Paranoid Android; and Trillian, an Earthling formerly known as Tricia McMillan. It seems that Earth is (was) an organic supercomputer, created by another supercomputer, Deep Thought — which was created in order to calculate the "Ultimate Question of Life, the Universe, and Everything." (The number 42, which mathematician and fantasy writer Lewis Carroll seemed to find particularly funny, is — according to Deep Thought's non-organic calculations — the Question's answer.) Arthur becomes the target of the descendants of the Deep Thought creators, who believe his mind must hold the Question. Along the way, we meet excellent characters like Slartibartfast, the planetary coastline designer responsible for the fjords of Norway…. Fun facts: The Hitchhiker's Guide to the Galaxy was a 1978 BBC Radio 4 broadcast; the novel was adapted from the first four episodes. The story was adapted for TV's BBC Two in 1981, and as a 2005 movie starring Martin Freeman as Arthur, Mos Def as Ford, Sam Rockwell as Zaphod, and Zooey Deschanel as Trillian. Sequels include The Restaurant at the End of the Universe (1980), Life, the Universe and Everything (1982), and So Long, and Thanks for All the Fish (1984).

John le Carré's espionage adventure Smiley's People (1979). At the end of The Honourable Schoolboy (1977), the second installment in the so-called Karla Trilogy, spymaster George Smiley is forced out of the Circus — the British intelligence service to which he'd returned (see 1974's Tinker Tailor Soldier Spy), in order to root out a mole — and into premature retirement. Here, he's lured back into action when he learns that Karla, the Soviet Intelligence mastermind who'd planted the Circus mole, may have a secret weakness that can be exploited. Like Call for the Dead (1961), in which we first meet Smiley, this story begins with a murder investigation: Why did Karla have General Vladimir, one of Smiley's contacts during the war, killed in London? The investigation leads Smiley's people to Paris, Germany, Switzerland… and it takes Smiley back to Berlin, in the end. In order to capture Karla, Smiley will have to allow himself to be possessed by the very evil he has fought against; he must be utterly ruthless, remorseless. "Hunter, recluse, lover, solitary man in search of completion, shrewd player of the Great Game, avenger, doubter in search of reassurance," Le Carré writes of his protagonist, "Smiley was by turns each one of them, and sometimes more than one." Connie Sachs, Toby Esterhase, Peter Guillam, all play a role: Those of us who enjoy getting-the-gang-back-together adventures will recognize this slow-moving, but gripping story as falling into that category. Fun facts: The General Vladimir character was partly modeled on Colonel Alfons Rebane, an Estonian émigré who led the Estonian portion of SIS's Operation Jungle in the 1950s. Smiley's People was dramatized as a very good six-part TV miniseries for the BBC in 1982, starring Alec Guinness as Smiley.

Daniel Pinkwater's YA sci-fi/fantasy adventure Alan Mendelsohn, The Boy from Mars (1979). The first Pinkwater novel I ever read, and still my favorite. Leonard Neeble is an awkward, nerdy social outcast at Bat Masterson Junior High; his family has moved from the Bronx to the suburbs, where Leonard is miserable. His psychiatrist is worse than useless, his parents and teachers neglectful. So far, so Judy Blume. Then Alan Mendelsohn shows up. Entirely unconcerned about social status, Alan befriends Leonard — and starts a school-wide quarrel when he claims to be a Martian. Both boys are suspended, during which time they explore funky downtown Hogboro, where the owner of an occult bookstore sells them a bogus kit meant to enable telepathy and psychokinesis. Mirabile dictu, Leonard and Alan develop these powers — which they deploy subversively, back at school. Soon, the two are studying lost civilizations such as Atlantis and Lemuria, along with a copy of Yojimbo's Japanese-English Dictionary… which helps them increase their newfound powers. An encounter with Yojimbo himself reveals that the true purpose of his Dictionary is to enable travel to Waka-Waka, a parallel Earth/lost continent… whose inhabitants have fallen under the control of invisible extraterrestrials! I enjoy the whole yarn, as silly as it gets — but particularly the boy's escape from the suburbs, and exploration of Hogboro — with its eccentrics, comic book shop, and Bermuda Triangle Chili Parlor, and overgrown Hergeschleimer's Oriental Gardens. Pinkwater's message: Break free, and things will get better. What kind of adventure is this? A survivalist one: about making it through adolescence. Fun facts: Pinkwater sets a number of his stories in Hogboro-like neighborhoods reminiscent of Chicago, where he grew up. Also recommended: Lizard Music (1976), Yobgorgle: Mystery Monster of Lake Ontario (1979), and The Snarkout Boys and the Avocado of Death (1982).

John Crowley's New Wave sci-fi adventure Engine Summer (1979). A beautifully written, trippy novella set in a post-apocalyptic America, where relics of the past confound and amaze our protagonist, young Rush That Speaks. He's grown up in Little Belaire, an idyllic, tribalist community of "true speakers" who fled society's collapse (specifically, they appear to have fled Bel Air, California) in the distant past. This reader could have happily explored Little Belaire and its traditions along with Rush That Speaks for a longer stretch, but when Once a Day, the girl he loves, absconds to live with a cat-like society called Dr. Boots's List, Little Rush heads out after her. First, however, he spends time living with Blink, a "saint," in a treehouse, gathering more intel about the high-tech, unhappy prelapsarian world of the vanished "angels." Once he's taken in by Dr. Boots's List, Rush That Speaks undergoes a mind-meld with Dr. Boots — from which he will never fully recover. At which point, an "angel" drops from the sky, and much is made clear to us. As with Riddley Walker, published the following year, Engine Summer is among other things a riddle, requiring readers to puzzle out secrets of the past (our near-future, perhaps) that the book's characters themselves will never truly understand. The book's ending is a deeply poignant one. Fun facts: Crowley is best known as the author of Little, Big (1981), a much-admired fantasy novel, and for his Ægypt series of novels (1987–2007). I like these books, too, but strongly urge science fiction fans to revisit his early work.

Umberto Eco's postmodern historical/hermeneutic adventure The Name of the Rose (1980). When William of Baskerville, a Franciscan friar possessed of a keen deductive style of reasoning, and his novice, Adso, arrives at a Benedictine monastery in Italy, several monks die under mysterious circumstances. Does the solution to the mystery lie in Aristotle's lost, possibly suppressed book on Comedy? Is there a pattern to the murders — or is William's hunt for a pattern a symptom of his own dogmatic hermeneutics? Fun fact: Eco is co-author of The Sign of Three (1984), an excellent collection of essays on Arthur Conan Doyle's Sherlock Holmes.

Russell Hoban's New Wave science fiction adventure Riddley Walker (1980). Narrated, by 12-year-old Riddley, in a crude medieval-style English mixed with remnants of 20th century technological catchphrases and political jargon, the story is set centuries after a nuclear war has devastated world civilizations (or so we surmise). Although Riddley is his tribe's "connexion man," responsible for giving prophetic interpretations of the state religion's traveling puppet shows, when he stumbles across efforts to recreate a weapon of the ancient world, he must go on the lam. Fun fact: Hoban first became well-known for his "Frances the Badger" series of children's books.

John Crowley's gnostic adventure Little, Big (1981). Though often described as a fantasy novel — it won the World Fantasy Award in 1982 — Little, Big is a sprawling family saga reminiscent of Dickens or Flaubert. Smoky Barnable travels by foot from the City (New York?) to a place called Edgewood, not found on any map, to marry Daily Alice Drinkwater, and to live with her family in a house that may or may not teeter on the magical border of an otherworld. It's a realistic domestic epic — we learn about four generations of the Drinkwaters — that begins at the turn of the twentieth century and ends in a future America ruled by a Trump-like despot. The Drinkwaters believe that they are each part of a grand supernatural Tale; and that their fates are intertwined with that of the occluded world of faerie. A slow-paced, intricate, enchanting yarn best read in a hammock, IMHO. Fun fact: According to Harold Bloom: "A neglected masterpiece. The closest achievement we have to the Alice stories of Lewis Carroll."

Alan Moore's dystopian graphic novel V for Vendetta (serialized 1982–1989). Illustrated by David Lloyd. In the near future, following a nuclear war, the United Kingdom has become a fascist state run by the Norsefire Party. V, a flamboyant anarchist terrorist and vigilante whose face is never seen — he wears a Guy Fawkes mask — begins a campaign to bring down the government (and all governments); it's like Nineteen Eighty-Four with a happy ending. V, we discover over the course of the graphic novel, was imprisoned in a Norsefire concentration camp and experimented upon… which led him to develop superhuman strength, reflexes, and endurance. He blows up the Old Bailey and the CCTY surveillance buildings, kidnaps the propaganda minister, and murders a bishop — what will his final act be? He's pursued by Eric Finch, the secretly decent head of Norsefire's police. The Robin to V's Batman is Evey, a young woman whom he saves from a rapist and grooms as his successor — through very dubious methods. Fun facts: Mostly published in black and white, in the British comics magazine Warrior; when the magazine folded, DC Comics reprinted and completed the story in color. In one of HILOBROW's most frequently viewed posts, Molly Sauter traces the adoption of the Guy Fawkes mask by Anonymous, following the marketing blitz for the (lame) 2006 film adaptation of the comic.

Richard Condon's sardonic crime adventure Prizzi's Honor (1982). Late in his career, the author of the apophenic political thrillers The Manchurian Candidate (1959) and Winter Kills (1974) returned with this noir comedy about a family of New York gangsters. At a Prizzi wedding, Charley Partanna, one of the Don's lieutenants (an enforcer, kidnapper, and killer), is smitten with Irene Walker, a tax consultant. When the Don sends him to knock off a Las Vegas gangster who has embezzled a large amount of money from the family, Charley is flabbergasted to discover that he's Irene's husband. What's worse, he suspects that Irene may have had something to do with the theft; his sense of honor demands that he knock her off, too. What's the right thing to do? Meanwhile, the Don's son hires an assassin to knock off Charley, because of a personal vendetta… Fun fact: Adapted as a 1985 movie by John Huston, starring Jack Nicholson and Kathleen Turner, with the director's daughter Anjelica Huston in an Academy Award-winning performance. There are three other Prizzi Family books, none as good as this.

Robin McKinley's YA fantasy adventure The Blue Sword (1982). A young woman — Angharad Crewe, or "Harry" — is sent to live with her brother in a remote military outpost (of the empire called Homeland), in a region known by the native hill-folk as Damar. Corlath, handsome young king of the hill-folk, warns the Outlanders that the demonic tribes to the North (hello, Game of Thrones) have gathered under the leadership of Thurra, a powerful wizard, and will soon invade; his counsel is ignored. Corlath and Harry share an inherited magical trait, known as "kelar" — and under its compulsion, he abducts Harry and carries back to his kingdom… because he believes that she will be able to help defend Damar against the coming invasion. Harry adopts the customary dress and horse-riding skills of a born Damarian, and proves herself as a warrior (hello again, Game of Thrones); the king gives her a blue sword that belonged to a legendary woman warrior known as the Dragon Slayer. Can Harry put together a fighting force composed of Damarians and Homelanders and save the day? Fun facts: One of two novels set in the imaginary land of Damar, the other being a prequel, The Hero and the Crown (1984). The Blue Sword won the 1983 Newbery Honor. I'm grateful to HILOBROW friend Anindita Basu Sempere for telling me about this book!

Joseph Hone's Peter Marlow adventure The Valley of the Fox (1982). A Household-esque hunted-man thriller in which ex-British Intelligence agent Peter Marlow must go to ground in the north Cotswolds. His new wife, Clare, who was formerly married to a famous paleontologist, has just been murdered — by British Intelligence? — and Marlow is the chief suspect. He hides out in a forest at the edge of an all-but-deserted country manor owned by an American tycoon… where he encounters Alice, the tycoon's wife, who's looking for an adventure. Alice helps Marlow spring Clare's teenage daughter, who may or may not be autistic, from a hospital — and they nurse her back to health. Which is when an African hit-man shows up. It seems that Clare's late husband may have inadvertently set this plot in motion… but how? It's up to Marlow to investigate, and try to set things right before anyone else is killed. PS: If there's a hot-air balloon on the cover of this novel, it's there for a perfectly good reason. Fun fact: This is the fourth Peter Marlow adventure, following: The Private Sector (1971), The Sixth Directorate (1975), and The Flowers of the Forest (1980; also published as The Oxford Gambit).

Frank Miller's sci-fi graphic novel Rōnin (1983–1984). A six-issue DC miniseries written and drawn by Miller, who a couple of years earlier had earned a brilliant reputation as a writer and penciller on Daredevil. While researching martial-arts movies and Japanese samurai manga for that comic, Miller became fascinated with the medieval figure of the ronin — a rootless samurai whose master has been killed. Drawn in a weird, expressionistic style synthesizing manga and Moebius, Miller's Rōnin tells the story of Billy Challas, a limbless and abused mutant with telekinetic powers who — while testing cutting-edge prosthetic limbs for the biocircuitry company Aquarius, located in a post-apocalyptic New York — appears to be possessed by a ronin from feudal Japan. Virgo, the artificial intelligence at the heart of the Aquarius Complex, is a major character in this enthralling, often wordless yarn; other players include Peter McKenna, inventor of biocircuitry, his wife, Casey McKenna, Aquarius' bad-ass head of security, and Taggart, who funded and controls Aquarius (and who is replaced by the ronin's almost-immortal enemy, the demon Agat). The action spills out into the streets of New York — where Billy/Ronin must confront a neo-Nazi gang, sewer-dwelling cannibals, and Virgo's lethal robots! Fun facts: Artwork painted by Lynn Varley. Genndy Tartakovsky has stated that Ronin was one of the major influences on his animated TV series Samurai Jack.
---
EIGHTIES ADVENTURES
1984–1993
---
Also see: 100 BEST EIGHTIES ADVENTURES | 75 BEST DIAMOND AGE SCI-FI ADVENTURES. As of Spring 2020, these lists are works in progress.
It's too soon to name my Top 25 Eighties adventures, because as of this writing, I've only completed my research and analysis of 1984–1990 titles. However, here are few contenders for the list. Actual, definitive list coming in Summer 2020. (Sorry, Ender's Game fans — although this book is on my Best 1985 Adventures list, it won't be on this one.)
In chronological order…
William Gibson's Diamond Age sci-fi adventure Neuromancer (1984). Gibson may not have invented "cyberspace," prototypes of which we can find in James Tiptree Jr.'s The Girl Who Was Plugged In (1973) and John Brunner's The Shockwave Rider (1975), but he coined the term; and Neuromancer — which describes cyberspace as "a consensual hallucination experienced daily by billions of legitimate operators, in every nation, by children being taught mathematical concepts […] A graphic representation of data abstracted from banks of every computer in the human system […] Lines of light ranged in the nonspace of the mind, clusters and constellations of data" — single-handedly popularized the concept. Case (a computer hacker), Molly Millions (a cyborg mercenary), and Peter (a thief and illusionist) are hired by a mysterious employer to commit a series of virtual-reality crimes that eventually lead to their assault on an orbiting data-fortress that houses two vastly powerful AIs. The plot is thrilling, but it's the novel's endstage-of-capitalism context — a near-future dystopian world dominated by corporations and inescapable technology, Chandler-esque noir cityscapes populated by colorful lowlifes, a virtual reality global network known as "the Matrix" — that earned it a richly deserved cult following. It's an extraordinary debut novel, well worth revisiting. Fun facts: Neuromancer was the first novel to win the Nebula, the Philip K. Dick, and the Hugo Awards. Its sequels are Count Zero (1986) and Mona Lisa Overdrive (1988). Tim Miller, who made the Deadpool movie, has signed on to direct the film adaptation, currently in development.

Octavia E. Butler's Patternist sci-fi adventure Clay's Ark (1984). In the year 2021, a doctor named Blake and his teenage daughters are captured by Eli Doyle, the only survivor of Clay's Ark, a spaceship that — upon its return from the first manned mission to Proxima Centauri — has crash-landed in southeastern California's Mojave Desert. Infected with an alien microorganism that gives him heightened sensory and physical powers, but which compels him to transmit the infection to others via sexual contact, Eli has isolated himself on an isolated ranch… where he and others whom he's captured (all of whom have been altered, by the microorganism, in ways that allow them to survive and thrive) are raising their sphinx-like offspring — intelligent quadruped mutants who perceive uninfected humans as food, and who can spread the microorganism through their bite. Society, meanwhile, has devolved into armed enclaves, marauding "car families," and other post-apocalyptic phenomena. Blake and his daughters must decide whether to resign themselves to living within Eli's enclave… or escape, and risk not only being captured by even worse predators, but aso creating an uncontrollable epidemic that could forever transform humankind. Though written last, Clay's Ark is chronologically the third in the Patternist series. Fun facts: With the exception of Kindred in 1979, all of Butler's earlier books are set in the Patternist universe. The first Patternist installment, Patternmaster, was published in 1976.

Martin Amis's picaresque/crime adventure Money (1984). Subtitled A Suicide Note, Amis's fifth novel concerns the misadventures of John Self, a vile British director of TV ads who heads to New York to shoot a film. Set in the summer of 1981, with the Brixton riots and the royal wedding going on in the background, it's a novel about how pear-shaped and porno-fied American culture has become, and how Americanized British culture has become. (Self eats a lot of fast food, with monikers like Rumpburger, Big Thick Juicy Hot One, and Long Whopper.) Everything goes wrong with the shoot — one begins to suspect that Fielding Goodney, the producer, is for some reason intentionally sabotaging things. But Self doesn't need any help getting into trouble. His eating, drinking, pill-popping, smoking, whoring, gambling, shitting, and — above all else — spending spiral out of control. As with London Fields, Amis's 1989 murder mystery, Money is a blackly comic puzzle — the twisted lineaments of which we cannot begin to comprehend until the novel's surprise denouement. Nothing is as it seems. An arrogant character, a novelist named Martin Amis who lives nearby in Notting Hill, appears as a kind of confidant in Self's final breakdown; Self himself is not himself! What he is, is: misanthropic, misogynistic, and quite amusing. He's a Kingsley Amis character without any restraints. Fun facts: Time Magazine named Money one of the top 100 novels of all time. It was adapted as a two-part TV series — starring the excellent Nick Frost as John Self — by the BBC in 2010.

Margaret Atwood's sci-fi adventure The Handmaid's Tale (1985). In the not-too-distant future, perhaps 20 years from the time of the book's writing, the United States has suffered a coup transforming an erstwhile liberal democracy into a theocratic dictatorship. Because the American population is shrinking due to a toxic environment and man-made viruses, the ability to have viable babies is at a premium. A puritanical Republic of Gilead, whose capital is Cambridge, Mass., has been established — and the regime's elite have fertile females assigned to them as Old Testament-style "handmaids." Drawing on historical atrocities from sumptuary laws, book burnings, the child-stealing of the Argentine generals, and the history of American polygamy, Atwood depicts a dystopia in which social control is perpetuated not only by violence but through everything from clothing to language. "Offred," the central character, whose journal we are reading, used to be named something else; now she is "of" (belongs to) Fred, a former market researcher who has become one of the architects of the new republic; Fred's wife, a former televangelist, is presumed barren — and bitterly resents Offred, while yearning for Offred's child. Offred and some of her fellow handmaids attempt to reclaim their lost individualism and independence; some of this experimentalist novel's sections describe the lives of handmaids who may or may not be Offred. Interspersed with these snapshots are Offred's memories of her life from before and during the beginning of the revolution, including her indoctrination at the hands of government "Aunts." The ending is ambiguous — will Offred escape? Will anyone? Fun facts: Gilead's Secret Service is headquartered in Harvard's Widener Library, where Atwood once researched the Salem witchcraft trials. The Handmaid's Tale won the first Arthur C. Clarke Award; it has been adapted into a 1990 film, a graphic novel, and a much-discussed 2017–present TV show created by Bruce Miller. Atwood has announced a sequel, The Testaments, which appeared in 2019.

Larry McMurtry's Western adventure Lonesome Dove (1985). A revisionist Western that has been received, by critics and the American public alike, as "the great cowboy novel" — an idealization of the Old West. In the late 1870s, two retired Texas Rangers, Captain Woodrow F. Call and Captain Augustus "Gus" McCrae, decide to abandon the small Texas border town of Lonesome Dove and drive their herd of cattle to the wilds of Montana. Accompanied by Deets, an African American tracker and scout, Pea Eye, a former Ranger, Bolivar, a retired Mexican bandit, and the teenaged Newt, the crusty Call and philosophical Gus head north. They're trailed by Jake Spoon (another former Ranger, who is wanted for murder) and the prostitute Lorena Wood; Jake, meanwhile, is being trailed by July Johnson, a sheriff from Arkansas, and his stepson; and Johnson is followed by Roscoe Brown, his inept deputy sheriff, and Janey — a girl who takes Roscoe under her wing. It's a saga! There are sordid, thrilling, horrific encounters with: an Indian bandit named Blue Duck, and his gang; the murderous Suggs brothers; and Blood Indians. Characters drop like flies. Themes of old age, death, unrequited love, and friendship are explored — however, as in all the best sagas, there are no happy endings. The writing is rich, intelligent, entertaining, sorrowful — never sentimental. Fun facts: McMurtry and Peter Bogdanovich (whose 1971 movie The Last Picture Show was based on McMurtry's novel) developed a screenplay for a Western written for John Wayne, James Stewart, and Henry Fonda. The movie was never made, so McMurtry reworked the script into Lonesome Dove, which won the Pulitzer Prize. It was adapted as a 1989 TV miniseries starring Robert Duvall and Tommy Lee Jones as Gus and Call, as well as Rick Schroder, Danny Glover, Robert Urich, Diane Lane, Chris Cooper, and Anjelica Huston. The sequel is Streets of Laredo (1993); there are also two prequels.

Cormac McCarthy's western adventure Blood Meridian or the Evening Redness in the West (1985). McCarthy's first Western — his previous four novels were in the Southern Gothic genre — is an extraordinary piece of writing. A teenager described only as "the kid," a runaway from Tennessee, winds up in southeastern Texas in the late 1840s. There, our protagonist encounters Judge Holden — a physically massive, highly educated, completely bald socipath who eventually becomes the novel's antagonist. (This reader is strongly reminded of Marlo Brando's turn as bounty hunter Robert E. Lee Clayton, in the now-forgotten 1976 Western movie The Missouri Breaks.) The kid joins a party of Army irregulars on a mission to claim Mexican land; their party is wiped out by Comanche warriors. Arrested in Chihuahua, the kid — along with a cellmate named Toadvine — join a scalp-hunting operation, financed by Mexican authorities and led by a violent owlhoot named Glanton. Glanton's gang is paid by the scalp, so soon enough they begin killing peaceful agrarian Indians, unprotected Mexican villagers, even American soldiers. Judge Holden, a member of Glanton's gang, becomes a kind of mythic figure — all-knowing, omnicompetent, evil. There are many more killings, and a flight through the Arizona desert during which the kid and a fellow gang member are pursued relentlessly by the judge. Some years later, the kid — now described as "the man" — encounters the judge one final time. Fun facts: Blood Meridian was initially met with a lukewarm reception by critics; but it has since been described as McCarthy's masterpiece. Harold Bloom has compared the book favorably with Moby-Dick; and it has appeared on numerous lists of the best 20th-century American novels.

Orson Scott Card's sci-fi adventure Ender's Game (1985). I found this book troubling, when I first read it — and that's before I learned that the author is a right-wing homophobe. But it's so influential that I must include it in this series! Card's premise, that children playing videogames and laser tag in an orbiting battle school are training to fight alien invaders, seems designed to appeal to gamers whose grasp on reality is already a tenuous one. And the depiction of the protagonist, Ender Wiggin, as a genius warrior-child who has had the empathy trained out of him by adults looking for a savior is also disturbing: If you enjoy reading about kids who hospitalize and kill other kids, then this is the book for you. There's also a sexist suggestion that females are inherently too empathetic to become true warriors; however, there are strong female characters. All of this having been said, it is thrilling to watch Ender master the tactics of his school's antigravity war games — although it feels at times, like you're watching somebody else play a videogame. There's a subplot about Ender's sister and brother, whose online screeds become incredibly influential: Again, one gets the sense that the author is pandering to Internet trolls with delusions of grandeur. The final chapter is, however, exciting — even moving. If you like Starship Troopers and The Forever War, then you'll like this one. But don't let your kids read it. Fun facts: Based on a 1977 story published in Analog, Ender's Game won the Nebula and the Hugo; and its sequel, Speaker for the Dead, did as well. The novel has sold millions of copies, been translated into 25+ languages, and was voted onto both The Modern Library's "100 Best Novels: The Reader's List" and the American Library Association's "100 Best Books for Teens" list. A film adaptation starring Asa Butterfield was released in 2013.

Alan Moore and Dave Gibbons's graphic novel Watchmen (serialized 1986–1987). In an alternate-history version of the present day, nearly all freelance costumed vigilantes have been outlawed; so the superheroes who'd emerged from the 1940s through the 1960s are now dead or retired. However, when Edward Blake, a right-wing, gun-toting Vietnam vet and paramilitary agent, is murdered, one of his former comrades — the ruthless crime-fighter Rorschach, who is the only remaining active masked vigilante — begins an investigation. Against a backdrop of impending nuclear war between the US and the USSR, Rorshach's efforts bring Nite Owl, Rorschach's former crime-fighting partner, and Silk Spectre. Though flashbacks, we learn the sometimes sordid history of the Minutemen, a 1940s superhero group whose number included Captain Metropolis, the original Silk Spectre, Hooded Justice, the original Nite Owl, Silhouette, Dollar Bill, Mothman, and The Comedian; and we learn about the origin of Dr. Manhattan, the only truly superhuman character in the story — whose godlike powers, and ability to perceive time in a non-linear fashion, causes him to grow increasingly detached from human affairs. Slowly it becomes evident that the former hero known as Ozymandias (Adrian Veidt), known as "the smartest man on the planet," is up to something that may change the course of history… but for better or worse? Moore and Gibbons rely heavily on synchronicity, coincidence, and repeated imagery to create an atmosphere of paranoia, nostalgia, and cosmic awe… and it's also a thrilling mystery. Fun facts: Moore's original idea used superhero characters that DC had acquired from Charlton Comics. Watchmen, which has been called one of the best and most influential graphic novels of all time, was adapted as an OK 2009 movie and a 2019–2020 TV show that, so far, is pretty great.

John le Carré's espionage adventure A Perfect Spy (1986). Magnus Pym, a debonair career officer of British Intelligence, disappears — along with important intel — after attending his father's funeral. As his mentor and friend Jack Brotherhood leads the search for him, it becomes apparent that Pym was a double agent — a spy for the Czechoslovak secret service. Through flashbacks, as well as through the missing spy's memoir, written to explain to his family and friends why he betrayed his country, we learn that Pym was a "perfect spy" because he never had an authentic persona. Under the influence of his father Rick, a charismatic but narcissistic con artist, Magnus learned to adapt to whatever context he found himself in. We meet Pym's friend, the Czech spy Axel, as well as various double agents and ex-lovers; but this is much more than an espionage story. In fact, it's a wry, partially autobiographical account of Le Carre's (David Cornwell's) own life, spent assisting his con artist father (Ronnie Cornwell) in postwr Britain, spying on Oxford college Communists for the MI5, and so forth. In a milieu in which everyone manipulated everyone else for strategic adventure, how does one develop something resembling a soul? This is the author's cri de couer. Some readers will complain that this isn't really a thriller; others, however, have described A Perfect Spy as "devastating." Fun facts: Ronnie Cornwell has been described as an "epic con man of little education, immense charm, extravagant tastes, but no social values". An associate of the Kray twins, he masqueraded as a successful entrepreneur, made and lost several fortunes, and was twice imprisoned for fraud. Philip Roth has called A Perfect Spy "the best English novel since the war."

Frank Miller's graphic novel The Dark Knight Returns (serialized 1986; illustrated by Miller and Klaus Janson, colored by Lynn Varley). Batman first appeared, in 1939, as a grim avenger who punishes evildoers whom the law can't touch; at the acme of the hardboiled Thirties (1934–1943), Batman was the hardboiled-est. However, once the Comics Code Authority was established, in 1954, Batman comics became whimsical, wacky, family-friendly even. Then DC's Dick Giordano hired writer-artist Frank Miller — who'd transformed Marvel's Daredevil and Wolverine into darker, more popular characters — to create The Dark Knight Returns. Inspired by the Clint Eastwood-directed Sudden Impact, in which Dirty Harry, now in his 50s and forced into semi-retirement, returns to work as a quasi-vigilante, the right-wing Miller reimagined Bruce Wayne as the antithesis of "truth, justice, and the American Way" Superman. In a dystopian, yet present-day Gotham City, a retired Wayne returns to action to stop, first, Two-Face, and second, a hyper-violent street gang known as the Mutants. He's joined by Carrie Kelley, a young woman he'd rescued, who becomes the new Robin. The police issue an arrest warrant for Batman; worse, the Joker frames Batman for murder! When Batman mobilizes the disbanded Mutants as vigilantes on the side of justice, the US government orders Superman to apprehend him. Fun fact: First published as a four-part miniseries, The Dark Knight Returns, has been hailed as one of the greatest works in the comics medium. Its popularity, along with Watchmen, published by DC in 1986–1987, kicked off the era known as the Dark Age of Comic Books.

Diana Wynne Jones's Howl's Moving Castle children's fantasy adventure Howl's Moving Castle (1986). Diana Wynne Jones is the missing link between E. Nesbit and J.K. Rowling. That is to say, she's brilliant at depicting a (British) world where magic intersects with the mundane in unexpected, amusing ways. In this story, a romance — between a spoiled, pretty-boy wizard and a feisty nonagenarian — she also channels Jane Austen. When teenaged Sophie, a timid small-town girl, is transformed by a curse into an elderly crone, it's liberating: She leaves her dead-end job, not to mention the boring village of Market Chipping, and begins to stick up for herself… for example, by appointing herself housekeeper of the Wizard Howl's castle. Howl is handsome, talented, lascivious and lazy, though ultimately kind-hearted; the door to his castle is a portal opening into different locations in the magical kingdom of Ingary… as well as into his hometown, in non-magical Wales. Sophie strikes a bargain with Howl's fire-demon, Calcifer — who promises to return her to her original form, if she can break the demon's contract with Howl. The contract's main clause is a Nesbit-esque mystery… something that Sophie, who is meanwhile falling in love with the vain, impossible Howl, must puzzle out on her own. When a witch kidnaps a princeling, Sophie is lured into the witch's trap… and the action literally heats up. Fun facts: Sequels to this novel include Castle in the Air (1990) and House of Many Ways (2008). In 2004, Hayao Miyazaki loosely adapted Howl's Moving Castle as a terrific Japanese-language animated movie. One of the most successful Japanese films in history, there are those who prefer it to Wynne Jones's book.

James Ellroy's L.A. Quartet crime adventure The Black Dahlia (1987). The (real-world) mutilation and murder of Elizabeth Short, known posthumously as the "Black Dahlia," in postwar Los Angeles, serves as the backdrop to Ellroy's seventh crime novel — the first installment in the author's L.A. Quartet. Fact (we begin with the so-called Zoot Suit Riots of 1943) and fiction are artfully blended in the story of detective Dwight "Bucky" Bleichert, who takes up the all-but-hopeless Black Dahlia case when his obsessed partner, Lee Blanchard, goes missing. The LAPD, we discover, is a corrupt police department in a corrupt city; among the less-than-upright characters we encounter here are Kay, a former gangster's moll; Madeleine, a promiscuous socialite who resembles Short (and with whom Bleichert becomes entangled); Madeleine's father Emmett, a sleazy property developer; a weirdo named Georgie; all of whom — or so it seems to Bleichert — are responsible, to some degree for Short's death. Short, meanwhile, emerges as a complex character, too: Her own promiscuity with servicemen seems to have had something to do with an early trauma. There's much more going on than what I've described here: boxing, prostitution, pornography, Hollywood, racism, payoffs, ambitious prosecutors, murder. It's an epic, one which earned Ellroy a well-deserved reputation as a serious writer. Fun facts: Ellroy would later reveal that his own mother's rape and murder led him to become obsessed with the Black Dahlia case — which, in real life, was never solved. Subsequent titles in Ellroy's L.A. Quartet are: The Big Nowhere (1988), L.A. Confidential (1990), and White Jazz (1992). The Black Dahlia was adapted as a movie in 2006 film by Brian De Palma, starring Scarlett Johansson, Josh Hartnett and Aaron Eckhart. It flopped.

Iain M. Banks's Culture adventure Consider Phlebas (1987). When Banks set about rebooting sci-fi's Space Opera genre, he invented the Culture — a post-scarcity, galaxy-spanning, left-libertarian society of humanoids, aliens, and godlike "Minds" (artificial intelligences) dwelling primarily in spaceships and other off-planet constructs. Although self-sufficient, the Culture derives its sense of purpose from improving the lives of those in developing societies. Sounds utopian, right? However, Bora Horza Gobuchul, protagonist of the first Culture novel, is an honorable, principled shape-shifter who despises the Culture for its decadence. There's a war going on between the Idiran Empire (a three-legged, religious, warrior race) and the Culture; Horza — whom we first meet in a prison cell slowly filling with sewage — is an agent of the unpleasant Iridans. His mission? Capture a damaged Culture Mind (which was intended for use on a new class of warship) that's stranded on an off-limits, post-catastrophic planet. Banks is perhaps having too much fun with the genre, in his first effort: there's a prison break; Horza joins a crew of pirates and is taken prisoner by a cannibal cult; the Culture destroys one of its own mega-colonies; and there's a dizzying array of future tech. It's also perhaps a bit too long-winded, a bit too much telling vs. showing, at times. But it's a very impressive effort, and Perosteck Balveda is the first of many interestingly conflicted Culture agents that we'll encounter. Fun fact: Nebula-winning sci-fi author (and HILOBROW friend) Charlie Jane Anders has recounted, of Consider Phlebas, that the book "made me start reading science fiction in general, after a lapse, and made me want to write in the genre myself." Amazon announced in 2018 that it has acquired the TV rights to Consider Phlebas, which will be adapted by Dennis Kelly.

Umberto Eco's apophenic treasure-hunt adventure Foucault's Pendulum (1988). A bit punch-drunk after having been required to read too many paranoid manuscripts concerning conspiracy theories about Gnostics, the Freemasons, the Bavarian Illuminati, the Jesuits, the Rosicrucians, the Knights Templar, and Opus Dei, not to mention the Assassins of Alamut, the Ordo Templi Orientis, Cabalists, the Elders of Zion, etc., etc. — Belbo, Diotallevi, and Casaubon cobble together "The Plan," a satirical, all-encompassing conspiracy theory and intellectual game ultimately concerned with the lost treasure of the Knights Templar. Belbo is a frustrated semiotician and editor at a Milanese vanity press; he and his colleague, Diotallevi, a cabalist, had recruited Casaubon, a student activist and historian of the Knights Templar, to work for them as a freelance researcher. When Belbo is kidnapped by a secret society, it becomes apparent that a real-world secret society will stop at nothing to acquire the (mythical — or is it?) treasure, which may or may not be the Holy Grail, which itself may or may not be a radioactive energy source. The book opens with Casaubon hiding from the society near the titular pendulum in Paris's Musée des Arts et Métiers. The great pleasure of this text is watching the "Plan" come together via our protagonists' various absurd, yet somehow utterly convincing, intellectual-literary-computational experiments. Fun facts: Eco founded and developed one of the most important approaches in contemporary semiotics, usually referred to as interpretative semiotics. When asked, after the publication of Dan Brown's bestselling The Da Vinci Code (2003), whether he'd read it, Eco replied: "Dan Brown is one of the characters in my novel Foucault's Pendulum, which is about people who start believing in occult stuff…. Dan Brown is one of my creatures."

Grant Morrison and Richard Case's Doom Patrol comic (1989–1993). "Le Poète est semblable au prince des nuées/Qui hante la tempête et se rit de l'archer," laments Baudelaire, in "L'Albatros." "Exilé sur le sol au milieu des huées,/Ses ailes de géant l'empêchent de marcher." The Doom Patrol, as the superhero team first appeared in DC's My Greatest Adventure #80 (June 1963), could relate. The Chief, a wealthy, paraplegic, brilliant scientist-inventor; Robotman, a former daredevil and race-car driver turned cyborg; Elasti-Girl, a former athlete and actress who can expand or shrink her body at will; and Negative Man, a former test pilot who can release a negatively charged energy being from his body — they perceive their so-called gifts as a curse, dooming them to a life of alienation. Scottish comic book writer Grant Morrison, part of the far-out British Invasion of American comics that included as Alan Moore and Neil Gaiman, took over the relaunched Doom Patrol series in 1989; DC stopped submitting the title to the CCA for approval around that time. The resulting run — from issues 19 through 63 — was wild. The Chief (whom, we will later discover, may have had something nefarious to do with the origin stories of his comrades) leads Robotman (a brain, remember, trapped in a body without nerves), Rebis (a queer, transgender, transracial entity combining Negative Man, his energy spirit, and Eleanor Poole, a black doctor), Crazy Jane (a victim of sexual abuse; each of her 64 alternate personalities has a different super-power), and a monkey-ish psychic named Dorothy against the Scissormen — metatextual, Struwwelpeter-like inquisitors who worship a god that exists at the crossroads where realities meet, and whose cut-up dialogue reads like Dada poetry. Ultimately, the Doom Patrol's weirdness proves to be the key to its effectiveness: They often team up with so-called villains in order to combat the neo-fascist, Foucauldian forces that police sexual identity and gender norms. Richard Case's trippy artwork is simultaneously engaging and nightmare-inducing. Fun facts: The last line of Morrison's run quotes the Smiths' "Asleep": "There is another world/There is a better world/Well, there must be…." It's a beautiful statement of revolutionary optimism for an era that had largely abandoned utopian idealism.

Neil Gaiman's occult fantasy comic The Sandman (1989–1996). In 1988, Neil Gaiman — a British comics writer who'd recently begun working for DC — proposed to reboot Joe Simon and Jack Kirby's 1974–1976 series The Sandman. Instead, DC editor Karen Berger challenged him to "keep the name, but the rest is up to you." Working within these Oulipian restraints, Gaimain wrote a 75-issue series that became a cult success, particularly among a younger, mostly female readership who (up to that point, anyway) didn't read comics. Inspired in part by James Branch Cabell's 1919 meta-mythical adventure Jurgen, Gaiman recounted the tale of Dream/Morpheus/Sandman, the haughty, cruel, and ancient anthropomorphic personification of dreams… who escapes after 70 years in captivity and sets about restoring his kingdom, the Dreamworld. As he searches for his lost objects of power, Morpheus genre-hops — from myth to pulp fiction, and everywhere in-between. Also, Gaiman inserts pop culture and literary references and jokes into nearly every panel. It's a dazzling display of high-lowbrow literary fandom… one leaving even the most well-read fan wishing for extensive, Chester Brown-esque footnotes… which, thankfully, are now available via annotated editions. Sam Kieth, Mike Dringenberg, Jill Thompson, and others contributed appropriately eerie and amusing art, with lettering by Todd Klein and covers by Dave McKean. Fun facts: Comics historian Les Daniels has called the series "a mixture of fantasy, horror, and ironic humor such as comic books had never seen before." Along with Maus, Watchmen and The Dark Knight Returns, The Sandman was one of the first graphic novels ever to be on the New York Times Best Seller list. A Netflix adaptation is underway.

Iain M. Banks's Diamond Age sci-fi adventure Use of Weapons (1990). There are two narratives in this, the third Culture novel. In one, which moves forward in time, we follow Special Circumstances agents Diziet Sma, a female human, and Skaffen-Amtiskaw, a snarky AI drone, as they recruit ex-agent Cheradenine Zakalwe, a rogue, assassin, military genius, and sad sack, to further the aims of the Culture — nudging benighted galactic civilizations away from political tyranny, economic plutocracy, and cultural ignorance and intolerance, and towards enlightenment, left-libertarianism, and peace — in a politically unstable star system. (The drone believes that Zakalwe is burned-out; it can't even guess at his real problem.) These are three of Banks's best characters, and it's fun to watch them in action; Zakalwe is the titular used weapon — the Culture needs him to do things that it regards as reprehensible. There is plenty of action as Zakalwe heroically achieves the Culture's goals. The second narrative, meanwhile, moves chronologically in reverse! Here, we learn about earlier jobs that the near-sociopathic Zakalwe has performed for Special Circumstances, and eventually we learn about his childhood — growing up in a non-Culture social order, and commanding an army in a bloody civil war. Zakalwe has demanded that his Culture handlers locate a woman named Livueta; when he finally reunites with her, there's a major plot twist that helps us to understand his motivation. As with every Culture novel, we're left grappling with political-science conundrums. Fun facts: Diziet Sma and Skaffen-Amtiskaw also appear in Banks's story "The State of the Art"; and we'll meet Zakalwe again, too, under a different name. One hears that Banks wrote an even more complex version of this story in 1974, but abandoned it; years later, fellow Scottish sci-fi author Ken MacLeod — also known for chronologically tricksy story telling — helped him figure out how to transform it into something publishable.

A.S. Byatt's treasure-hunt adventure Possession: A Romance (1990). Roland Michell, a junior literary scholar dedicated to the life and work of the already much-dissected (fictional) Victorian poet R.H. Ash, is frustrated in his career; when he finds a letter from Ash to the (fictional) poet Christabel LaMotte, he decides to track down the details of their relationship without informing his employer, an Ash expert in whose cavernous archives Roland toils. The trail leads him to Maud Bailey, a feminist literary scholar and guardian of LaMotte's letters and journals. Roland runs hot, Maud is chilly and reserved. The two are soon traipsing around England in search of further evidence that Ash and LaMotte may have been more than just literary friends. Interspersed with the Roland/Maud chapters are transcriptions of Ash and LaMotte's poems, letters, and journal entries — a bravura effort on Byatt's part (there are over 1,700 lines of period poetry, in two different styles), which readers who are just in it for the romance often find frustrating. However, while this is certainly a romance — two romances, really — it's also a literary mystery, a campus novel of sorts, and a treasure hunt whose dramatic conclusion involves a grave robbery on a stormy night. Clues are to be found in those poems, letters, and journals, so readers should read them! Byatt's prose is erudite, supple, and gorgeous. Fun facts: The poet Ash's life and work are loosely based on Browning and/or Tennyson; LaMotte's are loosely based on Christina Rossetti. Possession, a bestseller which won the Booker Prize, and which has been named one of the best English-language novels of the 20th century, was adapted in 2002 as an OK movie starring Gwyneth Paltrow and Aaron Eckhart.

Karen Joy Fowler's historical adventure Sarah Canary (1991). Is Sarah Canary a sci-fi novel? It was nominated for Nebula Award, so sci-fi readers certainly think it is. A weird-looking, white-skinned woman — wearing a battered but fashionable black dress — wanders into a railway camp in Steilacoom, Washington in 1873; she warbles like a canary instead of speaking. Railway worker Chin Ah Kin is ordered to take "Sarah Canary," as she's dubbed, to a nearby asylum; he ends up in the asylum, himself. There, the two meet B.J., an inmate who is sporadically sane. The three of them escape and head for San Francisco. The traveling party comes to include a showman named Harold, and Adelaide, a suffragette who fears the conventional roles of women; both seek to exploit Sarah for their own purposes.) What follows is a funny, moving, sometimes terrifying series of adventures and misadventures. The reader may suspect that this is a first-contact novel; Sarah indeed seems to possess unearthly abilities, or maybe unearthly technology. However, if our titular character is indeed a visiting extraterrestrial, then this picaresque makes it clear that the year 1873 was a particularly unfortunate time for a tour if the misogynist, racist American West — which Fowler renders as strange and terrifying as any alien planet. Each chapter begins with a poem by Emily Dickinson; several interludes provide factual information about strange but true events that happened in 1873. Fun facts: Fowler is best known as the author of The Jane Austen Book Club, a best-selling novel that was made into a 2007 romantic movie of the same name. But she began her career as a writer publishing sci-fi stories; Sarah Canary was her first novel. In 1991, Fowler cofounded the James Tiptree, Jr. Award, a literary prize for science fiction or fantasy that "expands or explores our understanding of gender."

Frank Miller's neo-noir Sin City comics (serialized 1991–2000). "It's kinda like the old Rolling Stones song, where 'every cop's a criminal, and all the sinners are saints,'" Miller has explained, "where the lowlifes would often be heroic, and the most stridently beautiful and sweet women would be prostitutes." Sin City is an interrelated series of mostly black-and-white "yarns," set in the titular city somewhere in the American West. We'll meet the same characters several times — including the massive, heavily scarred Marv, whom Miller would describe as "Conan in a trench coat"; Dwight McCarthy, a nihilist with a history of drinking, violence, and wild love affairs; Gail, an Uzi-wielding dominatrix who runs the red-light district with an iron fist; and Miho, a mute female assassin. In "The Hard Goodbye" (Dark Horse Presents issues #51–62) for example, Marv wakes up after a one-night stand to discover that Goldie, a woman who somehow was able to overlook his hideous appearance, is dead; he's been framed for murder, and he's out for revenge. And in "A Dame to Kill For" (November 1993–May 1994), Dwight attempts to rescue his former fiancée, Ava, from her abusive husband; but is she the victim? Writing in HILOBROW, Adam McGovern has hailed the series' "macabre cautionary desensitization and humorous overstatement." Fun facts: The comics have been collected in various paperback and hardcover editions, each more gorgeous than the previous. "The Hard Goodbye," "The Big Fat Kill," and "The Yellow Bastard" were adapted as Robert Rodriguez and Frank Miller's 2005 movie Sin City, which stars Jessica Alba, Benicio del Toro, Brittany Murphy, Clive Owen, Mickey Rourke, Bruce Willis, and Elijah Wood. There was a 2014 sequel, and there is supposedly a TV series reboot in the works.

Neal Stephenson's sci-fi adventure Snow Crash (1992). Snow Crash, Stephenson's first sci-fi novel, was developed from elements of a Ghost in the Shell-esque graphic novel that he'd abandoned; as such, it's visionary yet goofy, deep yet two-dimensional, thrilling yet rambling and tedious, stylish yet stupid — which is fun. It's set not only in a cyberpunk-influenced, ambiguous-libertarian-utopian future Los Angeles, but also in the "Metaverse," a virtual reality-based successor to the Internet — the users of which interact as "avatars" (a term this book didn't coin but popularized), with one another as well as with software agents. But if you're expecting William Gibson's spare, neo-noir prose, you'll be disappointed; Stephenson is a maximalist — diving down every open rabbit-hole. Prose limitations aside, it's a terrific thrill-ride. The quick-thinking, skateboard-riding courier Y.T. (for "Yours Truly") is an impressive female hero; Hiro Protagonist, the half-black, half-Japanese hacker who teams up with her has awesome skills… though he's not the protagonist. Within the Metaverse, Hiro is offered a datafile named Snow Crash — the term refers to a particular software failure mode on early Apple Macs; hackers who view the file (a virus, a drug, a religion — what's the difference?) suffer not only catastrophic computer problems but brain damage. A massive infodump informs us that cultural information comes in discreet self-replicating packets, which can be transmitted like a virus or genetic code; and that the Sumerian language is the firmware programming language for the human brainstem, which supposedly functions as the BIOS for the brain itself. (In Stephenson's recounting of the story of the Tower of Babel, the goddess Asherah personifies a linguistic virus created to control all humankind; the god Enki created a counter-program that caused humans to speak other languages.) Raven, the story's villain, is terrifying and oddly sympathetic; Uncle Enzo, the Mafia kingpin who takes a paternal interest in Y.T., is also a compelling figure. There is plenty of action, here, even if the climactic action sequence is somewhat of a letdown. Fun facts: Snow Crash's Metaverse has influenced the development of everything from Second Life to the videogame Quake. In 2017, Amazon announced that it was co-producing an hour-long sci-fi TV show based on Snow Crash; Joe Cornish is executive producer.

Kim Stanley Robinson's Mars Trilogy sci-fi adventure Red Mars (1992). This is the first installment in a trilogy — with Green Mars (1993) and Blue Mars (1996) — that collectively won the Nebula Award, and the Hugo and Locus Awards twice. The story explores egalitarian, sociological, and scientific advances made on Mars, while retrograde Earth suffers from overpopulation and ecological disaster. Red Mars is set (at first) in what was then the not-too-distant future of the 2020s; a group of 100 American and Russian colonists — including John Boone, Maya Toitavna, Frank Chalmers, and Arkady Bogdanov — are leading a terraforming mission on Mars, the red planet. Robinson writes "hard" sci-fi, so we get a lot of info about domes made of piezoelectric plastic, genetic experimentation, giant satellite mirrors reflecting light to the surface of the planet, and Symmes Hole-like "moholes" drilled to create planetary vents of hot gases. (None of this literally world-building tech is particularly woo-woo; it's all reasonable.) At the same time, this is an epic tale about a grand social experimentation — and, at an individual level, it's a story of romance, rivalries, friendships, ambition. Red Mars has its adventurous aspects, but somehow the most adventure-like moments — interminable treks across barren wastes — are the least engaging. More fun is watching the "First Hundred" split into factions: they don't leave behind their old national, social class, religious, and cultural identities and worldviews, nor their neuroses and bad habits; and they can't (ever) agree on the best way to help humankind flourish. Things fall apart: Characters of whom we've become fond are killed, systems we've watched form are shattered. Earth, meanwhile, falls under the control of transnational corporations that come to dominate its governments — who show an increasing interest in meddling in Martian affairs! Fun facts: Red Mars has been described as an exemplar of Mundane Science Fiction (MSF). In a 2005 interview I conducted with Fredric Jameson, he suggested that KSR's Mars Trilogy offers the best example of post-Cold War utopianism, because instead of asking the reader to decide on any one of the colonists' competing ideologies, the author "goes back and forth between these various visions, [allowing us to see] it's not a matter of choosing between them but of using them to destabilize our own existence, our own social life at present."

Octavia E. Butler's Earthseed sci-fi adventure Parable of the Sower (1993). Lauren Olamina, a teenager living in a gated community outside of Los Angeles, suffers from hyper-empathy; she viscerally feels whatever physical pain she witnesses. However, in the not-too-distant future (the 2020s), when the social order begins to collapse due to global warming, economic stagnation, racism and sexism, and extreme wealth disparity, Lauren's condition may prove to be a super-power, of sorts. If she can survive, and find people she can trust — then Lauren's prophetic "seeds" — her ideas for a new social order, one based on a religion that will teach self-sufficiency and a radically new understanding of what God is — may have a chance of finding purchase. The story, told through (rather stoic, matter-of-fact) journal entries, details the brutal events that come to pass during the early days of America's collapse, as well as Lauren's efforts to found a utopian "Earthseed" commune in northern California. Now that it's nearly 2020, Butler's depiction of what's to come — including a president who aims to make America great again by suspending minimum wage, environmental, and worker protection laws — feels depressingly, chillingly accurate. Fun facts: The first in a two-book series. The book's title is borrowed from a parable that Jesus tells (in Matthew 13:1-23, Mark 4:1-20, and Luke 8:4-15) about a sower whose seed falls on various patches of ground, most — but not all — of which are inhospitable.

William Gibson's Bridge sci-fi adventure Virtual Light (1993). A bike messenger who lives in the Bay Bridge community — an anarchic shantytown suspended between San Francisco and Oakland; it's divided into suspension-side and cantilever-side zones — steals a valuable pair of sunglasses, which (it turns out) allow the wearer to perceive optically encoded information about a ruthless corporate cabal's scheme to raze San Francisco and rebuild it using nanotechnology. The first installment in Gibson's Bridge trilogy is set in the then-near future of 2006; although the context of Virtual Light is post-catastrophic (earthquake, social upheavals), this series is not nearly as far-out as his Sprawl trilogy. Alas, it's more realistic: the middle class has all but vanished, public space has been privatized, everything is polluted. The messenger, whose name we eventually discover is Chevette, takes it on the lam. She is pursued by two cops (Svobodov and Orlovsky), a psychotic assassin (Loveless) dispatched by the company that made the glasses, and by Rydell — a former police officer hired by the "skip-tracer" Lucius Warbaby. (Meanwhile, another subplot focuses on Yamazaki, a Japanese sociologist studying the bridge dwellers — in particular, Chevette's mentor, Skinner.) When Rydell catches up with Chevette, he has to decide whether to take her in… or to join her in attempting to get the word out about the nanotech plot! Fun facts: The novel was a finalist nominee for a Hugo Award.

John le Carré's espionage adventure The Night Manager (1993). When billionaire Richard Onslow Roper, who traffics in arms and drugs, swans into a luxurious Zurich hotel late one wintry night, the hotel's night manager is laying in wait. Jonathan Pine has been obsessed with bringing Roper down ever since a women he knew at a previous job — when he was night manager at the luxurious Queen Nefertiti hotel, in Cairo — was murdered after Pine incautiously helped her pass incriminating documents along to British intelligence. Now, another British intelligence department are planning an elaborate sting operation against Roper, and they require Pine's help. This is the author's first post-Cold War novel; although the enemy has changed, the familiar lineaments of a Le Carré joint are all here: an inter-agency turf war, crooked intelligence ops, double agents, a beautiful woman. Pine infiltrates Roper's operation all too successfully, and finds himself involved in a scheme to turn a Colombian drug cartel into a full military operation. When it comes to bringing down Roper, rescuing the woman he loves, and saving his own skin, he'll have to choose two of the above. Fun facts: Harry Palfrey, legal advisor to the British Secret Intelligence Service, who first appeared in The Russia House, shows up here; so do one or two other minor Le Carré characters. A 2016 British TV adaptation, directed by Susanne Bier and starring Tom Hiddleston, Hugh Laurie, Olivia Colman, David Harewood, Tom Hollander, and Elizabeth Debicki, was a success; a sequel is planned.

*
---
NINETIES ADVENTURES
1994–2003
---
Also see: 100 BEST NINETIES ADVENTURES | 75 BEST DIAMOND AGE SCI-FI ADVENTURES. These lists are works in progress.
In chronological order…
Tibor Fischer's crime adventure The Thought Gang (1994). Eddie Coffin, an unemployed, alcoholic, sybaritic Cambridge philosophy professor, flees scandal in Britain for France; there, he meets Hubert, a one-armed (and one-legged) robber who's recently been release from prison. Applying the metaphysical and existential insights of the great philosophers to the problems of bank robbery, the hapless duo embarks on a shambolic, mostly successful crime spree across the country. Eddie, one may be intrigued to hear, handles the robberies, while Hubert does the philosophizing. Fischer is not only a very funny writer, but a very erudite one; you'll actually learn quite a bit about philosophy from this yarn… and you'll marvel at his verbal pyrotechnics, not least his drive to incorporate words beginning with "z" into the narrative. (This is a plot device, not just a gimmick.) It's all a bit too much, perhaps — but Fischer's second novel is an utterly unique, highly entertaining story to which I've returned several times since it was published. Forget Steve Coogan and Rob Brydon's sorta-funny foodie tours of the Continent; why hasn't The Thought Gang been adapted as a TV series? Fun facts: Reviewers at the time tended to suggest that Fischer had lost control of his themes, while at the same time praising The Thought Gang in the highest possible terms — suggesting it was one of the funniest, most imaginative novels of the era. It deserves to be rediscovered by today's readers.

Mike Mignola's Hellboy comics (1994–present). The Dark Horse Comics story "Seed of Destruction" (serialized March–June 1994), written and drawn by Mignola with script by John Byrne, introduces us to one of the great comic-book characters of the era: the half-demon Hellboy. (Yes, there were one or two previous appearances, but here is where the Hellboy epic begins.) Summoned from Hell by Nazi occultists, then raised by Professor Trevor Bruttenholm, who after WWII would form the Bureau for Paranormal Research and Defense (B.P.R.D.), Hellboy is a gruff, emotionally immature, but kind-hearted creature… whose grafted-on right hand is an apocalyptic demon-relic. He's also the World's Greatest Paranormal Investigator. Accompanied by a troubleshooting team of law enforcement officials, soldiers, mutants, and "scholars of the weird" (e.g., folkorist Kate Corrigan, the amphibian Abe Sapien, and the pyrokinetic Liz Sherman), Hellboy battles grotesque foes in a series of tall tales inspired by folklore, pulp magazines, Lovecraftian horror, and horror fiction. Mignola's drawing style — thin lines, unwieldy shapes, a heavy use of black forms — has become iconic. Fun facts: Ron Perlman was an inspired casting choice for the 2004 and 2008 live-action Hellboy movies, directed by Guillermo del Toro. David Harbour's performance in the 2019 reboot was also fun, but the movie wasn't as good as the original two. The Hellboy character has also starred in animated films and three video games.

Lionel Davidson's espionage thriller Kolymsky Heights (1994). After a 16-year hiatus from writing adventures for adults, Davidson returned with his final novel — a beautifully written, action-picked yarn to rival his best works, including The Rose of Tibet (1962), A Long Way to Shiloh (1966), and Making Good Again (1968). Dr. Johnny Porter, a Canadian professor of anthropology who has mastered the languages and dialects of the various tribes of Northern Canada, Alaska and Siberia, as well as Korean, Russian, and Japanese, is himself descended from Inuits — who remain physically, ethnically and culturally similar to their Siberian counterparts. He is, therefore, the only westerner who can hope to break into — and back out of — a Soviet scientific research base (ostensibly a weather station) in Siberia, one so secret that no one who enters is ever allowed to leave again. After receiving some training by the CIA, a reluctant Porter heads from Japan to Siberia disguised as a Korean sailor; this is only phase one of a multi-stage plan which will see our hero adopt multiple disguises, and survive by his wits. It's a hunted-man story and man-agaist-nature story to rival anything by Buchan, Ambler, or Hammond Innes. Fun facts: Writing for The New York Times Book Review, James Carroll enthused that Kolymsky Heights — Davidson's final novel — is "written with the panache of a master and with the wide-eyed exhilaration of an adventurer in the grip of discovery. Mr. Davidson has not only rescued one of the most familiar narrative forms of the era, the spy thriller; he has also renewed it."

Neal Stephenson's sci-fi adventure The Diamond Age: Or, A Young Lady's Illustrated Primer (1995). When the designer of the Young Lady's Illustrated Primer: a Propædeutic Enchiridion — an interactive story-telling device intended to inculcate in the granddaughter of "Equity Lord" Alexander Chung-Sik Finkle-McGraw the knowledge and skills to subvert the dominant paradigm — bootlegs a copy for his own daughter, it instead falls into the hands of young Nell, a bright 4-year-old slum-dweller. Under the tutelage of the Primer, Nell not only survives but thrives. Lord Finkle-McGraw, meanwhile, attempts to exploit Hackworth to advance the goals of his tribe; so does Dr. X, the Chinese engineer (and powerful Confucian leader) who'd helped Hackworth create the illicit Primer. Meanwhile, the actress Miranda, who provides the voice of the Primer and becomes a kind of surrogate mother to Nell, seeks the child out. All of this takes place against the backdrop of a Neo-Victorian British colonial society in which nanotechnology has made it possible for anyone to 3-D print food and objects, and government has become obsolete. The relationship between Nell and her Primer is an affecting one; in a sense, this is a book is a bildungsroman about homo superior — like Stapledon's Last Men in London or Odd John, say, or Beresford's The Hampdenshire Wonder. However, in the book's second half, the plot goes off the rails — with the introduction of tribes such as the Drummers, who create a subconscious hive mind through sexual orgies (is this a reference to Alan Moore's Halo Jones comic?); the powerful CryptNet organization; and the Chinese Fists of Righteous Harmony. Stephenson's goal is to explore the unintended consequences of a post-scarcity world… but the story ends abruptly and inconclusively. Fun facts: An enchiridion is a handbook; a propædeutic is a preliminary teaching, for beginners. Other fun fictional propædeutic enchiridions include Owen Hughes's Arithmetic, Grammar, Botany & these Pleasing Sciences made Familiar to the Capacities of Youth, in Joan Aiken's The Whispering Mountain (1968); and Huey, Dewey and Louie's Junior Woodchucks' Guidebook, from Carl Barks's Donald Duck comics; the Junior Woodchucks first appear in 1951. PS: When my friends Elizabeth Foy Larsen and Tony Leone and I pitched the family activity book UNBORED to Bloomsbury, in 2010, we explicitly compared it to Stephenson's Young Lady's Illustrated Primer.

Charles Burns's horror/sci-fi graphic novel Black Hole (serialized 1995–2005; in book form, 2005). I became aware of Charles Burns in the mid-1980s, thanks to his retro-sci-fi/horror "El Borbah" and "Big Baby" stories, which at the level of form may have paid tribute to the stylings of Will Elder, Hergé, and Chester Gould — but which were more sophisticated, in a surrealist, absurdist way. I was 28 when Kitchen Sink (Fantagraphics took over, later) began publishing the twelve installments that would make up Black Hole; I was 38 by the time the complete version was published. I mention this because my take on the story changed, during those years. A sexually transmitted disease mutates teenagers — over the course of a summer, in a suburb of Seattle, in the mid-1970s — into B-movie-esque monsters! The lucky ones are those who merely grow a little tail, or sprout chest-tendrils, or who shed their skin! Within this milieu, a lover's triangle develops among Chris, Rob, and Keith; Keith, meanwhile, falls under the erotic spell of Eliza, a free-spirited artist living with dope dealers! Chris runs away, to live in the woods near her fellow freaks; but someone is killing them! When early issues of Black Hole appeared, I reveled in what I understood to be Burns's nihilistic, body-horror take on, say, Dazed and Confused. However, by the time the last installment appeared, I looked forward not to finding out what happened next (for better or worse, it's essentially a midcentury-style romance comic) so much as reimmersing myself in Burns's fully realized world — gorgeous chiaroscuro, discontinuous chronology, teenage angst, sexual frustration and liberation… plus David Bowie's Diamond Dogs. Wow! Fun facts: "There are certain truths that exist in genre fiction, even though it's full of stereotypes and two-dimensional characters," Burns said in an interview, once. "There's a certain amount of unconsciousness that goes into genre fiction or genre movies. And out of that unconsciousness, I always see a certain kind of truth."

Philip Pullman's His Dark Materials fantasy adventure Northern Lights (1995, also published as The Golden Compass). In a universe parallel to our own, the world is dominated by the Magisterium, a Catholic Church-like global religious institution intolerant of heresy. Charmingly, in this world human souls exist outside of their bodies in the form of "dæmons," protective spirits who take the form of animals. The dæmons may have something to do with mysterious elementary particles, or "Dust," scientific investigations into the nature of which the Magisterium dissuades. When Lord Asriel, a swashbuckling scientist planning a journey to the Arctic in order to study the (possible extra-dimensional) origin of Dust, is nearly incapacitated or murdered by an agent of the Magisterium, his 12-year-old niece Lyra — a bright but semi-feral child raised by the scholars of Oxford — is determined to assist him in his quest. Child abductors known as the "Gobblers" abduct Lyra's friend Roger, and Lyra is taken under the wing of a Mrs. Coulter — a Magisterium agent and, we learn, head of the Gobblers. Soon, a fugitive Lyra is headed north in the company of nomadic 'Gyptians; on her journey, she will encounter witches, a talking polar bear, and an aeronaut. It's a fun thrill-ride, one guided by Lyra's reading of an "alethiometer"…. Fun facts: The novel's alternate title is not a reference to the alethiometer, but to the drafting compass that God used to establish the boundary of all creation in Milton's Paradise Lost. Northern Lights, which was awarded a Carnegie Medal, was adapted as a 2007 movie featuring Nicole Kidman, Dakota Blue Richards, Daniel Craig, and Sam Elliott; the BBC's 2019 TV adaptation looks superior. PS: I don't love the other installments in the His Dark Materials series, I'm sorry to report.

Iain M. Banks's Culture sci-fi adventure Excession (1996). The fifth Culture novel concerns the response of the Culture's Minds — benevolent AIs with enormous intellectual and physical capabilities — to the so-called Excession, a black-body sphere which appears mysteriously on the edge of Culture space… and which appears to be older than the Universe itself. The Affront, a rapidly expanding intergalactic empire, whose sadistic brutality is horrifying to the Culture, seeks to claim control of the Excession. The Interesting Times Gang, an informal group of Minds tasked with preparing for and confronting Outside Context Problems (challenges utterly outside the Culture's experience), steps in; their conversation — a rich stew of numbers, text, esoteric syntax, and witty repartee — is a delight. The Sleeper Service, a Mind housed in a GSV (General Systems Vehicle), which 40 years earlier had separated from the Culture proper, is pressed into service; Genar-Hofoen, a human Culture diplomat to the Affront, and his ex-lover, Dajeil, are also dragged into the adventure. The story is slow to develop, but in the end we discover that the Sleeper Service is a very impressive Mind, indeed. And if those of you who've read Banks's The Player of Games (1988) suspect that Special Circumstances was playing a deep game, vis a vis the Affront, you're right. The true role of the Excession, meanwhile, is cosmic and mind-blowing — a conceit worthy of Kirby himself. Fun fact: In an interview with the magazine SFX, Banks credited Sid Meier's 1991 strategy videogame Civilization — in which players begin at the dawn of humanity, and pursue new technologies while building an empire — with this novel's notion of Outside Context Problems. "You're getting along really well and then this great battleship comes steaming in and you think, well my wooden sailing ships are never going to be able to deal with that."

George R.R. Martin's A Song of Ice and Fire fantasy adventure A Game of Thrones (1996). In the first installment of Martin's epic fantasy series (1996–ongoing), we are introduced to a War of the Roses-esque dynastic struggle among the great Houses of Westeros, the central characters being the usurper Robert Baratheon, his childhood friend Ned Stark, Robert's scheming wife, Cersei Lannister, and Cersei's cunning, witty, self-indulgent brother Tyrion; Ned's wife and children are also viewpoint characters. Ned's illegitimate son, Jon Snow, meanwhile, joins the Night's Watch — an order of warriors who guard the far northern borders, not only from the wildlings who live beyond The Wall, but from a fabled and hostile inhuman race, the Others. As if this weren't already complex enough, a third plot-line concerns Daenerys, heiress to the Targaryen throne which King Robert had seized. In this first book, there are assassinations, executions, and political machinations aplenty in Westeros; mysterious doings north of the Wall which suggest that "winter is coming"; and poor Daenerys is married off (by her ruthless brother) to Khal Drogo, warlord of the nomadic Dothraki, in exchange for the use of Drogo's army to reclaim the throne of Westeros. Oh, and dragons — long thought to be mythical or extinct — make a comeback. Fun facts: Blood of the Dragon, comprising the Daenerys chapters from A Game of Thrones, won a Hugo for Best Novella. The violent, raunchy 2011–2019 HBO adaptation of the series, starring Sean Bean as Ned Stark, Lena Headey as Cersei Lannister, Emilia Clarke as Daenerys Targaryen, Jason Momoa as Khal Drogo, and Peter Dinklage as Tyrion Lannister, did not disappoint fans… except for its ending.

Thomas Pynchon's historical frontier adventure Mason & Dixon (1997). In 1761, in an ill-fated effort to help determine the distance from the Earth to the Sun, Charles Mason, an English astronomer — and Enlightenment avatar, obsessed with categorical imperatives in science and philosophy — set out on a voyage to Sumatra. He is joined in this endeavor by English surveyor Jeremiah Dixon, a free-thinker and boisterous optimist delighted by cultural heterogeneity and outraged by inequities of power and social injustice. Two years later, accompanied by a large party of assistants, the two men embark upon an effort to accurately establish the south boundary line of Pennsylvania (separating it from Maryland and Virginia), as well as the American province's lower three counties' boundaries. Pynchon's recounting of this true story, via an unreliable narrator speaking in an eighteenth-century idiom, is an epic accomplishment. Mason & Dixon are a Zelig-like comedy duo, stumbling upon the secret history of the 19th and 20th centuries, from the Civil War, UFOS, and New Age mysticism to, you know, the history of slavery and cultural domination. America's vision of liberty and equality is torpedoed, from the beginning, by its Enlightenment-enabled theories of racial and cultural superiority; Mason and Dixon, as they explore and discuss their discoveries on the eve of the Revolutionary War, are emblematic of the fledgling nation's permanently divided consciousness. Across nearly 80 episodes, they encounter Jesuit cabalists, Native Americans, George Washington and Ben Franklin, a French chef fleeing the amorous attentions of a mechanical duck, a Chinese fêng shui master, a Learned English Dog, and — in one of several examples of meta-textual japery — an ancestor of Pig Bodine, from Pynchon's 1963 apophenic adventure V.. Depending on who's listening at any particular moment, the story mutates from heroic tall tale to paranoid quackery to objective description… which is to say, it's an example of self-aware historicizing. Fun facts: Twenty years in the writing, Mason & Dixon was hailed by readers as the author's most brilliant and entertaining novel since Gravity's Rainbow (1973); some critics, including Harold Bloom, have described it as Pynchon's masterpiece.

Connie Willis's Time Travel sci-fi adventure To Say Nothing of the Dog (1997). Willis's first Oxford Time Travel adventure, the Hugo- and Nebula-awarded Doomsday Book (1992), was a kind of voyage into the Domesday Book of 1086. The sequel takes temporal historian Ned Henry, employee of Oxford's Temporal Physics department (c. 2057), to 1888 — into the world of Three Men in a Boat (To Say Nothing of the Dog), Jerome K. Jerome's 1889 whimsical, semi-autobiographical account of a two-week boating holiday along the Thames from Kingston upon Thames to Oxford and back again. Ned will take his own ill-fated voyage on the Thames, in the company of two companions and a dog; along the way, they will encounter the Three Men in a Boat characters. This charming mise en scène is the setting for a mystery: What time traveler has violated "the laws of the continuum" by bringing an object back from 1888 to 2057? (Such violations can cause time itself to unravel.) And what does this have to do with Ned's primary assignment: to ascertain what became of "the bishop's bird stump" when Coventry Cathedral was bombed by the Germans during World War II? Our protagonist's unfamiliarity with the 19th century, as well as the "time lag" from which he suffers, make things even more complicated than they otherwise might have been. Ned's colleague, Verity Kindle, attempts to help him fix the time travel incongruity…. Too late? Fun facts: To Say Nothing of the Dog was followed by the two-part Time Travel series installment Blackout/All Clear (2010). All four of her Time Travel books were awarded a Hugo; Blackout/All Clear was also awarded a Nebula. In fact, Willis has won more major science fiction awards than any other writer.

J.K. Rowling's Harry Potter fantasy adventure Harry Potter and the Philosopher's Stone (1997; US title: Harry Potter and the Sorcerer's Stone. If asked to recommend a great novel about an adolescent wizard-in-training, I'd suggest the works of Susan Cooper, Ursula K. Le Guin, Diane Duane, and Monica Furlong, not to mention the fantasy novels of E. Nesbit, P.L. Travers, T.H. White, Edward Eager, C.S. Lewis, and Diana Wynne Jones. I don't find Rowling's writing as compelling as these earlier authors'… but that said, the first installment in her wildly popular series is enjoyable. On his 11th birthday Harry Potter, an orphan mistreated by his Spiker- and Sponge-like aunt and uncle, receives a letter of acceptance into Hogwarts School of Witchcraft and Wizardry. (His parents, he learns, were killed by a magus so evil and powerful that — even though he is supposedly gone — most wizards and witches fear to speak his name aloud.) Hogwarts is an old-fashioned English boarding school, whose houses — Gryffindor, Slytherin, Hufflepuff and Ravenclaw — compete throughout the year for glory. Harry is befriended by the hapless Ronald Weasley and the brilliant but aggravating Hermione Granger; and he makes an enemy of the snobbish Draco Malfoy. Harry takes classes from colorful instructors, including the sardonic Snape, who seems to hate the new boy at first sight; he joins the Quidditch team; and he is mentored by Dumbledore, the headmaster, and the half-giant Hagrid. But there's a dark mystery afoot: What is huge three-headed dog guarding in the forbidden corridor? And are rumors about the return of the dark magus true? Fun facts: Rowling's first novel remained at the top of the New York Times list of best-selling fiction — for children and adults, combined — for much of 1999 and 2000. It was followed by six much-anticipated sequels. The Warner Brothers series of movie adaptations — starring Daniel Radcliffe, Rupert Grint, and Emma Watson — is the third-highest grossing series ever, after Star Wars and the Marvel movies.

Joann Sfar and Lewis Trondheim, et al.'s Donjon comic-book series (Dungeon, 1998–ongoing). Herbert the Duck, Marvin the Dragon, Hyacinthe de Cavallere (the Dungeon Master), and the rabbit Marvin the Red are the central characters of the ambitious Donjon series, which now runs to some 30 volumes. The funny yet sometimes grim Dungeons & Dragons-esque saga, which spans various epochs (Early Years, Zenith, Twilight) and and spinoff series (Parade, Monstres, Antipodes), is set in and around a lethal Escape-the-Room-esque dungeon set up as a business… i.e., in order to attract adventurers who'd be killed, allowing the Dungeon Master to profit from their possessions. The humanoid duck Herbert possesses a magical sword — a parody of Elric of Melniboné's Stormbringer, perhaps — that's almost as troublesome to its possessor as it is to his foes. The Dungeon Master's henchman, Marvin the Dragon, is a fierce warrior-monk and Herbert's reluctant protector on many a quest and misdventure. French comics artists Joann Sfar and Lewis Trondheim dreamed up this scheme, and produced many of the Twilight and Zenith installments they've invited other talented friends — including Christophe Blain, Boulet, and Manu Larcenet — to participate, too. Endlessly inventive and surprising, an amazing accomplishment. Fun facts: "Dungeon comics — that's a big inspiration for me and the crew who write on [Adventure Time]," Pendleton Ward has said. "Dungeon's a great comic, and I look to it for the sort of casual conversation they have with the big fantasy world that they all live in." Here's a helpful guide to the series by Jeff VanderMeer.

Jonathan Lethem's crime adventure Motherless Brooklyn (1999). When Frank Minna, a small-time Brooklyn mobster who runs an uncredentialed detective agency masquerading as a limo service, is murdered in an alley, the four "motherless" hood rats whom he'd long ago taken under his wing — they call themselves the Minna Men — react in different ways. Lionel Essrog, our narrator, is a powerfully built, lonely fellow who seeks to discover the truth about what's happened to his mentor and idol; although he suffers from Tourette's and OCD, Lionel's neurologically driven obsessiveness and repetitiveness, not to mention his nonstop penchant for wordplay, prove crucially helpful as he seeks answers. Tony, who's mixed up in a scheme that Frank has concocted, one that involves not only the (rather geriatric) Brooklyn Mob and the shadowy Fujisaki Corporation, sees Frank's death as an opportunity for his own advancement. Danny goes to ground; and Gilbert is arrested on suspicion of the murder of a Fujisaki bookkeeper. It's a fast-paced, often funny but also soulful thriller. A trail of clues leads Lionel to a giant Polish hitman, a femme fatale (Frank's ex-wife), and to a Zen Buddhist instructor with a lot of secrets. As with all of Lethem's novels thus far, Motherless Brooklyn is an affectionate and erudite send-up of a pulp genre; and more than that. Lionel is a sensitive, romantic, self-aware character whose musings on his own verbal tics, and the mysteries of consciousness in general, leaves the reader laughing with him — never at him. Fun facts: Motherless Brooklyn was awarded the National Book Critics Circle Award for fiction, as well as the Gold Dagger award for crime fiction. The 2019 movie adaptation by Edward Norton takes many liberties with the original, e.g., setting it in 1957. The movie's cast includes Norton, Bruce Willis, Gugu Mbatha-Raw, and Willem Dafoe.

Alan Moore and Kevin O'Neill's sci-fi comic The League of Extraordinary Gentlemen, Vol. 1 (1999–2000). When Mina Harker, whom readers of Dracula will recognize as Bram Stoker's brave, perspicacious, thrice-bitten heroine, is recruited by British Intelligence agent Campion Bond (James Bond's grandfather), she is tasked with recruiting other Victorian-era superheroic individuals — (Jules Verne's) Captain Nemo, (H. Rider Haggard's) Allan Quatermain, (Robert Louis Stevenson's) Dr. Jekyll/Mr. Hyde, (H.G. Wells's) Invisible Man — to protect the peace and safety of the British Empire, c. 1898. Which are threatened by (Sax Rohmer's) Fu Manchu, who has stolen antigravity material from (Wells's) Professor Cavor, with which he plans to build an airship that will pummel London into submission. M., to whom the League reports, turns out to be one of of the greatest Victorian-era villains, with nefarious plans of his own. It's a fun, fast-paced metatextual adventure perfectly illustrated by Kevin O'Neill, who balances the whimsical with the sordid and violent. Moore, as ever, requires us to reconsider what it means to be a hero — with this agonistic crew of troubled, sociopathic misfits. This is rich stuff — so many literary references, often obscure. This reader is grateful to Jess Nevins, author of the Encyclopedia of Fantastic Victoriana, who has provided copious annotations. Fun facts: The first volume of stories has been followed, thus far, by Volume II (2002–2003), Black Dossier (2007), Volume III: Century (2009–2012), Nemo Trilogy (2013–2015), and Volume IV: Tempest (2018–2019). Elements of Volume I were used in a loosely adapted 2003 feature film — about which the less said, the better.

China Miéville's New Crobuzon sci-fi/fantasy adventure Perdido Street Station (2000). Miéville has said that he hopes to write a novel — a "weird" novel, that is — in every genre. Perdido Street Station already complicates that statement, inasmuch as the first installment in his New Crobuzon series is a hybrid of science fiction, fantasy, and horror. It's also an impressive example of psychogeography and back-projected world-building. Perdido Street Station gives us New Crobuzon, a city-state on the planet Bas-Lag, a D&D-esque world where both thaumaturgy and steampunk technology exist, and in which many intelligent species coexist. From this starting point, Miéville conjectures a history in which some three millennia earlier, entities from another plane of existence ruled the planet for a few centuries… leaving behind technologies and structures (including, perhaps the titular industrial scrapyard, which has a mind of its own) over which today's New Crobuzonites puzzle and scheme. If this reminds you of M. John Harrison's Pastel City (1971), it should; Miéville is a fan. He's also influenced by the original "weird" writers — William Hope Hodgson, Clark Ashton Smith, H.P. Lovecraft — to whose tentacular, cosmic-horror visions he pays homage here. The plot concerns the efforts of Yagharek, a birdlike creature who has had his wings chopped off (hello, Orlando Bloom's character in Carnival Row), to fly again; along the way, he'll transform from a victim into a hero. Isaac Dan der Grimnebulin, a scientist attempting to help Yagharek, inadvertantly creates a Mothra-like monster whose brood terrorizes New Crobuzon; a drug-dealing mob boss kidnaps Isaac's girlfriend, an insect-like humanoid sculptor; and a spider-like creature that moves through dimensions, obsessed with patterns, gets involved, too! Fun facts: "Perdido Street Station is my attempt to simultaneously say, 'Fuck you' to fantasy, and to say to readers, 'Please read some fantasy,'" Miéville once explained. The 900-page novel won the Arthur C. Clarke Award and the August Derleth Award; the Player's Handbook for the Fifth Edition of Dungeons & Dragons (2014) cited the book as a source of inspiration.

Peter Carey's historical adventure True History of the Kelly Gang (2000). Ned Kelly was an Australian bushranger and gang leader, best known for wearing a suit of bulletproof armour during his final shootout. Carey's fictionalized version of this Australian frontier yarn, written as Kelly's own autobiography, is a harrowing life's story. Ned's father, an Irish convict transported to the colony of Victoria, Australia, is persecuted by the colonial police forces; he dies when Ned is 12. Ned's mother, a handsome woman with many children to raise, takes the bushranger Harry Power as a lover; she persuades him to take on a reluctant Ned as an apprentice. The strong-willed boy quarrels with Harry and returns to his family, but not before learning how to rob stagecoaches and evade pursuit. Ned never gets any breaks, and he and his brother Dan are eventually forced to flee the authorities; joined by two friends, who later become known as members of the Kelly Gang, the young men rob banks, give money to the downtrodden… and kill some policemen. Cornered by dozens of policemen, the Kelly Gang constructs suits of armor. Ned's autobiography is written just before the shootout. Fun facts: The novel, which won the Booker Prize and which has been called one of the best novels of the century, was adapted as a movie by Justin Kurzel in 2020. The film's cast includes George MacKay as Kelly and Russell Crowe as Harry Power.

Ken MacLeod's Engines of Light sci-fi adventure Cosmonaut Keep (2000). On the planet Mingulay, in the far future, a human colony coexists with other races, including the reptilian "saurs"… but they've lost the secrets of interstellar light-speed navigation — which are known only to the krakens, who don't use computers. Assisted by the immortal, weed-smoking saur Salasso, the human scientist Grigor Cairns studies the kraken-like squids who inhabit Mingulay's oceans; he also gets involved in a love triangle involving a fellow marine biologist and the beautiful daughter of a space trader. The book's alternating story line is a cyberpunk political thriller set in Soviet-occupied Europe c. 2040. Matt Cairns, an Edinburgh programmer, and his American spy girlfriend, Jadey Ericson, hack into a secret facility on a remote asteroid… where highly advanced, space-dwelling, godlike associations of bacteria-sized entities have provided EU scientists with blueprints for a space drive. There is a trip to Area 51, and a sexy American test pilot. The stories connect: A starship from Earth arrived at Mingulay, but humans were banned from subsequent space-travel by the krakens. This is a less political MacLeod space opera — though it features plenty of leftist in-jokes, such as the programmers' union called the Information Workers of the World Wide Web, or "Webblies." Grigor's breakthrough discovery left my head spinning. Fun facts: This is the first book in the Engines of Light trilogy, followed by Dark Light (2001) and Engine City (2002).

Neil Gaiman's fantasy adventure American Gods (2001). Released from prison when his wife is killed in a car accident — she'd been having an affair with his best friend — the taciturn "Shadow" Moon finds work as a bodyguard for a Mr. Wednesday. Who is, we will eventually discover, an earthly avatar of a Norse god. Mr. Wednesday is on a cross-country pilgrimage, rallying his fellow deities for a last-ditch battle against America's new gods — the personifications, that is, of phenomena that we now worship, including an adult-sized fat child (the Internet), men in black (conspiracy theories), and the goddess of media, who communicates through characters in TV shows. Shadow himself becomes the focus of this epic struggle, and Mr. Wednesday becomes his guardian — rather than the other way around. During a trip to the land of the dead, Shadow discovers his own true nature… and begins to understand the true stakes of the game in which he has become entangled. Oh, and his ex-wife returns from the dead as an ass-kicking zombie of sorts! Fun facts: Winner of the Hugo and Nebula awards. A comic book adaptation, American Gods: Shadows, was published by Dark Horse Comics starting in March 2017. There have been two seasons, so far, of the Starz television adaptation (2017–2019), with a third season scheduled for 2021.

John le Carré's espionage adventure The Constant Gardener (2001). When his beautiful younger wife, Tessa, is murdered in a remote are of Kenya while in the company of her fellow humanitarian activist, Arnold Bluhm, British diplomat Justin Quayle heads home to England… in order to get to the bottom of what he suspects to be a conspiracy involving KVH, a pharmaceutical company that has been testing a new TB drug in Africa. As with some of my other favorite Le Carré novels, from Call for the Dead (1961) to Our Game (1995), this one is a hybrid of murder mystery and political thriller. Quayle, whose hobby is gardening, proves himself "constant" — that is, both unstoppable in his quest for the truth, and faithful to his love for Tessa — as he navigates British Intelligence, the pharma industry, and the world of do-good NGOs. Were Tessa and Arnold lovers? Had they discovered a truly sinister secret? Who betrayed them? This is a posthumous love story, if you can imagine such a thing, as well as a compelling hunted-man story. We cheer Justin on, as he eludes the good guys and bad guys alike, until the bitter end. PS: "There is only a fleeting reference to gardening," warns a dumb Goodreads review, "so horticulturists need not get their hopes up." Fun facts: Le Carré based his story on a real-life case in Kano, Nigeria. The 2005 film adaptation, directed by Fernando Meirelles, starred Ralph Fiennes as Justin, Rachel Weisz as Tessa, Hubert Koundé as Arnold, and Bill Nighy as Sir Bernard Pellegrin.

Umberto Eco's historical, metafictional adventure Baudolino (2001). In the year of 1204, an Italian traveler, Baudolino of Alessandria, saves the life of Niketas Choniates, a (real-life) Greek Byzantine government official and historian of the Eastern Roman Empire. Baudolino is an account of the titular character's tales, told to Choniates, of his exploits in the known and mythical Christian world of the 12th century. Obsessed with the kingdom of Prester John — a Christian nation fabled to be lost amid the pagans and Muslims in the Orient, and full of riches, marvels, and strange creatures — Baudolino claims to have encountered characters both historical (Frederick Barbarossa, the Holy Roman Emperor from 1155 until his death 35 years later; the Old Man of the Mountain, leader of the Syrian branch of the Nizari Isma'ili state, aka the Assassins; Pope Alexander III; the Venerable Bede) and fictional (e.g., a basilisk, a manticore, a chimera, and a unicorn). It's a story about story-telling, with various ingenious aspects, including a locked-room murder mystery involving the death of Barbarossa while hosted at the castle of an Armenian noble. We get a lesson — as per usual, in an Eco adventure — in medieval philosophy and theology, in particular Gnosticism, from a female satyr-like creature with whom Baudolino falls in love. A perplexing, charming, thrilling tall tale that deserves to be better known. Fun facts: In an interview, Eco elaborated on the differences between this novel and his 1980 medieval thriller The Name of the Rose. "The Rose is cultured, this one is working class. The Rose is high style, this one is low style. The language is that of the peasants of the era or the Parisian students that speak like thieves."

China Miéville's New Crobuzon science fantasy adventure The Scar (2002). After the events recounted in Perdido Street Station (2000), linguist Bellis Coldwine flees New Crobuzon by ship… only to be captured by pirates and relocated to Armada, a vast floating city populated by exiles, criminals, and runaways — including the surgically "Remade." In giving us this cold protagonist — who despises Armada, and who actively works to subvert the city's great endeavor — Miéville suppresses our own instinctive resistance to the allure of an anarchist utopia. Which is exactly what this filthy, leaky, confusing, collection of hundreds of lashed-together ships is. What's more, the The Scar is a mashup of the utopian sci-fi travelogue with Lovecraftian horror. It seems that Armada's leaders wish to summon and capture a leviathan from the bottom of the ocean… as phase one of a plan to harness transdimensional, reality-warping forces located at the planet's "Scar," which will be unleashed against imperialistic New Crobuzon! The plot develops shambolically; there are vampiric mosquito-people, Scabmettlers, the underwater Cray people, and murderous "Grindylows" to contend with, not to mention the story of Tanner Sack, an escaped Remade slave who finds liberation and fulfillment in Armada. Uther Doul, the city's mercenary enforcer, turns out to be one of the more important figures; Bellis Coldwine, in the end, not so much. The prose is purple, the action thrilling, and the politics fascinating… but what keeps you coming back to Miéville is the wildly imaginative, overwhelmingly atmospheric world-building. Fun facts: Winner of the British Fantasy Award and Locus Award.

Bill Willingham's comic book series Fables (2002–2015). The Fables series — published by DC's Vertigo imprint, under the direction of visionary editor Karen Berger — follows the adventures of a clandestine community of fairy-tale and folklore characters who, centuries ago, were driven out of their homelands into our world. When the story begins, the Fables' city-within-New York City, Fabletown, is run by Bigby Wolf (the sheriff) and Snow White (deputy mayor), who attempt to solve conflicts both in their town and on their upstate "farm." Other characters include Grimble, the troll from "THree Billy Goats Gruff," Bufkin, a winged monkey from the Oz stories, and Beauty and the Beast — who later will become Fabletown's deputy mayor and mayor. Prince Charming, as one might expect, is a narcissist, womanizer, and rogue — though he occasionally will do the right thing. The story arcs, in the early days of the series, take the form of various adventure narratives… from murder mystery to conspiracy to caper. A breakout hit, the series ran for thirteen years, with various spinoffs. Fun facts: Willingham, who got his start as TSR artist — contributing illustrations to AD&D modules, not to mention the Fiend Folio — served as sole writer for the entirety of the Fables series, with Mark Buckingham penciling more than 110 issues. Jess Nevins's Fables Encyclopedia offers valuable annotations to the comics.

Neil Gaiman's children's fantasy novel Coraline (2002). "Don't go through the door," Mr. Bobo, one of her oddball new neighbors, warns Coraline Jones — after she and her parents move into an old house that has been divided into apartments. He is referring to a small door that links Coraline's apartment to the unoccupied one next door. Nevertheless, Coraline goes through it… and discovers a kind of through-the-looking-glass version of her own life, in which an "Other Mother" and "Other Father," who have black buttons for eyes, pay more attention to her than her own parents. Also: The food tastes better, the toys are more fun, the neighbors are more entertaining, and the local stray cat can talk! Things quickly turn sinister, though, and Coraline must challenge the Other Mother in order to rescue her real parents, herself, and the ghosts of other children her age, from the beautiful lady without pity. The penultimate contest is reminiscent of the hen Billina's versus the Nome King in L. Frank Baum's Ozma of Oz. The final contest is even more terrifying. Fun facts: Winner of the Hugo and Nebula Awards for Best Novella. The 2009 movie adaptation, directed by Henry Selick and voiced by Dakota Fanning, Teri Hatcher, Jennifer Saunders, and Dawn French, is one of the most successful stop-motion films ever.

Robert Kirkman, Tony Moore, and Charlie Adlard's sci-fi/western comic book The Walking Dead (2003-2019). Rick Grimes is a small-town Kentucky sheriff's deputy who wakes up from a coma to discover the world overrun by "walkers" — which is to say, zombies. He sets off in search of his wife Lori and son Carl, ad eventually tracks them to a camp of survivors. His partner and best friend, Shane, has also survived; but he and Rick have very different ideas about the right way to deal with the zombies. Also, Lori and Shane are now together, which is awkward. The series is about Rick's struggle to lead a group of survivors in search of a safe haven… without compromising his moral code. This quest becomes ever more difficult, once they're forced to deal not only with walkers but other survivor groups. The black-and-white comic from Image was originally illustrated by Tony Moore; Charlie Adlard took over from issue #7 onward. A huge success for Image Comics, the series' 193rd and final issue was released in 2019. Fun facts: The Walking Dead media franchise has grown to include a long-running TV series (2010–2022, starring Andrew Lincoln as Rick Grimes), plus TV spinoffs such as Fear the Walking Dead (2015–ongoing); multiple web series; three forthcoming movies (so far); several novels; several videogames; boardgames, action figures, and more.

William Gibson's Blue Ant sci-fi adventure Pattern Recognition (2003). The first of Gibson's sci-fi novels to be set in the present. Pattern Recognition takes as its subject the near impossibility of making sense — and finding meaning — in our contemporary age. Cayce Pollard, a Bobby Newmark-like consultant whose acute psychological sensitivity to logos and advertising has transformed her into a kind of magical semiotician, is working with the edgy viral advertising/coolhunting firm Blue Ant on a shoe company's logo when Blue Ant honcho Hubertus Bigend hires her to do a little aesthetic detective work. Who has been posting a series of artistic film clips to [YouTube]? Shuttling from New York to London, Tokyo, and Moscow, Cayce ponders what it might portend that the clips — outsider art, essentially — have attracted a cult following, a hive-mind buzzing with wrong-headed ideas. Bigend, our antihero, is a bullshit artist seeking to exploit the clips' anonymous creator. Like Chia in Idoru (1996), Cayce runs afoul of the Russian Mafia — and must rely on talented Internet friends to rescue her. Fun facts: The first in a series followed by Spook Country (2007), in which Bigend hires another young woman, Hollis Henry, to track down another artwork, and Zero History (2010). Sonic Youth's 2004 song "Pattern Recognition" pays tribute to this novel, a bestseller.
***
JOSH GLENN'S *BEST ADVENTURES* LISTS: BEST 250 ADVENTURES OF THE 20TH CENTURY | 100 BEST OUGHTS ADVENTURES | 100 BEST RADIUM AGE (PROTO-)SCI-FI ADVENTURES | 100 BEST TEENS ADVENTURES | 100 BEST TWENTIES ADVENTURES | 100 BEST THIRTIES ADVENTURES | 75 BEST GOLDEN AGE SCI-FI ADVENTURES | 100 BEST FORTIES ADVENTURES | 100 BEST FIFTIES ADVENTURES | 100 BEST SIXTIES ADVENTURES | 75 BEST NEW WAVE SCI FI ADVENTURES | 100 BEST SEVENTIES ADVENTURES | 100 BEST EIGHTIES ADVENTURES | 75 BEST DIAMOND AGE SCI-FI ADVENTURES | 100 BEST NINETIES ADVENTURES | 75 BEST HADRON AGE SCI-FI ADVENTURES | NOTES ON 21st-CENTURY ADVENTURES.