CARBONA YOUR ENTHUSIASM (23)
By: Chelsey Johnson
August 23, 2020
One in a series of 25 enthusiastic posts, contributed by 25 HILOBROW friends and regulars, on the topic of our favorite punk songs, c. 1974–1983.
*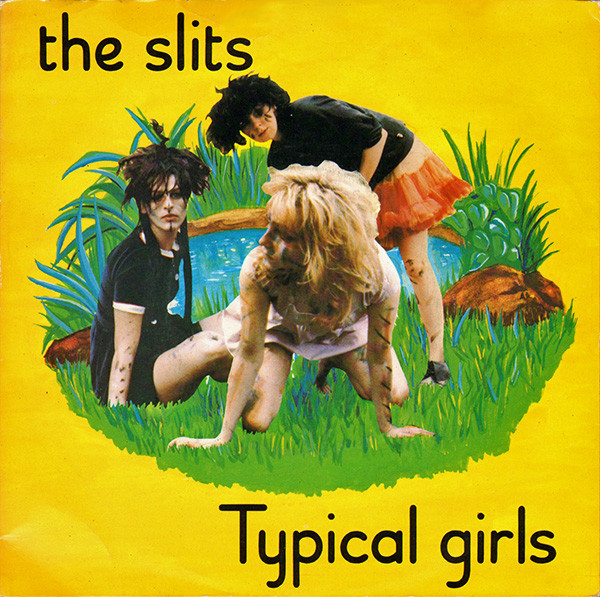 "TYPICAL GIRLS" | THE SLITS | 1979
Who invented the typical girl. I recently unpacked every journal I've kept since seventh grade into a built-in bookshelf lodged in the wall of my office and of course it took me days because I couldn't stop browsing them. I've kept them all, determined that there's something to be learned even from my most abject or embarrassing records. The journals from my twenties and thirties were transporting, full of forgotten pleasures, people, events, and story ideas; the ones from college, rife with eye-rolling introspection and pretentiousness; but the seventh and eighth grade journals are unbearable to revisit. Maudlin, sentimental, hysterically obsessed with finding a boyfriend, they shock me with their aggressive banality and desperate normalcy. The jokes never land. The cheer with which I daily greet the diary itself feels like a desperate performance of friendly girlhood.
Typical girls are looking for something. Typical girls fall under spells. The onset of adolescence stranded me on the floating trash island of factory-produced teen novels (all of Sweet Valley High), the lyrics of teen mall queens, and the issues of Seventeen and my best friend's mom's women's magazines that my friends and I studied with Talmudic intensity. My template for who to be narrowed into those anonymously generated plots and multiple-choice quizzes to which there was always only one obvious and acceptable result. Typical girls buy magazines. Typical girls feel like hell.
Why did the moment I started writing every day have to coincide with the suppression of my youthful ferality, my oddball tomboy childhood in the woods? Who created that typical girl? I did. Sixth grade was the last year I went braless, unshaven, and bare-faced, and dressed with no sense of the gaze, and I wrote only fiction; in seventh grade, I flung myself into the social machine that extruded an anxious, inept twelve-year-old who wore blue eyeliner and was excruciatingly conscious of her butt, and that is when I started to write myself. That fall, in an Exhibit A of compulsory heterosexuality, I hand-penciled a spreadsheet wherein I rated a dozen boys I knew (left column) along several desirable characteristics (top row) — face, body, sense of humor, kindness, intelligence, etc.) — on a scale of 1-10. This rubric yielded unsatisfactory results: top scores went to the two of the blandest boys in the class, blue-eyed dolts whose offensive stupidity would not come into full flower until high school, plus Sam, who was my actual good friend and was thus disqualified for the position.
Typical girls try to be typical girls very well. Even my desires to be exceptional were typical: I just wanted to be desirable, adorable, verb-able, all words that make the girl one to whom actions are done. And there's another marketing ploy: typical girl gets the typical boy. I wanted it to be easier. Did my obliviousness to queer possibilities generate some of that ferocious drive toward a stultifying heterosexual typicality? Or was it a narrative dilemma? I wanted to fit into a story that I'd read over and over. That was what a protagonist did.
***
CARBONA YOUR ENTHUSIASM (2020): Series introduction by Josh Glenn | Mimi Lipson on Flipper's "Sex Bomb" | James Parker on The Jam's "Going Underground" | Dan Fox on The Cramps' "Human Fly" | Adrienne Crew on Bad Brains' "I and I Survive" | Devin McKinney on Romeo Void's "Never Say Never" | Deb Chachra on The Buzzcocks' "Ever Fallen in Love" | Mark Kingwell on The Demics' "New York City" | Jessamyn West on Dead Kennedys' "Kill the Poor" | Douglas Wolk on The Homosexuals' "Soft South Africans" | Josh Glenn on The Freeze's "This is Boston, Not L.A." | Stephanie Burt on Sorry's "Imaginary Friend" | Luc Sante on Public Image Ltd.'s "Public Image" | Miranda Mellis on X-Ray Spex's "Oh Bondage! Up Yours!" | Adam McGovern on The Clash's "Washington Bullets" | Mandy Keifetz on Germs' "Forming" | Gordon Dahlquist on The Sex Pistols' "Problems" | Anthony Miller on The Soft Boys' "I Wanna Destroy You" | Deborah Wassertzug on The Mekons' "Where Were You?" | Tor Aarestad on Gang of Four's "Return the Gift" | Marc Weidenbaum on The Pop Rivets' "Dream of '63" | David Smay on The Rezillos' "(My Baby Does) Good Sculptures" | Vanessa Berry on The Cure's "So What" | Chelsey Johnson on The Slits' "Typical Girls" | Lynn Peril on Crass's "Smother Love" | Mike Watt on The Dils' "You're Not Blank".
MORE ENTHUSIASM at HILOBROW
NERD YOUR ENTHUSIASM (4Q2021): NERDING | ARDUIN | KLINGON CONFIDENTIAL | MAP INSERTS | TIME | & 20 other nerdy passions. SWERVE YOUR ENTHUSIASM (3Q2021): WARHOL'S WALT WHITMAN | 70, GIRLS, 70 | TYRAEL'S MIGHT | SHIRATO SANPEI | THE LEON SUITES | & 20 other never-realized cultural productions. FIVE-O YOUR ENTHUSIASM (2Q2021): DARK SHADOWS | MANNIX | GET SMART | THE ADDAMS FAMILY | I DREAM OF JEANNIE | & 20 other Sixties (1964–1973) TV shows. FERB YOUR ENTHUSIASM (1Q2021): STEVEN UNIVERSE | TOP CAT | REN & STIMPY | SHE-RA AND THE PRINCESSES OF POWER | DRAGON BALL Z | & 20 other animated series. CARBONA YOUR ENTHUSIASM (2020): "Sex Bomb" | "Going Underground" | "Soft South Africans" | "Typical Girls" | "Human Fly" | & 20 other Seventies (1974–1983) punk singles. KLAATU YOU (2020 weekly): ZARDOZ | METROPOLIS | DARK STAR | SINS OF THE FLESHAPOIDS | SOLARIS | & dozens of other pre-STAR WARS sci-fi movies. CONVOY YOUR ENTHUSIASM (2019): THE TAKING OF PELHAM ONE TWO THREE | ROLLERBALL | BLACK SUNDAY | SORCERER | STRAIGHT TIME | & 20 other Seventies (1974–1983) action movies. SERIOCOMIC (2019 weekly): LITTLE LULU | VIZ | MARSUPILAMI | ERNIE POOK'S COMEEK | HELLBOY | & dozens of other comics. TUBE YOUR ENTHUSIASM (2018): LOONEY TUNES | THREE STOOGES | THE AVENGERS | ROCKY & BULLWINKLE | THE TWILIGHT ZONE | & 20 other Fifties (1954–1963) TV shows. WOWEE ZOWEE (2018 weekly): UNISEX | UNDER THE PINK | DUMMY | AMOR PROHIBIDO | HIPS AND MAKERS | & dozens of other Nineties (1994–2003) albums. KLUTE YOUR ENTHUSIASM (2017): THE KILLERS | BANDE À PART (BAND OF OUTSIDERS) | ALPHAVILLE | HARPER | BLOW-UP | & 20 other Sixties (1964–1973) neo-noir movies. #SQUADGOALS (2017 weekly): THE WILD BUNCH | BOWIE'S BAND | THE BLOOMSBURY GROUP | THE HONG KONG CAVALIERS | VI ÄR BÄST! & dozens of other squads. GROK MY ENTHUSIASM (2016 weekly): THE THEORY AND PRACTICE OF LUNCH | WEEKEND | MILLION YEAR PICNIC | LA BARONNE EMILE D'ERLANGER | THE SURVIVAL SAMPLER | & dozens more one-off enthusiasms. QUIRK YOUR ENTHUSIASM (2016): "Tainted Love" | "Metal" | "Frankie Teardrop" | "Savoir Faire" | "Broken English" | & 20 other Seventies (1974–1983) new wave singles. CROM YOUR ENTHUSIASM (2015): DARKER THAN YOU THINK | THE SWORD IN THE STONE | OUT OF THE SILENT PLANET | THIEVES' HOUSE | QUEEN OF THE BLACK COAST | & 20 other Thirties (1934–1943) fantasy novels. KERN YOUR ENTHUSIASM (2014): ALDINE ITALIC | DATA 70 | TORONTO SUBWAY | JOHNSTON'S "HAMLET" | TODD KLONE | & 20 other typefaces. HERC YOUR ENTHUSIASM (2013): "Spoonin' Rap" | "Rapper's Delight" | "Rappin' Blow" | "The Incredible Fulk" | "The Adventures of Super Rhyme" | & 20 other Seventies (1974–1983) hip-hop songs. KIRK YOUR ENTHUSIASM (2012): Justice or vengeance? | Kirk teaches his drill thrall to kiss | "KHAAAAAN!" | "No kill I" | Kirk browbeats NOMAD | & 20 other Captain Kirk scenes. KIRB YOUR ENTHUSIASM (2011): THE ETERNALS | BLACK MAGIC | DEMON | OMAC | CAPTAIN AMERICA | & 20 other Jack Kirby panels.