Diamond Age 75 (56)
By: Joshua Glenn
April 5, 2020
One in a series of posts about the 75 best science fiction novels published during the genre's Diamond Age era (from 1984–2003, according to HILOBROW's periodization schema). For Josh Glenn's complete Diamond Age Sci-Fi 75 list, click here.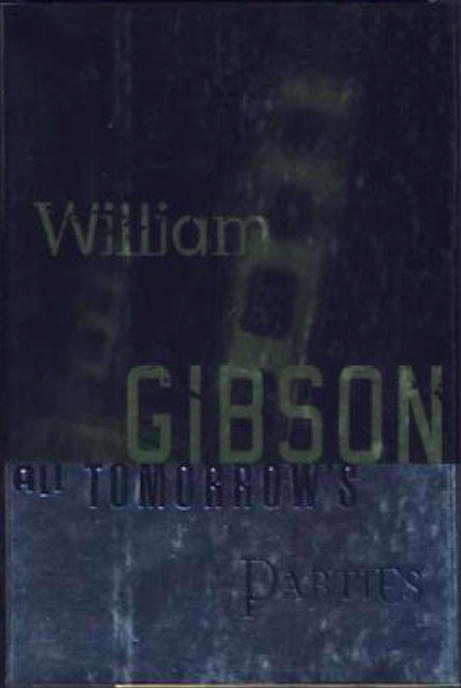 William Gibson's Bridge science fiction adventure All Tomorrow's Parties (1999–2000).
In the Bridge trilogy's final installment, we return at last to the San Francisco/Oakland Bay Bridge, the near-future shanty-town/autonomous zone where much of 1993's Virtual Light took place. Colin Laney, a mutant able to recognize patterns of probability (when "net-running" massive amounts of data), whom we met in 1996's Idoru, reappears; now homeless and dying, he intuits an approaching "nodal point" and hires rent-a-cop Berry Rydell — from Virtual Light — to investigate. Chevette, also from Virtual Light returns, as does the holographic AI diva Rei Toei (from Idoru) and "existential sociologist" Shinya Yamazaki (from both books). If Laney and Yamazaki seem like thinly veiled self-portraits of Gibson himself, wait until you meet Konrad, the unstoppable assassin whose description — gaunt visage, "wolfishly professorial" — and obsession with wristwatches strike this reader as an inside joke. Will PR mastermind Cody Harwood succeed in turning the incipient nodal point to his own advantage? Can our ragtag band of fucked-up heroes stop him? Weirdly, the final book in the series feels like the one closest to our own point in time.
Fun facts: The British writer Steven Poole, whose obsession with political and corporate rhetorical strategems is also very timely, described All Tomorrow's Parties — in The Guardian — as the culmination of Gibson's development "from science-fiction hotshot to wry sociologist of the near future."
***
DIAMOND AGE SCI-FI at HILOBROW: William Gibson | Bruce Sterling | Margaret Atwood | Ann Nocenti | Frank Miller | Alan Moore | Octavia E. Butler | Iain M. Banks | Grant Morrison | Neal Stephenson | Jonathan Lethem | Charles Burns | China Miéville.
JOSH GLENN'S *BEST ADVENTURES* LISTS: BEST 250 ADVENTURES OF THE 20TH CENTURY | 100 BEST OUGHTS ADVENTURES | 100 BEST RADIUM AGE (PROTO-)SCI-FI ADVENTURES | 100 BEST TEENS ADVENTURES | 100 BEST TWENTIES ADVENTURES | 100 BEST THIRTIES ADVENTURES | 75 BEST GOLDEN AGE SCI-FI ADVENTURES | 100 BEST FORTIES ADVENTURES | 100 BEST FIFTIES ADVENTURES | 100 BEST SIXTIES ADVENTURES | 75 BEST NEW WAVE SCI FI ADVENTURES | 100 BEST SEVENTIES ADVENTURES | 100 BEST EIGHTIES ADVENTURES | 75 BEST DIAMOND AGE SCI-FI ADVENTURES | 100 BEST NINETIES ADVENTURES (in progress) | 1994 | 1995 | 1996 | 1997 | 1998 | 1999 | 2000 | 2001 | 2002 | 2003 | NOTES ON 21st-CENTURY ADVENTURES.