MOVIE OBJECTS (16)
By: Guy Trebay
May 16, 2020
One in a series of 25 nonfiction narratives about significant objects spotted in movies. Presented to HILOBROW's readers by Project:Object.
*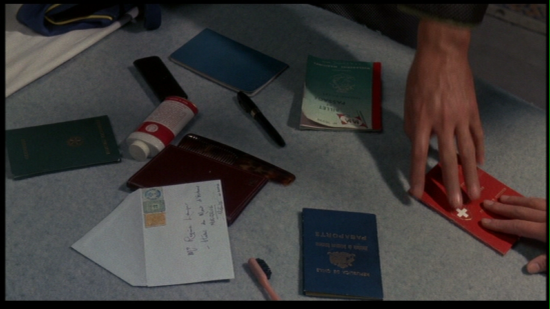 STAMPS | CHARADE | d. STANLEY DONEN | 1963
It wasn't in the plan to queer the reading of some objects central to Charade, Stanley Donen's thriller slash comedy slash love story slash fashion shoot slash travelogue of a film. And yet they keep nagging at me, those stamps.
If you can surprise anyone with the outcome of a film after 57 years, this is the place for a spoiler alert. Charade, which some call the best Hitchcock film Hitchcock never made, is an improbably plotty movie, fueled by greed and revenge and featuring some of the better staged murders ever captured on film. The movie turns on the hunt for something hidden in plain sight and so, after many viewings, does my understanding of it.
The stamps in question are affixed to a letter addressed to Regina "Reggie" Lampert (Audrey Hepburn) and tucked in an overnight bag belonging to her late husband, Charles. There's other stuff in there, too: a pocket comb, a plane ticket to Venezuela, passports issued to Charles under various aliases.
Charles, as we learn, was a WWII spy and a traitor who, together with a group of fellow OSS agents made off with $250,000 in gold intended for the French Resistance. He double-crossed his accomplices and stole the loot; the film opens with him being murdered and tossed from a train.
During the slickly addictive two hours that follow various baddies give chase as they torture and knock one another off. These stylized, though gruesome, episodes are intercut with scenes of Paris rendered by Donen in a gauzy haze. Gorgeous and eerily depopulated, the city serves mostly as a backdrop for an unlikely romance between Hepburn and her co-star Cary Grant.
It was unlikely for several reasons. Grant was 59 when he made the film and was said to have declined the role unless it was rewritten so that the 34-year-old Hepburn was the pursuer and not the pursued. But there is something else. "I pretended to be somebody I wanted to be until finally I became that person," Cary Grant once famously said. "Or he became me." Watching the film again recently for the 20th time I was suddenly struck by how true a statement this is.
Charade is an arch theater of assumed identities and masks and, by the time Grant made it, his had begun to slip. Where in his early films Grant exploited his natural gifts for sturdy and acrobatic physicality to create a convincing, if exaggerated, heterosexual impersonation by 1963 the burnished veneer of that performance had worn thin.
In what is perhaps the film's most celebrated scene, Grant showers fully clothed in front of Hepburn, camping so shamelessly that whatever erotic heat the two stars had in the movie circles down the drain. All his life Grant dodged or denied persistent rumors about his sexuality and thus a group of three unbelievably rare stamps affixed to a letter in Charade seem to me both a key to the plot and a kind of subliminal tell. Ruthless in its suppression of homosexuality, Hollywood never quite succeeded in erasing what had always been hidden in plain sight, obvious to anyone who bothered to look.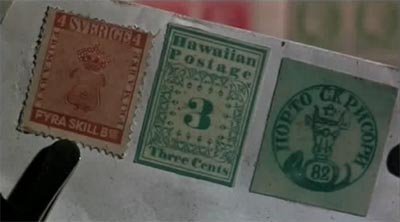 *
MOVIE OBJECTS: INTRODUCTION | Ramona Lyons on EYE OF THE SERPENT (CONAN THE BARBARIAN) | Faythe Levine on BEDKNOB (BEDKNOBS AND BROOMSTICKS) | Gerald Peary on CUP OF COFFEE (THE BIG HEAT) | Christopher Orr on TOM'S HAT (MILLER'S CROSSING) | Lynn Peril on TRANSISTOR RADIO (DR. STRANGELOVE) | Whitney Bowers on DUCT TAPE (NOW AND THEN) | Kio Stark on CANDLE (DEBBIE DOES DALLAS) | Tom Roston on CALCULATOR WATCH (BREAKFAST CLUB) | Miranda Mellis on LIMOUSINE (MELANCHOLIA) | Carolina A. Miranda on HAUNTED ACCORDION (THE WIND JOURNEYS) | Vanessa Berry on FIBREGLASS MARLIN (LOVE SERENADE) | June Thomas on CERAMIC DUCKS (A TASTE OF HONEY) | Madeline Ashby on LETTERS OF TRANSIT (CASABLANCA) | Dave Walker on ETTINAUER 226-XL (REAL LIFE) | Jonathan Lethem on SINGLE-JACK HAMMER (EARTH ABIDES) | Guy Trebay on STAMPS (CHARADE) | Annie Nocenti on PASSPORT (THE PASSENGER) | Tony Arcabascio on SHEEPSKIN COAT (BEAT STREET) | Alix Lambert on TYPEWRITER (MARY AND MAX) | John Sellers on WHITEBOARD (A QUIET PLACE) | Carlo Rotella on POWDERING CONE (REIGN OF TERROR) | Laura Miller on SEVERED EAR (BLUE VELVET) | Josh Glenn on CASSETTE TAPE (BREATHLESS) | Vicente Lozano on NOTEBOOK (WHERE IS THE FRIEND'S HOME?) | Jeff Malmberg on SPAGHETTI SAUCE (THE GODFATHER).
LOST OBJECTS (vol. 2): INTRODUCTION | Joe Yonan on MACRAMÉ ART (ill. Theo Ellsworth) | Ben Katchor on LUCITE CARRYING CASE | Debbie Millman on GLASS POODLE | Lydia Millet on ROCKY HORROR NOVEL (ill. Berta Valló) | Ben Greenman on WARHOL CAN (ill. Clara Selina Bach) | & 20 MORE.
FETISHES: INTRODUCTION | Josh Foer on DEATH MASK | Beth Lisick on MURDERED-OUT KFC BUCKET | Christina Couch on LEECH ACTION FIGURE | Kenneth Goldsmith on THEWLIS SOCK | Abby Rapoport on MAGNATILES | & 20 MORE.
FOSSILS: INTRODUCTION | Allegra Huston on SKATAWAY JACKET | Kevin Obsatz on HOMEMADE NUNCHUKS | Ian Bogost on DESKTOP TELEPHONE | Jeff Lewonczyk on CHA-CHA JACKET SCRAP | Kelly Horan on VOLVO KEY | & 20 MORE.
FLAIR: INTRODUCTION | Cliff Kuang on ROLEX DATEJUST | Ethan Zuckerman on LAPTOP STICKERS | Ann Shoket on LEATHER JACKET | Kembrew McLeod on KEMBREW MERCH | Paola Antonelli on MERMAID TEARS | & 20 MORE.
LOST OBJECTS (vol. 1): INTRODUCTION | Kate Bernheimer on MULLET WIG (ill. Amy Evans) | Dan Piepenbring on COLOGNE (ill. Josh Neufeld) | Doug Dorst on STRATOCASTER (ill. John Holbo) | Paul Lukas on VANILLA BEAN (ill. Allison Bamcat) | Mimi Lipson on DODGE DART (ill. Mister Reusch) | & 20 MORE.
ILLICIT OBJECTS: INTRODUCTION | Kio Stark on PEEPSHOW TOKEN | Sari Wilson on TOMBSTONE PARTS | Annalee Newitz on CAR-BOMB REMNANT | Tito Bottitta on MOONINITE DEVICE | Eric Bennett on DIRTY MAGAZINE | & 20 MORE.
TALISMANIC OBJECTS: INTRODUCTION | Veda Hille on CROCHET SHEEP | Gary Panter on DINOSAUR BONES | Jami Attenberg on SELENITE CRYSTAL | Annie Nocenti on MINIATURE DICE | Wayne Curtis on CLOCK WINDING KEY | & 20 MORE.
POLITICAL OBJECTS: INTRODUCTION | Luc Sante on CAMPAIGN PAMPHLETS | Lydia Millet on PVC POLAR BEAR | Ben Greenman on MATCHBOX CAR | Rob Baedeker on PRESIDENTS PLACEMAT | L.A. Kauffman on WHEATPASTE POSTER | & 20 MORE.
SIGNIFICANT OBJECTS at HILOBROW: PROJECT:OBJECT homepage | PROJECT:OBJECT newsletter | PROJECT:OBJECT objects (Threadless shop — all profits donated to the ACLU) | POLITICAL OBJECTS series (1Q2017) | TALISMANIC OBJECTS series (2Q2017) | ILLICIT OBJECTS series (3Q2017) | LOST OBJECTS vol. 1 series (4Q2017) | FLAIR series (2Q2018) | FOSSIL series (4Q2018) | FETISHES series (2Q2019) | LOST OBJECTS vol. 2 series (4Q2019) | MOVIE OBJECTS series (2Q2020). ALSO SEE: SIGNIFICANT OBJECTS website | SIGNIFICANT OBJECTS collection, ed. Rob Walker and Josh Glenn (Fantagraphics, 2012) | TAKING THINGS SERIOUSLY, ed. Josh Glenn (Princeton Architectural Press, 2007) | TAKING THINGS SERIOUSLY excerpts.