Eye Candy (30)
By: Peggy Nelson
April 14, 2020
Blanca Rego's experimental video diary of lockdown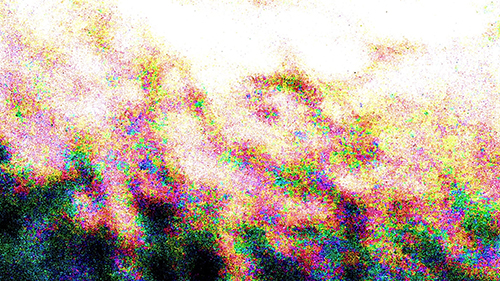 Staring at the walls? How about leaning in to that? Eye Candy has been following the work of Blanca Rego, who goes by _blank (@null66913 on Twitter), for some time. The moniker is no accident—as any web designer knows, target="_blank" in the HTML tells the browser to open up a new window.
Stuck inside during the coronavirus lockdown, Rego has opened up new windows by pointing her camera right at the walls. Combined with appropriately diagetic sounds from that same room, these saturated and lovely pieces show how much may be hidden by our usual cursory interactions, and how much might be revealed from a careful, considered look. Rego has been posting 1-minute videos created each day since April 1; these are intended to be assembled into a longer piece at some future point in our new "new normal." Rego has allowed Eye Candy a peek into the process:
Lockdown: April 1 from _blank on Vimeo.
Rego is a multi-hyphenate artist, whose interests encompass film, sound, noise, glitch, and all types of digital experimentation, as well as writing, research and translation. Her work spans the continuum from the beautiful to the conceptually rigorous, and teases those two sometime-extremes into compelling and complex harmonies.
Hamlet famously remarked that he could be "…bounded in a nutshell and count himself a king of infinite space, were it not that he had bad dreams." Yet Rego's dreams of infinite space from her nutshell are very, very good indeed. Enjoy these selections from Lockdown in progress. And follow @null66913 on Twitter for new work as it happens.
Lockdown: April 2 from _blank on Vimeo.
Lockdown: April 3 from _blank on Vimeo.
Lockdown: April 5 from _blank on Vimeo.
Lockdown: April 7 from _blank on Vimeo.
Lockdown: April 09 from _blank on Vimeo.
Lockdown: April 13 from _blank on Vimeo.
View the full set of Lockdown videos, and see new ones as they're created, on the Lockdown showcase site.
***
Blanca Rego, aka _blank: website, Twitter