Diamond Age 75 (49)
By: Joshua Glenn
February 16, 2020
One in a series of posts about the 75 best science fiction novels published during the genre's Diamond Age era (from 1984–2003, according to HILOBROW's periodization schema). For Josh Glenn's complete Diamond Age Sci-Fi 75 list, click here.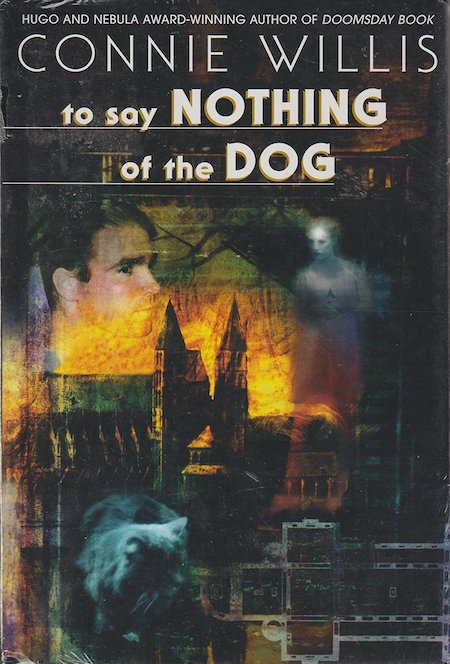 Connie Willis's Time Travel story To Say Nothing of the Dog (1997).
Willis's first Oxford Time Travel adventure, the Hugo- and Nebula-awarded Doomsday Book (1992), was a kind of voyage into the Domesday Book of 1086. The sequel takes temporal historian Ned Henry, employee of Oxford's Temporal Physics department (c. 2057), to 1888 — into the world of Three Men in a Boat (To Say Nothing of the Dog), Jerome K. Jerome's 1889 whimsical, semi-autobiographical account of a two-week boating holiday along the Thames from Kingston upon Thames to Oxford and back again. Ned will take his own ill-fated voyage on the Thames, in the company of two companions and a dog; along the way, they will encounter the Three Men in a Boat characters. This charming mise en scène is the setting for a mystery: What time traveler has violated "the laws of the continuum" by bringing an object back from 1888 to 2057? (Such violations can cause time itself to unravel.) And what does this have to do with Ned's primary assignment: to ascertain what became of "the bishop's bird stump" when Coventry Cathedral was bombed by the Germans during World War II? Our protagonist's unfamiliarity with the 19th century, as well as the "time lag" from which he suffers, make things even more complicated than they otherwise might have been. Ned's colleague, Verity Kindle, attempts to help him fix the time travel incongruity…. Too late?
Fun facts: To Say Nothing of the Dog was followed by the two-part Time Travel series installment Blackout/All Clear (2010). All four of her Time Travel books were awarded a Hugo; Blackout/All Clear was also awarded a Nebula. In fact, Willis has won more major science fiction awards than any other writer.
***
DIAMOND AGE SCI-FI at HILOBROW: William Gibson | Bruce Sterling | Margaret Atwood | Ann Nocenti | Frank Miller | Alan Moore | Octavia E. Butler | Iain M. Banks | Grant Morrison | Neal Stephenson | Jonathan Lethem | Charles Burns | China Miéville.
JOSH GLENN'S *BEST ADVENTURES* LISTS: BEST 250 ADVENTURES OF THE 20TH CENTURY | 100 BEST OUGHTS ADVENTURES | 100 BEST RADIUM AGE (PROTO-)SCI-FI ADVENTURES | 100 BEST TEENS ADVENTURES | 100 BEST TWENTIES ADVENTURES | 100 BEST THIRTIES ADVENTURES | 75 BEST GOLDEN AGE SCI-FI ADVENTURES | 100 BEST FORTIES ADVENTURES | 100 BEST FIFTIES ADVENTURES | 100 BEST SIXTIES ADVENTURES | 75 BEST NEW WAVE SCI FI ADVENTURES | 100 BEST SEVENTIES ADVENTURES | 100 BEST EIGHTIES ADVENTURES | 75 BEST DIAMOND AGE SCI-FI ADVENTURES | 100 BEST NINETIES ADVENTURES (in progress) | 1994 | 1995 | 1996 | 1997 | 1998 | 1999 | 2000 | 2001 | 2002 | 2003 | NOTES ON 21st-CENTURY ADVENTURES.