CARBONA YOUR ENTHUSIASM (11)
By: Stephanie Burt
August 11, 2020
One in a series of 25 enthusiastic posts, contributed by 25 HILOBROW friends and regulars, on the topic of our favorite punk songs, c. 1974–1983.
*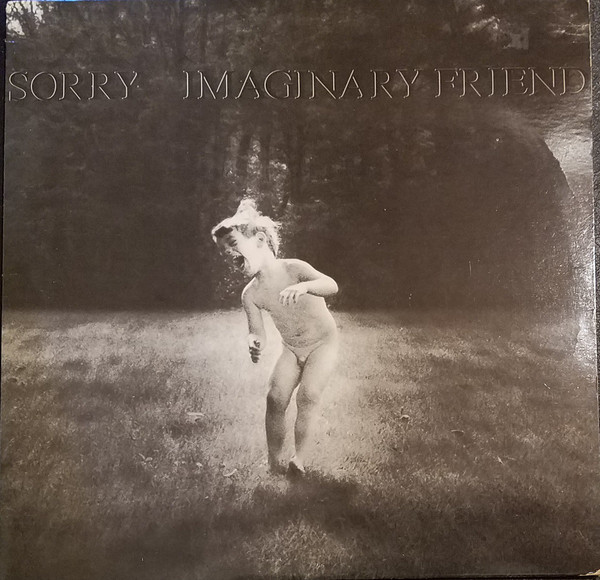 "IMAGINARY FRIEND" | SORRY | 1984
Some acts find the fans they deserve; others don't. Some people find friends they need; others don't. Some fit neatly into social and aesthetic categories; others are always, no matter how hard they work, on the outside. That hard work, and the bitterness that ensues, and the uneasy, inward-turning energy that comes of feeling like the outsider's outsider, too much for one crew and not enough for another, blaming yourself for what others can't do, might strike you as alien to punk and hardcore, rock genres that direct their anger outward, to society's manifest faults. You might think that self-reproach isn't a punk rock emotion: you might think that hugging your worst aspects close, escaping into unstable fantasies that someone who doesn't exist might someday like you, would not fit a punk, or a hardcore, song.
If that's what you think you haven't heard Sorry. Tied to the loud (and overwhelmingly male) Boston postpunk scene that launched Mission of Burma, Sorry were captained by the charismatic, throaty vocalist Jon Easley, whose habit of constant apologies apparently provided the name for the band. Easley's biracial (black and white) heritage provided topics for songwriting ("Don't Assume"). Like Chuck Hahn (bass) and Dave Kleiler (guitar), he had yet to graduate from Brookline High. Manager Patrick Amory (who ran the rock department at Harvard's radio station) and friend of the band Gerard Cosloy provided connections, publicity, gigs. The instability that follows high school life broke the band up after two albums: Imaginary Friend, on the otherwise forgotten Radiobeat Records, and The Way It Is, on Cosloy's label Homestead. Cosloy, and Amory, went on to run Matador Records; Kleiler and Hahn joined the wonderful Volcano Suns. Easley's deep voice and high energy anchored the NYC indie band Crown Heights: he died in 1998, just after that band's only album came out, far too soon to hear his singing echoed in the Hold Steady's Craig Finn.
But when Sorry recorded the title track for Imaginary Friend, all that was far in the future: too far to contemplate, especially if you're not yet 18, and you feel like the only person who gets you isn't real. "This song is about a friend of mine, named Wilson," Easley's spoken word intro begins. "I made Wilson up one day when I was feeling all alone." He's mocking himself. He's inviting us to mock him too. The track sounds live, whether or not it is, and it's a bit of a shock to remember that Sorry were playing out two decades before Tom Hanks made another friend out of a volleyball, two years before Rites of Spring made crying at punk shows cool. "He's my imaginary friend, he's my friend and not yours — he'll never let me, down, down, down, down," the chorus unspools, as Kleiler and Hahn fall apart and come together, wringing not-quite-punk, not-quite-blues dissonance out of their instruments, as if a tonic chord would never arrive.
I've read that Easley looked up to the Calpunk band Flipper, whose moan-and-groan peeled paint off a thousand dorm-room walls. But Flipper seemed to do it for the lulz (as we say now). Sorry were personal: they meant it, never more so than on this tangled-up tour de force. "Imaginary Friend" stops and starts, leaving room to spit and complain, as if it led into conventional 4/4 frenzy. Maybe, at live shows, it did. But the song as recorded just writhes till it stops, as Easley and company act out their frustrated isolation: surrounded by bandmates, by a whole hardcore scene, they can still feel alone.
***
CARBONA YOUR ENTHUSIASM (2020): Series introduction by Josh Glenn | Mimi Lipson on Flipper's "Sex Bomb" | James Parker on The Jam's "Going Underground" | Dan Fox on The Cramps' "Human Fly" | Adrienne Crew on Bad Brains' "I and I Survive" | Devin McKinney on Romeo Void's "Never Say Never" | Deb Chachra on The Buzzcocks' "Ever Fallen in Love" | Mark Kingwell on The Demics' "New York City" | Jessamyn West on Dead Kennedys' "Kill the Poor" | Douglas Wolk on The Homosexuals' "Soft South Africans" | Josh Glenn on The Freeze's "This is Boston, Not L.A." | Stephanie Burt on Sorry's "Imaginary Friend" | Luc Sante on Public Image Ltd.'s "Public Image" | Miranda Mellis on X-Ray Spex's "Oh Bondage! Up Yours!" | Adam McGovern on The Clash's "Washington Bullets" | Mandy Keifetz on Germs' "Forming" | Gordon Dahlquist on The Sex Pistols' "Problems" | Anthony Miller on The Soft Boys' "I Wanna Destroy You" | Deborah Wassertzug on The Mekons' "Where Were You?" | Tor Aarestad on Gang of Four's "Return the Gift" | Marc Weidenbaum on The Pop Rivets' "Dream of '63" | David Smay on The Rezillos' "(My Baby Does) Good Sculptures" | Vanessa Berry on The Cure's "So What" | Chelsey Johnson on The Slits' "Typical Girls" | Lynn Peril on Crass's "Smother Love" | Mike Watt on The Dils' "You're Not Blank".
MORE ENTHUSIASM at HILOBROW
NERD YOUR ENTHUSIASM (4Q2021): NERDING | ARDUIN | KLINGON CONFIDENTIAL | MAP INSERTS | TIME | & 20 other nerdy passions. SWERVE YOUR ENTHUSIASM (3Q2021): WARHOL'S WALT WHITMAN | 70, GIRLS, 70 | TYRAEL'S MIGHT | SHIRATO SANPEI | THE LEON SUITES | & 20 other never-realized cultural productions. FIVE-O YOUR ENTHUSIASM (2Q2021): DARK SHADOWS | MANNIX | GET SMART | THE ADDAMS FAMILY | I DREAM OF JEANNIE | & 20 other Sixties (1964–1973) TV shows. FERB YOUR ENTHUSIASM (1Q2021): STEVEN UNIVERSE | TOP CAT | REN & STIMPY | SHE-RA AND THE PRINCESSES OF POWER | DRAGON BALL Z | & 20 other animated series. CARBONA YOUR ENTHUSIASM (2020): "Sex Bomb" | "Going Underground" | "Soft South Africans" | "Typical Girls" | "Human Fly" | & 20 other Seventies (1974–1983) punk singles. KLAATU YOU (2020 weekly): ZARDOZ | METROPOLIS | DARK STAR | SINS OF THE FLESHAPOIDS | SOLARIS | & dozens of other pre-STAR WARS sci-fi movies. CONVOY YOUR ENTHUSIASM (2019): THE TAKING OF PELHAM ONE TWO THREE | ROLLERBALL | BLACK SUNDAY | SORCERER | STRAIGHT TIME | & 20 other Seventies (1974–1983) action movies. SERIOCOMIC (2019 weekly): LITTLE LULU | VIZ | MARSUPILAMI | ERNIE POOK'S COMEEK | HELLBOY | & dozens of other comics. TUBE YOUR ENTHUSIASM (2018): LOONEY TUNES | THREE STOOGES | THE AVENGERS | ROCKY & BULLWINKLE | THE TWILIGHT ZONE | & 20 other Fifties (1954–1963) TV shows. WOWEE ZOWEE (2018 weekly): UNISEX | UNDER THE PINK | DUMMY | AMOR PROHIBIDO | HIPS AND MAKERS | & dozens of other Nineties (1994–2003) albums. KLUTE YOUR ENTHUSIASM (2017): THE KILLERS | BANDE À PART (BAND OF OUTSIDERS) | ALPHAVILLE | HARPER | BLOW-UP | & 20 other Sixties (1964–1973) neo-noir movies. #SQUADGOALS (2017 weekly): THE WILD BUNCH | BOWIE'S BAND | THE BLOOMSBURY GROUP | THE HONG KONG CAVALIERS | VI ÄR BÄST! & dozens of other squads. GROK MY ENTHUSIASM (2016 weekly): THE THEORY AND PRACTICE OF LUNCH | WEEKEND | MILLION YEAR PICNIC | LA BARONNE EMILE D'ERLANGER | THE SURVIVAL SAMPLER | & dozens more one-off enthusiasms. QUIRK YOUR ENTHUSIASM (2016): "Tainted Love" | "Metal" | "Frankie Teardrop" | "Savoir Faire" | "Broken English" | & 20 other Seventies (1974–1983) new wave singles. CROM YOUR ENTHUSIASM (2015): DARKER THAN YOU THINK | THE SWORD IN THE STONE | OUT OF THE SILENT PLANET | THIEVES' HOUSE | QUEEN OF THE BLACK COAST | & 20 other Thirties (1934–1943) fantasy novels. KERN YOUR ENTHUSIASM (2014): ALDINE ITALIC | DATA 70 | TORONTO SUBWAY | JOHNSTON'S "HAMLET" | TODD KLONE | & 20 other typefaces. HERC YOUR ENTHUSIASM (2013): "Spoonin' Rap" | "Rapper's Delight" | "Rappin' Blow" | "The Incredible Fulk" | "The Adventures of Super Rhyme" | & 20 other Seventies (1974–1983) hip-hop songs. KIRK YOUR ENTHUSIASM (2012): Justice or vengeance? | Kirk teaches his drill thrall to kiss | "KHAAAAAN!" | "No kill I" | Kirk browbeats NOMAD | & 20 other Captain Kirk scenes. KIRB YOUR ENTHUSIASM (2011): THE ETERNALS | BLACK MAGIC | DEMON | OMAC | CAPTAIN AMERICA | & 20 other Jack Kirby panels.