Diamond Age 75 (61)
By: Joshua Glenn
May 12, 2020
One in a series of posts about the 75 best science fiction novels published during the genre's Diamond Age era (from 1984–2003, according to HILOBROW's periodization schema). For Josh Glenn's complete Diamond Age Sci-Fi 75 list, click here.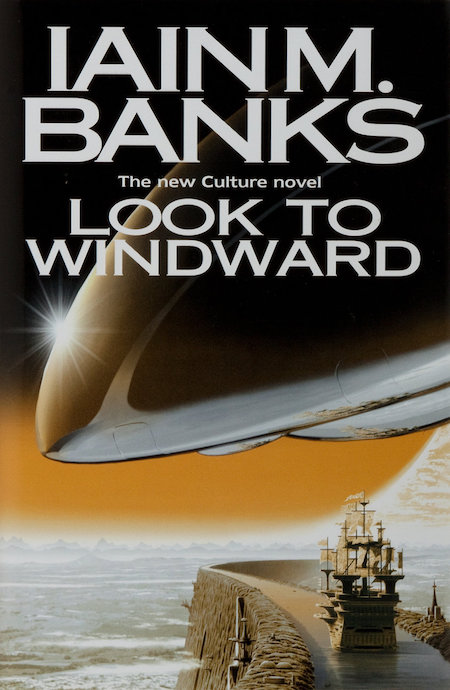 Iain M. Banks's Culture adventure Look to Windward (2000).
The sixth Culture novel is loosely a sequel to the first, Consider Phlebas (1987); and it's a perfectly good place to start reading the series. Like Excession (1996), it focuses on one of the AIs (or "Minds") who create, guide, and protect the Culture's privileged, long-lived, thrill-seeking human population. The Mind in question here is the "hub" of the Culture orbital Masaq'; as we tour the manmade ring-planet, we get a sense of what makes this Mind tick. Like all of Banks's Culture novels, we're also forced to question whether this utopian galactic society is justified in its efforts to influence non-Culture worlds. Our protagonist, Quilan, is a Chelgrian — a race of evolved tigers — whose wife and family were killed in a bloody civil war sparked by the Culture's well-intentioned meddling. He's traveled to Masaq' in order to persuade a celebrated Chelgrian composer and political refugee to return home. He's possessed, however, by the personality of a deceased Chelgrian general; and his true mission is something much more sinister. The ending is thrilling, and extremely saddening too.
Fun facts: The title is a nautical phrase meaning "keep an eye out for enemies," who would approach from windward — because the vessel situated in the direction from which the wind is blowing enjoys a tactical advantage. Banks borrows the phrase from a line, about Phlebas the Phoenician, who has died by drowning, in T. S. Eliot's "The Waste Land."
***
DIAMOND AGE SCI-FI at HILOBROW: William Gibson | Bruce Sterling | Margaret Atwood | Ann Nocenti | Frank Miller | Alan Moore | Octavia E. Butler | Iain M. Banks | Grant Morrison | Neal Stephenson | Jonathan Lethem | Charles Burns | China Miéville.
JOSH GLENN'S *BEST ADVENTURES* LISTS: BEST 250 ADVENTURES OF THE 20TH CENTURY | 100 BEST OUGHTS ADVENTURES | 100 BEST RADIUM AGE (PROTO-)SCI-FI ADVENTURES | 100 BEST TEENS ADVENTURES | 100 BEST TWENTIES ADVENTURES | 100 BEST THIRTIES ADVENTURES | 75 BEST GOLDEN AGE SCI-FI ADVENTURES | 100 BEST FORTIES ADVENTURES | 100 BEST FIFTIES ADVENTURES | 100 BEST SIXTIES ADVENTURES | 75 BEST NEW WAVE SCI FI ADVENTURES | 100 BEST SEVENTIES ADVENTURES | 100 BEST EIGHTIES ADVENTURES | 75 BEST DIAMOND AGE SCI-FI ADVENTURES | 100 BEST NINETIES ADVENTURES (in progress) | 1994 | 1995 | 1996 | 1997 | 1998 | 1999 | 2000 | 2001 | 2002 | 2003 | NOTES ON 21st-CENTURY ADVENTURES.