Diamond Age 75 (55)
By: Joshua Glenn
March 29, 2020
One in a series of posts about the 75 best science fiction novels published during the genre's Diamond Age era (from 1984–2003, according to HILOBROW's periodization schema). For Josh Glenn's complete Diamond Age Sci-Fi 75 list, click here.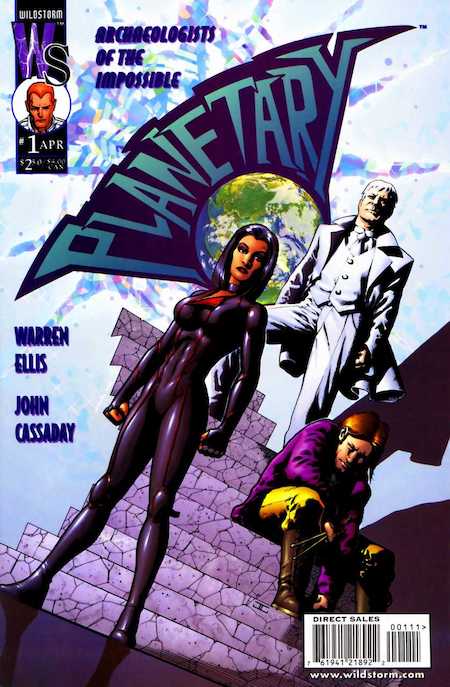 Warren Ellis and John Cassaday's Planetary (1998/1999–2009).
Scant months before DC's America's Best Comics imprint began publishing Alan Moore and Kevin O'Neill's The League of Extraordinary Gentlemen series, a metatexual romp through 19th- and 20th-century British sci-fi and fantasy literature, DC's Wildstorm imprint launched Planetary, a metatexual romp through… the history of DC and Marvel comics. The Planetary field team — super-strong Jakita Wagner, ice-powered Elijah Snow, and the machine-controlling Drummer — are a far less wholesome version of DC's Challengers of the Unknown; their archaeological mission, funded by a mysterious backer, is to uncover the hidden history of the world. In issue #1, they explore a man-made cavern created by "Doc Brass," an adventurer from the 1930s—40s. Turns out that Brass and his companions, who resemble, e.g., Tarzan and The Shadow, had opened a dimensional portal, admitting a Justice League-like group of superhuman invaders. Add that's just the beginning of this saga, which sends the team around the globe (and into other dimensions), while slowly revealing details about their mysterious pasts. Eventually, the group begins to clash with the Four — a Fantastic Four-like group seeking to use the world's strangeness to fuel their own ends. Cassaday's art is cinematic, breathtaking in scope and detail.
Fun facts: Initially intended to run for two years, after an initial preview issue (#0) in September 1998, the series ran for 27 issues from April 1999 to October 2009. Ten years is a long time to wait, but in the end it was well worth it.
***
DIAMOND AGE SCI-FI at HILOBROW: William Gibson | Bruce Sterling | Margaret Atwood | Ann Nocenti | Frank Miller | Alan Moore | Octavia E. Butler | Iain M. Banks | Grant Morrison | Neal Stephenson | Jonathan Lethem | Charles Burns | China Miéville.
JOSH GLENN'S *BEST ADVENTURES* LISTS: BEST 250 ADVENTURES OF THE 20TH CENTURY | 100 BEST OUGHTS ADVENTURES | 100 BEST RADIUM AGE (PROTO-)SCI-FI ADVENTURES | 100 BEST TEENS ADVENTURES | 100 BEST TWENTIES ADVENTURES | 100 BEST THIRTIES ADVENTURES | 75 BEST GOLDEN AGE SCI-FI ADVENTURES | 100 BEST FORTIES ADVENTURES | 100 BEST FIFTIES ADVENTURES | 100 BEST SIXTIES ADVENTURES | 75 BEST NEW WAVE SCI FI ADVENTURES | 100 BEST SEVENTIES ADVENTURES | 100 BEST EIGHTIES ADVENTURES | 75 BEST DIAMOND AGE SCI-FI ADVENTURES | 100 BEST NINETIES ADVENTURES (in progress) | 1994 | 1995 | 1996 | 1997 | 1998 | 1999 | 2000 | 2001 | 2002 | 2003 | NOTES ON 21st-CENTURY ADVENTURES.