POST-MICKEY MICE (6)
By: Joshua Glenn
July 30, 2023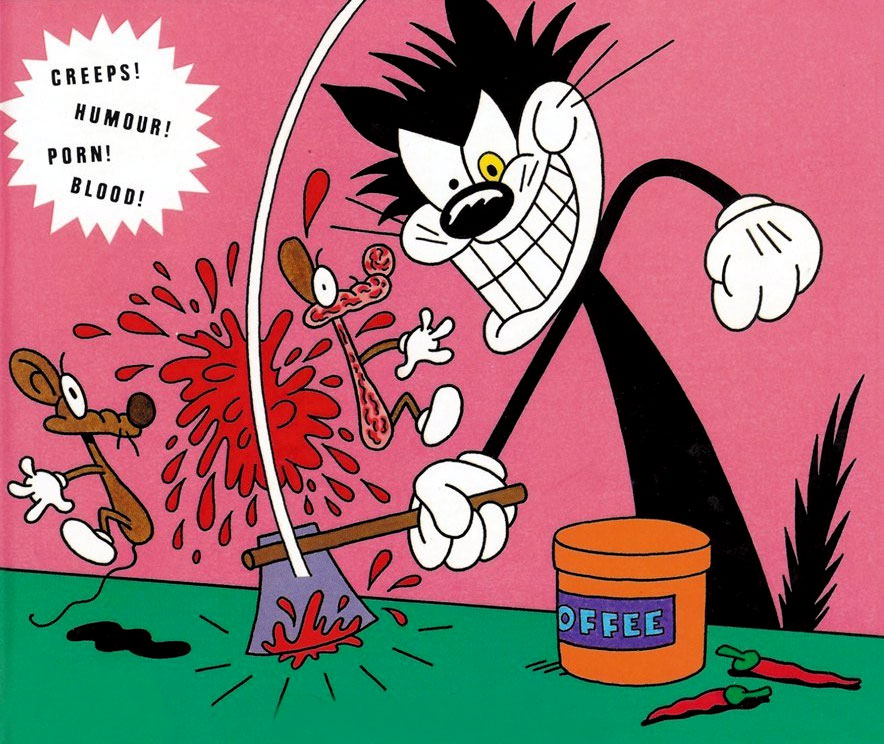 An episode of MOUSE, a multi-part installment in the ongoing BESTIARY series.
---
MOUSE
---
During 2021–2022, I contributed three BESTIARY series installments, for each of which I conducted research into and offered a top-line analysis of 20th-century pop-culture depictions of a charismatic creature: OWL | BEAVER | FROG. I first developed this approach for an earlier series, TAKING THE MICKEY, which analyzes Mickey Mouse's evolving significance. Via this new BESTIARY installment, I'll "read" Mickey within the context of his fellow pop-culture mice.
This multipart BESTIARY series installment, collectively titled MOUSE, is divided up as follows: MOUSE (INTRO) | PRE-MICKEY MICE (1904–1913) | PRE-MICKEY MICE (1914–1923) | PRE-& POST-MICKEY MICE (1924–1933) | POST-MICKEY MICE (1934–1943) | POST-MICKEY MICE (1944–1953) | POST-MICKEY MICE (1954–1963) | POST-MICKEY MICE (1964–1973) | POST-MICKEY MICE (1974–1983) | POST-MICKEY MICE (1984–1993) | POST-MICKEY MICE (1994–2003).
---
POST-MICKEY MICE
(1984–1993)
---
According to HILOBROW's periodization scheme, the cultural era known as the nineteen-eighties begins c. 1984 and ends c. 1993. During this period, let's see how the mice tropes — surfaced via this audit, and dimensionalized in the series' introduction — shake out via pop culture.
From c. 1984–on, when it comes to deploying MM as a sign or symbol, anything goes. During the past three-plus decades, artists have felt free to reboot aspects of MM's original aspects (minstrel, trickster, plucky survivor), and to express admiration and affection for MM, safe in the knowledge that audiences will understand that there is some level of irony involved. They've also rebooted aspects of the various MM parodies (stoner Mickey, capitalist Mickey etc.), minus the heavy-handed, strident political angst that flattens out parodies and renders them unfunny.
ABJECT OTHER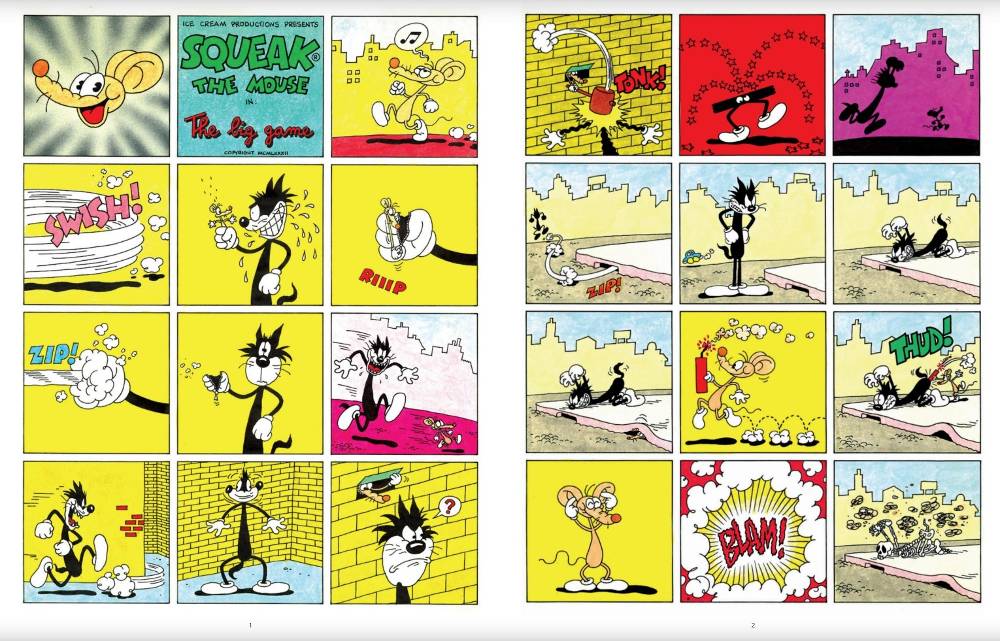 Massimo Mattioli's Italian comic Squeak the Mouse was first published in the underground comics magazine Frigidaire beginning in 1982. The first batch of stories, written from the perspective of the cat, were collected in an eponymous volume in 1984. This Tom & Jerry parody involved obscenity, explicit and orgiastic sex acts, gore, and meta-humor. The second volume of stories, in 1992, was written from the perspective of Squeak. Said to be an influence on Matt Groening's Itchy & Scratchy Show.
*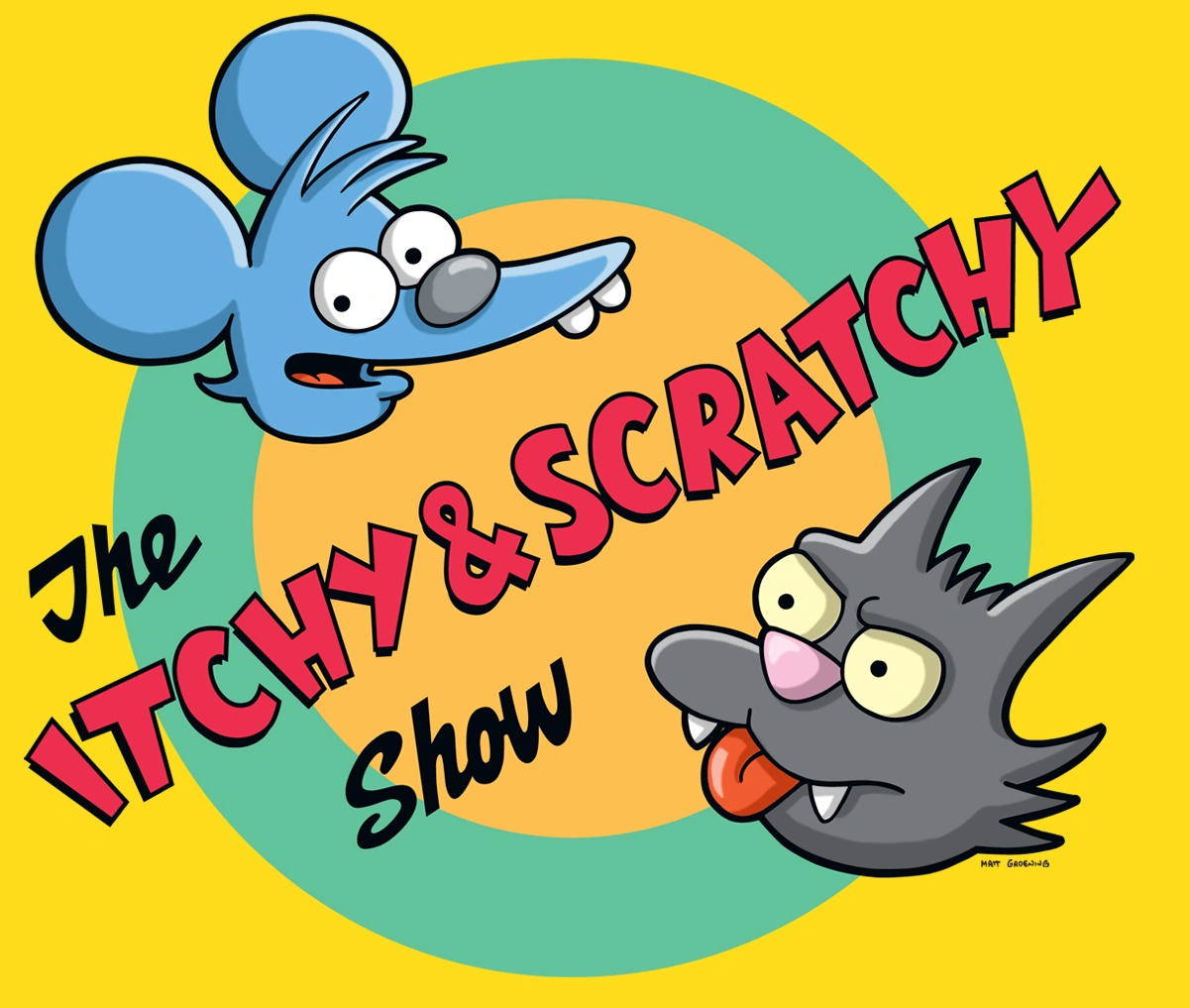 The Itchy & Scratchy Show, a violent parody of cat & mouse cartoons from the midcentury, first appeared in The Tracey Ullman Show short The Bart Simpson Show, which aired November 20, 1988. (Itchy & Scratchy were the first major recurring characters outside of the Simpson family to appear.) As a child, one hears, series creator Matt Groening and his friends would fantasize about an ultra-violent cartoon and how much fun it would be to work on a show like that. The names "Itchy" and "Scratchy" were inspired by Pixie and Dixie, which was a segment on the cartoon show The Huckleberry Hound Show. The 1982–on comic strip Squeak the Mouse is also considered an inspiration for the characters.
*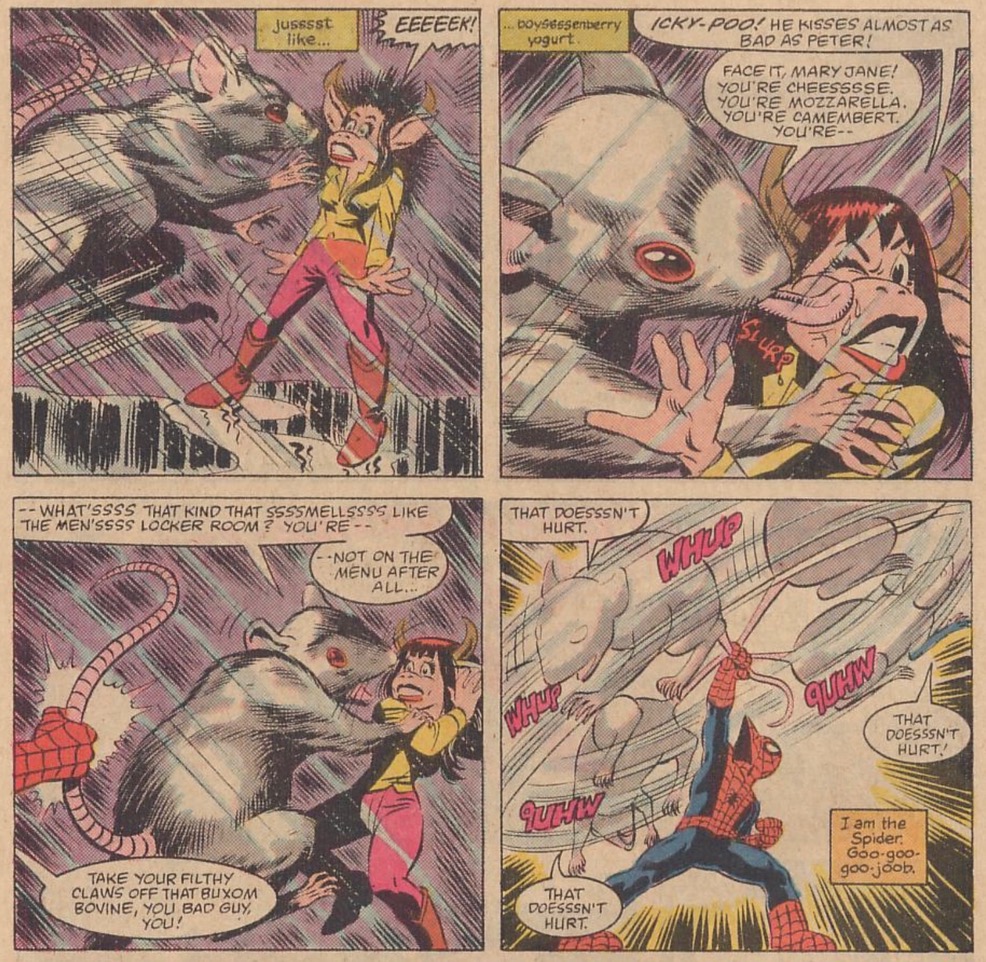 One of the only "Eek! A Mouse!" examples you'll find in this era.
*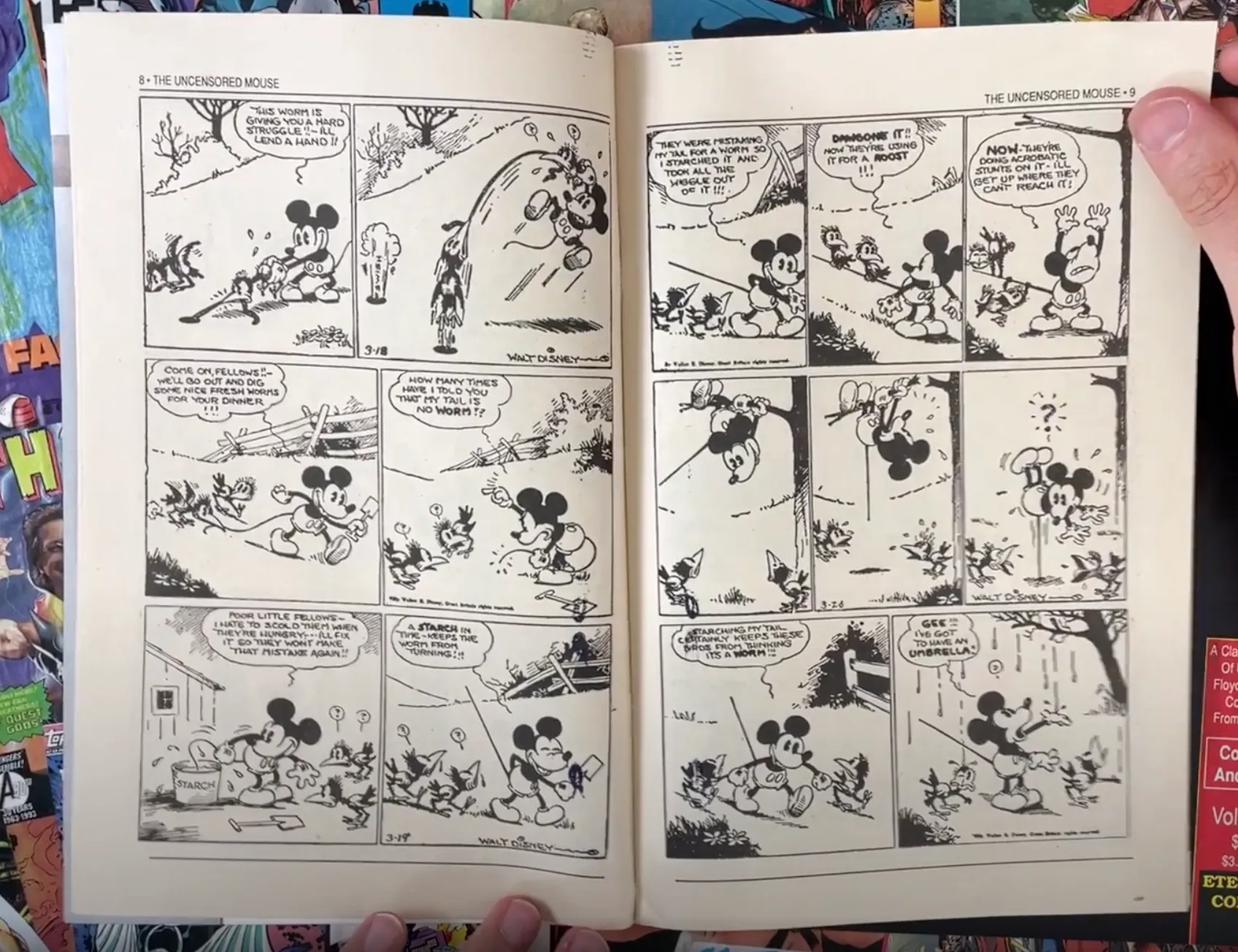 The Uncensored Mouse was a 1989 comic book series published by Malibu Graphics' Eternity Comics line. The series reprinted Mickey Mouse comic strip stories from 1930, including the first two sequences, "Lost on a Desert Island" and "Mickey Mouse in Death Valley." This was content that the Walt Disney Company no longer wanted to associate with Mickey Mouse. "Lost on a Desert Island" contains stereotyped portrayals of Africans, while "Mickey Mouse in Death Valley" includes gunplay and kidnapping, as well as a blackface gag in which Mickey appears with wide eyes and big lips, crying "Minnie!" in the style of Al Jolson's famous performance of "My Mammy."
Disney brought an action against Malibu, claiming that the comic infringed on their copyrights. The complete run of the strip was eventually published in the Walt Disney's Mickey Mouse collection published by Fantagraphics Books. The first volume, 2011's Race to Death Valley, reprinted both the "Desert Island" and "Death Valley" sequences, although the first story was printed in an "archival feature" section in the back of the book, with an explanation of the historical context for the African stereotypes.
*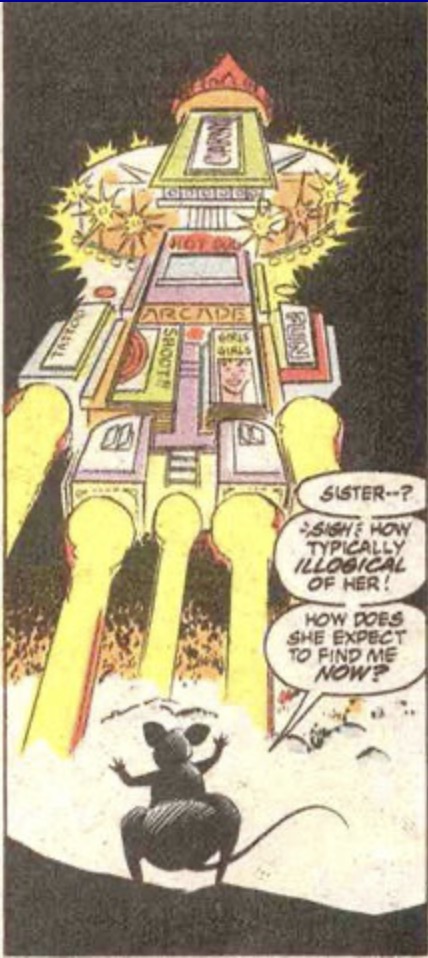 *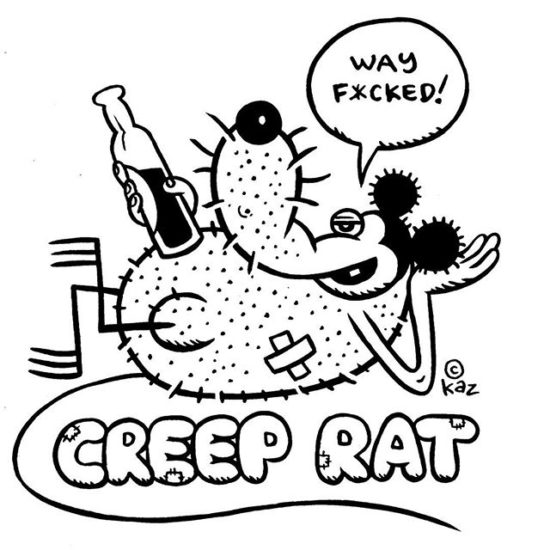 Beginning in 1992, Kaz Prapuolenis, another of my favorite cartoonists from RAW and Weirdo in the Eighties, gave us the character Creep Rat — the murderous, drug-addicted co-star of Underworld. Creep Rat is a descendant not so much of MM, but of Fifties and Sixties-era MM parodies like Ed "Big Daddy" Roth's Rat Fink and Robert Armstrong's Mickey Rat.
However, unlike these unpleasant freaks, in a perverse way Creep Rat is actually kinda loveable. Like the earliest MM, in other words, he is a resilient, sassy, funny trickster, survivor, criminal and cad; we root for him, despite his debauched way of life and utter lack of social graces.
REBELLIOUS SCAMP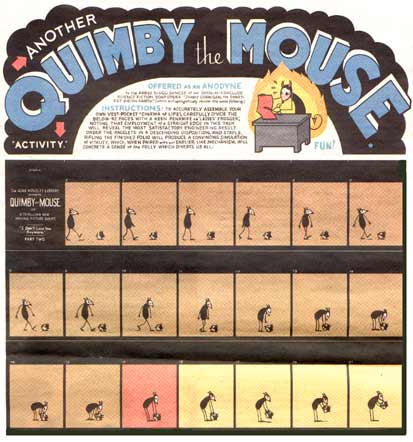 Genius cartoonist Chris Ware created an early version of his Quimby the Mouse character while attending the University of Texas at Austin from 1990-1991. I'm going to include Quimby in the REBELLIOUS SCAMP section because Ware is one of the most formally inventive cartoonists working today.
He experimented with "cartoon faces created more or less by drawing Mickey Mouse without ears," Ware has recalled, and created a "strip about a lone pale character lost in a landscape of nostalgia." However, members of the Black Student Alliance found Ware's earless mouse character, who looked liked a minstrel, racist; the strip was pulled from The Daily Texan.
For his debut in the great comics anthology Raw ("High Culture for Lowbrows"), edited by Art Spiegelman and Françoise Mouly and published from 1980 to 1991, Ware resuscitated his Mickey-ish mouse for an avant-garde strip called "I Guess" — which is where we first meet Quimby.
INTREPID ADVENTURER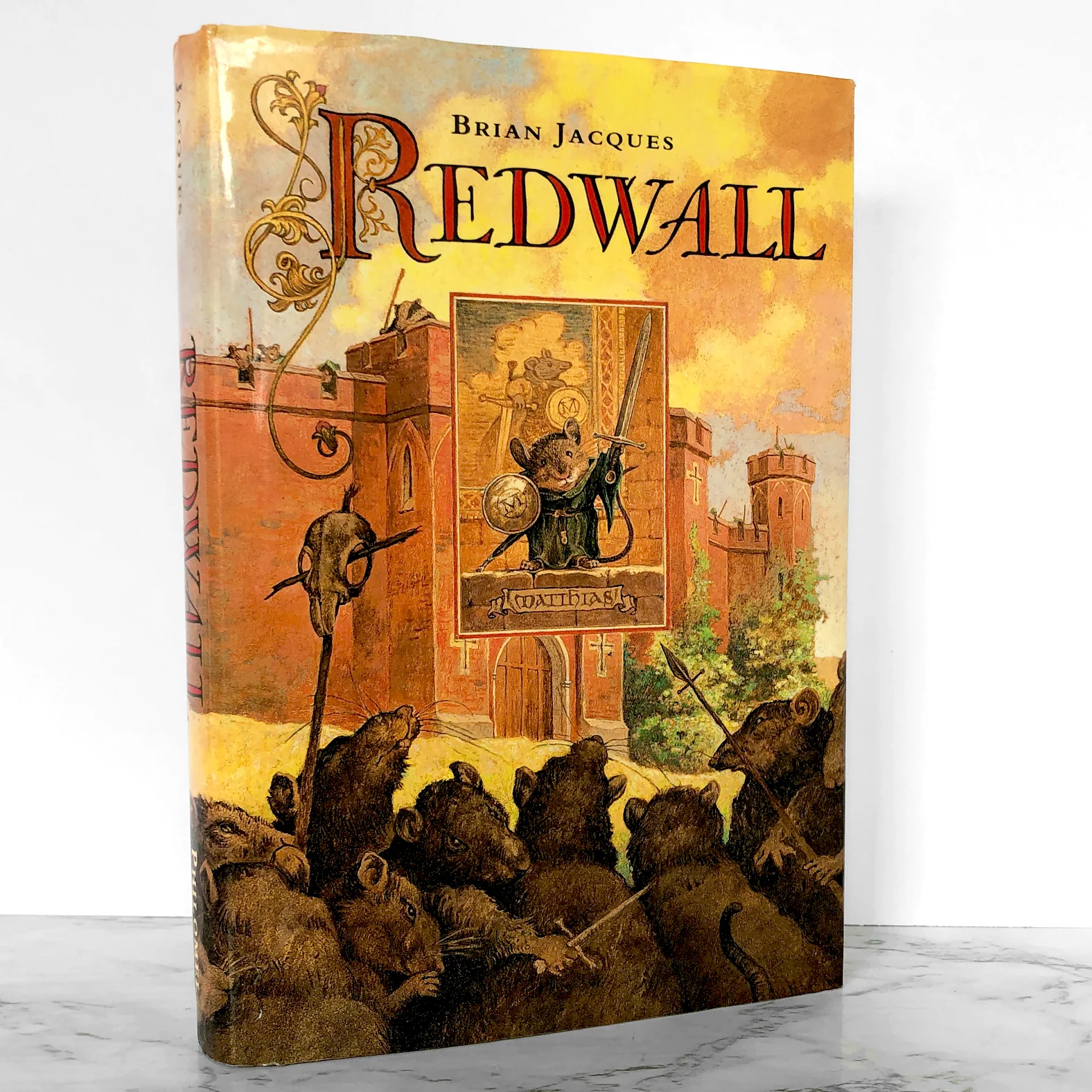 Redwall is a fantasy novel by Brian Jacques. Originally published in 1986, it is the first book of the Redwall series. Illustrated by Gary Chal.
A young anthropomorphic mouse named Matthias is a novice monk at Redwall Abbey, where he was adopted as a young orphan, though he dreams of a life of adventure, inspired by the legends of Martin the Warrior, the founder of Redwall. One summer, Redwall Abbey is surrounded by the army of Cluny the Scourge, an infamously evil one-eyed rat. Matthias is guided by visions of Martin the Warrior, while the abbey inhabitants prepare the defense of their home against Cluny's impending attack.
This is one of the three Redwall novels to be made into an animated television series, which my kids enjoyed very much.
*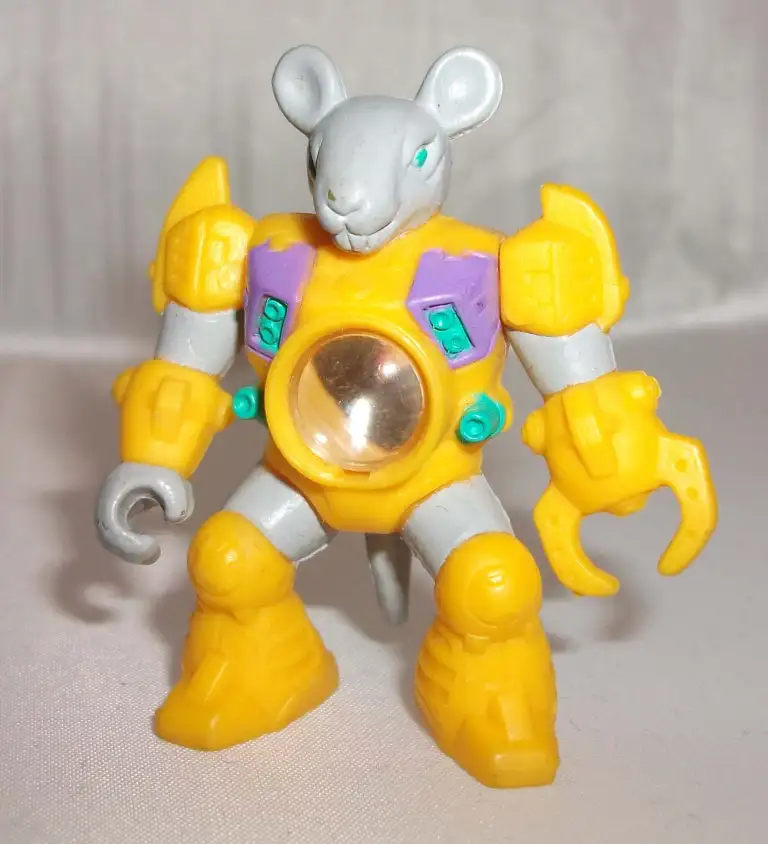 A Beastformers / Battle Beasts action figure known, for some reason, as Brain Mouse. Circa 1987. The Beastformers, from Hasbro/Takara were supposed to be a race of alien anthropomorphic animals from the planet Beast, whose struggles intersect with those of the Transformers.
Beastformers got their big push with a backdoor pilot episode early in the 1987 Headmasters cartoon, "Rebellion on Planet Beast."
*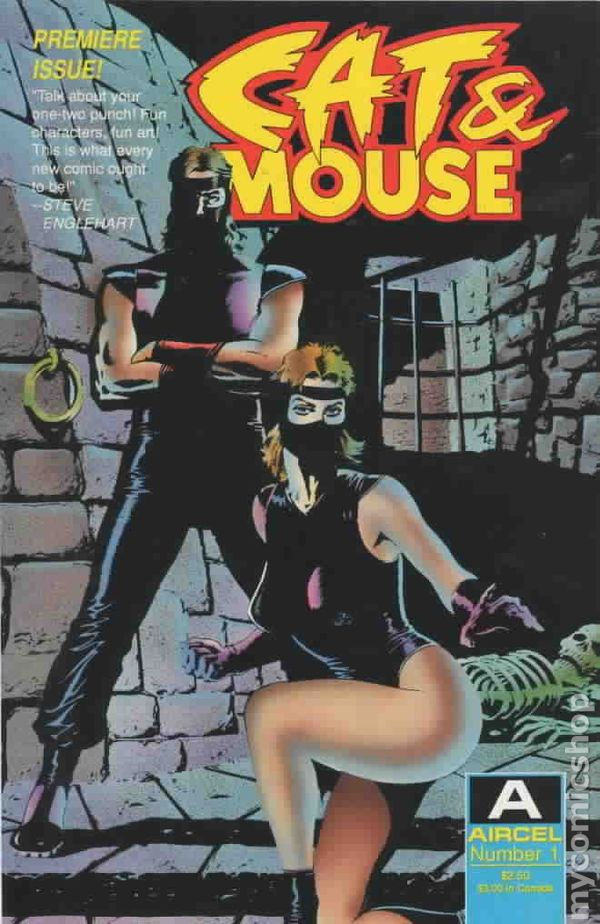 Cat & Mouse comics (#1 appeared in March 1990), about a vigilante superhero due, were produced originally by Silverline comics, an independent comic publisher directed by Roland Mann. Roland Mann wrote the first issue, which was penculled by Mitch Byrd and inked by Steven Butler. The Cat and Mouse original series concluded in issue 18 with the titular characters retiring from vigilantism and having changed their physical appareance.
*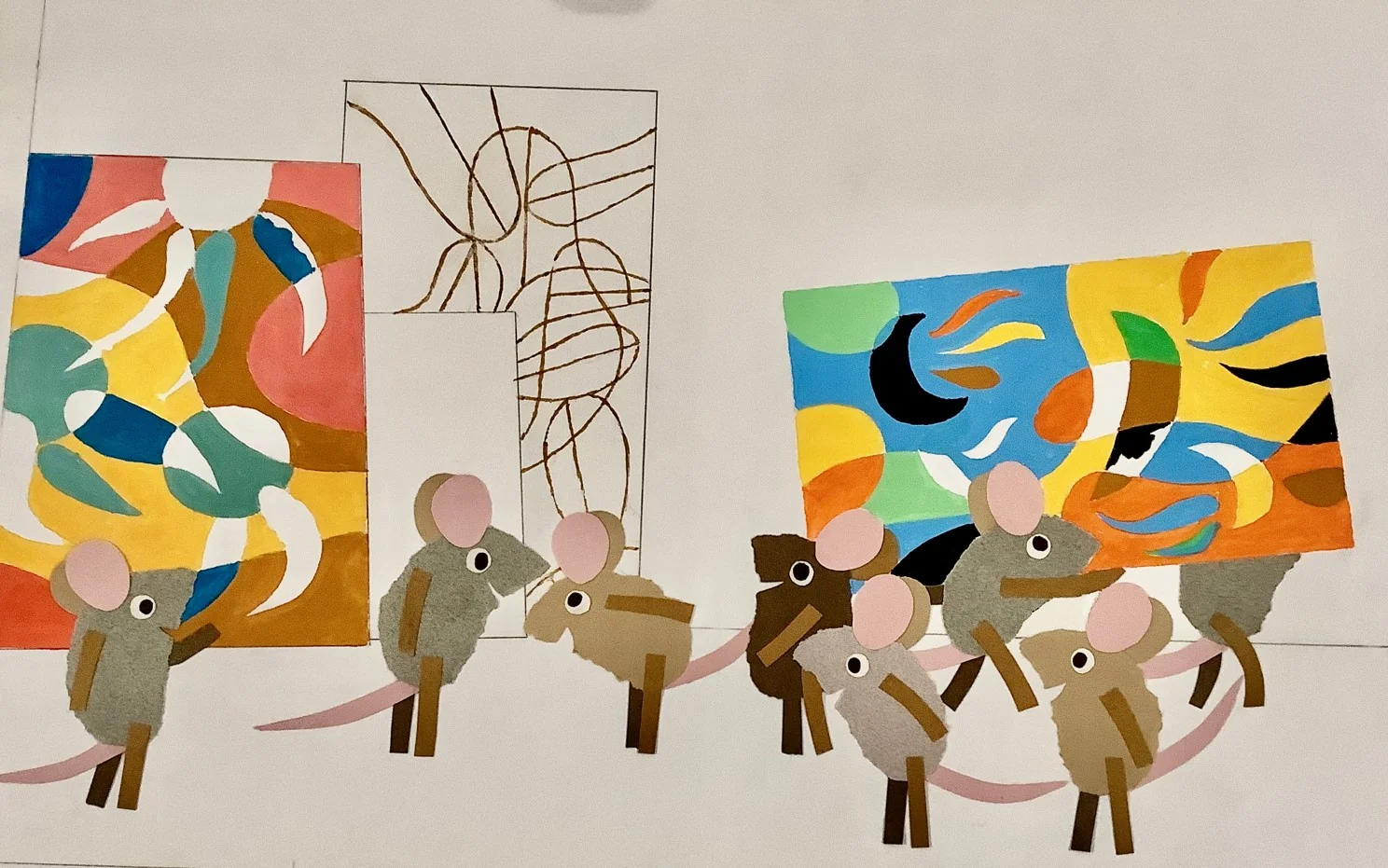 Matthew's Dream is a 1990 children's book by Leo Lionni. I'll include it in the INTREPID ADVENTURER section because it's about undertaking a voyage of self-discovery.
Matthew the mouse lives in a dreary corner of a dusty attic. But a trip to the museum helps him to see his surroundings in a new way.
*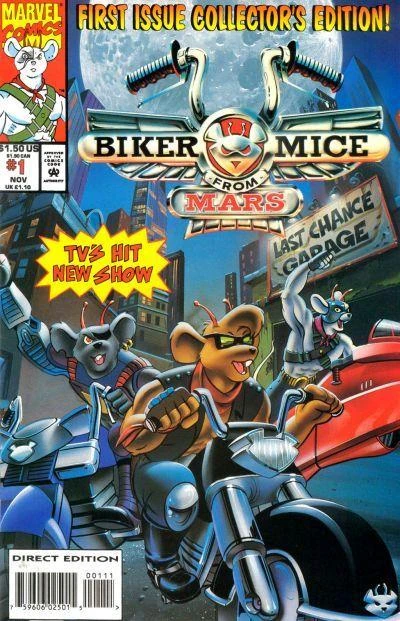 Douglas Wolk suggested Biker Mice from Mars. The first issue of this comic, written by Rick Ungar and Bob Forward, and drawn by Pocho Benko, Rurik Tyler and Gary Fields, appeared in November 1993.
The comic is a spinoff of an American action animated series created by Rick Ungar. The series premiered in syndication the week of September 19, 1993. The show follows three anthropomorphic mice motorcyclists named Throttle, Modo, and Vinnie who escape a war on their home planet Mars before arriving to defend the Earth from the evil that destroyed their homeland.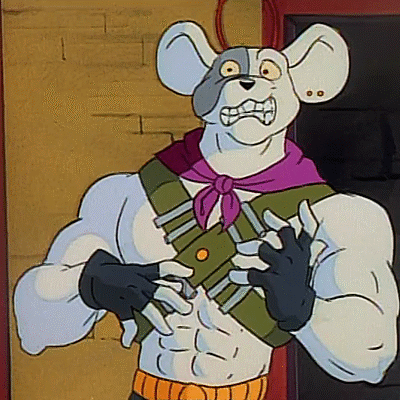 SCRAPPY SURVIVOR
*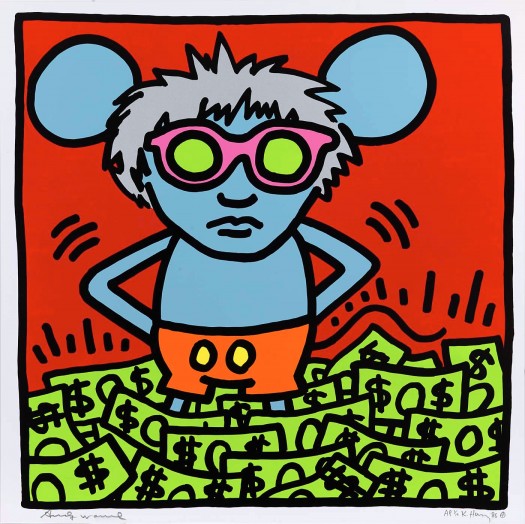 Keith Haring began portraying Any Warhol as a MM figure, c. 1985. The two artists met in 1984, and realized that they both admired Walt Disney. There is a cargo-cult or Santeria aspect to Haring's "Andy Mouse" prints. It's as though Haring has invented a new god, the worship of whom will bring Disney-like financial success to an artist…. Which is why I'm including this example here in SCRAPPY SURVIVOR.
*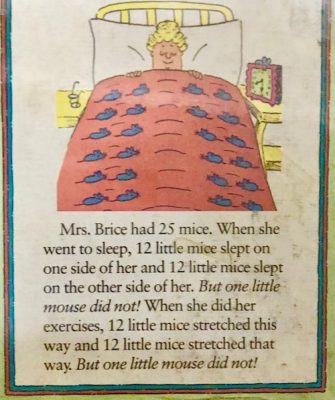 Mrs. Brice's Mice (1988) is a children's picture book by Syd Hoff about the benefits of nonconformity. Among Mrs. Brice's 25 mice, all but one do everything together. And this mouse's difference comes in handy when the mice meet a cat. While twelve run this way and twelve run that, this mouse runs this way and that, wearing out the cat and saving them all.
Along with Ruth Krauss, P.D. Eastman, Leo Lionni, Lilian Moore, William Steig, and Crockett Johnson, Hoff was a leftist who raised questions — in a playful manner — about our taken-for-granted forms and norms.
RESOURCEFUL COLLABORATOR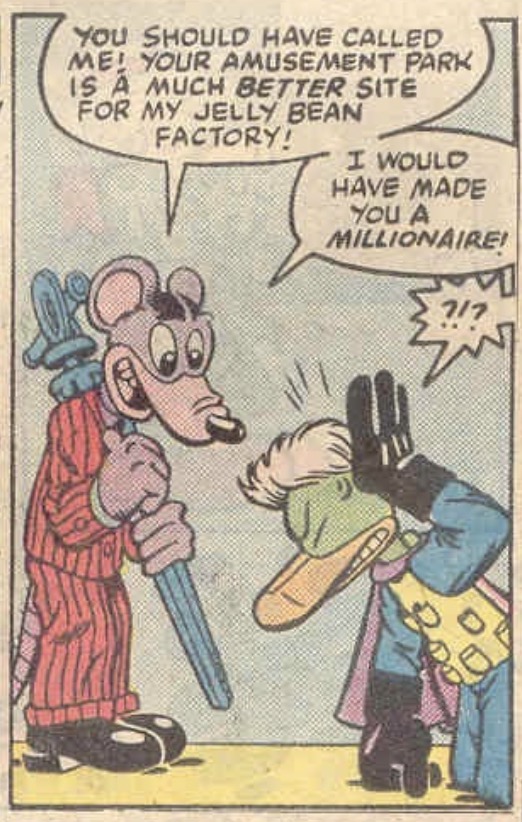 Randolph Rodent is a savvy businessman and hustler whose one and only appearance is in Marvel Tails Starring Peter Porker, The Spectacular Spider-Ham (1983) #1.
*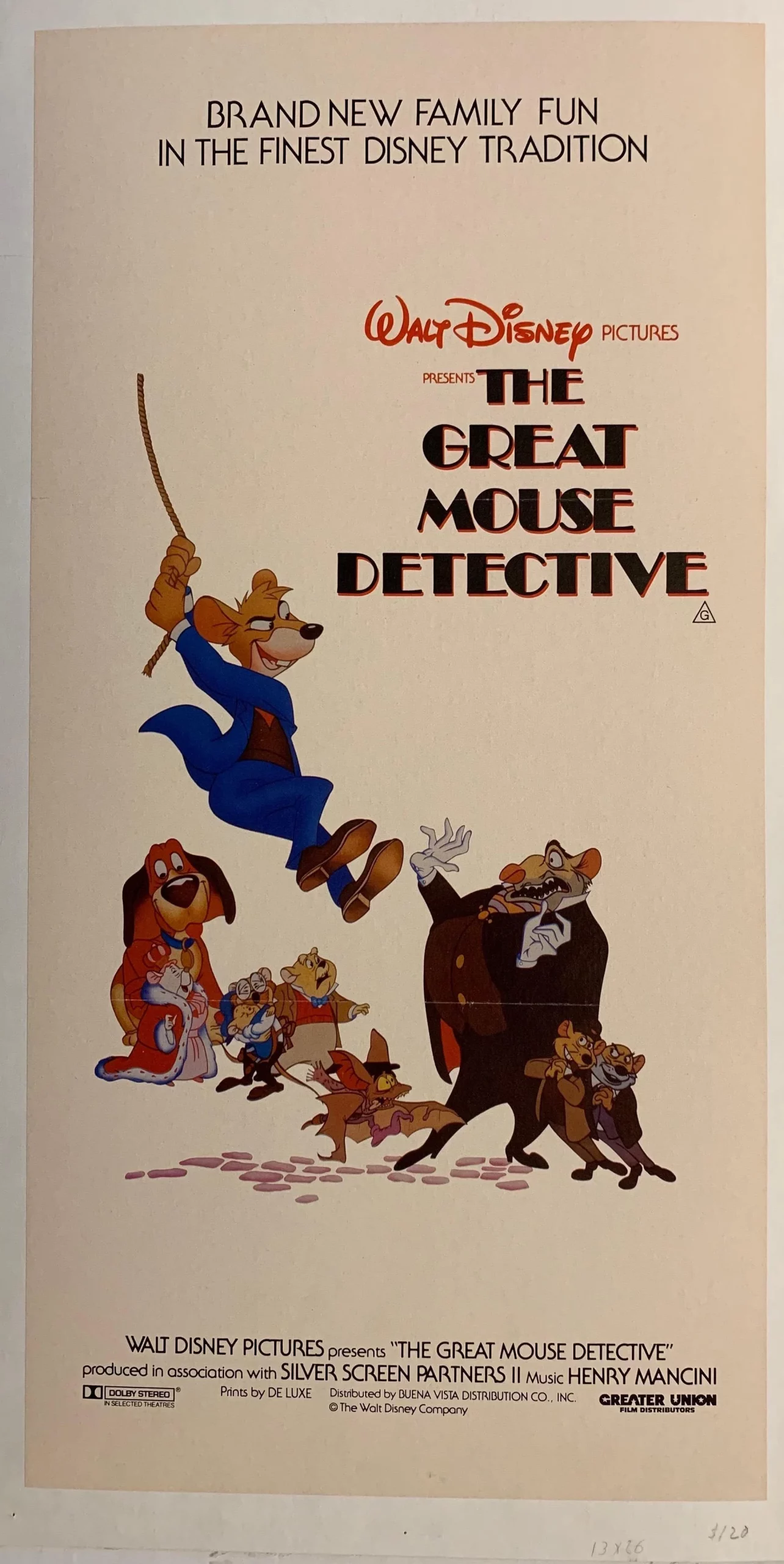 The Great Mouse Detective is a 1986 American animated film produced by Walt Disney Feature Animation. The main characters are all mice and rats living in Victorian London. It's based on the children's book series Basil of Baker Street by Eve Titus and Paul Galdone (see the Fifties installment in this series).
A product of a dark time in the history of the House of Mouse, The Great Mouse Detective is largely forgotten now.
*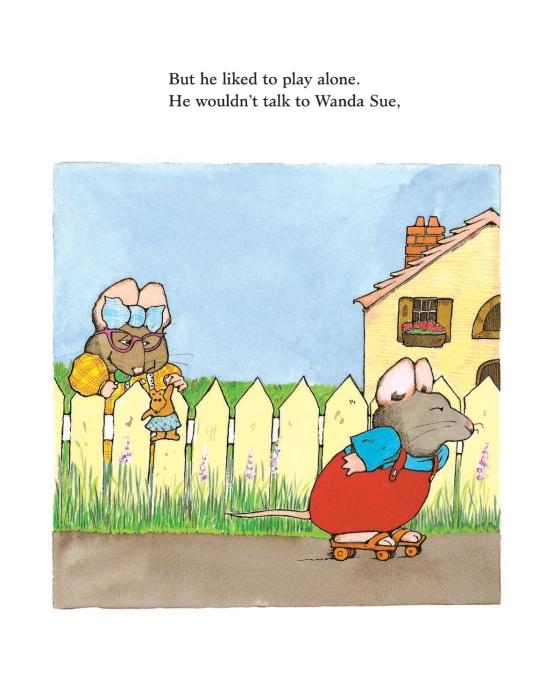 Shy Charles is a 1988 children's book by wildly prolific children's author Rosemary Wells, whose Max & Ruby series (about rabbits) are excellent. Charles is as happy as a clam — and about as talkative as one. But faced with a genuine emergency, this mousiest of mice proves that silent types are sometimes the biggest heroes of them all. A School Library Journal Best Book of the Year.
HABITAT EXPERIMENTER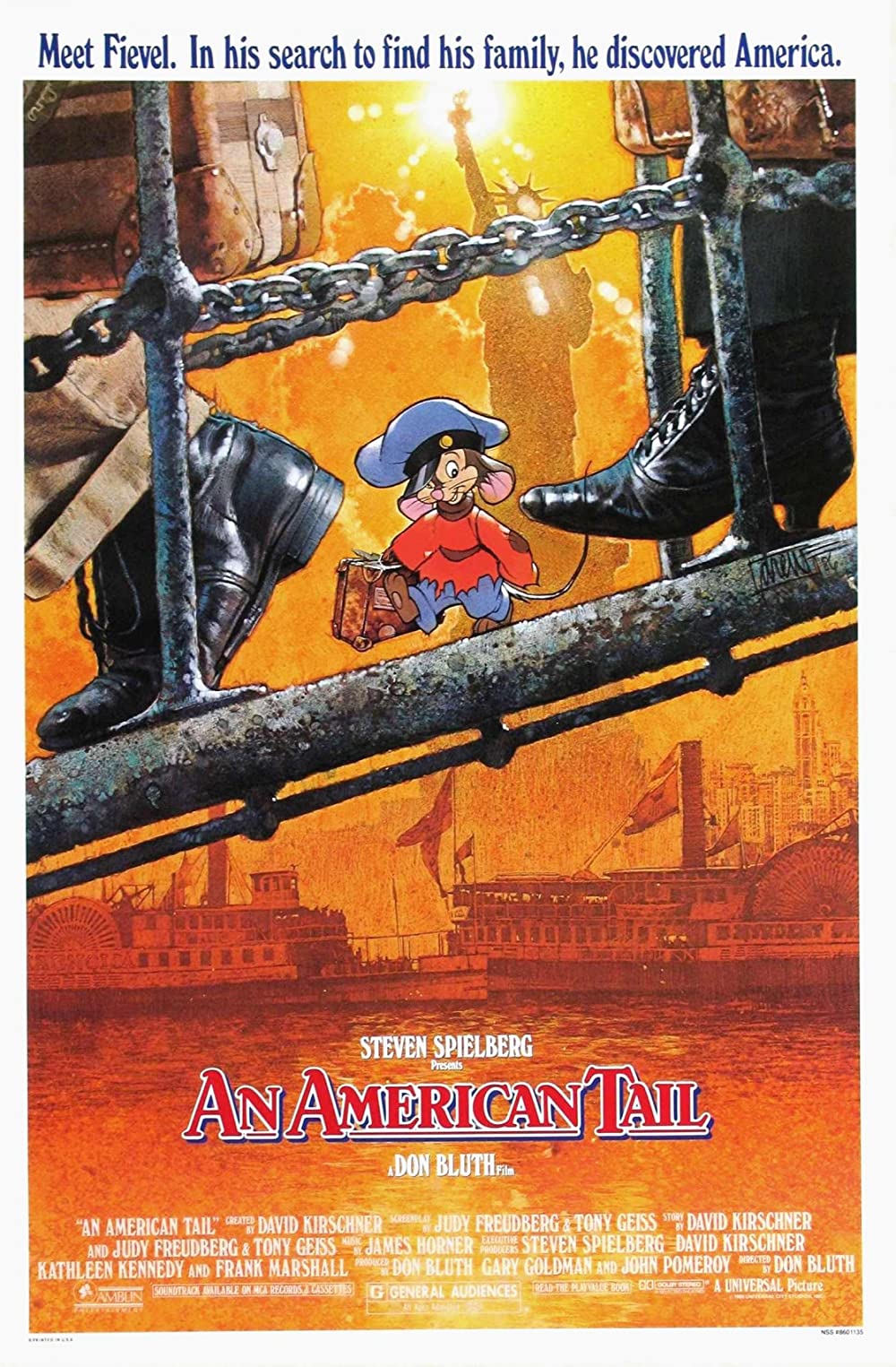 An American Tail is a 1986 American animated musical adventure film directed by Don Bluth. While emigrating to the United States, a young Russian mouse gets separated from his family and must relocate them while trying to survive in a new country.
Bluth was an animator who started out at Disney, with the bulk of his Disney work taking place in the 1970s — including The Rescuers, another mouse movie, which he was directing animator for. By the late '70s, Disney studio executives were trying to save money on animation, using cheaper techniques. Bluth quit and took 13 of the other animators with him to form his own studio.
Bluth's first feature-length film was The Secret of NIMH (1982), based on the book Mrs. Frisby and the Rats of NIMH — another mouse movie. The Secret of NIMH wasn't a box-office smash, but it had a very successful following on home video and TV, so Bluth was free to pursue additional films. This led to An American Tail a few years later, in conjunction with Steven Spielberg.
*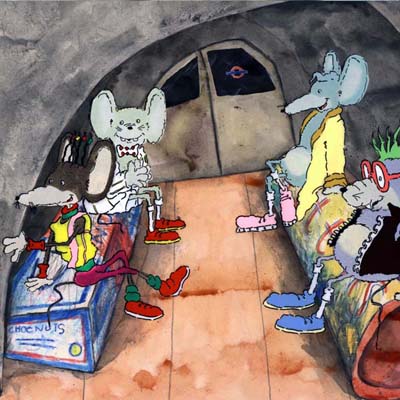 Tube Mice is a British children's animated series for television produced in 1988. It concerns the adventures of streetwise mice who dwell in the tunnels of the London Underground. Vernon is a lovable rogue; Toaster is his simple sidekick. Their scheming plans never quite turn out as they hope.
*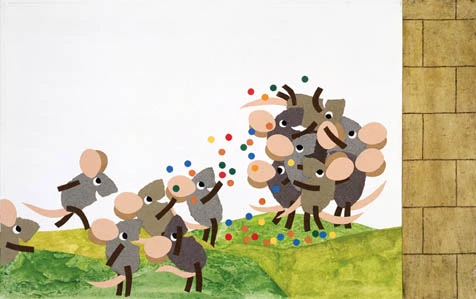 Tillie and the Wall is a 1989 children's book by Leo Lionni. All her life Tillie the mouse has wondered what lies on the other side of the wall. Imagining all sorts of fantastic possibilities, she digs a tunnel to get to the other side, where she discovers… other mice, just like her! Together, Tillie and her friends work to bring down the wall and unite mouse-kind.
Note that destruction of the Berlin Wall began in November of that year. Was it Tillie who sparked this historical moment?
***
INTRODUCTION by Matthew Battles: Animals come to us "as messengers and promises." Of what? | Matthew Battles on RHINO: Today's map of the rhinoceros is broken. | Josh Glenn on OWL: Why are we overawed by the owl? | Stephanie Burt on SEA ANEMONE: Unable to settle down more than once. | James Hannaham on CINDER WORM: They're prey; that puts them on our side. | Matthew Battles on PENGUIN: They come from over the horizon. | Mandy Keifetz on FLEA: Nobler than highest of angels. | Adrienne Crew on GOAT: Is it any wonder that they're G.O.A.T. ? | Lucy Sante on CAPYBARA: Let us gather under their banner. | Annie Nocenti on CROW: Mostly, they give me the side-eye. | Alix Lambert on ANIMAL: Spirit animal of a generation. | Jessamyn West on HYRAX: The original shoegaze mammal. | Josh Glenn on BEAVER: Busy as a beaver ~ Eager beaver ~ Beaver patrol. | Adam McGovern on FIREFLY: I would know it was my birthday / when…. | Heather Kapplow on SHREW: You cannot tame us. | Chris Spurgeon on ALBATROSS: No such thing as a lesser one. | Charlie Mitchell on JACKALOPE: This is no coney. | Vanessa Berry on PLATYPUS: Leathery bills leading the plunge. | Tom Nealon on PANDA: An icon's inner carnivore reawakens. | Josh Glenn on FROG: Bumptious ~ Rapscallion ~ Free spirit ~ Palimpsest. | Josh Glenn on MOUSE.
***
ALSO SEE: John Hilgart (ed.)'s HERMENAUTIC TAROT series | Josh Glenn's VIRUS VIGILANTE series | & old-school HILOBROW series like BICYCLE KICK | CECI EST UNE PIPE | CHESS MATCH | EGGHEAD | FILE X | HILOBROW COVERS | LATF HIPSTER | HI-LO AMERICANA | PHRENOLOGY | PLUPERFECT PDA | SKRULLICISM.