CARBONA YOUR ENTHUSIASM (3)
By: Dan Fox
August 3, 2020
One in a series of 25 enthusiastic posts, contributed by 25 HILOBROW friends and regulars, on the topic of our favorite punk songs, c. 1974–1983.
*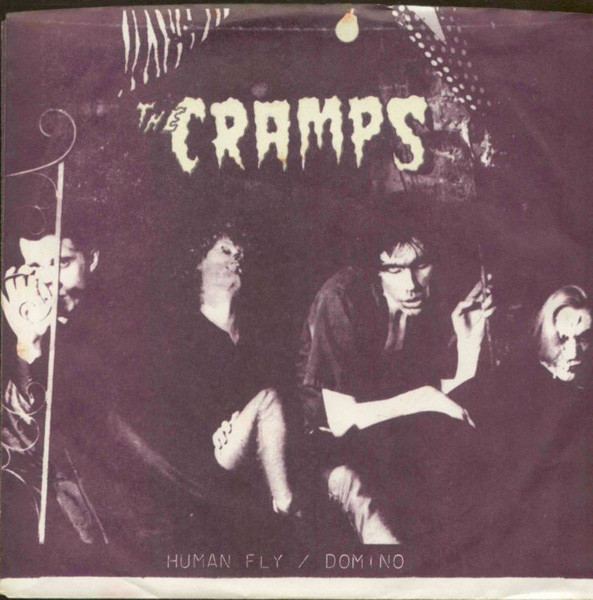 "HUMAN FLY" | THE CRAMPS | 1978
In 1986 I was ten years old and knew all the words to 'Human Fly' by The Cramps. On my nylon-stringed kid's acoustic, I learned how to play the descending chromatic scale that slimes down the song's intro. I would tape one ear from a pair of Walkman headphones to the body of the guitar and plug them into the mic socket on my little stereo. Pushed through its small speaker, I could emulate The Cramps' overloaded sound well enough for me to play along. I went to all this effort not because I had a precocious interest in underground music, but because 'Human Fly' cracked me up. I loved the onomatopoeiac 'bzzz bzzz bzzz' lyric and how the buzz seemed part of the guitar fuzz. There was Lux Interior's yelping, desperate voice, trapped in rockabilly-style slapback delay like an insect trying to escape through a glass window. The tremelo twang on Poison Ivy's guitar sounded like knees knocking together in terror, shoved along by the bullying tom-tom strut of the drums. In my opinion the song was a top-notch comedy classic, a work of formal perfection like 'Rock Lobster' by The B-52s, which I had also learned backwards. I had no clue whether The Cramps or the B-52s were punk, post-punk, new wave, psychobilly or whatever subgenre subdivision that fans and critics had them pegged in, because I lived in complete ignorance that those genres existed. Music was not, at that age, about allegiences. 'Human Fly' was simply an excellent record, to be filed next to my other favourites at the time, which included BBC Comedy Sound Effects Vol. 4 and the theme from Chariots of Fire by Vangelis.
My older brother, Mark, had brought The Cramps into my life, along with The B-52s and many other bands I would later come to learn were punk, post-punk, glam, or what-have-you. Bands who made music I would continue to treasure into adulthood. Mark had a great talent for taking kids seriously and viewing the grown-up world as an infinity pool of amusement. I think he loved that The Cramps could work on so many layers. As an adult he got their B-movie punk cool and understood how to read their 1950s retro references, but could help me relate them to The Munsters and The Addams Family, re-runs of which I enjoyed watching on British TV. It wasn't long after I memorized the lyrics to 'Human Fly' that Mark sneaked me into the local cinema to see John Waters' Hairspray. Looking back, I now understand this phase to be my primer in camp and postwar Americana.
I'm now in my mid-forties. BBC Comedy Sound Effects Vol. 4 and the Chariots of Fire OST went to the wall decades ago but I must have listened to 'Human Fly' hundreds of times over the years. By now I'm able to place The Cramps on the rock family tree. I've read the punk histories, read the theory books about retro, spent too much money on some 180gsm vinyl reissue of their music. But still what I fundamentally love is the 'bzzz bzzz bzzz' of a record that makes me laugh.
***
CARBONA YOUR ENTHUSIASM (2020): Series introduction by Josh Glenn | Mimi Lipson on Flipper's "Sex Bomb" | James Parker on The Jam's "Going Underground" | Dan Fox on The Cramps' "Human Fly" | Adrienne Crew on Bad Brains' "I and I Survive" | Devin McKinney on Romeo Void's "Never Say Never" | Deb Chachra on The Buzzcocks' "Ever Fallen in Love" | Mark Kingwell on The Demics' "New York City" | Jessamyn West on Dead Kennedys' "Kill the Poor" | Douglas Wolk on The Homosexuals' "Soft South Africans" | Josh Glenn on The Freeze's "This is Boston, Not L.A." | Stephanie Burt on Sorry's "Imaginary Friend" | Luc Sante on Public Image Ltd.'s "Public Image" | Miranda Mellis on X-Ray Spex's "Oh Bondage! Up Yours!" | Adam McGovern on The Clash's "Washington Bullets" | Mandy Keifetz on Germs' "Forming" | Gordon Dahlquist on The Sex Pistols' "Problems" | Anthony Miller on The Soft Boys' "I Wanna Destroy You" | Deborah Wassertzug on The Mekons' "Where Were You?" | Tor Aarestad on Gang of Four's "Return the Gift" | Marc Weidenbaum on The Pop Rivets' "Dream of '63" | David Smay on The Rezillos' "(My Baby Does) Good Sculptures" | Vanessa Berry on The Cure's "So What" | Chelsey Johnson on The Slits' "Typical Girls" | Lynn Peril on Crass's "Smother Love" | Mike Watt on The Dils' "You're Not Blank".
MORE ENTHUSIASM at HILOBROW
NERD YOUR ENTHUSIASM (4Q2021): NERDING | ARDUIN | KLINGON CONFIDENTIAL | MAP INSERTS | TIME | & 20 other nerdy passions. SWERVE YOUR ENTHUSIASM (3Q2021): WARHOL'S WALT WHITMAN | 70, GIRLS, 70 | TYRAEL'S MIGHT | SHIRATO SANPEI | THE LEON SUITES | & 20 other never-realized cultural productions. FIVE-O YOUR ENTHUSIASM (2Q2021): DARK SHADOWS | MANNIX | GET SMART | THE ADDAMS FAMILY | I DREAM OF JEANNIE | & 20 other Sixties (1964–1973) TV shows. FERB YOUR ENTHUSIASM (1Q2021): STEVEN UNIVERSE | TOP CAT | REN & STIMPY | SHE-RA AND THE PRINCESSES OF POWER | DRAGON BALL Z | & 20 other animated series. CARBONA YOUR ENTHUSIASM (2020): "Sex Bomb" | "Going Underground" | "Soft South Africans" | "Typical Girls" | "Human Fly" | & 20 other Seventies (1974–1983) punk singles. KLAATU YOU (2020 weekly): ZARDOZ | METROPOLIS | DARK STAR | SINS OF THE FLESHAPOIDS | SOLARIS | & dozens of other pre-STAR WARS sci-fi movies. CONVOY YOUR ENTHUSIASM (2019): THE TAKING OF PELHAM ONE TWO THREE | ROLLERBALL | BLACK SUNDAY | SORCERER | STRAIGHT TIME | & 20 other Seventies (1974–1983) action movies. SERIOCOMIC (2019 weekly): LITTLE LULU | VIZ | MARSUPILAMI | ERNIE POOK'S COMEEK | HELLBOY | & dozens of other comics. TUBE YOUR ENTHUSIASM (2018): LOONEY TUNES | THREE STOOGES | THE AVENGERS | ROCKY & BULLWINKLE | THE TWILIGHT ZONE | & 20 other Fifties (1954–1963) TV shows. WOWEE ZOWEE (2018 weekly): UNISEX | UNDER THE PINK | DUMMY | AMOR PROHIBIDO | HIPS AND MAKERS | & dozens of other Nineties (1994–2003) albums. KLUTE YOUR ENTHUSIASM (2017): THE KILLERS | BANDE À PART (BAND OF OUTSIDERS) | ALPHAVILLE | HARPER | BLOW-UP | & 20 other Sixties (1964–1973) neo-noir movies. #SQUADGOALS (2017 weekly): THE WILD BUNCH | BOWIE'S BAND | THE BLOOMSBURY GROUP | THE HONG KONG CAVALIERS | VI ÄR BÄST! & dozens of other squads. GROK MY ENTHUSIASM (2016 weekly): THE THEORY AND PRACTICE OF LUNCH | WEEKEND | MILLION YEAR PICNIC | LA BARONNE EMILE D'ERLANGER | THE SURVIVAL SAMPLER | & dozens more one-off enthusiasms. QUIRK YOUR ENTHUSIASM (2016): "Tainted Love" | "Metal" | "Frankie Teardrop" | "Savoir Faire" | "Broken English" | & 20 other Seventies (1974–1983) new wave singles. CROM YOUR ENTHUSIASM (2015): DARKER THAN YOU THINK | THE SWORD IN THE STONE | OUT OF THE SILENT PLANET | THIEVES' HOUSE | QUEEN OF THE BLACK COAST | & 20 other Thirties (1934–1943) fantasy novels. KERN YOUR ENTHUSIASM (2014): ALDINE ITALIC | DATA 70 | TORONTO SUBWAY | JOHNSTON'S "HAMLET" | TODD KLONE | & 20 other typefaces. HERC YOUR ENTHUSIASM (2013): "Spoonin' Rap" | "Rapper's Delight" | "Rappin' Blow" | "The Incredible Fulk" | "The Adventures of Super Rhyme" | & 20 other Seventies (1974–1983) hip-hop songs. KIRK YOUR ENTHUSIASM (2012): Justice or vengeance? | Kirk teaches his drill thrall to kiss | "KHAAAAAN!" | "No kill I" | Kirk browbeats NOMAD | & 20 other Captain Kirk scenes. KIRB YOUR ENTHUSIASM (2011): THE ETERNALS | BLACK MAGIC | DEMON | OMAC | CAPTAIN AMERICA | & 20 other Jack Kirby panels.