CARBONA YOUR ENTHUSIASM (21)
By: David Smay
August 21, 2020
One in a series of 25 enthusiastic posts, contributed by 25 HILOBROW friends and regulars, on the topic of our favorite punk songs, c. 1974–1983.
*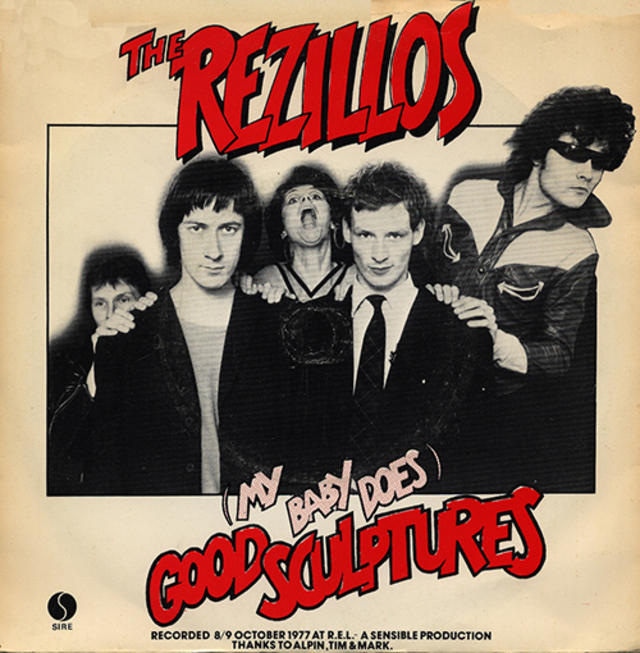 "(MY BABY DOES) GOOD SCULPTURES" | THE REZILLOS | 1977
The Rezillos commit an impure blast of delirious joy on their art-punk Valentine "(My Baby Does) Good Sculptures." On the needle drop we are hopped up on oddballs who are goofed up on hops. Our Scottish lads and lassies enter stage left, bass throbbing. The drummer takes a spin around the kit before Jo Callis (the songwriter) slashes out the urgent, abbreviated, relentlessly priapic riff. Where's the release?! "Work it! Work it! Work it! Work it!" chant the background vocals. The early punk era congealed around thwarted sex, neuroticism and bitter irony, so Eugene Reynolds's unabashed glee describing his back being raked by his baby's "rouge talons fonce" (presumably a dark red French manicure) feels giddy and liberating. In a sly bit of Shakespearean misdirection he pivots from complimenting his baby's pouty lips and curvy hips to loving her because she does good sculptures (yeah).
Despite the conventional narrative of rock and roll as a workingman's medium, the creme has always detoured through art school (The Kinks, Bowie, Roxy, Talking Heads, Pylon) and The Rezillos began as just an art school lark. They emerged from a loose collective of students at Edinburgh College of Art lead by guitarist Callis and and singer Reynolds, who created a three-headed front with fashion student Fay Fife, backed by a rotating cast of architecture students as rhythm section. As one would expect of art students, The Rezillos brought visual flair to the stage styled in the mid-century trash culture of their compeers the B-52s and The Cramps (with whom they were frequently linked in 1978). But it's not their Jetsons fetish or comic booky vibe that asserts itself here on their second single, it's their intimacy with art school, and falling for a girl who "looks cool in her studio." "She's never loose!" they cry out which seems a strange compliment. What is she really working on with her talented hands? "She's shaping my body like a lump of mud!" With her tight grip. With a thing for wood. The key difference between the single version we're discussing here and the album cut of the same song is that on the album Jo rips off a classically ejaculatory guitar solo, whereas the bridge on the single is the chant of "Work it! Work it!" without any release at all. Tension without release defined punk. A Different Kind of Tension. A mindless, directionless energy. Other punks eventually got faster than thrash, but nobody ever sounded as tightly wound and totally wired as The Rezillos.
***
CARBONA YOUR ENTHUSIASM (2020): Series introduction by Josh Glenn | Mimi Lipson on Flipper's "Sex Bomb" | James Parker on The Jam's "Going Underground" | Dan Fox on The Cramps' "Human Fly" | Adrienne Crew on Bad Brains' "I and I Survive" | Devin McKinney on Romeo Void's "Never Say Never" | Deb Chachra on The Buzzcocks' "Ever Fallen in Love" | Mark Kingwell on The Demics' "New York City" | Jessamyn West on Dead Kennedys' "Kill the Poor" | Douglas Wolk on The Homosexuals' "Soft South Africans" | Josh Glenn on The Freeze's "This is Boston, Not L.A." | Stephanie Burt on Sorry's "Imaginary Friend" | Luc Sante on Public Image Ltd.'s "Public Image" | Miranda Mellis on X-Ray Spex's "Oh Bondage! Up Yours!" | Adam McGovern on The Clash's "Washington Bullets" | Mandy Keifetz on Germs' "Forming" | Gordon Dahlquist on The Sex Pistols' "Problems" | Anthony Miller on The Soft Boys' "I Wanna Destroy You" | Deborah Wassertzug on The Mekons' "Where Were You?" | Tor Aarestad on Gang of Four's "Return the Gift" | Marc Weidenbaum on The Pop Rivets' "Dream of '63" | David Smay on The Rezillos' "(My Baby Does) Good Sculptures" | Vanessa Berry on The Cure's "So What" | Chelsey Johnson on The Slits' "Typical Girls" | Lynn Peril on Crass's "Smother Love" | Mike Watt on The Dils' "You're Not Blank".
MORE ENTHUSIASM at HILOBROW
NERD YOUR ENTHUSIASM (4Q2021): NERDING | ARDUIN | KLINGON CONFIDENTIAL | MAP INSERTS | TIME | & 20 other nerdy passions. SWERVE YOUR ENTHUSIASM (3Q2021): WARHOL'S WALT WHITMAN | 70, GIRLS, 70 | TYRAEL'S MIGHT | SHIRATO SANPEI | THE LEON SUITES | & 20 other never-realized cultural productions. FIVE-O YOUR ENTHUSIASM (2Q2021): DARK SHADOWS | MANNIX | GET SMART | THE ADDAMS FAMILY | I DREAM OF JEANNIE | & 20 other Sixties (1964–1973) TV shows. FERB YOUR ENTHUSIASM (1Q2021): STEVEN UNIVERSE | TOP CAT | REN & STIMPY | SHE-RA AND THE PRINCESSES OF POWER | DRAGON BALL Z | & 20 other animated series. CARBONA YOUR ENTHUSIASM (2020): "Sex Bomb" | "Going Underground" | "Soft South Africans" | "Typical Girls" | "Human Fly" | & 20 other Seventies (1974–1983) punk singles. KLAATU YOU (2020 weekly): ZARDOZ | METROPOLIS | DARK STAR | SINS OF THE FLESHAPOIDS | SOLARIS | & dozens of other pre-STAR WARS sci-fi movies. CONVOY YOUR ENTHUSIASM (2019): THE TAKING OF PELHAM ONE TWO THREE | ROLLERBALL | BLACK SUNDAY | SORCERER | STRAIGHT TIME | & 20 other Seventies (1974–1983) action movies. SERIOCOMIC (2019 weekly): LITTLE LULU | VIZ | MARSUPILAMI | ERNIE POOK'S COMEEK | HELLBOY | & dozens of other comics. TUBE YOUR ENTHUSIASM (2018): LOONEY TUNES | THREE STOOGES | THE AVENGERS | ROCKY & BULLWINKLE | THE TWILIGHT ZONE | & 20 other Fifties (1954–1963) TV shows. WOWEE ZOWEE (2018 weekly): UNISEX | UNDER THE PINK | DUMMY | AMOR PROHIBIDO | HIPS AND MAKERS | & dozens of other Nineties (1994–2003) albums. KLUTE YOUR ENTHUSIASM (2017): THE KILLERS | BANDE À PART (BAND OF OUTSIDERS) | ALPHAVILLE | HARPER | BLOW-UP | & 20 other Sixties (1964–1973) neo-noir movies. #SQUADGOALS (2017 weekly): THE WILD BUNCH | BOWIE'S BAND | THE BLOOMSBURY GROUP | THE HONG KONG CAVALIERS | VI ÄR BÄST! & dozens of other squads. GROK MY ENTHUSIASM (2016 weekly): THE THEORY AND PRACTICE OF LUNCH | WEEKEND | MILLION YEAR PICNIC | LA BARONNE EMILE D'ERLANGER | THE SURVIVAL SAMPLER | & dozens more one-off enthusiasms. QUIRK YOUR ENTHUSIASM (2016): "Tainted Love" | "Metal" | "Frankie Teardrop" | "Savoir Faire" | "Broken English" | & 20 other Seventies (1974–1983) new wave singles. CROM YOUR ENTHUSIASM (2015): DARKER THAN YOU THINK | THE SWORD IN THE STONE | OUT OF THE SILENT PLANET | THIEVES' HOUSE | QUEEN OF THE BLACK COAST | & 20 other Thirties (1934–1943) fantasy novels. KERN YOUR ENTHUSIASM (2014): ALDINE ITALIC | DATA 70 | TORONTO SUBWAY | JOHNSTON'S "HAMLET" | TODD KLONE | & 20 other typefaces. HERC YOUR ENTHUSIASM (2013): "Spoonin' Rap" | "Rapper's Delight" | "Rappin' Blow" | "The Incredible Fulk" | "The Adventures of Super Rhyme" | & 20 other Seventies (1974–1983) hip-hop songs. KIRK YOUR ENTHUSIASM (2012): Justice or vengeance? | Kirk teaches his drill thrall to kiss | "KHAAAAAN!" | "No kill I" | Kirk browbeats NOMAD | & 20 other Captain Kirk scenes. KIRB YOUR ENTHUSIASM (2011): THE ETERNALS | BLACK MAGIC | DEMON | OMAC | CAPTAIN AMERICA | & 20 other Jack Kirby panels.