KLAATU YOU (16)
By: Adrienne Crew
April 15, 2020
One in a weekly series of enthusiastic posts, contributed by HILOBROW friends and regulars, on the topic of our favorite pre-Star Wars science fiction movies.
*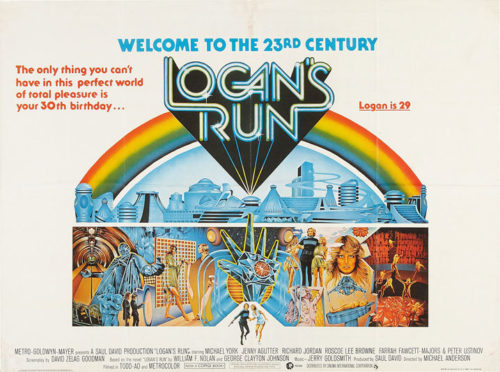 LOGAN'S RUN | d. MICHAEL ANDERSON | 1976
I was twelve when I saw Logan's Run at the local cineplex. The movie had it all: robots, futuristic cars, holograms, a biosphere run by computers, neon-tinted orgies, aerosolized drug binges, ritualized mass killings, laser-wielding killer machines, scantily-clothed extras, assassins, Farrah Fawcett-Majors! But it was a small detail that hooked me. After a member of the movie's utopian future society refuses to submit to "Carousel" (state-sanctioned euthanasia), the police computer identifies a piece of jewelry he's carrying as an "ankh." For Logan 5 (Michael York), an elite policeman known as a "Sandman," this symbol — a cross with a loop on top — allows him to infiltrate a group of runners seeking "Sanctuary," a mythic place where one can live past thirty.
After the movie's end, I hurried home and looked up "ankh" in the dictionary: It's an Egyptian hieroglyphic symbol commonly used to represent "life." Aha! After more research, which involved a few trips to the library, I began to process Logan's Run in a new way — understanding how the production design and costumes helped communicate the movie's dire warning about totalitarianism, population control, ageism, and individual autonomy. (Prepubescents wear yellow, teens green, and adults in their twenties red; this corresponds to the color of their respective palm-implanted Life Clocks. I wanted a Sandman's uniform, though: a black tunic with a silver rectangle.) I'd discovered the semiotic allure of visual metaphors, symbolism, allegory, iconography. But it would take me a lifetime to fully appreciate the film.
As a child, I liked the production's bright colors and cool costumes… plus the ankh. In my twenties, I laughed at the film's quickly dated 1970s aesthetics: the Dallas mall masquerading as a city of the future; Logan's mirrored apartment; the rail system that looked like a Habitrail hamster tube-maze. Today, I seethe with anger over the domed city's founders' cruel decision to subject their children to a social order that offers false hope of "renewal." As the youth of today march in the streets, protesting wage inequality and governmental paralysis in the face of the effects of climate change, I don't blame them. They rightly believe that their elders have stolen their future.
Above all, I remain fascinated by the movie's quasi-mystical thematization of rebirth, and how this idea is brought to life for viewers through visual cues. The domed city is Dante's Inferno: Doesn't the robot Box shouting "Fish, and plankton. And sea greens, and protein from the sea. It's all here, ready," remind you of the 9th Circle of Hell's Lucifer? Jessica 6 (Jenny Agutter) and Logan, using their ankhs as literal keys for escape from the domed city, seem to be reenacting the Egyptian myth of Osiris, Set, and Isis. I used to think the movie's third act — set outside the domed city — was a bore. Now, however, I understand Logan and Jessica's dive into the waters and emergence into the world outside of the dome is a rebirth.
It's possible to spot Tarot archetypes here, as well: Logan is the blonde Fool who is too curious; Jessica, dressed in the green robes of Venus, is The Empress; Francis 7 (Richard Jordan) is the Emperor, avatar of stern authority; and the unnamed "Old Man" (Peter Ustinov) is, of course, the lonely, introspective Hermit.
"Don't trust anyone over thirty" was a catchphrase that emerged from the Free Speech Movement at UC Berkeley. The makers of Logan's Run took this concept to a horrific extreme by depicting a dystopia in which it's not possible to live past thirty. Today, when young people mutter "OK Boomer" in response to any arcane reference made by an elder, this movie — which extrapolated horrific consequences from its own era's generation gap — is more relevant than ever.
***
KLAATU YOU: INTRODUCTION by Josh Glenn | Matthew De Abaitua on ZARDOZ | Miranda Mellis on METROPOLIS | Rob Wringham on THE INVISIBLE MAN | Michael Grasso on THE ANDROMEDA STRAIN | Gordon Dahlquist on 2001: A SPACE ODYSSEY | Erik Davis on DARK STAR | Carlo Rotella on THE OMEGA MAN | Madeline Ashby on KISS ME DEADLY | Adam McGovern on SILENT RUNNING | Michael Lewy on THIS ISLAND EARTH | Josh Glenn on WILD IN THE STREETS | Mimi Lipson on BARBARELLA vs. SINS OF THE FLESHAPOIDS | Vanessa Berry on THE FLY | Lynn Peril on ATTACK OF THE 50 FOOT WOMAN | Peggy Nelson on SOLARIS | Adrienne Crew on LOGAN'S RUN | Ramona Lyons on THE MAN WHO FELL TO EARTH | Kio Stark on THE STEPFORD WIVES | Dan Fox on FANTASTIC PLANET | Chris Lanier on IKARIE XB-1 | Devin McKinney on IDAHO TRANSFER | Mark Kingwell on THUNDERBIRDS ARE GO | Luc Sante on THE TENTH VICTIM | William Nericcio on DEATH RACE 2000 | Rob Walker on CAPRICORN ONE | Gary Panter on ANGRY RED PLANET | David Levine on THE STEPFORD WIVES | Karinne Keithley Syers on ALPHAVILLE | Carolyn Kellogg on IT CAME FROM OUTER SPACE | Sara Ryan on ESCAPE TO WITCH MOUNTAIN | Lisa Jane Persky on PLAN 9 FROM OUTER SPACE | Adam Harrison Levy on BENEATH THE PLANET OF THE APES | Gerald Peary on CREATURE FROM THE BLACK LAGOON | Susannah Breslin on A CLOCKWORK ORANGE | Seth on WAR OF THE WORLDS | James Hannaham on GOJIRA/GODZILLA | Lydia Millet on VILLAGE OF THE DAMNED | Matthew Daniel on FANTASTIC VOYAGE | Shawn Wolfe on ROLLERBALL | Erin M. Routson on WESTWORLD | Marc Weidenbaum on COLOSSUS: THE FORBIN PROJECT | Neil LaBute on 20,000 LEAGUES UNDER THE SEA | Vicente Lozano on DAY OF THE DOLPHIN | Tom Roston on SLAUGHTERHOUSE-FIVE | Katya Apekina on A BOY AND HIS DOG | Chelsey Johnson on THE BLOB | Heather Kapplow on SPACE IS THE PLACE | Brian Berger on THE BEAST FROM 20,000 FATHOMS | Anthony Miller on THE DAY THE EARTH STOOD STILL.
MORE ENTHUSIASM at HILOBROW
NERD YOUR ENTHUSIASM (4Q2021): NERDING | ARDUIN | KLINGON CONFIDENTIAL | MAP INSERTS | TIME | & 20 other nerdy passions. SWERVE YOUR ENTHUSIASM (3Q2021): WARHOL'S WALT WHITMAN | 70, GIRLS, 70 | TYRAEL'S MIGHT | SHIRATO SANPEI | THE LEON SUITES | & 20 other never-realized cultural productions. FIVE-O YOUR ENTHUSIASM (2Q2021): DARK SHADOWS | MANNIX | GET SMART | THE ADDAMS FAMILY | I DREAM OF JEANNIE | & 20 other Sixties (1964–1973) TV shows. FERB YOUR ENTHUSIASM (1Q2021): STEVEN UNIVERSE | TOP CAT | REN & STIMPY | SHE-RA AND THE PRINCESSES OF POWER | DRAGON BALL Z | & 20 other animated series. CARBONA YOUR ENTHUSIASM (2020): "Sex Bomb" | "Going Underground" | "Soft South Africans" | "Typical Girls" | "Human Fly" | & 20 other Seventies (1974–1983) punk singles. KLAATU YOU (2020 weekly): ZARDOZ | METROPOLIS | DARK STAR | SINS OF THE FLESHAPOIDS | SOLARIS | & dozens of other pre-STAR WARS sci-fi movies. CONVOY YOUR ENTHUSIASM (2019): THE TAKING OF PELHAM ONE TWO THREE | ROLLERBALL | BLACK SUNDAY | SORCERER | STRAIGHT TIME | & 20 other Seventies (1974–1983) action movies. SERIOCOMIC (2019 weekly): LITTLE LULU | VIZ | MARSUPILAMI | ERNIE POOK'S COMEEK | HELLBOY | & dozens of other comics. TUBE YOUR ENTHUSIASM (2018): LOONEY TUNES | THREE STOOGES | THE AVENGERS | ROCKY & BULLWINKLE | THE TWILIGHT ZONE | & 20 other Fifties (1954–1963) TV shows. WOWEE ZOWEE (2018 weekly): UNISEX | UNDER THE PINK | DUMMY | AMOR PROHIBIDO | HIPS AND MAKERS | & dozens of other Nineties (1994–2003) albums. KLUTE YOUR ENTHUSIASM (2017): THE KILLERS | BANDE À PART (BAND OF OUTSIDERS) | ALPHAVILLE | HARPER | BLOW-UP | & 20 other Sixties (1964–1973) neo-noir movies. #SQUADGOALS (2017 weekly): THE WILD BUNCH | BOWIE'S BAND | THE BLOOMSBURY GROUP | THE HONG KONG CAVALIERS | VI ÄR BÄST! & dozens of other squads. GROK MY ENTHUSIASM (2016 weekly): THE THEORY AND PRACTICE OF LUNCH | WEEKEND | MILLION YEAR PICNIC | LA BARONNE EMILE D'ERLANGER | THE SURVIVAL SAMPLER | & dozens more one-off enthusiasms. QUIRK YOUR ENTHUSIASM (2016): "Tainted Love" | "Metal" | "Frankie Teardrop" | "Savoir Faire" | "Broken English" | & 20 other Seventies (1974–1983) new wave singles. CROM YOUR ENTHUSIASM (2015): DARKER THAN YOU THINK | THE SWORD IN THE STONE | OUT OF THE SILENT PLANET | THIEVES' HOUSE | QUEEN OF THE BLACK COAST | & 20 other Thirties (1934–1943) fantasy novels. KERN YOUR ENTHUSIASM (2014): ALDINE ITALIC | DATA 70 | TORONTO SUBWAY | JOHNSTON'S "HAMLET" | TODD KLONE | & 20 other typefaces. HERC YOUR ENTHUSIASM (2013): "Spoonin' Rap" | "Rapper's Delight" | "Rappin' Blow" | "The Incredible Fulk" | "The Adventures of Super Rhyme" | & 20 other Seventies (1974–1983) hip-hop songs. KIRK YOUR ENTHUSIASM (2012): Justice or vengeance? | Kirk teaches his drill thrall to kiss | "KHAAAAAN!" | "No kill I" | Kirk browbeats NOMAD | & 20 other Captain Kirk scenes. KIRB YOUR ENTHUSIASM (2011): THE ETERNALS | BLACK MAGIC | DEMON | OMAC | CAPTAIN AMERICA | & 20 other Jack Kirby panels.