Diamond Age 75 (72)
By: Joshua Glenn
July 26, 2020
One in a series of posts about the 75 best science fiction novels published during the genre's Diamond Age era (from 1984–2003, according to HILOBROW's periodization schema). For Josh Glenn's complete Diamond Age Sci-Fi 75 list, click here.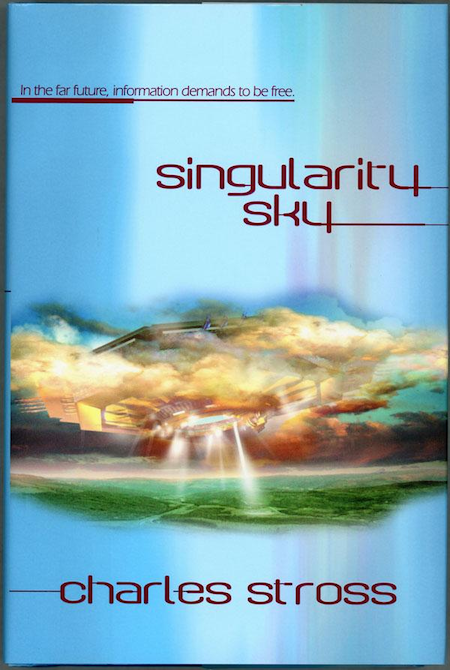 Charles Stross's Eschaton adventure Singularity Sky (2003).
Rochard's World is a technologically backward colony of the New Republic, a galaxy-spanning civilization that originated on Earth. When the Festival — an alien or posthuman civilization of uploaded minds —arrives, offering to swap molecular assemblers and other advanced tech in exchange for info and entertainment, a post-scarcity economy rapidly develops. The politically repressive New Republic prepares a military response, which is not only doomed to failure but — because it involves time travel — will certainly trigger the New Republic's devastation by the Eschaton. (At some point during the 21st century, back on Earth, a godlike artificial intelligence came into being and scattered the planet's population around the galaxy; the Eschaton's one commandment is "Thou shalt not violate causality" — disobey at your peril.) In the New Republic's capital city, Rachel Mansour, an augmented special ops agent who works for the United Nations — think of Iain M. Banks's Culture — recruits Martin Springfield, an interstellar ships-drive engineer hired by the New Republic's Admiralty, to prevent his employers from violating causality; Martin, however, is now what he seems. The two travel with the New Republic battle fleet as it heads to its certain doom — with Vassily Muller, a secret police agent, hot on their trail. The story's "information wants to be free" moral is tedious, and the writing veers close to parody (perhaps of Alastair Reynolds's 2000 space opera Revelation Space?), but this universe had potential. Alas, after one sequel Stross abandoned it.
Fun facts: This was Stross's first novel published in book form; he was already well regarded for his stories. Though best known for his Merchant Princes (2004–ongoing) and Laundry Files (2004–ongoing) series, I prefer his stand-alone novels Accelerando (2005) and Glasshouse (2006), as well as Halting State (2007), the first installment in an incomplete trilogy.
***
DIAMOND AGE SCI-FI at HILOBROW: William Gibson | Bruce Sterling | Margaret Atwood | Ann Nocenti | Frank Miller | Alan Moore | Octavia E. Butler | Iain M. Banks | Grant Morrison | Neal Stephenson | Jonathan Lethem | Charles Burns | China Miéville.
JOSH GLENN'S *BEST ADVENTURES* LISTS: BEST 250 ADVENTURES OF THE 20TH CENTURY | 100 BEST OUGHTS ADVENTURES | 100 BEST RADIUM AGE (PROTO-)SCI-FI ADVENTURES | 100 BEST TEENS ADVENTURES | 100 BEST TWENTIES ADVENTURES | 100 BEST THIRTIES ADVENTURES | 75 BEST GOLDEN AGE SCI-FI ADVENTURES | 100 BEST FORTIES ADVENTURES | 100 BEST FIFTIES ADVENTURES | 100 BEST SIXTIES ADVENTURES | 75 BEST NEW WAVE SCI FI ADVENTURES | 100 BEST SEVENTIES ADVENTURES | 100 BEST EIGHTIES ADVENTURES | 75 BEST DIAMOND AGE SCI-FI ADVENTURES | 100 BEST NINETIES ADVENTURES | 75 BEST HADRON AGE SCI-FI ADVENTURES | NOTES ON 21st-CENTURY ADVENTURES.