KLAATU YOU (41)
By: Marc Weidenbaum
October 7, 2020
One in a weekly series of enthusiastic posts, contributed by HILOBROW friends and regulars, on the topic of our favorite pre-Star Wars science fiction movies.
*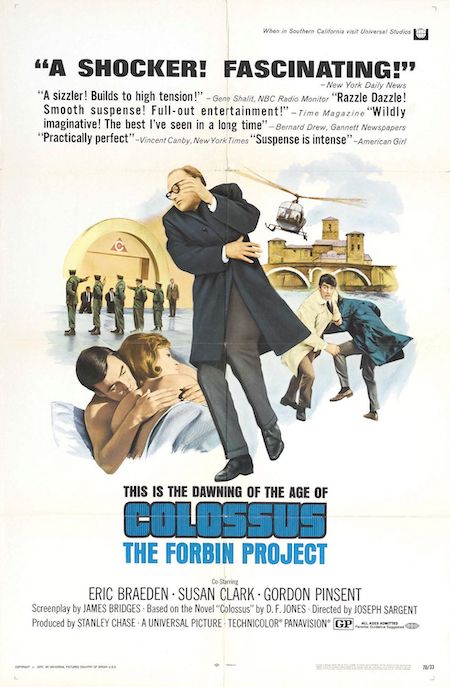 COLOSSUS: THE FORBIN PROJECT | d. JOSEPH SARGENT | 1970
By all appearances, Colossus: The Forbin Project dispenses with much of its production budget during the film's opening minutes. The largely wordless sequence depicts a lone scientist surveying massive banks of computers. As he (Forbin) steps across a retractable bridge to the outside world, the gleam in his eye is that of a new parent. This (Colossus) is his baby.
The movie takes place in the tantalizingly near-ish future, but it was released in distant 1970, so those computers are truly monolithic. Miniaturization and processing power don't correlate here. Instead, the mainframe equipment recedes as far as the eye can see, in picture-perfect perspective like nothing so much as the floors of some soulless federal prison complex.
Soulless, but quite stylish. Audiences at the time might have noted a modernist association with how Jacques Tati, three years prior, depicted corporate headquarters in Playtime: sleek, monastic, encompassing, geometrically deterministic. In both films, architecture is destiny.
And perhaps not soulless, either. Tati concerned himself with how such spaces transform employees and consumers alike into cogs of a globe-spanning business machine. In Colossus, the space is the machine. Those computers house a powerful artificial intelligence developed to put the Pentagon out of business. Whether or not it has a soul is up for discussion. There's no doubt regarding its appetite for power.
Like most AI stories, Colossus nods toward Isaac Asimov's Three Laws of Robotics and neglects the fourth leg of the table: the law of unintended consequences. Inevitably, the AI decides the best way to protect humankind is to enslave it.
Colossus works all too well. Forbin proves to be an exceptional computer scientist, as do his colleagues. (A mix of genders and races, their diversity provides a low-cost signal of the future, shades of Star Trek, which ended its televised mission the year prior. Colossus director Joseph Sargent, best known for The Taking of Pelham One Two Three, directed the early Trek episode "The Corbomite Maneuver.") When the AI gets smarter, learning at an unfathomable pace, their response is that it's exceeding expectations. When it locates another powerful AI in the U.S.S.R., they note that scientific history is filled with simultaneous discoveries.
And when Colossus uses nuclear weapons to blackmail world leaders, they say we'd better do as we're told. Apparently the scientists learn quickly, too.
Unlike the 1966 D.F. Jones novel on which it was based, the Colossus film had no sequel, but it echoes to this day. Jonathan Nolan's excellent pre-Westworld TV series Person of Interest (2011–2016) was essentially Colossus fan fiction; it explored tensions between the two superintelligent AIs that in Jones' story merely become cybernetic buddies, congealing into a single globe-spanning panoptic authority. Alex Garland's multiverse-spanning Devs, released this year, coincident with Colossus' 50th anniversary, takes place largely in a space not unlike the one in which Colossus begins, right down to the telltale receding bridge between the computer complex and human civilization.
***
KLAATU YOU: INTRODUCTION by Josh Glenn | Matthew De Abaitua on ZARDOZ | Miranda Mellis on METROPOLIS | Rob Wringham on THE INVISIBLE MAN | Michael Grasso on THE ANDROMEDA STRAIN | Gordon Dahlquist on 2001: A SPACE ODYSSEY | Erik Davis on DARK STAR | Carlo Rotella on THE OMEGA MAN | Madeline Ashby on KISS ME DEADLY | Adam McGovern on SILENT RUNNING | Michael Lewy on THIS ISLAND EARTH | Josh Glenn on WILD IN THE STREETS | Mimi Lipson on BARBARELLA vs. SINS OF THE FLESHAPOIDS | Vanessa Berry on THE FLY | Lynn Peril on ATTACK OF THE 50 FOOT WOMAN | Peggy Nelson on SOLARIS | Adrienne Crew on LOGAN'S RUN | Ramona Lyons on THE MAN WHO FELL TO EARTH | Kio Stark on THE STEPFORD WIVES | Dan Fox on FANTASTIC PLANET | Chris Lanier on IKARIE XB-1 | Devin McKinney on IDAHO TRANSFER | Mark Kingwell on THUNDERBIRDS ARE GO | Luc Sante on THE TENTH VICTIM | William Nericcio on DEATH RACE 2000 | Rob Walker on CAPRICORN ONE | Gary Panter on ANGRY RED PLANET | David Levine on THE STEPFORD WIVES | Karinne Keithley Syers on ALPHAVILLE | Carolyn Kellogg on IT CAME FROM OUTER SPACE | Sara Ryan on ESCAPE TO WITCH MOUNTAIN | Lisa Jane Persky on PLAN 9 FROM OUTER SPACE | Adam Harrison Levy on BENEATH THE PLANET OF THE APES | Gerald Peary on CREATURE FROM THE BLACK LAGOON | Susannah Breslin on A CLOCKWORK ORANGE | Seth on WAR OF THE WORLDS | James Hannaham on GOJIRA/GODZILLA | Lydia Millet on VILLAGE OF THE DAMNED | Matthew Daniel on FANTASTIC VOYAGE | Shawn Wolfe on ROLLERBALL | Erin M. Routson on WESTWORLD | Marc Weidenbaum on COLOSSUS: THE FORBIN PROJECT | Neil LaBute on 20,000 LEAGUES UNDER THE SEA | Vicente Lozano on DAY OF THE DOLPHIN | Tom Roston on SLAUGHTERHOUSE-FIVE | Katya Apekina on A BOY AND HIS DOG | Chelsey Johnson on THE BLOB | Heather Kapplow on SPACE IS THE PLACE | Brian Berger on THE BEAST FROM 20,000 FATHOMS | Anthony Miller on THE DAY THE EARTH STOOD STILL.
MORE ENTHUSIASM at HILOBROW
NERD YOUR ENTHUSIASM (4Q2021): NERDING | ARDUIN | KLINGON CONFIDENTIAL | MAP INSERTS | TIME | & 20 other nerdy passions. SWERVE YOUR ENTHUSIASM (3Q2021): WARHOL'S WALT WHITMAN | 70, GIRLS, 70 | TYRAEL'S MIGHT | SHIRATO SANPEI | THE LEON SUITES | & 20 other never-realized cultural productions. FIVE-O YOUR ENTHUSIASM (2Q2021): DARK SHADOWS | MANNIX | GET SMART | THE ADDAMS FAMILY | I DREAM OF JEANNIE | & 20 other Sixties (1964–1973) TV shows. FERB YOUR ENTHUSIASM (1Q2021): STEVEN UNIVERSE | TOP CAT | REN & STIMPY | SHE-RA AND THE PRINCESSES OF POWER | DRAGON BALL Z | & 20 other animated series. CARBONA YOUR ENTHUSIASM (2020): "Sex Bomb" | "Going Underground" | "Soft South Africans" | "Typical Girls" | "Human Fly" | & 20 other Seventies (1974–1983) punk singles. KLAATU YOU (2020 weekly): ZARDOZ | METROPOLIS | DARK STAR | SINS OF THE FLESHAPOIDS | SOLARIS | & dozens of other pre-STAR WARS sci-fi movies. CONVOY YOUR ENTHUSIASM (2019): THE TAKING OF PELHAM ONE TWO THREE | ROLLERBALL | BLACK SUNDAY | SORCERER | STRAIGHT TIME | & 20 other Seventies (1974–1983) action movies. SERIOCOMIC (2019 weekly): LITTLE LULU | VIZ | MARSUPILAMI | ERNIE POOK'S COMEEK | HELLBOY | & dozens of other comics. TUBE YOUR ENTHUSIASM (2018): LOONEY TUNES | THREE STOOGES | THE AVENGERS | ROCKY & BULLWINKLE | THE TWILIGHT ZONE | & 20 other Fifties (1954–1963) TV shows. WOWEE ZOWEE (2018 weekly): UNISEX | UNDER THE PINK | DUMMY | AMOR PROHIBIDO | HIPS AND MAKERS | & dozens of other Nineties (1994–2003) albums. KLUTE YOUR ENTHUSIASM (2017): THE KILLERS | BANDE À PART (BAND OF OUTSIDERS) | ALPHAVILLE | HARPER | BLOW-UP | & 20 other Sixties (1964–1973) neo-noir movies. #SQUADGOALS (2017 weekly): THE WILD BUNCH | BOWIE'S BAND | THE BLOOMSBURY GROUP | THE HONG KONG CAVALIERS | VI ÄR BÄST! & dozens of other squads. GROK MY ENTHUSIASM (2016 weekly): THE THEORY AND PRACTICE OF LUNCH | WEEKEND | MILLION YEAR PICNIC | LA BARONNE EMILE D'ERLANGER | THE SURVIVAL SAMPLER | & dozens more one-off enthusiasms. QUIRK YOUR ENTHUSIASM (2016): "Tainted Love" | "Metal" | "Frankie Teardrop" | "Savoir Faire" | "Broken English" | & 20 other Seventies (1974–1983) new wave singles. CROM YOUR ENTHUSIASM (2015): DARKER THAN YOU THINK | THE SWORD IN THE STONE | OUT OF THE SILENT PLANET | THIEVES' HOUSE | QUEEN OF THE BLACK COAST | & 20 other Thirties (1934–1943) fantasy novels. KERN YOUR ENTHUSIASM (2014): ALDINE ITALIC | DATA 70 | TORONTO SUBWAY | JOHNSTON'S "HAMLET" | TODD KLONE | & 20 other typefaces. HERC YOUR ENTHUSIASM (2013): "Spoonin' Rap" | "Rapper's Delight" | "Rappin' Blow" | "The Incredible Fulk" | "The Adventures of Super Rhyme" | & 20 other Seventies (1974–1983) hip-hop songs. KIRK YOUR ENTHUSIASM (2012): Justice or vengeance? | Kirk teaches his drill thrall to kiss | "KHAAAAAN!" | "No kill I" | Kirk browbeats NOMAD | & 20 other Captain Kirk scenes. KIRB YOUR ENTHUSIASM (2011): THE ETERNALS | BLACK MAGIC | DEMON | OMAC | CAPTAIN AMERICA | & 20 other Jack Kirby panels.