OGXers: 1954-63
By: Joshua Glenn
February 27, 2010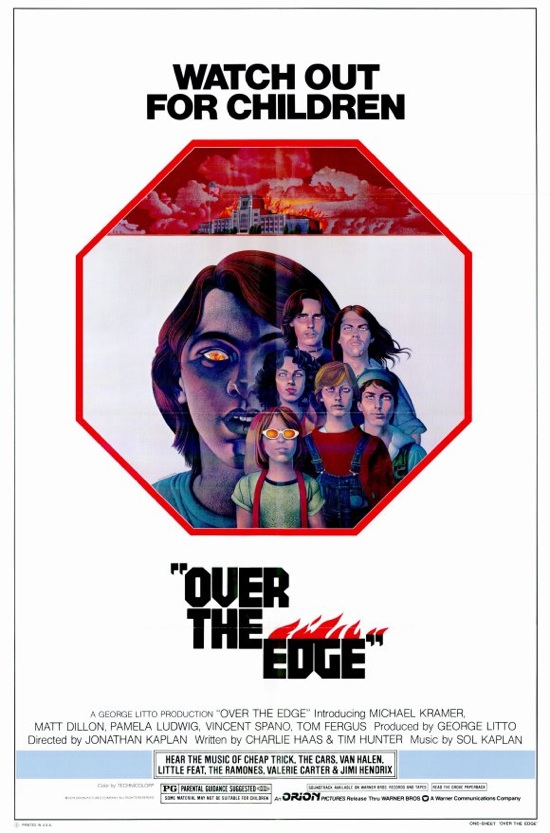 In their teens and 20s during the Seventies (1974-83; not to be confused with the 1970s), and in their 20s and 30s during the Eighties (1984-93; not to be confused with the '80s), members of the extraordinary generational cohort born from 1954-63 are easily distinguished from their immediate elders, the Boomers. Yet, until very recently, few journalists (or anyone else; though some of us tried to say so back in the early 1990s) made this crucial distinction. As a result, the Original Generation X is truly a lost generation.
In the words of OGXer Paul Westerberg, in 1985:
Clean your baby womb, trash that Baby Boom […]
We are the sons of no one, bastards of young […]
Unwillingness to claim us, ya got no word to name us
Some of our favorite OGXers include: Afrika Bambaataa, Annie Nocenti, Bill Hicks, Bob Mould, Bruce Dickinson, Charles Burns, Charlie Kaufman, Chester Brown, Chuck D, D. Boon, Daniel Clowes, David Foster Wallace, Douglas Rushkoff, Joel and Ethan Coen, Frank Miller, George Saunders, Jaime and Gilbert Hernandez, Green Gartside, Guy Maddin, HR (musician, Bad Brains), Iain Banks, Ian Curtis, Jackie Chan, James Hetfield, Jean-Michel Basquiat, Jeanette Winterson, Jello Biafra, Jim Jarmusch (honorary), Joan Jett, John Zorn (honorary), Johnny Rotten, Judith Butler, Kaz, Keith Haring, Kim Gordon (honorary), Kirk Hammett, Kool DJ Herc, Kool Moe Dee, Lars von Trier, Luc Sante, Lynda Barry, Lynn Peril, Madonna, Mark E. Smith, Mark Pauline (honorary), Matt Groening, Melle Mel, Michelle Yeoh, Mike Watt, Morrissey, Neal Stephenson, Nicholson Baker, Nick Cave, Paul Westerberg, Randy Rhoads, Ricky Gervais, Seth, Spike Lee, Stephen Colbert (honorary), Tim Burton, Todd Haynes, Tony Millionaire, Wong Kar-wai.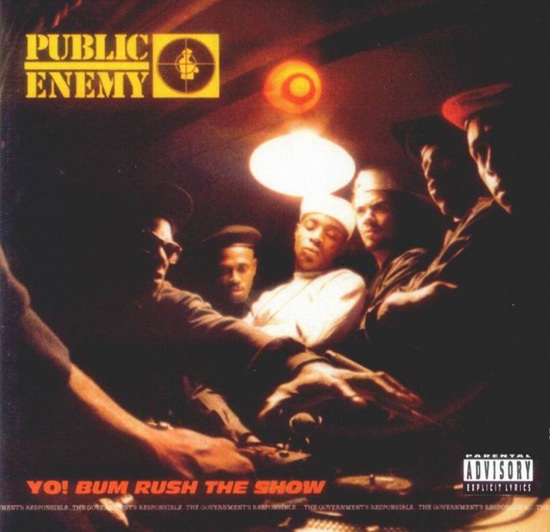 ***
A reminder of my 250-year generational periodization scheme:
1755-64: [Republican Generation] Perfectibilists
1765-74: [Republican, Compromise Generations] Original Romantics
1775-84: [Compromise Generation] Ironic Idealists
1785-94: [Compromise, Transcendental Generations] Original Prometheans
1795-1804: [Transcendental Generation] Monomaniacs
1805-14: [Transcendental Generation] Autotelics
1815-24: [Transcendental, Gilded Generations] Retrogressivists
1825-33: [Gilded Generation] Post-Romantics
1834-43: [Gilded Generation] Original Decadents
1844-53: [Progressive Generation] New Prometheans
1854-63: [Progressive, Missionary Generations] Plutonians
1864-73: [Missionary Generation] Anarcho-Symbolists
1874-83: [Missionary Generation] Psychonauts
1884-93: [Lost Generation] Modernists
1894-1903: [Lost, Greatest/GI Generations] Hardboileds
1904-13: [Greatest/GI Generation] Partisans
1914-23: [Greatest/GI Generation] New Gods
1924-33: [Silent Generation] Postmodernists
1934-43: [Silent Generation] Anti-Anti-Utopians
1944-53: [Boomers] Blank Generation
1954-63: [Boomers] OGXers
1964-73: [Generation X, Thirteenth Generation] Reconstructionists
1974-82: [Generations X, Y] Revivalists
1983-92: [Millennial Generation] Social Darwikians
1993-2002: [Millennials, Generation Z] TBA
LEARN MORE about this periodization scheme | READ ALL generational articles on HiLobrow.
***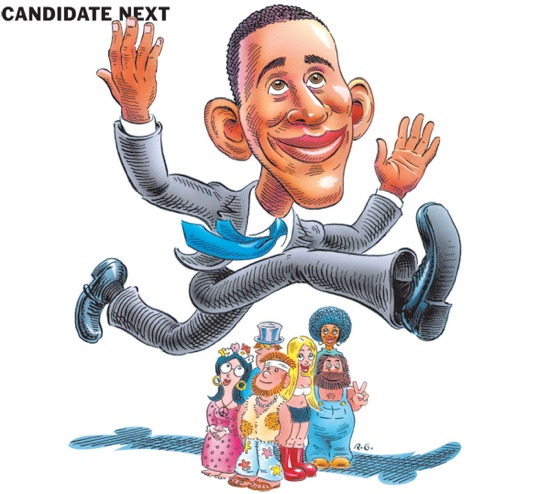 It wasn't until Barack Obama (born 1961) claimed he wasn't a Boomer that a few pundits finally recognized that Americans born in the early 1960s might not actually be Boomers, but are instead "post-Boomers" — or perhaps they're actually the oldest members of the generation born, according to Strauss and Howe, from 1961-81. But Strauss and Howe's so-called "13th Generation" is a bogus construct, as I've argued elsewhere. According to my periodization scheme, members of three distinct generations — younger OGXers, Reconstructionists, and older Revivalists — were born between '61 and '81. Why, one wonders, were those born from 1954-63 considered Boomers for such a long time?
Here's why: according to the US Census Bureau, the postwar baby boom started in '46 and ended in '64. Although the Census Bureau does not involve itself in identifying generations, William Strauss and Neil Howe's influential book Generations (1991) closely mirrored the Census' dates, by claiming those born between 1943 and 1960 were Boomers. Journalists and most others have tended to blindly agree with the Census, or with Strauss and Howe. Douglas Coupland and Billy Idol's shared notion that those born (like them) from the mid-1950s through the early 1960s belonged to an "X" or lost generational cohort, was 100% correct. Thanks largely to Obama's presidential campaign, the OGXers are lost no longer.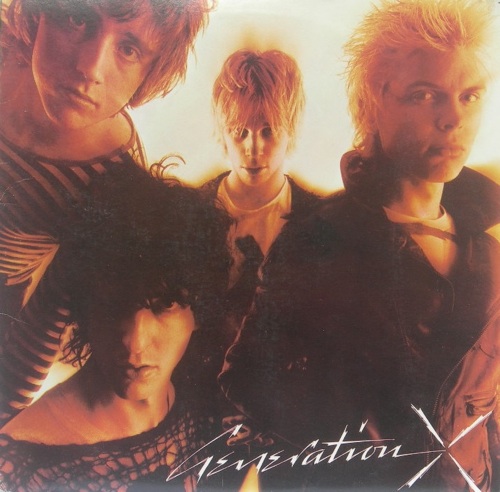 However, Obama wasn't the first to argue that the Blank Generation ended at some point before 1960. When I first wrote about the lost post-Boomer cohort, back in the Winter 1991-92 issue of Hermenaut, I was following the lead of Candi Strecker (It's A Wonderful Lifestyle), who claimed that her generational cohort should be called the "Repo Man Generation" — i.e., in honor of the cult movie directed by and starring OGXers Alex Cox and Emilio Estevez. More recently, marketing consultant Jonathan Pontell has done his best to persuade us that members of a "Generation Jones" were born between 1954 and '65 — a periodization that narrowly avoids agreeing with mine. *
***
The OGX's ethos can be summed up by another three letters: DIY. Working out of their basements, bedrooms, and garages, OGXers gave us… everything.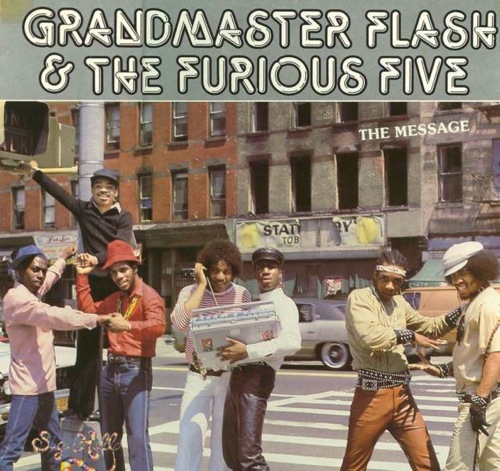 Hip hop and rap: e.g., Kool DJ Herc, Afrika Bambaataa, Grandmaster Flash, Melle Mel, Kurtis Blow, Scott La Rock, Ice-T, Chuck D, Flavor Flav, Fab 5 Freddy, Kid Creole, Wonder Mike, Big Bank Hank, Kool Moe Dee. I borrowed the generation's moniker from Ice-T's "Original Gangsta," did you catch that?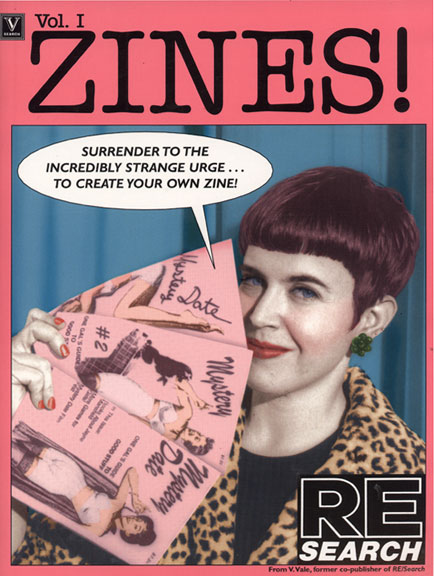 Zines: e.g., David Greenberger's Duplex Planet, Mark Frauenfelder's boing boing (which became the most popular blog in the world), Candi Strecker's Sidney Suppey's Quarterly & Confused Pet Monthly, Jim Hogshire's ANSWER ME!, Lynn Peril's Mystery Date, Pagan Kennedy's Pagan's Head. **
From Candi Strecker's zine It's A Wonderful Lifestyle, vol. 1 (December 22, 1990):
Those of us born in the declining years of the Baby Boom were victims of its cruel demographics. There were so many of 'them' — the Sixties generation, the early baby boomers, born in the 1940s and early 50s — that they bent an entire culture their way… while the concerns of … those born in the late 50s and 60s … were now ignored. … This might even explain the explosive growth of 'zines in recent years: members of the post-Baby Boom generation … realized that if they wanted to be heard at all they'd have to set up their own media. … Those of us born around 1955 fell into the gap between two larger [Boomer] movements, the druggy hedonistic iconoclasm of the 60s and the full-throttle pursuit of materialism in the yuppie 80s.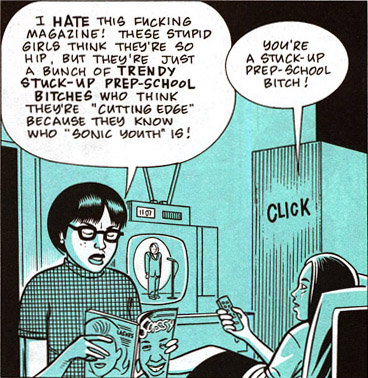 Alt-culture comics and comic strips: e.g., Dan Clowes' Eightball, Joe Matt's Peepshow, Lynda Barry's strip Ernie Pook's Comeek, Matt Groening's strip Life is Hell, Los Bros. Hernandez' Love and Rockets, Charles Burns' Black Hole, Chester Brown's Yummy Fur, Seth's Palooka-Ville, Joe Sacco's Palestine, Peter Bagge's Hate, the work of Mark Newgarden and Drew Friedman, Kaz's strip Underworld, and Tony Millionaire's strip Maakies.
***
As for punk, it's a tricky question. Proto-punk was pioneered by Boomer refuseniks like Wayne Kramer, Jonathan Richman, Fred "Sonic" Smith, Iggy Pop, David Johansen, Johnny Thunders, Patti Smith, Richard Hell, and Tom Verlaine. (Like a race traitor, who supports attitudes or positions thought to be against the interests or well-being of his or her own race, a number of generation traitors rejected Boomer privilege and identity. The title track of The Voidoids' 1977 debut album gave a collective moniker to Richard Hell and his fellow generation traitors: the "Blank Generation.")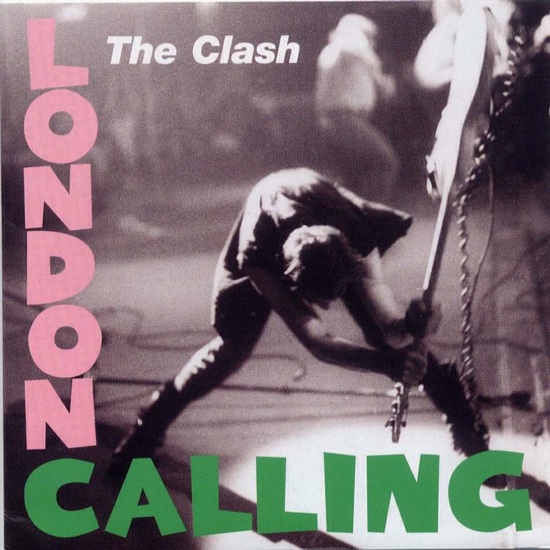 The credit/blame for punk ought to be shared equally between Boomer refuseniks/traitors (e.g., Joe Strummer, Joey Ramone, Stiv Bators, Gary Panter, William Gibson, Debbie Harry, Lux Interior, Poison Ivy) and OGXers (e.g., Mick Jones, John Doe, Johnny Rotten, Exene Cervenka, Kaz, Bruce Sterling, Sid Vicious, Keith Levene, Paul Simonon, Feargal Sharkey, Pete Shelley, Joan Jett, Captain Sensible, Rat Scabies, Poly Styrene, and critic Legs McNeil).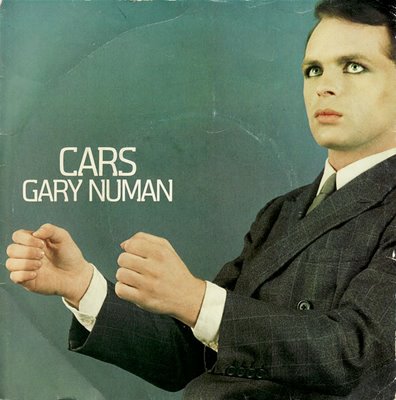 New Wave was also co-created by Boomer refuseniks/traitors (e.g., Ian Dury, Nick Lowe, David Byrne, Sting, Stewart Copeland, Mark Mothersbaugh, Ric Ocasek, Doug Fieger, Fred Schneider, Chris Frantz, Ron and Russell Mael) and OGXers (e.g., Elvis Costello, Gary Numan, Belinda Carlisle, Adam Ant, Boy George, Annie Lennox, Holly Johnson, Cindy Wilson). NB: Midge Ure and Andy Partridge were born on the cusp.
2 Tone, finally, was another collaboration between Boomer refuseniks (e.g., Lynval Golding of the Specials; Neol Davies of The Selecter; Everett Morton of The Beat) and OGXers (e.g., Jerry Dammers, Terry Hall of the Specials; Pauline Black, John Bradbury of The Selecter; Ranking Roger, Dave Wakeling of The Beat; Suggs, Mike Barson, Lee Thompson, Chris Foreman, Mark Bedford of Madness; Buster Bloodvessel of Bad Manners). Horace Panter (Specials) was born in the cusp year of 1953.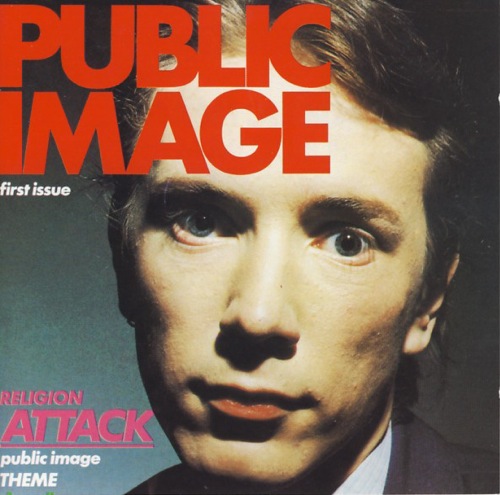 Post-punk is almost entirely an OGXer phenomenon: e.g., Green Gartside, Ian Curtis, Peter Hook, Robert Smith, Mark E. Smith, Paul Weller, John Lydon, Jah Wobble, Bernard Sumner, Siouxsie Sioux, Jon King, Colin Newman, Richard Butler.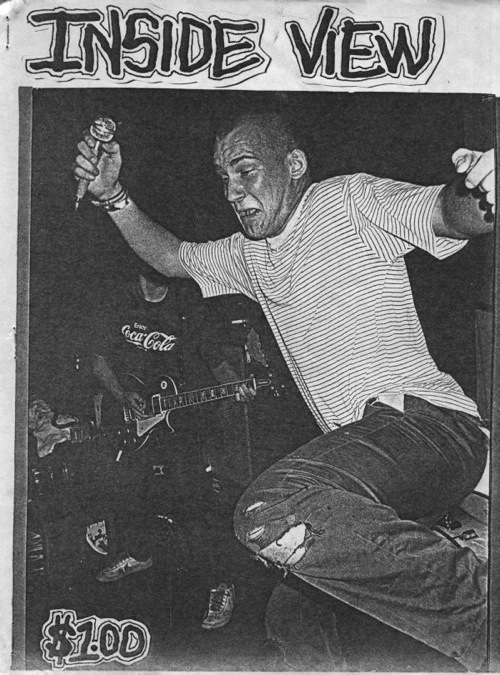 Hardcore, which was even more ferociously DIY, is an OGXer thing: e.g., Greg Ginn, Henry Rollins, Ian MacKaye, Jello Biafra, Raymond Pettibon, Chuck Dukowski, Dez Cadena, H.R., Dr. Know, Darryl Jenifer, Darby Crash.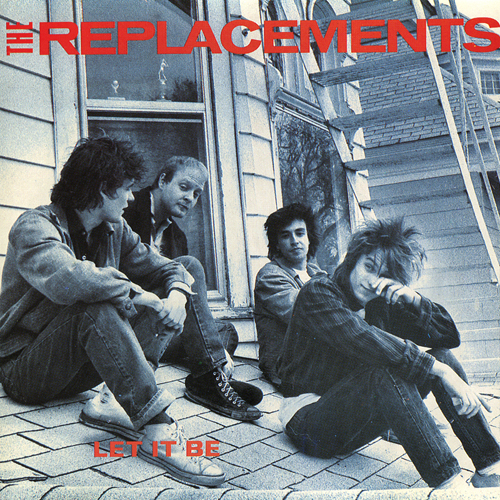 So is alt-rock: e.g., Michael Stipe, Mike Mills, Bob Mould, D. Boon, Mike Watt, Paul Westerberg, Thurston Moore, Perry Farrell, Gordon Gano, Bob Stinson, Morrissey, Johnny Marr, and Kim Gordon (honorary). PS: In its first incarnation, MTV was staffed entirely by OGXers.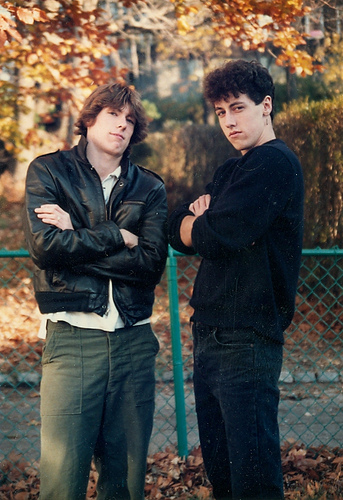 On a personal note: For a vaguely countercultural Reconstructionist like myself, the Eighties (1984-93) would have been intolerable had it not been for the above-mentioned OGXers and OGXer cultural productions. Thanks to the way paved by these and other OGXer creatives, during the Nineties my own cohort found it comparatively easy to publicize and sell our own cultural productions; in part, this was because so many of us accepted and/or promoted the notion that we were "Gen Xers." We weren't — and, for the most part, our productions weren't half as good as those of the Original Generation X.
***
NOTES AND DRAFTS
Strauss and Howe claim, of their fictitious 13th Generation, that for Americans born just after the Boomers, coming of age was like arriving at "a beach at the very end of a long summer of big crowds and wild goings-on. The beach bunch is sunburned, the sand shopworn, hot, and full of debris — no place for walking barefoot. You step on a bottle, and some cop cites your for littering." Naturally, it's absurd to imagine that Strauss and Howe's so-called 13ers, the oldest of whom would have been only 9 at the end of the 1960s, would feel this sort of resentment. What Strauss and Howe are actually describing is the OGXers' experience.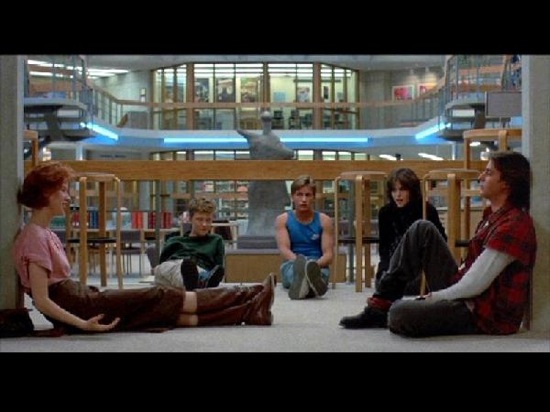 In 1967, when Guy Debord wrote that "the individual's gestures are no longer his own; they are the gestures of someone else who represents them to him," he was talking about younger Boomers and older OGXers, who were being raised he feared — and taught how to behave, even gesture — not by their families or even their communities, but by television and movies. This generation of latch-key kids learned even their smallest behaviors from sitcoms, dramadies, S.E. Hinton adaptations, and John Hughes high-school farces starring OGXer child actors. For example: Happy Days, The Brady Bunch, The Partridge Family, Lost in Space, Fast Times at Ridgemont High, Taps, Risky Business, Little Darlings, Bad News Bears, The Outsiders, Rumble Fish, 21 Jump Street, Sixteen Candles, The Breakfast Club, St. Elmo's Fire, Pretty in Pink, Ferris Bueller's Day Off, Joanie Loves Chachi, Family Ties, Eight is Enough, and One Day at a Time.
"If we're talking about big-picture mass-cultural generational stuff," OGXer Chris Fujiwara once told me, the following things define "the nightmare that is the OGX experience":
For me as an OGXer the biggest thing was the decline of TV during the early Reagan era. I'm sure deregulation and the erosion of the FCC played a big part in this. The early 1980s saw: infomercials, colorization, phone-sex ads, the decline of independent stations (which went out of business, were bought up by the big networks, or were forced to form standardized mini-networks — meaning an end to whatever truly idiosyncratic and strange regional-flavored local programming existed), the decline in quality of public broadcasting, and the near-total disappearance of black-and-white from broadcast TV — making it impossible to see things like Bowery Boys and Charlie Chan movies and the Abbott and Costello Show — the things that made American TV worthwhile. Since then we've gained DVD and the Internet, but the sense of simultaneous community (and continuity with the weirdness of the American cultural past) that defined TV is lost.
Speaking of nightmares, Alex Cox's Repo Man tells the story of a 20something disillusioned not only with American society and culture, but with the empty rebelliousness of his fellow middle-class suburban punks. Note that Otto isn't un-idealistic, just baffled and skeptical. As I've written elsewhere, while OGXers were in their teens and 20s, socialism as a doctrine and a movement no longer seemed capable of addressing the insurgent political, economic, and cultural doctrine that during the market-worshiping Eighties would come to be called neoliberalism. Neoliberal triumphalism, globalism, the dominant discourse: what were OGXers supposed to do about them?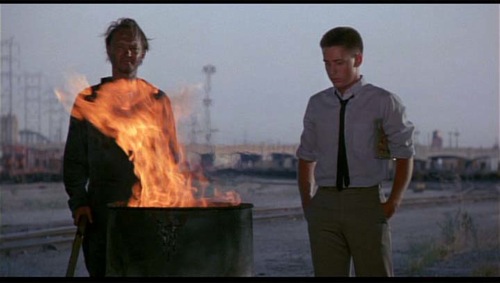 OGXers had a front-row seat for the Reagan Revolution, during which they saw liberal become a pejorative, as many Americans recoiled from the liberation movements of the Sixties and Seventies. The Boomers had Roe v. Wade; OGXers got the anti-abortion backlash and the keeping-my-baby meme. Too young for Woodstock, just old enough for Watergate and the energy crisis, in 1990 Time Magazine described their youngest members as directionless, nihilistic, depressed "twentysomethings." As for older OGXers, Time and other outlets lumped in the oldest OGXers in with the Boomers. True, the Original Generation X is cynical, ironical, skeptical — but that's not the same as directionless, nihilistic, or depressed.
Postmoderns offered up theories of how social control was now exercised not through class domination but increasingly subtle mechanisms. The modern liberal state, OGXers were informed, was a neototalitarian apparatus designed solely to optimize the economic utility of recalcitrant individuals. No wonder that many OGXers embraced what Baudrillard would call their generation's "soft ideologies" (e.g., ecologism and antiracism) instead of, say, social justice. Having given up on the workingman and college students after '68, Postmodern and Anti-Anti-Utopian intellectuals cast about for a new revolutionary subject: the psychotic, perhaps; or the criminal, the part-time worker, maybe the unemployed? In a 1977 interview, Foucault said he was looking for "someone who, wherever he finds himself, will pose the question as to whether revolution is worth the trouble, and if so which revolution and what trouble."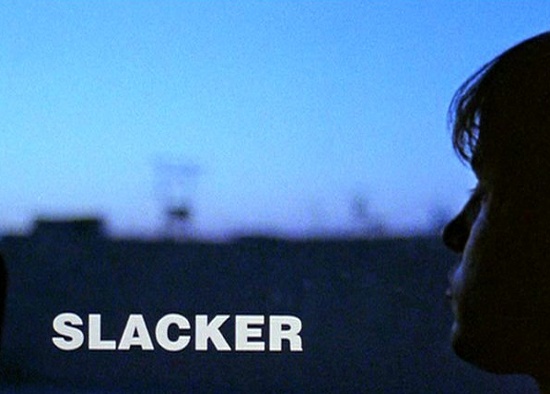 That's what OGXers have asked; that's what Linklater's Slacker, for example, is about. But is it possible to describe OGXers positively? Yes, and I'll take my cue from British music journalist Simon Reynolds's Rip It Up and Start Again, a work of cultural anthropology exhuming the years 1978-84 in England and the US — that is, the years during which the OGXers came of age. According to Reynolds, postpunk music, style, and affect was a backlash against the authenticity-mongering of punk, which (despite its anti-rockist stance) tended to be obsessed (like rock) with the shibboleth of authenticity. Though there was a fanatical seriousness of intent with post-punk acts like Scritti Politti and Public Image, Ltd., post-punks tended to embrace their own inauthenticity. Post-punk may have been ironic in its questioning of identity and gender roles; but it was a passionate, engaged irony.
Passionate, engaged irony: I have long believed that there is no superior mode of living. Examples of engaged irony can be found in every modern generation; but it is the OGXers' mantra.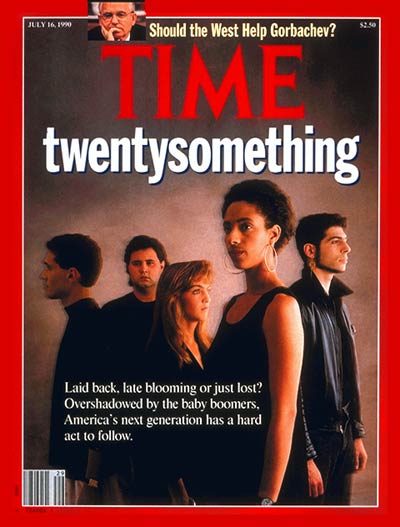 ***
Meet the OGXers.
HONORARY OGXERS (BORN 1953): Kim Gordon (musician, Sonic Youth), Jim Jarmusch (indie director, Stranger Than Paradise, Dead Man), Mark Pauline (Survival Research Labs), John Zorn (avant-garde composer), Cyndi Lauper (pop star), David Thomas (Pere Ubu), Midge Ure (Ultravox).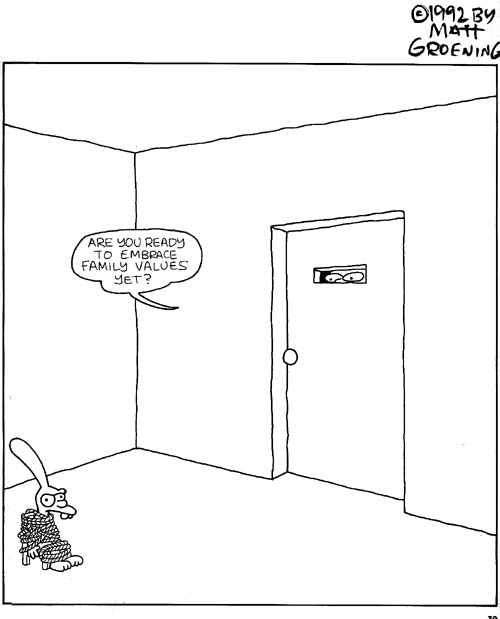 1954: Matt Groening (cartoonist, Life is Hell, The Simpsons), Annie Lennox (singer/songwriter), Jackie Chan (martial arts star), Luc Sante (historian, essayist), Brigitte Lin (actor), Colin Newman (musician, Wire), Iain Banks (Scottish author, Consider Phlebas), Plastic Bertrand (New Wave musician), Greg Ginn (Black Flag guitarist, founded SST Records), Bruce Sterling (science fiction author), Joel Coen (filmmaker, Coen Brothers), Captain Sensible (post-punk musician), John Doe (musician, X), Jerry Seinfeld (comedian, actor, Seinfeld), Elvis Costello (New Wave musician), Howard Stern (radio personality), Alex Cox (director, Repo Man), Mike Kelley (abject artist), Adam Ant (New Wave musician), Michael Moore (documentary director), David Lee Roth (singer, Van Halen), Kurt Andersen (author, cofounded Spy Magazine and Inside.com), Alex Beam (Boston Globe columnist, author), David Greenberger (zine publisher), Tim O'Reilly (O'Reilly Media), Amy Heckerling (director, Fast Times at Ridgemont High), Roz Chast (cartoonist), Ron Palillo (Horshak on Welcome Back, Kotter), Lou Perlman (boy bands and Ponzi schemes), Bill Mumy (Lost in Space), Christie Brinkley (supermodel), Steven Pinker (linguist, The Language Instinct), Roddy Piper (wrestler, actor), Al Roker (Today Show weatherman), Bill Buford (author, editor of Granta), Patty Hearst (kidnapped by SLA), Larry Summers (economist), Dennis Quaid (actor), Ellen Barkin (actor), Jeffrey Sachs (economist, The End of Poverty), Jake Burton (snowboard manufacturer), Freddie Prinze (actor), Jon Krakauer (author, Into Thin Air), Barry Williams (Greg on The Brady Bunch), Seka (porn star), Allison Anders (director, Grace of My Heart), Kathleen Turner (actor), Chris Noth (actor, Sex and the City), Condoleezza Rice (US Secretary of State), Kazuo Ishiguro (novelist), Jermaine Jackson (musician), Denzel Washington (actor), Rickie Lee Jones (musician), Bobby Sands (Irish hunger striker), Joe Jackson (singer/songwriter), Ang Lee (director, Crouching Tiger Hidden Dragon), Scott Adams (programmer, Adventureland), Kwame Anthony Appiah (philosopher, The Ethics of Identity), Catherine Bach (Daisy Duke on Dukes of Hazzard), Richard Kern (underground filmmaker), Marc Blank (programmer, Zork), Jane Campion (director, The Piano), Sandra Cisneros (author), Joe Conason (New York Observer political columnist), David Crane (programmer, Pitfall!, Freeway), Recep Tayyip Erdogan (prime minister of Turkey), Ray Liotta (actor, Goodfellas), Sid Meier (father of computer gaming, Civilization), Anthony Minghella (director), Ivan Stang (Church of the SubGenius), Cass Sunstein (scholar). HONORARY BOOMERS: Ron Howard (Happy Days actor, middlebrow film director), Oprah Winfrey (middlebrow TV host), Bob Weinstein, (middlebrow film producer), James Cameron (middlebrow SF director, Avatar, Titanic), John Travolta (actor), Louise Erdrich (middlebrow novelist), Anne Lamott (middlebrow author, Operating Instructions), Jim Belushi (middlebrow actor), Stevie Ray Vaughn (musician), Rick Warren (The Purpose-Driven Life).
1955: Paul Simonon (post-punk musician, The Clash), Green Gartside (musician, Scritti Politti), Chow Yun-Fat (actor), Palmolive (post-punk musician, The Slits), Kool DJ Herc (musician, hip hop pioneer), Arthur Ganson (sculptor), Tim Berners-Lee (inventor, World Wide Web), Charles Burns (cartoonist, Black Hole), Leroy Sievers (journalist), Sandra Bernhard (comic), Christian Marclay (visual artist and composer; vinyl record re-combiner, compiler of The Clock), Glenn Danzig (musician, The Misfits, Danzig), Howard Devoto (Buzzcocks), Roland Emmerich (director), Jay McInerney (author, Bright Lights, Big City), Billy Idol (post-punk musician, Generation X), Isabelle Adjani (actor), Olivier Assayas (director), Caleb Carr (novelist), Dana Carvey (comic, Saturday Night Live), Mark David Chapman (killed John Lennon), Judy Davis (actor), Janice Dickinson (1970s supermodel), Kevin DuBrow (Quiet Riot), Peter Gallagher (actor), Jeff Koons (artist), Eddie Van Halen (guitarist, Van Halen), Michael Pollan (author, The Omnivore's Dilemma), John Grisham (bestselling novelist), Arsenio Hall (former talk show host), Jeff Daniels (actor), Ray Ozzie (Microsoft chief software architect), Penn Jillette (Penn and Teller), Dee Snider (Twisted Sister), Gary Sinise (actor), Bruce Willis (actor), Dave Winer (programmer, RSS), Debra Winger (actor), Sandra Bernhard (comic), Billy Bob Thornton (actor, director), Steve Jobs (cofounded Apple), Bill Gates (cofounded Microsoft), Katharine Weber, Whoopi Goldberg (middlebrow actor), Rowan Atkinson (actor, Mr. Bean), Nina Hagen (musician), Mick Jones (The Clash), Steve Jones (The Sex Pistols), John Kricfalusi (cartoonist, Ren and Stimpy), Willem Dafoe (actor), Paul Greengrass (director), David Alan Grier (actor), Iman (Somali supermodel), Jane Kaczmarek (actor), Yo-Yo Ma (cellist), Wayne Knight (Newman on Seinfeld). HONORARY BOOMERS?: Kelsey Grammer (middlebrow actor), Kevin Costner (middlebrow actor), Michiko Kakutani (middlebrow book critic), Susan Orleans (high-middlebrow journalist), Barbara Kingsolver (middlebrow author), Nina Blackwood (MTV).
1956: Johnny Rotten (John Lydon, musician, Sex Pistols and Public Image, Ltd.), HR (musician, Bad Brains), Guy Maddin (director, The Saddest Music in the World), Judith Butler (scholar, Gender Trouble), Lynda Barry (cartoonist, Ernie Pook's Comeek), Tony Millionaire (cartoonist, Maakies), Kim Cattrall (Sex and the City), Randy Rhoads (heavy metal guitarist), Lars von Trier (director, Breaking the Waves), Ian Curtis (singer, Joy Division), G.G. Allin (musician), Marc Almond (musician, Soft Cell), Steve Ballmer (CEO of Microsoft), Brad Bird (Pixar director), Joan Blades (cofounded MoveOn.org), Don Bolles (drummer, The Germs), Geena Davis (actor), Bo Derek (actor), Peter Farrelly (director), Karen Finley (performance artist), Carrie Fisher (Star Wars), Kenny G (middlebrow musician), Andy Garcia (actor), Mel Gibson (actor), Ted Haggard (televangelist), Linda Hamilton (actor), Tom Hanks (middlebrow actor), Steve Harvey (comic), Debby Boone (Christian singer), Bjorn Borg (tennis player), Danny Boyle (director, Trainspotting, 28 Days Later, Slumdog Millionaire), Peter Buck (REM), David Caruso (plays cops on TV), Exene Cervenka (vocalist for X), Larry Charles (Seinfeld writer, directed Borat), David Copperfield (magician), Bryan Cranston (greatest TV actor of his generation), Peter Hook (Joy Division, New Order), Randy Jackson (American Idol), David E. Kelley (creator/writer of TV shows like Ally McBeal and L.A. Law), Tony Kushner (playwright – middlebrow?), Nathan Lane (actor), Helmut Lang (fashion designer), Bill Maher (talkshow host, Politically Incorrect), Mick Mars (Motley Crue), Maureen McCormick (Marcia on Brady Bunch), Lee Ranaldo (Sonic Youth), Mimi Rogers (actor), Bob Saget (comic, TV show host), David Sedaris (This American Life humorist), Dave Sim (cartoonist, Cerebus), Montel Williams (talk show host), Stephanie Zimbalist (actor), Adam Gopnik (New Yorker writer), Legs McNeil (music critic, claims he coined the term "punk" to describe a certain type of music, fashion, and attitude).
1957: Nicholson Baker (author, The Mezzanine, The Fermata), Ai Weiwei (artist, activist), Spike Lee (director, Do the Right Thing), Sid Vicious (Sex Pistols), Annie Nocenti, Sheila E. (musician), Nick Cave (singer), Siouxsie Sioux (Siouxsie and the Banshees), Adrian Smith (musician, Iron Maiden), Felix Gonzales-Torres (artist), Mark E. Smith (The Fall), Peter Bagge (cartoonist, Hate), Adam Parfrey (Feral House), Afrika Bambaataa (hip hop pioneer), Karl Wallinger (musician), Billy Ruane (Boston scenester, music promoter), King Kong Bundy (wrestler), Billy Bragg (musician), Berke Breathed (cartoonist, Bloom County), Steve Buscemi (actor), Chris Carter (creator of X-Files), Ethan Coen (director), Richard E. Grant (actor, Withnail and I), Gibby Haynes (Butthole Surfers), Gilbert Hernandez (cartoonist, Love & Rockets), Frank Miller (comic book writer, Dark Knight Returns), Russell Simmons (Def Jam Records), Mike Watt (bassist, Minutemen), Robert Townsend (wrote, directed, produced, starred in Hollywood Shuffle), Osama bin Laden (founding leader of terrorist organization al-Qaeda), Nick Hornby (author), Cameron Crowe (writer, Fast Times at Ridgemont High; director, Jerry Maguire), LeVar Burton (La Forge on Star Trek: TNG), Scott Adams (cartoonist, Dilbert), Jonathan Alter (political columnist), Dan Castellaneta (voice of Homer Simpson), Julian Cope (musician), Katie Couric (middlebrow journalist), David Crane (co-created Friends), Daniel Day-Lewis (actor), Fran Drescher (actor), Stephen Fry (actor), Vince Gill (country singer), Melanie Griffith (actor), Jeff Hawkins (inventor, Palm Pilot and Treo), Hamid Karzai (president of Afghanistan), Joe Keithley (D.O.A.), Christopher Knight (Peter on Brady Bunch), John Lasseter (Pixar director), Matt Lauer (middlebrow TV journalist), Denis Leary (comic, actor), Michael Lehmann (director, Heathers), Patty Loveless ("new traditionalist" country singer), Lyle Lovett (country musician), Jon Lovitz (comic), Bernie Mac (comic, actor), Shane MacGowan (The Pogues), Frances McDormand (actor), Kelly McGillis (actor), Mira Nair (director), Mojo Nixon (musician), Donny Osmond (singer, TV show host), Amanda Plummer (actor), Richard Powers (novelist), Susan Powter (fitness guru), Judge Reinhold (actor, Fast Times at Ridgemont High), Paul Reiser (comic, actor on Mad About You), Jay Roach (director, Austin Powers, Meet the Parents), Ray Romano (comic, actor on Everybody Loves Raymond), Timothy Treadwill (the Grizzly Man), John Turturro (actor), Mario Van Peebles (actor, director), Vanna White (game show letter-turner), Cindy Wilson (B-52s), Madison Smartt Bell (novelist), Michael Kelly (New Republic and Atlantic Monthly editor), Gloria Estefan (singer).
1958: Prince (musician), Jello Biafra (singer, Dead Kennedys), Penelope Houston (musician), D. Boon (musician, Minutemen), Karen Berger (comic book editor), Bruce Dickinson (Iron Maiden), Joan Jett (rocker), Wong Kar-wai (director, Chungking Express), Alec Baldwin (actor, 30 Rock), Melle Mel (hip hop pioneer), Andrew Eldritch (musician), Anna Politkovskaya (journalist, activist), Tim Burton (director), Bruce Campbell (cult actor), Darby Crash (The Germs), Drew Friedman (cartoonist), Grandmaster Flash (hip hop pioneer), Keith Haring (graffiti and mural artist), Michael Jackson (King of Pop), Charlie Kaufman (screenwriter, Adaptation; director), Madonna (singer, actor), Thurston Moore (Sonic Youth), George Saunders (author), Jennifer Saunders (comic, Absolutely Fabulous), Jah Wobble (Public Image Ltd.), Jack Abramoff (lobbyist), Christiane Amanpour (CNN reporter), Kevin Bacon (actor, Footloose), Angela Bassett (actor), Annette Bening (actor), Simon Le Bon (Duran Duran), Susie Bright (sexpert), Kate Bush (musician), Candace Bushnell (wrote Sex and the City), Drew Carey (comic, actor), Belinda Carlisle (Go-Gos), Steve Case (CEO of AOL), Shaun Cassidy (teen heartthrob), Andrew Dice Clay (horrible comic), Jamie Lee Curtis (actor), Ellen DeGeneres (comic, actor, talk-show host), Thomas Dolby (musician), Roddy Doyle (novelist), Michael Eric Dyson (scholar), Bobby Farrelly (director), Helen Fielding (novelist, Bridget Jones's Diary), Jeff Foxworthy (redneck comic), Matt Frewer (actor, Max Headroom), Lisa Germano (singer/songwriter), Andy Gibb (musician), Steve Guttenberg (actor), Holly Hunter (actor), Ice-T (rapper), Andie MacDowell (actor, model), Mike Mills (R.E.M.), Elvis Mitchell (New York Times critic), Viggo Mortensen (actor), Gary Numan (musician), Gary Oldman (actor), Nick Park (animator, Wallace and Gromit), Michelle Pfeiffer (actor), Eve Plumb (Jan on The Brady Bunch), David Remnick (New Yorker editor), Tim Robbins (actor), David O. Russell (director, I Heart Huckabees), Bill Sienkiewicz (cartoonist, Elektra: The Assassin), Nikki Sixx (Mötley Crüe bassist), Sharon Stone (actor), Bill Watterson (cartoonist, Calvin and Hobbes), Keenen Ivory Wayans (comic).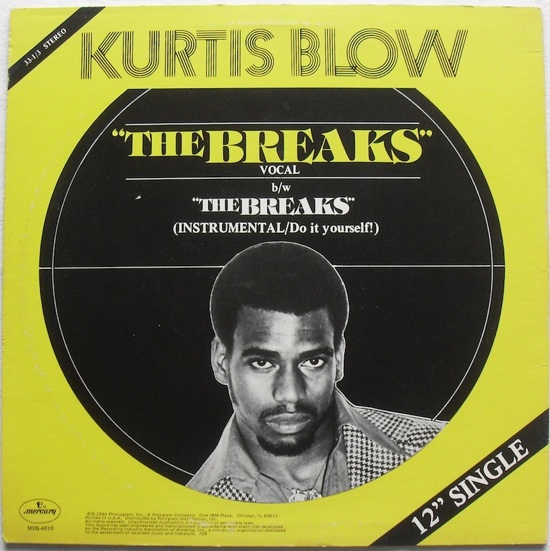 1959: Kurtis Blow (hip hop pioneer), Neal Stephenson (science fiction author), Morrissey (musician, The Smiths), "Weird Al" Yankovic (satirist), Brian Setzer (Stray Cats), Flavor Flav (rapper), Jeanette Winterson (novelist, Oranges Are Not the Only Fruit), Jonathan Franzen (author, The Corrections), Ira Glass (NPR personality, This American Life), Jaime Hernandez (cartoonist, Love and Rockets), Kaz (cartoonist, Underworld), Sam Raimi (director), Robert Smith (The Cure), Todd Solondz (director, Welcome to the Dollhouse), Tracey Ullman (comic), Mark Newgarden (cartoonist, Cheap Laffs), Bryan Adams (Canadian rocker), Jason Alexander (George Costanza on Seinfeld), Rosanna Arquette (actor), Luc Besson (director), Linda Blair (actor), Kurtis Blow (hip hop pioneer), Danny Bonaduce (Partridge Family), Julie Burchill (Modern Review editor), Nancy Cartwright (voice of Bart Simpson), Simon Cowell (American Idol judge), Mark Dery (culture jamming), Vincent D'Onofrio (actor), Sheena Easton (singer), Rupert Everett (actor), Fabio (model), Susan Faludi (activist), Perry Farrell (musician, Jane's Addiction), Clint Howard (actor), Magic Johnson (athlete), Catherine Keener (actor), Val Kilmer (actor), Nastassja Kinski (model, actor), David Koresh (cult leader), Hugh Laurie (actor), Maya Lin (architect), Lydia Lunch (punk and spoken word), Kelly Lynch (actor), Kyle MacLachlan (actor), Ian McCulloch (Echo and the Bunnymen), John McEnroe (tennis player), Matthew Modine (actor), Rebecca De Mornay (actor), Judd Nelson (actor), Marie Osmond (singer), Martha Quinn (MTV), Ving Rhames (actor), Sade (musician), Eric Schlosser (author, Fast Food Nation), Madeleine Smithberg (Daily Show co-creator), Kevin Spacey (actor), Emma Thompson (actor), Katrina vanden Heuvel (editor, The Nation), Suzanne Vega (musician), William T. Vollmann (author), Bradley Whitford (actor), Yellowman (musician), Sean Young (actor), Joe Elliott (Def Leppard).
1960: Jean-Michel Basquiat (graffiti artist, painter), Grant Morrison (comic book writer), Chester Brown (cartoonist, Yummy Fur), Anjelique Kidjo (musician), Richard Linklater (director, Slacker), Alison Bechdel (cartoonist, Bechdel Test), Bono (singer, U2), Chuck D (rapper, Public Enemy), Mark Frauenfelder (zine publisher, boing boing, MAKE Magazine), Neil Gaiman (writes comics, Sandman), Bob Mould (Hüsker Dü frontman), Joe Sacco (cartoonist, Palestine), Michael Stipe (R.E.M.), Paul Westerberg (The Replacements), Willie Aames (Actor, Eight is Enough), Carol Alt (supermodel), Eric Alterman (Nation columnist), Antonio Banderas (actor), Valerie Bertinelli (actor, One Day at a Time), Erin Brockovich (activist), Mark Burnett (reality TV producer), Luther Campbell (rapper), Adam Clayton (U2), Jaz Coleman (Killing Joke), Chuck Collins (activist, United for a Fair Economy), Jeffrey Dahmer (serial killer), Jean-Claude Van Damme (actor), David Duchovny (actor, X-Files), Jeff Dunham (comic), Atom Egoyan (director), Chris Elliott (comic), Jeffrey Eugenides (author), Colin Firth (actor), Seth Godin (branding guru), Hugh Grant (actor), Jennifer Grey (actor), Daryl Hannah (actor), Joel Hodgson (comic, created Mystery Science Theater 3000), Michael Hutchence (INXS), Timothy Hutton (actor), Holly Johnson (Frankie Goes to Hollywood), Brewster Kahle (Internet Archive), John F. Kennedy, Jr. (magazine publisher), Cris Kirkwood (Meat Puppets), Jaron Lanier (virtual reality pioneer), Nigella Lawson (chef), Ivan Lendl (tennis star), Michael Lewis (journalist), Mike Lookinland (The Brady Bunch), David Lowery (Camper Van Beethoven), Aimee Mann (musician), Scott McCloud (Understanding Comics), Julianne Moore (actor), Erin Moran (Joanie on Happy Days), Nena (singer), George Packer (journalist), Sean Penn (actor, Fast Times at Ridgemont High), Glenn Reynolds (Instapundit blogger), Tony Robbins (motivational speaker), J. Otto Seibold (children's book author-illustrator), James Spader (actor), Stanley Tucci (actor), Will Wright (programmer, created The Sims), Chuck Lane (journalist).
1961: Dez Cadena (musician, Black Flag), Ricky Gervais (actor, comedy writer, The Office), Bill Hicks (visionary comic), Suggs (musician, Madness), Eddie Murphy (comic), Daniel Clowes (cartoonist, Eightball, Ghost World), Vincent Gallo (actor), Todd Haynes (director, I'm Not There), Henry Rollins (musician, Black Flag), George Clooney (actor), Douglas Coupland (novelist, Generation X), Wayne Coyne (Flaming Lips), Kim and Kelley Deal (The Breeders), Laurence Fishburne (actor), Barack Obama (44th US president), Rankin' Roger (singer, The Beat), Douglas Rushkoff (author), Will Self (novelist), Lynn Peril (zine publisher, cultural historian, Mystery Date), Tom Araya (singer, Slayer), Scott Baio (actor), Susan Boyle (Britain's Got Talent star), David Brooks (conservative columnist, Bobos in Paradise), Gabrielle Carteris (90210), Ann Coulter (conservative pundit), Alfonso Cuarón (director, Children of Men), Billy Ray Cyrus (country musician), Dinesh D'Souza (conservative author), Stephen Daldry (director, The Hours), Lloyd Dangle (cartoonist, Troubletown), Peter Diamandis (X-Prize), The Edge (U2), Enya (New Age musician), Melissa Etheridge (musician), Michael J. Fox (actor), James Gandolfini (actor), Leif Garrett (teen idol; actor, The Outsiders), Boy George (musician), Jim Goad (zine publisher, ANSWER Me!), Wayne Gretzky (hockey legend), Jackie Earle Haley (actor), Woody Harrelson (actor), Mariel Hemingway (actor), Peter Jackson (director), Daniel Johnston (singer/songwriter), kd lang (singer), Greg LeMond (bicyclist), Lawrence Lessig (constitutional law), Heather Locklear (actor), George Lopez (comic), Julia Louis-Dreyfus (Elaine on Seinfeld), Ralph Macchio (actor, The Outsiders), Virginia Madsen (actor), Wynton Marsalis (trumpter), Elizabeth McGovern (actor), Isaac Mizrahi (fashion designer), Rick Moody (author), Larry Mullen (U2), Vince Neil (Mötley Crüe), Susan Olsen (Brady Bunch), John Podhoretz (conservative columnist), Ralph Reed (conservative activist), Tim Roth (actor), Arundhati Roy (author), Meg Ryan (actor), Zander Schloss (Circle Jerks bassist), Amy Sedaris (actor), Aaron Sorkin (TV writer, West Wing), Darren Star (TV producer, 90210), George Stephanopoulos (political pundit), Eric Stoltz (actor, Fast Times at Ridgemont High), Irvine Welsh (novelist), Forest Whitaker (actor, Fast Times at Ridgemont High), Michael Winterbottom (director, 24 Hour Party People), Stewart O'Nan (author), Caitlin Flanagan (writer, social critic), Princess Di.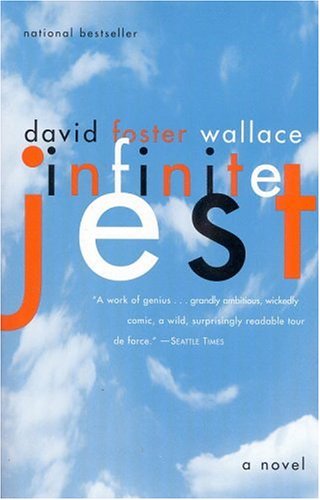 1962: David Foster Wallace (novelist, Infinite Jest), Ari Up (postpunk frontwoman, The Slits), Scott La Rock (hip hop DJ, Boogie Down Productions), Steve Albini (music producer), Steve Carell (actor, The Office), Jim Carrey (actor), Tom Cruise (actor, The Outsiders), Kirk Hammett (Metallica), Mike Judge (cartoonist, Beavis and Butthead), Ian MacKaye (Minor Threat), Axl Rose (Guns N' Roses), Seth (cartoonist, Palooka-Ville), Jon Stewart (comic, Daily Show), Michelle Yeoh (actor), Marley Marl (pioneering hip hop producer), Pagan Kennedy (zine publisher, author), Paula Abdul (singer, choreographer, American Idol judge), Jon Bon Jovi (musician), Matthew Broderick (actor), Garth Brooks (country musician), Cliff Burton (Metallica), Stephen Chow (actor), Sheryl Crow (singer), Joan Cusack (actor), Tamra Davis (director), Karen Duffy (MTV), Emilio Estevez (actor, The Outsiders), Craig Ferguson (talk show host), Ralph Fiennes (actor), Flea (Red Hot Chili Peppers), Jodie Foster (actor), Jeff Garlin (actor), Roland Gift (singer), Bobcat Goldthwait (comic), Mark Haddon (author), MC Hammer (singer), Felicity Huffman (actor), Anthony Kiedis (Red Hot Chili Peppers), Tommy Lee (Mötley Crüe drummer), James LeGros (actor), Jennifer Jason Leigh (actor, Fast Times at Ridgemont High), Sandra Tsing Loh (author, actor), Baz Luhrmann (director), Christopher Martin (Play of Kid n' Play), Andrew McCarthy (actor), Kristy McNichol (actor), Michael Monroe (Hanoi Rocks), Demi Moore (actor), Rosie O'Donnell (talk show host), Bob Odenkirk (comic, The Ben Stiller Show), Chuck Palahniuk (author, Fight Club), Hironobu Sakaguchi (created Final Fantasy videogames), Ally Sheedy (actor), Scott McLemee (writer), Wesley Snipes (actor), Naomi Wolf (author, The Beauty Myth), Daphne Zuniga (actor), Matthew Sharpe (author, Jamestown).
1963: Rick Rubin (record producer, Def Jam), Kool Moe Dee (rapper), James Hetfield (Metallica), Richard Garfield (mathematician, invented Magic: The Gathering), John Prendergast (activist), Garry Kasparov (chess player), Jet Li (kung fu action movie star), June and Jennifer Gibbons (criminals, authors), Justin Bond (performer), Steven Soderbergh (director), Gordon Gano (Violent Femmes), Jarvis Cocker (singer, Pulp), Lars Ulrich (Metallica), Simon Reynolds (music journalist), Mark Kingwell (philosopher, culture critic), Joe Matt (cartoonist, Peepshow), Kathy Ireland (model), Whitney Houston (diva), John Stamos (actor), Eazy-E (rapper), Tatum O'Neal (actor), Michael Chabon (novelist), Andrew Sullivan (journalist), George Michael (singer), Jennifer Beals (actor), Tori Amos (singer), Downtown Julie Brown (MTV), Phoebe Cates (actor, Fast Times at Ridgemont High), Ted Demme (director), Edie Falco (actor), Dave Foley (actor), Nick Gillespie (Reason Magazine), Malcolm Gladwell (journalist), Brian Greene (superstring theory), Helen Hunt (actor), Marc Jacobs (fashion designer), Greg Kinnear (actor), Neil LaBute (director), Elle Macpherson (model), Johnny Marr (guitarist, The Smiths), Mark McGwire (baseball), Natalie Merchant (musician), Bret Michaels (Poison frontman), Grant Lee Phillips (musician), Andrew Ridgeley (Wham!), Donna Tartt (novelist). HONORARY RECONSTRUCTIONISTS: Alex Star (magazine, newspaper editor), Mike Myers (actor, Austin Powers), Lisa Kudrow (actor, Friends), Brad Pitt (actor), Johnny Depp (actor), Ted Rall (cartoonist), E.L. James (author of Fifty Shades of Grey trilogy), Mitchell Hurwitz (created Arrested Development), Michael Cuesta (created Homeland), Toby Young (journalist), Quentin Tarantino (director, Pulp Fiction), Conan O'Brien (talk show host), Elisabeth Shue (actor), Coolio (rapper), Eric McCormack (Will on Will and Grace).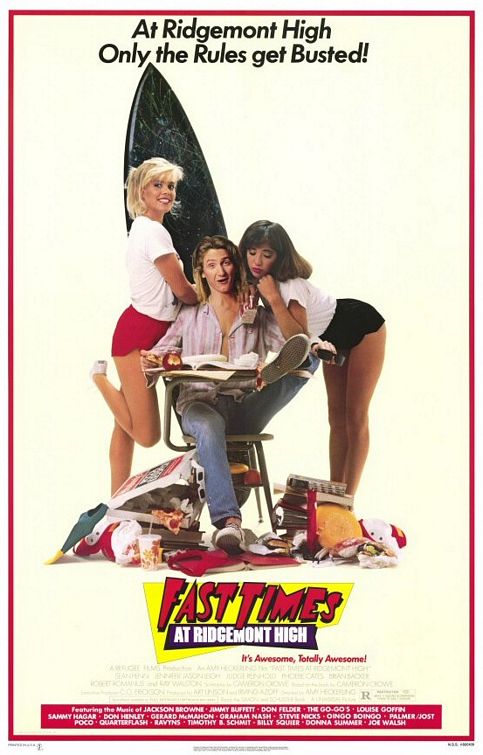 HONORARY OGXERS (born 1964): Nicolas Cage (actor), Matt Dillon (actor, The Outsiders), Bret Easton Ellis (author), Rob Lowe (actor, The Outsiders), Adam Carolla (MTV), Adam Curry (MTV), Melissa Gilbert (actor, Little House on the Prairie), Hank Azaria (actor, voice of Moe and Apu on The Simpsons), Yeardley Smith (voice of Lisa on The Simpsons), Michelle Obama (First Lady), Dana Plato (Kimberly on Diff'rent Strokes). PLUS: Maybe KRS-One (hip hop), Diane Lane (actor), born 1965.
***
* Pontell's operatives are relentless; whenever I've written about the OGX online, a variation on the following comment (which was posted to HiLobrow, but not approved) materializes immediately: "Don't you think we should consistently use the Generation Jones moniker, since it has developed such a big following? Terms like Repo Man Generation or Original Generation X have not developed any following at all, and obviously won't. Since GenJones is the only name for us that has a following, I think we should be consistent; using obscure terms just creates confusion and seems counter-productive." But who said anything about productivity?
** Although a number of OGXer zine publishers have since become well-known for other things, they've never been properly heralded for their pioneering zine work. I'd like to mention other OGXer zinesters in this item, but the birthdates of many of my favorite zine publishers — e.g., Darby Romeo (Ben is Dead), Paul Lukas (Beer Frame), Sean Tejaratchi (Crap Hound), Russ Forster (8-Track Mind), Donna Kossy (Kooks), John Marr (Murder Can Be Fun), Jeff Kelly (Temp Slave!), and John F. Kelly (XYY) — are not readily available.
***
READ MORE essays by Joshua Glenn, originally published in: THE BAFFLER | BOSTON GLOBE IDEAS | BRAINIAC | CABINET | FEED | HERMENAUT | HILOBROW | HILOBROW: GENERATIONS | HILOBROW: RADIUM AGE SCIENCE FICTION | HILOBROW: SHOCKING BLOCKING | THE IDLER | IO9 | N+1 | NEW YORK TIMES BOOK REVIEW | SEMIONAUT | SLATE
Joshua Glenn's books include UNBORED: THE ESSENTIAL FIELD GUIDE TO SERIOUS FUN (with Elizabeth Foy Larsen); and SIGNIFICANT OBJECTS: 100 EXTRAORDINARY STORIES ABOUT ORDINARY THINGS (with Rob Walker).