Diamond Age 75 (65)
By: Joshua Glenn
June 7, 2020
One in a series of posts about the 75 best science fiction novels published during the genre's Diamond Age era (from 1984–2003, according to HILOBROW's periodization schema). For Josh Glenn's complete Diamond Age Sci-Fi 75 list, click here.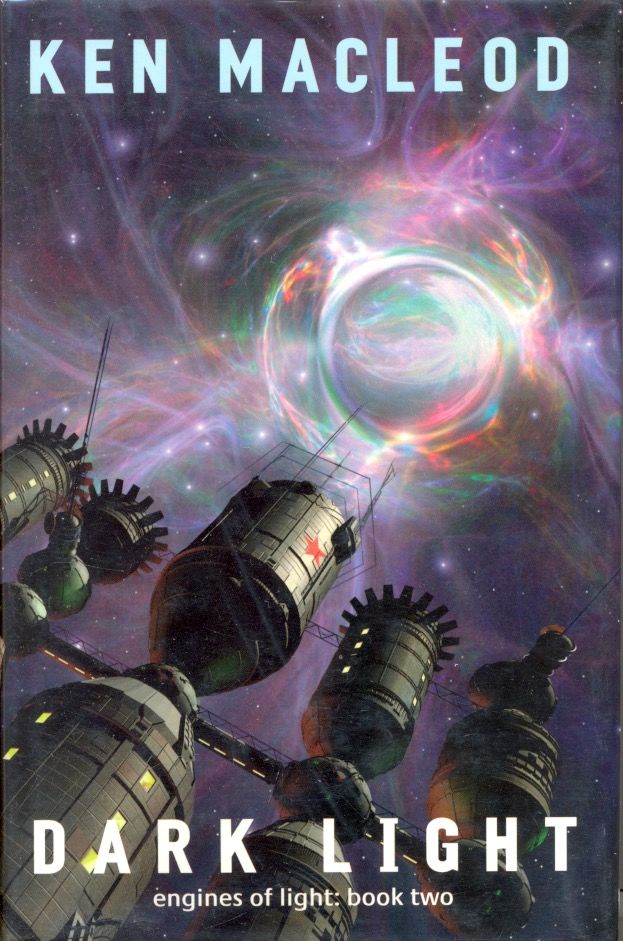 Ken MacLeod's Engines of Light adventure Dark Light (2001).
In what is easily the most Jack Kirby-esque of MacLeod's space operas, we discover that ancient astronauts did visit Earth, at which point they hastened the evolution of dinosaurs into… the "Grey aliens" whom we've come to know and love. These advanced Saurs later helped rescue humankind's primitive ancestors from a meteor attack orchestrated by the "gods" — extremophile nanobacteria, linked into a vast cosmic mind, which exist in asteroids and cometary masses throughout the galaxy… and which were already in communication with Earth's squid population. Other gods created the so-called Second Sphere, which is 100,000 light years from Earth, and populated it with a host of kidnapped species. Against the backdrop of this epic cosmogony, Matt Cairns and the immortal cosmonauts of the Bright Star (about whom we read in 2000's Cosmonaut Keep) travel in a refurbished spacecraft from one planet to another within the Second Sphere — from Mingulay to Croatan — and in so doing set off a revolution, indirectly and directly. Although we meet the gods, the book's most memorable character is Stone, brave member of a steampunk tribe on Croatan, who — although male and heterosexual — refuses to become what his culture recognizes as a "man."
Fun facts: As a young Trotskyist in the '70s, MacLeod began writing a modern version of Lucretius's On the Nature of Things, a poem offering an impassioned defense and exposition of materialism and of the ethical teachings derived from it. The epigraph to Dark Light — "Don't fear that philosophy's an impious way / Superstition's more likely to lead folk astray" — is one of the few remnants of this project.
***
DIAMOND AGE SCI-FI at HILOBROW: William Gibson | Bruce Sterling | Margaret Atwood | Ann Nocenti | Frank Miller | Alan Moore | Octavia E. Butler | Iain M. Banks | Grant Morrison | Neal Stephenson | Jonathan Lethem | Charles Burns | China Miéville.
JOSH GLENN'S *BEST ADVENTURES* LISTS: BEST 250 ADVENTURES OF THE 20TH CENTURY | 100 BEST OUGHTS ADVENTURES | 100 BEST RADIUM AGE (PROTO-)SCI-FI ADVENTURES | 100 BEST TEENS ADVENTURES | 100 BEST TWENTIES ADVENTURES | 100 BEST THIRTIES ADVENTURES | 75 BEST GOLDEN AGE SCI-FI ADVENTURES | 100 BEST FORTIES ADVENTURES | 100 BEST FIFTIES ADVENTURES | 100 BEST SIXTIES ADVENTURES | 75 BEST NEW WAVE SCI FI ADVENTURES | 100 BEST SEVENTIES ADVENTURES | 100 BEST EIGHTIES ADVENTURES | 75 BEST DIAMOND AGE SCI-FI ADVENTURES | 100 BEST NINETIES ADVENTURES (in progress) | 1994 | 1995 | 1996 | 1997 | 1998 | 1999 | 2000 | 2001 | 2002 | 2003 | NOTES ON 21st-CENTURY ADVENTURES.