Diamond Age 75 (43)
By: Joshua Glenn
January 6, 2020
One in a series of posts about the 75 best science fiction novels published during the genre's Diamond Age era (from 1984–2003, according to HILOBROW's periodization schema). For Josh Glenn's complete Diamond Age Sci-Fi 75 list, click here.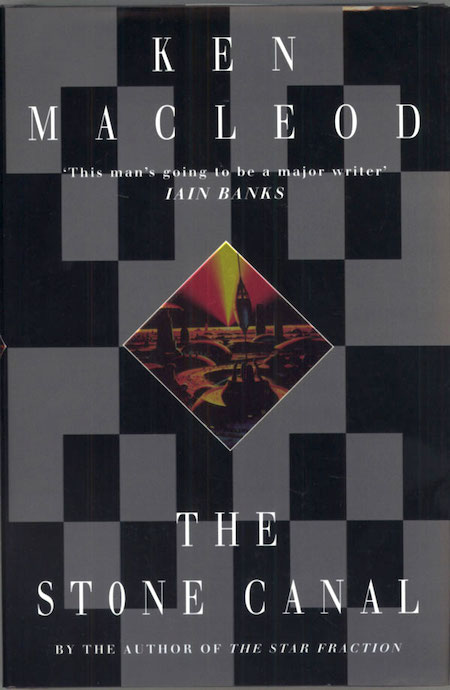 Ken MacLeod's Fall Revolution adventure The Stone Canal (1996).
If the politics and economics — there's a near-future crisis of global capitalism, which gives rise to a variety of competing social orders — of the first Fall Revolution installment, The Star Fraction (1995), confused you, then The Stone Canal may clear things up. Set in the same post-Singularity Solar System, MacLeod's second novel takes place in 20th-century Scotland, but also in 21st-century ShipCity, the capital of New Mars — a colony world and technopolis at the other end of a wormhole created by the "fast folk," uploaded human intelligences. The story's interwoven strands each concern Jon Wilde and Dave Reid, politically radical frenemies whose lives take them in different directions. Reid becomes the right-libertarian leader of New Mars; Wilde remains a left-libertarian political activist. Wilde gets the girl — Annette, but Reid constructs a female sex-slave android version of her… who becomes self-aware and flees. Wilde, meanwhile, finds his mind downloaded into a clone; he's been revived by Jay-Dub, a version of himself stored within a "human equivalent" robot! Reid, it seems, is the villain whose machinations led to WWIII… but Wilde may not have been entirely blameless. A luta continua. There are thrilling action sequences, and amost-as-thrilling political discussions, galore.
Fun facts: The Stone Canal won a Prometheus Award. In an interview, MacLeod later explained that he was reacting to what he saw, at the time, as "the loss of any sense of common interest and common cause, and a descent into nationalism and identity politics all of which were supervised and policed from above – sometimes literally — by state and supra-state power."
***
DIAMOND AGE SCI-FI at HILOBROW: William Gibson | Bruce Sterling | Margaret Atwood | Ann Nocenti | Frank Miller | Alan Moore | Octavia E. Butler | Iain M. Banks | Grant Morrison | Neal Stephenson | Jonathan Lethem | Charles Burns | China Miéville.
JOSH GLENN'S *BEST ADVENTURES* LISTS: BEST 250 ADVENTURES OF THE 20TH CENTURY | 100 BEST OUGHTS ADVENTURES | 100 BEST RADIUM AGE (PROTO-)SCI-FI ADVENTURES | 100 BEST TEENS ADVENTURES | 100 BEST TWENTIES ADVENTURES | 100 BEST THIRTIES ADVENTURES | 75 BEST GOLDEN AGE SCI-FI ADVENTURES | 100 BEST FORTIES ADVENTURES | 100 BEST FIFTIES ADVENTURES | 100 BEST SIXTIES ADVENTURES | 75 BEST NEW WAVE SCI FI ADVENTURES | 100 BEST SEVENTIES ADVENTURES | 100 BEST EIGHTIES ADVENTURES | 75 BEST DIAMOND AGE SCI-FI ADVENTURES | 100 BEST NINETIES ADVENTURES (in progress) | 1994 | 1995 | 1996 | 1997 | 1998 | 1999 | 2000 | 2001 | 2002 | 2003 | NOTES ON 21st-CENTURY ADVENTURES.