Diamond Age 75 (53)
By: Joshua Glenn
March 15, 2020
One in a series of posts about the 75 best science fiction novels published during the genre's Diamond Age era (from 1984–2003, according to HILOBROW's periodization schema). For Josh Glenn's complete Diamond Age Sci-Fi 75 list, click here.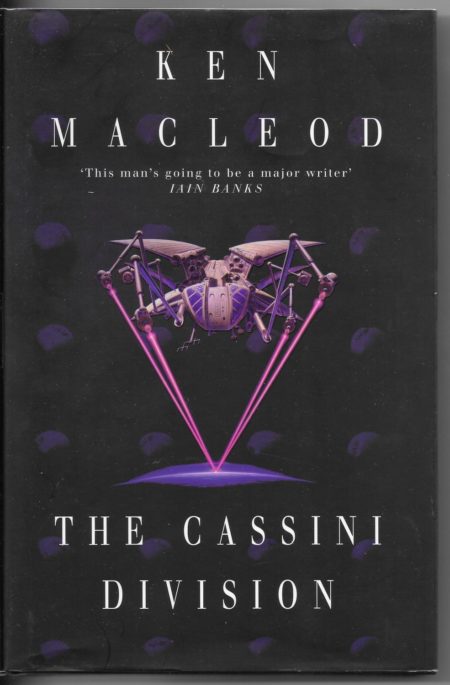 Ken MacLeod's Fall Revolution adventure The Cassini Division (1998).
The third installment in MacLeod's Fall Revolution series follows a starship crew aligned with a military force, the Cassini Division, which has been tasked with guarding Earth and humankind's offworld colonies against mysterious entities — AIs known as the Outwarders or "post-humans." In fact, the Division is planning a preemptive strike against their godlike foe, whose goals and worldview they cannot understand. As was the case with the characters in The Star Fraction (1995) and The Stone Canal (1996), Ellen May Ngwethu and her Solar Union comrades are socialists; we're given to understand that the Soviet and Chinese socialist powers triumphed over the capitalist West centuries earlier. There's perhaps a bit too much political philosophizing; but just a bit. In addition to the story's visionary political context, there's also some fun tech: Because the AIs (who built a wormhole near Jupiter, then apparently lapsed into a kind of slumber) can intercept and send viruses via radio waves, all computing is done via chemical and mechanical devices. We also find nanomachine manufacturing, which means that we're in a post-scarcity society. MacLeod's central philosophical question, however, has to do with mind and identity: Can consciousness exist independently of a biological, human brain? Is an uploaded consciousness a (speeded-up, superhuman) person, or just a sentient virus? What is a human? And what attitude might post-humans take towards humans?
Fun facts: The Cassini Division's punning moniker was borrowed from the largest gap in the rings of Saturn, discovered in 1675 by the astronomer Giovanni Domenico Cassini.
***
DIAMOND AGE SCI-FI at HILOBROW: William Gibson | Bruce Sterling | Margaret Atwood | Ann Nocenti | Frank Miller | Alan Moore | Octavia E. Butler | Iain M. Banks | Grant Morrison | Neal Stephenson | Jonathan Lethem | Charles Burns | China Miéville.
JOSH GLENN'S *BEST ADVENTURES* LISTS: BEST 250 ADVENTURES OF THE 20TH CENTURY | 100 BEST OUGHTS ADVENTURES | 100 BEST RADIUM AGE (PROTO-)SCI-FI ADVENTURES | 100 BEST TEENS ADVENTURES | 100 BEST TWENTIES ADVENTURES | 100 BEST THIRTIES ADVENTURES | 75 BEST GOLDEN AGE SCI-FI ADVENTURES | 100 BEST FORTIES ADVENTURES | 100 BEST FIFTIES ADVENTURES | 100 BEST SIXTIES ADVENTURES | 75 BEST NEW WAVE SCI FI ADVENTURES | 100 BEST SEVENTIES ADVENTURES | 100 BEST EIGHTIES ADVENTURES | 75 BEST DIAMOND AGE SCI-FI ADVENTURES | 100 BEST NINETIES ADVENTURES (in progress) | 1994 | 1995 | 1996 | 1997 | 1998 | 1999 | 2000 | 2001 | 2002 | 2003 | NOTES ON 21st-CENTURY ADVENTURES.