STUFFED (43)
By: Tom Nealon
February 13, 2020
One in a popular series of posts by Tom Nealon, author of Food Fights and Culture Wars: A Secret History of Taste. STUFFED is inspired by Nealon's collection of rare cookbooks, which he sells — among other things — via Pazzo Books.
SOUP v. SANDWICH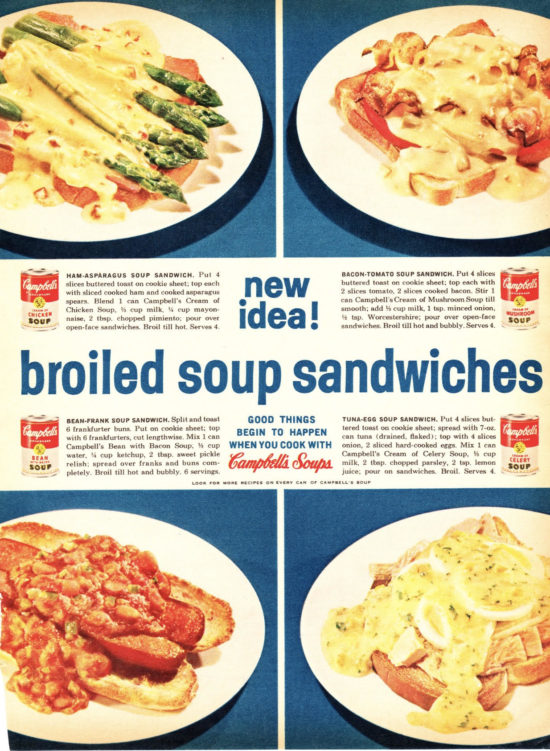 It's hard to imagine how we arrived at this place, this crime scene of a soup and sandwich advertisement (c. 1960, shown above). Out of context, it seems alien, a mixture between a minor Abstract Expressionist work commissioned by the CIA and a SYSCO delivery truck jackknifed on an interstate in Iowa. To decipher it we would need the lunch equivalent of blood spatter analysis (if such a thing weren't, apparently, largely nonsense). What brought about this vicious attack, this complete abnegation of sandwiches and all that they stand for? The seeds for this internecine violence go back to the dawn of human cookery…
Somewhere between 400,000 and 20,000 years ago humans started making soup. It was probably a gradual process as humans perfected the use of fire and figured out how much easier it is to eat roots and grains and the weird bits of giraffes if you boil them for awhile beforehand. Somewhere around 14,000 years ago, people started making bread — and while it's pretty easy to imagine people eating gazelle on a flat barley loaf or a nice megalotragus and fernwich, the sandwich as we know it was not really popularized in the west until after the Renaissance.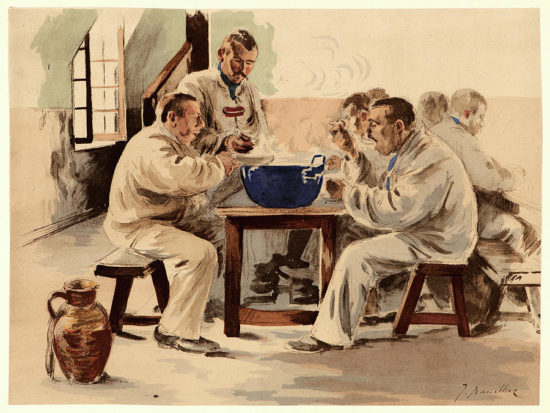 Of course, things like the sandwich — flatbreads with various toppings, proto-tacos of corn masa and beans, pizza-adjacent Roman street foods — would have been around almost as long as bread, but for millennia soup had room to roam without running into much competition in the lunch arena. (While soup and sandwich originally sparred over supper, it was lunch where the battle was ultimately joined in earnest). A pot of soup could be left boiling all day, adding water and more ingredients as needed, for people to eat as they saw fit. Extra meat tender enough for a quick sandwich was much more aspirational for most of humanity's formative years. Soup was how we lived, how we made food digestible, how we fed the old and the young and how our jaws shrank as we chewed less and less to make extra room in our heads to dream up the sandwich.
Which we did! Or named it, anyway, after an 18th-century English earl who had no doubt eaten one during his travels in the Middle East — where putting things between bread had been popular for some time. The first English book on salads had been written by John Evelyn not long before (Acetaria, 1699), and meat pies had been kicking around since before English people used plates or forks — and all of these wanted a piece of soup's action.
But it was a tough sell: Lean, tender meat for a sandwich was still unobtainable for most people; salads didn't have enough calories for 18th and 19th century lives; and while meat pies continue to do well (despite being linked — no doubt by soup and sandwiches — to cannibalism in works like Sweeney Todd and Titus Andronicus), they had trouble with the leap to the colonies; they were undermined by Jamaican beef patties, empanadas, calzones, knishes, corn dogs, etc.
Soup held on. But as the Enlightenment and the burgeoning middle class first lifted salads and sandwiches, the industrial revolution furthered their gains. Cobb, wedge, caesar, chef, Waldorf, Niçoise, salads tempted lunchgoers and lunch wagons served soup and sandwiches. In fact, it was the end of the 19th century that first saw a "soup and a sandwich" appear on menus — and you had to know that it wasn't long before the reckoning would come. And yet soup remained blithely unaware, spreading itself thin (and, er, thick). Stew, chowder, gumbo, burgoo, potage, goulash, bisque, pot au feu — a profusion so vast it is a miracle there were bowls enough to hold them. For a moment in time, like the British Empire, the sun never set on soup. But it was teetering on the edge of disaster.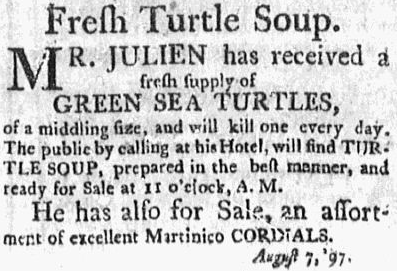 The word restaurant is from the French, meaning "to restore" and specifically referring to a class of thick soups that would be sold in taverns — eventually joints specializing in such fare took the name of the dish they served, and restaurants were born. In fact, one of the first restaurants in the U.S. was opened by a Frenchman and called Julien's Restorator (open from 1793–1823). Julien, who bailed from France just before the Reign of Terror commenced, was known as the Prince of Soups. A restaurant, literally, is a place that serves soup. So the invention of canned, condensed soup in the last decade of the 19th century was a time bomb thrown into the world's biggest pot of soup.
Canned by Campbells, dried, powdered, diminished in every way, soup limped into the postwar period a once great thing now hobbled and confused. It was too late to draw its far-flung bits back into itself — stew had wandered off to the dinner hour, chowders were balkanized in the Northeast, exciting newcomers like chili wanted nothing to do with it, broths and consommés had become the sole purview of the infirm. We celebrate this period in soup history — Warhol's set of paintings date from 1961–62 — but the canning of soup was only good for the can, not so much for the soup.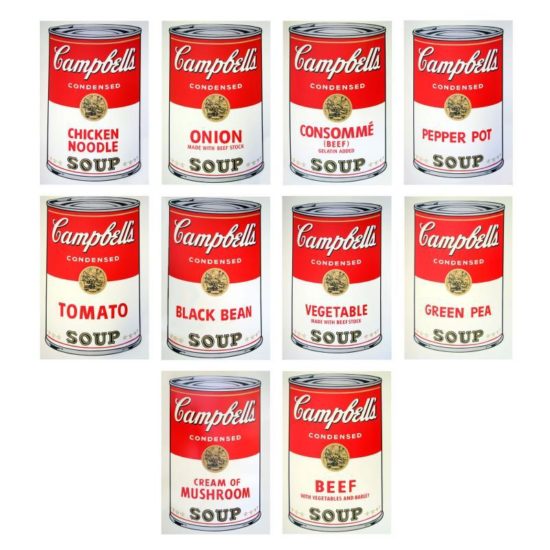 It was a time of canned soup and fresh sandwiches and while it's easy for us to see that it was already too late, I can understand how soup talked itself into this desperate maneuver of counter lunchification — the Lexington and Concord, the Archduke Ferdinand, the remember the Maine — of the lunch wars. They waited, poised, and detonated themselves, hoping to obliterate the very idea of the sandwich by physically drowning it in soup. Madness. Mad, too, that so few remember this moment. "Broiled Soup Sandwiches" has been erased from the history books, discarded like sandwiches in the rain.
The aftermath wasn't much kinder. Soup joined forces, in abject desperation, with their old nemesis the salad in the 1970s. Souper Salad, the most memorable result of this unholy union, had a good run but has slowly succumbed to the realization that soup doesn't really go that well with salad. Buffets, college dining halls, and chain all-you-can-eat spots leaned on the soup and salad thing pretty hard through the 1980s and '90s. Soup and salad was ultimately a bust.
But I shouldn't act like it's over — it's never over. Look at ramen! If they could survive cup noodles and those dehydrated rectangles, who is to say that soup can't have a Renaissance?
*
To address the broiled soup sandwich ideas promoted by the ad with which we began: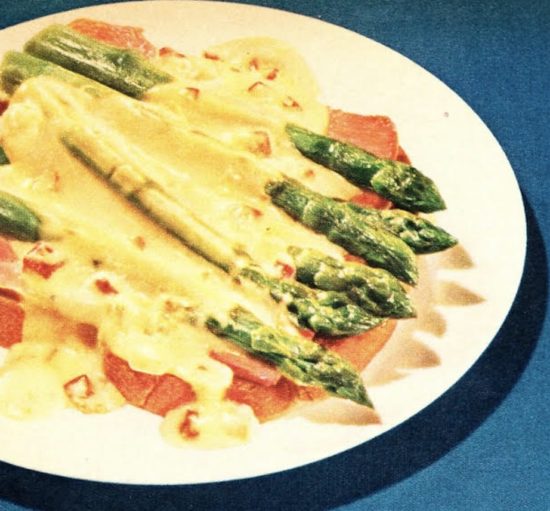 Ham-Asparagus soup sandwich: The strategy here is clear — begin with the most bat-shit insane of the combinations and the one where the sandwich elements are most successfully obliterated. However, the self-abnegation evident is the combination of the cream of chicken soup with mayonnaise is, I think, why this stratagem ultimately fails.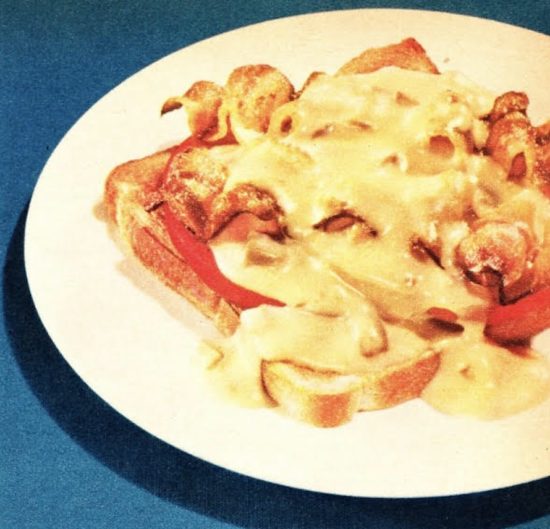 Bacon-Tomato soup sandwich: An immediate pivot reveals that the first soup-sandwich was just highballing. I like the idea here. Bacon, tomato, Worcestershire sauce, mushrooms — it's an umami bomb. Do people still cook with cream of mushroom soup? My mother used to make some weird western NY casserole with it — what a nightmare. (But I am trying to be objective, here).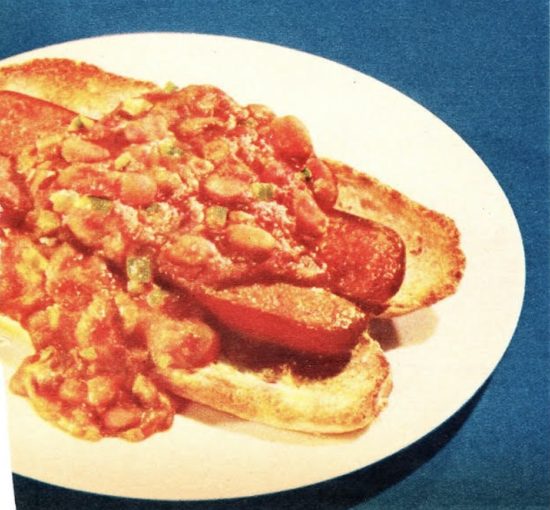 Bean-Frank soup sandwich: I don't see how this one can be viewed as anything other than a multifarious blunder. Why drag hot dogs into this fight? Now, I'm not an expert on the state of the hot dog-as-sandwich debate as it existed 60 years ago, but I'm certain it wasn't settled. And is beans with bacon even a soup? What is going on here?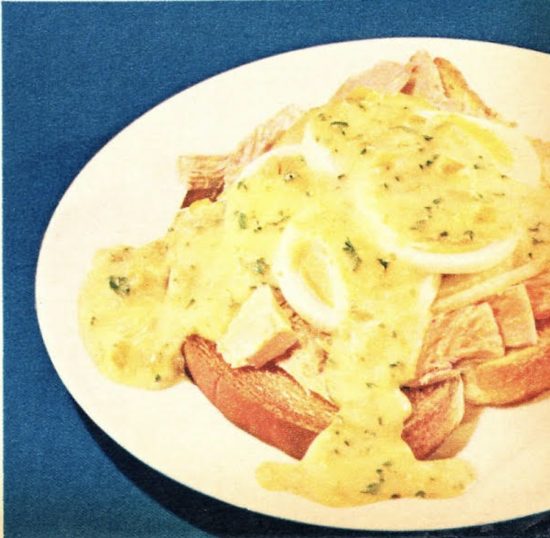 Tuna-Egg soup sandwich: A reasonable finish, though I bet it smells funny with the celery soup activating all that canned tuna. Not sure it needed the eggs which disguise the fact that it's the only one of these where the soup and the sandwich have some connection (we put celery in tuna salad — well, we don't, since I don't eat tuna salad, but my understanding is that people do this).
Plus, this is the moment where you realize — insanity aside — this is all a straw man argument anyway. Three open-faced sandwiches and a hot dog? Do you think we are fools?
***
STUFFED SERIES: THE MAGAZINE OF TASTE | AUGURIES AND PIGNOSTICATIONS | THE CATSUP WAR | CAVEAT CONDIMENTOR | CURRIE CONDIMENTO | POTATO CHIPS AND DEMOCRACY | PIE SHAPES | WHEY AND WHEY NOT | PINK LEMONADE | EUREKA! MICROWAVES | CULINARY ILLUSIONS | AD SALSA PER ASPERA | THE WAR ON MOLE | ALMONDS: NO JOY | GARNISHED | REVUE DES MENUS | REVUE DES MENUS (DEUX) | WORCESTERSHIRE SAUCE | THE THICKENING | TRUMPED | CHILES EN MOVIMIENTO | THE GREAT EATER OF KENT | GETTING MEDIEVAL WITH CHEF WATSON | KETCHUP & DIJON | TRY THE SCROD | MOCK VENISON | THE ROMANCE OF BUTCHERY | I CAN HAZ YOUR TACOS | STUFFED TURKEY | BREAKING GINGERBREAD | WHO ATE WHO? | LAYING IT ON THICK | MAYO MIXTURES | MUSICAL TASTE | ELECTRIFIED BREADCRUMBS | DANCE DANCE REVOLUTION | THE ISLAND OF LOST CONDIMENTS | FLASH THE HASH | BRUNSWICK STEW: B.S. | FLASH THE HASH, pt. 2 | THE ARK OF THE CONDIMENT | SQUEEZED OUT | SOUP v. SANDWICH | UNNATURAL SELECTION | HI YO, COLLOIDAL SILVER | PROTEIN IN MOTION | GOOD RIDDANCE TO RESTAURANTS.
MORE POSTS BY TOM NEALON: Salsa Mahonesa and the Seven Years War, Golden Apples, Crimson Stew, Diagram of Condiments vs. Sauces, etc., and his De Condimentis series (Fish Sauce | Hot Sauce | Vinegar | Drunken Vinegar | Balsamic Vinegar | Food History | Barbecue Sauce | Butter | Mustard | Sour Cream | Maple Syrup | Salad Dressing | Gravy) — are among the most popular we've ever published here at HILOBROW.