MOVIE OBJECTS (3)
By: Gerald Peary
April 7, 2020
One in a series of 25 nonfiction narratives about significant objects spotted in movies. Presented to HILOBROW's readers by Project:Object.
*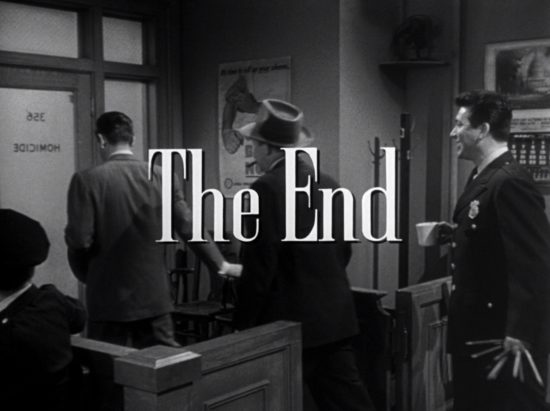 CUP OF COFFEE | THE BIG HEAT | d. FRITZ LANG | 1953
Sometimes a pot of coffee is just a pot of coffee, Dr. Sigmund might have said, cautioning against reading everything in a symbolic way. But he hadn't seen 1953's The Big Heat, made soon after the incendiary Kefauver Hearings on organized crime and in the midst of the inflamed McCarthy investigation of Communism. Herein, German émigré filmmaker Fritz Lang's boiling cauldron of java is the central image of a nightmare America fueled by anger and revenge. "The Big Heat" is the A-bomb-implosive USA.
The coffee appears 48 minutes into the film in the corner of the frame, discreetly bubbling away, while a coven of hoodlums in front are absorbed in a poker game. One of them, Vince Stone (Lee Marvin), an abusive hothead, becomes connected to that coffee as a signatory of his character and his weapon of choice. When his girlfriend, Debby (Gloria Grahame), slips into the apartment, he becomes enraged that she might be stepping out on him. CLOSE ON the boiling coffee. An off-screen scream, and then CUT to Debby running wild, holding her scalded, blistered face. CUT to Vince, standing in a doorway, unfazed by his brutal act. The cauldron, half full of coffee, now is clutched in his fist. He owns it. That's him.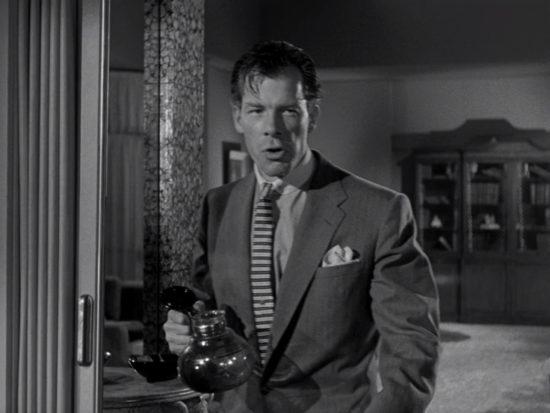 Vince is The Big Heat's obvious bad guy, but, in a film of conscious doubling by Lang, the movie's good guy, an honest cop, Dave O'Bannion (Glenn Ford), also has severe anger issues. His lovely and adoring wife gets blown up by the mob when she detonates a bomb meant for her husband. From that moment, swearing to revenge her death, Dave turns into his doppelganger, a virtual Vince, sadistically punching and choking people, cruelly shoving women whom he considers heinous, and, when he intersects with the injured Debby, not caring about her wounds any more than Vince does. A bit of formulaic Hollywood: Dave recovers his humanity by becoming tender to Debby and not shooting Vince when he could. Ending his vigilante period, he turns Vince in to the cops. And he rejoins the police force, though earlier he'd furiously tossed off his badge.
And Dave and coffee? We've seen him drink beer at home and scotch in a hotel room. Only in the last scene of the movie, back at his police desk, does he shout to an underling, "How about some coffee, Hugo?" As Hugo scurries off, Dave is called to a case, and leaps from his desk. In the very last shot of The Big Heat, with The End overlapping the image and the sound, there is Hugo with the cup of coffee, Dave not drinking it but scurrying out of the office, ordering, "Keep that coffee hot, Hugo." What does that mean? That coffee is just coffee, having lost its symbolic edge? Or, more likely for cynical Fritz Lang, Dave O'Bannion and America are incurable. They stay afire. The Big Heat boils on.
*
MOVIE OBJECTS: INTRODUCTION | Ramona Lyons on EYE OF THE SERPENT (CONAN THE BARBARIAN) | Faythe Levine on BEDKNOB (BEDKNOBS AND BROOMSTICKS) | Gerald Peary on CUP OF COFFEE (THE BIG HEAT) | Christopher Orr on TOM'S HAT (MILLER'S CROSSING) | Lynn Peril on TRANSISTOR RADIO (DR. STRANGELOVE) | Whitney Bowers on DUCT TAPE (NOW AND THEN) | Kio Stark on CANDLE (DEBBIE DOES DALLAS) | Tom Roston on CALCULATOR WATCH (BREAKFAST CLUB) | Miranda Mellis on LIMOUSINE (MELANCHOLIA) | Carolina A. Miranda on HAUNTED ACCORDION (THE WIND JOURNEYS) | Vanessa Berry on FIBREGLASS MARLIN (LOVE SERENADE) | June Thomas on CERAMIC DUCKS (A TASTE OF HONEY) | Madeline Ashby on LETTERS OF TRANSIT (CASABLANCA) | Dave Walker on ETTINAUER 226-XL (REAL LIFE) | Jonathan Lethem on SINGLE-JACK HAMMER (EARTH ABIDES) | Guy Trebay on STAMPS (CHARADE) | Annie Nocenti on PASSPORT (THE PASSENGER) | Tony Arcabascio on SHEEPSKIN COAT (BEAT STREET) | Alix Lambert on TYPEWRITER (MARY AND MAX) | John Sellers on WHITEBOARD (A QUIET PLACE) | Carlo Rotella on POWDERING CONE (REIGN OF TERROR) | Laura Miller on SEVERED EAR (BLUE VELVET) | Josh Glenn on CASSETTE TAPE (BREATHLESS) | Vicente Lozano on NOTEBOOK (WHERE IS THE FRIEND'S HOME?) | Jeff Malmberg on SPAGHETTI SAUCE (THE GODFATHER).
LOST OBJECTS (vol. 2): INTRODUCTION | Joe Yonan on MACRAMÉ ART (ill. Theo Ellsworth) | Ben Katchor on LUCITE CARRYING CASE | Debbie Millman on GLASS POODLE | Lydia Millet on ROCKY HORROR NOVEL (ill. Berta Valló) | Ben Greenman on WARHOL CAN (ill. Clara Selina Bach) | & 20 MORE.
FETISHES: INTRODUCTION | Josh Foer on DEATH MASK | Beth Lisick on MURDERED-OUT KFC BUCKET | Christina Couch on LEECH ACTION FIGURE | Kenneth Goldsmith on THEWLIS SOCK | Abby Rapoport on MAGNATILES | & 20 MORE.
FOSSILS: INTRODUCTION | Allegra Huston on SKATAWAY JACKET | Kevin Obsatz on HOMEMADE NUNCHUKS | Ian Bogost on DESKTOP TELEPHONE | Jeff Lewonczyk on CHA-CHA JACKET SCRAP | Kelly Horan on VOLVO KEY | & 20 MORE.
FLAIR: INTRODUCTION | Cliff Kuang on ROLEX DATEJUST | Ethan Zuckerman on LAPTOP STICKERS | Ann Shoket on LEATHER JACKET | Kembrew McLeod on KEMBREW MERCH | Paola Antonelli on MERMAID TEARS | & 20 MORE.
LOST OBJECTS (vol. 1): INTRODUCTION | Kate Bernheimer on MULLET WIG (ill. Amy Evans) | Dan Piepenbring on COLOGNE (ill. Josh Neufeld) | Doug Dorst on STRATOCASTER (ill. John Holbo) | Paul Lukas on VANILLA BEAN (ill. Allison Bamcat) | Mimi Lipson on DODGE DART (ill. Mister Reusch) | & 20 MORE.
ILLICIT OBJECTS: INTRODUCTION | Kio Stark on PEEPSHOW TOKEN | Sari Wilson on TOMBSTONE PARTS | Annalee Newitz on CAR-BOMB REMNANT | Tito Bottitta on MOONINITE DEVICE | Eric Bennett on DIRTY MAGAZINE | & 20 MORE.
TALISMANIC OBJECTS: INTRODUCTION | Veda Hille on CROCHET SHEEP | Gary Panter on DINOSAUR BONES | Jami Attenberg on SELENITE CRYSTAL | Annie Nocenti on MINIATURE DICE | Wayne Curtis on CLOCK WINDING KEY | & 20 MORE.
POLITICAL OBJECTS: INTRODUCTION | Luc Sante on CAMPAIGN PAMPHLETS | Lydia Millet on PVC POLAR BEAR | Ben Greenman on MATCHBOX CAR | Rob Baedeker on PRESIDENTS PLACEMAT | L.A. Kauffman on WHEATPASTE POSTER | & 20 MORE.
SIGNIFICANT OBJECTS at HILOBROW: PROJECT:OBJECT homepage | PROJECT:OBJECT newsletter | PROJECT:OBJECT objects (Threadless shop — all profits donated to the ACLU) | POLITICAL OBJECTS series (1Q2017) | TALISMANIC OBJECTS series (2Q2017) | ILLICIT OBJECTS series (3Q2017) | LOST OBJECTS vol. 1 series (4Q2017) | FLAIR series (2Q2018) | FOSSIL series (4Q2018) | FETISHES series (2Q2019) | LOST OBJECTS vol. 2 series (4Q2019) | MOVIE OBJECTS series (2Q2020). ALSO SEE: SIGNIFICANT OBJECTS website | SIGNIFICANT OBJECTS collection, ed. Rob Walker and Josh Glenn (Fantagraphics, 2012) | TAKING THINGS SERIOUSLY, ed. Josh Glenn (Princeton Architectural Press, 2007) | TAKING THINGS SERIOUSLY excerpts.