Diamond Age 75 (52)
By: Joshua Glenn
March 8, 2020
One in a series of posts about the 75 best science fiction novels published during the genre's Diamond Age era (from 1984–2003, according to HILOBROW's periodization schema). For Josh Glenn's complete Diamond Age Sci-Fi 75 list, click here.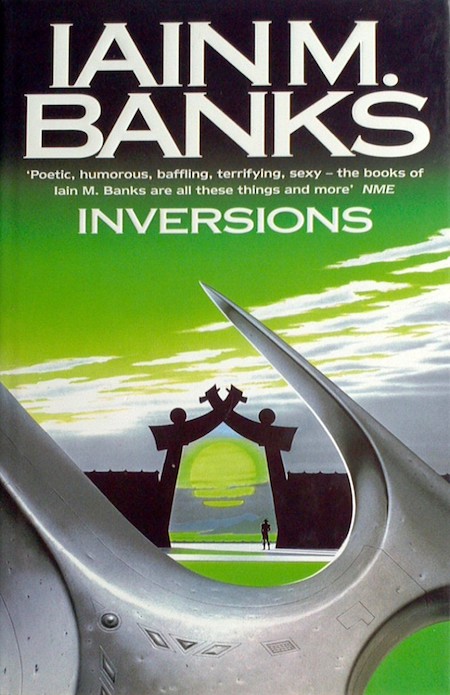 Iain M. Banks's Culture adventure Inversions (1998).
Banks's Culture — an interstellar, highly advanced and enlightened civilization whose Contact group observes less-civilized societies without intervening, but whose Special Circumstances agents sometimes scheme to speed up their social evolution — is here portrayed from the perspective of members of two such societies. Inversions can be read as a medieval-ish fantasy; those familiar with Banks's other sci-fi books may suspect that two of its characters hail from the Culture. One of our two storylines concerns DeWar, bodyguard to General UrLeyn — who is leader of Tassasen, a Calormen-like realm on the other side of the planet. When DeWar isn't protecting UrLeyn and his family from assassination attempts, he's playing board games with Perrund, trusted advisor to UrLeyn (and former concubine) whose troubled past we slowly discover. DeWar's stories of a magical land where "every man was a king, every woman a queen," and where people enjoy a carefree and easy life in pursuit of knowledge and enlightenment, sound quite a bit like… the Culture. Our other storyline is narrated by the assistant to Vosill, a mysteriously capable, highly unconventional female doctor. Resentment towards Vosill, who supposedly hails from a country far from Haspidus, the Narnia-like kingdom where the story is set, builds as she nudges Quience towards permitting commoners to own farmland without the oversight of a noble, among other reforms. The "Doctor" storyline is something of a murder mystery, as various members of the court are offed mysteriously. Whodunnit?
Fun facts: The initial hardback printing of the book contained a "Note on the Text" suggesting that Vosill hailed "from a different Culture." The book's epilogue notes that Vosill disappeared from a ship on which she was traveling, after declining an invitation to dine with its captain — citing "an indisposition due to special circumstances."
***
DIAMOND AGE SCI-FI at HILOBROW: William Gibson | Bruce Sterling | Margaret Atwood | Ann Nocenti | Frank Miller | Alan Moore | Octavia E. Butler | Iain M. Banks | Grant Morrison | Neal Stephenson | Jonathan Lethem | Charles Burns | China Miéville.
JOSH GLENN'S *BEST ADVENTURES* LISTS: BEST 250 ADVENTURES OF THE 20TH CENTURY | 100 BEST OUGHTS ADVENTURES | 100 BEST RADIUM AGE (PROTO-)SCI-FI ADVENTURES | 100 BEST TEENS ADVENTURES | 100 BEST TWENTIES ADVENTURES | 100 BEST THIRTIES ADVENTURES | 75 BEST GOLDEN AGE SCI-FI ADVENTURES | 100 BEST FORTIES ADVENTURES | 100 BEST FIFTIES ADVENTURES | 100 BEST SIXTIES ADVENTURES | 75 BEST NEW WAVE SCI FI ADVENTURES | 100 BEST SEVENTIES ADVENTURES | 100 BEST EIGHTIES ADVENTURES | 75 BEST DIAMOND AGE SCI-FI ADVENTURES | 100 BEST NINETIES ADVENTURES (in progress) | 1994 | 1995 | 1996 | 1997 | 1998 | 1999 | 2000 | 2001 | 2002 | 2003 | NOTES ON 21st-CENTURY ADVENTURES.