MOVIE OBJECTS (INTRO)
By: PROJECT:OBJECT
April 1, 2020
Introducing a series of 25 nonfiction narratives about significant objects spotted in movies. Presented to HILOBROW's readers by Project:Object.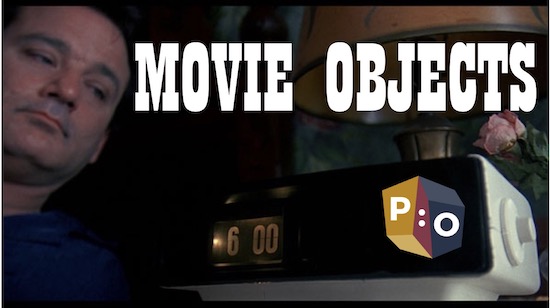 We issued the call for submissions to this, the ninth "volume" in Project:Object's ongoing object-oriented nonfiction series, back in October. Today, of course, we're all living in a different world. We hope that you're safe and sound — and, general anxiety and malaise aside, that you're not dealing with a crisis more pressing than, say, boredom and cabin fever. If at this point during the epidemic you're looking for an escapist distraction, then we, and the contributors to our MOVIE OBJECTS series, are here to help.
Perhaps they're used in stage business to establish or further develop character, or they're MacGuffins serving to move the plot forward. Or perhaps they're seemingly unimportant props — easy to overlook, unrelated to character or plot… and yet somehow fascinating, unforgettable. We've asked 25 of our favorite writers to pick a movie object and help us see it through their eyes. We're fascinated by the resulting essays — the first of which we'll publish tomorrow!
The series will run through mid-June. Here's the lineup:
Ramona Lyons on EYE OF THE SERPENT (CONAN THE BARBARIAN)
Faythe Levine on BEDKNOB (BEDKNOBS AND BROOMSTICKS)
Gerald Peary on CUP OF COFFEE (THE BIG HEAT)
Christopher Orr on TOM'S HAT (MILLER'S CROSSING)
Lynn Peril on TRANSISTOR RADIO (DR. STRANGELOVE)
Whitney Bowers on DUCT TAPE (NOW AND THEN)
Kio Stark on CANDLE (DEBBIE DOES DALLAS)
Tom Roston on CALCULATOR WATCH (BREAKFAST CLUB)
Miranda Mellis on LIMOUSINE (MELANCHOLIA)
Carolina Miranda on HAUNTED ACCORDION (THE WIND JOURNEYS)
Vanessa Berry on FIBREGLASS MARLIN (LOVE SERENADE)
June Thomas on CERAMIC DUCKS (A TASTE OF HONEY)
Madeline Ashby on LETTERS OF TRANSIT (CASABLANCA)
Dave Walker on ETTINAUER 226-XL (REAL LIFE)
Jonathan Lethem on SINGLE-JACK HAMMER (EARTH ABIDES)
Guy Trebay on STAMPS (CHARADE)
Annie Nocenti on PASSPORT (THE PASSENGER)
Tony Arcabascio on SHEEPSKIN COAT (BEAT STREET)
Alix Lambert on TYPEWRITER (MARY AND MAX)
John Sellers on WHITEBOARD (A QUIET PLACE)
Carlo Rotella on POWDERING CONE (REIGN OF TERROR)
Laura Miller on SEVERED EAR (BLUE VELVET)
Josh Glenn on CASSETTE TAPE (BREATHLESS)
Vicente Lozano on NOTEBOOK (WHERE IS THE FRIEND'S HOME?)
Jeff Malmberg on SPAGHETTI SAUCE (THE GODFATHER)
Exact running order subject to change.
What follows are a few top-of-mind observations — based on the series installments — about movie objects. It is not necessary to read beyond this point; you'll enjoy the series just as much even if you choose to skip our notes on how movie objects mean what they mean. Film scholars, critics, and thoughtful aficionados may enjoy the following back-of-the-envelope analysis of objects in movies. Maybe others, too? If so, we're glad to be of service.
*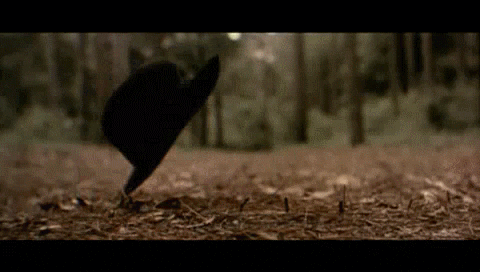 A metaphorical movie object signals the theme of the movie in which it's found, one which is often related to a protagonist's character flaw. Tom Reagan (Gabriel Byrne)'s hat, in the Coen Brothers' 1990 movie Miller's Crossing, for example, is the character's "armor," points out Christopher Orr. "Without it, however, he is uniquely vulnerable." The passport in Antonioni's The Passenger (1975), notes Annie Nocenti, becomes — for Jack Nicholson's David Locke, "who trafficks in innuendo," a way to "offer himself up as another mystery." And although we have to wait until the very last scene of Fritz Lang's The Big Heat (1953) to catch a fleeting glimpse of it, Gerald Peary suggests that a cup of hot coffee tells us everything we need to know about Dave O'Bannion (Glenn Ford) and America alike: like Vince Stone, the movie's violent, hot-coffee-tossing villain, they "boil on."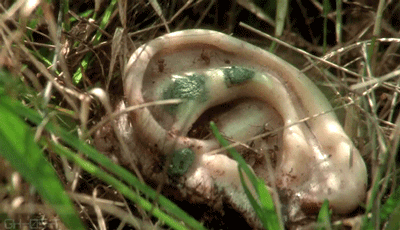 It's not always about character flaws. Writing about Robert Stevenson's 1971 musical fantasy Bedknobs and Broomsticks, Faythe Levine notes that the titular enchanted bedknob is a metaphor for "the ethos of embracing the unknown, magic and mystery." As such, the object serves her — and all fans of the film — as "a reminder that you never know what the key to adventure will be." Although it seems as unlike an enchanted bedknob from a Disney movie as any object could be, the severed ear discovered by the naive Jeffrey (Kyle MacLachlan) at the beginning of David Lynch's Blue Velvet (1986) performs a similar function. "The ear is a clue," explains Laura Miller, "a threshold, a passport to another world that Jeffrey only thinks he wants to visit." The claymation typewriter in Adam Elliot's Mary and Max (2009) is also a vector for the director's message: "In slowness," according to Alix Lambert's analysis of that message, "there is a value, anticipation, a treasuring of the physical object (in this case, the letter, and the time and thought put into creating it)."
We'd hazard a guess that the majority of significant movie objects serve a metaphorical function. But one of the fun things about editing these significant-object series is that we're always learning more about the varieties of meaning-making. Let's talk about metonymy and synecdoche.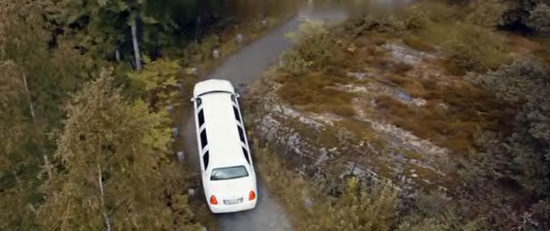 Metaphor's communication of meaning is relatively straightforward. But when metonymy pops up, it suggests that the movie in question has a more elusive theme than we might have recognized. "The limousine's refusal/inability to do what it is supposed to do," notes Miranda Mellis in her essay on Lars von Trier's 2011 movie Melancholia, for example, "foreshadows the bride's refusal/inability… to reproduce the status quo." Describing this as "a metonymic contagion," Mellis offers a tip on spotting metonymic movie objects (and characters): "It is when objects and people don't work the way they are supposed to that we become aware of them." Writing about John Milius's Conan the Barbarian (1982), Ramona Lyons notes that although we're led to infer that the Eye of the Serpent — the fabulous jewel which Conan steals from Thulsa Doom — possesses magical powers, in fact none are ever demonstrated. "But we learn that's not the point," she claims. Instead the jewel is "a catalyst for and witness to Conan's choices, follies, and tragedies." Speaking of choices, follies, and tragedies, Guy Trebay suggests that the hidden-in-plain-sight aspect of the rare stamps in Stanley Donen's Charade (1963) are a "subliminal tell," hinting at a real-life secret closely guarded by the movie's star, Cary Grant… until now, that is.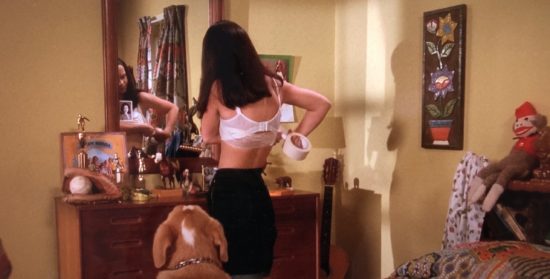 Brooding over the duct tape with which tomboy Roberta (Christina Ricci) tapes down her breasts in Lesli Linka Glatter's Now and Then (1995), Whitney Bowers notes that the tape signifies the shame that too many young women feel, not merely about their changing bodies, but about "taking up space in a world that wasn't designed for us." Here we find an offbeat but telling example of a movie object deployed as synecdoche: the tragedy and comedy of a sociocultural phenomenon captured in snapshot form, in an everyday object. In his appreciation of the space helmet-like cameras in Albert Brooks's Real Life (1979), Dave Walker suggests that Brooks presciently critiqued our inability to see how bogus "reality" TV is. The impossibility of filming people without influencing how they behave is "heightened by [the cameras'] bulk and all-seeing and all-hearing eye and ears." Meanwhile, Vicente Lozano's observation about the notebook in Kiarostami's Where Is the Friend's Home? (1987), the item whose loss could doom a child to a dead-end future, could serve as a pithy caption for every synecdochical movie-object: "such a plain object, so consequential."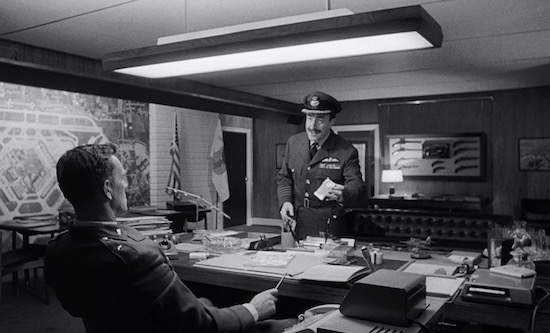 Does every significant movie-object function as a rhetorical device? By no means. The transistor radio in Kubrick's Dr. Strangelove (1964), Lynn Peril reminds us, is a catalyst for Group Captain Lionel Mandrake (Peter Sellers)'s confrontation with the crazed General Ripper (Sterling Hayden). "Without it, Mandrake will never know that what appears to be a mere SNAFU is rapidly deteriorating into a FUBAR with global consequences." The ceramic ducks in Tony Richardson's A Taste of Honey (1961), writes June Thomas, are a revealing bit of set decoration: "Some viewers might dismiss these tacky decorations as mere wallpaper, but for me they represent a classic piece of working-class chic." The fibreglass marlin on the living-room wall of Ken Sherry (George Shevtsov)'s house, in Shirley Barrett's 1996 movie Love Serenade, also indicates that the person who lives there is lacking in good (bourgeois) taste. But it tells us more than that, too, claims Vanessa Berry. In fact, as the movie grows stranger, the marlin morphs into a metonymic object before our eyes: "This strangeness rises up, like the fibreglass marlin floating against the living room wall, a fish out of water."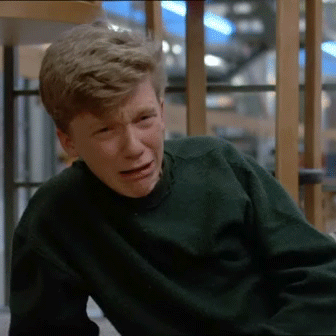 Some objects, selected for inclusion in a movie in order to help establish character, can accidentally reveal something about our own character. "Up to eighth grade, I loved my calculator watch," recounts Tom Roston. But a viewing of John Hughes's 1985 movie The Breakfast Club would forever change his mind: "The thing is, I didn't understand my watch wasn't so cool until I saw it on [Anthony Michael] Hall's wrist." A year earlier, while viewing Stan Lathan's Beat Street (1984), Tony Arcabascio had the reverse experience: "When I saw Crazy Legs of Rock Steady Crew roll up with a 3/4 grey sheepskin coat to battle their rivals in a subway station midway through the movie," he recalls, "I knew I had to have one in my wardrobe." John Sellers hates the exposition-serving whiteboard in John Krasinski's 2018 movie A Quiet Place… and yet, particularly at a moment when we're all trapped indoors, like the characters in that silly movie, Sellers is forced to admit — we'll let you read his essay to find out exactly what he means — that "the whiteboard is me." We're all the whiteboard, now.
When one thinks of "movie objects," one thinks of objects essential to, or at least supporting, a movie's plot or theme. But even when they have little or nothing to do with these things, movies require objects. As Carlo Rotella observes, of a powdering cone featured briefly in Anthony Mann's 1949 movie Reign of Terror, "the resonant, rhythmic interplay of objects and bodies is part of the essential business of movies in a way that runs deeper than plot or theme." Once you begin noticing objects in movies — whether they're metaphors, metonyms, synecdoches, or something else entirely — you'll start understanding how movies work, in a way that you may find rewarding or at least (perhaps more importantly, at the moment) distracting.
*
LOST OBJECTS (vol. 2): INTRODUCTION | Joe Yonan on MACRAMÉ ART (ill. Theo Ellsworth) | Ben Katchor on LUCITE CARRYING CASE | Debbie Millman on GLASS POODLE | Lydia Millet on ROCKY HORROR NOVEL (ill. Berta Valló) | Ben Greenman on WARHOL CAN (ill. Clara Selina Bach) | & 20 MORE.
FETISHES: INTRODUCTION | Josh Foer on DEATH MASK | Beth Lisick on MURDERED-OUT KFC BUCKET | Christina Couch on LEECH ACTION FIGURE | Kenneth Goldsmith on THEWLIS SOCK | Abby Rapoport on MAGNATILES | & 20 MORE.
FOSSILS: INTRODUCTION | Allegra Huston on SKATAWAY JACKET | Kevin Obsatz on HOMEMADE NUNCHUKS | Ian Bogost on DESKTOP TELEPHONE | Jeff Lewonczyk on CHA-CHA JACKET SCRAP | Kelly Horan on VOLVO KEY | & 20 MORE.
FLAIR: INTRODUCTION | Cliff Kuang on ROLEX DATEJUST | Ethan Zuckerman on LAPTOP STICKERS | Ann Shoket on LEATHER JACKET | Kembrew McLeod on KEMBREW MERCH | Paola Antonelli on MERMAID TEARS | & 20 MORE.
LOST OBJECTS (vol. 1): INTRODUCTION | Kate Bernheimer on MULLET WIG (ill. Amy Evans) | Dan Piepenbring on COLOGNE (ill. Josh Neufeld) | Doug Dorst on STRATOCASTER (ill. John Holbo) | Paul Lukas on VANILLA BEAN (ill. Allison Bamcat) | Mimi Lipson on DODGE DART (ill. Mister Reusch) | & 20 MORE.
ILLICIT OBJECTS: INTRODUCTION | Kio Stark on PEEPSHOW TOKEN | Sari Wilson on TOMBSTONE PARTS | Annalee Newitz on CAR-BOMB REMNANT | Tito Bottitta on MOONINITE DEVICE | Eric Bennett on DIRTY MAGAZINE | & 20 MORE.
TALISMANIC OBJECTS: INTRODUCTION | Veda Hille on CROCHET SHEEP | Gary Panter on DINOSAUR BONES | Jami Attenberg on SELENITE CRYSTAL | Annie Nocenti on MINIATURE DICE | Wayne Curtis on CLOCK WINDING KEY | & 20 MORE.
POLITICAL OBJECTS: INTRODUCTION | Luc Sante on CAMPAIGN PAMPHLETS | Lydia Millet on PVC POLAR BEAR | Ben Greenman on MATCHBOX CAR | Rob Baedeker on PRESIDENTS PLACEMAT | L.A. Kauffman on WHEATPASTE POSTER | & 20 MORE.
SIGNIFICANT OBJECTS at HILOBROW: PROJECT:OBJECT homepage | PROJECT:OBJECT newsletter | PROJECT:OBJECT objects (Threadless shop — all profits donated to the ACLU) | POLITICAL OBJECTS series (1Q2017) | TALISMANIC OBJECTS series (2Q2017) | ILLICIT OBJECTS series (3Q2017) | LOST OBJECTS vol. 1 series (4Q2017) | FLAIR series (2Q2018) | FOSSIL series (4Q2018) | FETISHES series (2Q2019) | LOST OBJECTS vol. 2 series (4Q2019) | MOVIE OBJECTS series (2Q2020). ALSO SEE: SIGNIFICANT OBJECTS website | SIGNIFICANT OBJECTS collection, ed. Rob Walker and Josh Glenn (Fantagraphics, 2012) | TAKING THINGS SERIOUSLY, ed. Josh Glenn (Princeton Architectural Press, 2007) | TAKING THINGS SERIOUSLY excerpts.